November, 9, 2011
11/09/11
11:15
AM ET
The 2010 season wasn't a great one for Big Ten running backs.
The league's best running back played quarterback (Michigan's
Denard Robinson
). Illinois' Mikel Leshoure flew under the radar but was a nationally elite back in every sense of the word.
But after those two, meh. The league boasted some solid backs --
Edwin Baker
,
James White
,
Dan Herron
, Adam Robinson, John Clay -- but no one you had to watch every time he took the field. The Big Ten's real star power could be found on the defensive line, as five players went on to become first round picks in the NFL draft.
This season, it's all about the running backs in the Big Ten. The league boasts four players averaging more than 105 rush yards per game, all of whom rank among the nation's top 21 rushers. No other league has more backs in the top 25 nationally than the Big Ten.
So who's the Big Ten's best running back in 2011? It's already one of the more spirited debates around the conference.
Let's meet the candidates (in alphabetical order):
Now let's take a closer look at each player and how they stack up.
MONTEE BALL
Vitals:
5-11, 210, junior from Wentzville, Mo.
2011 stats:
162 carries for 1,076 yards and 21 touchdowns, 119.6 ypg, 6.64 ypc, 13 receptions for 229 yards and 3 touchdowns, 1-for-1 passing with a 25-yard touchdown
Things to know:
Ball leads the nation with 24 touchdowns, tying the team record set by Brian Calhoun. He needs just two touchdowns to tie the Big Ten single-season record held by three players. Ball scores a touchdown every 7.3 touches. ... Ball leads the Big Ten in all-purpose yards (145 per game). He ranks fifth nationally among FBS running backs in combined rushing-receiving yards. ... He has scored at least one touchdown in each of his last 15 games and 39 touchdowns during the span. ... Ball has rushed for at least 115 yards in eight of his last nine games against Big Ten opponents. ... Like the other Wisconsin backs, Ball has no fumbles (lost or recovered) this season. ... Despite a strong finish to last season, Ball transformed his body in the winter and spring, shedding weight to add speed while maintaining his power.
Supporting cast:
Ball has the best supporting cast of the four candidates. He runs behind one of the nation's best offensive lines, a group led by NFL prospect Peter Konz. His quarterback,
Russell Wilson
, is a Heisman Trophy candidate and has brought a new element to Wisconsin's offense. His backup, James White, is the reigning Big Ten Freshman of the Year.
The quote:
"He's definitely our best practice player. Nobody has practice that hard at that position since I've been here." -- Wisconsin coach Bret Bielema
Quick case for Ball:
"Moneyball" is a touchdown-scoring machine and has been absolutely unstoppable for most of the season. Few backs in the country have been more effective than Ball since the middle of last season. He doesn't put the ball on the ground and consistently moves it forward and into the end zone. He didn't rest on his laurels in the offseason and got better physically.
Quick case against Ball:
Wisconsin's track record of running the ball probably works against Ball with the other candidates. The Badgers always have a dominant back (or three) and terrific offensive lines. Wilson's presence also has opened things up for Ball in the run game.
REX BURKHEAD
Vitals:
5-11, 210, junior from Plano, Texas
2011 stats:
187 carries for 951 yards and 13 touchdowns, 105.7 ypg, 5.1 ypc, 14 receptions for 129 yards and 2 touchdowns
Things to know:
Burkhead has recorded five 100-yard rushing performances in the last seven games, including against two of the nation's better rush defenses in Michigan State and Ohio State. He turned in a heroic performance in the win against the Spartans, carrying 35 times, the third-highest total in team history. ... Burkhead has gotten better as games have gone on. He has 43 fourth-quarter carries and has averaged 6.16 yards in the final quarter. Burkhead had 109 second-half yards and 96 fourth-quarter yards in Nebraska's historic comeback win against Ohio State. ... He has lost just 32 yards on 187 carries. ... Of his 38 carries in the red zone, Burkhead has gained a first down or a touchdown on 15 rushes. He has rushed for at least one touchdown in every game this season. ... Former Texas high school star nicknamed "Superman," Burkhead did a bit of everything for Nebraska in 2010, even taking some snaps as a Wildcat quarterback.
Supporting cast:
Burkhead shares a backfield with another rushing threat in quarterback
Taylor Martinez
, who has 712 rush yards and nine touchdowns this season. While Martinez demands the attention of opposing defenses, he also takes away some carries and scoring opportunities for Burkhead. Nebraska's offensive line entered the season banged-up and extremely young, but the group has come together nicely. The Huskers' passing attack ranks 101st nationally, and Martinez and his receivers have had their ups and downs. After Burkhead and Martinez, no other Nebraska player has more than 25 carries.
The quote:
"He might not be the flashiest guy in the world. I wouldn't trade him for anybody. I have a tremendous amount of respect for him and how he plays the game." -- Nebraska coach Bo Pelini
Quick case for Burkhead:
He's one of the more reliable players in the country and an absolute joy to watch. He doesn't mess around with excessive moves and blends speed and power extremely well. Unlike Ball and Coker, he doesn't operate in an offense with a strong passing threat, and he's produced against some solid defenses.
Quick case against Burkhead:
His numbers don't pop off the page like some of the other candidates'. Burkhead's most impressive performance (against MSU) was more of a workmanlike effort (35 carries, 3.7 ypc) than one that wows you. He doesn't have many long runs in Big Ten play (longest is 22 yards).
MARCUS COKER
Vitals:
6-0, 230, sophomore from Beltsville, Md.
2011 stats:
211 carries for 1,101 yards and 12 touchdowns, 122.3 ypg, 5.2 ypc, 15 receptions for 94 yards
Things to know:
Coker leads the Big Ten in carries, rushing yards and rushing average (he ranks sixth nationally). ... He has six 100-yard rushing performances this season. His 12 rushing touchdowns tie for the fourth-highest single-season total in team history ... Coker ranks second in the Big Ten and 41st nationally in all-purpose yards (132.8 ypg). ... His 252 rushing yards yards in an Oct. 22 game at Minnesota ranks as third best single-game total in school history. ... He's one of only four backs in Iowa history to record multiple 200-yard rushing performances. ... Coker has eclipsed 120 rush yards and scored two touchdowns in each of his last four games, all against Big Ten opponents.
Supporting cast:
Coker runs behind one of the better Big Ten offensive lines, led by NFL draft prospect Riley Reiff at left tackle. Iowa isn't quite as powerful up front as Wisconsin but boasts a better line than both Penn State and Nebraska. Quarterback
James Vandenberg
has had a very strong season passing the ball, and defenses must respect Iowa's aerial attack and receiving corps, led by star senior
Marvin McNutt
. Coker has been Iowa's bell cow, as no other Hawkeyes running back has logged more than 18 carries.
The quote:
"Marcus is the type of back that makes your offensive line want to block for him. So we definitely love him, and we love blocking for him, and we don't want anyone else back there." -- Iowa center James Ferentz, to
The (Cedar Rapids) Gazette
The case for Coker:
He leads the Big Ten in rushing and has improved as the season has progressed. He boasts arguably the best combination of power and big-play potential among the candidates, recording six runs of 25 yards or more and three of 41 yards or more. While some of the other candidates are solid, reliable runners, Coker has the rare ability to simply dominate a game.
The case against Coker:
He struggled with fumbles at the start of the year and hurt Iowa in its Week 2 loss to Iowa State. He benefits from Iowa's lack of depth at running back and gets more carries than other candidates. He averaged a pedestrian 4.3 yards per rush through Iowa's first five games. He feasted on mostly average defenses.
SILAS REDD
Vitals:
5-10, 209, sophomore from Norwalk, Conn.
2011 stats:
195 carries for 1,006 yards and 7 touchdowns, 111.8 ypg, 5.2 ypc, eight receptions for 31 yards
Things to know:
Redd recorded five consecutive 100-yard games and led all FBS players with 703 rushing yards in October. He averaged 140.6 yards per game and 5.3 yards per carry during the month. He's the first Penn State player to record five consecutive 100-yard games since former All-American Curtis Enis in 1997. ... He already has eclipsed 1,000 rush yards for the season, becoming the 12th Penn State player to do so. ... He already has 118 carries more than he had all of last season and has racked up 28 or more carries in four of Penn State's five Big Ten games. ... He has lost just 19 yards on 195 carries. ... Redd worked on his body during the offseason and added 10-15 pounds to help with an increased workload. He also
changed his running style
, becoming a more straight-ahead, downhill power back.
Supporting cast:
Redd has the weakest supporting cast of the candidates, underscoring how impressive his performance has been this season. Penn State has rotated two quarterbacks all season and had very limited success in the passing game, so the offense relies heavily on Redd to produce. The offensive line is performing better in recent weeks but hasn't been as strong as Wisconsin's and Iowa's, and even Nebraska's. Redd has gotten a bit of help from fellow backs Beachum and
Curtis Dukes
, but Dukes is second on Penn State's carries list with only 35.
The quote:
"He can hurt you with his speed and his elusiveness outside, and he can run between the tackles. He's a pretty complete back." -- Nebraska coach Bo Pelini
The case for Redd:
He has been an absolute workhorse for a struggling Penn State offense and transformed himself into a complete back in just his sophomore season. Redd had the most impressive month of any candidate (October), and he did it all against Big Ten competition. He has the weakest supporting cast and, along with Coker, he's clearly his team's main ball-carrier.
The case against Redd:
The main knock on Redd is he doesn't score enough touchdowns. He has 14 fewer rush touchdowns than Ball, six fewer than Burkhead and five fewer than Coker. Redd also has had some fumbling issues that have ended promising Penn State drives.
November, 9, 2011
11/09/11
9:00
AM ET
They couldn't stop raving about the moves.
Silas Redd gave Penn State fans their money's worth in 2010, despite a limited role in the offense. He had only 77 carries, but he made them count, averaging 5.7 yards per rush. Although the freshman dynamo had no run longer than 30 yards, he left Nittany Nation salivating with his lateral speed, his creativity and his ability to make opposing defenders look bad.
Redd was an entertaining back in 2010. These days, some might say he's more of a boring back to watch.
He's also undeniably a much better back.
[+] Enlarge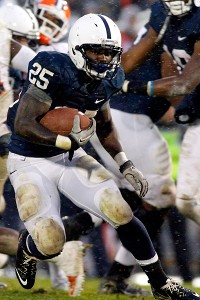 Justin K. Aller/Getty ImagesPenn State's Silas Redd rushed for 137 yards against Illinois.
Redd has accomplished something few young college players achieve so early in their careers. He has reinvented himself as a runner, and it's paying off for Penn State.
The sophomore just completed one of the best individual months in recent Penn State history. Redd recorded five consecutive 100-yard rushing performances in October -- he had 129 yards or more in each game -- and racked up more rush yards in the month (703) than any other FBS player. He averaged 140.6 yards a game and 5.3 yards a carry.
Showy Silas has become Steady Silas. He's the first Penn State player to record five consecutive 100-yard rushing games since Curtis Enis in 1997.
"My running style has kind of changed from last year," Redd recently told ESPN.com "I'm more of a straight-line runner, one-move-and-go type guy. Not too much dancing. Just try and hit that hole and do what I can."
Redd is doing it all for a Penn State offense that has been inconsistent, to put it nicely, in the passing attack, ranking 88th nationally in passing yards and 106th in passing efficiency. If ever Penn State needed a workhorse in the backfield, this would be the season, and Redd has delivered.
"He's fast, he's quick, he runs hard," said Nebraska coach Bo Pelini, whose team faces Redd and the Lions on Saturday in State College. "He's a really good football player. He's their featured guy. He has good vision. He can hurt you with his speed and his elusiveness outside, and he can run between the tackles.
"He's a pretty complete back."
Few would have labeled Redd as a complete back when he arrived at Penn State as a freshman generously listed at 5-10 and 200 pounds. Lions coach Joe Paterno said last week that Redd struggled with some assignments as well as pass blocking, and had some fumbling issues.
Although the potential was there, Redd had a long way to go.
His offseason training regimen, some of which you can see here, helped him take the next step. He spent three days per week on strength training but focused more on body weight exercises and free weights, working out at a beach near his home in Connecticut rather than in a gym. He spent two days a week on speed and agility training. Redd stuck to a similar program as a high school star in Stamford, Conn.
He showed up for preseason practice at 209 pounds, ready for the grind.
"I never really had a problem with getting hit," Redd said. "I just wanted make sure my body was able to handle it. It has so far, and I've been icing and recovering and doing what I have to do to stay healthy."
Redd didn't set explicit individual goals other than to have a better year than he did in 2010. Penn State was losing its all-time career rushing leader, Evan Royster, and needed a top back to emerge. When top backup Stephfon Green didn't open preseason practice with the team, Redd and Brandon Beachum became the primary candidates to take over.
After averaging 15.5 carries during non-league play, Redd has seen his opportunities spike in Big Ten games. He has carried the ball 28 times or more in four of Penn State's five league contests.
"Obviously, he can run with the football," Paterno said last week. "He's come along well. He's still got a ways to go, but he's playing solid. He's made the most of the time when he's had some opportunities."
Although Redd suffered a shoulder stinger Oct. 22 at Northwestern, he responded the next week and carried the ball a career-high 30 times for 137 yards and a touchdown in Penn State's 10-7 win against Illinois.
Toughness is part of his DNA. His father, Silas Sr., is an ex-Marine who now serves as a police officer.
"He was tough," Redd said of his father. "We've had a tough-love relationship for a long time. Looking back at it, I can say I appreciate it more now than I did then and understand why he treated me the way he did.
"He's proud of me. He knows my potential. He knows I haven't reached my potential yet."
That's the exciting part for Penn State fans, who could use a dazzling distraction right about now.
"Hopefully," Redd said, "I can still give the crowd some excitement."
November, 23, 2008
11/23/08
9:00
AM ET
Posted by ESPN.com's Adam Rittenberg
Wow. A lot of big-time performances in the league this week, so a few more stickers than usual.
These guys saved their best for last.

Penn State QB Daryll Clark: As he promised, Clark got his swagger back in a big way against Michigan State. The junior passed for a career-high 341 yards and four touchdowns, marking Penn State's first 300-yard passing performance since Michael Robinson in 2003. Clark completed seven passes of 26 yards or longer as No. 8 Penn State crushed No. 15 Michigan State, 49-18, to reach the Rose Bowl. Penn State had a school-record 419 pass yards.
Purdue QB Curtis Painter: Painter ended a disappointing season on an extremely high note, completing 38 passes for 448 yards and five touchdowns in a 62-10 rout of Indiana. The fifth-year senior connected with five different players for touchdowns and moved into third place on the Big Ten's career list for total offense.
Iowa RB Shonn Greene: He capped a remarkable year by setting Iowa's single-season rushing record with 144 yards and two touchdowns in a 55-0 victory over Minnesota. Greene became the first back to eclipse 100 yards in all eight Big Ten games since Penn State's Curtis Enis in 1997. The junior should win the Doak Walker Award and might earn an invitation to New York for the Heisman Trophy ceremony.
Penn State WR Deon Butler: Butler had only three receptions, but all of them went for touchdowns, marking a career high. He had scoring receptions of 70, 59 and four yards and registered the third 100-yard game of his career (133 yards).
Iowa WR Derrell Johnson-Koulianos: Like many of his Hawkeyes teammates, Johnson-Koulianos had a huge night at the Metrodome, racking up seven receptions for 181 yards and a 29-yard touchdown in the third quarter. The sophomore came on strong in Iowa's final three regular-season games.
Northwestern defense: The Big Ten's most improved unit shut down the league's top offense, holding Illinois to a season-low 10 points in a 27-10 victory. Defensive end Kevin Mims (2.5 sacks, forced fumble) led the way as Northwestern held Illinois to 113 yards below its average.
November, 22, 2008
11/22/08
10:27
PM ET
Posted by ESPN.com's Adam Rittenberg
Penn State is headed to the Rose Bowl and Ohio State might be BCS bound as well, but the Big Ten might not have a hotter team than Iowa, which finished the regular season by winning five of six games. The Hawkeyes drilled Minnesota 55-0, storming out to a 27-0 halftime lead and pouring it on in the second half. They're bringing home the bacon to Iowa City.
Shonn Greene had another big night (144 rush yards, 2 TDs), becoming the first back to eclipse 100 rushing yards in all eight Big Ten games since Penn State's Curtis Enis in 1997. But he was somewhat eclipsed by the play of sophomore quarterback Ricky Stanzi, who is blossoming into a solid field general. Stanzi and Derrell Johnson-Koulianos hooked up seven times for 181 yards and a touchdown. DJK has come on strong the last few games.
Unfortunately for both Iowa and Ohio State, Oregon State rallied past Arizona and kept the Rose Bowl in the viewfinder. The Buckeyes likely need a Beavers loss next week against Oregon to earn a BCS at-large bid. If Ohio State reaches the BCS, it could open up a New Year's Day bowl spot for Iowa or Northwestern. Should the Buckeyes slip to the Capital One bowl, Iowa and Northwestern likely would be competing for the Alamo and Champs Sports bowls.
Minnesota has a habit of collapsing late in the season, but this face plant is rather stunning. The Gophers just haven't been the same team since Northwestern's Brendan Smith scored on an interception return with 12 seconds left in a Nov. 1 game at the Metrodome. Quarterback Adam Weber really struggled tonight, but without any semblance of a rushing attack, he can only do so much.
Four consecutive losses to end the season likely puts Minnesota in the final Big Ten bowl spot (Insight or Motor City).
November, 21, 2008
11/21/08
9:00
AM ET
Posted by ESPN.com's Adam Rittenberg
It's time for our final regular-season Saturday primer. Rivalry week brings no shortage of story lines.
To review the title scenarios for the umpteenth time, Penn State will clinch a share of the Big Ten championship and a Rose Bowl berth with a win against Michigan State (ABC, 3:30 p.m. ET). Ohio State can clinch a share of the league title by beating Michigan (ABC, noon ET) and would go to the Rose Bowl with a Penn State loss to Michigan State. The Spartans can clinch a share of the league title with a win at Penn State, but they also need an Ohio State loss to Michigan to reach the Rose Bowl.
1. State College in the spotlight -- It takes a lot for any Big Ten regular-season game to trump the Michigan-Ohio State rivalry, but the Penn State-Michigan State game qualifies. Penn State dominated the league for the first two months but has struggled a bit as of late, particularly early in games. Michigan State is the consummate team and could pull the upset against a more talented Nittany Lions squad by playing disciplined, physical football and limiting mistakes. The Spartans haven't won in State College since 1965 -- the season before Joe Paterno took over as Lions coach. Penn State aims for its second Big Ten title in four seasons.
2. Rich Rodriguez gets his first taste of The Game -- It has been a rough year for Michigan's new coach, who didn't help himself this week by telling a portion of college football fans to "get a life." Rodriguez's statement was blown out of proportion, but he would have been wise to steer clear of anything remotely controversial. He now tries to become the seventh straight Michigan coach to win his debut against Ohio State. But the Wolverines are three-touchdown underdogs and need a complete performance to avoid their ninth loss of the season.
3. Joe Tiller's send-off -- Purdue bids farewell to its all-time winningest coach as Tiller takes the field for the final time against Indiana (ESPN2, noon ET). This season hasn't reflected many of the good things Tiller did at Purdue, especially on the offensive side. But the crowd at Ross-Ade Stadium likely will show their appreciation for a man who revolutionized offense in the Big Ten and helped the Boilers reach the 2001 Rose Bowl.
4. Shonn Greene continues Heisman campaign -- Greene needs 107 yards to set Iowa's single-season rushing record, and another huge performance could earn him an invitation to New York as a Heisman Trophy finalist. The Iowa junior has been overlooked nationally this season, and he must continue to produce at a high rate to stay on the radar. Greene can become the first running back to eclipse 100 rushing yards in all eight Big Ten games since Penn State's Curtis Enis in 1997.
5. Terrelle Pryor reunites with Rodriguez -- The perfect quarterback for Rodriguez's spread offense will take snaps for Ohio State on Saturday. Pryor hasn't spoken to Rodriguez since hours before committing to Ohio State, and he can fuel the what-might-have-been argument with a big day against Michigan. The Buckeyes' freshman has blossomed in recent weeks, accounting for five touchdowns (4 pass, 1 rush) the past two games.
6. Juice Williams fights for bowl eligibility -- After a blistering start that included setting single-game total offense records in two different stadiums, Williams has struggled lately, committing nine turnovers (8 interceptions, 1 fumble) in Illinois' last four games. He was even replaced last week against Ohio State. The Illini must beat Northwestern to get bowl eligible a year after going to Pasadena, and they'll need a big game from Williams.
7. Joe Paterno's postgame news conference -- His team is a win away from its first Rose Bowl appearance since 1995, but the 81-year-old Paterno once again will be in the spotlight. He insists he hasn't thought about retirement, but he'll spend his seventh consecutive game in the press box with an ailing right leg/hip. Paterno could announce after the game when he'll undergo hip-replacement surgery and what the outlook will be for recovery and a return for a bowl game.
8. Minnesota closes out the Hump Dome -- Most Big Ten fans won't be sorry to see the Minnesota Golden Gophers leave the Metrodome, especially when they get a glimpse of TCF Bank Stadium. But the Gophers would like to end their residency in the dome with a victory against rival Iowa. Minnesota has dropped three straight after a 7-1 start and could slide down the bowl pecking order with a fourth consecutive loss.
9. Javon Ringer vs. Evan Royster -- Ringer has undoubtedly been one of the league's most valuable players, and Michigan State will need a huge performance from its senior running back to knock off Penn State. Royster would love to get some of Ringer's carries, and if given the chance, Penn State's dynamic sophomore running back could do big things against a stingy Spartans defense.
10. Northwestern's seniors chase history -- They're only the second class to have taken part in victories against all 10 Big Ten opponents. Now the Wildcats' seniors can lead the team to nine wins or more for just the fifth time in school history. Northwestern's range of potential bowls stretches from Outback to Insight, so a win against a talented Illinois team can move the Wildcats up the pecking order.
November, 17, 2008
11/17/08
11:08
AM ET
Posted by ESPN.com's Adam Rittenberg
I got two guys correct on my ballot. Here's the official list, announced by the league office this morning.
OFFENSE
Iowa RB Shonn Greene
Greene broke the century mark for the 11th time in as many games with 211 rushing yards and two touchdowns in a win over Purdue. The junior running back is the only player in the country to eclipse 100 rushing yards in every game this season and is on pace to become the first standout to surpass the century mark in all eight Big Ten games since Penn State's Curtis Enis accomplished the feat in 1997. Greene averaged seven yards per carry against the Boilermakers and broke loose for a career-long 75-yard scoring sprint in the second quarter, the longest run by a Hawkeye since 1997 when Tavian Banks went 82 yards against Iowa State. Greene added a 14-yard touchdown in the third quarter to give Iowa a 22-10 advantage. He surpassed the 200-yard mark for the second time in four games after setting a career high with 217 yards against Wisconsin on Oct. 18. The New Jersey native leads the Big Ten and ranks second nationally in rushing while his 15 rushing touchdowns are tied for the second-highest single-season total in school annals.
DEFENSE
Wisconsin DT Mike Newkirk
Newkirk collected a career-high seven tackles against Minnesota, including two sacks over a three-play span culminating in a safety to help Wisconsin rally from an early deficit. After falling behind 21-7 at halftime, the Badgers came back to take a 26-24 lead early in the fourth quarter when the Gophers fumbled a kickoff out of the back of the end zone for a safety. Minnesota got the ball back less than two minutes later at its own 7-yard line, but Newkirk recorded his first sack to push the offense back to the two-yard line. After an incompletion, the senior defensive tackle registered his second sack of the game in the end zone for another safety and a 28-24 advantage. Wisconsin would build a 35-24 lead before holding on for the three-point triumph.
SPECIAL TEAMS
Ohio State CB Malcolm Jenkins
With the game tied at 7-7 near the end of the first quarter, Jenkins sprinted around the line to block an Illinois punt out of the end zone, leading to a safety and giving the Buckeyes a lead they would not relinquish. The ensuing Illini kickoff was knocked down by the wind, leading to a short touchdown drive to help OSU to the road victory. The senior defensive back blocked his second punt this season and also added a 14-yard punt return, while posting two tackles and three pass break-ups on defense.
November, 16, 2008
11/16/08
3:38
PM ET
Posted by ESPN.com's Adam Rittenberg
The envelope, please ...
OFFENSE
Iowa RB Shonn Greene -- The nation's best running back not only eclipsed 100 rushing yards for the 11th straight game, but he went over the 200-yard mark against Purdue. If Greene eclipses 100 rushing yards this week against Minnesota, he'll become the first back to hit triple digits in all eight Big Ten games since Penn State's Curtis Enis in 1997.
DEFENSE
Northwestern DE Corey Wootton -- One of the league's more underrated defenders turned in a big game at Michigan. The 6-foot-7 junior blocked a field-goal attempt, recorded a sack, forced a fumble, broke up a pass and racked up six tackles as Northwestern shut out the Wolverines in the second half.
CO-SPECIAL TEAMS
Wisconsin CB Antonio Fenelus -- After the Badgers rallied to tie Minnesota at 24, Fenulus put his team in the lead for good on the ensuing kickoff by forcing a Troy Stoudermire fumble that went out of the end zone for a safety. Wisconsin scored 18 unanswered points to retain Paul Bunyan's Axe.
Ohio State CB Malcolm Jenkins -- The senior changed the complexion of Saturday's game against Illinois by blocking an Anthony Santella punt through the end zone for a safety late in the first quarter. The block gave Ohio State a 9-7 lead, one it never relinquished. It marked Jenkins' second blocked punt of the season -- the other resulted in a Buckeyes touchdown.