February, 29, 2012
2/29/12
3:20
PM ET
Today is the last day of February, and March means spring practice around the Big Ten. To get you ready, we're taking a look at how each team might fill the roles of two key contributors who are no longer on campus.
Today's focus is on Wisconsin.
BIG SHOES TO FILL: Russell Wilson, QB
[+] Enlarge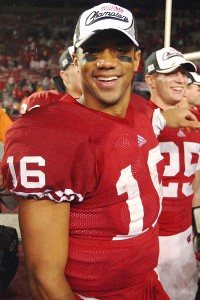 Mary Langenfeld/US PresswireRussell Wilson's one season at Wisconsin was surely something to smile about.
Why:
Though he only played one year in Madison, Wilson leaves large cleats to fill. He set an NCAA record for pass efficiency while giving the Badgers a level of quarterback play that they had never before experienced. Wilson threw for over 3,000 yards with 33 touchdowns and only four interceptions and became a team leader despite his late arrival to the program.
Replacement candidates:
Jon Budmayr
(6-0, 195, Jr.);
Joe Brennan
(6-3, 205, Soph.); Bart Houston (6-4, 215, incoming freshman);
Curt Phillips
(6-3, 225 Sr.);
Joel Stave
(6-5, 220 RS Fr.).
The skinny:
Wisconsin's quarterback candidates have combined to complete 21 passes for 247 yards in their careers, with zero starts and no real important minutes played. This position is easily the most pressing concern for the 2012 Badgers and probably the toughest one to predict an outcome. Budmayr was ready to be the starter last season until Wilson arrived from NC State in the summer, but Budmayr suffered another injury to his throwing elbow in August and was not able to play at all. Phillips is another guy who has been bitten by the injury bug, with two torn ACL injuries. Both Budmayr and Phillips are reportedly recovering well from their setbacks, but they have to be considered question marks because of the health concerns.
Brennan would have ended up as the starter if Wilson didn't transfer and spent the season as his backup, though he didn't see much significant game action. Stave has good size and skill, but the walk-on hasn't seen the field yet. Houston is the wild card as one of Wisconsin's prized recruits. But it's tough to see coach Bret Bielema handing the reins over to a true freshman, especially one who won't go through spring practice.
So this remains a real toss-up, and Wisconsin would be interested if another graduate transfer becomes available. Still, expecting anyone to perform as well as Wilson is probably asking too much.
BIG SHOES TO FILL: Aaron Henry
,
FS
Why:
We could have chosen center
Peter Konz
or guard
Kevin Zeitler
for this slot, as both were All-Americans in 2011. But Wisconsin simply reloads on the offensive line. The Badgers might have a harder time finding a replacement for Henry, a leader on defense who was named a first-team All-Big Ten performer by the coaches after posting 62 tackles and three interceptions in 2011. And the Badgers were a little thin in the secondary overall last year.
Replacement candidates:
Shelton Johnson
(6-0, 190, Sr.);
Dezmen Southward
,(6-2, 200, Jr.);
Michael Trotter
(6-0, 210, Soph.);
Frank Tamakloe
(6-3, 190, Soph.); D.J. Singleton (6-2, 200, incoming freshman).
The skinny:
Johnson started opposite Henry at strong safety last season but is likely to move to free safety this spring, with Southward taking over at strong. If that plan works, it would give the Badgers two experienced veterans at the two safety spots. Trotter backed up Henry in 2011
and could be ready to make a move up the depth chart. Tamakloe mostly saw time on special teams but is a very good athlete who could force his way into the lineup. And Singleton is the top-rated defensive back in the incoming class, though he profiles more as a strong safety and is unlikely to play right away at free, which is responsible for a lot of the defensive play calls.
So Wisconsin has some experience at this spot but once again will lack much depth in 2012.
February, 2, 2012
2/02/12
3:00
PM ET
Wisconsin has established itself as an emerging Big Ten power by winning league titles in each of the past two seasons. Have the Badgers turned the corner in recruiting as well? It's up for debate. Wisconsin signed only 12 players in its 2012 recruiting class and lost offensive line commits
Kyle Dodson
and
J.J. Denman
to other programs. The Badgers still ended up with some quality prospects, including quarterback
Bart Houston
, in a class that never was going to have big numbers.
Coach Bret Bielema chatted with ESPN.com on Wednesday. Here are his thoughts on the recruiting crop.
[+] Enlarge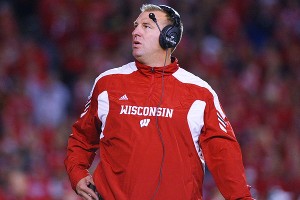 Brace Hemmelgarn/US PresswireBret Bielema is excited about his recruiting class, even though it's smaller than usual.
What were your top priorities with this class?
Bret Bielema:
Without a doubt, the offensive line. We were losing some pure numbers there the last two years, some guys going to the NFL, so we knew that was of major importance for us, especially with Pete [Konz] jumping out a year early. And it's always important for us to sign a quality quarterback and a quality running back, and we did that as well. Defensively, we were only going to take one D-lineman, really liked him [
Arthur Goldberg
], a kid we got out of Pittsburgh that we fell in love with when he came to camp. He's our kind of kid, blue collar, loves to work, get after it. We signed a really high recruit linebacker [
Vince Biegel
]. We weren't going to take big numbers there, but we wanted good quality, so we filled that out. And we got three DBs that are quality young men.
Did you expect to be in this range in terms of numbers, like 12 or 13?
BB:
We originally thought it was going to be a class of nine or 10. There were some departures on our team. Obviously, Pete Konz, I don't want to have a great player leave early, but the benefit of that is we got to sign another kid. This was really a class we were excited about, because we were going after some high-profile guys and they were jumping in the boat. We still have a chance for one more guy out there, but for the most part I'm very excited. I was excited to get [Jake] Meador in there, we beat out Missouri and Florida. Also with
Walker Williams
, he's a kid that when we started to have [coaching] transition, several Big Ten schools as well as Pac-10 schools tried to get back in there, and he stood strong.
Did you experience that with a few recruits after you had your assistants leave?
BB:
Absolutely. As coaches, we're all vultures. They smell something and they want to try and see if there's an interest, especially with great players. That'd be a great story if you want to call Walker Williams and ask him who came through his school the next two weeks after our Rose Bowl game. And he didn't really bat an eye.
Was this unique in that you had a small class to begin with, and then a coaching transition?
BB:
One hundred percent. If it had been a class of 24, we would have had real problems, just getting enough people. At one one point we got down to only [assistant] three coaches with me, Chris Ash, Charlie Partridge and Thomas Hammock, the four of us trying to cover everything. I had to put GAs out on the road, they did a tremendous job, really did well with kids having good faith. And again, with a larger class, I don't know if that could have happened.
You mentioned wanting to get a quarterback and a running back. What stands out about Bart and Vonte Jackson?
BB:
If I'm not mistaken, Bart's lost one game in three years as a starting quarterback at De La Salle. He's got an incredible record, an incredible history, something that stands second to none, and that's just winning football games. And Vonte, we had him going into his junior year in camp and he was ridiculous, the numbers he put up, his coachability and his work ethic and everything he stood for. It was very important for us, him being an in-state kid, to keep him here in the state.
You added some defensive backs. What stands out about them?
BB:
Well,
Hugs Etienne
is a guy who is in here at school right now. He's going to be a nice kid that's going to grow into his position. The other two guys,
D.J. Singleton
and
Reggie Mitchell
, both have a lot of athletic ability. Reggie comes to us from Pittsburgh, so it was nice to get another Pittsburgh-area kid here into Camp Randall. And D.J. Singleton coming from the East Coast, from St. Peter's Prep, he's a nice guy to bring in and continue his career.
Do you fight any perception when you're signing a smaller class versus schools signing 25 or more guys at all sorts of positions?
BB:
One of the things we do is we keep our kids. We don't have a lot of transition among our kids. When we get them, they usually stay four, five years and are part of our program. One of the disadvantages is you end up with smaller classes in a couple different years back to back. One thing that would be neat is if you really sat down and studied the amount of seniors graduating versus the amount of kids being signed. So if you're graduating 13 and signing 28, there are 15 kids, you have to figure out where the heck they went.
You've had some Big Ten freshmen of the year in recent seasons. In this class, do you see some guys who have a chance to contribute early, or will it be tough with the bigger numbers you have elsewhere?
BB:
I've never really singled out a guy who might do that, but I'm not saying the possibility isn't there.
Was anything different this year with the Big Ten recruiting landscape, as some new coaches stepped in around the league?
BB:
One of the greatest things we have going for us with the new divisional alignment was to be in the same division as Penn State and Ohio State. To me, that's where the true competition lies. Before last season, Ohio State had had six uninterrupted conference championships, and obviously we've had two now. For us to have a big conference rivalry game against Ohio State speaks volumes about where we're at. That's something we took with a lot of pride. They came in on some of our guys, and vice-versa, so it was interesting. It's going to be fun to learn the recruiting style that Ohio State's staff and the new Penn State staff has. That's what you've got to expect in these inter-conference battles. It's just good, clean football, and hopefully the best man wins.
Did you guys swing for the fences more in going for some higher-level prospects after the recent success on the field?
BB:
If they're kids who lie within our normal recruiting area, we're going to go after a kid whether he's a five-star or a one-star, if he fits our program. On the flip side, if there's a kid outside of our norm, it's usually because they reached out to us, Walker Williams being a case. I believe he had every Pac-10 school [interested]. I know there were two major schools within our conference who reached out to him after the bowl game, hoping the transition of coach [Paul] Chryst and [Bob] Bostad would have an effect on the decision. It didn't. That speaks volumes about where we're at.