August, 26, 2011
8/26/11
8:00
AM ET
You've asked for it and you've been very patient, so here it is. The Big Ten All-Name team.
Who doesn't love a good name? And there are some very strong candidates around the Big Ten this season.
The only criteria, besides having an awesome name, is a player must be on a Big Ten roster entering the 2011 season. Incoming freshmen are eligible. Names that could have a football connotation help your cause.
Let's do this ...
Coach:
Jerry Kill, Minnesota
OFFENSE
QB:
Moses Alipate
, Minnesota
RB:
Fitzgerald Toussaint
, Michigan
RB:
Mika'il McCall, Iowa
FB:
Jared Crank
, Purdue
OL:
Fou Fonoti, Michigan State
OL:
Jack De Boef, Purdue
OL:
Rocko Khoury, Michigan
OL:
Seung Hoon Choi, Nebraska
OL:
Riki Kodanko, Wisconsin
WR:
Fritz Rock
, Illinois
WR:
Xzavian Brandon
, Minnesota
WR:
Tariq Tongue
, Penn State
WR:
Nick Toon
, Wisconsin
TE:
Jake Stoneburner
, Ohio State
DEFENSE
DL:
DeJazz Woods, Illlinois

DL:
Kyle Baublitz, Penn State
DL:
Wisdom Onyegbule, Illinois

DL:
Shilique Calhoun, Michigan State
LB:
Storm Klein, Ohio State
LB:
Coddye Ring-Noonan, Wisconsin

LB:
Kaulana Judd, Purdue
DB:
Miami Thomas, Illinois
DB:
John Lowdermilk, Iowa
DB:
Peniel Jean, Wisconsin
DB:
Shady Salamon, Minnesota
SPECIAL TEAMS
P:
Alex Butterworth, Penn State
K:
Carson Wiggs, Purdue
PRACTICE SQUAD
Zepheniah Grimes, LB, Illinois
Griffen Dahlstrom, LB, Indiana
Curenski Gilleylen, WR, Nebraska
Whitney Mercilus, DE, Illinois
Caleb TerBush, QB, Purdue
Takudzwa Kubvoruno, WR, Michigan State
Dakota Getz, LB, Iowa
Darius Millines, WR, Illinois
Dusty Kiel, QB, Indiana
Chi Chi Ariguzo, LB, Northwestern
DeOn'tae Pannell, OL, Penn State
Khairi Fortt, LB, Penn State
Sahr Ngekia, TE, Minnesota
Montee Ball, RB, Wisconsin
Silas Redd, RB, Penn State
Nick Stoner, DB, Indiana (nod to Adam's hometown of Berkeley, Calif.)
Marlandez Harris, DL, Indiana
Logan Link, DB, Purdue
Stone Pinckney, LB, Northwestern
July, 14, 2011
7/14/11
3:15
PM ET
James Morris didn't set a goal for number of minutes played as a freshman at Iowa.
He didn't even care which unit -- first team, second team -- he joined on Saturdays. He simply wanted to get on the field. The linebacker ended up appearing in all 13 games, starting the final six, finishing fourth on the squad in tackles with 70.
"It was a pretty awesome experience," said Morris, who added four pass breakups and a sack. "I feel like I got a good jump on most of my competition. I think it'll pay bigger dividends once the season rolls around and I can apply some of that experience."
Morris knows he'll take on an enhanced role for the Hawkeyes' defense this season. He also knows others will have to replicate his rise as Iowa replaces six defensive starters, four of whom were selected in April's NFL draft (Adrian Clayborn, Christian Ballard, Karl Klug and Tyler Sash).
[+] Enlarge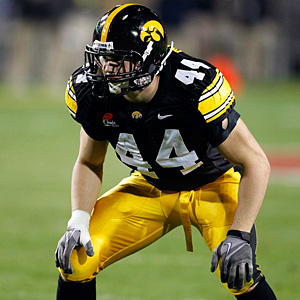 Rick Scuteri/AP ImagesJames Morris looks to build on the experience he gained last season as a freshman.
Iowa entered the 2010 season seemingly with a clear identity on defense, but the unit ended up with mixed results. The Hawkeyes need the opposite to occur this fall -- for a new-look defense to establish its personality and consistently shut down the opposition.
"I feel like we're young, but that's not necessarily a bad thing," Morris said. "We're unproven, and there's a lot of guys on our squad who take offense to that. They want to prove themselves, and I'm hoping people are going to be surprised by what they see with the effort and how determined our guys are to prove what kind of players they are."
Morris began the proving process last season. A rash of injuries at linebacker thrust him into the starting lineup down the stretch, and he recorded 40 tackles in his first four starts.
Like many freshmen, Morris was prone to overthinking things when he first got in games. A National Honor Society member in high school, Morris admits he's "very much" an analytical person.
"You're sort of forced to lead a double life, what's expected of you on the field versus being a civil human being in conversation off the field," he said. "I thought I was doing a pretty good job of not outpacing myself toward the end of the year, as opposed to the beginning, when maybe I was playing a step slow, trying to process everything."
Morris acknowledges he made plenty of mistakes in 2010, but his effort level never wavered. He wants to be a more polished player this fall, especially as he guides the linebackers alongside veteran Tyler Nielsen.
Iowa must build depth around Morris and Nielsen with players like Christian Kirksey, Bruce Davis, Anthony Hitchens and Dakota Getz.
Morris doesn't expect the defense's personality to fully form until the end of training camp, which kicks off next month, but players are motivated to prove themselves and finish games better than they did in 2010.
"A lot of guys on our defense, they're driven and they're determined to improve and create their own identity," Morris said. "Some of them, they feel like last year was somewhat in flux in terms of what our identity was. They're going to come out of camp with a purpose."
May, 23, 2011
5/23/11
3:00
PM ET
More than one Big Ten coach has called Iowa's defense vanilla in the past decade.
It's not a dig at the Hawkeyes or at longtime defensive coordinator Norm Parker. Just the opposite, in fact.
[+] Enlarge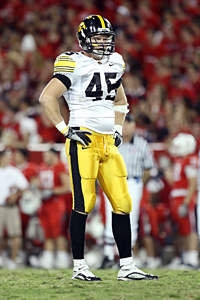 Photo by Christian Petersen/Getty ImagesIowa and linebacker Tyler Nielsen might stray from their traditional 4-3 scheme this season.
Unlike some defenses, which have to mix up formations and plays until something clicks, Iowa gets by with a basic 4-3 scheme that relies on hard-and-fast rules, polished fundamentals and execution. And for the most part, the Hawkeyes have vanilla-d their way to success. The biggest key to the scheme is a line that can consistently generate pressure and reach the offensive backfield.
But Iowa now must replace three defensive linemen selected in April's NFL draft (
Adrian Clayborn
,
Christian Ballard
and
Karl Klug
). And at times last season, especially against spread offenses -- Arizona, Missouri, late in the Northwestern game -- Iowa's line didn't put enough pressure on the pocket, leaving some to wonder if a schematic shakeup was in order.
Could we see one this season?
I talked about this issue last week with Hawkeyes beat writer Marc Morehouse at the Big Ten spring meetings. Morehouse wrote in March about the
possibility of Iowa using a 3-4 alignment
more often this season. Although Iowa will remain a base 4-3, several factors suggest the defense will be more multiple.
From Morehouse's story:
Against the pass, expect Iowa to work in some 3-4 on passing downs, especially if that passer is (Blaine) Gabbert's caliber. Iowa will continue to rush four or more (but mostly four) probably 90 percent of the time, so we're not talking wholesale philosophy change, just a tweak that would put more speed on the field.
It makes sense, especially against spread offenses that get the ball out quickly and require speedy defenders to make plays in space. Iowa struggled to generate consistent pressure against Gabbert in the Insight Bowl, forcing Parker to shake up the scheme quite a bit.
Without much proven depth on the line, Iowa might be well served by being more multiple this season. Although there are some question marks at linebacker, the group could be better and deeper if younger players like James Morris, Christian Kirksey, Anthony Hitchens and Dakota Getz continue to develop. Tyler Nielsen provides a veteran presence to build around, and Bruce Davis is back from a knee injury.
The biggest obstacle to a 3-4 is the lack of a mammoth defensive tackle. Iowa's tackles typically are a bit undersized, which has worked out well with players like Mitch King, Matt Kroul and Klug. Redshirt freshman Carl Davis, who checks in north of 300 pounds, is the only lineman who could fit the traditional 3-4 tackle mold.
Still, the depth issues up front combined with the potential at linebacker suggest we could see more flavors from a vanilla Hawkeyes defense this season.
February, 17, 2009
2/17/09
12:00
PM ET
Posted by ESPN.com's Adam Rittenberg
A glimpse at the league on this super Tuesday.
"U-M had two quarterback commitments early. When one dropped out, the Wolverines sought [Tate] Forcier. When the other bailed, they found [Denard] Robinson. It was clear that they didn't think they had the answer on their roster."