April, 28, 2014
Apr 28
9:00
AM ET

The spring workouts are in the books and the long offseason has arrived. But before diving into summer and the painful wait for football to return, we're taking a look back at the developments from March and April and sneaking a peek at what to expect in the fall for Michigan.
Three things we learned in the spring
Front seven, front and center: The Wolverines didn't stand pat on defense this offseason. Defensive coordinator Greg Mattison is now coaching the linebackers, while Mark Smith moved down to take over the defensive line. They also shuffled their linebackers, switching Jake Ryan to the middle and emerging star James Ross III to the strong side. The moves seemed to work out well this spring, with Ryan looking like his old playmaking self a year removed from ACL surgery. The defensive line could be one of the team's strengths, led by senior defensive ends Frank Clark and Brennen Beyer and improving youngsters Taco Charlton, Chris Wormley and Willie Henry. Mattison wants to blitz more this season and hopes the defensive line can get more pressure on its own.

Early enrollees, immediate impact: When players skip the final half of their high school senior years to enroll in college in January, the hope is that they will be more advanced than most freshmen. Wide receiver Freddy Canteen and offensive lineman Mason Cole exceeded those expectations. Both impressed the coaching staff right away, with Canteen drawing raves and Cole getting a lot of first-team reps at left tackle. Both were with the starting unit during the spring game and figure to have roles on the team this fall.

More QB clarity: Brady Hoke talked of a quarterback competition this spring, and Devin Gardner wasn't originally expected to do a whole lot while recovering from a broken foot. But Gardner surprised the coaches by fulling participating in all 15 spring practices and asserting his hold on the position. Hoke said Shane Morris closed the gap a bit on Gardner and that the competition would continue. But even though Gardner didn't play well in the spring game, it's pretty clear that this remains his team.
Three questions for the fall
Can O-line be less offensive?: New offensive coordinator Doug Nussmeier has brought a simplified blocking scheme and a focus on running downhill. Players said there were times this spring when that was effective. But concerns about the youth and chemistry on the line remain, and not just because of another shaky performance in the spring game. When a mid-year enrollee (Cole) is starting at left tackle, that raises serious red flags. The return of Erik Magnuson and Joey Burzynski from injury and Graham Glasgow from his one-game suspension will help the experience and talent level. But for now, the line is full of young, unproven players who must find a way to raise their games between now and late August.

Skill position suspense: With Jeremy Gallon and Drew Dileo graduated, Devin Funchess is the only returning receiver with more than 15 career catches. Canteen's emergence provided another option at the position, but a lot of question marks remain at wideout. Michigan is hoping Jehu Chesson, Csont'e York, Da'Mario Jones and Dennis Norfleet step forward, Amara Darboh successfully returns from injury and freshman Drake Harris can contribute. But there are few sure things. At running back, the team is hopeful that Derrick Green breaks out as a sophomore and De'Veon Smith joins him for a powerful duo. Again, though, it's mostly optimism and little track record at this point.

Enough leadership? Hoke has suggested that he wasn't thrilled with the leadership during last season's 7-5 team. He and the players have said that the chemistry and accountability have been good this spring. The fact remains, however, that this team has only 12 seniors, and only seven of them are position players who see the field a lot. Leadership will also have to come from the junior class and elsewhere if Michigan wants to get over the hump of mediocrity.
One way-too-early prediction
Jabrill Peppers
immediately becomes the team's best defensive back. That's a bold call, as Peppers isn't even on campus yet. But he was the No. 2 player in the 2014 ESPN 300 for a reason, and he should be the kind of physical, cover corner that Michigan has lacked. The Wolverines could try him in several different positions, but if he's the real deal, he can start quickly at cornerback. Program insiders believe his ceiling could be in the Charles Woodson neighborhood. No pressure, kid.
August, 21, 2013
8/21/13
10:00
AM ET
ANN ARBOR, Mich. -- After quarterback
Devin Gardner
tweeted an impressive one-handed catch from
Amara Darboh
and a good spring game performance from the wide receiver, fans couldn't wait to see Darboh hit the field in Michigan Stadium this fall.
[+] Enlarge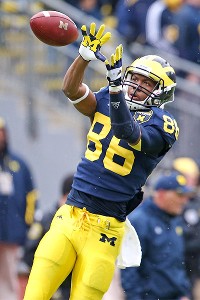 Leon Halip/Getty ImagesWith Amara Darboh out, Jehu Chesson's size and speed might find him more playing time this fall.
But on Tuesday, Michigan coach Brady Hoke announced that Darboh had gotten "banged up a little bit" in Saturday night's scrimmage and by Wednesday, the news had gotten quite a bit worse.
Now fans will have to wait another season to see that potential as the school announced Wednesday that
Darboh would miss the 2013 season
with a foot injury that would require surgery.
With the injury, Michigan is in a bit of a bind. Though Darboh didn't register any catches last season and mainly just played special teams, he did have game-time experience, which is a huge factor when throwing players into the fire. He had been an expected starter (Hoke actually referred to him as such in the press release) and Gardner spent much of his time in the offseason building chemistry with Darboh.
But there are options at wide receiver for the Wolverines.
Gardner still has security blankets in redshirt senior
Jeremy Gallon
and senior
Drew Dileo
, though neither really fits the mold for what Al Borges wants in a big, rangey, downfield target. Neither is above 5-foot-10 and while both have proven effective for Michigan, they really don't have the same skill set as Darboh.
Michigan's likely option will be redshirt freshman
Jehu Chesson
, the 6-foot-3 former track star whose speed has impressed. Redshirt senior
Joe Reynolds
has had a nice fall camp as well, and at 6-foot-1 he could be a bigger target for Gardner.
The injury might also mean Wolverines have to burn some redshirts. In their 2013 class they have three wide receivers who are at least 6-foot-3 -- Csont'e York, Da'Mario Jones and
Jaron Dukes
. Michigan does require its wide receivers to block which many have said takes a lot of time to learn, but if any of these three could pick up blocking more quickly, they could have the chance to see the field this fall.
Considering the nonconference schedule, though Notre Dame's secondary returns several players, Michigan will still have a bit of time to get younger or less experienced wide receivers into the swing of things.
But with Darboh being missing the season, it definitely leaves the Wolverines receiving corps feeling banged up as well.
April, 29, 2013
4/29/13
5:00
PM ET
Not surprisingly, there are a lot of questions about division realignment. Let's dive in, and keep 'em coming ...
Marcus A. from Peoria, Ill., writes:
You wrote, "the good news is that the Big Ten is sure to schedule crossover games between the Huskers and the Eastern powers as much as possible." Isn't the schedule set to a more or less fixed rotation? Without protected rivalries we should see the same number of games, over time, against each team. Or does the Big Ten not use math anymore?
Brian Bennett:
As
Jim Delany told Adam
on Sunday, "In the first 18 years, you're going to see a lot of competition between teams at the top of either division. We call that a bit of parity-based scheduling. You'll see Wisconsin and Nebraska and Iowa playing a lot of competition against Penn State, Ohio State and Michigan." Big Ten leaders aren't dummies. They know that more Nebraska-Ohio State, Wisconsin-Michigan type games are good for TV and good for overall business. They'll do everything they can to make sure those games happen as much as possible without tipping the scales of competitive balance too far.
---
Lance S. from Greensboro, N.C., writes:
I'm surprised you put
Wisconsin as a winner
[in realignment]. As a lifelong Badger fan, I respect the MN rivalry because of its history, but the teams I REALLY want to beat are Ohio State, Michigan, and Michigan State, in that order. I'd take annual games against any of those three over Iowa any time. The new divisions render the Badgers' regular season as "ho hum". Now the only thing to look forward to will be the Championship game and the bowl game. What a shame!
Brian Bennett:
There's no question in my mind that Wisconsin made out well. Let's face it: the Badgers belong in the same division with Iowa, Minnesota and Nebraska, and they are a bit of an outlier in the Leaders. The path to the Big Ten title game looks much, much easier in the West, although Wisconsin doesn't need a lot of help these days. The drawbacks are fewer games with Ohio State and Michigan State, both of which have become good rivalries of late. Still, the positives far outweigh the negatives for Wisconsin.
---
Hollis Jr. from Supercool Underground Lair writes:
If MSU was in the West we would lose even more recruits to big dorky brother and OSU. Collectively the teams in the East seem much closer. For instance, I would go to Maryland for a game, check out the monuments in DC and eat some crab in Annapolis while listening to a local band. I wouldn't go to Nebraska or Iowa under any circumstances.
Brian Bennett:
Well, there's the bright side for the Spartans, I suppose. Michigan State does have more in common with its new East Division brethren, and Mark Dantonio's staff recruits Ohio hard. I'm curious to see whether teams in the East will gain a recruiting advantage over time by having more regular exposure in the New York and D.C. recruiting areas. Fans will enjoy the annual games against Ohio State and Penn State, as well as of course Michigan. I like what Mark Hollis told
the Detroit Free Press
: "Coach Dantonio often talks about seeing the glass half full, and it's very true in this case. We have a great opportunity before us, and that's how this entire athletic department is looking at it. We're viewing this as a positive." The Spartans have no choice but to embrace this, but it's painfully obvious that their path to Pasadena is about to become as difficult as it's ever been.
---
Bill from Windy City writes:
The Legends and Leaders are dead, and there will be much rejoicing. But is the even-year/odd-year home-game scheduling a little over-determined? "[T]he East division teams will play five Big Ten home games and four Big Ten road games in even-numbered years . . . . The West division teams will play five Big Ten home games and four Big Ten road games in odd-numbered years." Different teams have different scheduling needs to get to seven home games. My Huskers will have to renegotiate the NIU game at Soldier Field. Iowa will have to buy a non-conference home game. Wisconsin has maximum flexibility, but will find it hard to keep an away date with Va Tech. Meanwhile, if the East had only 4 conference home games in 2016: Michigan would already be set for 7 home dates, and 0SU and PSU would only need to flip-flop home-and-home arrangements with Oklahoma and Pitt, respectively, to get to 7. (I guess you could write a whole post on this stuff!) Bottom line, it just seems excessively formalistic. What's the benefit?
Brian Bennett:
It's not entirely clear why the Big Ten decided on having the East have the five home games in even-numbered years and the West in odd years. It may have just been random; we'll check on that. But what is clear is that Big Ten schools needed to know when their league games would be so they could start scheduling nonconference opponents. There had been a moratorium on scheduling while this stuff was sorted out, and with opponents often booked years in advance, schools needed answers. Now everybody knows exactly what years they will have only four conference home games, which will most likely mean those schools have to schedule at least three non-league home games in those years. Flipping the odd-even years would have worked out better for Michigan State and Purdue i
n regards to Notre Dame
, but there was no way to do it that wouldn't have affected someone. The athletic directors I talked to were just happy to have some concrete information so they can go about putting together those future schedules.
---
David from Nashville, Tenn., writes:
Regarding your
column on Michigan's WR recruiting
; yes they really are upgrading the size. But contrary to the seeming implied tone (maybe I'm just misinterrepting it), speed is not always forgotten regardless of what the WR coach says. ...
Jehu Chesson
was a two time state champion in the 300m hurdles, and his senior year won the state championship in the 100m and 110 hurdles. Da'
Mario Jones
ran a 10.8 or 10.9 100m in junior year in track. In comparison, Braylon Edwards ran track at Michigan with a personal best of 10.8 in the 100m (ran a 4.38 40 at combine I believe), and he was generally considered a pretty fast dude, and a legitimate downfield threat to out run defenses. Drake Harris doesn't have track times, but he's the only WR in the state of Michigan history to break the 2,000 yard mark, which he did by running away from a lot of defenders (he was also heavily recruited by OSU who you point out very much values speed).
Brian Bennett:
Some people probably read too much into Jeff Hecklinski's quote from February and may have thought I was implying Michigan wasn't recruiting fast wide receivers. That's not the case. I think what he meant was that you don't want just track guys who can run fast in a straight line. There is a whole lot more that goes into being a good receiver, as we've seen time and time again. Michigan wants guys with great hand-eye coordination, body control, etc., as well as size. The difference is that in the spread, sometimes speed is the absolute No. 1 priority. What Michigan is doing with the height of its receiving recruits is unique in the Big Ten right now. And the difference between its philosophy at the position and Ohio State's is really interesting and will be fun to track.
---
John from Madtown writes:
Brian, in the
contender/pretender post on Michigan State
, you indicated contender largely on the play of MSU's defense. In
the Big Ten draft post
, both you and Adam were bullish on the Buckeye defenders, despite OSU replacing nearly all of their starting front seven. As good as MSU's D has been are you expecting the Buckeyes to have the better D?
Brian Bennett:
Good question, John. Remember, in that imaginary draft, eligibility mattered. For example, Ohio State's
Noah Spence
and
Adolphus Washington
, both sophomores, would be more valuable in some ways than proven seniors, and Buckeyes linebacker
Ryan Shazier
, a junior, would have one more year than Michigan State linebacker
Max Bullough
. But you hit on an interesting point. I'd say the Spartans will have a stronger defense this season, simply because they have fewer question marks than Ohio State, which is replacing its entire front four from last year and needs some guys to step up at linebacker. But the Buckeyes probably have more star power than the Spartans, with guys like Shazier and
Bradley Roby
and possibly Spence and Noah.
As good as Michigan State's 'D' has been the past couple of years, it has been viewed as more of a team effort than one led by individual stars. Only three Spartans defenders made the first team All-Big Ten team as voted by the coaches last year (and none were on the coaches' second team), while none made it on the media's first team. And that was from a Top 5 national defense. For whatever reason, the individual accolades haven't necessarily accompanied Michigan State's success as a total defense.
---
Anthony from Iowa City writes:
I know Iowa offensive coordinator Greg Davis is wanting vertical passes (doesn't everyone here) but.....I see another offense where sideways passing is going to happen. There just isn't any playmakers that can make those verticle catches (unless a reciever comes out of nowhere) I see
Damon Bullock
get a pass to the side and rely on
C.J. Fiedorowicz
and
Mark Weisman
to block. I'd love to see them only have to make 4 plays to move the field 60-80 yards and back up the defense quick, but I also have that feeling that we're going to see a lot of nothing from the offense again. But hey, if Johnny Football can come out of nowhere and win the Heisman, why not
Jake Rudock
?
Brian Bennett:
Well, that is most assuredly the first time I've heard Jake Rudock's name mentioned in conjunction with the Heisman Trophy, so kudos on that. Look, Davis understands as well as anyone that Iowa isn't blessed with great wide receivers who can create tons of separation. The goal is for the running game to be so good that teams have to load up the box, freeing receivers down the field on play-action. If that sounds overly ambitious, just remember how wide open many of Wisconsin's wide receivers have been in recent years. The Hawkeyes have a ways to go to produce like Wisconsin on the ground, but with an experienced offensive line and a deep -- for now -- stable of running backs, it is possible.
---
Anthony Z. from South St. Paul, Minn., writes:
What excuse do you or or counterpart have for not making it up to Minnesota?. Went to Nebraska, Wisconsin, and if Iowa would have gone to a bowl game rest assured either one of you would have been there. So what's the deal? Lazy?
Brian Bennett:
You can call us Big Ten bloggers a lot of things, but I don't think "lazy" is one of them. I mean, just look at our output. I think I can speak for Adam when I say spring trips are one of the highlights of our year, because we get a chance to talk to a lot of players and coaches, watch practices and gather tons of information in a setting where everyone is more relaxed and often more open than during the season. If it were solely up to us, we'd visit every school and spend several days on each campus. Unfortunately, in the real world there are things like travel and expense budgets, and our editors have to approve our trips. As much as we've both been dying to get to Minneapolis, it's not an easy drive for either of us and the Gophers haven't won enough lately to merit national coverage. Hopefully, that will be changing soon.
April, 26, 2013
4/26/13
2:30
PM ET
Remember two years ago, when Michigan created a lot of big plays by having
Denard Robinson
basically throw a jump ball that his receivers would somehow go up and grab? Well, by the looks of things, that might become a staple of the offense in the future. Only those receivers won't have to jump too high.
The Wolverines' strategy when it comes to recruiting receivers these days could be summed up in three words: super size me. On Thursday, Detroit wideout
Maurice Ways
became the latest player to commit to Brady Hoke. Ways is 6-foot-3.

He joins current Class of 2014 commits
Drake Harris
, a 6-foot-4 receiver, and
Ian Bunting
, a tight end who's been listed as tall as 6-foot-7. Meanwhile, Michigan's celebrated 2013 class included three skyscraper receivers: 6-foot-4
Jaron Dukes
, 6-foot-3
Csont'e York
and 6-foot-2
Da'Mario Jones
. They'll join current redshirt freshman
Jehu Chesson
(6-foot-3) and sophomore
Amara Darboh
(6-2) in Ann Arbor.
There's no secret to what's going on here. Michigan is moving on from its spread offense days and diving full bore back into the pro style system. Offensive coordinator Al Borges wants rangy, lanky athletes on the outside, both for the mismatches they create and their ability to block for the running game.
The Wolverines got great production out of the 6-2 Junior Hemingway the last two years, but their top returning receiver this year is
Jeremy Gallon
, who's only 5-foot-8. Gallon is an excellent player, but future Michigan receivers will likely look less like him and more like former great Braylon Edwards (6-3). Unlike the days of Rich Rodriguez's spread, the Wolverines appear to be valuing size over speed.
"Speed is overrated," receivers coach Jeff Hecklinski told reporters in February. "All of our guys, if you watch them on high-school film, they have great hands, they adjust to the ball, they track the ball very well in the air and they go up and they catch it. We can judge that on film, so let's get the best hand-eye coordination guys, guys that can catch the football, let's bring them in here and let's develop them in other areas."
Michigan's chief rival, and the other Big Ten team that's been cleaning up on the recruiting trail of late, is taking a different approach. Sure, Ohio State coach Urban Meyer wants guys with great hand-eye coordinator and catching ability, too. But he really wants blazing speed for his system. Just look at the receivers the Buckeyes landed in the 2013 class: Jalin Marshall (5-11), Dontre Wilson (5-10), James Clark (5-11) and
Corey Smith
(6-1). Receiver seems to be one position where Michigan and Ohio State are not in direct competition for the same players.
It will be interesting to see what kind of matchup problems the Wolverines' height at receiver poses for Big Ten defenses. Just take a look at the listed sizes of some of the top cornerbacks in the league the past two seasons:
Michigan State's
Johnny Adams
: 5-11
Purdue's
Ricardo Allen
: 5-9
Michigan State's
Darqueze Dennard
: 5-11
Ohio State's
Bradley Roby
: 5-11
Iowa's
Micah Hyde
: 6-1
Nebraska's Alfonzo Dennard: 5-10
Iowa's Shaun Prater: 5-11
Size, of course, doesn't always matter. There's also leverage, separation, route running, catching ability and several other factors that go into being great receivers. Former Michigan stars Desmond Howard (5-10) and Anthony Carter (5-11) did just fine without towering over people.
But Michigan is clearly taking its receiver position to new, um, heights. It will be fun to see how the strategy pays off in the near future.
February, 5, 2013
2/05/13
12:00
PM ET
We're less than 24 hours away from the only day of the year where a fax machine still seems relevant to society.