October, 17, 2012
10/17/12
3:30
PM ET
EVANSTON, Ill. -- Northwestern running back
Venric Mark
doesn't need a doctor to make the diagnosis.
Like most things in his life, he can do it all by himself.
"I have little man's syndrome," Mark told ESPN.com. "I've had that all my life, since Day 1. I've always been the small guy in the group. I've always been the guy that people go, 'Oh, no, let's not pick him.' So in my head, I'm thinking, 'OK, you're not going to pick me. I'm going to show you why you should have.'"
Any college coach who wouldn't pick Mark after the first half of the 2012 season hasn't been paying attention.
[+] Enlarge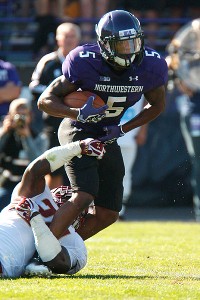 AP Photo/Matt QuinnanRunning back Venric Mark is on pace to break 1,000 yards.
Mark might be 5-foot-8 and 175 pounds, but he's the single biggest reason why Northwestern sits at 6-1, right in the thick of the Legends division race. Along with Iowa running back
Mark Weisman
and Penn State wide receiver
Allen Robinson
, Mark has been one of the Big Ten's surprise offensive stars through the first seven weeks, rushing for 792 yards and eight touchdowns.
He ranks fifth in the league and 15th nationally in rushing average (113.9 ypg). He also leads the league and ranks fourth nationally in all-purpose yards (184.6 ypg), recording two punt returns for touchdowns and 15 receptions, one for a touchdown. After putting himself in position to break most of Northwestern's career return records, Mark's emergence at running back has put the team's all-time career all-purpose yards mark (5,271 by Damien Anderson) very much in play.
"He's just playing at a high level right now," Northwestern coach Pat Fitzgerald said. "... He's a joy to coach."
Northwestern had 1,000-yard rushers every season from 2002-06, but none since. The team has lacked a true threat at running back since Tyrell Sutton departed after the 2008 season. For an offense born out of the Rich Rodriguez-style spread, it was a problem.
Few would have pegged Mark, a return specialist who struggled to find a true position for two years, to be the answer. Just don't tell him that.
"He has a level of intensity that if he was Muhammad Ali, he'd be knocking everybody out," said Northwestern linebackers coach Randy Bates, who recruited Mark out of Houston's St. Pius X High School.
Several times after runs, Mark has confronted defenders more than a half-foot taller than him.
"With football, emotions run high, people talk," Mark said. "For me, that's fuel. When they say, 'You ain't getting this,' that just motivates me."
Mark's edginess is his defining trait, even more so than the top-level speed that got him on the field at Northwestern as a returner and has been showcased on long runs, like scoring bursts of 48 and 26 yards last week against Minnesota. He's not a scat back who spends all his time on the perimeter.
He's a between-the-tackles runner who, along with quarterback
Kain Colter
, has boosted Northwestern's red zone run game, a weakness of the offense in previous years.
"Inside zone is his favorite play," Northwestern running backs coach Matt MacPherson said. "You have to be a special kid, a tough kid, and Venric is pound-for-pound one of the toughest guys on our team. He embraces that role. He wants it."
McPherson likened Mark to former Northern Illinois star Garrett Wolfe, who checked in at 5-7 and 185 pounds and while displaying tremendous speed in space, also had success between the tackles. Wolfe led the nation in rushing (1,928) in 2006.
When Bates began recruiting Mark, he heard some doubts about whether Mark could play in the Big Ten because of his size. Mark won Bates over with his intensity, a quality they share ("We're both pretty whacked-out in our own way," Bates joked).
The question always seemed to be where Mark would play.
Special teams was a given, and Mark became Northwestern's primary returner as a true freshman in 2010, averaging 26.2 yards on kick returns with a touchdown, and 12.9 yards on punt returns. He also stood out on kick coverage.
"There's no doubt in my mind if ever played anywhere at the next level, he could be on all special teams," Bates said. "He was a punt gunner and he was a kickoff guy, and obviously great returning. All that special teams value, even if he never played a snap on offense or defense, he already was a good player."
The coaches tried Mark at slot receiver, but he had just six receptions in his first two seasons, playing behind All-Big Ten selection Jeremy Ebert. There was some talk of using him on defense, but it never materialized. Although Mark came to Northwestern with the idea of simply being the team's starting returner, he wanted more and wasn't happy at receiver.
"I wanted the ball," he said. "I'm that type of player, I'm not going to lie to you. I like having the ball in my hands."
The coaches moved Mark from receiver to running back midway through the 2011 season.
"We weren't quite sure what position we were going to start him at, and as you can see, we were wrong," Fitzgerald said. "Hindsight being 20-20, we wish he would have started in the backfield sooner."
MacPherson knew Mark could make plays in space. His concern was how Mark would handle the mental challenge of being a running back in the Big Ten, where "you get the crap beat out of you," while remaining effective as a receiver and a blocker in Northwestern's offense.
Offensive coordinator Mick McCall wants to get Mark 25 touches per game. While MacPherson admits those won't be 25 inside zone plays, Mark has shown he can be a featured back, despite his size.
"I can take licks," Mark said. "Being a running back, you're going to get bumps and bruises. But it's how you play with them, it's your mindset. Coach MacPherson always talks about [defenders as] nameless, faceless victims. That's what they are."
How many victims has Mark taken this season?
"A lot," he said. "Us as a team, we've taken a lot. And we plan on taking a lot more."
April, 12, 2011
4/12/11
4:00
PM ET
Much of the preseason Heisman Trophy hype will be directed away from the Big Ten.
Although Michigan quarterback
Denard Robinson
finished sixth in the 2010 Heisman voting and led the race through September, he's adjusting to a new offensive scheme and a new coaching staff. Few other Big Ten players have the right combination of name recognition, on-field accolades and national appeal to generate preseason buzz.
But one Big Ten player should be on the Heisman radar. At least according to his coach.
"To have a Heisman Trophy candidate come back at quarterback for us is something that gives me a little bit extra sleep at night," Northwestern coach Pat Fitzgerald said Tuesday.
Fitzgerald referred to senior quarterback
Dan Persa
, a first-team All-Big Ten selection in 2010 who put up big numbers before rupturing his Achilles' tendon Nov. 13 against Iowa. Persa hasn't done much this spring but remains ahead of schedule on his rehab and should be cleared for full participation by June 1, if not sooner.
What did Persa think of his coach's proclamation?
"That's pretty cool," he said. "It's a pretty prestigious award and to be mentioned with that is a high honor. At the end of the day, it's out of my control."
Northwestern hasn't had a Heisman candidate since 2000, when running back Damien Anderson finished fifth in the voting. Although Persa is a known name in Big Ten circles, he could struggle to gain national attention because of Northwestern's profile and the fact the Wildcats likely won't enter the season ranked.
The quarterback is focused on other things, namely getting back to 100 percent. He started jogging in early March and has been focused on agility drills.
Thursday marks the five-month point since his injury and his surgery.
"These past couple weeks I feel like I've turned the corner in my rehab," Persa said. "It's still sore, but it's not as sore as it was. ... Hopefully by the middle of May, end of May I'll be pretty much full-go."
January, 20, 2010
1/20/10
11:00
AM ET
The decade recap marches on as it's time to examine the top 10 games involving Big Ten teams from 2000-09. As with all of these categories, the games list easily could include 25-30 items, so getting it down to 10 wasn't easy. Especially with games. I could probably identify 10 great ones just from my two years of Big Ten blogging.
What makes a great game? Good teams, good players, lots at stake and lots of drama, particularly in the closing minutes.
I put a
special emphasis
on games that helped to decide Big Ten championships, bowl championships and national championships.
Without further ado ...
1. Ohio State vs. Miami, 2003 Fiesta Bowl:
When the national championship game goes to two overtimes and a Big Ten team wins, it'll be at the top of the list. Ohio State nearly won in regulation, nearly lost in the first overtime and then finally prevailed 31-24 against a talent-stocked Miami team that had won 34 consecutive games.
2. Michigan at Ohio State, 2006:
This game had it all: No. 1 vs. No. 2, the sport's top rivalry, national championship implications, unparalleled buildup, the drama of Bo Schembechler's death a day before the game. Ohio State and Michigan combined for 81 points before the Buckeyes prevailed to reach the title game.
3. Michigan at Northwestern, 2000
: As regular-season games go, this is about the best you can find. The teams combined for 105 points and 1,189 yards of offense in a contest that saw tons of plot twists. Star running backs Damien Anderson and Anthony Thomas both committed an error in the closing minutes -- dropped touchdown for Anderson, lost fumble for Thomas -- before Northwestern emerged with a 54-51 win. Both teams went on to share the Big Ten title with Purdue.
4. Texas vs. Michigan, 2005 Rose Bowl:
It didn't go the Big Ten's way in the end, but Michigan and Texas certainly gave us a game to remember. The Wolverines received great play from quarterback Chad Henne and wide receivers Braylon Edwards and Steve Breaston, but Vince Young proved to be too much as Texas won 38-37 on a field goal as time expired.
5. Iowa at Ohio State, 2009:
This game essentially decided the Big Ten championship, as the teams met with a Rose Bowl berth at stake. Iowa came in as a major underdog after losing starting quarterback
Ricky Stanzi
to injury the previous week against Northwestern. Redshirt freshman
James Vandenberg
displayed incredible poise in his first career start, but Ohio State eventually prevailed in overtime after a 39-yard field goal from backup kicker Devin Barclay, a 26-year-old former Major League Soccer player.
6. Iowa vs. LSU, 2005 Capital One Bowl:
You'll never see a more exciting end to a bowl game, and the first 59 plus minutes weren't bad, either. Iowa built a 24-12 fourth-quarter lead behind quarterback Drew Tate, only to watch it disappear down the stretch. It set the stage for Tate's 56-yard touchdown strike to Warren Halloway as time expired as Iowa won 30-25.
7. Michigan State at Michigan, 2004:
Michigan State's losing streak at the Big House appeared over as the Spartans led 27-10 with 8:43 left. But Michigan rallied to tie the game as Braylon Edwards hauled in two touchdowns from Chad Henne. Henne and Edwards hooked up again in the third overtime as Michigan won 45-37 and went on to share the Big Ten title with Iowa.
8. Penn State vs. Florida State, 2006 Orange Bowl:
Joe Paterno and Bobby Bowden generated tons of buildup before kickoff, and the game itself didn't disappoint. It was hardly a masterpiece on either side, but the game generated plenty of excitement as the teams went to three overtimes before Penn State won 26-23 on a Kevin Kelly field goal.
9. Michigan at Minnesota, 2003:
Michigan's Big Ten title in 2003 could be directly linked to the greatest comeback in team history against Minnesota at the Metrodome. The Wolverines trailed 28-7 in the third quarter before rallying to win 38-35 on a Garrett Rivas field goal in the final minute. Minnesota was 6-0 before the loss.
10. Penn State at Iowa, 2008:
Penn State came to Iowa City with national title aspirations and jumped ahead of Iowa 23-14 late in the third quarter. But Ricky Stanzi stepped up in the fourth quarter and led a dramatic comeback that ended with Daniel Murray's field goal. It marked Penn State's only loss, though the Lions still won a Big Ten title and went to the Rose Bowl.
August, 7, 2008
8/07/08
9:20
AM ET
Posted by ESPN.com's Adam Rittenberg
| | |
| --- | --- |
| | |
| | Scott Boehm/Getty Images |
| | C.J. Bacher will have new faces protecting him in 2008. |
EVANSTON, Ill. -- Northwestern is finishing up its morning practice and holds media day in a few hours. Head coach Pat Fitzgerald will address reporters around 12:30 p.m. CT.
Here's a look at three questions facing the Wildcats this fall:
1. How will a new-look offensive line fare in protecting quarterback C.J. Bacher?
Northwestern hasn't been this deep at its offensive skill positions in some time, but the line is a major concern after the loss of three starters. Redshirt freshman left tackle Al Netter has the pressure-packed assignment of protecting Bacher's blind side, while classmate Ben Burkett get the first shot at center, a position of stability in recent seasons. Both guard spots are open, though returning starter Joel Belding should keep one of them. Bacher has looked a bit shaky under pressure, so firming up the line will be the team's top priority in training camp.
2. Will veteran coordinator Mike Hankwitz be the savior for Northwestern's defense?

The shotgun spread offense has been Northwestern's hallmark since 2000, but at what cost? The defense has suffered significantly since the spread arrived, finishing no higher than 68th nationally in yards allowed. Hankwitz, a defensive coordinator for six teams before coming to Northwestern, is seen as the coach who can reverse the trend. The zone-blitz specialist must extract more from a defensive line that has tons of experience but little to show for it. The secondary also has depth and experience but needs to overcome big-play breakdowns.
3. Can the no-huddle help the Wildcats return to their rushing roots?
This spring, new offensive coordinator Mick McCall implemented the no-huddle, which Northwestern used in 2000, when it won a share of the Big Ten title and finished third nationally in total offense (475.6 ypg). The Wildcats produced a 1,900-yard rusher (Damien Anderson) that year, and they hope for similar results from senior running back Tyrell Sutton. Despite putting up big yards last season, Northwestern got away from the run game, partly because of Sutton's ankle injury and partly because of offensive coordinator Garrick McGee. McCall likely will lean on both Sutton and backup Omar Conteh more this fall, and a fast tempo should help.
July, 25, 2008
7/25/08
5:44
PM ET
Posted by ESPN.com's Adam Rittenberg
CHICAGO -- Tyrell Sutton reached a breaking point last season. He wanted to shut it down, take a redshirt, close the book on 2007.
But Northwestern coach Pat Fitzgerald wouldn't let him do it. The team had a legitimate shot at a bowl game, and Fitzgerald needed whatever he could get from Sutton, no matter how little. Even as the weeks went by and Sutton watched from the sideline with a high ankle sprain, Fitzgerald made sure the running back would be available.
"I'm glad he didn't give me the option of copping out," Sutton said. "It's always in the back of your mind, like, 'Yeah, I wished I'd redshirted,' but I really didn't want to. I'm just glad he didn't let me. I wanted these guys to know that I wasn't quitting on them."
Sutton burst onto the scene in 2005, winning Big Ten Freshman of the Year honors after rushing for 1,474 yards. His numbers dipped as a sophomore as Northwestern experienced off-field tragedy (death of coach Randy Walker) and on-field struggles (4-8 record), but he still rushed for 1,000 yards.
Primed for a strong junior season, Sutton injured his ankle against Nevada. Two weeks later the Ohio native tried to return against Ohio State in Columbus, but his ankle didn't respond well in pre-game warmups. Then three more weeks went by.
"I wanted to give my team a full season," Sutton said. "As soon as (the injury) happened, I didn't know I was going be out for like seven games. Then when it came, I was like, 'Man, maybe I should (redshirt).'"
But the decision was made: If Sutton could play, he would. After serving as a "decoy" against Eastern Michigan, he saw significant time in the final four games, twice eclipsing 100 rushing yards.
He enters this season as the Big Ten's leading active rusher (2,996 career yards) and has an outside shot of breaking Damien Anderson's school rushing mark (4,485). Sutton doesn't mind the fact other Big Ten backs (Beanie Wells, Javon Ringer, P.J. Hill) garner more hype -- he has his own goals.
"I feel old," he joked.
"I've got to prove I've still got it. It's been a long time since we've been out there and I've got to prove to myself that I still have that want-to and that drive and that tenacity I had freshman year."