May, 5, 2010
5/05/10
10:30
AM ET
Indiana

2009 overall record:
4-8
2009 conference record:
1-7 (T-10th)
Returning starters
Offense: 8, defense: 4, kicker/punter: 2
Top returners
QB
Ben Chappell
, WR
Tandon Doss
, WR
Damarlo Belcher
, RT James Brewer, RB
Darius Willis
, LB Tyler Replogle, DT Larry Black Jr.
Key losses
LT Rodger Saffold, DE Jammie Kirlew, LB Matt Mayberry, DE Greg Middleton, CB Ray Fisher, SS Austin Thomas, FS Nick Polk, LB Will Patterson
2009 statistical leaders
(*returners)
Rushing:
Darius Willis* (607 yards)
Passing:
Ben Chappell* (2,941 yards)
Receiving:
Tandon Doss* (962 yards)
Tackles:
Matt Mayberry (108)
Sacks:
Jammie Kirlew (6.5)
Interceptions:
Austin Thomas (4)
Spring answers
1. End game:
Jammie Kirlew and Greg Middleton formed one of the Big Ten's most productive defensive end tandems during the last three seasons, and their departures raise a red flag about the defensive end position. So why isn't co-defensive coordinator Joe Palcic concerned? He has
tons of faith in
Darius Johnson
and Kevin Bush, the favorites to start at the two end spots. Bush, a 24-year-old redshirt sophomore, spent three plus seasons in the military before joining the Hoosiers. "I'm telling you, they're both going to end up being better than Jammie Kirlew," Palcic said.
2. Hoosiers switch to 3-4:
Despite losing two veteran linebackers, Indiana employed more of the 3-4 alignment on defense this spring in an effort to capitalize on its athleticism. The switch allows the Hoosiers to rotate more players up front. Among the players to be featured in the 3-4 are Johnson, Bush, Damon Sims, Fred Jones and Adam Replogle, a big, athletic defender who moved from tackle to end this spring.
3. Receiving orders:
Indiana entered the spring loaded at wide receiver, and the Hoosiers added more depth on the perimeter. First-team All-Big Ten selection Tandon Doss turned in a stellar spring, and redshirt freshman
Duwyce Wilson
worked his way into a rotation that also includes Damarlo Belcher and
Terrance Turner
. Junior
Dre Muhammad
also stepped up, as he and Wilson combined for 10 catches in the spring game.
Fall questions
1. The secondary:
There were some bright spots this spring, like the play of redshirt freshman cornerback Lawrence Barnett, but the secondary is far from settled heading into the summer. Indiana loses two multi-year starters at safety as well as Ray Fisher, its top cover corner. Junior college transfer Lenyatta Kiles went through spring ball, and another juco corner, Andre Kates, arrives for preseason camp. It will be interesting to see where those two fit in and whether Jerimy Finch finally blossoms at safety.
2. Run game:
The pistol formation was supposed to ignite Indiana's rushing attack, but it hasn't happened yet. And while there's little doubt the Hoosiers can light up defenses through the air, their running game is a major question mark. Darius Willis shows flashes but struggles to stay on the field because of ankle problems. Indiana needs a strong camp from Willis and continued production from other backs like Antonio Banks, who had a nice spring.
3. Offensive line:
Indiana must replace arguably the Big Ten's most underrated player in left tackle Rodger Saffold, who nearly worked his way into the first round of April's NFL draft (he was the first pick of the second round). Junior
Andrew McDonald
is Saffold's projected successor, but other players are in the mix, including starting guard Justin Pagan. The Hoosiers also must replace veteran guard Pete Saxon, so building chemistry will be key in preseason camp.
March, 16, 2010
3/16/10
1:30
PM ET
Anyone who watched Indiana in 2009 could see the obvious improvement that took place in Bloomington. The Hoosiers had a more dynamic offense and good speed on both sides of the ball. But once again, progress didn't translate into a better record, as IU couldn't finish off potential victories against Michigan, Northwestern, Iowa and Penn State. Fourth-year head coach Bill Lynch will be on the hot seat entering 2010, and he'll need to see his team make more strides on the field, particularly on defense, and most important, in the win column this fall.
[+] Enlarge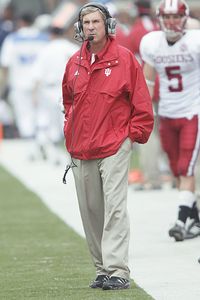 AJ Mast/Icon SMIAfter losing seven starters on defense, Bill Lynch's staff has it's work cut out on that side of the ball.
Indiana kicks off spring ball a week from today, and I recently caught up with Lynch to preview the spring.
You were so close in so many games last year. Is there any way to build off that as you hit the field again?
Bill Lynch:
I certainly think so. I've seen it throughout the winter program. We're building off what we did in the fall, and I've certainly seen good leadership, good gains in the weight room. We've got a great attitude going into the spring. Obviously, we've got two different kinds of teams. We've got great experience on offense. Certainly our skill position guys are back and healthier than they were a year ago. Offensive line, we lost a couple guys, but we've got some good young guys that have been waiting their turn. Defense is a bunch of young guys that are really anxious to go, some kids who have redshirted and we feel are very talented, guys that haven't played but who we think are going to be really good football players for us. So it will be fun to watch them get out and go. It's going to be a fun spring that way. I like what we're doing from an X's and O's standpoint. We just have to get better at it right now.
You mention the defense and I know you lose a lot [seven starters] on that side. As a head coach, I know you're an overseer, but will you spend more time with the defense this spring?
BL:
I don't think my personal time will be spent any more [with the defense]. We'll certainly do a great job of evaluating the kids. We've got to do more of it this spring than we've done in the last couple [of years], in terms of being very accurate in our grading and what we do in the spring with personnel, particularly on the defensive side. When you get out of the spring, you want to have a pretty good idea of your two-deep going into the fall. Now things can change and other kids can have great summers, but you have to have a starting point. In the spring, you give a lot of guys opportunities and see where it shakes itself out. But going into the fall, you have to have a pretty good idea.
So, would you like to know your depth chart on defense coming out of the spring?
BL:
Yeah, I think so. I've always felt like you'd like to come out of the spring knowing who your top 50 football players are. That's not to say you're not going to tweak some things over the summer before they get here in August, but it's important, not only offense and defense, but it gives you a great idea of how you'd like to start out with your special teams.
You mentioned the anxiousness of young players on defense to get out there. Who are some of the guys you're looking forward to seeing this spring?
BL:
I'll start at defensive end, because [Jammie] Kirlew and [Greg] Middleton played so much. Darius Johnson and Javon Cornley. We've got a guy named Kevin Bush, an older guy, really, but he's had a great fall and winter. He was a walk-on who was in the military and came back to school. And then Fred Jones, Eric Thomas are guys who have been in our program that are good football players. They've been waiting their turn to really go in and compete. At linebacker, it's more of a young group, but Damon Sims and D.J. Carr-Watson and Griffen Dahlstrom and Chad Sherer are all kids that are looking forward to showing what they can do because [Matt] Mayberry and [Will] Patterson and [Justin] Carrington and some of those guys that played so much [are gone]. We've got a JC kid in Jeff Thomas from Northern California; we like what we've seen from him in the winter, so I'm anxious to see him on the field. He's an inside [linebacker]. And then in the secondary, it's wide open. [Austin] Thomas and [Nick] Polk played so much, and then [Ray] Fisher played last year. There are some guys there that have had good winters because they know it's going to be very competitive, and this is their opportunity.
I'm sure you have a good idea of your leaders on offense, but who steps into those roles on defense?
Lynch:
There are a couple guys who are great leaders on that side. Tyler Replogle is as good as you're going to find, and Mitchell Evans is the same way, and we're moving Mitchell from offense to defense. So it starts there with those two guys. But all our [defensive] tackles played a lot of football for us last year, so we have good experience there. Evans certainly will give us some stability in the back end there because he's played so much football, even though it hasn't all been on defense.
October, 14, 2009
10/14/09
10:20
AM ET

Posted by ESPN.com's Adam Rittenberg
Indiana head coach Bill Lynch revealed Tuesday that the flu kept a handful of key defensive players out of practice last week, including starting middle linebacker Matt Mayberry, starting defensive end Greg Middleton and starting safeties Austin Thomas and Nick Polk. Indiana endured its worst defensive performance of the season in last Saturday's 47-7 loss to Virginia, which piled up 536 yards (305 passing, 231 rushing) in the game.
"I would never use that as an excuse because I think it's something we're going to have to deal with throughout the fall," Lynch told reporters in Bloomington. "It looks like it's on every college campus, and I'm not sure we're done with it. We had several guys on defense that didn't get a chance to practice last week and if you don't practice, it sometimes reflects what happens on the field."
Mayberry admitted that the enthusiasm was lacking in Charlottesville and might have stemmed from himself and others dealing with the flu.
A few other notes:
Lynch said linebacker Damon Sims, who had a chance to play as a true freshman, will be redshirted. The coach is taking a wait-and-see approach with two other true freshmen, quarterback Edward Wright-Baker and kicker Mitch Ewald.
Running back Darius Willis (ankle) and right guard Pete Saxon (ankle) are listed as questionable for Saturday's game against Illinois (Big Ten Network, 7 p.m. ET).
August, 28, 2009
8/28/09
3:06
PM ET
Posted by ESPN.com's Adam Rittenberg
The depth charts continue to roll in, as Indiana unveils its two-deep. One caveat: Head coach Bill Lynch still plans to release another depth chart before Thursday's season opener against Eastern Kentucky, so this is hardly set in stone.
A few notes:
Fifth-year senior Demetrius McCray is listed as the starter at running back, ahead of talented redshirt freshman Darius Willis. Junior Trea Burgess is third, and senior Bryan Payton surprisingly comes in fourth. Lynch expects all four backs to play against Eastern Kentucky, but he acknowledged that McCray turned in a solid camp. I think Willis will be the starter before long, though McCray can be effective if he stays healthy.
Lynch is weighing whether or not to redshirt quarterback Edward Wright-Baker, who has performed well in camp. Redshirt freshman Adam Follett is listed as Ben Chappell's backup at quarterback, but Wright-Baker might end up filling that role.

"If Ed is going to jump to being No. 2, which we've run him at two quite a bit the past couple of days, then you've got to decide at which point you're going to play him," Lynch said today. "Over the course of the last two or three practices, we've run Edward at No. 2 more than Adam. We listed Adam at number two now because I know Adam can go in a game. We've got to decide if that is what we're willing to do."
Sophomore Justin Pagan is listed as the starter at left guard, though he's questionable for the game with an ankle injury. Redshirt freshman Marc Damisch would step in if Pagan can't play. Cornerback Donnell Jones is also questionable with a hamstring injury, opening the door for Adrian Burks or Richard Council.

Defensive tackle Adam Replogle is one of several true freshmen who should see the field this fall. Lynch also said wideout Duwyce Wilson, linebacker Damon Sims and offensive lineman Aaron Price could play. "We know right now that Adam is going to be running out onto the field early," he said.

Indiana will select captains for each game this year. The team's official captains for 2009 will be voted on at the end of the season.

June, 24, 2009
6/24/09
3:25
PM ET
Posted by ESPN.com's Adam Rittenberg
The fresh faces series continues with the Indiana Hoosiers.
OFFENSE -- Darius Willis, RB, Fr.

Willis came to Indiana as the team's most heralded recruit in quite some time but redshirted last fall. With Marcus Thigpen graduating, Indiana's running back spot is open entering the summer and Willis should get plenty of touches. At 6-foot, 219 pounds, Willis boasts excellent size for a back and gives Indiana a different look than the smallish Thigpen. He was named co-offensive scout team player of the year last fall and showed promise late this spring after battling through several minor injuries.
DEFENSE -- Damon Sims, LB, Fr.
Head coach Bill Lynch and his staff really liked what they saw from Sims during the recruiting process, and Indiana's extensive struggles on defense should give young players opportunities to contribute. Sims played both defensive back and linebacker in high school and could help at multiple positions. West Virginia made a late push for him, but he stuck with the Hoosiers.
SPECIAL TEAMS -- Mitch Ewald, K, Fr.
Indiana needs to replace former All-Big Ten kicker Austin Starr, and it will turn to Ewald as a likely option this season. Ewald ranked as the nation's fourth best kicker by ESPN's Scouts Inc. despite getting limited work on field goals the last few seasons. He has a big leg and connected on a 47-yard attempt as a high school senior. He'll compete for the starting job in preseason camp alongside Nick Ford and Nick Freeland.