June, 11, 2013
6/11/13
5:00
PM ET
Happy Tuesday. Follow us
on Twitter
. To the inbox ...
Michael from Los Feliz, Calif., writes:
Is it possible you guys are overvaluing Wisconsin this year? Yes, they have a big senior class returning, but last year's team wasn't very good, and most of the best players are gone from Wisconsin's 'real' Rose Bowl squads. More importantly, they have a whole new coaching staff, and due to assistant turnover, the Badgers have had what amounts to three new coaching staffs in three years. They are also switching to a three-four alignment, which is an adjustment schematically and requires different personnel. Usually teams with this much staff turnover/dramatic schematic shits struggle. Could I be right here?
Adam Rittenberg:
Michael, you outline the reasons why many think Wisconsin won't contend for a Big Ten championship this season, especially with Ohio State once again eligible for a league title. It's certainly possible that all the transition will offset Wisconsin's experience, especially in the senior class. We can agree that the struggles in 2012, especially in the first half of the season, could be attributed in large part to the coaching/system changes that took place after the 2011 season. Gary Andersen and his staff bring more changes, including the 3-4 alignment on defense that you point out. I think the defense is more equipped to play a 3-4 than you might think, but we won't know for sure until the season begins.
Andersen's challenge is to make the changes he sees fit without overloading the players and corrupting what has been a pretty successful model. What I like about Andersen is he understands what makes Wisconsin successful and doesn't want to throw it all aside just to do things his way. He also understands the areas where Wisconsin needs help in recruiting, mainly the perimeter positions of wide receiver and cornerback. I think he'll have Wisconsin competing for division/league championships soon, but this season could bring some growing pains. We'll find out a lot about the Badgers early on as they make tough September trips to both Arizona State and Ohio State.
---
Kenneth from NY writes:
Adam, Do you see this year as a potential make-or-break for Brady Hoke? I'm not talking about in terms of his job security, but in terms of his overall perception as a top coach. Obviously he has recruited extremely well and given Meyer a run for his money for the top guys. But is there a sense amongst the ESPN clan that unless he actually beats Meyer this year, he's going to have a hard time ever doing it, especially with all the love and hype they're getting down in Columbus right now? I think Hoke can absolutely beat Meyer, if for no other reason than the game is at home, where Hoke has yet to lose. Also, rivalry game = throw records out nearest window. But having gone through the horrific seven-year drought of losing to that school, it worries me that if Hoke can't beat Meyer this year, we could very well be in for another long drought. Thoughts?
Adam Rittenberg:
Kenneth, this is a very interesting topic and a good one to bring up. Hoke certainly needs to beat Meyer soon to show that Michigan is on the same level with Ohio State, but I'm not sure this year's game is a make-or-break situation for him. Michigan still is in the process of getting its roster right after the Rich Rodriguez years, and the Wolverines are poised to sign a top-3 recruiting class in February (RecruitingNation currently
has Michigan at No. 1
). When I look at Michigan, I see a good, young team that doesn't quite have the numbers to win at an elite level. I think Michigan will be there in 2014 and 2015. It's not to say Michigan can't beat Ohio State this season, and I agree that the Wolverines will need to beat a genuinely good Ohio State team -- the historically mediocre 2011 squad doesn't qualify -- to legitimize themselves and, in a sense, their coach. In the big picture, Hoke has moved Michigan much closer to Ohio State's level and should continue to do so through recruiting. He needs to beat Meyer soon, but I don't think a loss this year would mean he'll never do it.
---
Unhappy Husker from Minneapolis writes:
"Although Husker fans might prefer a later kickoff time, this should be an advantage for Bo Pelini's squad as UCLA will be playing at 9 a.m. California time." While that may be true, this was Nebraska's only opportunity to showcase a quality opponent in Lincoln until 2015 at the earliest and it's at 11 which is terribly disappointing. Lincoln isn't a direct flight for anyone outside the midwest. How is Nebraska supposed to get recruits to come to Lincoln and get excited when Nebraska's home schedule has burried them for the next couple years? A 10-team Big XII playing night games against Oklahoma & Texas every year looks more and more appealing every day.
Adam Rittenberg:
I don't know, Husker, but I think
$25.7 million is pretty appealing
, plus what will be the sport's best television contract beginning in a few years. Listen, I get your frustration and the logistical challenges Nebraska faces, but I don't think the quality of the home schedule will impact recruits' decisions that much. Nebraska still has fabulous facilities to sell and a tremendous game-day experience, regardless of the kickoff time and the opponent. The Huskers had showcase night games the past two years against Ohio State and Wisconsin, and more will come in future seasons. Plus, if Nebraska handles its business like many think it will, the Huskers will enter November with a spotless record and home games against Northwestern and Michigan State that could be 2:30 p.m. CT kickoffs. Winning will get recruits' attention more than playing UCLA at night.
---
Jon from Tumalo, Ore., writes:
SEC, six major violations since 2009 and not one team is dinged out of a bowl game. I am NOT vindictive but looking at the penalty delivered to Miss St., if I am a OSU fan I am not happy.
Adam Rittenberg:
Jon, I guess they cheat better down South, too. Both Mississippi State and Ohio State complied with the NCAA during their respective violations cases, but there were a few differences. The big one: Mississippi State had an assistant coach in hot water, but Bulldogs head coach Dan Mullen wasn't implicated in the NCAA's findings. Former Ohio State head coach Jim Tressel, meanwhile, was the focal point in the Ohio State case for not coming forward with known violations. Ohio State also had a second wave of problems involving former booster Bobby DiGeronimo that pushed back the infractions committee hearing and, ultimately, the ruling that gave Ohio State a one-year bowl ban. Again, if Ohio State had only self-imposed the bowl ban after the second wave of infractions surfaced, it would have been eligible for a national title in 2012.
All that said, it's surprising that SEC teams continue to escape the NCAA's hammer. As they love to say in SEC country, if you ain't cheatin', you ain't tryin'.
---
Matt from Grinnell, Iowa, writes:
What do u think the chances are that the
Iowa Hawkeyes
will play against the
Missouri Tigers
during the regular season. I think myself would think it would make for a really good game like it was a few years ago when they met in the Insight Bowl.
Adam Rittenberg:
Matt, I think it could be a great series, whether it's a home-and-home or a neutral-site game in Chicago or St. Louis, where Iowa has had some recruiting success in the past. The dilemma for Iowa, as you probably know, is what to do with the Iowa State series. As the Big Ten moves to nine league games in 2016, Iowa has some decisions to make. Should the Hawkeyes keep playing Iowa State every single year? If so, it'll be tough to add another major-conference opponent to the schedule. Iowa says it needs at least seven home games per year to meet the budget. And as
coach Kirk Ferentz recently told me
, "I'm sure there will be teams that choose to play 11 or 12 BCS teams. I'm not sure we're in that group. I'm not sure that's in our best interest." Missouri would be that 11th "BCS" team if Iowa keeps Iowa State on the schedule. I'd be in favor of Iowa taking a two-year break with Iowa State now and then to get other major-conference teams on the schedule. Or, Iowa could have one year with both Iowa State (at home) and a neutral-site game against a team like Missouri. But there's no indication at this point of any future Iowa-Mizzou games.
---
Adam Rittenberg III from Bloomington, Ind., writes:
I see Danny Etling as a guy who can really develop into a quality QB if Purdue starts him all four years. However, I don't see Hazell doing that. Who do you think would be the best fit as Purdue's starting QB to begin the year? I tried to ask Danny Hope the same question, but he's still a little bitter about the whole thing.
Adam Rittenberg:
Is this my grandson writing from the future? Alrighty then. Purdue features one of the more interesting quarterback competitions entering the summer because of Etling and his emergence this spring as an early enrollee.
Rob Henry
is a great guy and a great leader who has worked his butt off to start at quarterback as a senior after enduring so much adversity earlier in his career. He'll easily win over the locker room. But Etling is Purdue's future, and there's a good argument to be made that the future is now for Purdue and Hazell should accelerate Etling's development as much as possible right away. Sure, there will be some mistakes, but Etling and Purdue could be better off in the long run. If Henry is clearly the better option in camp, Hazell's decision is easy. But what if they're equal? Hazell might be hesitant to start a true freshman, but he has to consider the long-term benefits for the program. I think it's really important for Henry to create some separation early in camp and look like the veteran out there.
---
Matt from Omaha writes:
Why do we think that a nine game conference schedule would benefit the BIG? Since the general percention is that the BIG is weak, wouldn't it be better to keep the conference schedule at eight and then schedule nonconference games from others schools who are in other conferences that are BCS automatic qualifiers?
Adam Rittenberg:
Matt, I'm glad you mentioned scheduling other major-conference schools, because the argument to stay at eight league games just to create an easier path to the college football playoff is a weak one. You're right that the Big Ten has to prove itself against other major conferences to improve its national profile, and more aggressive scheduling is the way to do it. The good news is Big Ten fans not only will get more conference games, but more attractive non-conference games in the future. It's a win-win. The Big Ten is getting bigger, and if the league stayed at eight league games, we'd see these long breaks between matchups, which wouldn't serve the players or the fans. Conference intimacy is important, and playing each other more, not less, is the best solution. Here's hoping the SEC eventually gets on board with the nine-game league schedule along with stronger non-league slates.
December, 30, 2012
12/30/12
9:30
AM ET
Let's look at three keys for Northwestern in Tuesday's matchup against Mississippi State in the TaxSlayer.com Gator Bowl:


1. Establish the run early and often:
Northwestern has been at its best when going up-tempo with the zone option game. Mississippi State isn't great against the run (69th nationally, 166 yards per game), so it's imperative for Wildcats tandem
Venric Mark
and
Kain Colter
to establish the ground attack behind a physical line early in the game. Northwestern's passing attack has been up and down, and the Wildcats don't want to get into obvious passing situations against a veteran Bulldogs secondary featuring Thorpe Award winner
Johnthan Banks
at cornerback. The Wildcats offense needs to hit on a big run play or two and convert manageable third downs.
2. Turning the tables:
Northwestern and Mississippi State both do a great job of taking care of the football. The Wildcats lead the Big Ten and are tied for 10th nationally in average turnover margin (plus-1.08 per game), while Mississippi State is even better (tied for fifth nationally, plus-1.42 per game). The teams have combined for 55 takeaways (30 for Mississippi State, 25 for Northwestern), while committing only 25 combined giveaways (12 for Northwestern, 13 for Mississippi State). The Bulldogs have won 23 of their past 25 games when winning the turnover battle, so it's vital that Northwestern protects the football and makes smart decisions in the passing game. The Wildcats have recorded timely takeaways throughout the season and might need one or two to beat Mississippi State.
3. Win the fourth quarter:
Northwestern would be undefeated if it could have held fourth-quarter leads against Penn State, Nebraska and Michigan. Although the Wildcats still consider clutch play their hallmark, they need to show they can finish the game if they establish an early lead. Northwestern has been outscored 87-60 in the fourth quarter this season. Mississippi State, meanwhile, hasn't had any issues blowing late leads. The Bulldogs have won their past 38 games when leading after three quarters, including a 28-0 mark during coach Dan Mullen's tenure. Both teams have been good in the first three quarters, but the Bulldogs definitely have the edge in the fourth. Northwestern must change that Tuesday.
January, 6, 2012
1/06/12
3:50
PM ET
Penn State fans should give Bill O'Brien a chance.
Remember that he left a pretty good job, working with one of the most successful franchises in sports, to step into a potentially no-win situation in State College. He wanted you, even if you don't think you want him. While
we'll learn much more about O'Brien in the coming days and weeks
, it's clear the guy doesn't shy away from a challenge.
He deserves the benefit of the doubt, and I think a portion of Nittany Nation, especially those not blindly loyal to Joe Paterno, will give it to him. The more Penn Staters who
take the approach of former Lions star linebacker
Paul Posluszny, the better.
Much of the ire Thursday night and Friday has been directed at the school's administration, and for good reason. After a search that lasted nearly two months and inspired more confusion than confidence, the Penn State brass has a much steeper climb to win back the trust of alumni, former players and fans.
[+] Enlarge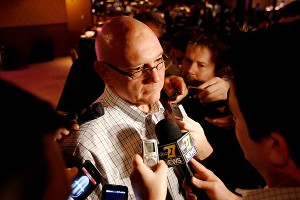 AP Photo/Brandon WadeActing Penn State Athletic Director Dave Joyner is facing questions about the length of his coaching search to replace Joe Paterno.
Penn State looked very much like a school that hadn't replaced a football coach since 1966 and had never conducted a football coaching search in the modern era. Most coaching searches take 10-14 days. They're structured and swift. The athletic director leads the way, and a search firm often is involved. Sometimes, information is actually confirmed. Imagine that.
Penn State, meanwhile, used an acting AD (Dave Joyner) and formed a search committee nearly three weeks after the school's trustees fired Paterno on Nov. 9. Ultimately, Joyner and his former Penn State wrestling teammate, Ira Lubert, a search committee member and a respected businessman, drove the search essentially by themselves. Joyner was tight-lipped during the protracted process.
"This is the first coach search, in football, that maybe we've ever done," Joyner told reporters last week in Dallas. "I'm not sure how things worked in 1950 and maybe 1966 but I imagine it was a lot different than what we're doing."
He's right. It might have been faster and more organized.
Yes, the circumstances were unique and incredibly difficult. Yes, former athletic director Tim Curley and former president Graham Spanier deserve blame for putting the school in a bind. Yes, the Penn State job isn't nearly as appealing as it was before the sex-abuse scandal broke and the school fired Paterno.
But Penn State still looked unprepared to replace its 85-year-old coach.
Joyner set deadlines that came and went. According to USA Today, Joyner had
little interest in getting input from former Penn State players
who wanted to be involved. The committee talked with internal candidates like interim coach Tom Bradley, Larry Johnson and Ron Vanderlinden, but these were courtesy interviews more than anything.
And that's OK. Penn State would have been skewered for promoting from within. But it could have gotten away with hiring a candidate who had some ties to the school.
Speaking of candidates, we heard plenty of names during the past six weeks. Some were legitimate, like Tennessee Titans coach Mike Munchak, and some were not, like Rutgers coach Greg Schiano. The school reportedly made several runs at Boise State's Chris Petersen, who seemed more likely to become the next BCS executive director than the next Penn State coach.
Remember when Mississippi State's Dan Mullen was the flavor of the day for Penn State?
All along, Penn State fans hoped that Joyner and Lubert had an ace in the hole, a name no one was talking about who would make anxiety about the interminable wait and the compromised recruiting class go away. Munchak might have been that guy, but it didn't happen.
Even the post-hiring process has been curious. It's not unusual for players and even assistant coaches to learn of hirings through the media. But more than 17 hours have passed since ESPN reported O'Brien's hiring, and the school hasn't said anything. Bradley hadn't been told as of late Friday morning. Keep in mind this is a guy who has devoted his career to Penn State and began recruiting for the team this week after returning from the TicketCity Bowl debacle.
O'Brien deserves a fair chance, and he might just be the right guy to lead Penn State football through its most difficult period.
Maybe the best thing he can do is make everyone forget how Penn State hired him.
December, 2, 2011
12/02/11
7:30
PM ET
Mississippi State coach Dan Mullen on Friday once again denied having any contact with Penn State about its head-coaching vacancy.
Mullen released the following statement through Mississippi State:
"Neither I, my agent nor the administration at Mississippi State University have been contacted by anybody at Penn State University. I'm very happy with the direction the Mississippi State program is headed right now."
Colleague Joe Schad has reported Mullen is at the top of Penn State's wish list for its vacancy. Mullen's latest denial comes
following talk that he would be interviewing with Penn State next week
. He declined to comment Tuesday when asked about speculation he was in the mix for the Penn State job.
Harvard coach Tim Murphy is another candidate on Penn State's radar, but Mullen's name is the one that continues to come up.
November, 29, 2011
11/29/11
3:00
PM ET
Penn State is expressing interest in Mississippi State coach Dan Mullen for its coaching vacancy,
sources have told ESPN colleague Joe Schad
.
It's still fairly early in the process, and Penn State only announced its coach search committee on Monday afternoon. But Mullen would be an intriguing candidate for a job that could turn some of the big names around college football.
The key question with Penn State is whether its next coach has strong ties, some ties or no ties to the school. Given the institution-wide impact of the sex-abuse scandal at Penn State, most on the outside assume the school will go with a coach who has no ties to former head coach Joe Paterno or to former defensive coordinator Jerry Sandusky. But I've also heard there's some momentum within the school to hire someone who knows the university and the environment.
Mullen is interesting because he was born in Philadelphia, grew up in New Hampshire and attended Ursinus College in Collegeville, Pa. He has coached in the Northeast and Midwest at places like Wagner, Columbia, Syracuse, Notre Dame and Bowling Green. Even though he has spent the past seven years in SEC country at Florida and Mississippi State, he knows the region around Penn State. As the blog
Black Shoe Diaries
put it, "Besides either A) Having direct Penn State ties, or B) Direct ties to other major programs in Pennsylvania, that's about as good a personal/cultural fit as we'll find."
Although Mullen struggled this season at Mississippi State and still has to prove more as a head coach, Penn State certainly could do worse, under the circumstances.
December, 31, 2010
12/31/10
8:00
AM ET
Michigan is back in a bowl game for the first time in three seasons. The Wolverines' last trip to the Sunshine State
worked out well
, and they'll try to end an up-and-down season on a good note.


Here's a look at Michigan's matchup against Mississippi State in the Progressive Gator Bowl.
WHO TO WATCH:
Michigan quarterback
Denard Robinson
. Who else? One of the most exciting players in college football returns to his home state and will try to lead Michigan to a much-needed victory. Robinson's
health has improved in the past five weeks
after getting banged around throughout the regular season, and it will be interesting to see if he can recapture his big-play ability. Mississippi State defends the run well, so Robinson will need to showcase his arm and take good care of the football.
WHAT TO WATCH:
The Wolverines' young defense. Michigan has played more true freshmen and more young players on defense than it ever imagined before the season, and the results have showed. The good news: a long layoff before the bowl has provided valuable practice time for the Wolverines' defenders, who need to upgrade their fundamentals and techniques for a good Mississippi State offense. If Michigan can create a turnover or two and find ways to get off of the field on third down early in the game, it could slow down the Bulldogs.
WHY WATCH:
In case you haven't heard, Rich Rodriguez might be coaching for his job at Michigan. Rodriguez's future remains uncertain heading into the bowl game, and he certainly could help his cause by sending an improved product onto the field. Michigan is 8-0 in nonconference games under Rodriguez the past two seasons and should benefit from the lengthy layoff before the bowl. A convincing win against Mississippi State could buy Rodriguez more time, while a poor showing might send him packing.
PREDICTION:
Mississippi State 34, Michigan 28. Robinson will do some damage on home soil, but I don't have enough faith in Michigan's defense or the defensive coaching staff to see a substantial improvement for the bowl game. Dan Mullen is a terrific offensive coach who will find the fairly obvious weaknesses in the Wolverines' defense. Michigan keeps it close, but Mississippi State wins.
December, 5, 2010
12/05/10
10:51
PM ET
Mississippi State Bulldogs (8-4) vs. Michigan Wolverines (7-5)
Jan. 1, 1:30 p.m. ET (ESPN2)

Mississippi State take by SEC blogger Chris Low
: There was a little drama at the end about where, but Mississippi State is going back to a bowl game for the first time since the 2007 season. At one point, it looked like the Bulldogs (8-4) might fall to the Franklin American Mortgage Music City Bowl, but the Gator Bowl scooped the Bulldogs up to face Michigan in what will be their first Jan. 1 bowl appearance since the 1999 Cotton Bowl.
Dan Mullen, in his second season at Mississippi State, has rejuvenated the program. The Bulldogs won six straight games during the middle portion of their schedule before losing back-to-back games to Alabama and Arkansas following the death of defensive end Nick Bell, who died of cancer.
Mississippi State recovered to beat Ole Miss for a second straight season, really endearing Mullen to the Bulldogs' fans. Perhaps the best news for Mississippi State entering this game is Mullen said Sunday night he's staying put. School officials are working on a new deal to keep him in Starkville amid reports that he was one of the top targets at Miami.
The Bulldogs have leaned on their running game all season. They're ranked 16th nationally in rushing offense, averaging 215.8 yards per game.
---

Michigan take by Big Ten blogger Adam Rittenberg
: Michigan is bowl bound for the first time in three seasons, and once again the spotlight will be on the Wolverines head coach.
The Wolverines sent Lloyd Carr out as a winner by knocking off defending national champion Florida in the 2008 Capital One Bowl. They'll try to deliver a similar performance Jan. 1 against Mississippi State for embattled coach Rich Rodriguez, who still doesn't know whether he'll return for a fourth season.
The Gator Bowl features two spread offense teams and two of the system's proven practitioners in Rodriguez and Mississippi State's Dan Mullen. Michigan has had the more dynamic offense this season, ranking sixth nationally in yards per game (500.9) and 11th in rushing (251.1 ypg). The Wolverines also boast the most dynamic player on the field in quarterback
Denard Robinson
, who ranks fourth nationally in rushing average (136.9 ypg).
Mississippi State, however, looks like the better team. The Bulldogs don't have an obvious flaw like Michigan (defense, special teams), and all four of their losses came against top 20 opponents (Auburn, Arkansas, LSU, Alabama). Michigan's defense will have its hands full with Bulldogs dual-threat quarterback
Chris Relf
.
Perhaps the best news for Michigan is that Mississippi State doesn't play in the Big Ten. The Wolverines are 8-0 in nonconference games the last two seasons but just 6-18 in the Big Ten under Rodriguez.
December, 5, 2010
12/05/10
6:38
PM ET
It's now official: Michigan will take on Mississippi State on Jan. 1 in the Gator Bowl Presented by 5-Hour Energy.
The matchup pairs two spread offenses and two coaches (Michigan's Rich Rodriguez and Mississippi State's Dan Mullen) who run the system extremely well. Michigan quarterback
Denard Robinson
and many of his teammates return to their home state of Florida.
I'm guessing Michigan would rather be seeing Tennessee in the Gator Bowl, as Mississippi State hasn't lost to a team ranked outside the top 20. This will mark the first meeting between the schools, while Michigan is 7-3 against the SEC in bowl games.
December, 7, 2009
12/07/09
11:45
AM ET
Today is the only time that we get a glimpse into the
coaches poll
, as the final ballot
has been released
.
Six Big Ten head coaches participated this year: Ohio State's Jim Tressel, Michigan's Rich Rodriguez, Illinois' Ron Zook, Indiana's Bill Lynch, Michigan State's Mark Dantonio and Minnesota's Tim Brewster.
Let's take a quick look at the notable selections from each coach's ballot.
Jim Tressel's ballot:
Alabama at No. 1, Oregon at No. 7, Ohio State at No. 8, Iowa at No. 9, Penn State at No. 10, Wisconsin at No. 15, USC at No. 25.
Rich Rodriguez's ballot:
Alabama at No. 1, Texas at No. 2, Ohio State at No. 7, Oregon at No. 8, Penn State at No. 9, Iowa at No. 10, West Virginia at No. 18, Wisconsin at No. 20.
Ron Zook's ballot:
Alabama at No. 1, Texas at No. 2, Ohio State at No. 7, Penn State at No. 10, Iowa at No. 11, Wisconsin at No. 17.
Bill Lynch's ballot:
Alabama at No. 1, Texas at No. 2, Ohio State at No. 7, Iowa at No. 9, Penn State at No. 10, Wisconsin at No. 16, Northwestern at No. 24.
Mark Dantonio's ballot:
Texas at No. 1, Alabama at No. 2, Cincinnati at No. 3, Ohio State at No. 7, Penn State at No. 9, Iowa at No. 10, Wisconsin at No. 18, Central Michigan at No. 25.
Tim Brewster's ballot:
Texas at No. 1, Alabama at No. 2, Ohio State at No. 7, Iowa at No. 9, Penn State at No. 10, Wisconsin at No. 23.
Quick thoughts:
Dantonio and Brewster were two of only four coaches to rank Texas at No. 1 (Idaho's Robb Akey and Nebraska's Bo Pelini were the others). Brewster coached under Mack Brown at Texas and has a son, Nolan, who plays safety for the Longhorns.
Only three of the six Big Ten coaches voted Iowa ahead of Penn State despite the Hawkeyes' head-to-head victory Sept. 26.
Brewster ranked Wisconsin much lower than his Big Ten colleagues (think there's a rivalry there?).
Lynch was the only Big Ten coach who voted for Northwestern. Louisiana-Monroe's Charlie Weatherbie ranked the Wildcats at No. 19.
Ohio State received its highest ranking (5) from a Michigan guy, LSU head coach Les Miles. The Buckeyes' lowest rating (11) came from South Carolina's Steve Spurrier, who ranked Iowa at No. 10.
Penn State ranked anywhere from 8 to 13, with the lowest votes coming from Eastern Michigan's Ron English and Mississippi State's Dan Mullen.
Iowa ranked anywhere from 8 to 18, as Washington State's Paul Wulff clearly didn't think much of the Hawkeyes. Stanford's Jim Harbaugh ranked Iowa 16th.
January, 8, 2009
1/08/09
9:00
AM ET
Posted by ESPN.com's Adam Rittenberg
A game that wasn't even supposed to happen had a profound impact on Florida head coach Urban Meyer and holds sigificance in tonight's FedEx BCS National Championship Game.
On Nov. 17, 2001, Meyer brought his Bowling Green squad to face Northwestern at Ryan Field in Evanston. Northwestern's schedule originally didn't include the Falcons, but after a game against Navy was postponed becaues of the Sept. 11 terrorist attacks, the Wildcats needed a game and landed one with Bowling Green.
As Pete Thamel writes in The New York Times, the 43-42 shootout won by Bowling Green on a two-point conversion in the final minute left a mark with Meyer. It also introduced him to the offense Florida will face in tonight's game. Oklahoma offensive coordinator Kevin Wilson held the same position at Northwestern in 2001 and employed a no-huddle spread that piled up points.
"'It was the most damnedest thing you've ever seen,' Meyer recalled with a smile. 'I don't know if I've been part of a better game.' ...

"As quickly as Meyer can recall the wild final sequence that allowed Bowling Green to erase a 14-point deficit in the final 80 seconds, he can also break down his defense's ineptitude. Bowling Green allowed 624 yards on 97 offensive plays. Northwestern never punted."
Bowling Green's offense wasn't bad, either. As a student reporter covering the game, I remember how impressive Meyer's team looked as it moved the ball down the field. His decision to go for the win and make a gutsy call -- a reverse to wide receiver Cole Manger -- showed a lot about the rising star in the coaching ranks.
The game eliminated Northwestern, the 2001 preseason favorite, from bowl contention. Bowling Green finished 8-3 but missed a bowl.
So the game didn't really mean much at the time, but Meyer and his assistants didn't forget their first brush with Wilson's offense.
"[Offensive coordinator Dan] Mullen said that while boarding a plane to Starkville, Miss., to be introduced as the head coach at Mississippi State, he called Meyer and defensive coordinator Charlie Strong to remind them again.

"It was the fastest thing that I've ever seen," Mullen said. "I don't mean the fastest players, I mean the fastest offense, how fast they snap the ball. I wanted those guys to remember how fast that it actually goes, that's what's important to remember."
December, 17, 2008
12/17/08
10:00
AM ET
Posted by ESPN.com's Adam Rittenberg
The mailbag arrives a day late this week after a flurry of Big Ten news Tuesday afternoon/evening kept me busy. There will be another mailbag on Friday, so keep sending your e-mails and make sure to include both your name and hometown.
Let's get started.
Zack from Greenville writes: Adam, first off great job on the blog this year and i just read how Joe Pa signed the extension. How long do you really think he will be on the sidelines at Penn State??
Adam Rittenberg: It's a tough question, Zack, because I didn't think Joe Paterno would still be coaching at this point. My sense is he won't coach for the entire contract but will be back in 2009 and possibly in 2010. Paterno earned the right to stay for 2009 after a terrific season this fall, but Penn State fans have to be concerned that a succession plan hasn't been put in place. It seems so incredibly obvious that defensive coordinator Tom Bradley should be named coach-in-waiting, but either Paterno or Penn State continues to hold up the process. Penn State fans have the right to be excited about Paterno coming back, but this whole thing might not end well in Happy Valley.
---
Gabe from New Rochelle, N.Y., writes: Will Scott Schafer's resignation (or firing) as defensive coordinator of Michigan impact this year's recruiting?
Adam Rittenberg: Shafer wasn't involved in major recruiting weekends the last two weeks, which increased speculation about his future with the program. There could be some recruiting fallout from his departure, but I wouldn't anticipate anything too dramatic. Where Michigan could be hurt is with recruits who wanted to play in Shafer's defensive system. Philosophical differences between Shafer and head coach Rich Rodriguez led them to part ways, and recruits who don't want to play in the 3-3-5 alignment might want to stay away from Michigan.
---
Brian from Kingston, Pa., writes: Adam, What's your take on college coaches bailing on their respective teams prior to bowl games to take head coaching positions elsewhere? I really have a problem with head coaches/coordinators who do this, I think there should be a rule in place that won't allow schools to make contact with other schools about possible hires until the season is over. If a team isn't playing a bowl game then thats fine, but it seems so often a team loses a coach before a big bowl game. Don't give me the recruiting excuse either. I believe penalties/fines should be levied on schools, presidents, AD's who inquire about a prospective coach before their current season is up. What's your take on this?
Adam Rittenberg: Brian, it's an unfortunate part of the coaching business these days. I hate seeing coaches lead their teams to major bowls only to bail out for other jobs. I always wonder if the coaches think, "Hey, I may never get to this stage again. Why not enjoy it?" On the other hand, the demands of recruiting are real, and coaches absolutely hate to fall behind in that area. It's nice to see Dan Mullen staying with Florida for the national title game, but far too many coaches leave their teams around this time. I'd be interested to see if fines/penalties would dissuade schools from conducting coaching searches in November and December, but I don't think it'll ever happen.