Big Ten:

Dantonio spring 10
October, 24, 2014
Oct 24
10:00
AM ET
It's an interesting weekend for the Big Ten. On one hand, we have an intra-state rivalry on tap along with a nationally televised night game at one of the best atmospheres in the country.
On the other, only one of the conference's five games is expected to be close. Four of the underdogs are picked to lose by double digits this week, and the closest game isn't exactly a hot ticket: Minnesota at Illinois.
For the first time all season, we Big Ten writers all picked the same winners. But will there be an upset? Can someone surprise in the Big Ten? Let's take a closer look at the matchups:
Noon
Minnesota (6-1) at Illinois (3-4), ESPNU:
The Gophers are still fighting for respect, as they appear at No. 24 in the USA Today poll -- but they're still left out of the Associated Press' top 25. They've quietly put together a solid season, with their only loss coming against TCU, and running back David Cobb could be the most underrated player in the conference. Illinois coach Tim Beckman is fighting for his job, and he and his offensive coordinator
can't even seem to agree
on whether a two-quarterback system is best for the team. The Illini have a plethora of defensive problems, and they can't afford to have their offense stumble.
Maryland (5-2) at Wisconsin (4-2), BTN:
Melvin Gordon
is one of the most dynamic backs in all of college football, and the Terrapins are one of the worst rushing defenses in all of college football. That's not exactly a recipe for success for the Terps. That being said, Wisconsin's woes through the air have been well-documented, and it would be no surprise to see the Terps dare Wisconsin to throw. Randy Edsall needs to get his own house in order, too. Maryland has a lot of firepower on offense, but C.J. Brown needs to find more consistency for this team to hang with the Badgers. Backup Caleb Rowe is out for the season, so it's Brown or bust. And Brown has thrown three picks to zero touchdowns in the last two games.
Rutgers (5-2) at Nebraska (6-1), ESPN2:
The Scarlet Knights just can't catch a break with their schedule. They were dismantled by Ohio State 56-17 on Saturday and they play Wisconsin next week. Rutgers was the surprise team of the conference in the first half of the season, but it will have to show something in this second half to retain that title. It won't be easy. Like the Buckeyes, Nebraska boasts a balanced offense -- and
Ameer Abdullah
is the best back the Knights have seen since ... well ... it's been years. With one Big Ten loss already, Nebraska can't afford a slip-up. But it might just have the most talented team, overall, in the West.
3:30 p.m.
Michigan (3-4) at Michigan State (6-1), ABC:
Since 2008, this rivalry has basically been owned by the Spartans. Mark Dantonio's team has won five out of the last six, with the Wolverines winning only once in a 12-10 game in 2012. Michigan is coming off a bye week -- and actually won its last Big Ten game, against Penn State -- but the Spartans are on another level. If U-M can pull off this upset, maybe Brady Hoke has an outside chance to save his job and the Wolverines really have sparked a turnaround. If not, expect the same Michigan storyline that you've heard since Week 2.
8 p.m.
Ohio State (5-1) at Penn State (4-2), ABC:
The Buckeyes have scored at least 50 points in four straight games, but they haven't faced a defense quite like Penn State's. On the flip side, the Nittany Lions haven't faced any offense resembling Ohio State's, either. The key to an upset here is two-fold: Penn State's weak offensive line must somehow keep one of the nation's best front fours at bay (unlikely), or Penn State's defense has to play out of its mind and force turnovers (more likely). Ohio State pounded Penn State 63-14 last season, and the Lions would like nothing more than to avenge the worst loss in program history since 1899 (a 64-5 loss to Duquesne). This game will act as a good measuring stick for both J.T. Barrett and the PSU defense.
Required reading
March, 24, 2010
3/24/10
2:00
PM ET
Here's the second half of my interview with Michigan State head coach Mark Dantonio. For Part I, click
here
.
Toward the end of last year, you had some defensive linemen emerge, guys like [Jerel] Worthy and [Blake] Treadwell. Who are you excited about up there?
Mark Dantonio:
We got two great young players last year in Treadwell and Worthy playing pretty well. They'll only get better, although Worthy's a bit jammed up because of an injury. At defensive end, Tyler Hoover's a guy who will begin to play more and better. He's going into his third year now, he's 6-foot-6, 265, he's an outstanding athlete. Denzel Drone, Corey Freeman, Colin Neely comes back with a lot of time under his belt. And Kevin Pickelman, he's up to 280 pounds now, and he's going to have an outstanding spring. Really, we've got 13 players back on defense with substantial time as a starter at one point in time. And 13 on offense who have started at one point in time. We do have players back, but we have to solidify depth issues.
How about the secondary? You lost a couple guys there, but you have quite a few who have played. How does that unit need to improve?
MD:
We have four guys back with plenty of experience. They've all started at one point in time, whether it was [Trenton] Robinson or [Chris L.] Rucker or Marcus Hyde or Johnny Adams. So that gives us a nucleus on which to build. And then guys like Jairus Jones are going to come in and play, and some of our young freshmen, Dana Dixon. We need to get better at the back end. We need to get better as a football team.
When you talk about defense, you talk about points scored, and usually you look at third-down efficiency, how you play in the red zone, and turnovers. When you look at us, we were No. 2 in the conference in sacks [35]. Third-and-long, we were fine, 75-80 percent. But third-and-short and third-and-medium is where we fell down. We didn't play well enough in the red zone, and then we didn't come up with enough turnovers. So that's where it starts to look you in the face statistically. I'm not that concerned with the yards, as long as it doesn't lead to touchdowns. You never know where those yards come from. But you need to get off the field on third down, you need to have turnovers, you need to play well in the red zone, and we'll work to correct that.
Pass defense, it's a total team thing, so you need to be able to transition from the defensive line, from playing the run to stopping the pass, to create a pass rush in a four-man scheme. Our linebackers also have to play better. On the flip side of it, we were 25th in the nation versus the run, and that's something we can build on.
Greg Jones, in talking about why he was coming back, mentioned how he wants to improve in pass coverage. Are there things you can see him doing to be more involved there?
MD:
He made a statement for our football team, not just as a player but as a captain, as a team member, being unselfish and coming back here. Everyone always can improve. Certainly I can improve. So when you're in the same place in the same system, you always look for major improvement. Greg's a pass rusher, too. He had 9.5 sacks, so you can't negate that aspect of our defensive football team, but he will become better at the [middle] linebacker, having been full time in there last year. And that's the exciting thing. He provides a catalyst for our defense, and we can play around him.
I wanted to ask you about the offensive line. It's tough when you lose players like Rocco Cironi and Joel Nitchman. How do you see that group shaping up? And also Arthur Ray, how is he progressing? Will he be able to play?

MD:
Arthur is able to run, he's able to jog, he's able to do some drills on his own. He's able to, at this point in time, lead a normal life, and that's a tremendous thing for a young man who has been on crutches for the last year and three quarters. His bone is healing. He hopes to play in the near future, within maybe a year. We'll have to petition the Big Ten office for that. We would have room for that at this point, but that's something the doctors have to decide on, and his family. But me, personally, and our entire football staff and team, are thrilled to have Arthur out there every single day, just seeing him walk and catch a ball and run around. He's reconditioning himself to be a football player. Where that takes him? Time will tell. But I can look at him now and say, 'There is a possibility.' So we'll have to make that decision probably next spring at this time.
And then just with the offensive line as a whole, what's your outlook there?
MD:
Offensive line and kicker are the two areas where we have to develop the most. We have a kicker with no experience back. [Dan] Conroy kicked one field goal [in 2009], but for the most part, it's been [Brett] Swenson's job for four years. So Kevin Muma and Conroy will compete for that, and it'll be interesting to see how that plays out. Offensive line wise, we have progressed and we have been able to take the past program's offensive linemen and they've been very, very productive for us. Joel Foreman has been the only guy that we've recruited that we've used extensively last year, although D.J. Young is a guy who came on with us. So two guys. But for the most part, Cironi, [Brendon] Moss, Nitchman, they were the last staff's young people.
So it's time now for our guys. Two of our guys have three years in, four others have two years in, and then we have some guys that have one year in. They have to grow up, they have to get experience and that experience has to show in spring, fall camp and then through our first couple games. That will be a work in progress, but I do think we have talent at that position. There's so many moving parts there that they have to understand what to do and do it at a high rate of speed.
March, 23, 2010
3/23/10
4:00
PM ET
Spring practice is a welcome sight for the Spartans, who took their lumps both on and off the field in 2009. The residence hall mess is coming to a conclusion, as four players convicted of assault have been reinstated, while the status of another, wide receiver Fred Smith, remains unclear as his legal process continues. Michigan State returns 13 players with starting experience on both sides of the ball but must fill holes on both lines and improve the entire defense after a disappointing performance in 2009.
[+] Enlarge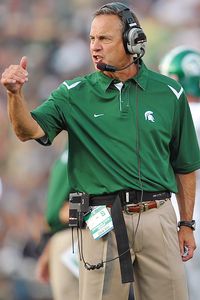 Matt Cashore/US PresswireCoach Mark Dantonio has had to guide his Spartans through some adversity.
Head coach Mark Dantonio took some time this week to talk about the off-field problems, the spring depth chart and the outlook for practice.
What has it been like the last few months there? How is the mood entering spring practice?
Mark Dantonio:
It's been good. Any time you go through adversity, you recollect yourself and you move forward. You move forward with a certain amount of resolve and strength, and that's what we've done. You look at our football season last year, we lost some close games. We were a very young football team, and we transition in that area to move forward. Obviously, we've had the off-the-field incident, but we've moved past that as a football team and we now need to focus on the task at hand. That will build strength. It teaches people lessons.
Was there any need to re-establish trust between you and the players and your staff, or even among the players themselves, after an incident like that?
MD:
It's a given that you trust your players as a coach. Sometimes you may be disappointed, but we continually talk about the aspect of honesty and trust, and we hope people are forthcoming. You have to have that. Players have to understand that you as a coach are committed to them and committed to their well-being as people, and they have to trust you. It doesn't mean it's easy. It doesn't mean there aren't consequences or there's not confrontation because this is the world we live in, but they have to trust that you're going to be fair with them, consistent, and that you have their best interest at heart and the team's best interest at heart when you make decisions.
Consequently, it's important on the other side that we trust our players and that they're going to do the very best they can, making the decisions they have to make socially, academically and athletically. You're going to fall down at times, and we have the same problems that society has in a lot of ways, and because we live in a fish bowl a little bit, there's going to be higher consequences, more public scrutiny and things of that nature. But you do always have to believe in your young people. That helps them grow, and that's what we'll do.
Do you lean on your leaders from last year more after what happened and as you get into spring practice, guys like Kirk [Cousins] and Greg [Jones]?
MD:
Certainly you lean on your leaders, and as a head coach, I continue to grow with every experience, and our players do the same. We need to continue to gain leadership. Last year,
Kirk Cousins
was a sophomore captain, sort of thrust into that position. He now feels more at ease with that position of being a leader on the team. Whether he's elected captain or not will be up to our players in the fall, and there are others we're pushing forward into that position of leadership.
Greg Jones
is doing a nice job.
We've always had what we call a Unity Council, but we've made this Unity Council a bigger tool to work with in our system and our team. We have had seminars on being a college football player at this level, whether it's talking about the situation [in November], or bringing in former players to talk about the value of education versus the NFL, or whether it's talking about law with a leading criminal justice professor. We tried to take an hour and a half every week for the past five weeks [excluding spring break] and work with our players in that area. And we'll continue to try to be proactive. That's what we have to do, and we'll continue to try and do those things.
So you would have a speaker come in every week?
MD:
Yes. We talked about the law, talked about our players' rights, talked about consequences. When you make a decision, it's not a quick fix, judiciously. Our players need to understand that. It's not over and done with when you do make a mistake. We all have to understand that. We're just trying to educate and be proactive, and I think it draws our team together. We've got other things in those meetings that served as exercises to try and benefit our group.
Getting to the personnel, how are you approaching the quarterback position going into the spring? Is it still an open situation there, or do you feel comfortable with Kirk?

MD:
Kirk Cousins has earned the opportunity to be our starter, with the number of plays that he played last year and the success that he's had.
Keith Nichol
is an outstanding athlete. He's played quarterback for us, and he should continue to be thought of in that light, somewhat. We need to be able to continue to work him there. But I also think that he can be an outstanding wide receiver, as proven in bowl practice. He's an outstanding athlete, big body, can run, quick change of direction, can jump, is tough, so he needs to get on the football field for us. And I also think that our quarterback situation with
Andrew Maxwell
, doing the things he did last fall as a redshirt freshman, and then Joe Boisture coming in as a true freshman, gives us the opportunity to move Keith to the wide receiver position.
When you have only two quarterbacks like we did last spring, you don't have that luxury. Now we have four, and we have the luxury to make that move and allow him to work out there 70-80 percent of the time, and then taking limited snaps inside, with the idea that he could always go back. He's a tremendous athlete, and I think he can be a fixture in our offense.
How has Keith handled the move so far?
MD:
He's very excited about. He was excited about it for the bowl game, and as coach [Don] Treadwell came in every day, coach Treadwell got more and more excited about the possibilities that Keith gave us because of his ability out there. With 15 practices in the spring and another 29 in the fall, he's going to be very valuable. With two years left, that's the position where he could become [a key contributor].
In Part II of the Q&A (Wednesday)
:
Dantonio talks defense, offensive line