June, 12, 2014
Jun 12
1:00
PM ET
[+] Enlarge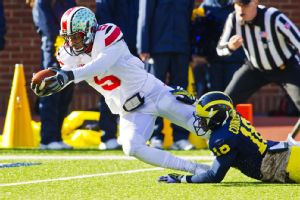 AP Photo/Tony DingBraxton Miller was fifth in the Heisman Trophy voting as a sophomore in 2012 and was ninth in 2013.
Braxton Miller
has a chance to make Big Ten history this season by winning his third straight conference player-of-the-year award and by earning Heisman votes for the third consecutive season.
Of course, he's not the only Big Ten player to ever enter his senior year with big expectations. In the past 20 years, six other conference players earned Heisman votes before their final seasons and were preseason candidates a season later. (Thirteen non-seniors in all earned votes, but seven left early for the NFL draft. Another, Northwestern's
Damien Anderson
, played in just eight games the season after and isn't listed below.)
Although it's still anyone's guess exactly how Miller will fare this season, here's a look at players who found themselves in similar positions and how they performed in the season after receiving Heisman votes:
---
Wisconsin RB Montee Ball, 2011, junior

Heisman votes as a junior:
22 first-place votes; finished fourth overall. Led the nation with 1,923 rushing yards (6.3 yards per carry) and also finished with an NCAA-best 33 rushing TDs.
How he fared the next year:
Without quarterback
Russell Wilson
, some experts
predicted Ball would struggle
to equal the numbers from his junior campaign. Sure enough, with a rotating quarterback carousel, that's exactly what happened. The Badgers threw just 289 times that season and Ball finished with a career-high 356 carries. Ball's importance and talent were still undeniable but, as defenses zeroed in against him, he watched his yards-per-carry average fall by more than a yard.
How the team fared:
Wisconsin leaned on Ball heavily -- just take a look at
this box score against Utah State
-- and fared well when it counted. The Badgers won the Big Ten championship, embarrassing Nebraska in a 70-31 blowout, and earned a spot in the Rose Bowl. They finished 8-6.
---
Michigan QB Denard Robinson, 2010, sophomore

Heisman votes as a sophomore:
Six first-place votes; finished sixth overall. Went 182-of-291 passing (62.5 percent) for 2,570 yards, 18 TDs and 11 INTs; rushed for 1,702 yards (6.6 ypc) and 14 TDs.
How he fared the next year:
Speculation swirled on
whether Robinson would transfer
before the season because the firing of Rich Rodriguez meant he had to deal a new coaching staff and some offensive changes. But Robinson stayed and performed well – even if his numbers decreased across the board. Running back
Fitzgerald Toussaint
was able to take some pressure off Robinson, and the change in statistics wasn't dramatic. After all, Robinson still rushed for more than 1,000 yards and passed for more than 2,000. It wasn't as impressive as 2010, but Robinson was still named team MVP and earned a spot on the All-Big Ten second team.
How the team fared:
Michigan fans were just fine with Robinson's drop-off because the team soared in Brady Hoke's first season. Robinson guided the Wolverines to an 11-2 finish -- their best record in five years -- and helped Michigan win the Sugar Bowl.
---
Michigan RB Mike Hart, 2006, junior
Heisman votes as a junior:
Five first-place votes; finished fifth overall. Finished second in the B1G with 1,562 yards (4.9 ypc) and had 14 rushing TDs
How he fared the next year:
Hart became a team captain and turned in an even stronger performance. If it wasn't for an ankle injury that sidelined him for three full games, Hart likely would've been in the Heisman race again. Through nine Michigan games, he led all BCS runners with 154 yards a game – and he was still a finalist for the Doak Walker Award and a consensus pick as first-team All-Big Ten. Overall, his importance was pretty difficult to ignore. After opening the season with two losses, Hart helped to shift the tone by
guaranteeing a win against Notre Dame
– Michigan won 38-0 –and then winning eight straight. He finished the year with 5.1 ypc and matched his 14-touchdown total despite carrying the ball 53 fewer times.
How the team fared:
The Wolverines put an early end to their national title hopes by losing to Appalachian State in the opener. Michigan failed to repeat its Rose Bowl berth but rebounded after a slow start to go 9-4 and win the Capital One Bowl.
---
Purdue QB Drew Brees, 1999, junior

Heisman votes as a junior:
Three first-place votes; finished fourth overall. Led the conference in every major passing category: passing yards (3,909), passing TDs (25), pass attempts (554) and pass completions (337) and threw 12 interceptions.
How he fared the next year:
Brees' consistency was pretty darn impressive, as all of his numbers were nearly identical even though Purdue didn't have much of a running game. He again led the Big Ten in those same statistical categories and improved his standing in the Heisman race -- he finished third as a senior with 69 first-place votes. Plus, he won the Maxwell Award and was named the Big Ten Offensive Player of the Year. Brees' success is pretty well documented, but something fans might have forgotten: He rushed for 521 yards and 5.5 yards per carry as a senior. Brees really could do it all.
How the team fared:
The Boilermakers shared the Big Ten title and improved their victory total from the year before, from 7-5 to 8-4. They earned a berth in the Rose Bowl.
---
Northwestern RB Darnell Autry, 1995, sophomore

Heisman votes as a sophomore:
87 first-place votes; finished fourth overall. Led the NCAA with 387 rushing attempts and had 1,785 yards (4.6 ypc) and 17 TDs; caught 27 passes for 168 yards and one score.
How he fared the next year:
Autry fared a bit better in 1996, as Northwestern's passing attack improved and defenses could no longer key on him. In 1995, he literally accounted for half of the offense's total yards (1,953 of 3,916). In 1996, he carried the ball 107 fewer times – his 280 attempts were still the fourth-highest in the conference -- but he matched his 17 rushing TDs from the previous season and increased his average by more than a half-yard, up to 5.2 yards per carry. He dropped a bit in the Heisman voting, but that was mostly because his rushing yards dropped with a smaller workload. Autry still dominated.
How the team fared:
Northwestern shared the Big Ten title and improved its record to 9-3 – but lost in the Citrus Bowl. Autry's Wildcats shocked the B1G that October when they overcame a 16-0 deficit against Michigan by rallying in the fourth quarter.
October, 6, 2011
10/06/11
12:00
PM ET
That Bennett is a sneaky bugger. Now he's paying squirrels to help his Cardinals win another title.
April, 23, 2010
4/23/10
4:00
PM ET
CHICAGO -- Standing in left field Friday at the Friendly Confines, Corbin Bryant had a confession to make.
"I didn't know where Northwestern was when I got the [scholarship] offer," said Bryant, a senior defensive tackle for Northwestern. "I really didn't."
Such a statement would be acceptable for someone from Alaska or New Mexico or even Florida.
[+] Enlarge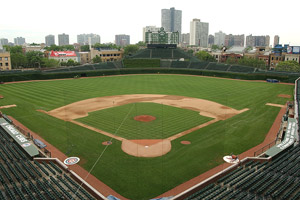 Jonathan Daniel/Getty ImagesNorthwestern and Illinois will play football at Wrigley Field on Nov. 20.
Bryant grew up on the south side of Chicago.
Northwestern's campus, by the way, is less than three miles north of the Chicago city limits and about 15 miles north of downtown Chicago. In terms of the sports scene, however, Northwestern might as well be 1,500 miles away.
Forging a connection to Chicago has been and continues to be Northwestern's greatest hurdle in restoring its football program. Some argue it's the only hurdle left. Winning Big Ten titles and making bowl games are no longer pipe dreams, but filling seats at Ryan Field remains a major challenge. Despite 17 wins in the past two seasons, Northwestern ranked last in the Big Ten and 83rd nationally in average attendance (24,190) in 2009. Washington State was the only BCS conference school that drew fewer fans (22,509).
Northwestern took a big step toward bridging the gap with Chicago on Friday, announcing that it will play rival Illinois at Wrigley Field on Nov. 20 (ESPN or ESPN2, noon ET). Football returns to the Friendly Confines for the first time since 1970, when the Chicago Bears ended a 50-year run there. It marks the first college football game at Wrigley Field since 1938, when DePaul played there, and the first time Northwestern and Illinois meet at Clark & Addison since 1923, when some guy named Red Grange was leading Illinois to an undefeated season and a national title.
Although the Wrigley project, done in conjunction with the Chicago Cubs, took almost two years to finalize and delayed Northwestern from sending out its 2010 season-ticket requests, Friday's announcement was a big moment for the school. Sure, it was nice to have cheerleaders on hand, signs around the ballpark and more purple than Wrigley has ever seen, but the most significant part was who attended the ceremony.
Fitzgerald, Bryant and quarterback
Dan Persa
sat alongside new Cubs owner Tom Ricketts and Chicago Bears owner Virginia McCaskey. Former Bears running back Ronnie Bull, who played football at Wrigley, also was on hand.
McCaskey spoke about coming to Wrigley Field as a young girl to watch her father, the legendary George Halas, coach the Bears.
"I'm delighted to be here to participate in the announcement of a new era of football in Wrigley Field," she said.
February, 19, 2009
2/19/09
9:00
AM ET
Posted by ESPN.com's Adam Rittenberg
You don't have to look back too far to identify the faces of Northwestern football. The program's history before 1995 was mainly miserable, and that's putting it mildly. There was a 34-game losing streak and years of non-competitive teams in the Big Ten.

But everything shifted in 1995 as the Wildcats won the Big Ten and reached the Rose Bowl. The program has been respectable ever since, winning two more league titles and reaching five bowl games.
The first three faces for Northwestern's Rushmore were obvious, while the fourth was a tougher choice.
Gary Barnett -- Barnett changed the culture in Evanston and led one of the most improbable college football stories in recent memory as Northwestern won the 1995 Big Ten title and reached the Rose Bowl. As Wildcats head coach from 1992-99, Barnett helped the Wildcats to two league titles and their first bowl games since 1949.
Otto Graham -- One of the greatest all-around athletes in school history, Graham earned All-America honors in both football and basketball. Earning the nickname "Automatic Otto," Graham broke every Big Ten passing record during his college career and won the league's MVP award in 1943. He was later inducted into both the college and pro football Hall of Fame.
Pat Fitzgerald -- Fitzgerald won back-to-back National Defensive Player of the Year awards as a standout middle linebacker for the Wildcats on their Big Ten title-winning squads. He was inducted into the College Football Hall of Fame in December and became the nation's youngest head coach in 2006 when he took the reins at his alma mater. Northwestern went 9-4 in Fitzgerald's third season, and he's regarded as one of the game's top young coaches.

Darnell Autry -- When your face has been on the cover of Sports Illustrated, there's a pretty good chance it ends up on your team's Rushmore. Along with Fitzgerald, Autry was a front man for the 1995 Rose Bowl squad and finished fourth in Heisman Trophy voting that year. The running back owns two of the top four single-season rushing totals in team history.

Others considered for the fourth spot included: Paddy Driscoll, Ron Burton, Mike Adamle and Ralph Baker.
December, 4, 2008
12/04/08
3:00
PM ET
Posted by ESPN.com's Adam Rittenberg
EVANSTON, Ill. -- Tyrell Sutton's third and final hard cast will be removed next week, along with the pins inserted into his left wrist after an injury that usually occurs only in a car accident or during a fall from great heights.
| | |
| --- | --- |
| | |
| | Icon SMI |
| | Tyrell Sutton needs only 22 yards to move into second place on Northwestern's all-time rushing chart. |
The Northwestern senior running back likely will be fitted with a soft cast and begin the rehab process. After that, there are no guarantees.
Northwestern will play in a bowl game, most likely the Outback or Alamo, and Sutton hopes to suit up.
"It could go either way," he said at Northwestern's practice Thursday morning. "I've got three weeks to see what will happen. We're all preparing as if I'm going to play. My mindset is to play."
But Sutton knows there's a chance his college career, one that began with a Big Ten Freshman of the Year Award in 2005, could already be over.
He dislocated his wrist on a freak play in the third quarter Oct. 25 against Indiana. He remembers the scene after the game, as a team of doctors huddled around him. Only one of the M.D.'s had ever seen a wrist injury like his, from a victim of a car accident.
Sutton underwent surgery the next week and was ruled out for the rest of the regular season, but not a bowl game.
"It would mean a lot," Sutton said of participating in the bowl. "I don't want my last memory to be being in a cast, my last play here being an injury. ... You've got to prepare yourself for the worst. The worst scenario is I don't play at all, but hopefully it won't come to that."
Sutton still doesn't know how the injury happened, and he has no desire to find out.
"I have not watched the Indiana tape," the admittedly superstitious senior said. "I do not want to watch the Indiana tape. And I have absolutely no clue."
Sutton is right-handed and primarily carries the ball on the right side, but he'll need his left wrist to improve in order to be cleared for a bowl game. He has continued to run and catch passes with the cast on.
Running backs coach Matt MacPherson also puts Sutton through simulations, where he runs through plays from games earlier in the season with 40-second breaks in between.
Northwestern would love to have its leading rusher (776 yards) and No. 4 receiver (30 receptions, 276 yards) in the backfield for a bowl. Sutton needs only 22 yards to pass Darnell Autry for second place on the school's all-time rushing chart.
But he doesn't care how he gets back on the field.
"Even if it means me going down and hitting someone on special teams, I don't care," he said. "I want to play."
October, 2, 2008
10/02/08
6:17
PM ET
Posted by ESPN.com's Adam Rittenberg
The crowd was small, no more than 100 people. It was mostly members of the marching band, but also a few fans who live around Ryan Field.
They showed up to greet the Northwestern football team after it returned from last Saturday's 22-17 road win against Iowa. The Wildcats improved to 5-0 for the first time in 46 years, and the welcoming party reminded head coach Pat Fitzgerald and longtime assistant coach Jerry Brown of a more exciting time in the program's mostly bleak history.
"We got off the bus and Jerry looked at me and he goes, 'Kind of reminds me a little bit of '95,'" Fitzgerald said. "We'd come back from road games and we'd have a lot of fans and our band there."
In 1995, Northwestern was one of the nation's top sports stories, winning the Big Ten championship and going to the Rose Bowl behind Fitzgerald, a star middle linebacker, and running back Darnell Autry. Brown coached the secondary that year.
This year's team has a long way to go to be put in the same category, but for a program where attendance is a major challenge, any excitement is a positve step.
"There's a lot of pride here," Fitzgerald said, "and we've got some positive momentum here, obviously starting the season the way we have."
July, 24, 2008
7/24/08
7:45
AM ET
Posted by ESPN.com's Adam Rittenberg
CHICAGO -- The media votes are in for the Big Ten preseason awards and to no surprise, it's all Ohio State. After back-to-back trips to the BCS national championship game, the Buckeyes were tabbed preseason Big Ten favorites. Wisconsin was picked second and Illinois came in third. Unlike other leagues, the Big Ten releases only the top three teams in its preseason media poll.
Ohio State junior running back Beanie Wells was tabbed preseason Offensive Player of the Year, and his teammate, senior linebacker James Laurinaitis, earned preseason Defensive Player of the Year honors for the second straight season. It marks the first time a team has swept all three awards since 1996, when Northwestern was the favorite, running back Darnell Autry the preseason Offensive Player of the Year and linebacker Pat Fitzgerald the preseason Defensive Player of the Year.
This year's selections went pretty much as forecasted, though I'm sure the third-place vote between Illinois and Penn State was close.
To recap:
Big Ten preseason media poll
1. Ohio State
2. Wisconsin
3. Illinois
Preseason Offensive Player of the Year: Chris "Beanie" Wells, Jr., RB, Ohio State
Preseason Defensive Player of the Year: James Laurinaitis, Sr., LB, Ohio State
July, 24, 2008
7/24/08
7:15
AM ET
Posted by ESPN.com's Adam Rittenberg
It's a big day in the Big Ten, as the media sessions begin in several hours. Illinois coach Ron Zook leads off on the dais at the Hyatt Regency Chicago. I'll be checking in throughout the day, but first here's a look at what's happening around the league: