February, 14, 2013
Feb 14
6:25
PM ET
Iowa on Thursday announced that assistant coaches Bobby Kennedy and Jim Reid have joined the staff for the 2013 season.
Kennedy will coach the Hawkeyes' receivers, while Reid will work on the defensive staff in a yet-to-be-specified role. Reid replaces Darrell Wilson, who Wednesday was named Rutgers' secondary coach. Kennedy replaces Erik Campbell, who had been the Hawkeyes' receivers coach since 2008.
Iowa also confirmed Thursday that running backs coach Lester Erb left the program "to pursue other opportunities." Erb spent the past 12 seasons with the Hawkeyes coaching running backs, wide receivers and special teams. Although victimized repeatedly by AIRBHG, Erb continued to produce capable Big Ten running backs, most recently Mark Weisman.
"I am very appreciative of Lester and Darrell's many positive contributions to Iowa football over the years and wish them both the best moving forward," Ferentz said in a prepared statement. "I am excited to have Bobby and Jim join our staff. Both men have coaching experiences that will complement and supplement our staff and team in a positive way."
Kennedy coached Colorado's receivers the past two seasons, but he spent the previous seven years (2004-2010) coaching wideouts at Texas, where he worked alongside current Iowa offensive coordinator Greg Davis. Although the Hawkeye players are still adjusting to Davis' system, Kennedy's familiarity with it should help.
Reid spent the past three seasons as Virginia's defensive coordinator and associate head coach. He was
fired in early December
along with three other assistants after the Cavaliers finished 4-8. The
decision to fire Reid puzzled some
like colleague Heather Dinich, as Virginia ranked 28th nationally in total defense in 2012. Reid coached outside linebackers for the Miami Dolphins in 2008 and 2009 and has served as head coach at VMI (2006-07), Massachusetts (1986-91) and Richmond (1995-2003).
It'll be interesting to see
what position Reid coaches on the defensive side
and what role, if any, he has assisting coordinator Phil Parker with play-calling.
Iowa will have three new assistants for 2013 after announcing new tight ends coach D.J. Hernandez earlier this month.
Here are the full bios for
Kennedy
and
Reid
.
February, 14, 2013
Feb 14
10:00
AM ET
Few FBS programs enjoyed the coaching stability Iowa had during Kirk Ferentz's first 13 years at the helm.

As
this chart shows
, the Hawkeyes had a grand total of 15 assistants on staff between 1999-2011, meaning there were only six new additions during the span. There were zero changes between the arrival of receivers coach Erik Campbell in February 2008 and the departures of two coaches -- defensive coordinator
Norm Parker to retirement
and defensive line coach Rick Kaczenski to Nebraska -- in December 2011.
Yet after so many years with complete continuity, Iowa's staff is enduring its version of an extreme makeover. Ferentz is still there, by far the longest-tenured coach in the Big Ten, but he'll reportedly have three new assistants for the second straight year after having no new assistants in 2009, 2010 or 2011.
Rutgers on Wednesday announced Darrell Wilson, an Iowa assistant for the past 11 seasons, as
its new secondary coach
. Campbell already has
departed the program
, and The (Cedar Rapids) Gazette reports running backs coach
Lester Erb also is leaving Iowa
. Erb has spent the past 12 seasons with the Hawkeyes coaching running backs, receivers and special teams.
Iowa has announced one new assistant, tight ends coach D.J. Hernandez. Footballscoop.com reported last week that Bobby Kennedy, who spent last season as Colorado's receivers coach, and
Jim Reid
, who spent last season as Virginia's defensive coordinator, likely will join the Hawkeyes' staff.
Iowa also lost three assistants a year ago as Parker retired, Kaczenski left for Nebraska and offensive coordinator Ken O'Keefe took a post with the Miami Dolphins. Parker and O'Keefe had been the only coordinators to serve under Ferentz at Iowa. Ferentz promoted Phil Parker to defensive coordinator, hired his son, Brian, from the New England Patriots and promoted LeVar Woods to a full-time assistant post.
It's somewhat common to see significant staff turnover in college football, even when the head coach remains. Wisconsin lost six assistant coaches after the 2011 season even though head man Bret Bielema stayed.
"Change is part of college football, and that happens," Ferentz said on signing day of staff changes. "It's part of football in general."
Change can be good, and perhaps the new blood will help Iowa take the next step in what should be an ultra-competitive Legends Division in 2013. But this is certainly a new experience for Iowa, which has had two head coaches since 1979 and prides itself on stability.
It should be another interesting offseason in Hawkeye Country.
February, 7, 2012
2/07/12
7:05
PM ET
Iowa waited nearly two months to promote a position coach to a coordinator role. And that's not even the surprising part of the Hawkeyes' announcement Tuesday.

Phil Parker is Iowa's new defensive coordinator. After spending the past 24 seasons coaching defensive backs, the past 13 at Iowa, Parker now will lead the Hawkeyes' defense. He replaces Norm Parker, who announced his retirement in December. Although Phil Parker, who isn't related to Norm, had been mentioned as a top candidate when Norm announced his retirement, the likelihood of a promotion seemed to decrease as the days went on with no announcement from Kirk Ferentz.
Some Iowa fans had been gearing up for a big-splash hire, whether it was Mike Stoops back in December or former Michigan defensive coordinator Jim Herrmann in recent days. The big splash never happened, and Phil Parker gets the job. Expect him to maintain a similar defensive philosophy after working under Norm Parker for so long.
OK, so here's the surprising part: Reese Morgan, Iowa's offensive line coach for the past nine seasons, is moving to defensive line. He replaces Rick Kaczenski, who left in December for the same post on Nebraska's staff. Morgan has only coached offense at Iowa, working with the team's tight ends from 2000-2002 after serving as a high school coach in Iowa City.
Morgan's move is, well, odd. Defensive line is Iowa's biggest question mark entering 2012 -- yes, even bigger than running back -- so we'll see early how Morgan fares with the transition.
Ferentz also announced that Darrell Wilson will move from linebackers coach to defensive backs coach. Iowa has one defensive staff vacancy to fill, and administrative assistant LeVar Woods, a former Hawkeyes linebacker, likely will be named the team's linebackers coach. Woods' appointment makes a lot of sense.
"Phil, Darrell and Reese have all done an outstanding job in our program for a significant period of time," said Ferentz. "I am confident they will have a very positive effect on our team as we transition forward."
Ferentz, who has a news conference scheduled for 5 p.m. ET Wednesday, still must name an offensive coordinator to replace Ken O'Keefe, who left last week for a post on the Miami Dolphins' coaching staff. He also must name an offensive line coach to replace Morgan.
Tuesday's announcement increases speculation that Brian Ferentz, Kirk's son and a New England Patriots assistant coach, will return to Iowa City in an assistant role. Don't be shocked to see Brian Ferentz named Iowa's offensive line coach.
That leaves the coordinator role, which could go to wide receivers coach Erik Campbell, if Ferentz once again promotes from within.
Should Ferentz go that route, he would be reaffirming faith in his guys rather than outsiders. The moves likely won't go over well with Iowa fans, who have seen the same two coordinators throughout Ferentz's tenure. Many fans naturally want big-splash hires from the outside. Phil Parker certainly isn't, and Campbell would fit into the same category. I think promoting Campbell makes a lot of sense, as he has paid his dues as a position coach.
We should learn more about Iowa's coaching plans Wednesday, so stay tuned ...
January, 26, 2011
1/26/11
6:09
PM ET
Iowa held a news conference earlier Wednesday afternoon where we got a few smidgens of information about the
Hawkeyes football players who remain hospitalized
. The number of hospitalized players has increased to 13, and it's now confirmed they are recovering from rhabdomyolysis, a muscle syndrome that can be caused by excessive exercise and can, in serious cases, cause kidney damage.
Iowa director of football operations Paul Federici addressed the media along with
Dr. John Stokes
, a kidney specialist at University Hospitals. Biff Poggi, whose son Jim, an Iowa freshman linebacker, is one of the hospitalized players, also appeared at the news conference and provided by far the most information about what has taken place during the last six days.
Some notes:
The players are responding well to treatment, although their release from the hospital remains unknown. Officials can't confirm the cause of the rhabdomyolysis, although they suspect it stems from a series of intense workouts.
Federici said all Iowa players went through the workouts, which are standard for this time of year but described as "strenuous" and "ambitious." Thursday marked the start of winter workouts, and according to Biff Poggi, the players did an intense series of squats where a certain number of reps needed to be done in a specific time period. Jim Poggi reportedly did 100 squats in 17 minutes.
Federici on the regimen: "It is strenuous, it's ambitious, the student-athletes know that. … It has been part of our workout at this time of the year in the past. [The wave of health problems] is just an anomaly. We haven't seen this type of response."
Biff Poggi: "It was a hard workout and [Jim] called afterward and said it was a hard workout. He was very, very sore. Thursday was general fatigue. Thursday evening he started to have severe quad pain."
Iowa players went through an upper-body workout Friday before getting the weekend off, although Biff Poggi said Jim's muscle soreness actually got worse. Players went though another lower-body workout Monday, after which Jim Poggi had symptoms (discolored urine) consistent with rhabdomyolysis.
Biff Poggi said Jim's treatment has consisted of intravenous fluids, frequent blood work to check kidney function and bed rest. No dialysis has taken place. The officials couldn't comment on the treatment for the other players because of privacy laws.
The use of drugs and food supplements can contribute to rhabdomyolysis, although it's too soon to tell if that happened in the cases of these players. Hydration also is a factor, though Federici said fluids are readily available during these workouts.
Players went through the workouts in groups of 15-35 and all five Iowa strength coaches were present, Federici said. Muscle fatigue and soreness is typical after these workouts but the training staff began referring players to the hospital after more serious symptoms emerged.
Federici said head coach Kirk Ferentz is returning to Iowa City on Wednesday afternoon from a recruiting trip. Biff Poggi said he has been in touch with both Ferentz and linebackers coach Darrell Wilson multiple times in the past few days.
Federici: "Changes will be considered, I'm sure. We're always looking for a better way to do things."
Stokes said it's typical for patients with rhabdomyolysis to be hospitalized for more than 48 hours. The good news is these are typically one-time occurrences. "What doctors are trying to be sure of is muscle injury improving and kidney function not getting worse," he said.
Clearly, there are many more questions that remain. This certainly wasn't Iowa's finest hour from a p.r. standpoint, and if not for Poggi's presence, the news conference would have been pointless. The big question among many folks is why Ferentz and athletic director Gary Barta weren't present Wednesday? Schools typically want to get their most recognizable figures in front of the media.
I get that, but my bigger issue is why none of the strength coaches appeared Wednesday. They were present at these workouts and they could have shed more light on what actually happened, the workout regimens, what they ask from the players, whether there is any precedent for these medical problems, etc.
Thirteen players in the hospital is a big deal, and Iowa needs to treat it that way in its dealings with the media and the public.
Stay tuned for more as the story develops.
September, 14, 2010
9/14/10
2:29
PM ET
There has been quite a bit of news on the health front around the Big Ten today, and unfortunately several players are done for 2010.
To recap some of the major injury/health stories:
Purdue wide receiver Keith Smith
The bad news:
Smith will
miss the remainder of the season
after tearing both the ACL and MCL in his right knee during Saturday's win against Western Illinois. Purdue feared a serious injury following the game but got the official word early Tuesday after Smith underwent an MRI. Smith was a first-team All-Big Ten selection in 2009 and led the league in both receiving yards (1,100) and receptions. He leads the league with 18 receptions through the first two games. Needless to say, it's a major loss for Purdue and a rough situation for Smith, one of my favorite players to cover in the league.
The quote:
"He was one of our best players, one of the best players in the country at his position, so it's a tough setback when you lose that quality of a player. You lose his presence on the field, but he can still help us a bunch from a leadership standpoint. It's a big loss, and the team's very upset about it." -- Boilers coach Danny Hope
What's next:
Smith must decide if he'll pursue an NFL career or apply for a sixth year of eligibility. Hope expects Justin Siller and Antavian Edison to help fill the void on offense, and Purdue has quite a few options at receiver, including promising young players O.J. Ross and Gary Bush. "It's the one place on our football team going into this season that we have some pretty good depth," Hope said.
Iowa defensive coordinator Norm Parker
The bad news:
Parker
isn't expected to be with No. 9 Iowa
for this week's game at No. 24 Arizona
(ESPN, 10:30 p.m. ET)
after recently being hospitalized with back pain. Parker, a diabetic, has been hospitalized several times in the last few years and had to spend the second half of the 2009 season coaching from the press box. Coach Kirk Ferentz said Parker, 68, is still receiving care, and "it's doubtful" the veteran assistant will be in Tucson.
The quote:
"It's like a football team. We're better off when we have all our best players with us, and Norm is a critical cog of our operation. … The good news is we've got a veteran staff. Guys work extremely well together. They'll just grab a little bit more of the responsibility. We'll find a way to get it done. We'd certainly all prefer that Norm was with us, and we hope he'll be back with us soon." -- Kirk Ferentz
What's next:
Linebackers coach Darrell Wilson handled defensive play-calling duties against Iowa State and likely will do the same at Arizona.
Ohio State strong safety C.J. Barnett
The bad news:
Barnett likely will miss the rest of the season after suffering a knee injury late in the third quarter Saturday against Miami. Coach Jim Tressel said Barnett, who started the first two games, needs surgery on the knee. Barnett was a somewhat surprising Game 1 starter after overtaking a banged-up Orhian Johnson in camp, and he made his presence known in both of Ohio State's first two games.
The quote:
"He's a true sophomore and had some special teams time last year and took advantage of an opportunity. … He really impressed all of us and played very well those first couple games. We really hate to lose him because I thought he was playing very physical and he was really starting to learn the game." -- Jim Tressel
What's next:
Johnson has recovered from a pulled calf muscle that slowed him in camp and will move into a starting role. Johnson has had some impressive flashes in practice but lacks much game experience.
Penn State linebacker Gerald Hodges
The bad news:
Hodges will miss 4-8 weeks with what coach Joe Paterno called a "slight crack" in the lower part of the left leg. The sophomore suffered the injury on the opening kickoff of Saturday's loss to No. 1 Alabama. A backup outside linebacker, Hodges looked strong in the preseason and likely would have taken on an increased role on defense in the coming weeks.
The quote:
"We're talking four to six to eight weeks, [the doctors are] not sure. It depends on how quickly he heals, but he's going to be out for a while." -- Joe Paterno
What's next:
Heralded true freshman Khairi Fortt appears in Hodges' spot on this week's depth chart behind Bani Gbadyu. Fortt and others will take on enhanced roles during Hodges' absence.
March, 2, 2010
3/02/10
9:00
AM ET
The Big Ten was the only major conference to avoid head-coaching changes this offseason, but the league certainly had its share of staff shuffling with assistants coming and going. Indiana's
hiring of Mo Moriarity as offensive line coach
on Monday marked one of the last turns on this year's Big Ten coaching carousel. Wisconsin still needs to hire a defensive assistant, but things are just about wrapped up.
Barring any late coaching changes, here's a look at who's gone, who's back and who's in new roles.
ILLINOIS
Offensive coordinator
Who's out: Mike Schultz (fired)
Who's in: Paul Petrino (previously offensive coordinator/wide receivers coach at Arkansas)
Defensive coordinator
Who's out: Dan Disch and Curt Mallory both were demoted to position coaches. Disch is staying on staff as linebackers coach.
Who's in: Vic Koenning (previously co-defensive coordinator at Kansas State)
Quarterbacks coach
Who's out: Kurt Beathard (fired)
Who's in: Jeff Brohm (previously quarterbacks coach at Florida Atlantic)
Tight ends coach
Who's out: Jim Pry (fired)
Who's in: Greg Nord (previously running backs coach/recruiting coordinator at Louisville)
Running backs coach
Who's out: Reggie Mitchell (left to become running backs coach/recruiting coordinator at Kansas)
Who's in: DeAndre Smith (previously running backs coach at UNLV)
Other moves
Mallory left his position as secondary coach to become defensive coordinator at Akron.
Special-teams coordinator Mike Woodford was fired along with Schultz, Beathard and Pry.
Ron West was hired as a defensive assistant. His official responsibilities have not been announced.
INDIANA
Offensive line coach
Who's out: Bobby Johnson (left to become assistant offensive line coach with the Buffalo Bills)
Who's in: Myron "Mo" Moriarity (previously served as head coach at Carmel (Ind.) High School
IOWA
No staff changes, but recruiting coordinator Eric Johnson was named tight ends coach. Wide receivers coach Erik Campbell previously had worked with the tight ends, while Johnson had helped Darrell Wilson with the linebackers.
MICHIGAN
Linebackers coach
Who's out: Jay Hopson (left to become defensive coordinator at Memphis)
Who's in: Quality control assistant Adam Braithwaite was promoted to outside linebackers/strong safeties coach. Defensive coordinator Greg Robinson will take a more active role with the linebackers in 2010.
Other moves
Secondary coach Tony Gibson will continue to work with cornerbacks and free safeties, and also serve as special-teams coordinator.
MICHIGAN STATE
Running backs coach
Who's out: Dan Enos (left to become head coach at Central Michigan)
Who's in: Brad Salem (previously served as head coach at Augustana College)
MINNESOTA
Offensive coordinator/quarterbacks coach
Who's out: Jedd Fisch (left to become quarterbacks coach with the Seattle Seahawks)
Who's in: Jeff Horton (previously served as quarterbacks coach with the Detroit Lions)
Wide receivers coach
Who's out: Richard Hightower (left to become assistant special-teams coach for the Washington Redskins)
Who's in: Steve Watson (previously served as associate head coach with the Denver Broncos in 2008)
Other moves
Running backs coach Thomas Hammock was named co-offensive coordinator
NORTHWESTERN
No coaching changes
OHIO STATE
No coaching changes
PENN STATE
No coaching changes
PURDUE
Defensive line coach
Who's out: Terrell Williams (left to become defensive line coach at Texas A&M)
Who's in: Gary Emanuel (previously served as defensive line coach at Rutgers). Emanuel also was named co-defensive coordinator with a focus on run defense.
WISCONSIN
Defensive backs coach
Who's out: Kerry Cooks (left to become outside linebackers coach at Notre Dame)
Who's in: Chris Ash (previously served as defensive backs coach/recruiting coordinator at Iowa State)
Other moves
Randall McCray, who served as Wisconsin's recruiting coordinator and assistant secondary coach, left to become defensive coordinator at Middle Tennessee. Wisconsin has yet to fill the vacancy.
October, 29, 2009
10/29/09
3:00
PM ET
Posted by ESPN.com's Adam Rittenberg
My colleague Bruce Feldman recently ranked the
nation's top 10 assistant coaches
(ESPN Insider) this season, and one Big Ten aide made the rundown. Iowa defensive coordinator Norm Parker checks in at No. 2 after helping the Hawkeyes to an 8-0 start with the defense leading the way.
Parker's unit leads the nation in interceptions (15) and ranks fourth in takeaways (22). The Hawkeyes rank fifth nationally in pass efficiency defense, 14th in points allowed (14.8 points per game) and 18th in total yards allowed (296.5 yards per game).
Feldman writes:
At 68, Parker is no up-and-comer, but the guy has been vastly underrated for years and hopefully this amazing run that the Hawkeyes are on helps him finally get the credit he deserves.
Couldn't agree more. No other Big Ten assistants made Feldman's rundown, but who else deserves some love around the Big Ten? I've been very impressed with these assistants this season.
Ohio State defensive coordinators Jim Heacock and Luke Fickell
Penn State defensive coordinator Tom Bradley
Penn State defensive line coach Larry Johnson
Iowa defensive line coach Rick Kaczenski
Iowa defensive backs coach Phil Parker
Iowa linebackers and special teams coach Darrell Wilson
Minnesota linebackers coach John Butler
Northwestern wide receivers coach Kevin Johns
Wisconsin defensive line coach Charlie Partridge
Indiana wide receivers coach Billy Lynch
Michigan running backs coach Fred Jackson
Michigan State quarterbacks coach Dave Warner
Purdue offensive line coach Shawn Clark
September, 27, 2009
9/27/09
1:01
AM ET

Posted by ESPN.com's Adam Rittenberg
STATE COLLEGE, Pa. -- You're not supposed to get a block in punt safe.
The very nature of the coverage scheme calls for the receiving team to set up its blocking and ensure a quality return. The punter doesn't get all day back there, and a handful of players are sent blitzing toward him, but no one ever expects a block.
Fortunately for the
Iowa Hawkeyes
, Adrian Clayborn doesn't think this way.
| | |
| --- | --- |
| | |
| | Don McPeak/US Presswire |
| | Iowa's Adrian Clayborn blocked a punt and returned it 53 yards for a touchdown. |
"They teach us to go hard every play because you never know what's going to happen," the Iowa junior defensive end said. "If I didn't go hard that play, who knows the outcome?"
If Clayborn doesn't go hard, Iowa might not secure a
21-10 win
against Penn State. If Clayborn doesn't go hard, the Hawkeyes might not be a legit Big Ten title contender.
If Clayborn doesn't go hard, Iowa might not notch a defining road win against a top-5 team, the program's first since 1990 against Illinois.
"For some reason, I was confused," Hawkeyes wide receiver
Derrell Johnson-Koulianos
said. "I'm like, 'Is this happening?' It didn't seem like it was supposed to happen."
It wasn't, but it did, and Clayborn's punt block early in the fourth quarter totally changed the complexion of the game. For the second time in this young season, special teams helped secure a victory.
But unlike the season opener, in which Iowa needed two blocked field goals to survive a scare from FCS Northern Iowa, Clayborn's block made a national statement that these Hawkeyes are for real.
"It was just a great play," running back
Adam Robinson
said. "From that point, our team was a different team."
Iowa's coaches teach their players to go "six seconds of Hell on every snap." As Clayborn lined up for the Penn State punt, he decided to make things hellish for Nittany Lions safety Nick Sukay.
Darrell Wilson, Iowa's linebackers and co-special teams coach, told Clayborn that Sukay lined up deep, giving the rushers a chance to penetrate. Clayborn capitalized and bulldozed Sukay, leaving punter Jeremy Boone like an unprotected king on the chessboard.
The only thing better than the block was the bounce, which went right to Clayborn.
"I honestly don't remember catching it," he said. "I remember being in the end zone with people trying to tackle me."
Clayborn's 53-yard path to the end zone felt like a blur. Looked like one, too.
"I've never seen a play like that by a big guy," head coach Kirk Ferentz said.
"He's a monster," linebacker Jeremiha Hunter said.
Clayborn blocked a field goal as a redshirt freshman in 2007, but he hadn't scored a touchdown since his high school days in St. Louis, when he played both linebacker and tight end.
"That was 40 pounds ago," Clayborn joked.
The extra bulk has served the 282-pound Clayborn well, especially in big games. He set the tone for last year's win against Penn State by sacking quarterback
Daryll Clark
near the goal line and forcing a fumble on the third play of the game. Clayborn had six tackles, two for loss, in the win.
After a slow start against Northern Iowa, he picked things up last week with a forced fumble, a sack and three quarterback hurries in a win over Arizona.
"He's our undisputed leader right now," defensive tackle Christian Ballard said. "We all rally around him. He's the general for the D-line. We look for him to get us going when we're down."
Clayborn provided the lift Iowa needed, though the magnitude of the moment didn't hit him after the game ended.
"Me, I'm still soaking it in," he said. "It's a huge win for our team, the state of Iowa, everybody. We're enjoying it. We're just a little shocked, and glad we pulled it out."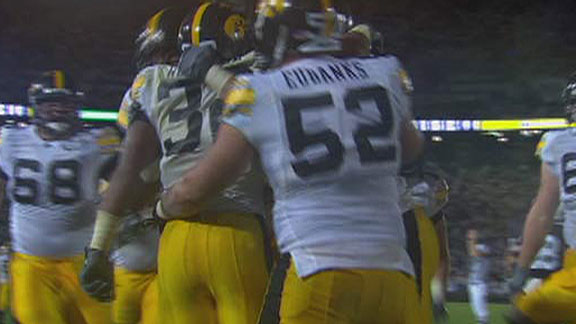 BIG TEN SCOREBOARD
Saturday, 12/21
Monday, 12/23
Tuesday, 12/24
Thursday, 12/26
Friday, 12/27
Saturday, 12/28
Monday, 12/30
Tuesday, 12/31
Wednesday, 1/1
Thursday, 1/2
Friday, 1/3
Saturday, 1/4
Sunday, 1/5
Monday, 1/6
Tweets from @ESPNCFB/big-ten