Big Ten:

Darrin Kirkland Jr
December, 11, 2014
Dec 11
9:00
AM ET
While the recruiting season isn't quite finished, we are done with the regular season. It has been a crazy year within the Big Ten with coaching changes, big commits and big decommits as well. Here is a closer look at the Big Ten's recruiting superlatives.


November, 11, 2014
Nov 11
10:00
AM ET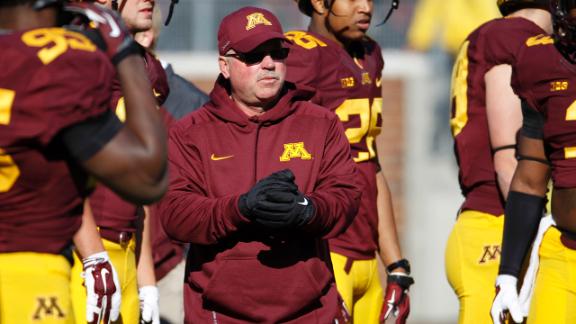 Another week has gone by and plenty of news happened throughout the Big Ten. Here is a look at the most important recruiting news that occurred.
To continue reading this article you must be an Insider
October, 22, 2014
Oct 22
10:45
AM ET
With a few weeks of senior film to evaluate, ESPN's scouts have
updated the ESPN 300
. We are around the midpoint of the season as well, so teams are looking to finish off their classes and fill any remaining needs.
There is plenty to discuss at this point in the Big Ten. Here are five things to know within the conference:
To continue reading this article you must be an Insider
October, 14, 2014
Oct 14
10:00
AM ET
There weren't too many big games within the Big Ten this past weekend, but that doesn't mean there wasn't any recruiting news. Offers were extended, commitments were made and decommitments were contemplated.
We take a look at the week that was and what could happen in the future within the conference.
To continue reading this article you must be an Insider
October, 7, 2014
Oct 7
10:00
AM ET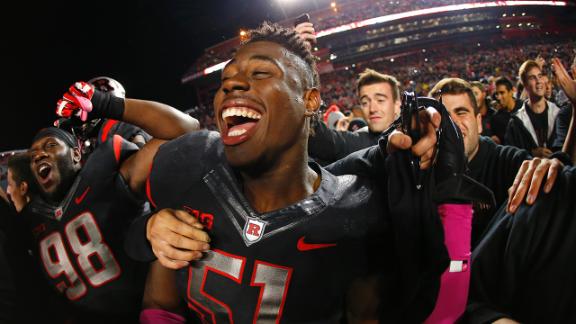 We are in the thick of the college football season and recruiting has started to heat up. With commits taking visits, offers going out and prospects committing, there is plenty to talk about within the Big Ten.
To continue reading this article you must be an Insider
September, 22, 2014
Sep 22
12:30
PM ET
Michigan's loss to Utah has started to create uncomfortable feelings in Ann Arbor. The season is not looking bright for the Wolverines, and the product on the field typically impacts recruiting directly.
The Wolverines have played only four games, but recruits have noticed the heat from the media and outside voices creeping in. Michigan has had success recruiting in recent years under Brady Hoke, but it seems as if this season might be where the pendulum starts to swing the other way if it doesn't get turned around.
To continue reading this article you must be an Insider
September, 14, 2014
Sep 14
12:46
PM ET
Rutgers and Penn State played in what turned out to be an exciting game, right down to the wire. There were a few other big home games for Big Ten teams, which means there were important recruits on campus as well.
Here is a look through social media as to how those visits went.
Rutgers vs. Penn State:
It was a packed house and an exciting atmosphere for Rutgers first Big Ten game. There were a ton of local prospects including No. 5 ranked 2016 target Kareem Walker.
RU vs PSU, front row seats !

— AlightyReem (@_KareemWalker) September 13, 2014
He and the other visiting prospects had good seats to take in the contest, and fellow ESPN Jr. 300 tight end Naseir Upshur gave the fans a look at their view.
#ESPNJr300 TE @NaseirUpshur gives you a look at pregame from his viewpoint at Rutgers last night https://t.co/rFawzLcFxW

— Tom VanHaaren (@TomVH) September 14, 2014
This was a big game for both teams, as Penn State heavily recruits the East Coast and New Jersey. The targets for both teams said they are watching closely as to how the programs compete with a new coach at Penn State and a new conference for the Scarlet Knights.
Going into the visit a lot of the recruits said they were hoping to see an exciting game and they got just that.
Tough loss for Rutgers dominated 3 1/2 quarters #CHOPNation great savy by hack

— Dwayne Haskins, Jr (@dh_simba7) September 14, 2014
Maryland vs. West Virginia:
Rutgers wasn't the only Big Ten team hosting important prospects. Maryland had a handful of big time recruits for the game against the Mountaineers.
While the outcome on the field wasn't what Maryland was hoping for, getting ESPN 300 athlete Ryan Davis and No. 2 ranked Byron Cowart is a huge win for the program.
#ESPN300 ATH Ryan Davis @thaRD5 on his Maryland visit today: pic.twitter.com/ZQxV6tIvBo

— Tom VanHaaren (@TomVH) September 14, 2014
Michigan vs Miami (Ohio):
The Wolverines came away with a win on Saturday, and while it wasn't a huge visit weekend, Michigan did still have visitors on campus.
A few of the commits, including Tyree Kinnel, Darrin Kirkland Jr. and Alex Malzone were able to reconnect on the visit and spend some time at their future home.
Chilling with some of my future teammates at the Big House! #GoBlue #Team136 pic.twitter.com/Qas76O54I1

— Darrin Kirkland Jr. (@_KIRKjunior) September 13, 2014
Malzone took some video of the trip and gave the fans a look at what it's like to walk out of Michigan's tunnel as a recruit on game day.
Here is what it's like to walk out the tunnel as a recruit, from Michigan QB commit Alex Malzone https://t.co/GBI1d7ITbb

— Tom VanHaaren (@TomVH) September 14, 2014
September, 2, 2014
Sep 2
10:00
AM ET
By
Tom Van Haaren
| ESPN Insider
The first weekend of college football means there is plenty of recruiting news to watch. To keep you up to speed on some of the more important recruiting news within the Big Ten conference, here is a recap of what happened this past weekend.
To continue reading this article you must be an Insider
May, 20, 2014
May 20
3:00
PM ET
Penn State's blistering start to 2015 recruiting under new coach James Franklin has a familiar feel for Michigan fans.
In recent years Michigan has been the Big Ten school to get a jump on the upcoming class, racking up verbal commitments well before its conference brethren. Coach Brady Hoke's first full recruiting class in 2012 had 11 players committed by the end of May and 20 commits before the 2011 season kicked off. It was much of the same for both the 2013 class (14 commits by mid-March 2012, 21 before the end of August) and the 2014 class (15 of 16 recruits committed before the 2013 season).
Michigan had established itself as the Big Ten's fast-starter in recruiting.
That title, at least for now, belongs to Penn State, which has 16 verbal commitments for 2015,
tied with Clemson for the most nationally
. Of the Lions' pledges, eight rank in the ESPN 300, and Penn State is second behind Alabama in
2015 class rankings
.
Michigan, meanwhile, has seven commitments, including four in the ESPN 300. The Wolverines picked up a big addition this past weekend in linebacker
Darrin Kirkland Jr.
The quality is there, but Michigan's recruiting pace is a bit slower this year, as four Big Ten schools -- Penn State, Nebraska, Northwestern and Iowa -- have more pledges. And that's just fine with Hoke.
"It's not a big class, that's one reason," Hoke told ESPN.com on Tuesday. "We haven't been as quick to offer, been as quick on trying to find the right fit. That's a big part of it. When you have 25 or 28 [scholarships], you also need to offer more guys.
"But at the same time, we're real happy with the guys who have made those commitments."
Michigan signed 25 players in 2012 and 27 in 2013. Last year's class was smaller, and Hoke expects Michigan to sign 15 or 16 players in February 2015.
The reduced scholarship pool allows Michigan coaches more opportunities to evaluate prospects they aren't completely sure about. Hoke said his assistants are traveling to states that have high school spring football to scout recruits.
"Trying to make sure that fit is right from an academic, social and athletic standpoint, that's a reason why you want to get as much information as you can," Hoke said.
Michigan's 2015 recruiting pace is a bit slower than in past years, but Hoke is speaking out about his support for an early signing period and earlier official visits. He would like to see an Aug. 1 signing date and official visits allowed in late May and early to mid June. Hoke thinks prospects and their families shouldn't have to shoulder the financial burden of getting to campuses in the spring of the players' junior year.
CBSsports.com reported Tuesday that more than half of the Big Ten recruits in the 2014 class
come from areas outside the league's current footprint
(Maryland and New Jersey not included).
"It would help everybody," Hoke said. "The other conferences aren't just staying in their region, either. They're all spreading out through the country.
"You've got guys on unofficials and families spending a lot of money. What can we do to help them and help their families?"
December, 23, 2013
12/23/13
8:00
AM ET
There was plenty of recruiting action over the past week for the Big Ten Conference. With new offers, commitments and more, here is a look at the latest news.
To continue reading this article you must be an Insider
November, 7, 2013
11/07/13
2:00
PM ET
From commitments, to targets about to make a pledge, to pledges taking other visits, here's a look at the recruiting happenings in the conference this week.
Hawkeyes on the prize
Iowa picked up a running back commit with some eye-popping numbers when
Markel Smith
(St. Louis/St. John Vianney) chose Iowa over Missouri and Ole Miss.
To continue reading this article you must be an Insider
October, 17, 2013
10/17/13
2:00
PM ET
It's called the Big Ten Conference for a reason.
From big offers, to big official visits to big commitments, the Big Ten has been abuzz with activity.
To continue reading this article you must be an Insider
BIG TEN SCOREBOARD
Saturday, 12/20
Monday, 12/22
Tuesday, 12/23
Wednesday, 12/24
Friday, 12/26
Saturday, 12/27
Monday, 12/29
Tuesday, 12/30
Wednesday, 12/31
Thursday, 1/1
Friday, 1/2
Saturday, 1/3
Sunday, 1/4
Monday, 1/12
Tweets from https://twitter.com/ESPNCFB/lists/b1g