January, 2, 2012
1/02/12
8:46
PM ET
PASADENA, Calif. -- Instant analysis from Rose Bowl Stadium where No. 5 Oregon defeated No. 10 Wisconsin
45-38
:


How the game was won:
Both teams traded scores and major momentum swings. But Oregon had just a little too much speed at its skill positions for Wisconsin's defense to match. As the Badgers slowed down with just 10 points in the second half, the Ducks were able to eke out a close victory thanks to a couple of key turnovers. Everyone thought this could be a shootout, and we weren't disappointed by one of the most entertaining Rose Bowls ever. Oregon just had a little bit more explosiveness.
Turning point:
Wisconsin had the ball with a chance to tie the score, and
Russell Wilson
completed a 29-yard pass to
Jared Abbrederis
inside the Oregon 30. But Terrance Mitchell knocked the ball free near the sideline, and the Ducks recovered with 4:04 left. Even though Oregon's quick-strike offense isn't built to bleed the clock, the Ducks picked up a couple of first downs to leave Wisconsin with less than a minute to drive the field. The Badgers had two big second-half turnovers, including Wilson's interception near the end of the third quarter, just his fourth of the season. That was enough in a game where stops were at a premium.
Stat of the game:
The two teams combined for 1,130 total yards. Oregon averaged 9.7 yards per play.
Player of the game:
Oregon's
De'Anthony Thomas
. He didn't get a lot of touches but made the most of them. He had a 91-yard and a 64-yard touchdown run to finish with 155 yards rushing and two touchdowns. Honorable mention to quarterback
Darron Thomas
(17-of-23 for 269 yards and three touchdowns, with an interception) and running back
LaMichael James
(25 carries for 159 yards and a score). James moved into second place on the Pac-12's career rushing list.
Unsung hero of the game:
Oregon receiver
Lavasier Tuinei
did not have a great season but came up huge in the Rose Bowl. He finished with eight catches for 158 yards and two touchdowns, with several drive-extending grabs.
Second guessing:
Wisconsin coach Bret Bielema burned two timeouts early in the third quarter, one to try and challenge a kick return that De'Anthony Thomas almost downed outside of his own end zone. That left the Badgers unable to stop the clock late when they had a chance to tie the score. Wilson spiked the ball at the 25-yard-line after a long completion with two seconds left, but the officials ruled that there was no time left for another play. Bielema was also questioned after taking timeouts before the Hail Mary that Michigan State completed in an earlier loss this season.
What it means:
Oregon won its first Rose Bowl since 1917 and proved it could win a BCS game after losing close ones the previous two years. Head coach Chip Kelly will no longer be questioned about winning big games. Bielema could continue to hear that criticism after his team suffered its second straight heartbreaking Rose Bowl loss. Without Wilson and most likely
Montee Ball
next season, Wisconsin might have missed a window to do something special this season. Oregon should be a top 5 team to start next season even if James goes pro, as both Thomases and
Kenjon Barner
return to form a strong nucleus
Record performance:
The 83 combined points were the most in Rose Bowl history, eclipsing the 80 points combined between Washington and Iowa in 1991. Oregon and Wisconsin also set records for the most points scored in the first quarter (28) and in any half (56) in Rose Bowl history.
January, 2, 2012
1/02/12
7:59
PM ET
PASADENA, Calif. -- If the fourth quarter is anything like the first three here at Rose Bowl Stadium, we could be headed for a finish for the ages.
Wisconsin and Oregon traded punches and turnovers in the third quarter, and it remains anyone's game.
Oregon's
De'Anthony Thomas
opened the half by burning Wisconsin for another big play, going 64 yards for a touchdown just three plays and 33 seconds after halftime. When Thomas turns the corner, it's lights out for the defense.
That looked like it might be dispiriting for the Badgers, but
Russell Wilson
led the team on two scoring drives, throwing a touchdown pass to
Nick Toon
after picking up two key third downs on the drive. An earlier Wisconsin field goal felt like a win for the Ducks defense with the way this game has gone.
The Badgers defense forced a rare three-and-out and came up with their second turnover of the game when Aaron Henry intercepted
Darron Thomas
on an overthrown third-and-long pass. But Wisconsin gave it right back on a Russell Wilson interception, just his fourth of the season. Oregon's Kiko Alonso came up with the pick.
Wilson was having a tremendous game in his first opportunity to play in a big bowl. That interception could cost him his quest to finish ahead of Baylor's
Robert Griffin III
for the NCAA single-season passing-efficiency record, though I'm sure all he wants is the win.
Surprisingly, it hasn't really been Oregon's pace that has bothered Wisconsin. It has been Oregon's speed and skill. And Wisconsin's passing game has been better than most people probably expected, though, that interception really hurt.
All the stars have show up -- Wilson,
Montee Ball
, Thomas,
LaMichael James
. If the fourth quarter is anything like the first three, this could go down as one of the best Rose Bowls ever. And that's saying something.
January, 2, 2012
1/02/12
6:46
PM ET
LOS ANGELES, Calif. -- Quick halftime analysis from Rose Bowl Stadium, where we're tied at 28 after a fast and furious first 30 minutes:


Turning point:
With the score tied at 21, Wisconsin linebacker Mike Taylor came free on a blitz and buckled the arm of Oregon quarterback
Darron Thomas
. Teammate Louis Nzegwu was in the right place to scoop it up, and he rumbled 33 yards for the defensive score. In a game in which the offenses are dominating, any defensive reversal like that looms large.
Stat of the half:
Oregon has 28 points on 29 plays, averaging 11.8 yards per play. Wisconsin is averaging an even 7 yards per play. The two teams have combined for 636 total yards.
What Wisconsin needs to do:
Keep hanging around. The Badgers are moving the ball nearly at will, but it's going to be tough to keep up with Oregon if the Ducks keep scoring at this pace. If Wisconsin can keep it close in the second half, they can put pressure on the Ducks' offense and hope for another mistake like the Thomas fumble. The Badgers have been very good in the third quarter all season, and also have made excellent second-half adjustments.
What Oregon needs to do:
Take away something defensively.
Montee Ball
has more than 100 yards, and
Russell Wilson
is carving up the defense on play-action rollouts. That balance is what makes the Badgers so difficult to stop, but Oregon needs to make at least one of those facets more difficult, as it did with a fourth-down sack of Wilson in the second quarter.
Record performances:
Oregon's
De'Anthony Thomas
ran 91 yards for a touchdown on the final play of the first quarter. That was the longest touchdown run in Rose Bowl history. Montee Ball tied Barry Sanders' FBS scoring record with his 39th touchdown on the season with a 3-yard plunge into the end zone in the second quarter. The two teams combined for a Rose Bowl record 56 points in the first half, 11 more than the previous high.
January, 2, 2012
1/02/12
8:45
AM ET
Some excellent notes and nuggets from ESPN Stats & Info to get you ready for a five-pack of Big Ten bowls today.
Enjoy ...
TicketCity Bowl: Penn State vs. Houston


Penn State will be playing in its first bowl game without Joe Paterno as head coach since the 1962 Gator Bowl. It's the first time the Nittany Lions have played a bowl game without Paterno on the staff since the 1948 Cotton Bowl, which is where the TicketCity Bowl is played. Penn State has previously only played two bowl games in its history without Paterno on staff -- the 1948 Cotton Bowl and the 1923 Rose Bowl.
Houston had 29 touchdown passes of 20 or more yards this season, most in the FBS. Penn State has allowed just two such touchdown passes all season -- tied for fewest in the FBS (Alabama, LSU, Texas).
Penn State surrendered 89 points in three losses to ranked opponents (Alabama, Nebraska and Wisconsin). The Nittany Lions allowed 99 points in their other nine games.
TaxSlayer.com Gator Bowl: Ohio State vs. Florida


The loser of this game will finish with seven losses. Florida hasn't done that since an 0-10-1 season in 1979. Ohio State hasn't had that many defeats in a season since 1897 (1-7-1). The Buckeyes have the longest stretch without a 7-loss season in the FBS -- by 78 years! The next-longest stretch is Florida State (1975).
Ohio State quarterback Braxton Miller has recorded 100 rush yards or more in three of his past five games, with the majority coming on designed running plays. During that time period, Miller has averaged 85 yards per game on designed runs, after averaging 21.3 yards per game in his first six career contests. Miller averages 13.3 yards on draw plays and 7.9 yards on scrambles.
Buckeyes senior running back Dan Herron has rushed for 593 yards this season in six games since returning from suspension, 321 of which have come after contact. Herron has gained at least 34 yards after contact in every game this season. Yet he might not even be the toughest running back to bring down in the game. Florida's Chris Rainey has gained 446 of his 790 rushing yards this season after contact, a slightly higher percentage than Herron's.
Outback Bowl: Michigan State vs. Georgia


This is the third matchup between these two teams in a bowl, with both of the previous matchups also coming in Florida. Georgia won the 1989 Gator Bowl and the 2009 Capital One Bowl.
The teams' top-five defenses are very similar statistically. Michigan State allows 104.3 rush yards a game, while Georgia allows 103.4 rush yards per game. Georgia allows 165.1 pass yards per game, while Michigan State allows 168.4 pass yards per game. The Spartans allow 17.5 points per game, while Georgia allows 19.6 points per game.
Michigan State senior wide receiver B.J. Cunningham has nine touchdown catches in his past four games, including three in the Big Ten championship game against Wisconsin. He has 25 touchdown catches in his career, second in school history behind Charles Rogers.
Capital One Bowl: Nebraska vs. South Carolina


Under Bo Pelini, Nebraska's defenses have been suffocating in bowl games. In four bowls with Pelini functioning as either the interim or full-time head coach, the Blackshirts have allowed just 10.8 points and 88.3 rush yards per game.
Nebraska is 12-5 all-time in bowl games against current members of the SEC. However, the Cornhuskers have lost their past two bowls against SEC teams (2002 Independence Bowl vs. Ole Miss and 2007 Cotton Bowl vs. Auburn). Nebraska is 3-0 all-time against South Carolina, with the two most recent meetings coming in 1986 and 1987.
Rose Bowl Game presented by Vizio: Wisconsin vs. Oregon
Oregon quarterback Darron Thomas and Wisconsin quarterback Russell Wilson both have been accurate throwing the ball 15 yards or more downfield. Thomas completes 49.2 percent of such throws with 12 touchdowns and only one interception, connecting for touchdowns on 20.3 percent of his attempts. Wilson completes 52.4 percent of such throws with 10 touchdowns and two interceptions, connecting for touchdowns on 11.9 percent of his attempts. Last season with NC State, Wilson completed just 33.6 percent of such throws with eight touchdowns and eight interceptions.
Since Wisconsin won back-to-back Rose Bowls in 1999 and 2000, the Big Ten is just 1-7 in the game, with the only victory coming two years ago, when Ohio State knocked off Oregon. Big Ten teams are allowing 32.1 points per game during the eight-game span and scoring 22.4.
January, 1, 2012
1/01/12
3:30
PM ET
The Granddaddy looks like a classic in the making, with two explosive offenses going head to head in Pasadena. Both Wisconsin and Oregon are hungry for a BCS victory, too, after some recent failure. Here's a preview of what to expect on Monday from the Rose Bowl Game presented by VIZIO:


WHO TO WATCH:
Wisconsin's
Montee Ball
. The junior running back needs just one touchdown to tie and two to break the FBS single-season record, as his 38 scores are one behind Barry Sanders' mark. Ball doesn't usually stop at one trip to the end zone, as he has scored at least two touchdowns in every game this season and at least three touchdowns in each of his past five games. The running game in general will be enormous for the Badgers. Not only does that trigger everything they do offensively, but the more they can grind the clock by keeping the ball on the ground, the longer they can prevent Oregon's offense from taking the field. Ball and the Ducks'
LaMichael James
are two of the best backs in the NCAA, so the head-to-head matchup will be a fun one to track.
WHAT TO WATCH:
Which defense can come up with stops? Both teams are known for their offenses but have better defenses -- statistically speaking, at the very least -- than they get credit for. Still, the clash of styles could make it difficult for either side to slow the other down, as Wisconsin's power running game could eat up Oregon's undersized defense, while the Ducks' flash-forward no-huddle spread could leave the Badgers gasping for and grasping at air. For Wisconsin, a huge key will be tackling in open space, something at which linebackers Mike Taylor and Chris Borland usually excel. There might not be many punts or three-and-outs in this game, but if either defense can string together some stops, that could be enough to swing momentum.
WHY TO WATCH:
You've got two top-10 teams, two offenses that average more than 44 points per game, two wildly contrasting styles, stars like Ball,
Russell Wilson
, James and
Darron Thomas
, splashy uniforms and the beauty and pageantry that is the Rose Bowl. If you need more reasons to watch, you must not like college football.
PREDICTION:
Oregon 35, Wisconsin 30. No outcome would be all that surprising in this matchup. Wisconsin should succeed in running the ball with Ball, but the Badgers will have trouble slowing Oregon's roll. It's going to be a thriller, but the Ducks will be more efficient on offense and clinch the game in the fourth quarter.
September, 28, 2011
9/28/11
2:15
PM ET
It was tricky to characterize
Rex Burkhead
in 2010, as he did a little bit of everything for Nebraska: I-back, Wildcat quarterback, slot receiver.
His role is more defined this season. He's clearly the Huskers' lead back behind signal-caller
Taylor Martinez
.
But one label continues to follow Burkhead more than others. Even those who have never faced him in a game use it to describe the Huskers junior.
[+] Enlarge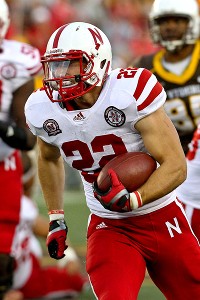 Troy Babbitt/US PresswireRex Burkhead is averaging 6.7 yards per carry in 2011.
"Burkhead," Wisconsin coach Bret Bielema said, "is a throwback."
Does Burkhead agree?
"I hear it a lot from a bunch of media people, so in a way, I guess," he said. "I still have a few flashes of making moves, but I'm not really sure the exact definition. I don't know if it's hard-nosed, running downhill or whatever. I guess it's a compliment. I'll take it."
It's definitely a compliment and a testament to Burkhead's approach. His versatility stands out in a game that has become increasingly specialized. His consistency has been key for a Huskers offense that has endured ups and downs the past few seasons.
Playing behind Roy Helu Jr. last year, Burkhead rushed for 951 yards and seven touchdowns on 5.5 yards a carry and added 148 receiving yards. The 5-foot-11, 210-pound junior already has matched his 2010 touchdowns total in the first four games (7), and his yards-per-carry average is up to 6.7. While Nebraska has had some issues with its power run game, Burkhead has lost only three yards on 63 attempts.
"We're really happy with Rex," Nebraska coach Bo Pelini said. "He's ran hard, he's done a lot of good things. He's a heck of a football player. We always felt he was a huge part of our offense, and it's continued this year."
Burkhead saw his workload increase toward the end of last season, in part because Martinez was banged up. After averaging just 9.1 carries through Nebraska's first eight games, Burkhead averaged 16.5 carries in the final six contests, recording no fewer than 12 carries in a game.
He has had 15 or more carries in three of Nebraska's first four games this fall, a trend that will continue as the competition level increases.
"Recovery is the No. 1 thing you have to focus on as the season goes on," he said. "Get in the cold tub after practice, make sure you're 100 percent from game to game, fully recovered so you can go out and play your best."
Although Nebraska boasts good depth at running back, Burkhead and Martinez have spurred the rushing attack. They boast virtually identical stat lines entering Saturday night's game at No. 7 Wisconsin.
Burkhead:
63 carries, 420 yards, 7 TDs, 6.7 ypc, 105
ypg
(25th nationally)
Martinez:
63 carries, 421 yards, 7 TDs, 6.7 ypc, 105.2 ypg (24th nationally)
In 2010, the pair combined to rush for 1,916 yards. They ranked third among FBS returning QB-RB rushing tandems entering this season, behind Michigan's
Denard Robinson
and
Vincent Smith
and Oregon's
Darron Thomas
and
LaMichael James
.
Burkhead and Martinez have combined to eclipse 200 rush yards in each of Nebraska's first four contests.
"Whatever the play may be, the option or the zone read, we have that chemistry and timing down over the course of the past two seasons," Burkhead said. "We kind of know what to expect from each other."
Pelini knows what to expect from Burkhead every time Nebraska takes the field: versatility, consistency and hard work.
Is he a throwback?
"What Bret's talking about is he's tough, he's hard-nosed, he's a guy that brings his lunch pail every day and plays really hard," Pelini said. "He's a great guy to have on your football team in so many different ways."
September, 13, 2008
9/13/08
9:04
PM ET
Posted by ESPN.com's Adam Rittenberg
WEST LAFAYETTE, Ind. -- A month ago, the prospect of Chris Harper leading Oregon on a game-winning touchdown drive seemed remote, if not totally off the radar.
Nate Costa had been tabbed the team's next superstar quarterback after coming off a knee injury last fall. The Ducks also had Justin Roper, the 2007 Sun Bowl hero who was more than capable of carrying the load.
Harper seemed destined for clipboard duty and the occasional appearance in custom packages or during mop-up time.
But there he was Saturday, piloting Oregon's offense in the second overtime against Purdue. Despite the setting and the situation, Harper never flinched and the 16th-ranked Ducks prevailed.
"Justin was prepared last year, he came through in the bowl game," Harper said. "All of us have got to be prepared. I was ready to play, I did what I did in practice and we got in the end zone."
After taking a 5-yard loss on the first play, Harper rebounded with an 8-yard run to the Purdue 2-yard line that set up LeGarrette Blount's winning plunge. The 6-3, 230-pound freshman never got nervous, despite his first road game.
"I like playing on the road," Harper said. "I like the fans talking all that stuff. It kind of gets you fired up."
Harper will need to keep his poise next week against Boise State. Roper is expected to miss 2-4 weeks after spraining his left knee in the first overtime Saturday.
The Ducks will go with Harper and sophomore Jeremiah Masoli at quarterback, with freshman Darron Thomas as an emergency option.
"He said after last week the game started to slow down a little bit," coach Mike Bellotti said of Harper. "I'm sure again, it's going to slow down even more now. That's a big-time pressure situation for a young man. He handled it extremely well. He had no problems whatsoever.
"Harp is one of the most dangerous guys on our team with the ball in his hands, so we want to create more opportunities for that."
Harper admitted he didn't think he would play a major role Saturday, but he never forgets what offensive coordinator Chip Kelly told him during spring practice.
"You've got to prepare like you're going to be the starter," Johnson said. "That's what me and Jeremiah both do and if something happens like it happened today, we're both ready to go in and help."