September, 17, 2013
9/17/13
2:00
PM ET
Michigan State cornerback
Darqueze Dennard
made his 29th career start last Saturday against Youngstown State. Safety
Isaiah Lewis
missed the game with injury but still has 30 starts under his belt, tied for the most of any Spartan.
But when it comes to The Bus, Dennard and Lewis are glorified special teamers, barely hanging onto roster spots. See, The Bus doesn't care about career starts. All of its regular riders have those. You need to bring something more: All-Big Ten honors, All-America honors, a national award or two. Helping your team to a Big Ten championship -- and possibly more -- moves you up a few rows.
What is this magic bus? Let's let Pete Townshend, er, Mark Dantonio explain.
[+] Enlarge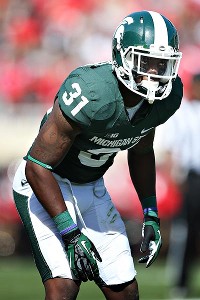 Mike Carter/USA TODAY SportsCB Darqueze Dennard, like many other MSU players, wasn't considered an elite prospect coming out of high school but has developed into a top performer.
"I tell them I've been a secondary coach all my life, for 30 years," Dantonio told ESPN.com in August. "I kid them that we only travel 10 on my bus, on the All-Coach Dantonio secondary team. And Isaiah and Queze, they're both on the bus.
"So they're traveling, they're playing on special teams, but they've got to become a starter this year."
It won't be easy, looking at the group sitting at the front of The Bus.
There's Mike Doss, the former Ohio State safety who Dantonio coached in Columbus, a three-time first-team All-Big Ten selection and a unanimous consensus All-American in 2002, when the Buckeyes won the national title. Next to Doss is former Buckeyes teammate Chris Gamble, a first-team All-Big Ten selection in 2002 who also contributed on special teams and offense before becoming a first-round NFL draft pick. Other D-Bus starters include Kwamie Lassiter, who Dantonio coached at Kansas; and safeties Aric Morris and Renaldo Hill, who Dantonio mentored at Michigan State during his first go-round as an assistant for Nick Saban.
"It's very humbling," Dennard said. "Me and Isaiah, we both think we are very blessed to be mentioned with those guys. Those are great players he always mentions on his bus. It's a great thing to even be talked about at the same time. We have to have a mindset how it is, we have to be the top of the top of the top of the bus."
It's a lofty goal, but one that Dennard could reach as a senior. He earned first-team All-Big Ten honors from the league's coaches last year after recording 52 tackles, three interceptions and seven pass breakups for one of the nation's best defenses. More impressive, he played most of the season with a sports hernia, likely suffered in September. Dennard underwent surgery after the season.
"He could have had his intestines hanging out, and he wouldn't have done anything about it," defensive coordinator Pat Narduzzi said. "The kid's that tough."
Dennard entered the fall on the watch lists for the Jim Thorpe Award, given to the nation's top defensive back, as well as the Bednarik and Nagurski awards, which go to the top defensive player. The 5-11, 197-pound senior should push Ohio State's
Bradley Roby
for the Big Ten's Tatum-Woodson Defensive Back of the Year award.
He's also a potential high pick in next April's NFL draft.
"He's probably the best corner we've coached," Narduzzi said this spring. "And he's a fun kid to coach."
[+] Enlarge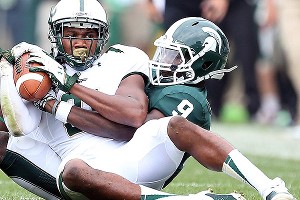 Mike Carter/USA TODAY SportsIsaiah Lewis ties up South Florida running back Marcus Shaw.
Lewis also is on the Thorpe Award watch list after earning honorable mention All-Big Ten honors as a junior. He has recorded 154 tackles, six interceptions and nine pass breakups the past two seasons as Michigan State has blossomed as a top 10 defense.
Dantonio doesn't bring up names like Doss and Gamble with his current players, but he lets them know where they stand.
"For Coach Dantonio to tell you you're one of the best guys he has ever seen play this position, one of the best guys he has ever coached at this position, it means a lot, man," Lewis said. "You want to be the best and want to do better."
Dennard knows firsthand how preseason praise, whether it stems from his coaches or the outside, means nothing unless he can back it up on the field. Last year, he played opposite cornerback Johnny Adams, who entered the season projected as a potential first-round pick -- Mel Kiper had Adams at No. 14 on his
initial Big Board
-- but didn't take his game to the next level. Adams earned All-Big Ten honors but missed Michigan State's bowl game with an injury,
wasn't drafted
and
twice was waived by NFL teams
last month before making the Buffalo Bills' roster.
"Knowing all the things he did throughout his career here, it kind of gets you down," Dennard said. "But at the same time, I too much don't think about it. … It's definitely motivation. Just going in every day, from my standpoint you can't be complacent with everything. Preseason is preseason."
Lewis is expected to join Dennard this week when Michigan State faces its first major test of the season on the road against No. 23 Notre Dame. Although the Spartans finally looked like a functional offense last Saturday against Youngstown State, they'll lean on their defense against an Irish team averaging 236 pass yards a game and deep threats T.J. Jones,
DaVaris Daniels
and
Chris Brown
.
Big plays have been a theme early this season for the "Spartan Dawgs," who already have eight takeaways, tied for sixth most nationally and nearly half of their total (20) from all of 2012. Dennard and Lewis look to continue to trend in South Bend.
"We have to make more plays," Dennard said. "We have to make more interceptions for touchdowns and have to do more exciting things, like forcing fumbles or scoring touchdowns or doing whatever, big hits or whatever to make Coach D happy."
If they do, they'll earn permanent spots on the bus, seated toward the front.
" After this year, are they going to belong with the likes of Mike Doss, Chris Gamble, Kwamie Lassiter, Aric Morris, Renaldo Hill?" Dantonio said. "Those guys who are starting in front of them right now, guys that we've coached, they're very, very good players. [Denard and Lewis] are making their way onto the field, onto that team."
September, 3, 2013
9/03/13
2:00
PM ET
By
Matt Fortuna, Chantel Jennings & Brian Bennett
| ESPN.com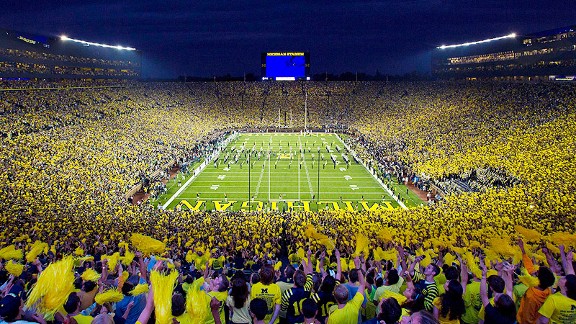 AP Photo/Tony DingCan anything top Michigan's 35-31 win in 2011, which was the first night game in the history of Michigan Stadium?
Under the lights ... and two of college football's oldest rivals in one of their last scheduled meetings … and College GameDay. Does it get any better than this? Only when Big Ten reporter Brian Bennett, Dame reporter Matt Fortuna and Michigan reporter Chantel Jennings get together to talk about it. Today, they discuss a few topics surrounding the highly anticipated matchup.
1. Over the past few years, this rivalry has seen its fair share of big stars excel during this game -- Denard Robinson's 502 yards in 2010, Roy Roundtree's game-winning catch in 2011, Manti Teo's defensive performance in 2012. Which player could you see having a mega game on Saturday?
Bennett:
How about
Jeremy Gallon
? The Michigan receiver had the huge 64-yard catch that set up Roundtree's game-winner in 2011. While he wasn't as active in last year's game, that's primarily because the Wolverines were busy throwing the ball to Notre Dame. Gallon has been more effective ever since
Devin Gardner
started running the show, and I could see him burning the Irish secondary for some big plays.
Jennings:
The heroes this game has helped create have kind of come out of nowhere in some instances. So I'm going to pick a guy who has been flying under the radar statistically, who I think has the ability to show up in big games, and that's Michigan tight end
Devin Funchess
. He had a fine freshman year and a better offseason. I think we could see him be a big difference maker on Saturday.
Fortuna:
If I'm Notre Dame, I'm gearing up for Gardner, since Michigan quarterback play has essentially decided these contests in one form or another in each of the past four years. From the Irish side, though, I think wide receiver
DaVaris Daniels
could break out. He was Notre Dame's best offensive player in the national title game loss to Alabama, hauling in six catches for 115 yards. On Saturday against Temple, the redshirt sophomore had three catches for 69 yards, including a pair of 32-yard touchdown receptions on the Irish's first two drives.
2. Which mismatch between these two teams are you most intrigued to watch?
Bennett:
On paper at least, it's the Michigan interior offensive line vs. Notre Dame nose guard
Louis Nix III
. Center
Jack Miller
and guards
Kyle Kalis
and
Graham Glasgow
are talented and played well together last week, but they have very little experience. Nix, meanwhile, is a 357-pound man-mountain who helped anchor a championship-level defense last season. He commands double teams, and it will be up to Michigan's young inside guys to keep him in check so
Stephon Tuitt
and others can't wreak even more havoc.
[+] Enlarge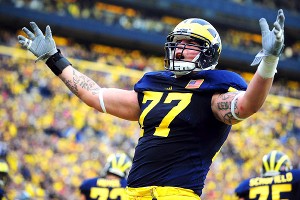 Andrew Weber/US PresswireMichigan tackle Taylor Lewan will have his hands full with Notre Dame's talented defensive line.
Jennings:
Left tackle
Taylor Lewan
on whomever or whatever Notre Dame tries to throw at him. He's so crucial to Michigan's offense, and I really don't see him not dominating any matchup this season. Lewan came back for games like this and matchups like what he'll have against Tuitt.
Fortuna:
I'll say Notre Dame's offensive line against Michigan's defensive line. The Irish have three starters back from last season, along with a very talented center in
Nick Martin
. One of the reasons they were able to jump out to a 17-point lead in Ann Arbor two years ago was because of their ability to run up the middle, as the Irish averaged six yards per rush on the night. Notre Dame is now in its third straight year of starting
Zack Martin
and
Chris Watt
together on the left side, and it has started using pistol packages in 2013 to tailor to the strengths of some of its young backs in hopes of establishing a downhill run game. This is far from a "mismatch," but with Michigan returning just three starters from last season's front seven, and with the teams so evenly matched across the board, I'd say this is where Notre Dame probably has the biggest edge. Conversely, I can't wait to see Tuitt and Lewan go head-to-head. Both will be a lot richer eight months from now.
3. Is there any way this game could one-up the last time these two teams met in the Big House?
Bennett:
It's possible that this could be an even better overall game than the one in 2011, just not as flashy. People remember the Michigan comeback and the crazy fourth quarter, but it was a pretty lopsided affair until then. That wild finish was made possible by major defensive breakdowns on both sides, and both teams are much more sound defensively now. I believe these are two legitimate top-15 teams, so we should expect a tight game. The atmosphere won't be quite as special because it won't be the first time under the lights at the Big House. But Notre Dame-Michigan usually finds a way to amaze us.
Jennings:
I was on the sideline for the final minutes of that matchup two years ago, and to call the atmosphere electric would still be selling it short. I don't know if the Wolverines have had a game as exciting since, so I'm going to go with no. I think it'll be a great game and the fact that it's the last in Michigan Stadium for the foreseeable future adds a lot. But as far as the plays themselves, jam packed into that short amount of time, I just don't see that being topped.
Fortuna:
I said no to this same question two years ago and was sadly mistaken, so I'll try not to be as definitive in my answer this time around. Whether it was Denard Robinson or Tate Forcier before him, magic seems to always happen in the late moments of this game. I'll just go ahead and make the bold prediction that if Notre Dame takes the lead with 30 seconds remaining this time, its secondary will hold up and secure an Irish win. Like I said, bold.