January, 20, 2012
1/20/12
11:00
AM ET
Bret Bielema made a rapid rise up the college coaching ladder.
Big Ten position coach at 26 ... Big 12 co-defensive coordinator at 32 ... Big Ten defensive coordinator at 34 ... Big Ten head coach at 36.
[+] Enlarge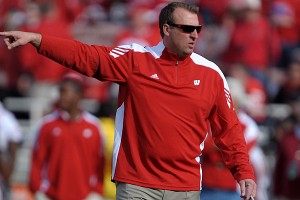 Kirby Lee/Image of Sport/US PresswireWisconsin coach Bret Bielema says he isn't upset after losing 11 assistants in the past three seasons.
Bielema's ambition helped put him on the fast track. And when he's hiring assistant coaches at Wisconsin, he wants to see the same qualities.
"When you talk to a coach, if he doesn't want to advance in this profession, we probably won't talk very long," Bielema told ESPN.com on Thursday. "I want guys that want to be coordinators, or guys that are coordinators who want to be head coaches. If they don't want to sit at the front of the room, we're probably dealing with the wrong type of coach. I want guys who want to advance."
Bielema has had plenty of assistants advance in recent years.
He lost two after the 2009 season, one of whom, Randall McCray, went from position coach to coordinator. He lost three after the 2010 season: defensive coordinator Dave Doeren became head coach at Northern Illinois, while running backs coach John Settle and nickel backs coach Greg Jackson both departed for posts in the NFL.
Wisconsin has lost six assistants in recent weeks, a number that has raised eyebrows in college football circles. The team is coming off of back-to-back Big Ten titles and back-to-back Rose Bowl appearances. Bielema's job is very secure. While one assistant (Paul Chryst) left for a head-coaching job and two others (Bob Bostad, Dave Huxtable) went from position coaches to coordinators, the exodus has left some wondering whether there's something wrong at Wisconsin.
Bielema views things differently.
"It's really not that unusual," he said. "It's unusual at a program that has as much success as we've had, where we're able to keep that continuity of winning in place. I take it as a compliment to what we've been able to do. All those coaches are moving on. Two of them didn't get coordinator jobs, but everybody else got coordinator jobs or titles that made it significantly better for them where they were going.
"To me, it's a tremendous challenge that I love, I embrace and I have a lot of fun with it."
Bielema has filled two vacancies with offensive coordinator Matt Canada and wide receivers coach Zach Azzanni. After an extensive interview process for the coordinator job, Bielema went with Canada, in large part because Canada has called plays in different systems (spread, pro style) and can adapt.
"I interviewed a lot of coaches of different levels: NFL, college, big college, small college," he said. "I'm not a résumé guy. I want a football coach. And as this thing gets moving forward, I kept coming back to him. I just think he's going to be a great fit for what we're going to blend together at Wisconsin. I'm going to hire four new offensive coaches that are going to come from different areas of the country and come together and play the style of football we like at Wisconsin."
Wisconsin's staff will be two-thirds new in 2012, but Bielema won't be surprised if he's doing more hiring a year from now.
"I have every year," he said. "Usually the NFL takes two, took two from me last year. It's just one of those things, the beauty of the beast here at Wisconsin."
January, 19, 2012
1/19/12
1:00
PM ET
When Wisconsin offensive coordinator
Matt Canada met with reporters Wednesday
, he didn't mask his excitement about his new gig.
"This isn't recruiting talk," Canada told reporters. "This is a place -- you can call my best friends, you can call anybody you want -- I wanted to be."
[+] Enlarge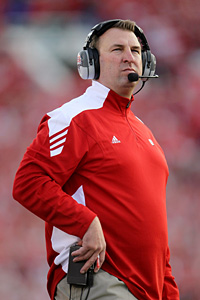 Jeff Gross/Getty ImagesWisconsin coach Bret Bielema will try to win a third straight Big Ten title in 2012 with a new-look coaching staff.
That's good news for the Badgers, especially since some are questioning how appealing it is to work for Wisconsin right now.
DeMontie Cross on Thursday became the sixth assistant coach from Bret Bielema's staff to leave Wisconsin in the past few weeks. Cross, who spent the 2011 season as Wisconsin's safeties coach/special teams coordinator, is leaving to coach linebackers on Charlie Weis' staff at Kansas.
What should we make of all the coaching departures from Madison?
When viewed individually, most if not all the departures make sense. Offensive coordinator Paul Chryst left for a head-coaching job (Pitt). Offensive line coach Bob Bostad and linebackers coach Dave Huxtable left to become coordinators for Chryst. Tight ends coach Joe Rudolph became Chryst's assistant head coach and returns to his native Pennsylvania. Wide receivers coach DelVaughn Alexander made a lateral move to Arizona State, but he's a Los Angeles native who spent much of his career on the West Coast.
Cross is leaving to coach a position (linebacker) he oversaw from 2007-10 with the NFL's Buffalo Bills. He's a St. Louis native who played at Missouri, so he'll be closer to home at KU. He also has been a bit of a job-hopper lately, spending a few weeks on Purdue's staff last winter before taking the Wisconsin job.
So you can make good cases why each coach left Wisconsin. But the entirety of it -- six coaches leaving a team that has won back-to-back Big Ten titles and reached back-to-back Rose Bowls -- is highly unusual.
Usually when six coaches are departing a staff in the same year, the head coach is part of the group. Bielema, meanwhile, is extremely secure in Madison, having built Wisconsin into a new Big Ten power.
Assistants typically want stability (i.e. Penn State) and would rather remain with a proven winner.
Bielema has hired two offensive assistants (Canada and receivers coach Zach Azzanni) and reportedly has found Huxtable's replacement (Nevada's Andy Buh). He now needs to add three more assistants to his 2012 staff.
Although coaches like to see their assistants succeed elsewhere, they also value continuity, which usually translates into success. Penn State and Iowa have had few changes until this year, and Mark Dantonio has kept his staff together for the most part at Michigan State.
Bielema might just be unlucky to lose so many assistants at once, but so much staff turnover often has consequences, at least in the short term. As Bielema continues to interview assistants, he needs to look for guys who can coach, who can recruit and who want to be in Madison for a little while.
January, 10, 2012
1/10/12
5:30
PM ET
The season might be over, but the mail never stops.
Let's do this.
Mike from Phoenix writes:
As a Badger fan I was waiting to see your final power rankings of the year because I had a feeling that you might make MSU number 1. I just don't get it. It's the same way the coaches poll has MSU and Michigan ahead of Wisconsin. That's a joke.Look at the teams everyone played in the bowl season. MSU barely beat Georgia who is not the 2nd best team in the SEC even though they went to the title game. They are the 4th best team in that league. Michigan looked bad, and played one of the easiest teams in BCS history. Wisconsin would have destroyed both Georgia and Va. Tech, but you are penalizing them for going blow for blow with the most talented offensive team in the country. They were a fumble away from possibly winning.
Adam Rittenberg:
Brian and I had a spirited debate about Wisconsin vs. Michigan State for No. 1. You can make good cases for both teams, but you can't base it solely on the bowl competition. Would Wisconsin have rolled Georgia? Maybe, maybe not. Georgia has a much better defense than Oregon and would have moved the ball against a Wisconsin defense that wasn't nearly as good as its stats indicated. Wisconsin also was extremely fortunate to beat Michigan State in the Big Ten title game, which the Spartans dominated for stretches. The two teams are evenly matched, as their two games this season showed. And I believe Michigan State ended the season playing better football than Wisconsin. I also tend to value teams with good to great defenses above those that rely on their offense. Michigan State is certainly superior to Wisconsin on defense.
---
Tim from Iowa writes:
While it might get you some back lash, I'd like your opinion on this.....me and several friends have the opinion that if 2 B10 teams(esp in our champ game) played like LSU-Bama, the B10 would once again be ripped for 3 yards/cloud of dust 1950's football. I watched parts ofthe game last night, then the final 8min. what I saw was one great def, 2 bad quaterbacks, a very repeative ineffective O from LSU, and Iowa/B10 style ball control from Bama. then Saban being proclaimed the next "Bear".
Adam Rittenberg:
Tim, you're right to a degree, although there was less SEC love about the national title game than there was about the 9-6 contest. The SEC in a sense has earned the right to have ugly games because teams from other leagues simply haven't stacked up against the SEC's best. The common belief is that while Oklahoma State would have scored against Alabama, the Tide still would have rolled the Cowboys by 20-30 points. But I agree the SEC is the only league that can "get away" with games like last night's. Most people would much rather see games like the Rose Bowl and the Fiesta Bowl. Alabama is a great football team with one of the best defenses I've ever seen. But LSU's offense would be mediocre to bad in most leagues, not just the SEC.
---
Ryan from Pittsburgh writes:
Adam,What are your thoughts on the new Penn State staff? I have to admit I'm somewhat surprised. For years I thought that PSU would turn the corner if they could only get a younger fresher staff in place to energize recruiting. This new staff that O'Brien has coming in is not young at all, so I doubt they're great recruiters. Plus any Auburn fan will tell you that Roof was fired. Mack Brown fired McWhorter last year. Am I overreacting?
Adam Rittenberg:
You bring up a good point, Ryan. A lot of veteran assistants are joining Bill O'Brien in State College. Keeping Larry Johnson is huge and a somewhat obvious move. He's one of the Big Ten's top recruiters, and he'll maintain Penn State's presence in the Maryland/DC area. His age isn't a factor in that regard. Ted Roof is the hire that has some Penn State fans upset. I agree he doesn't have the best track record, but the overall defensive staff with both Johnson and Ron Vanderlinden still looks solid to me. Charles London is a younger guy (mid-30s), but he's definitely the junior member right now. It'll be interesting to see who O'Brien hires to fill out the staff. Some more youth would be nice.
---
Jeff from Omaha, writes:
Adam? Why am I so awesome?
Adam Rittenberg:
Ask myself the same thing every morning.
---
Sam from Kalamazoo, Mich., writes:
Adam, can you please explain your rationale for naming MSU as an early favorite to win the B1G in 2012 over, say, Michigan? The Wolverines return two 1,000 yard rushers in Denard and Fitz Toussaint, 3 starting receivers, and a top-5 recruiting class loaded with 4 and 5 star DLs, LBs, and OLs. Molk, Van Bergen, and Martin will be sorely missed, but I'm not sure it makes sense that MSU is so ramped for success after losing 6 All-Big Ten players and playing in the Big House. Can you even name next year's replacement for mighty
Kirk Cousins
off the top of your head?
Adam Rittenberg:
Sure, Sam.
Andrew Maxwell
. Michigan State has been grooming him the past two seasons. Will he be as good as Cousins? That's a tall order, but he's not coming out of nowhere. Michigan State is my pick because of its defense. While Jerel Worthy is a big loss, the Spartans return a ton of elite athletes in all three levels, players like Will Gholston, Denicos Allen, Johnny Adams and Darqueze Dennard. The Spartans have more difference-makers on defense than Michigan will in 2011, at least in my view. I also believe MSU will be a more effective running team than it was this season because of an experienced line and a strong lead back in
Le'Veon Bell
. I certainly could see Michigan winning the division, but the Wolverines have a much tougher schedule in 2012 and could have a better team with a worse record (much like MSU this season versus 2010).
---
Ben from Fargo, N.D., writes:
One of the big stories in 2012 will be a surprising improvement in Minnesota's defensive line play. Ask Jerry Kill about Thieren Cockran. He's coach Kill's secret weapon.
Adam Rittenberg:
Will do, Ben. Thanks for the note. Minnesota's defensive line play has struggled since Willie VanDeSteeg departed following the 2008 season. Gophers have ranked and 78th, 120th and 86th nationally in sacks in the past three seasons. It's an area of focus throughout the offseason as Minnesota loses linebacker Gary Tinsley and standout safety Kim Royston. Cockran, a redshirt freshman defensive end from Florida, is among those who needs to step up in 2012.
---
Matt from Burbank, Calif., writes:
Hi Adam,Regarding Northwestern next year, do you think
Kain Colter
gets the starting QB job? I've been of the opinion that he is more dangerous in a utility role as he was used these season, but on the other hand he's proven he can win and be effective as the top guy. Additionally, do you think there's any hope for this defense?Thanks for a great season, can't wait till next year! Bowl win or bust!
Adam Rittenberg:
Matt, I think Colter will be the starter for 2012, but he has to make some important strides as a passer during the offseason. Northwestern's offense is predicated on short passing and accuracy. The Wildcats convert a lot of third downs, and Colter has to be able to make the throws
Dan Persa
, Mike Kafka and C.J. Bacher have made in recent years. He's the best athlete Northwestern ever has had at quarterback, and he's a perfect fit for the spread -- as long as he gets better as a passer. If there's little to no progress, Northwestern will have to use another quarterback, likely
Trevor Siemian
, to spark the passing game. Offensive coordinator Mick McCall has developed quarterbacks well at Northwestern, and Colter is his next big project.
---
Kevin from New Orleans writes:
It's been a tough couple weeks to be a Badger. Lost the Rose Bowl, lost 3 straight in hoops, lost 5 coaches. First let me say, if Bielama has Barry's confidence and support, then he has mine. Have you heard anything? Are the Badgers getting some really good coaches? I doubt we'll get anybody that can match the talent we are losing, but maybe we get an upgrade on the recruiting. 4 of the 5 coaches that left were not good recruiters. I'd love to hear your thoughts.
Adam Rittenberg:
Kevin, while it's tough right now, I think Wisconsin fans should have faith in Bret Bielema to make some good hires. As you note, Joe Rudolph is the only major loss from a recruiting standpoint. Bielema has made good choices in the past, such as defensive coordinator Dave Doeren (now head coach at Northern Illinois), Dave Huxtable (did a great job with UW linebackers in only year) and Chris Ash (has upgraded secondary, now defensive coordinator). It'll be interesting to see where he turns to replace Paul Chryst and Bob Bostad, but a lot of good coaches will want to come to Madison after seeing what Wisconsin has done the past few years. So I would look at Bielema's hiring track record and feel confident.
---
Lance from Arlington writes:
"While Penn State has produced some solid college quarterbacks -- most recently Daryll Clark, the 2009 Big Ten Offensive Player of the Year"While your opinion is correct in general, saying Daryll Clark was solid does him an injustice. DC (along with Drew Brees) was the best QB the Big Ten has had since Kerry Collins and Michael Robinson is right there. Simply put, Penn State has produced three of the top five QB's to have competed in the Big Ten since their arrival. You will no doubt disagree since you hate Penn State but you are wrong.
Adam Rittenberg:
Lance, I don't hate Penn State. I hate every school according to you folks. Let's get that cleared up. I was a big Daryll Clark fan during his career, but your argument doesn't hold up. Troy Smith won a Heisman Trophy in 2006. He played between Brees and Clark. Iowa's Brad Banks won the Davey O'Brien award in 2002. He played between Brees and Clark. While Clark led the Big Ten in pass efficiency in conference games in 2009 (136.6), it's the lowest rating for a Big Ten leader since at least 1980. His season rating that year (142.6) didn't lead the league (Terrelle Pryor did) and ranks behind all of the league leaders since 1980. Again, not hating on Daryll, who has a really nice career in State College, as did Michael Robinson. But there have been better Big Ten quarterbacks since Kerry Collins, including Wisconsin's
Russell Wilson
this year.
January, 7, 2012
1/07/12
10:19
AM ET
Wisconsin's coaching staff will have a very different look during the 2012 season.
New Pittsburgh head coach Paul Chryst, the former Badgers offensive coordinator, on Saturday announced the hiring of six staff members, including three assistants he'd bring with him from Madison.
Wisconsin offensive line coach Bob Bostad is now Pitt's offensive coordinator/offensive line coach
Wisconsin linebackers coach Dave Huxtable is now Pitt's defensive coordinator
Wisconsin tight ends coach Joe Rudolph is now Pitt's quarterbacks coach/assistant head coach
All four Wisconsin departures are significant. Chryst is one of the nation's best playcallers. Bostad is arguably the nation's best offensive line coach. Huxtable did a terrific job with the Wisconsin linebackers in the lone season he spent in Madison. And Rudolph has been Wisconsin's top recruiter and one of the Big Ten's best.
All four men left for loftier titles with Pitt. Wisconsin coach Bret Bielema had promoted Rudolph from tight ends coach to fill Bostad's role with the offensive line, but it didn't appear Rudolph would get a coordinator role with the Badgers. Plus, he's from Western Pennsylvania.
Bielema now must replace five assistant coaches -- receivers coach DelVaughn Alexander left for Arizona State earlier this week. He undoubtedly had to prepare for the day Chryst would land a head-coaching job, but I doubt he expected to lose such a big chunk of his staff. Rudolph's departure is particularly damaging because of his recruiting ability.
As one of my chatters pointed out Friday, we're going to learn a lot about Bielema and the Wisconsin program in 2012. Bielema has made some good assistant hirings in the past, and now he'll be put to the test.
January, 6, 2012
1/06/12
11:30
AM ET
After getting some good news Thursday on star running back
Montee Ball
, Wisconsin's personnel exodus is continuing.
Badgers star center Peter Konz will forgo his senior season and enter the NFL draft, the
Wisconsin State Journal
and
Milwaukee Journal Sentinel
are reporting. Wisconsin has yet to make a formal announcement, but it looks like Konz is gone, giving the Badgers three starting offensive linemen to replace.
Although Konz missed three games this season because of a dislocated ankle, he earned second-team All-America honors. ESPN's Mel Kiper Jr. ranks Konz as the nation's top junior center, and a source tells the State Journal that Konz "was rated very high" by the NFL draft advisory board. Konz started 31 games for the Badgers.
Wisconsin also could be losing yet another assistant, as Joe Rudolph reportedly is interviewing at Pitt today. Not sure why Rudolph would need to interview with his good friend Paul Chryst, the Panthers' new head coach and the former Badgers offensive coordinator. Rudolph recently was moved from tight ends coach to offensive line coach, but he might be angling for a position with a coordinator title in it.
The Badgers already have lost four assistants: Chryst, Bob Bostad, Dave Huxtable and DelVaughn Alexander. Bostad and Huxtable both are joining Chryst at Pitt, reportedly in coordinator roles.
Rudolph would be a significant loss for Wisconsin on the recruiting trail. He's one of the Big Ten's best recruiters and has helped Wisconsin upgrade its recruiting profile in Florida and other regions. Although coach Bret Bielema might want to hire a different offensive coordinator, he should try to hang onto Rudolph.
What a wild week in Madison.
January, 5, 2012
1/05/12
8:20
AM ET
Bret Bielema
tweeted early this morning
that he's headed out on the recruiting trail looking for players.
He's also looking for assistant coaches.
Wisconsin lost two assistant coaches Wednesday -- wide receivers coach DelVaughn Alexander and linebackers coach Dave Huxtable -- bringing the total number of departures to four. Huxtable will join former Badgers aides Paul Chryst and Bob Bostad in Pittsburgh as the Panthers' defensive coordinator. Chryst is Pitt's new head coach, while Bostad will serve as his offensive coordinator. Alexander is joining Arizona State's staff.
Bielema initially thought Bostad would be the only assistant joining Chryst at Pitt. It appears as though Huxtable will be the last departure.
It's quite a lot of turnover for Bielema, who has had to replace assistants here and there during his tenure but never four staff members at once. Huxtable was a terrific hire last year, as he left a coordinator post at Central Florida to tutor the Badgers' linebackers. Alexander had success with receivers Nick Toon and Jared Abbrederis this season.
It will be interesting to see where Bielema turns. Oklahoma's Jay Norvell, a former Wisconsin assistant, has been reported as a
candidate for the offensive coordinator spot
.
While Wisconsin is losing assistants, it could regain a huge piece soon as running back Montee Ball, the Big Ten's offensive player of the year, reportedly
will announce he's staying in school
for his senior season. Most figured Ball would bolt, so this would be a very nice surprise.
Ball would be one of the leading candidates for the Heisman Trophy this fall after finishing as a finalist in 2011.
January, 4, 2012
1/04/12
5:05
PM ET
The Todd Graham domino effect is continuing to have an impact on Wisconsin.

Graham bolted Pittsburgh for Arizona State, leading to Badgers offensive coordinator Todd Chryst getting the Pitt job. Chryst also brought offensive line coach Bob Bostad with him to the Steel City.
Wednesday, the school confirmed receivers coach DelVaughn Alexander is going to Arizona State to work for Graham. Alexander spent the past five years as an assistant in Madison. This season, both
Nick Toon
and former walk-on
Jared Abbrederis
had excellent years under his tutelage.
That may not be all the departures, either.
The Wisconsin State Journal reports
that linebackers coach Dave Huxtable appears headed to Pitt to join Chryst. Huxtable said before the Rose Bowl that he was definitely staying with the Badgers. He reportedly could become defensive coordinator for Chryst. Huxtable did good work with the linebackers, as both Mike Taylor and Chris Borland were All-Big Ten performers.
Huxtable and Alexander no longer appear on the roster of coaches on Wisconsin's official football Website.
The Wisconsin State Journal is also reporting that Oklahoma co-offensive coordinator Jay Norvell is a candidate to replace Chryst as the Badgers' playcaller. Norvell is a Madison native who coached at Wisconsin from 1990-94.
December, 27, 2011
12/27/11
2:00
PM ET
Mail time.
Dave from Marshfield, Wis., writes:
Adam, as a PSU alum living in Wisconsin, I have been waiting to see what PSU's move is and according to the blogs and other sites I go to the reports are that PSU will name coach Jan 3, Mike Munchak. DC will be Norwood or Darren Perry and OC Tom Clements from GB Pack staff. OL coach Bruce Mathews. What are you hearing?Thanks
Adam Rittenberg:
Dave, are you sure you're not just taking all the candidates mentioned for the head-coaching position and combining them into one super coaching staff? While I could see Clements or maybe Munchak taking the top job, I'd be really surprised if both men end up on Penn State's coaching staff in 2012. The interesting thing will be if any of the current assistants are retained. There are a lot of really good coaches on that staff, particularly on the defensive side of the ball.
---
Bucky from New York writes:
Hey Adam! Love the blog! Been reading some disappointing news re the Badgers coaches leaving the program. It looks like Bostad (O-Line and RBs coach) is jumping ship with Chryst to Pitt. Doesn't bode well for the badgers for many reasons but it's college football and it happens. How do you think Bielema responds? Do you think he needs to hire a big name to hopefully not lose any oral recruiting commits? Any potential coaches out there you know of that would be a good fit at UW?
Adam Rittenberg:
Wisconsin's recruiting should be OK even with both Chryst and reportedly Bostad departing. The Badgers aren't going to change an offense that has been extremely effective the past three seasons, so recruits don't have to worry about a new system. And from a purely recruiting standpoint, both Chryst and Bostad aren't huge losses. Tight ends coach Joe Rudolph, expected to stay on Wisconsin's staff, would have been the bigger loss there. Rudolph is one of the Big Ten's top recruiters. It will be interesting to see where Bielema looks for position coaches (he said he'll promote from within to fill Chryst's coordinator role). I don't know how many position coaches are "big names," but Bielema made a really good hire last year with linebackers coach Dave Huxtable. Wouldn't surprise me if the new coaches have ties to recruiting-friendly regions like Florida.
---
Jason from Dallas writes:
Purdue fans everywhere feel like we just got a lump of coal in our stockings for Christmas. Hope needed to go, but turns out he gets and extension. Giving the extension right before the holiday and while students are on break, coincidence? I think not. Burke knows we're not happy, that's why he's trying to sneak this by. I understand the whole recruiting aspect, but what will the impact of this extension be next year when Purdue goes 5-7 and finally decides there is no hope in Hope?
Adam Rittenberg:
Jason, while I agree the timing of the announcement was a bit curious — Friday afternoon before the Christmas weekend — the extension didn't surprise me because of the recruiting factor. Hope certainly has to prove he can take Purdue to the next level, but three years isn't very much time, especially with all the injuries. Purdue has a golden opportunity in front of it in 2012 with a wide-open Leaders Division. If things fall right, the Boilers could make a run in what looks like a very winnable division. The big question is whether Hope would actually be on the hot seat if Purdue struggles next season. Burke doesn't like to eat contract money, but he's dealing with a program and a fan base that needs a jolt. Despite the extension, 2012 still should be a pivotal season for Hope.
---
Jackson from Des Moines, Iowa, writes:
First of all love the blog, is a daily lunchtime ritual. Being a Hawkeye fan it is a sad time with Norm Parker retiring. Anyone that knows anything about Norm already knows that he is a class act, a defensive genius and and a life coach for these young men that is undeniably irreplaceable. My question: Since Nebraska has hired our d-line coach away, what would you think about Iowa bringing onboard Tom Bradley from Penn St? If he does not get a head coaching job at this point. I wouldn't think he would stay on board if not hired as the PSU head coach. He knows the league and already is versed in the style of defense that Ferentz want to use. Also, could not hurt any recruiting efforts that could be capitalized on due to the issues at PSU. Ferentz made a genius in-league move by hiring UM ex-receivers coach when Rich Rod came in.
Adam Rittenberg:
Jackson, terrific thoughts on Norm. He's a class act and will be missed. Glad you brought up the Tom Bradley idea. It makes a lot of sense, as Kirk Ferentz has a lot of respect for the Penn State program and its coaches. Bradley runs a similar defense to Iowa, so there wouldn't be massive adjustments. The main concern for Ferentz would be how long Bradley would want to stay in a coordinator role — he wants to be a head coach after serving in an assistant role for decades. Iowa hasn't had much turnover on its staff, and Ferentz doesn't want to hire a coordinator who will leave after a year. There's also the stigma attached to Joe Paterno assistants, although I would hope schools still would have the guts to hire guys like Bradley and Larry Johnson. They're great coaches and would help a program like Iowa.
---
Ben from South Jersey writes:
A new (still unnamed and this is getting annoying) coach with a fresh look, a lot coming back on defense with quite some depth, a dark horse Heisman candidate in
Silas Redd
, and a team motivated to prove the whole world wrong about Penn State Football. With the Ohio State bowl ban, and Wisconsin player-coach exit am I completely out of my mind to think my Nittany Lions have a shot at the Leaders Division title and maybe even a shot at a BCS game? Ohio State and Wisconsin at home, and they avoid Michigan and Michigan State.. Tell me I'm crazy.
Adam Rittenberg:
You're not crazy, Ben. Penn State undoubtedly will deal with some issues of its own, but as stated earlier, I don't think it will take a great team to win the Leaders division in 2012. Ohio State's situation and Wisconsin's personnel losses make the division race wide open, and there are definitely opportunities for teams like Penn State, Purdue and Illinois. Penn State's schedule certainly works in its favor, as getting both Ohio State and Wisconsin in Happy Valley favors the Lions. The big key will be maintaining the level on defense we've seen this year. But Penn State in no way should be counted out.
---
Justin from Zanesville, Ohio, writes:
Hey Adam love your blogs on the BIG. I am an Ohio State fan and I recently overheard a rumor in regards to Ohio State and their bowl ban for next season. According to a couple of sources including the Cleveland Plain Dealer; Ohio State may pursue traveling to Hawaii after the Michigan game and close to bowl week to play a game. I was wondering is this feasible according to NCAA rules which allows a team to add an extra game to their schedule as long as it is against Hawaii in Hawaii. Also how would this help out with recruits knowing that despite missing a bowl they will get to have a trip to Honolulu late in the year.
Adam Rittenberg:
It's a nice idea, Justin, but several issues must be cleared up for it to happen. The biggest one is Hawaii has an open date on the 2012 schedule, but it's in early November, not on the final weekend of the regular season, when South Alabama is scheduled to visit Honolulu. Games always can be moved around, so we'll see. There has been precedent with Alabama in 2002 and 2003. I don't think a Hawaii game would have much of an effect on recruiting. A one-year bowl ban wouldn't hurt Ohio State nearly as much as a two-year ban on the recruiting trail. One question for Buckeyes fans: Would you rather have the coaches on the practice field for the final week or out recruiting for the 2013 season?
April, 27, 2011
4/27/11
12:00
PM ET
As the Big Ten world turns ...
April, 12, 2011
4/12/11
10:00
AM ET
This week, I finally had the chance to catch up with the man who will be in charge of Wisconsin's defense in 2011. Chris Ash has spent only one year on the Badgers' staff, but his work with the defensive backs last fall helped him land the coordinator spot after Dave Doeren left for Northern Illinois. Wisconsin's secondary made significant strides in 2010 under Ash, recording eight interceptions and two pick sixes.

Here are Ash's thoughts about the Badgers' D:

What has it been liking making the transition to the coordinator post this spring?

Chris Ash: It's been a lot of fun, a great learning experience. I've wanted to be in this position for my whole coaching career, and I've worked hard to make myself ready once I got the opportunity. Hopefully, I had some good thoughts and ideas on how I wanted to do things if the opportunity presented itself. With the new guys on staff, Dave Huxtable coming from Central Florida and DeMontie Cross coming from the Buffalo Bills, they've got great experience. It's been great this offseason with those guys.

What has been the biggest adjustment so far?

CA: In the meeting room, the biggest change is just having the final say. Everybody's got great ideas, we all come from similar backgrounds and we see things the same, but we also see things differently. And when we see things differently, somebody's got to have the final say. And that responsibility's mine right now. To make those decisions has been different.

The biggest change at practice is when we've got non-scripted, 11-on-11, move-the-ball situations, as a position coach, I'm so used to getting out there and coaching the DBs after every play: good, bad, corrections, whatever. And as the coordinator, I can't necessarily do that because I've got to worry about the next call. So I find myself at times running out there to correct somebody, when in fact I should be back worrying about the personnel and the situation and the next call.

How did you react when Bret [Bielema] told you that you would be moving into this role?

CA: The first reaction is being excited. I'm humbled that he would even consider me for such a position. There are a lot of people around the country who are probably better coaches and have more experience than me who would like to be in this situation. When he did come to me and say, 'Hey, I'd like to make you the defensive coordinator,' I was humbled and eager to get ready.

How would you describe your philosophy for the defense?

CA: Dave [Doeren] and I came up in this profession together. We were both coaching at Drake University at the same time, learned a lot of the same things we both believed in, so we have a lot of similarities. Things that might be different, just the way we adjust to formations, the way we adjust to shifts and trades might be slightly different. If there's something I've done in my background, if I'm going to call it, I've got to be comfortable with it and I want to do it like this. Philosophically and schematically, there's a lot of similarities, but there are some subtle changes that people may see.

What are the values you're trying to get across right now this spring?

CA: We want to build an identity. When people see us on film, what do we want them to see? It doesn't matter about the front, the coverage, the blitz that we call. There are a few core things we want to see on tape. We want to see our guys playing hard and with great effort. If we play as hard or harder than anybody else, we're going to have a chance to win regardless of the call. We talk about playing with great fundamentals, better than what our opponent has. We talk about being tough. If you can play this game with toughness and be violent and get off blocks, you give yourselves a chance. And the last thing we talk about is just the consistency with which we do our responsibilities. The more we're in the right spots, the tougher we're going to be to beat and if we make ourselves hard to beat, we're going to win a lot of games. As long as we turn on the film and we see those four things, we'll give ourselves a chance to win.

How has it been looking for leadership this spring?

CA: The good thing here is you recruit well, and you're going to lose players, whether by graduation or leaving early to the NFL with a guy like J.J. Watt. But if you're recruiting well, it's really the next-man-in mentality. We have a lot of guys who have played here, whether it's one years or two years or whatever, who have taken the next-man-in [mindset]. It's been really nice to see guys come out of their shell because it's their time to shine.

Who are some of those guys?

CA: Guys like Aaron Henry. He's been a natural leader, but being moved to safety [from cornerback] last year, he was still unsure of himself on the field. Now he's found a position, he's played well, he's been very productive on the field, and it's time for him to be a leader, not only in the secondary but on the defense. Some of the guys up front, Jordan Kohout, Pat Butrym, guys who have played a lot are really starting to provide a lot of leadership. Those are guys who have been around for several years who are doing some good things.

J.J. did so many things for you guys last year. Who steps in to fill in there?

CA: You can't ever replace a guy like J.J. Watt. He was such a talented individual, played the game so hard and with great passion. It's really replacing his production by committee. We're not asking one guy to step in and be him at end. Guys who played last year, like Butrym, Kohout, Beau Allen, Louis Nzegwu and [David] Gilbert will up their production, and that increased production from all those individuals will give us something close to what J.J. gave us.

What's the outlook like at linebacker, especially with Chris Borland coming off of injury?

CA: We're going without Chris this spring. He's been out after shoulder surgery. Guys are in there right now, Mike Taylor and Kevin Claxton, two guys who played for us a year ago, are really having nice springs. At our middle linebacker position, Chris Borland and Ethan Armstrong, guys who were slated to be our first- and second-team players, are out with surgeries from last year. We've got a guy, Marcus Trotter, who was a redshirt for us last year on scout team, running with the first team. You talk about one of the most improved players on our football team. We had no idea what we'd get out of a redshirt freshman. He's making mistakes, but he's flying around out there, playing the game hard and having fun doing it and doing way more than we thought we'd get out of a redshirt freshman.

But once we get Chris back, he's a great playmaker. He's physical, he's tough, he plays hard. He's going to bring a big boost to our defense.

Who else has taken on a bigger role with the defense this spring?

CA: At our corner position, we've got two guys back who played for us a lot last year, Antonio Fenelus, Devin Smith, who was our starting nickel, those two guys we kind of take them for granted. They're there, they're consistent, they quietly go about their work and they work hard to compete every day. They're leaders by example.

What was the biggest key to the improvement you made in the secondary last year?

CA: It's the same kind of message I'm trying to preach to the defense. We've got to compete every single day. At Wisconsin, we're not getting four-, five-star recruits. We're getting the hard-hat, workman type guys, and we've got to compete every single day. Last year, the DBs did that. They got better as the season went along because they competed in practice. That's what we're trying to do with the whole unit.

They were in the right spots and were able to take advantage of offensive mistakes. You talk about getting takeaways and producing plays, it's not so much that you made a play, but you were in the right spot and you took advantage of an offensive mistake. The ball was thrown a little high, a little to the left or right, a receiver doesn't catch the ball and it bounces off his hands or shoulder pads. Who's going to make those plays? It's guys who are in the right spot and hustling to the ball. That's what we got in the secondary last year.

How do you stress that competitiveness right now?

CA: Last year, we had some success, winning the Big Ten and having a chance to go to the Rose Bowl. The biggest thing is, are guys satisfied or are they hungry? I think we've got guys that are hungry. They've tasted that success. They want to maintain that high level, and the only way you're going to be able to do it is continue to improve.

We talk every single day that you either get better or you get worse, nobody ever stays the same. We can't afford to walk off the practice field and feel we got worse because we didn't compete. We're not trying to compare any individual to another individual or ourselves to any other team. We're trying to get better every day as individuals and if we do that, collectively our defense will get better. Our guys are really buying into that so far.
March, 22, 2011
3/22/11
9:00
AM ET
The
Wisconsin Badgers
hit the practice field Tuesday afternoon for the first of 15 spring workouts.
Here's a snapshot of the defending Big Ten co-champs as they enter spring ball:

The big story:
Replacing star players. No Big Ten team loses more individual standouts than the Badgers, who say goodbye to four All-Americans as well as Johnny Unitas Golden Arm award winner
Scott Tolzien
. Wisconsin should to have enough coming back to survive losses at running back, offensive line and tight end, but the team really will miss superstar defensive end J.J. Watt and Tolzien, the archetypal Wisconsin quarterback who provided consistency in the pass game. Ohio State has dominated the Big Ten because of its ability to reload. Has Wisconsin reached a point in its program where it can do the same?
Position in the spotlight:
Quarterback and defensive end both will be closely monitored.
Jon Budmayr
, who backed up Tolzien last season, will have every opportunity to distinguish himself as Wisconsin's top quarterback this spring.
Curt Phillips
is still recovering from knee surgery and will be limited to individual drills. Returning starter Louis Nzegwu and veteran reserve David Gilbert are the top two options at defensive end, but several young players will get a close look this spring, including sophomore Pat Muldoon.
Coaching changes:
Defensive coordinator Dave Doeren left to become head coach at Northern Illinois, and secondary coach Chris Ash was promoted as his replacement. Defensive line coach Charlie Partridge will share the coordinator title, but Ash is running the show. Central Florida defensive coordinator Dave Huxtable joins the staff to coach linebackers, a group Doeren oversaw. Thomas Hammock is back in Madison to coach the team's running backs, replacing John Settle, who left for the Carolina Panthers. Wisconsin also added DeMontie Cross as safeties coach and special teams coordinator. He replaces nickelbacks coach Greg Jackson, who left for the NFL.
Keep an eye on:
Beau Allen. Defensive tackle could be a position of strength for Wisconsin, and Allen adds depth after appearing in 12 games as a true freshman last season. At 6-foot-3 and 325 pounds, Allen could be a force in the interior line.
Spring game:
April 23
January, 18, 2011
1/18/11
4:21
PM ET
Bret Bielema kept to his word and looked within his staff to fill Wisconsin's defensive coordinator vacancy.
Bielema promoted both defensive line coach Charlie Partridge and secondary coach Chris Ash to the coordinator spot. He also hired Central Florida defensive coordinator Dave Huxtable to coach the Badgers' linebackers.
All three men replace Dave Doeren, who served as Badgers' defensive coordinator and linebackers coach before taking the head-coaching position at Northern Illinois last month. Partridge and Ash both will continue to coach their position groups.
It's always nice to see assistants rewarded, and both Partridge and Ash have done well at Wisconsin. While I'm not a huge fan of co-coordinators, these two have some familiarity working together and know the personnel.
Partridge has helped mold two of the Big Ten's top pass rushers the last two seasons in O'Brien Schofield and J.J. Watt. Ash made an immediate impact in his first season with the Badgers, as the team improved from 55th nationally against the pass in 2009 to 26th in 2010.
Huxtable will become the most experienced member of Wisconsin's defensive staff, bringing 29 years of expertise with him. Anyone who watched UCF's 10-6 win against Georgia in the Liberty Bowl could see his influence on the Knights' defense. Huxtable also has served as defensive coordinator at both North Carolina and Georgia Tech.
"I think Dave is a great addition to our staff," Bielema said in a prepared statement. "He brings a ton of experience, having coached the linebacker position virtually his entire career. His defenses at UCF were very well-coached, as evidenced by their success this season. As good a coach as he is, he is even a better person and he will fit into our staff very well."
Wisconsin's staff appears to be complete for 2011. The school has
put together an enhanced compensation package
for offensive coordinator Paul Chryst, who was courted for several jobs earlier this month.
Barring a late change, expect Chryst to remain with the Badgers, a big boost for the program.