August, 23, 2013
8/23/13
2:00
PM ET
His phone showed a text message informing him of a team meeting.
Brock DeCicco
called his father. He understood what this meant. It was happening again.
Two team meetings so close together meant one thing at Wisconsin last season. His coach, Bret Bielema, was leaving for somewhere -- in this case, Arkansas.
[+] Enlarge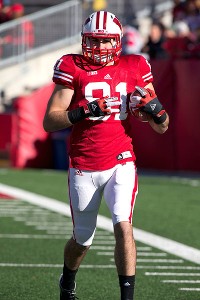 AP Photo/David StlukaWisconsin tight end Brock DeCicco, who transferred from Pitt, knows all too well how it feels to have a head coach leave for another school.
Including interim head coaches, DeCicco has had seven head coaches in four-and-a-half years during his time at Pittsburgh and Wisconsin. Add in coordinators and position coaches and he has lost count of the adults who have attempted to mentor him before either being fired or leaving on their own volition.
This is why his high school coach, Bill Cherpak, has jokingly called him "coach killer."
"I never would have guessed that," DeCicco said. "It's just kind of how college football is. Coaches move back and forth all the time so you kind of just get used to it. There's probably not many guys at schools that start off with the same coach and end with the same coach."
Hardly any player has rolled through coaches like DeCicco, now a fifth-year senior who might see his first significant time this fall since his redshirt freshman season at Pitt. Back then, his coach was Dave Wannstedt, who recruited DeCicco and also coached his older brother, Dom.
Since Wannstedt's firing after his redshirt freshman season, his head coaches have been Phil Bennett (one game), Michael Haywood (zero games), Todd Graham (zero games), Bret Bielema (transfer season and 2012 season), Barry Alvarez (one game) and now Gary Andersen (zero games and counting).
The toughest breakup was the first. He was naive then. He didn't expect Wannstedt, who his family had known for a while, to be fired. He thought he would play his entire career for Wannstedt. In retrospect, he says he learned so much from Wannstedt, Bennett and the rest of that first staff he played for.
As each successive separation happened, DeCicco became desensitized to it. After he said Graham and his coaching staff told him he'd play H-Back in an offense which didn't utilize a tight end much, he became concerned in spring practice. He departed soon after the start of fall camp in 2011.
"He was like, 'I gotta go. I have to get out of here,' " said Dominic DeCicco, Brock's father. "He knew if he was going to have any success in football, I need to leave."
Depending who you ask, DeCicco's feelings about this varied. He liked his teammates at Pitt, but the coaching staff and scheme didn't fit him. Cherpak said the Pitt staff under Graham had lost DeCicco in part due to the position switch and what was told to him after. For a player whom all involved said might not have succeeded had he started somewhere far from home instead of Pittsburgh a half hour away, belief in a staff at that point was huge.
"Once they lost Brock's trust, he was gone," Cherpak said. "At that point, he didn't have anywhere to go. He was home for a week-and-a-half."
Enter Wisconsin. The Badgers recruited him in high school. He went on a visit and loved it, and got along well with the offensive coordinator, Paul Chryst, and the tight ends coach, Joe Rudolph.
He went as a walk-on after the Badgers could not offer him a scholarship right away. In 2012, he earned a one-year scholarship. This past season, he re-earned it for his fifth year. He believed in the Wisconsin staff.
DeCicco didn't expect to go through all the switching. Again. This time with some irony involved. After his transfer year in 2011, Graham bolted. Pitt needed a coach and hired Chryst. He took Rudolph with him to be his offensive coordinator.
By then, all DeCicco could do was laugh.
"After (Chryst) took the job and then he started taking the assistants, it was like it was never going to end," Cherpak said. "It didn't upset him. More like, 'What's next?' "
What's next was playing in every game last season and now finally having the chance to impact a team again as a redshirt senior. The last time he caught a pass was 2010, a 13-yard touchdown catch against Kentucky in the BBVA Compass Bowl.
It's been a journey he never could have expected since then, but one which he doesn't regret. One which has made him grow more than he ever thought he would.
"I always tried to look at it as a positive," DeCicco said. "I've had a bunch of different offenses I've run through. Learned a bunch of different offenses and styles of how coaches teach."
It's just the coaches don't stick around, which heads back to Bielema, the text message and a laugh with his father. Four years ago, DeCicco would have been traumatized by a coach departing. Let alone two.
Now he can call his father, predict what is happening next and console confused teammates. It isn't about a coach anymore for DeCicco. It's about himself. His teammates. And whatever happens next is all good with him.
Really, there was no way DeCicco's college career would conclude without one more somewhat unplanned twist.
On Sept. 14, he and the Badgers head to Arizona State. Its coach -- Todd Graham.
"If you told me back when he signed his letter of intent that this was the journey he would have taken," Dominic DeCicco said. "I would have had a better chance of winning the lottery than that happening.
"It's so bizarre, so many twists and turns to it. It was incredible."
October, 28, 2009
10/28/09
9:00
AM ET
Posted by ESPN.com's Brian Bennett and Adam Rittenberg
It has been nine years since rivals Penn State and Pitt last played, and the debate about the discontinued series still rages in the Keystone State. When will they meet again? Not in the regular season any time soon. But there's a new subplot in the discussion this fall, as the Nittany Lions and Panthers are separated by just three spots in the
BCS standings
.
Both teams are playing their best football right now and remain alive in their respective conference title races. And maybe, just maybe, the 12th-ranked Lions and 15th-ranked Panthers will meet in a BCS bowl down the road. The big question: Which has the better team?
Big Ten blogger Adam Rittenberg and Big East blogger Brian Bennett break it all down.
| | |
| --- | --- |
| | |
| | Eric Bronson/Icon SMI |
| | Pennsylvania football fans would like to see Daryll Clark and the Nittany Lions play Pittsburgh in the future. |
Adam Rittenberg:
We already debated
Iowa and Cincinnati
. Now let's get really personal. There are enough fans on both sides who want to see the series resume, but we both know how BCS teams hate to part with home games. Any chance we see Penn State and Pitt meet in a BCS bowl game?
Brian Bennett:
It's certainly possible that both teams get into the BCS. But I see the chances of them meeting in a bowl as slim. Penn State would have to be an at-large pick, since there's no way Pitt is going to the Rose Bowl, and the options are limited elsewhere. Plus, the game wouldn't generate a whole lot of interest outside of Pennsylvania, where it would be enormous.
The bigger question I have is, why aren't these two teams still playing in the regular season? All indications are that Pitt would welcome the resumption of the series. Panthers fans blame Joe Paterno for killing the rivalry. How much truth do you think there is to that?
Rittenberg:
Paterno wasn't pleased when Pitt joined the Big East, which prevented him from forming a new conference with Eastern schools. Penn State also must play at least seven home games a year. That's non-negotiable. The Lions can't afford to lose revenue from cramming their enormous stadium and continue to play other attractive nonconference opponents (i.e. Alabama) unless Pitt agreed to a 2-for-1 with two games in State College. I know the fans don't like to hear it, but the two schools are in different financial positions, and Pitt plays one more non-league game (5) than Penn State.
We could talk about this all day, but let's get to the teams. How do you think Pitt matches up against Penn State?
| | |
| --- | --- |
| | |
| | Justin K. Aller/Icon SMI |
| | Pittsburgh quarterback Bill Stull is leading an improved Panthers offense. |
Bennett:
As with all the Big East contenders, you have to start on the offensive side of the ball. Those not playing close attention this year may view Pitt as a typical Dave Wannstedt, defensive-minded team. But the Panthers can really score and are averaging 34 points a game. They've got answers everywhere, from a terrific veteran offensive line, a true freshman back in
Dion Lewis
who's already gone over 1,000 yards, a stud receiver in
Jonathan Baldwin
, two top flight tight ends and a fifth-year senior quarterback,
Bill Stull
, who has made tremendous strides.
Defensively, Pitt has one of the top defensive front lines anywhere, with sack specialists Greg Romeus and Jabaal Sheard on the outside and bullrushing tackle Mick Williams on the inside. The Panthers have been exploited, however, in the passing game against the outside linebackers and the defensive backs, which is where I would think the Nittany Lions would attack with
Daryll Clark
.
But Penn State's offense hasn't been overly impressive this year. Has the Spread HD gone low def?
Rittenberg:
Offense, offense, offense. That's all I hear from you, Bennett. Before getting to the Spread HD, which looks pretty good to me, let's talk a little D (you like my rhymes?).
Penn State's defense is simply dominant this season. I won't bore you with stats, but Penn State ranks in the top 10 nationally in seven major statistical categories, including No. 1 in points allowed (8.88 ppg). The defensive line is ferocious, led by tackles Jared Odrick and Ollie Ogbu and budding star Jack Crawford at defensive end. Linebacker U. is back as Navorro Bowman and
The 'Stache
(Josh Hull) have been fabulous and Sean Lee is getting healthier each week. They would digest Lewis.
The Lions are getting better each week on offense as a new-look line jells. Clark and running back
Evan Royster
have been fabulous since the Iowa loss, and the new group of wide receivers has seen different stars emerge each week (
Chaz Powell
,
Derek Moye
,
Graham Zug
). Tight end
Andrew Quarless
is a major matchup problem, and backup running back
Stephfon Green
can go the distance on any play.
Penn State might be the most complete team in the Big Ten right now. So what do you think? Who would win if these rivals decided to play this year?
Bennett:
This why I'm glad I cover the Big East and not the Big Ten: I enjoy the forward pass and seeing teams score.
I'm with you on Penn State's defense -- it's stacked. That would probably be the difference in the Pennsylvania Bowl. Although I think Pitt could still move the ball, it likely wouldn't come anywhere close to its usual points total against the Nittany Lions, while that improving offense behind Clark would get the job done.
So I give the slight nod to Penn State as remaining the big dog in the state, but the gap is narrowing once again. Now, what can we do to talk these two teams into actually playing one another?
Rittenberg:
I agree that Penn State would win the game, especially with the way the Nittany Lions are playing right now. The Big East doesn't have a defense ranked in the top 20 nationally, and the Nittany Lions' size and speed on that side would pose problems. Pitt's defensive line could hurt Penn State, but Clark still would make plays in the pass game. I've been very impressed with Pitt this year, as much as I'm reluctant to buy into Wanny-coached team (sorry, Bears fan here).
How do we get these two together again? I wonder if Pitt would be willing to do a 3-for-2. Otherwise, maybe they could meet at a neutral site and split the revenue. Or we could wait for Paterno to retire. On second thought, that'll never happen.
September, 16, 2008
9/16/08
10:46
AM ET
Posted by ESPN.com's Adam Rittenberg
Conference play kicks off next week with several exciting matchups, but five Big Ten teams are trying to round out the non-league slate on a good note. For the second straight year the league is shaping up to have more bowl-eligible teams that available slots, so winning these early games is paramount for squads like Northwestern, Indiana and Minnesota. The Hoosiers get back into action after a week off, and Ohio State returns to the field, hoping to turn the page on the USC flop.
Here's a look at what's on tap Saturday.
Ohio at Northwestern (noon ET)
Don't be fooled by Ohio's 0-3 record. The Bobcats built leads against Ohio State and Central Michigan the last two weeks and could be Northwestern's toughest non-league test. The Wildcats are fighting some history, as they haven't had a perfect nonconference season since 1963. Non-league stumbles kept Northwestern out of bowl games in 2004 and 2007, so a win here would be huge. The Wildcats' improved defense will have to contain Bobcats quarterback Boo Jackson, who set a school record with 413 total yards last week.
Florida Atlantic at Minnesota (noon ET)
The Gophers should have plenty of motivation in this one after losing to the Owls last fall in Miami. After going 1-11 in 2007, Minnesota would be two-thirds of the way to bowl eligibility with a victory. But it won't be easy, and the Gophers shouldn't expect to see the same Rusty Smith who completed just 8 of 34 passes in a downpour last week at Michigan State. Smith will challenge a Gophers defense that missed tackles against Montana State and allowed 463 passing yards in last year's contest with the Owls.
Troy at No. 13 Ohio State (noon ET)
It will be an interesting day along the banks of the Olentangy River. How will Ohio State be received after crumbling at the L.A. Coliseum? Will there be a hangover or a new fire with this team? The Buckeyes might take out their frustration on Troy, a solid Sun Belt team that is 2-0 despite losing its star quarterback (Omar Haugabook) and its star offensive coordinator (Tony Franklin). Regardless of who plays running back, it's important for the offensive line and quarterback Todd Boeckman to settle into a good rhythm. Terrelle Pryor likely will continue to see more playing time as Ohio State tries to build momentum before league play.
Temple at No. 16 Penn State (noon ET)
It's been a tough two weeks for Temple, which lost on a Hail Mary against Buffalo and an overtime touchdown against Connecticut. The Owls won't get much sympathy from a Penn State team that has won three games by an average of 43 points. At least the Lions should be tested by a solid Temple offense led by quarterback Adam DiMichele, who leads the team in both passing (204.7 ypg) and rushing (39 ppg). Former Penn State captain Al Golden will make his first appearance at Beaver Stadium as Temple's coach.
Iowa at Pitt (ESPN2, noon ET)
The Hawkeyes have looked fabulous at home, particularly on defense. Their first voyage away from Kinnick Stadium brings new challenges, namely a Pitt team that desperately needs a win to avoid being branded a bust and putting coach Dave Wannstedt on the hot seat. The game's key matchup pairs Pitt star running back LeSean McCoy against an Iowa defensive line anchored by four-year starters Mitch King and Matt Kroul. The Hawkeyes remain unsettled at quarterback and should get some answers -- good or bad -- at that position against the Panthers.
Central Michigan at Purdue (noon ET)
These teams have to be sick of one another. Saturday marks their third meeting since Sept. 15, 2007, with Purdue winning both previous contests. The Boilers' big-game blues continued last week against Oregon, but another matchup with a quality team provides a chance for redemption. Central Michigan's defense struggles against BCS foes, so Curtis Painter should be able to get on track. The key will be whether Purdue's defense continues to make plays in the red zone against Dan LeFevour. A victory makes Joe Tiller Purdue's all-time winningest coach.
Notre Dame at Michigan State (ABC, 3:30 ET)
The Spartans look like the better team, but in this series it rarely matters. The road team has won the last seven meetings, stretching back to 2001, and Michigan State must only remember its 2006 collapse in the rain to recognize that anything can happen. Notre Dame's improved offense will challenge the Spartans, who shut out Florida Atlantic but will need a strong performance from a patchwork secondary to stop Fighting Irish deep threat Golden Tate. Expect another big game from Spartans running back Javon Ringer, but quarterback Brian Hoyer will have to make a few big plays as well.
Ball State at Indiana (7 p.m. ET)
This should be one of the day's most exciting games, as Indiana gets tested for the first time this season. Ball State quarterback Nate Davis ranks sixth nationally in passer rating (189.4) and will look for Dante Love, the nation's leading receiver (144.3 ypg). Indiana counters with Kellen Lewis, who has been terrific so far, averaging 248 yards of total offense per game. Add in the subplot of Hoosiers coach Bill Lynch facing the team that fired him in 2002, and this is a game you don't want to miss.
Byes: Wisconsin, Michigan, Illinois
BIG TEN SCOREBOARD
Saturday, 12/20
Monday, 12/22
Tuesday, 12/23
Wednesday, 12/24
Friday, 12/26
Saturday, 12/27
Monday, 12/29
Tuesday, 12/30
Wednesday, 12/31
Thursday, 1/1
Friday, 1/2
Saturday, 1/3
Sunday, 1/4
Monday, 1/12
Tweets from https://twitter.com/ESPNCFB/lists/b1g