December, 10, 2014
12/10/14
2:30
PM ET
Michigan is officially into its second week of a search to find its next head football coach, and there's no reason to believe a decision is imminent.
All major coaching searches take on a certain level of murkiness. The list of candidates and their interest, contact or flirtations with a school remain fluid until all of skeptic speculation ends in a hire. Under interim athletic director Jim Hackett, Michigan's athletic department has avoided adding to the noise and confusion.
Former teammates and others close to Hackett say his deliberate and measured approach in rerouting the football program during the last six weeks is no surprise.
[+] Enlarge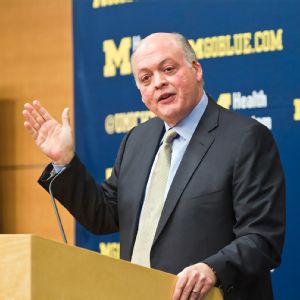 AP Photo/Tony DingJim Hackett has sought input from all corners but made clear the decision on Michigan's next coach will be his.
"He's very reserved. He was the quiet guy back when we were playing," said Jim Bolden, who was a teammate of Hackett's during the mid-1970s under Bo Schembechler. "He doesn't make a lot of hoopla about much of anything."
In what will come as a refreshing change of pace for many in maize and blue, Michigan's third coaching search in the last seven years is reflecting the processes of the business world more than the political world. Hackett has made that much clear since taking over for Dave Brandon on Oct. 31.
Hackett is a rookie in athletic administration, but he is not new to leadership positions. Along with holding a seat on several Michigan boards of directors, he worked as the CEO of Steelcase, an industry-leading office furniture company, for two decades before retiring earlier this year. During his time at Steelcase, Hackett cut thousands of jobs and shifted the company's focus toward technology. He has used a similar businesslike approach when making decisions about the football program so far in his time at Michigan.
"I think [making] choices about people is a difficult thing in business," Hackett said at a news conference where he announced his decision to fire Hoke last Tuesday. "You can bet on a process that helps reduce that risk. I describe it as a highly divergent exercise in the beginning to make sure we see the landscape, and then we're going to work quickly to narrow the question. I have a lot of confidence that process will yield a great answer."
Hackett used boardroom lingo like walkaway dates and swim lane charts to describe the process he plans to use during the search. Hackett set specific dates for when he expects an answer from candidates before moving on to the next, but hasn't made any of that timeline public. As the rumor mill cranks into high gear while dissecting names such as Jim Harbaugh, Les Miles and David Cutcliffe, there has been no posturing one way or another coming from the offices in Ann Arbor.
The newcomer has reached out to former Michigan players from several eras, including his own and current members of the team, to get a better understanding of what the program needs in its next head coach. He hired a search firm familiar with the university to help introduce to him as large of a candidate pool as possible. While he's asked for help from many sources, he also has made it clear that he plans on making a unilateral decision when the time comes – a bold step in the heavily fractured hierarchy of Michigan athletics.
An initial gathering of names, what Hackett called "the divergent part of the process," appears to be complete as Michigan moves on to contacting potential candidates and gauging interest this week.
It's not clear how long the Wolverines will wait before naming their next coach, but the process to find him is playing out in a logical, thorough manner. That's an encouraging first step for Michigan fans.
December, 10, 2014
12/10/14
12:01
PM ET
NEW YORK -- Just as Texas did a year ago, the Michigan job has dominated conversations in the halls of the Waldorf Astoria this week during college football's Hall of Fame events and the Heisman Trophy ceremony lead-up.

The complicating factor with interpreting Michigan's methods is the mystery man in charge of the search. Interim AD Jim Hackett has a business background, so it's not as if he regularly has been mingling with the college football bluebloods who descend on Manhattan each holiday season.

That's why, even with some of the more obvious targets out there -- Jim Harbaugh and Les Miles, among them -- I'm told Hackett could diverge from the perceived plan of "brand-name" college coaches and expand to NFL assistants and off-the-radar college guys.

One such candidate emerged Tuesday afternoon when a report surfaced that Michigan was kicking the tires on Duke coach David Cutcliffe.
July, 23, 2009
7/23/09
2:15
PM ET
Posted by ESPN.com's Adam Rittenberg
Boise State won't be coming to the renovated Big House in 2010, imploding my plan for Michigan's big-splash opener.
The Wolverines still want to re-open Michigan Stadium against a decent opponent from a BCS conference, but Michigan fans should probably dismiss any thoughts of a real blockbuster matchup. You won't see a Delaware State re-run on Sept. 4, 2010, but Michigan still wants to have a pretty decent shot at a win in Week 1. Athletic director Bill Martin likes to play schools with similar academic missions. Michigan also ideally wants a guarantee game (no return).
Here are a few possibilities for the 2010 opener.
Virginia -- The Cavaliers have an opening on Sept. 4, setting up a matchup of arguably the nation's two best public schools (Cal is up there, too). Don't be surprised if Al Groh's team comes to Ann Arbor.
Duke -- Try not to laugh (I'm having a hard time holding it in), but Duke football is slowly improving. Colleague Heather Dinich really likes what David Cutcliffe is doing in Durham -- and HD knows her stuff -- so the Blue Devils might be a possible addition. Duke certainly fits the academics component, and it needs a game for 2011.
Oregon State -- Maybe a stretch here, but the Beavers don't currently have a game scheduled for Sept. 4. History shows Oregon State is most vulnerable early on, especially on the road, so this might be an appealing game for coach Rich Rodriguez. Oregon State could use the guarantee money.
Pitt -- Always mentioned as a possible addition to the Big Ten, the Panthers haven't scheduled a game for Sept. 4. Then again, Rodriguez might never want to see Pitt again after what happened in the Backyard Brawl in 2007.
April, 15, 2009
4/15/09
1:15
PM ET
Posted by ESPN.com's Adam Rittenberg
Former Duke basketball player Greg Paulus is interested in returning to his football roots, and Michigan has emerged as a possible destination.
Paulus visited the Wolverines' final practice of the spring on Tuesday and talked with head coach Rich Rodriguez about the possibility of playing quarterback for the team in 2009, sources told ESPN.com's Christopher Lawlor. The transfer process could be tricky, and it would be hard to see a guy who hasn't taken snaps since high school start at quarterback for a Big Ten team.
Michigan's quarterback situation remains a bit shaky, but true freshman Tate Forcier appeared to develop well this spring, and I can't see why Rodriguez would take such a big risk with Paulus, who was a terrific high school quarterback.
"Im not sure the Michigan offense suits him," Joe Casamento, who coached Paulus in football at Christian Brothers Academy, told ESPN.com's Joe Schad. "We ran a spread, but a spread to pass. He might take some pounding in that offense. I understand Greg is keeping his options open, but I still believe basketball is his passion. When he chose basketball, he told me that one day he'd like to be a basketball coach."
Duke football coach David Cutcliffe has talked with Paulus about playing wide receiver.
I'm heading back to Penn State now, but I'll have more on this story as it develops.
September, 2, 2008
9/02/08
11:29
AM ET
Posted by ESPN.com's Adam Rittenberg
The Big Ten whiffed on several opportunities to boost its national reputation in Week 1. Now it's time to make sure things don't get worse. The Week 2 slate is underwhelming, to say the least, but still extremely important for Big Ten teams to take care of business.
Here's a look:
Ohio at Ohio State (ESPN2, noon ET)
Beanie Wells' foot injury has overshadowed any intrigue about the game, and the spotlight likely will be on the sideline rather than the field Saturday. If Wells doesn't play -- a strong possibility -- it will be interesting to see how Ohio State's coaches readjust. Do Dan Herron, Maurice Wells and Brandon Saine split carries? How will freshman sensation Terrelle Pryor be used differently? Ohio has some good team speed and should provide somewhat of a challenge for a Buckeyes defense that smothered Youngstown State last week. The Bobcats haven't faced the state's flagship team since 1999, so they'll be up for this one.
Marshall at Wisconsin (noon ET)
The Badgers hope to get healthier and more precise before a huge road matchup against Fresno State in Week 3. Though the running game surged and the offense put up 38 points against Akron, Wisconsin had two turnovers inside the Zips' 10-yard line. Quarterback Allan Evridge must build off his first start in three years against a Marshall defense that struggled last season. Badgers star tight end Travis Beckum practiced earlier this week and might play against the Thundering Herd.
Eastern Illinois at Illinois (noon ET)
Illlinois will unveil its renovated stadium, wear throwback jerseys and welcome back dozens of program greats, including iconic linebacker Dick Butkus. It should be an interesting day on the field as well as the Illini try to atone for a season-opening loss to Missouri against Eastern Illinois. The Panthers feature two former Illinois players, defensive tackle D'Angelo McCray and defensive end Jeff Sobol, and come off a 31-12 loss to Central Michigan.
Eastern Michigan at Michigan State (noon ET)
Despite some positives from wide receiver Mark Dell and others, Michigan State is 0-1 and can't afford to backslide against Eastern Michigan. The Spartans defense needs a much stronger performance against an Eagles team that thumped Indiana State 52-0 and boasts a versatile quarterback in Andy Schmitt. Better discipline also is a priority for the Spartans after being penalized for 82 yards against Cal. Michigan State has scored 47 points or more in its last four meetings with Eastern Michigan.
Miami (Ohio) at Michigan (ESPN, noon ET)
It's only Week 2, but Michigan faces a must-win situation against a Miami (Ohio) program that has regressed in recent years. Don't be surprised if redshirt freshman Steven Threet replaces Nick Sheridan as the Wolverines' starting quarterback, though both men could play. Michigan has to get more from its running backs, particularly freshmen Sam McGuffie and Michael Shaw, against a Miami defense that surrendered 269 rushing yards against Vanderbilt last week. The RedHawks also could go with two quarterbacks, though Daniel Raudabaugh will start.
Florida International at Iowa (noon ET)
It's important for the Hawkeyes to settle on a starting quarterback before games with Iowa State and Pitt, so the spotlight will be on Jake Christensen. The junior had some bright spots and some not-so bright ones against Maine in Week 1, but coach Kirk Ferentz seems to want him to step up and claim the spot for good. Iowa should have no problem with Florida International as long as it can stop T.Y. Hilton, who ranks second nationally in punt returns (44.5 ypr) and 23rd in kickoff returns (25 ypr).
Northern Colorado at Purdue (noon ET)
The Boilers open the season and can finally see what they have at wide receiver. There's little concern about Greg Orton, but expect coach Joe Tiller to use a sizable rotation of receivers to see who else can contribute. Kory Sheets plays his first game as Purdue's featured running back, though it'd be wise to get backup Dan Dierking a decent number of carries. Northern Colorado was picked last in the preseason Big Sky polls, so the Boilers shouldn't be tested too much before a big matchup against Oregon.
Oregon State at Penn State (ABC, 3:30 p.m. ET)
What looks to be the day's best game by far lost a little luster after Oregon State dropped its opener against Stanford. Beavers quarterback Lyle Moevao provides a good test for a Penn State defense that's stacked up front but inexperienced at linebacker. Oregon State struggled to contain Stanford's run game and could be in trouble against Evan Royster and Stephfon Green, but if the Beavers flood the box and make Daryll Clark beat them with his arm, this could get very interesting.
Murray State at Indiana (7 p.m. ET)
Indiana and Iowa should co-author a book entitled, "Easing into the season." Like the Hawkeyes, it will be tough to get a great read on the Hoosiers until later this month. Star pass rusher Greg Middleton returns to the field for Indiana after serving a one-game suspension, and the defense looks to limit the pass after allowing 219 yards against Western Kentucky. Murray State allowed 73 points last year against Louisville in its only game against an FBS opponent.
Northwestern at Duke (7 p.m. ET)
If Northwestern wants to change its national perception, beating teams like Duke is a must. The Wildcats failed to do so last year, falling 20-14 at home following an unsightly series of penalties, turnovers and missed opportunities. Duke looks to be improving under new coach David Cutcliffe, but the difference Saturday could be Northwestern running back Tyrell Sutton, the best player on either squad and a guy who missed last year's game with an ankle injury. Keep an eye on the weather as Hurricane Hannah should hit North Carolina on Friday night.
Minnesota at Bowling Green (ESPNU, 7:30 p.m. ET)
The Gophers deserved to celebrate a bit after a season-opening win against Northern Illinois, but if they want to prove they're really a better team, this is the perfect stage. Bowling Green comes off a Week 1 road upset of Pitt and stunned Minnesota last season with a two-point conversion in overtime to seal a 32-31 win. Falcons quarterback Tyler Sheehan will test
a still-unproven Gophers secondary, but Adam Weber should also be a handful for Bowling Green.
August, 27, 2008
8/27/08
12:45
PM ET
Posted by ESPN.com's Adam Rittenberg
This will be a regular feature Tuesday and Friday, so send in your e-mails. I'll pick things up as the countdown to the opener reaches four days.
Kyle from Louisville writes: I give all due respect to Rashard Mendenhall because he was a horse last year for Illinois, but looking back it seems to me that the Illini offense could be just as good or better this year. In Illinois' five biggest games of the regular season last year - Missouri, Penn State, Wisconsin, Michigan, and Ohio State - Mendenhall only went over 100 yards once, and twice (against Missouri and Ohio State), returning sophomore Daniel Dufrene outrushed him. Otherwise, Rashard put up huge numbers against less-talented teams. Am I completely off-base here or could Illinois be just as good this year on the offensive side of the ball?
Adam Rittenberg: You can't underestimate what Mendenhall did last season. He wasn't just a workhorse, but a breakaway threat. He helped Juice Williams, he helped Rejus Benn, he helped everybody, even when he didn't rush for 100 yards. But I agree that the Illini offense should be strong this fall. Dufrene looks like a solid back and he's picked up his play in preseason camp after a poor spring, but the only reason he outrushed Rashard against Ohio State was the 80-yard run that should have resulted in a fumble. Where Illinois should be much better is the wide receiver position. Benn will be dominant this season as he's fully healthy, and I've heard great things about Chris Duvalt's emergence this summer. When Jeff Cumberland returns from a foot injury, he gives that group size and tremendous leaping ability. Chris James and three freshmen also will contribute. So Illinois could certainly match last year's numbers on offense with a better passing attack.
---
Matthew from Toledo, Ohio, writes: Adam, you've got to further explain your reasoning behind ranking Purdue as having the toughest schedule. I just don't see how that works out. OSU and Purdue go to Michigan State; there's no way Oregon is even in the same difficulty ball park as the USC game, even if Oregon's quarterback wasn't sidelined with injury. Yes, Purdue goes to Columbus, but the Buckeyes go to Camp Randall, and given the Buckeye lack of success there, and given that Bielema is undefeated in Madison...sorry, but I just think you're wrong on this one.
Adam Rittenberg writes: I struggled with those two, Matthew, and it could go either way. Nonconference schedule was the deciding factor. The USC game is by far the hardest non-league test for any Big Ten team, but other than that, Ohio State plays Youngstown State, Ohio and Troy, all at home. Pretty weak, especially since Troy should have a down year. Purdue not only plays Oregon but Central Michigan, the back-to-back MAC champion that boasts one of the nation's best unsung quarterbacks [Dan LeFevour]. The Boilers also have to go to Notre Dame, a team that, like it or not, will be much improved this fall. Ohio State has a slightly tougher league slate, Purdue has a slightly tougher non-league slate with a trip to Columbus. Again, it was very close, but Purdue got the nod.
---
Bobak in Minneapolis writes: Minnesota question: While I understand Gophers Head Coach Tim Brewster's desire to field a more competitive team this season --especially after allowing 36 points a game in 2007-- I am puzzled by the choice of Ted Roof who, as head coach of Duke from 2003-07, saw his teams allow an average of over 32 points a game during his 6-45 tenure. How was this a wise hire? Yes he ran a college football program, but Duke convinced a court of law this year that they're as bad as bad gets.
Adam Rittenberg writes: You can debate Roof as a head coach, and you can also debate whether anyone will ever win at Duke [David Cutcliffe will find out soon enough]. But the guy is a good defensive mind with a track record of turning things around on that side of the ball [Georgia Tech, early on at Duke]. Roof has a lot more talent to work with in Minneapolis, especially with all the junior-college transfers joining the mix this season. I like this hire because Roof loves major challenges and after last season, Minnesota certainly fits under that category. I really don't know how Everett Withers possibly got another coordinator job after last season, but Roof will be fine. He reemphasized fundamentals this offseason and should get that unit back to respectability.
---
Kenny from State College, Pa., writes: I was somewhat surprised to see PSU @ OSU or @WIsconsin not in your top big 10 games this year. I really think those games could decide the big 10 champion.
Adam Rittenberg writes: You know, I was really close to cheating on that list and adding an 11th game in my top 10. It would have been Penn State at Ohio State. The series is usually very intriguing and it will be interesting to see how Daryll Clark fares in a raucous road setting like Ohio Stadium. If the Nittany Lions start strong, and the opportunity is there with their schedule, they could head to Columbus playing for first place in the league. But they'll first have to get by Illinois, Wisconsin and a Michigan team that always gives them problems.
---
Michael from Springfield, Mo., writes: Adam, What does the depth chart at running back look like for Michigan? From what I've been reading the two-deep could include any combination of Brown, Minor, McGuffie, and Shaw. Are these freshmen really that talented, or are there other factors coming into play? Basically, I want to know if I should be concerned about the fact that Brown and Minor are in danger of being beat out for the starting spot by two true freshman.
Adam Rittenberg writes: True freshmen Sam McGuffie and Michael Shaw are listed as co-starters on the Week 1 depth chart, ahead of both Carlos Brown and Brandon Minor. But Rich Rodriguez says all four backs will play Saturday and I believe him. He's got to see everything he has in a game situation, especially since so many guys are unproven. It is telling, though, that McGuffie and Shaw are listed first. They are smaller, quicker backs, the types that Rich has used in the past with his system. He's always willing to sacrifice size for speed, and those two freshmen fit the mold. I can't imagine Brown and Minor won't get a good chunk of carries as well, but if McGuffie and/or Shaw perform, they'll be the future at that position.
---
Kyle from Utica, Mich., writes: Hey Adam, Great coverage this offseason. Based on what you've seen out of the quarterbacks, if you were Rich Rodriguez, who would you start at QB against Utah?
Adam Rittenberg writes: Thanks, Kyle. I think Rich will start Steven Threet on Saturday, but I believe him when he says that more than one guy will play. It's highly unlikely Threet or Nick Sheridan will go out, totally grasp the system and dominate, so even though winning is paramount, Michigan has to see what it has at that position. It seems as though Sheridan has come on strong in preseason camp, and though he lacks Threet's size, teammates describe him as the more relaxed -- and potentially more confident -- quarterback. We'll see if it plays out on Saturday.