February, 27, 2012
2/27/12
10:30
AM ET
With spring practice around the corner, Big Ten teams will start the process of replacing stars from the previous year. Some shoes are bigger to fill than others. We're taking a look at two key departed players from each team and who might take on their roles this season.
Today, we take a look at Michigan State. Though
Kirk Cousins
obviously left big shoes to fill, we know that
Andrew Maxwell
is his successor. So we'll focus on a couple of different spots on the Spartans.
[+] Enlarge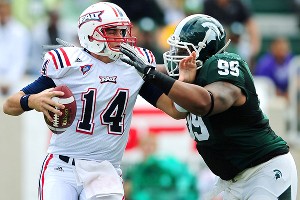 Andrew Weber/US PresswireMichigan State's Jerel Worthy (99) was a force on the defensive line for the Spartans.
BIG SHOES TO FILL: Jerel Worthy, DT
Why:
Worthy was an All-American who had such a good junior season that he decided to jump to the NFL. He registered 10.5 tackles for loss and 3.5 sacks, though that only tells part of the story about how disruptive he was in the middle of the defensive line. Worthy was also an emotional leader who provided the Spartans defense with some of its swagger. While Michigan State brings back most of its outstanding defense from last year, Worthy will be a difficult player to replace.
Replacement candidates:
Anthony Rashad White
(6-2, 316, Sr.),
Micajah Reynolds
(6-5, 320, Jr.),
James Kittredge
(6-4, 270, Soph.),
Damon Knox
(6-4, 275, RFr.),
Brandon Clemons
(6-3, 262, RFr.),
Mark Scarpinato
(6-3, 270 RFr.),
Joel Heath
(6-5, 270, RFr.), David Fennell (6-3, 275 incoming freshman).
The skinny:
Michigan State lost not only Worthy but fellow starting defensive lineman
Kevin Pickelman
and top backup
Johnathan Strayhorn
to graduation. But Mark Dantonio was prepared for this development and has a lot of players in the pipeline ready to prove themselves. Though White played the other tackle spot last year next to Worthy, he has the size, talent and experience to replicate Worthy's production. This is a key spring for Reynolds, who has also spent time on the offensive line. Kittredge sat out last season after transferring from Vanderbilt, and Michigan State was able to redshirt five other potential tackles in 2011. Fennell will likely take that route this year. This group is largely unproven, but at least there are plenty of candidates.
BIG SHOES TO FILL: B.J. Cunningham, WR

Why:
Cunningham completed his career as the school's all-time leader in receptions and yards, which is saying something given the program's history at receiver. He emerged as a true star receiver in 2011 with career bests of 79 catches, 1,306 yards and 12 touchdowns. Whenever Cousins needed a big play, he usually looked Cunningham's way. Fellow seniors
Keshawn Martin
and
Keith Nichol
also are gone, leaving a big void at the wideout position for the Spartans.
Replacement candidates:
Bennie Fowler
(6-1, 215, Jr.),
Tony Lippett
(6-2, 189, Soph.),
DeAnthony Arnett
(6-1, 175, Soph.), Keith Mumphrey (6-0, 202 Soph.),
Andre Sims
Jr. (5-8, 180, RFr.)
Juwan Caesar
(6-3, 197, RFr.), Monty Madaris (6-2, 190, incoming freshman), Aaron Burbridge (6-0, 180 incoming freshman), MacGarrett Kings (5-10, 175, incoming freshman), Kyle Kerrick (6-3, 190, incoming freshman).
The skinny:
This is a situation much like the defensive tackle spot, in which Michigan State hopes a crowd of candidates means that one or two standouts will emerge. The difference here is that some true freshmen will likely get thrown into the mix right away. Fowler is the veteran who hobbled through an injury-plagued 2011, while Lippett moves back to offense after seeing time at defensive back last year. A lot could depend on whether Arnett, a Tennessee transfer, wins his case with the NCAA to become immediately
eligible. If not, the Spartans may have to rely on at least one of the receivers they signed in this year's class or hope that a redshirt freshman takes a big step forward.
February, 2, 2012
2/02/12
4:00
PM ET
After recording 11 victories in each of the past two seasons, Michigan State hoped to carry over the momentum to the recruiting trail. The Spartans on Wednesday signed a class headlined by standout skill players and
added another Thursday morning
in four-star receiver
Monty Madaris
. Along with the addition of wide receiver transfer
DeAnthony Arnett
, Michigan State has put itself in position to replace standouts like receivers
B.J. Cunningham
and
Keshawn Martin
, and safety
Trenton Robinson
. The Spartans also faced increased competition in the region from Michigan and Ohio State, and talk of a
Michigan State-Ohio State recruiting firestorm
is building.
[+] Enlarge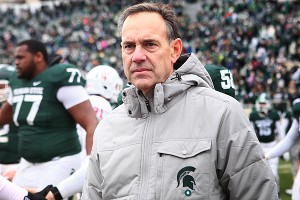 Mike Carter/US PresswireMichigan State's Mark Dantonio says his latest recruiting class is loaded with skill-position talent.
ESPN.com caught up with Spartans coach Mark Dantonio on Thursday. Here are his thoughts about the class.
What were your top priorities in this class?
Mark Dantonio:
We felt like we needed to go out and get a great class of skill players. Last year, we were pretty deep on our team, so we only (signed) two wide receivers and two defensive backs last year. We felt like we really needed to concentrate in those two areas, and I think we came away with a great class. We've got five wide receivers signed and four defensive backs, and a very skilled tailback [
Nick Tompkins
] who really can play any of those positions. He'll play tailback here off the start. We've got guys like
Demetrious Cox
who can play anywhere: tailback, slot receiver, safety, probably even corner. We've got guys like Jermaine Edmonson, who is coming in as a defensive back but can play wide receiver.
Aaron Burbridge
is another guy who can cross the realm and play corner, play wide receiver, tailback. He'll play wide receiver for us. Madaris,
MacGarrett Kings
, DeAnthony Arnett has to be included in this class, and he's a phenomenal player, one of the top wide receivers in the country last year.
It's a tremendous group, wide receiver especially. When you lose a B.J. Cunningham, Keshawn Martin and
Keith Nichol
, that's a lot of offense. Those guys will have an opportunity to play immediately. And on the defensive side,
Ezra Robinson
and Cox, Edmonson and
Mark Meyers
are guys that can tackle, play the ball in the deep part of the field, change direction very well, they run very well, they're very explosive players. All 10 of those guys are kick returner, punt returner guys.
I also think that because we lose [Kirk] Cousins, we needed to bring a quality quarterback into the program. We don't overload our football team with quarterbacks. We don't have six or seven guys on scholarship. We'll have three quarterbacks on scholarship next year, and
Tyler O'Connor
was an Elite 11 quarterback, a guy that has great mechanics, has the ability to run with it, he's big, he's very intelligent, he's got a great release and great arm strength. He's going to be a tremendous asset to this program as time goes on. And then we took three offensive linemen who are going to be able to play, and one defensive lineman in
David Fennell
. Two outstanding linebackers in [Jamal] Lyles and [Riley] Bullough, who are very, very good athletes and played a variety of positions. Fennell's a defensive tackle flying under the radar from Oregon, who just moved to the U.S. from Canada. He shows great punch. His dad is in the Hall of Fame in the CFL. The guy has great explosiveness, extremely strong, very quick, plays with a high motor. I think he'll be an outstanding player.
With the wide receivers you're losing, how many of the guys you're bringing in will stay at receiver and have a chance to play immediately?
MD:
All of these guys are going to have a chance to play. We basically have five wide receivers on scholarship, so our numbers are low in that area, not just because we lose the three [starters], but we lose two backups as well.
Edwin Baker
going [to the NFL] hurts at the tailback position, so there's opportunity to play and play early. They're quality players. They're guys who we've either had in camp or watched play in person. They're big-time players, and they'll all have an opportunity to play. And there are some guys who might cross over and be pretty versatile as well. And on the defensive side, you can pretty much say the same thing.
Jeremy Langford
is going to go back to tailback, so it's going to open a possibility at corner.
Tony Lippett
's a guy we played at corner last year. He'll go back to wide receiver. So it was important to get a defensive back class as well.
I'll make this statement. I've been coaching for a long time, and I don't know I've been anyplace where we've recruited 10 quality athletes like this at the skill positions. I think they're excellent football players, and they all fit our identity, they fit our mold in terms of our chemistry. Great people with good values, all with the vision of being outstanding. I think Cox is a tremendous player.
Do you guys now have pipelines at defensive backs and wide receiver?
MD:
I think we are. If you're good enough, you're going to play here. We only played one freshman [defensive back] last year, but the year before, our entire second unit was made up of freshmen. We've had to move people around a little bit, so there's opportunities for these guys, and they see themselves playing early in their careers. They also see the success that we're having. The other thing everyone has to realize is last year, we took seven defensive linemen. We redshirted every single incoming freshman last year except for one. So we're going to have about 40 freshmen in August camp. This is a very bright future at Michigan State. We've got some excellent young players, predominantly defensive players ... who would have played in the bowl game. We probably would have played six of them in the bowl game if they were eligible to play.
You mentioned the lineman from Oregon. How do you feel about the defensive tackles with Jerel [Worthy] moving on? Is it something you looked for in this class, or might look for in the junior college ranks?
MD:
We looked more in terms of defensive end at the junior college route a little bit. We felt like we wanted to stay the course with our guys. We came down to the end on a couple guys that, if they come our way, maybe solidify that a little bit. But you've got to go back to last year. We recruited six defensive linemen and had a seventh transfer in from Vanderbilt, as an offensive [lineman] for them. He was a four-star player,
James Kittredge
. So we've got seven defensive linemen, and five of them are defensive tackles. So our numbers are good. We've got guys like
Damon Knox
and
Joel Heath
and
Brandon Clemons
and
Matt Ramondo
and Kittredge, those guys are all pushing about 280. We'll be fine there. Obviously, we're going to miss Jerel. You can't replace a guy who was first-team all-conference, a first-team All-American and maybe a first-round draft pick. But we've got guys coming, and I'm sure coach [Pat] Narduzzi will get those guys ready to play.
Mark, you've recruited the Midwest for a long time. Was there any different dynamic this year competing for recruits with some of the staff changes at Ohio State, and with Michigan's staff having a full year to recruit?
MD:
I really don't think so. It's always difficult to recruit in the Midwest when you're surrounded. Michigan State has its own identity, but Michigan certainly and Notre Dame and Ohio State and Wisconsin and Iowa. We're right in the middle of all those guys. And usually when we want 'em, they want 'em. You can throw Penn State into that mix, and you have some teams coming up from the Southeastern Conference, so it's extremely competitive in terms of the guys you're going to get. But we're competing on a scale with those guys. We're very competitive with them, and this is a great opportunity for young people to look at, so we're going to get our guys.
Recruiting has accelerated. There's no question about that. With that said, you've got to get guys on your campus earlier, and usually those guys have to be within four or five hours of your campus. After that, they have to fly, or they're taking cross-country trips. It's so important you get players on your campus to see the place with a parent or a loved one, because when you come down the stretch, for a guy to make a visit like they used to, come in January on a visit by himself, if they have not been here before, the opportunity for you to get them to come to Michigan State or anyplace else goes down drastically.
Are you guys changing the types of players you're going after at all?
MD:
Not really. We've always tried to look to see who's going to fit our program. Just because you can play corner at one institution doesn't mean you can play corner here based on how we play the corners. We're looking for a different type of player at times than maybe somebody else would. Doesn't mean it's right or it's wrong. We try and look for who's going to complement our football team. There's a foundation that's being laid here, there's good things happening. We're not to the end yet, and we want to continue to push forward, but the guys we've recruited have helped us win, there's no question about that. They've won. So we're taking the right guys. We have very little attrition on our football team, so consequently we have a smaller class. I don't think we've ever taken 25 guys. I think the biggest class has been maybe 21, 22. We make assessments based on guys who can play for us, in our schemes and fit our chemistry, our profile. I think we've done a great job with that. We've got some guys here who have been two-star players who are going to play in the NFL, there's no question.
January, 31, 2012
1/31/12
2:30
PM ET
This is Part II of our Big Ten recruiting roundtable. Once again, our experts are senior national recruiting analyst Tom Luginbill, Midwest recruiting writer Jared Shanker and Scouts Inc. recruiting coordinator Craig Haubert.

Topic 4: After the top tier of Ohio State and Michigan, what other Big Ten schools have done a good job with this class?


Tom Luginbill: "Michigan State has done a really good job on offense. They had to replace a some wide receivers, and their top two players in the class are receivers, in my opinion. I think they've done a nice job with the offensive line and on the edge with the defensive line. But they haven't addressed maybe their defensive tackle needs. Really, David Fennell is the only one in the whole class. But they're going to recruit their style of guy and they're going to develop them and mold them, because this isn't a program that feels it has to play true freshmen.

"I've been a little bit surprised that there isn't more of a Texas presence in [Nebraska's] class. I understand their want and need to create a presence in the Midwest, because that's where half of their livelihood is during the fall. But you look at where their guys are from -- Missouri, Colorado, Utah, Georgia, Ohio, Illinois -- and you're only really talking about one Texas prospect in their entire class, and that's a little bit surprising. Michael Rose is a really good player on the inside at linebacker and in front of him Paul Thurston out of Colorado has a chance to be a really good one, too. So they've done a nice job in the front seven overall, which they obviously needed to do."

Jared Shanker: "Wisconsin really tried to swing for the fences and went after some top guys. They only have 12 commitments. It's not a whole lot in quantity, but there is some good quality. They have four four-star guys, and in the 2010 and '11 classes, they had one four-star guy combined. It looks like they really slowed down after the season started. They were going after some big guys. It looks like they're going to lose Kyle Dodson. They lost the other offensive tackle, [J.J.] Denman. They're hoping to get Jordan Diamond, but if I had to guess, I think he'll end up at Michigan. They sent out a couple last-second offers to some other offensive tackles. Wisconsin, it looks like they tried to take that next step in recruiting. They whiffed on some, but I still like what they did overall with the class, even though they don't have a whole bunch of numbers.

"Nebraska didn't have a whole bunch of room. They had 14 or 15 guys, but they're hoping to get three or four more. It looks like they'll get Andrus Peat, one of the best tackles in the nation. He's a guy they've been high on the whole time. Getting Imani Cross, the running back out of Georgia, was a big pickup. It looks like they're probably going to land three-star Vincent Valentine out of Illinois. It would be a pretty successful signing day for them [if they get Peat and Valentine]."

Craig Haubert: "Very quietly Iowa, especially down the stretch here, has put together a pretty solid class. They just picked up a four-star offensive lineman, Alex Kozan. He was their sixth four-star guy in their class, so they're doing a really good job. They've done a nice job in the trenches, especially on the offensive line where they've got some guys leaving and need some guys. They're not a team a lot of people are buzzing about, but they've quietly done a good job.

"Michigan State, Wisconsin, Nebraska, you can lump together. If you ask five people to look at those classes and rank them, you'd probably get three different answers. With Wisconsin, it's a very small class but a good class, just not much in numbers. The same can be said for Nebraska. They're going to sign a small class, too, but did a great job filling needs at linebacker. The Armstrong kid can develop into a nice fit for them at quarterback.

"Northwestern, getting Ifeadi Odenigbo was, in the six or seven years I've been doing this, the most significant defensive pickup they've gotten in that time. Over the years they've actually picked up some pretty good offensive guys, but in our eyes, they've never landed anybody quite to his caliber, especially coming out of high school."

Topic 5: What are your surprises and disappointments in the Big Ten for this class?


CH: "The team that's really surprised me is Minnesota. They've done a really good job. That being said, they're going to probably still finish in the lower half. But if you look at their class, they've done a very good job, and they're on the heels of some of the teams right in front of them. The only difference with their class and some of the Michigan States and Wisconsins and Iowas, when you get to the meat of the class, Minnesota drops off a little bit. But at the top of their class, they've done a great job. They've got two really god wide receivers in Andre McDonald, who is a Minnesota kid, and Jamel Harbison, a kid out of North Carolina who's a really good player. ... Considering how bad they've been on the field the last few years, this is a really good class. If you're a Minnesota fan, you can look at this class and say there's only a limited amount of prospects coming out of the state of Minnesota. You've got to be able to keep them. They've done that, and they've gotten some decent out-of-state pickups.

"A disappointment is Illinois. There's a real possibility they could finish last in the conference. Any time you get a coaching change, that can cause some problems, but their class is just not very strong, and they lost a few guys after Zook was fired. So it's really not a very strong class. They've been a team that has shown over the years that they can put together some pretty good classes. While they've surprised at times with some of those classes with guys like [Arrelious] Benn, it's probably equally surprising how opposite this is."

JS: "The disappointment is Michigan and Ohio State are up there and there isn't another Big Ten team in the class rankings. You'd expect Michigan and Ohio State to always be up there, but with Michigan struggling recently and Ohio State going through its turmoil, if you were the other programs you hope this is an opportunity to maybe close the gap in recruiting. And none of them were able to do that. Not that they got bad classes, but you would have hoped that they'd take full advantage."

TL: "I think Minnesota has slowly but surely put together a pretty nice looking group. When you consider the issues with Jerry Kill and his health throughout the fall and the fact they had an abysmal year on the gridiron, they've still been able to get three of the top five guys within the state. I would say their top five-to-seven guys would probably exceed expectations from what they'd normally be able to draw. It's a very big and deep class. So I think they're a surprise that's fallen under the radar to some degree.

"Another team where things weren't ideal for them on the field but they put together a pretty decent class is Iowa. They've done a pretty nice job of getting a lot of high-end three-star, low-end four-star players that aren't getting that internet notoriety, which they could care less about.

"I wouldn't say there's any disappointment. Northwestern has done as good a job as they can given their parameters. I don't want to judge Tim Beckman yet, because he's just now laying down his blueprint."

Topic 6: Give us three or four players who can make an immediate impact next season.


TL: "I think Noah Spence could have an impact at the defensive end spot for Ohio State. I think either Aaron Burbridge or Monty Madaris at receiver for Michigan State will likely be asked to contribute in some way, shape or form, just because there's a significant need there. Michigan could have quite a few guys come in and play a role. Maybe Devin Funchess at a need position [tight end] for them on offense. A guy who may surprise and get on the field pretty quickly for them is Joe Bolden, a linebacker."

JS: "Ifeadi Odenigbo, going to Northwestern, coming in he's going to obviously have to add some weight, but he's a guy that can be a situation pass rusher, coming in on third down and maybe end up with six, seven, eight sacks as a freshman just with his speed off the edge.

"Adolphus Washington, committed to Ohio State. He's another guy who could make a big impact. He had a huge senior season. He doesn't play against the best competition, but I was really impressed watching him, the few times I saw him this year.

"And if he gets a chance, even on special teams, I really like Joe Bolden, going to Michigan. I saw him play in the opener, and he has great instincts. He was making two steps in the direction the play was going to go before the ball was even snapped. I wasn't down in St. Petersburg, but I heard he tore up the Under Armour game."

CH: "Any time you're a five-star guy, you've got to look at a guy like Noah Spence. Joe Bolden, he's got a chance for two reasons: he's already on campus, and he's a pretty good football player, a pretty instinctive guy. Also for Ohio State, Adolphus Washington, a kid with good size, great motor.

"In Iowa's class, Greg Garmon. He fits their system well.

"For Nebraska, that corner they got out of juco [Mohammed Seisay] is pretty good. But sticking with the high school kids, Imani Cross was a great pickup for them. He was committed to Tennessee at one point. He's a really good running back, a bit bigger, but in addition to being a good prospect, he's a great fit for them. He's a no-nonsense runner. He finds his hole, makes one cut and gets up field. And for a need at linebacker, [Michael] Rose is really good, too. I really was impressed with the job he did down at the Under Armour game. He's got good size for a kid coming out of high school, a linebacker, pretty savvy in coverage, too, for a high school kid."
January, 26, 2012
1/26/12
12:00
PM ET
Making sure you get served every day.