Big Ten:

David Kenney III
June, 10, 2013
6/10/13
5:00
PM ET
A raven arrived this morning carrying your questions. As you wish:
J. Young from A city in that state up north:
Greetings from enemy territory. With Ohio State in its last BCS chance before the playoff, how many eggs do you think the Big Ten has in the Urban Meyer basket for national success and some good PR this season?
Brian Bennett:
The Big Ten shouldn't really care whether Ohio State gets it done, or if Michigan or Nebraska or Wisconsin or somebody else makes a run at the national title. But here's what the league should be happy about: the Buckeyes are going to start the season ranked somewhere in the top three, most likely, and will be No. 1 on some ballots. That means the Big Ten will be in the national title discussions at least early on in the season, and that's something that really hasn't happened since the middle of 2010. Remember that no Big Ten teams were in the top eight of either poll to start last year, and then Michigan got blasted by Alabama in the opener. The league didn't have a team in the top nine of either poll to start 2011 and was out of the BCS title chase by late October.
It's sad but true: when a conference doesn't have a national title contender, it becomes irrelevant in many ways. Ohio State should keep the Big Ten in the spotlight as long as it takes care of its very manageable early schedule. Hopefully, other league teams can join the Buckeyes in that quest.
---
MJ from Ocean, N.J., writes:
Hey Brian, interesting piece from the EPA numbers that Brad Edwards put together placing
the Buckeyes in the top 5 overvalued teams
of 2012. Doubtful that these numbers can go back as far as '02, but I'd bet the national champion Buckeyes could be in that overvalued section as well with the several close victories to teams that had were thought to have no business competing with that team. But that's why they play the game and as long as we keep a 0 in the loss column, I'm good with that. Not that it's groundbreaking news, but do those numbers affect your opinion of the season that was for Ohio State?
Brian Bennett:
Here's my basic opinion of all that: Those 2002 Buckeyes might have squeaked by in a lot of close games, and, heck, they might have even gotten very lucky on a shaky pass-interference call in the title game against Miami. Yet there's still a crystal football in their trophy case, and they're not giving it back. It really doesn't matter how you win, as long as you win. I didn't need advanced stats to tell me that Ohio State was not a dominant team most of the time in 2012; heck, I covered four of the Buckeyes' games in person and obviously watched them all very closely. They were just a team that knew how to make winning plays when they needed them. My lasting image of last season's team is probably watching from field level as they simply willed their way toward a couple of first downs against a terrific Michigan State team on the road to close out that victory. I still don't think Ohio State could have beaten Alabama last season, but no one can ever take 12-0 away from them.
---
Matt from Farmington Hills, Mich., writes:
Brian, you recently posted
Athlon's predictions for the 2013 B1G season
. In it, OSU was picked to go undefeated by beating UM in the league championship game. First of all, can someone please slow down the Buckeye hype-train? I simply don't understand how a team that had to out-score Indiana last year and evaded multiple near-loss games can be picked to go undefeated AGAIN. Not to mention having to replace the majority of a front-seven on defense. Talent is great and they have it in (largely unproven) guys like Washington and Spence, but what about depth? Additionally, call me a homer, but I am confident that Michigan's talent rivals OSU's, and if Athlon is correct in that the two teams meet in consecutive games, I believe Michigan has too much pride to lose twice in a row to a HATED rival. Thoughts?
Brian Bennett:
Does Ohio State have some question marks? For sure. But as we have pointed out, Urban Meyer's teams
tend to improve a whole lot
in Year 2, and I believe the Buckeyes are still the most talented team in the Big Ten from top to bottom. You make an interesting point about depth. That's still a major concern on the offensive line and at linebacker, and a few key injuries could also wreck the defensive line and wide receiver positions. Ohio State managed to stay relatively healthy, especially on offense, in 2012. We should never discount how difficult it is to go undefeated in one year, let alone two straight. Again, though, the schedule is very favorable.
The idea of playing Michigan twice in a row is fascinating. If that were to happen, the Buckeyes would have to play the Wolverines away from home both times. The revenge factor for the second meeting would be incredibly high. If Ohio State could pull that off, it would mean a long and painful offseason for Brady Hoke and the Maize and Blue.
---
Tyler from Chicago writes:
Northwestern is looking to be a good program for a long time and they are just starting to upgrade their football facilities. Since, their moving all their football activities except for games to the main campus, what will they do with Ryan Field? Any chance they build a new stadium on Lake Michigan? I think it would be amazing and they would get more fans and recruits if there as an open end of the stadium looking out to the lake. Or will they upgrade the worst stadium in the Big Ten?
Brian Bennett:
Building a stadium on Lake Michigan seems like a pipe dream. There's not exactly a ton of land there, and construction prices could be astronomical. We could definitely see some upgrades to Ryan Field in the future, including the addition of more club seating and luxury boxes. But first, Wildcats fans need to prove that they can consistently fill the stadium and make it an intimidating environment for visitors.
---
Nick from Indiana writes:
Which true freshmen do you expect to have the biggest impact on defense this year for the Hoosiers?
Brian Bennett:
Nick, I know the coaches are excited about the potential of Darius Latham, the kind of athletic defensive lineman that Indiana has had trouble landing in recent years. Safety Antonio Allen also has a great shot at contributing right away, as well as defensive end David Kenney III. Rashard Fant will get a long look in the secondary. Kevin Wilson has shown that he's not afraid of throwing freshmen into the mix right away, so anyone who's ready will have an excellent chance of playing early on. It's just a matter of which ones adjust to the college level the best and the quickest.
---
Matt from Ann Arbor writes:
With the B1G looking to strengthen the non conference schedule, what would the "dream matchup" home and home series be -- that is a realistic option -- for each team (or just a few) in the conference? A few that I would love to see would be Michigan vs. Stanford, Nebraska vs. Oklahoma, Ohio St vs. Oregon and even Illinois vs. Missouri.
Brian Bennett:
Interesting that you would ask that today, Matt, as we're inviting fans to
let us know what nonconference series
they would like to see their teams play. Nebraska-Oklahoma and Ohio State-Oregon are already on the books for future series, and those are absolute dream matchups. I'd love to see Michigan-LSU because of the Les Miles factor, but Wisconsin-LSU is going to be pretty darn good in its own right. Some other potential dream matchups, in my opinion: Ohio State-Florida, Nebraska-Texas, Penn State-Miami (which is very close to happening), Wisconsin-Arkansas (duh), Michigan-USC and Wisconsin-Notre Dame.
---
Greg from Philadelphia writes:
Alright, Brian, I found this on a random fact generator: In Kentucky, it is illegal to carry ice cream in your back pocket... so knock it off, jerk, or I'm calling the cops!I am curious, however, as to what flavor of ice cream you tend to keep in your back pocket? I take you for a rocky road kind of guy.
Brian Bennett:
Well, yeah, the law makes perfect sense. It seems like a good idea to carry ice cream in your back pocket until the first time you forget it's there and try to sit down. I'm actually not a big ice cream guy -- cookies and pie are more my thing -- but when the urge strikes, I tend to go cookies and cream.
March, 20, 2013
3/20/13
10:00
AM ET
Indiana defensive coordinator Doug Mallory is looking for a few good men this spring. Actually, more than a few.
Mallory isn't necessarily seeking the next standout player (although he wouldn't complain if he found one). The Hoosiers' defense has had productive individuals over the years, from cornerback Tracy Porter to defensive linemen Jammie Kirlew and Greg Middleton, to defensive tackle
Adam Replogle
. Last fall, Replogle put up huge numbers for an interior lineman (13.5 tackles for loss, five sacks, two forced fumbles, 71 total tackles). Safety
Greg Heban
(91 tackles, three interceptions, seven tackles for loss) and linebacker
David Cooper
(86 tackles, nine tackles for loss, three sacks) also had strong statistical seasons.
[+] Enlarge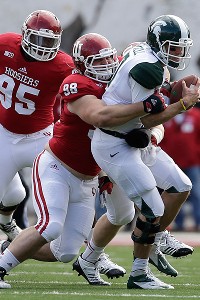 AP Photo/Darron CummingsIndiana defensive tackle Adam Replogle had 13.5 tackles for loss and five sacks last season.
But the unit still struggled, finishing 103rd nationally in yards allowed, 101st in points allowed and 116th against the run. The cumulative results were all too typical for a defense that has struggled for more than a decade because of its lack of depth.
"It can't be the same guy out there every single play of the game, every play of the season," Mallory told ESPN.com. "We've got to be able to have some guys come in and contribute, whether it's 10, 20, 30 plays a game, guys who give us a little bit better depth."
The Hoosiers are looking for numbers this spring, at least 22 defenders who Mallory can feel confident about sending onto the field this coming season. IU's offense took a significant step in coach Kevin Wilson's second year and should be one of the Big Ten's most explosive units in 2013.
But for Indiana to take a step as a program -- toward winning records and bowl appearances -- its defensive depth must improve substantially. Although it's not ideal that three projected starters -- Cooper and fellow linebacker
Chase Hoobler
, and safety
Mark Murphy
-- are now
sidelined this spring
, it's more important to get others up to speed.
"We're trying to see more competition, more guys putting themselves in position to compete," Mallory said. "With all these guys coming back, that's great, but we were not very good a year ago, so that could be a positive and it could also be a negative. We've got to make major strides and do a better job as coaches and as players defending the run, stopping the run and being a lot more physical on defense."
Mallory has made it clear to the players that there are "no starters" this spring. Players move between the first-, second- and third-teams from practice to practice, depending on performance, and sometimes even within a single workout.
"The worse you are, the further you fall on that depth chart," Mallory said. "Kids understand that."
Mallory has been impressed by cornerback
Kenny Mullen
, who started the final five games in 2012. Defensive end
Bobby Richardson
, a reserve last fall, also has stood out as IU must replace two starters up front.
Help is on the way as Indiana significantly elevated its defensive recruiting efforts for the 2013 class. Six of IU's
seven highest-rated recruits
, according to RecruitingNation, will play defense, including ESPN 150 defensive back
Rashard Fant
, and linemen
Darius Latham
and
David Kenney III
.
"On paper, it definitely looks like a good class," Mallory said. "We're looking forward to getting those guys here, and they'll get in here and compete. You certainly want to be quality two-deep and hope that your incoming class are guys that can help you get three-deep."
February, 8, 2013
2/08/13
9:00
AM ET
The Big Ten classes are
signed and sealed
. You can see ESPN's
final class rankings
as well as
grades for all the Big Ten teams

.
As we put a bow on national signing day 2013, let's take a look at some superlatives ...
Biggest winner:
Ohio State. The Buckeyes took a great class and made it even better with the additions of elite safety prospect
Vonn Bell
and four-star receiver prospect
James Clark
. They also held onto running back recruit
Ezekiel Elliott
. Plucking Bell out of SEC country made a significant statement, as Ohio State secured the
nation's No. 3 class
and the best in the Big Ten. Although other Big Ten programs secured strong classes -- Michigan, Nebraska, Penn State, Wisconsin, Michigan State -- Ohio State made the most headlines Wednesday.
Best closer:
Ohio State co-defensive coordinator/safeties coach Everett Withers. Although Buckeyes head coach Urban Meyer is unquestionably one of the nation's top closers, Withers merits a mention here after steering Bell to sign with the Scarlet and Gray. "I've seen some really good efforts," Meyer said Wednesday. "Everett Withers from start to finish, his effort on Vonn Bell, as good as I've ever seen." Bell's
high school coach called Withers
the "most proficient and professional recruiter we've ever dealt with," according to The (Cleveland) Plain Dealer. Withers played a major role in Ohio State securing five defensive backs
ranked in the top 50
by ESPN Recruiting.
Biggest surprise:
Indiana and Penn State. The Hoosiers have reached only one bowl game since the 1993 season and boast just five wins the past two seasons, but things are looking up in Bloomington. Kevin Wilson and his staff signed what appears to be a very solid recruiting class, especially on the defensive side, where IU has struggled for years. The Hoosiers signed two four-star defensive linemen from within the state --
Darius Latham
and
David Kenney III
-- and bolstered the secondary with
Rashard Fant
and others. Penn State overcame NCAA scholarship sanctions and a multiyear bowl ban to sign the nation's No. 24 class, headlined by quarterback
Christian Hackenberg
, rated by ESPN Recruiting as the nation's top pocket passer.
Who flipped/biggest loss:
The only notable intra-league flip on signing day -- and it wasn't a major surprise -- saw linebacker
Reggie Spearman
, a one-time Illinois commit, signing with Iowa. Ohio State (
Taivon Jacobs
) and Wisconsin (
Marcus Ball
) lost commits to Maryland and Arizona State, respectively, while Minnesota made a late flip with junior college linebacker
De'Vondre Campbell
, who was expected to sign with Kansas State. But for the most part, Big Ten teams played good defense on signing day.
February, 6, 2013
2/06/13
7:00
AM ET
ESPN RecruitingNation
has signing day covered. Follow ESPNU's coverage, chat with analysts and get breaking news on our
Signing Day Live
page beginning at 7:30 a.m. ET through 7 p.m. ET. For more on what to expect on signing day, check out the
Big Ten conference breakdown

.
Bold prediction:
Penn State will hang on to a top-25 class, even if just by the slimmest of margins. Bill O'Brien and his staff deserve all the credit in the world for having to originally put together a class after the scandal and then reshaping it after NCAA sanctions were levied in July.
Illinois
Biggest need:
The Illini's offense was arguably the worst in the Big Ten in 2012, and Illinois needs help just about everywhere on offense, especially at the skill positions.
Biggest recruit:
Four-star athlete
Aaron Bailey
is the future at quarterback for Illinois, and the coaches will expect him to be ready to take the reins once
Nathan Scheelhaase
moves on.
Indiana
Biggest need:
To just put up a fence around Indianapolis and the state of Indiana. Kevin Wilson did that, assuaging defensive line concerns in the process by adding Indianapolis linemen
David Kenney III
and
Darius Latham
.
Biggest recruit:
The Hoosiers are not accustomed to landing ESPN 150 prospects, but not only did they get
Rashard Fant
, but they got him all the way out of Georgia.
Iowa
Biggest need:
After having several productive running backs over the past decade, the Hawkeyes are hurting in the backfield due to injuries and off-the-field issues.
Biggest recruit:
The Hawkeyes were after
Berkley Edwards
for a while, but once that fell through they put the screws to former Boston College running back commit
LeShun Daniels
. He flipped shortly after an official visit to Iowa.
Michigan
Biggest need:
Brady Hoke is transitioning to a pro-style offense, and he needed a pocket passer and a running back who makes his living in between the tackles.
Biggest recruit:
ESPN 150 quarterback
Shane Morris
is that pro-style quarterback, but he is also the unquestioned leader of Team 134 and helped put together one of the nation's top classes.
Michigan State
Biggest need:
The Spartans will lose their top two rushers from 2012, including Big Ten rushing leader
Le'Veon Bell
, so running back is a priority. They are bringing in two.
Biggest recruit:
ESPN 300 dual-threat quarterback
Damion Terry
is a capable thrower and runner, and he led his high school to a state title as a senior.
Andrew Maxwell
did not exactly lock down the starting quarterback job with his performance last season.
Minnesota
Biggest need:
Donnell Kirkwood
is a promising player at running back, but he struggled against some of the league's better defenses and wore down late in the season. A complement is sorely needed.
Biggest recruit:
Three-star running back
Berkley Edwards
is the younger brother of former Michigan receiver Braylon Edwards. Berkley is one of the Gophers' highest-rated commitments, and running back is a position that lends itself to an easy transition.
Nebraska
Biggest need:
Nebraska needs to return to its days of the Blackshirts, as the Huskers' defense was gashed on the ground all season. The Huskers need help along the defensive line.
Biggest recruit:
Elite 11 finalist
Johnny Stanton
is a dual-threat quarterback, but he's a much more polished passer than Taylor Martinez, who has taken his share of lumps since his flashy start in Lincoln.
Northwestern
Biggest need:
Now that the Wildcats are a legitimate threat in the Big Ten under Pat Fitzgerald, the next step is to get better athletes to compete with Michigan and Ohio State. Fitzgerald is doing that with
Ifeadi Odenigbo
in 2012 and
Godwin Igwebuike
in 2013.
Biggest recruit:
ESPN 300 dual-threat quarterback
Matt Alviti
had offers from some big programs including Notre Dame, but he chose nearby Northwestern. The Wildcats have an unsettled situation at quarterback, and as a local product Alviti could be called for by the fans if the quarterback play does not improve.
Ohio State
Biggest need:
Linebacker was the biggest need for the Buckeyes, and after a shaky start Urban Meyer wrapped up a nice haul at the position with ESPN 150 products
Trey Johnson
and
Mike Mitchell
.
Biggest recruit:
It's a tie between
Jalin Marshall
and
Dontre Wilson
, who are separated by just a few spots in the ESPN 150. Both have game-breaking ability as a receiver or out of the backfield.
Penn State
Biggest need:
Despite significantly improved play from Matt McGloin in 2012, the Nittany Lions have not been blessed with quarterbacks the past decade, with the exception of a few good seasons from Michael Robinson and Daryll Clark.
Biggest recruit:
While the class did field its share of decommitments, the damage would have been irreparable if No. 1 QB
Christian Hackenberg
bolted. By staying on, he instilled confidence in several other recruits to stay or join him in State College.
Purdue
Biggest need:
The quarterback situation at Purdue has been unsettled the past few seasons, which is not good when it comes to the most important position on the field.
Biggest recruit:
An Elite 11 finalist,
Danny Etling
stuck with the Boilermakers through the coaching change. He will be looked at as the future of the program.
Wisconsin
Biggest need:
While the Badgers always have a strong stable of backs, losing Montee Ball is going to hurt, especially in the red zone. Wisconsin addressed it with top commitment
Corey Clement
.
Biggest recruit:
The loss of Russell Wilson left a major void at quarterback, but the Badgers landed quarterback
Tanner McEvoy
on Monday. McEvoy is ranked No. 44 among juco prospects nationally and the expectation is he will contend for a starting job immediately.
January, 31, 2013
1/31/13
9:00
AM ET
National signing day is next Wednesday. To get you ready for the big day, we checked in with a pair of ESPN.com recruiting experts for their take on how the Big Ten is faring.
Senior national recruiting analyst Tom Luginbill and Midwest recruiting writer Jared Shanker shared their thoughts on a handful of recruiting topics related to the league. This is Part II of that discussion; you can find Part I
here
.
Which teams in the Big Ten have surprised you with this year's class?

Jared Shanker:
Indiana definitely surprised me. If you looked at their class last summer [in 2011], when they had
Gunner Kiel
, you said, "Wow, that's a pretty good class." But then it really fell apart. This one's kind of the opposite. It wasn't looking too strong, and then things really started rolling during the season. They were able to get an ESPN 150 guy from Georgia [
Rashard Fant
]. They were able to flip
Darius Latham
from Wisconsin, they flipped
David Kenney
from Iowa,
Antonio Allen
was originally committed to Ole Miss. They've done a good job recruiting each state, as well as keeping some of the top talent in Indianapolis. Indiana is a basketball state, but there are some pretty good football players there, and Latham, Kenney and Allen are all four-star players from Indianapolis. So I like what Kevin Wilson has been able to do. This class really turned around, starting in October or so.
Minnesota is doing OK. Penn State is probably a surprise. You see five four-star guys. You see the No. 1 quarterback in the country in
Christian Hackenberg
.
Adam Breneman
is the No. 1 tight end. They have some other three-star guys that can contribute and even have some walk-ons who had scholarship offers elsewhere. They just dropped out of the Top 25, but they were hanging on in the Top 25 for a while.
Iowa has traditionally filled its class down the line and kept getting commitments until signing day. For the most part, Iowa was close to done by mid-summer with their class, which was pretty unique for Iowa. It's a stark contrast compared to their 2012 class, which is probably why you haven't heard about Iowa much lately. They've been out of the news. But I think they're generally happy for the most part how things turned out. They did lose David Kenney to Indiana. But if they can flip
Reggie Spearman
from Illinois and also add one more receiver, I think they'd probably be pretty happy.
Tom Luginbill:
Since we mentioned Indiana, I would say that Northwestern continues to impress. Texas continues to be fruitful for the Wildcats. QB
Matt Alviti
couldn't be a better fit for their offense. If Alviti were taller, I think he would have been a national recruit and has been undervalued. Athlete
Godwin Igwebuike
is versatile and continues their presence in Ohio. Pat Fitzgerald and his staff may be as good as anyone in college football. They evaluate for them and don't worry about what others think. They identify who is the right fit and attack it.
How do you think Nebraska has done with this class, especially in trying to beef up its defensive front?
TL:
The week of January 21st was a rough patch for Nebraska with the loss of two committed prospects in athlete
Marcus McWilson
and receiver
Dominic Walker
, who is out of Florida and now committed to Auburn. They did retain
Tre'vell Dixon
who was originally committed to Nebraska, broke away for a bit and came back. It has been a whirlwind for Bo Pelini and his staff. There are a lot of additions in the defensive front seven both from the high school and juco ranks including defensive end
Randy Gregory
, who, had he not been injured, may have ended up as our No. 1 ranked juco player overall.
JS:
Nebraska might have been able to do a little better. That's not to say their class still isn't good. They have one of the best jucos in the country.
Johnny Stanton
was one of the better quarterbacks at the Elite 11. He's coming off an ACL tear. They've got a host of four-star guys. I still think it could have been a little bit stronger, all things considered.
They've got Randy Gregory at defensive end. They're pretty strong at linebacker, so they're looking pretty good along the defensive front but maybe not in defensive line depth. The huge numbers aren't there. You have to at least like Gregory and the linebackers, but you can just see the eye test -- they're not there yet with upper teams in the Big Ten. I think they still have some work to do to get there.
Finally, give us a handful of players who might make an immediate impact next season.
JS:
I like
Derrick Green
[from Michigan].
Jalin Marshall
at Ohio State, I think he's a guy you put the ball in his hands on a jet sweep, a screen or what have you, and there's a chance he takes it to the house. So those two guys really stick out.
I know the Illinois staff is really high on [quarterback]
Aaron Bailey
and is looking at him as the future. Maybe something happens with
Nathan Scheelhaase
and he can step in and get some early playing time. Then there's
Corey Clement
at Wisconsin. He's kind of a bigger back, at 5-foot-11, 200 pounds. With
Montee Ball
gone, maybe at least he breaks into the rotation and sees some touches as a freshman.
TL:
Receiver Jalin Marshall, Ohio State; running back Derrick Green Michigan; linebacker
Trey Johnson
, Ohio State; tight end Adam Breneman, Penn State (if healthy); defensive tackle Darius Latham, Indiana; athlete Rashard Fant, Indiana.
January, 28, 2013
1/28/13
10:00
AM ET
The penultimate weekend before signing day is in the books, and not surprisingly, there was plenty of news on the Big Ten recruiting trail. As a reminder, you should bookmark
ESPN Recruiting
and particularly the
Midwest blog

for all your Big Ten recruiting news leading up to the big day.
Michigan made the biggest splash of the weekend -- although not a surprising one -- as it
secured a commitment
from running back
Derrick Green
of Richmond, Va., who picked Michigan ahead of Tennessee and Auburn. Rated as the nation's No. 5 running back and No. 38 overall player by ESPN Recruiting, Green immediately becomes Michigan's highest-rated commit in an already solid 2013 class. Although Michigan had 14 commits in the ESPN 300 -- second in the Big Ten behind Ohio State -- Green is ranked 50 spots higher than the next Michigan pledge (cornerback
Jourdan Lewis
).
But Green isn't merely a decorated prospect. He fills a significant need for Michigan, which has significant question marks at running back. The Wolverines couldn't generate a run game outside of quarterback Denard Robinson in 2012, as Fitz Toussaint struggled to build off of a solid 2011 season before suffering a major leg injury Nov. 17 and undergoing surgery. How Toussaint responds from the setback remains to be seen, and Michigan's other backs --
Thomas Rawls
,
Justice Hayes
-- are unproven.
The 6-foot, 215-pound Green is the
type of back who could contribute right away
,

and he'll at least give Michigan another option in the backfield. Michigan now has three running backs in its 2013 class.
Other recent Big Ten recruiting notes (2013 class):
October, 19, 2012
10/19/12
2:00
PM ET
The Indiana team you've seen so far in Big Ten play probably looks familiar.

Strong quarterback play, dynamic receivers, enough Big Ten-level athletes on offense, not nearly enough defense ... and a team that simply can't get over the hump. Second-year coach Kevin Wilson, as many of us expected, has it going on the offensive side. But Indiana's narrative hasn't changed: until the defense takes significant steps, the program won't turn a corner.
That's why the most promising news coming out of Bloomington this week isn't the fact Indiana paced Ohio State and put up 49 points in last Saturday's loss. It's the fact Indiana is closing in on two coveted defensive recruits from within the Hoosier State -- both of whom had pledged to other Big Ten programs.
Defensive end
David Kenney III
, rated as the state's No. 6 prospect by ESPN Recruiting, recently
decommitted from Iowa and is favoring Indiana
, where his father is working as a recruiting assistant. His IU pledge could come later Friday.
Another in-state defensive standout, defensive tackle
Darius Latham
,
decommitted from Wisconsin on Monday
and is considering Indiana. ESPN Recruiting rates Latham as the state's No. 4 prospect.
Indiana has 10 commits for the 2013 class, headlined by defensive back
Antonio Allen
, an Indianapolis prospect who switched his pledge from Mississippi to IU in August. Allen is the state's No. 7 prospect, according to ESPN Recruiting.
Other in-state players, including Iowa linebacker commit
John Kenny
,
could be looking more seriously at Indiana
.
Indiana isn't as flush with FBS talent as other states in the Big Ten footprint, but Indianapolis produces quite a few elite players. If the Hoosiers can start getting more of the top defensive players to stay home, they'll start shifting a unit that has been the Big Ten's worst for more than a decade.
June, 1, 2012
6/01/12
10:00
AM ET
The calendar has flipped to June, so it's time to check the Big Ten 2013 recruiting scorecard once again. There haven't been too many changes from
the last scorecard
, although teams like Illinois have made a surge, and others have picked up pieces here and there. Individual recruiting grades also have been updated throughout the ESPN database.
Michigan still leads the FBS in verbal commits with 18, although teams like Georgia and Texas A&M are closing the gap. The Wolverines have a bigger advantage in ESPN 150 commits with 11 total, three more than any other squad.
Ohio State is tied for fifth nationally in ESPN 150 commits with five, and Penn State is tied for 10th with three.
Scorecard time ...
MICHIGAN
2013 verbal commitments:
18
Spotlight:
Fellow offensive line recruits
Logan Tuley-Tillman
and
Kyle Bosch
have
been in the headlines this week
following Tuley-Tillman's letter-burning incident, but Michigan has secured the nation's No. 1-rated guard in
David Dawson
from Cass Tech in Detroit. Dawson is the No. 2 player in the state behind fellow Wolverines commit
Shane Morris
.
ESPN 150 selections:
11
Highest rated:
Shane Morris
, QB (Grade of 87)
OHIO STATE
2013 verbal commitments:
11
Spotlight:
Ohio State might solidify the cornerback position for years to come in the 2013 class. Both of the Buckeyes' top-rated prospects, Eli Woodward and
Cam Burrows
, play cornerback. Ohio State will have one vacancy at cornerback after the 2012 season, and Woodward and Burrows have the skills to see the field early in their careers.
ESPN 150 selections:
6
Highest rated:
Eli Woodard
, CB (Grade of 89)
ILLINOIS
2013 verbal commitments:
10
Spotlight:
May was a productive month for the Illini, who picked up four commitments, including one from another Detroit Cass Tech player, defensive tackle
Kenton Gibbs
. At 6-foot-1 and 280 pounds, Gibbs won't need to get much bigger to help Illinois on the interior defensive line.
ESPN 150 selections:
0
Highest rated:
Aaron Bailey
, QB (Grade of 80)
IOWA
2013 verbal commitments:
8
Spotlight:
Defensive end
David Kenney III
seems to fit the mold of previous Iowa defensive linemen. He might be able to play both line spots, and has the ability to power rush off of the edge. Along with defensive tackles
Brant Gressel
and
Nathan Bazata
, Iowa is putting together a strong group of defensive linemen in this class.
ESPN 150 selections:
0
Highest rated:
David Kenney III
, DE (Grade of 80)
PENN STATE
2013 verbal commitments:
8
Spotlight:
The Lions hope defensive tackle prospect
Greg Webb
is their next dominant defensive tackle. But Webb will have to bounce back from an injury setback after he tore his ACL in February.
Webb recently told Statecollege.com
that his recovery is going well, and that he's ahead of schedule.
ESPN 150 selections:
3
Highest rated:
Christian Hackenberg
, QB (Grade of 89)
NEBRASKA
2013 verbal commitments:
8
Spotlight:
The Huskers lose two senior tight ends (Ben Cotton and Kyler Reed) after this season, but they're replenishing the position with
Greg Hart
from Bo Pelini's home state of Ohio. Hart already is a big target at 6-4, 225, who should fit in well with Tim Beck's offense.
ESPN 150 selections:
0
Highest rated:
Tre'vell Dixon
, Athlete (Grade of 82)
MICHIGAN STATE
2013 verbal commitments:
7
Spotlight:
Michigan State's last superstar linebacker named Jones, Greg Jones, attended Cincinnati's Archbishop Moeller High School. The Spartans are hoping for the same success with commit
Shane Jones
, a 6-1, 220-pound linebacker. Jones will join another Moeller alum, defensive end Marcus Rush, in East Lansing.
ESPN 150 selections:
0
Highest rated:
Damion Terry
, QB (Grade of 82)
WISCONSIN
2013 verbal commitments:
6
Spotlight:
Defensive end
Chikwe Obasih
continued Wisconsin's pipeline to Brookfield, Wis., with his verbal commitment in late April. He'll
play multiple positions in a 3-4 defense as a senior
before joining the Badgers' 4-3 scheme in 2013.
ESPN 150 selections:
0
Highest rated:
Jack Keeler
, T and
Garret Dooley
, LB (Grade of 79)
NORTHWESTERN
2013 verbal commitments:
2
Spotlight:
Matt Alviti
resembles recent Northwestern quarterbacks in that he lacks height but makes up for it with speed, arm strength and competitiveness. A Dan Persa clone? Wildcats fans would be thrilled if that's the case.
ESPN 150 selections:
1
Highest rated:
Matt Alviti
, QB (Grade of 84)
PURDUE
2013 verbal commitments:
2
Spotlight:
Defensive end
Randy Gregory
originally committed to Purdue in 2011 before heading to a junior college in Arizona. Several other schools pursued Gregory, but he pledged again to the Boilers, and will suit up in 2013.
ESPN 150 selections:
0
MINNESOTA
2013 verbal commitments:
1
Spotlight:
Cornerback
Keelon Brookins
is Minnesota's only verbal so far, but the Gophers had only two players committed at this time last year. So it's too soon to press the panic button. It will be interesting to see how well second-year coach Jerry Kill and his staff do within the state. They had 10 Minnesota players in last year's class.
ESPN 150 selections:
0
INDIANA
2013 verbal commitments:
0
Spotlight:
The Hoosiers are one of four major-conference programs -- Iowa State, Oregon State and Wake Forest are the others -- without a commitment for 2013. This is a departure from the end of the Bill Lynch era, when Indiana was among the Big Ten's leaders in early commits.