March, 18, 2014
3/18/14
11:00
AM ET
LINCOLN, Neb. -- For the first 2½ years of his career at Nebraska,
Givens Price
heard voices.
Voices at practice. Voices in the meeting room. Voices when he entered the playing rotation at guard in the second half of last season as injuries nearly decimated the offensive line.
Five senior offensive linemen in 2013 -- gone from Nebraska after starting a combined 127 games in their careers -- spoke to Price even when he stood alone on the sideline.
"We are the voices now," Price said on Monday.
[+] Enlarge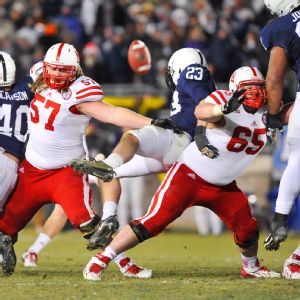 Randy Litzinger/Icon SMIZach Sterup (57) and Ryne Reeves (65) are among those competing for spots on the Huskers O-line.
The Huskers are rebuilding the line this spring. Through six practices, improvement is steady, according to the linemen and the quarterback they protect, sophomore
Tommy Armstrong Jr.
"They're going to get better," Armstrong said. "We're expecting that. At the same time, you've got to understand that sometimes mistakes are going to happen. They're all out there to win a spot. They're all out there to improve and push each other. They come out there and they're ready to work."
Despite the departures, Nebraska returns experience, primarily in left guard
Jake Cotton
, a senior who started 11 games last season. Others show notable promise, and the line, as a group, appears just as physically impressive as the 2013 cast.
Perhaps more impressive, in fact.
"We've got to get the mental side down," Cotton said, "if we want the size to matter."
Six practices into this spring, Cotton at left guard and junior
Zach Sterup
at right tackle appear most entrenched. Price has taken the majority of snaps at right guard, though senior
Mike Moudy
, out with a shoulder injury this spring, figures to compete for the job in August.
At center, senior
Mark Pelini
and junior
Ryne Reeves
are splitting time. And at left tackle, Colorado transfer Alex Lewis, a junior who has emerged as a top spring storyline, and redshirt freshman
David Knevel
, continue to compete.
"I think our whole room is full of competitors," Cotton said "Some of the guys have come so far in [two weeks]. I wouldn't have guessed it would go this fast."
Many of the new candidates to start received an unexpected jump start last season.
With seniors
Spencer Long
,
Jeremiah Sirles
,
Brent Qvale
,
Andrew Rodriguez
and
Cole Pensick
set to anchor the line, all appeared settled.
But after Long, an offensive captain and All-Big Ten pick in 2012, went down with a knee injury in early October, the injuries mounted. Moudy started three games in place of Long at right guard before the shoulder injury hit.
Cotton missed two games with a knee injury. Sirles and Pensick also missed practice time, forcing position shifts among the experienced linemen and youngsters like Reeves, Sterup, Pelini and Price into action.
Production suffered. Nebraska averaged 42.4 points and 291.6 rushing yards in the five games before Long's injury; after, it was 25.4 and 168.2.
Still, Armstrong credits the veteran linemen, especially Cotton, with easing the quarterback's transition into the lineup.
"They all sat me down and said, 'Hey, this is your time,'" Armstrong said. "'We saw how you practiced. Just go out there and have fun. We're going to have your back 100 percent of the way.' Jake Cotton said, 'You're the guy we want right now, and you're the guy we need.'
"He told me we were going to win games, and that's what we did."
Armstrong finished 7-1 as a starter last season, including a win over Georgia in the Gator Bowl.
Now it's his turn to help nurture the young linemen.
The play of Lewis at left tackle grabbed Armstrong's attention this spring. At 6-foot-6 and 290 pounds, Lewis, who started 12 games at Colorado in 2012, has meshed well with Cotton to help protect the QB's blind side.
Lewis and Cotton, to put in nicely, make their presence known on the practice field.
"That's double trouble right there," Armstrong said. "They work hard. They're outgoing. They're rowdy. They just keep going."
Cotton said the group is quickly developing a chemistry.
"You go the extra step to make sure guys are on the same page," he said. "It's a lot of fun. There's just something about having open spots, with nothing guaranteed, that's fun, because the competition is heated. Guys are gunning for spots."
It will, no doubt, intensify in August as Moudy returns. Also set to join the mix are
Nick Gates
,
D.J. Foster
and
Tanner Farmer
, the most heralded group of linemen signees in coach Bo Pelini's seven years at Nebraska. Another rookie,
Mick Stoltenberg
, could fit on the offensive or defensive line.
Regardless of the personnel, they'll work without the guidance of veterans like Long and Sirles.
"Nothing stops," Price said. "We've got to pick up from where they left off. The dream they had is still the dream we have -- that's to make it to the Big Ten championship and win the Big Ten championship. It starts in spring football."
December, 20, 2012
12/20/12
2:30
PM ET
My Big Ten chat took place one day later than usual, but you guys didn't seem to mind the delay. Some really good questions today, and hopefully some decent answers.
Did you miss the chat? No worries, I've got the
complete transcript
for ya.
Some highlights:
Ben from Columbus: Adam, which position group on the Buckeyes needs to have the best offseason? Which individual player?

Adam Rittenberg: Definitely the defensive line, Ben. It loses Big Ten DPOY John Simon, Johnathan Hankins, Nathan Williams, Garrett Goebel ... the list goes on. There's a lot of youth up front -- a lot of talent, too. That group really needs to grow up and make progress for Ohio State to compete for a national title in 2013.

Colin from Lansing: Regardless of how the B1G sets up the new divisions, do you agree that ALL regular-season finales should be against divisional opponents?

Adam Rittenberg: Colin, this is a good point brought up by several fans. There do seem to be too many cross-division matchups on the final Saturday because of the rivalries. If you put Michigan and Ohio State in the same division, it would solve that one. I think it's something the Big Ten must consider going forward.

Dale from Minneapolis: In terms of recruiting, is it important to look at a select player's recruiting rankings or what kind of offers that player is receiving?

Adam Rittenberg: Really good question, Dale. I'd definitely look at the offers more than the rankings, which can be all over the place depending on which service you use. Nebraska, for example, just landed an offensive line recruit (David Knevel) who also had an offer from Alabama. That's very significant in my view.

Mike from Paris, Ohio: Adam,There was recently an article on ESPN.com talking about the ACC vs. the Big Ten and which conference is in worse shape. in the article it talked about how both teams need to win some marquee games to help their repuation and how Wisconsin beating Stanford would be a big help.However, the BIg Ten is already 4-2 in their last 6 BCS games on the field (3-2 when you take away OSU) and it hasn't helped their reputation one bit. Why is that?

Adam Rittenberg: Hey Mike, I actually wrote that article. ... Although the Big Ten's recent BCS record isn't as lousy as it was from 2006-2008, the New Year's Day results have been particularly damaging. Going winless on Jan. 1, 2011, was really bad, and last year's results (only one win in triple overtime) weren't much better. The Big Ten rolls the dice a bit with putting so many bowl games on the same day -- it has lost the last two years, and that's why the league has taken some heat.

Jon from Colorado: If Alvarez can keep three of the five coaches being targeted (Miller, Strickland, Hammock, Partridge, and Herbert) how big of a coup is that? To me Herbert is one of if not the biggest loss of the offseason given what he has done for the strength program.

Adam Rittenberg: Herbert is outstanding, Jon. I'd say Miller and Strickland are the likeliest to remain, but if Wisconsin can get two of the other three -- Herbert, Hammock, Partridge -- it would be really big.
Thanks again for all your questions. If I didn't get to you, my apologies. Let's do it again soon.
December, 18, 2012
12/18/12
12:00
PM ET
This is gonna be a long jinx. Like Yom Kippur-services long. The only difference is Yom Kippur's a fast and this one's gonna be a slow.