July, 3, 2013
7/03/13
10:30
AM ET
Ohio State sophomore linebacker
Luke Roberts
is taking an unusual path: He's transferring to Harvard,
according to the Columbus Dispatch
. He plans to play for the Crimson and will be immediately eligible for the FCS program.
"Harvard just seems to be a good fit for me," Roberts told the Dispatch. "Even though the football obviously is different from the Big Ten, and though I had opportunities to transfer to another BCS school, I just decided that wasn't what I looking for this time around. I thought pursuing a little more academic environment would be more suited to me, just the kind of person I am and the teammates I would have, and the area I would be in."
Roberts was projected as a backup this season, and his playing time likely would have been limited. But his departure thins an already inexperienced position group, which lost another member of the 2012 recruiting class following spring practice when David Perkins transferred to Illinois State.
The Buckeyes are bringing in three highly regarded prospects from the 2013 class in
Mike Mitchell
,
Trey Johnson
and
Tyquan Lewis
, and their path to potentially cracking the two deep as freshmen has grown clearer.
Roberts was a three-star recruit who also had offers from Arizona, Indiana, Cincinnati and Purdue, according to ESPN.com. His Big Ten days are over, but anyone who has the grades to transfer into Harvard will probably end up doing just fine.
June, 4, 2013
6/04/13
12:00
PM ET
Roy Hibbert has been working on the links since the final buzzer Monday night. That's why he left the court so quickly.
May, 30, 2013
5/30/13
2:45
PM ET
Ohio State coach Urban Meyer confirmed to reporters today what had been rumored for a couple of weeks: sophomore linebacker
David Perkins
is leaving the program.
Meyer called it "a mutual decision." There's no word yet on where Perkins might transfer.
The South Bend, Ind., product appeared in nine games as a true freshman, recording six tackles. He spent time with the first team this spring as
Ryan Shazier
was banged up, though he was projected as a backup this season at outside linebacker behind Shazier and
Joshua Perry
. Perkins was rated as a four-star prospect by ESPN.com when he signed with Ohio State last year.
Losing Perkins thins a linebacker corps that already lacked depth, as Shazier is the lone returning starter. Meyer needs Perry and Grant to step up this year and give Shazier some help.
As for Perkins, we'll always have
his hit on Brutus Buckeye
to remember.
May, 3, 2013
5/03/13
4:00
PM ET
Best moment:
This one's a no-brainer. Nebraska created the best moment in the Big Ten -- and maybe anywhere, ever, during spring practice -- by allowing 7-year-old cancer patient
Jack Hoffman
to run for a touchdown before a roaring crowd at the Huskers' spring game. It has been quite a month for Hoffman, who got his own trading card and even met President Obama.
Best use of time:
Northwestern coach Pat Fitzgerald had the number 5:03 plastered on his players' workout shirts this spring, a reminder of how close the 10-3 Wildcats came to going undefeated in 2012. The goal? "Find a way to make that up in the offseason," Fitzgerald said.
Best use of color:
Michigan needed non-contact jerseys for quarterback
Devin Gardner
during the spring game, especially after backup
Russell Bellomy
went down with a torn ACL. But the Wolverines weren't about to wear red, which is the color of top rival Ohio State. Instead, they chose orange and got an assist from Oregon State, which sent along a top for Gardner to wear. "This is Michigan," Gardner said. "Orange is the only other color that stands out."
Best breakout combo:
Ohio State's defensive line entered the spring as a concern and ended it as a potential strength. That's thanks to sophomore defensive ends
Adolphus Washington
and
Noah Spence
, who combined for seven sacks in the spring game and wreaked havoc on one of the Big Ten's top offensive lines all spring. Offensive tackle
Jack Mewhort
told ESPN.com he'd "be surprised if Spence didn't lead the Big Ten in sacks this year," while Washington might even be the better player of the two.
Best two-way player:
Michigan State linebacker
Riley Bullough
jumped to the other side of the ball to try running back late in spring practice and quickly became the team's main ball carrier. He even threw a pass to older brother Max, the Spartans' star middle linebacker, in the spring game. The younger Bullough could play offense or defense or even both this fall.
[+] Enlarge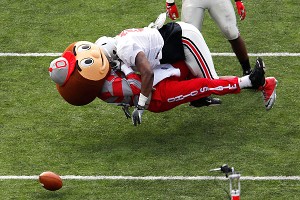 AP Photo/Ohio State University Department of Athletics, Will ShillingOhio State's mascot took one for the team at the spring game.
Best hit on a mascot:
It looked like a funny bit of spring practice hijinks when Brutus Buckeye lined up to run the ball during an Ohio State practice. But linebacker
David Perkins
approached the play as if the Rose Bowl depended upon it. He delivered a punishing hit on the mascot, leveling Brutus -- and the student inside it. "I think he lost his mind," teammate
Curtis Grant
said.
Best debut by a player:
Penn State brought in junior college transfer Tyler Ferguson this offseason because it desperately needed depth at quarterback. Ferguson played so well that he ended the spring as No. 1 on the depth chart, prompting presumed starter
Steven Bench
to transfer. Now, Ferguson has to hold off hotshot incoming recruit Christian Hackenberg this summer.
Best debut by a coordinator:
Illinois has a long way to go, but at least the Illini should be more fun to watch this year under new offensive coordinator Bill Cubit's spread attack. Illinois quarterbacks threw the ball 87 times for 601 yards in the spring game. The Illini threw for a Big Ten-worst 2,026 yards in all of 2012.
Best moves:
This is a tough call, as Bo Pelini's rowboat in the Huskers "Harlem Shake"
spring kickoff video
was unforgettable. But we have to give the award to Wisconsin defensive lineman
Warren Herring
during the team's post-practice
dance competition
. Any 6-foot-3, 286-pounder who can pull off the splits and spin his helmet like a basketball deserves our admiration and awe.
Best quote by a player:
Never one to mince words, Ohio State cornerback
Bradley Roby
had this to say about the Buckeyes' attempt to follow up last year's 12-0 season: "Last year was the commercial. This year is the movie."
Best quote by a coach:
Longtime assistant and current Iowa offensive coordinator Greg Davis put the proper perspective on spring optimism: "Everybody always has a great spring. This is my 40th one, and I've never heard anybody say they've had a bad spring."
April, 8, 2013
4/08/13
10:30
AM ET
You've got to love spring practice.
Never are things more laid back and open to unusual moments than during the spring. We saw Nebraska use the spring game to let 7-year-old cancer patient Jack Hoffman live out a dream. And Brutus Buckeye might have experienced a nightmare when he woke up Sunday morning.
Ohio State held a student appreciation day during Saturday's practice, and about 2,500 students showed up to watch the workout. But the most talked about event happened when Brutus Buckeye, the school mascot, lined up to run a play. Unlike the Hoffman run, however, the Buckeyes' defense didn't play along.
Linebacker
David Perkins
leveled the mascot, and the guy inside the costume. This
photo of the Perkins hit
is simply priceless. And here's
video of the play
.
"That was crazy, man," senior safety
Christian Bryant
said, as quoted in the
Cleveland Plain Dealer
. "It brought a little bit of excitement and got the fans into it. They should have given him a black jersey if they didn't want him to get hit."
"I don't know what happened to him," linebacker
Curtis Grant
said of Perkins. "I think he lost his mind."
For Perkins, it was just another day at the office.
"I read pass, and I took my drop," he said. "I saw the quarterback and I saw we lost contain, so I ran over to try to keep contain and just did my responsibility.
"It was see ball, get ball. I didn't try to hit him that hard. I hope he's all right."
Brutus knelt down after the play but was able to walk off the field under his own power. His status for the fall is unknown at this point.
November, 9, 2012
11/09/12
4:30
PM ET
Week 11 is nearly here. Enjoy.
Steve from Albuquerque, N.M., writes:
Who will get the most pursued Nittany Lion this offseason,
Deion Barnes
,
Allen Robinson
, or Bill O'Brien?
Adam Rittenberg:
All three men likely will have chances to leave, but I'd expect all three to remain. It will be interesting if any NFL teams pursue O'Brien, who has excelled both as a coach and as a motivator in his first season as a head coach. My sense is he wants to see things through in State College, where his legacy likely would be much greater than if he went to the NFL, which spits out coaches every few years. Barnes and Robinson both have stated they intend to remain with Penn State, but that likely won't stop other teams from recruiting them. Both men can be multi-year starters at Penn State and play for coaches (O'Brien, Larry Johnson, etc.) who know what it takes to get them to the NFL. While every player wants to compete for championships, it won't stunt Robinson's or Barnes' long-term development if they remain at PSU.
---
Michael from Ft. Picklett, Va., writes:
Adam, I have been wondering. Why is it that the Huskers are not able to land the top prospects? Is it location? I see Ohio State and Michigan are able to take about anyone they want. What can the Husker do to improve? I feel this is the reason the Huskers are not able to be as dominate as the teams of the 90's.
Adam Rittenberg:
Michael, Nebraska still gets some top prospects, but there are some challenges for the program. The location doesn't help, because Nebraska has to extend itself nationally more than other programs. And for recruiting purposes, being in the Big Ten provides some challenges, too. Nebraska's recruiting success in Texas stemmed in part from the pitch that players could play near home a few times a year (Texas, Texas Tech, Baylor, Texas A&M). That's not there any more.
Dirk Chatelain addressed the Texas recruiting issue
this week, noting that Nebraska recruiting coordinator Ross Els still thinks the team can have a good presence in the Lone Star State. I guess time will tell, but I'm not so sure. The key is for Nebraska to increase its presence in the Big Ten footprint, particularly Ohio, Michigan and Pennsylvania. The Husker coaches have ties to the region and should be able to pluck more high-level prospects in the years to come. A Big Ten championship this season -- plus a Rose Bowl championship -- certainly will help.
---
Nate from Iowa writes:
Adam, I have one that if you are brave enough to answer it will start a great debate on the message board below. I had a very spirited debate with a good friend that wasn't settled and wonder if you can give your input. No one can deny the great legacy and tradition of the
Nebraska Cornhuskers
. 5 National titles, 3 Heisman Trophy Winners, Top 5 All-time Wins in NCAA Football. But can you really say that Iowa, although they haven't beat Nebraska since the 80's, hasn't had more success than Nebraska in the past 10 years? I'm not one to measure success on wins alone, I look at the entire picture. What are your thoughts?
Adam Rittenberg:
Nate, if you're going purely by on-field results, you can make a case for Iowa against Nebraska from 2002-2011. Keep in mind Nebraska endured a major dip in its program under Bill Callahan, while Iowa had a historic run from 2002-04 and another surge in 2009, when it won an Orange Bowl championship. Both teams were very good in 2009, but Nebraska since has been the stronger program, winning nine or more games in each of the past four seasons. The Huskers have lacked the major breakthroughs Iowa had in 2002, 2004 and 2009, but they've been a little more consistent as of late. It's a fun debate, and you can make good arguments for either team.
---
Rob from Omaha writes:
Adam -- You and Brian have been down on Michigan State and Maxwell, but really a 9 point differential from 5-5 to 9-1. I think Maxwell has played very well this year, a few poor decisions and a couple balls that sailed, but otherwise, I think he is very strong. Assuming no early departures, I say Sparty is a top 5 program next year. What are you thoughts?
Adam Rittenberg:
Rob, love the optimism, but a top-5 program? That's setting the bar very high for a team that will finish with at least five losses (no matter how close they are). I guess it's possible, but that's an enormous jump to make. I also have a hard time seeing how Maxwell has played "very well" when he's completing barely than half of his passes (54.2 percent). While at times people have been too hard on him, as his receivers are either unproven or unreliable, a drop-back quarterback with limited mobility needs to be completing at least 65 percent of his passes to be doing very well in my book. While Ohio State's
Braxton Miller
completes just 56.9 percent of his passes, he does so much more as a runner to help his team win. Maxwell needs to get a lot better for Michigan State to contend for the Big Ten title in 2013, and I think he could make those strides. But it might be tough for Michigan State to maintain this type of defense year after year, especially if/when coordinator Pat Narduzzi leaves to become a head coach. The offense also will have question marks, namely line depth and possibly running back if
Le'Veon Bell
bolts for the NFL. I agree that Michigan State will be an improved team next year and most likely a contender in the Legends division, but let's pump the brakes on the top-5 talk.
---
Chris from High Point, N.C., writes:
Hey, Adam, with the lack of depth at LB for the Buckeyes and all of the talent that they are seemingly stockpiling on the D-line, do you think that some of those players might switch to LB or work in a modified role like
Nathan Williams
? Thanks for considering my question.
Adam Rittenberg:
Chris, some players might work in a rush-end role like Nathan Williams or former Buckeye standout Thaddeus Gibson. Freshman
Noah Spence
, at 6-foot-3 and 240 pounds, might fit into that spot. But for the most part, Ohio State's younger defensive linemen are big enough and strong enough to play up front, and likely wouldn't work well at linebacker. I agree building depth at linebacker is a challenge for Ohio State, but you don't want to force a player at a spot where he doesn't naturally fit physically. Keep in mind, too, that Ohio State has a lot of youth at linebacker that could turn out to be good in the long run, players like
Joshua Perry
,
David Perkins
and
Camren Williams
. Linebacker will be a fascinating position to watch in 2013 as those guys get a little older.
---
Solomon from Ann Arbor, Mich., writes:
Hey Adam, in your Week 11 predictions, you predict that Iowa "ensures the Boilers won't be bowling for the second straight year." This isn't quite true as Purdue played in the Pizza Bowl last year and beat WMU 37-32. Just keeping you honest.
Dan from Carmel, Ind., writes:
You stated in this week's predictions that Purdue won't go bowling for the 2nd straight year, better check that, they played in the Little Caesars Pizza Bowl in 2011. Not that it should help Hope keep his job.
Adam Rittenberg writes:
I think that sentence has been misunderstood, and for that, I apologize. I was trying to say a loss would prevent Purdue from going bowling for a second straight year, not that a loss would keep Purdue home for a second straight year. I should have been more clear, but I'm well aware Purdue played in the postseason last year and gave the Big Ten one of its three bowl wins.
---
William from Denver writes:
Adam, what do you think are the chances of Fitzgerald leaving for Auburn or Arkansas if, big IF, those coaching positions open up?
Adam Rittenberg:
Almost zero chance, William. You don't turn down Michigan, which would have been a really good fit, and then leave for mid-level SEC jobs where you have no connections. Also, Pat Fitzgerald is a Big Ten guy through and through, and I don't see him enjoying some of the challenges in the SEC (not talking about on-field competition, if you catch my drift). It wouldn't surprise me if an SEC team or two pursued Fitzgerald, but I'd be really surprised if he leaves Northwestern any time soon. He received a 10-year contract last year, and Northwestern recently approved the on-campus facility he really wanted. Fitzgerald has ties to Chicago and wants to see things through at Northwestern with the new facility.
October, 8, 2012
10/08/12
1:25
PM ET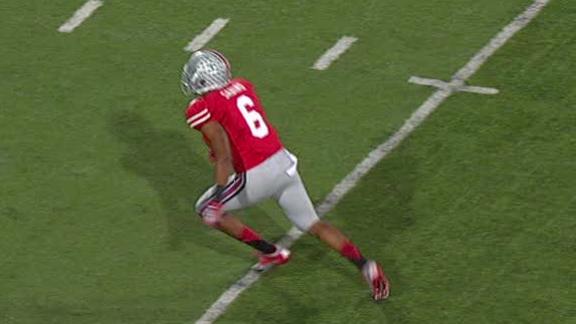 Ohio State is 6-0 and ranked No. 8 in the country. But there is one thing that could derail this great start for the Buckeyes: injuries.
Specifically, injuries would present serious problems at three positions for Ohio State: quarterback, offensive line and linebacker. The latter group received some bad news on Monday.

Senior outside linebacker
Etienne Sabino
fractured a bone in the fibula of his right leg during Saturday's 63-38 win over Nebraska, the team announced today. Sabino has already had surgery and had a plate inserted into his leg. Ohio State is saying he will be out about four weeks, though Urban Meyer said three weeks is a best-case scenario.
"Tremendous blow," Meyer said at his weekly news conference Monday. "Sabino is like a son and brother to everybody."
He's like an older brother to the Buckeyes' linebacking corps as one of its few veterans. Sabino has 11 career starts and 46 games under his belt. He's had an interesting career, struggling to get on the field early, then redshirting in 2010 for what would have been his true junior year. But Sabino has started to really come on this season and had his best game two weeks ago against Michigan State. He's third on the team in tackles (37), tied for second in sacks with two and has an interception and forced fumble.
His replacements, according to the team's latest depth chart, are a pair of true freshmen:
Joshua Perry
and
David Perkins
. Both are talented players, but they obviously lack much game experience. Ohio State's other starting outside linebacker,
Ryan Shazier
, is a sophomore who's backed up by two freshmen. Senior middle linebacker
Storm Klein
is the only elder statesmen in the group now.
Ohio State's defense has been susceptible to missed tackles and blown assignments this season, though it done a better job of that the past two weeks. Believe it or not, Indiana should actually present a good test for that linebacking group this weekend, as the Hoosiers do have a strong passing game.
Beyond that, the Buckeyes will face Purdue at home and then go to Penn State. Then they have a bye week, so hopefully Sabino can be ready for the final two games against Wisconsin and Michigan.
The pressure is now on Ohio State's young linebackers to produce. And Buckeyes fans will have to hope for no other serious injuries at the team's thinnest positions.