December, 2, 2013
Dec 2
8:30
PM ET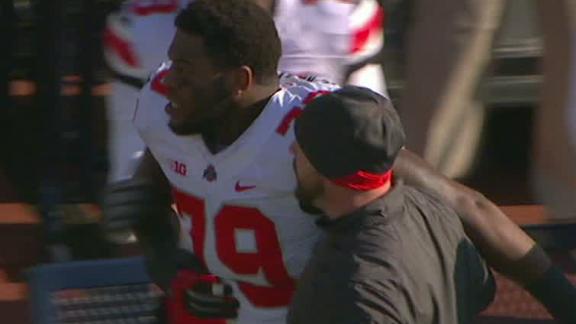 The Big Ten finally has a championship game that rivals the SEC's in national significance.
Unfortunately, the Big Ten is following the SEC's lead in another area: handing out discipline.
A league that considers itself a cut above in every area, including player conduct, had an opportunity to make a statement in the wake of Saturday's fight in the Ohio State-Michigan game. Instead,
the league went soft
, ensuring that its championship game, and Ohio State's national title hopes, would be unaffected by the ugly and embarrassing incident.
Here's what we learned from the Big Ten's ridiculous response Monday night:
Fighting doesn't have long-term consequences. Twisting a helmet? Go right ahead.
Just conduct yourself like a gentleman afterward.
After spending two days reviewing the officials' report from the game and the video of the fracas, the Big Ten decided to hand down no additional discipline to the Ohio State and Michigan players involved. The league merely issued a public reprimand -- the wussiest punishment possible -- for Ohio State offensive lineman
Marcus Hall
and the Buckeyes' coaching staff after Hall gave the crowd a double-bird salute following his ejection from the game. No other players were named by the league, which praised both coaching staffs for defusing the fight.
Ohio State's
Dontre Wilson
and Michigan's
Royce Jenkins-Stone
also were ejected Saturday, but they and others -- like Buckeyes wide receiver
Michael Thomas
and Michigan defensive back
Delano Hill
-- were spared any blowback from the conference.
The Big Ten is falling back on the NCAA's fighting policy, which calls for players ejected in the first half of a game to miss only the remainder of that game. Although the league has issued suspensions before for throwing punches, they have come for players who weren't ejected during the game.
The league had an opportunity to do more and show that behavior like Saturday's, even in a bitter rivalry game, is unacceptable and has long-term consequences. Monday's wimpy response will be seen as an effort to protect the league's title game and one of its biggest brands in Ohio State.
Criticize Ohio State coach Urban Meyer if you want for not tacking on additional playing-time penalties for Hall and Wilson. Honestly, I don't know many coaches who would have. They're trying to win championships and can impose some internal discipline. Michigan State didn't suspend William Gholston for his actions in the 2011 Michigan game, so the Big Ten stepped in with a suspension. The league should have done the same in this case.
Even a half-game suspension, which the SEC probably has trademarked, would have shown some teeth here. Instead, the Big Ten protects its championship game from being affected, and its biggest brand from being impacted in its quest to reach the national title game.
Monday's response will add to the widely held belief by many Big Ten fan bases that the league goes all out to protect Ohio State and Michigan. The response will bring more heat for league commissioner Jim Delany, who still gets ripped for going to bat for Ohio State's "Tat-5" to play in the 2011 Sugar Bowl.
The championship game is a national showcase opportunity for the Big Ten, a chance to display its best product and the values it holds so dear. You'll hear a lot about honoring legends and building leaders, and big lives and big stages.
Then Wilson might return the opening kickoff, and Hall will take the field with Ohio State's starting offensive line. Are those the images the Big Ten wants to present?
"As bad as it was, we're fortunate the incident did not escalate any further," the Big Ten's SECtatement reads. "More can, and should, be done by both coaching staffs in the future to prevent similar incidents."
The Big Ten could have and should have done more, but chose to do the bare minimum.
April, 16, 2012
4/16/12
3:15
PM ET
Our first set of spring game recaps finishes up with the
Iowa Hawkeyes
, who held a controlled scrimmage at the end of Saturday's practice at Kinnick Stadium.
Recaps can be found
here
and
here
and
here
. Here are some
unofficial statistics
.

Star of the game:
Cornerback
B.J. Lowery
had a forced fumble, and he would have added an interception if not for a pass interference penalty on safety
Nico Law
.
How it went down:
As is its custom, Iowa didn't hold a true spring game but rather a controlled scrimmage that featured some situational portions.
The big attraction for fans was the new offense, which predictably had some ups and downs.
James Vandenberg
completed only 12 of 30 passes, making an excellent throw to
Don Shumpert
for a 38-yard gain but not establishing much of a rhythm without his top receiver (
Keenan Davis
) on the field for the scrimmage portion. He had an interception nullified by penalty, while reserve quarterbacks
Jake Rudock
and Cody Sokol both were picked off once.
Running backs
Damon Bullock
and
De'Andre Johnson
both had big gains, including a 84-yard touchdown dash by Bullock that highlighted the scrimmage. Johnson had a fumble in the scrimmage, but both men eclipsed 100 rush yards.
"There's a little bit of mental gymnastics going on with guys on calls and formations and you saw us not line up correctly a couple of times," head coach Kirk Ferentz told reporters. "But that's part of the process. ... My sense is the guys knew there was a lot to learn coming in and I think they've been tuned in as a result of that."
Like the offense, Iowa's defense has a new coordinator in Phil Parker, but the scheme changes are less dramatic, and the unit showed some bright spots Saturday. The secondary should be better than it was in 2011, particularly at cornerback with Lowery and All-Big Ten candidate
Micah Hyde
. Corners
Gavin Smith
and
Jordan Lomax
also contributed big plays during the scrimmage.
The back seven will lead Iowa's defense entering the season, while the line looks to get healthy and build more depth during the summer months. Vandenberg should be fine by September, but Iowa needs to add more weapons around him, making running back, receiver and tight end interesting positions to watch. The offense remains a work in progress, but it could be a dynamic unit this fall.
The scrimmage produced some good news for the future as defensive back recruit
Delano Hill
, who was in attendance,
verbally committed for the 2013 class
.
BIG TEN SCOREBOARD
Saturday, 12/21
Monday, 12/23
Tuesday, 12/24
Thursday, 12/26
Friday, 12/27
Saturday, 12/28
Monday, 12/30
Tuesday, 12/31
Wednesday, 1/1
Thursday, 1/2
Friday, 1/3
Saturday, 1/4
Sunday, 1/5
Monday, 1/6
Tweets from @ESPNCFB/big-ten