November, 16, 2012
11/16/12
8:35
AM ET
A few injury-related notes from around the league ...
March, 6, 2012
3/06/12
10:30
AM ET
Spring football is under way at Northwestern, which returned to the practice field Saturday. The Wildcats say goodbye to a decorated senior class, which included quarterback
Dan Persa
, and must fill several key spots on both sides of the ball. Head coach Pat Fitzgerald has an emphasis on learning and fostering new chemistry on the team, as the Wildcats' leadership features several new faces. The 2012 season will be crucial for Northwestern, which has reached four consecutive bowl games but also seen its wins total drop every year since 2008.
ESPN.com recently caught up with Fitzgerald. Here are his thoughts:
What have been some of your emphasis points from the end of the bowl game and your objectives in spring ball?
[+] Enlarge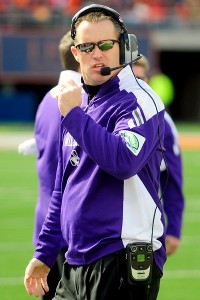 Reid Compton/US PresswirePat Fitzgerald, the Wildcats' coach since 2006, led Northwestern to a 6-7 record last season.
Pat Fitzgerald:
Every year you look for ways you can improve and build upon your past, but it's always a new team. Obviously, we've got a lot of young men that graduated who were very dynamic for us over the last four years, multiyear starters who laid a tremendous foundation of success for our program. Now you have to come together with this team and number one, we want to build better chemistry with this team. Eight of our 12 leadership council members, it's their first year, so it's kind of indicative of trying to forge the chemistry, player to player.
Is it a better chemistry or a new chemistry?
PF:
Every time you get to the offseason, you fall into that trap, is it better or worse? More importantly, it's always new. It's new guys jelling, guys assuming new roles and the natural progression. The guys have done a tremendous job. I look forward to watching to see how we do when somebody punches you back in football.
Were you surprised at how last season turned out? Some guys were talking about contending for a Big Ten title and you end up at 6-7.
PF:
Well, we had a tough five-game stretch. That overshadows anything else that we did. What we look at it is we stayed the course and fought through it. You can point back to multiple plays and calls on our end and what we did schematically as coaches, you vet through all that stuff and you look at how close we were. It's easy to point blame and point fingers. It's more important to create some solutions and through that, you always start with the way you're teaching and coaching, and what you're asking guys to do schematically. Are we playing to their strengths? Because of maybe a little youth and inexperience, are we asking them to try to do too much? And I thought we adjusted. Obviously, you don't want to go through what we went through, and it was our fault. You look back and say, we adjusted, but did we adjust fast enough? Hindsight's always 20-20, but you learn from it, you grow and then you educate the guys on why it happened and how we're going to be stronger moving forward. What did we win, four of our last six games? So we finished strong. Obviously, you'd love to have back the last one here at home. And in the bowl game, we played two really good quarters and two quarters that beat ourselves, so we've got a lot to learn from. I wouldn't say I was surprised. No matter what you predict, you never know how it's going to go.
What are some things you can do at this time of year from a communication standpoint, from a learning-the-game standpoint or a schematic standpoint to remedy some of the things?
PF:
Absolutely. We've taken the approach of Football 101 this whole offseason. Not only what we're doing schematically, but why we have things structured the way we do, going deeper into the why we do what we do to help guys understand and appreciate conceptually what we're trying to achieve as a program. Same thing schematically in all three phases. And then to build the team and build the chemistry. We've got to have a lot of things much further along at the end of spring ball. Then we've got to take another step at the end of the school year and in the summer.
How do you emphasize the why more? Not just what you're doing but why you're doing it.
PF:
Every resource you have capable of a teaching tool, you use. Each guy learns a little bit differently. Some guys can look at it on paper and get it. Most guys have to look at it on paper, see it on video, walk through it, go experience it, learn from it, fail at it, do well at it. It's a process. It's not just one cookie-cutter way to do it. You've got your structure, but then you've got to adjust it based on the way guys are picking it up. And as a teacher, you always have to make sure what you're doing is productive and you're seeing the result equal what you believe you're teaching.
What do you want to see out of your quarterbacks in spring ball?
PF:
Number one, I want to see them improve from where we were at the last time we were with them. All three guys were involved with bowl practice and all three guys improved throughout that month. I want to see them lead the offense. I want to see them manage what we do and how we want to do things as far as schematics. And then I want to see them take over the leadership of the team.
Kain [Colter] obviously has played more than the others. What are you looking for from him in the spring to emerge as the next guy?
PF:
Number one, let's focus on what's important and that's for him to go out and fundamentally execute. There's no, 'You're the starter, all of a sudden everything changes.' So obviously let's go out and fundamentally execute and improve on the things we identify after watching the cutups. Going through bowl prep, there are some little mechanical things he's got to work on. And as a quarterback, when he gets on the field he has to make all 10 around him better. When you look at him, he's got that personality that guys just want to be around Kain. He's got a great attitude, he's very driven, he's very focused but still he's got a lot of compassion. He's just a great teammate. And then you watch the experience Trevor [Siemian] had last year. Those two guys will be a little bit further ahead, especially early, than Zack [Oliver], just because of their experience level.
Defensively, what are some areas you feel that need to be improved?
PF:
Obviously, looking back to a year ago, it's limiting explosion plays by communicating and [being better] technically and execution sound. Being better on third down, especially third-and-medium, where we've been really good in the past, and same thing with our pressure totals. We took a step backwards in all those areas. Up until the last two games of 2010, we were actually statistically better in a lot of areas on defense. We've got a lot to build from. We've got some solid experience coming back, and some guys stepping up as leaders, especially up front with three guys who have played a lot for us. A couple of them are young,
Quentin Williams
and
Tyler Scott
, and
Brian Arnfelt
. The linebackers,
David Nwabuisi
has played a lot of ball for us, and
Damien Proby
. And I'm very pleased with the steps that
Ibraheim Campbell
made a year ago. The last thing is continuing to work hard to create turnovers.
Ibraheim comes back in the secondary but you lose three starters there. Who do you look at to emerge there, especially at cornerback?
PF:
We've got great competition there. You look at a group of guys coming back who have played a lot of ball for us in different roles. As you look at the group,
Demetrius Dugar
and DJ,
Daniel Jones
, who have started games for us. We're really excited about a couple of our younger guys,
Nick VanHoose
and
C.J. Bryant
, who has been a role player in the kicking game. And the same thing with
Jarrell Williams
, who we redshirted last year like Nick, who we think is an explosive athlete.
Kain told me he thinks you'll be a more athletic team overall. Do you see that potential?
PF:
Yeah, I think we've recruited well, and we take pride in the way we develop our guys. I feel we've got pretty solid athleticism top to bottom. Now we've just got to develop that depth. You'd hope by toward the end of spring, you'd start to have some guys work toward solidifying some starting jobs at least for the start of camp. And then you hope you solidify that depth for the long haul in Big Ten play. We have 26 guys graduating, 21 guys we signed, 22 with Kyle [Prater] and our walk-on class coming in. So we'll look very different in the fall than we do in the spring.
What's the status of Kyle's NCAA waiver?
PF:
We really can't proceed until he matriculates into school, until we start spring quarter. Nothing is going to move forward until he gets into class, he gets going, all that stuff. Is there a goal to have it done by the end of spring? No. The goal is to work through it, to vet it and work with Kyle and his family and then the NCAA. The priority now is he's going to a new school, so get him to class, get him into a new dorm, here's the lay of the land. Those things are all much more important, get him healthy, make sure everything checks out. I obviously want to have [the waiver process] done by August.
What do you want to learn about this team by the end of the spring?
PF:
The big thing is I want to see us execute through better teaching. I want to see more consistency and execution, and there's multiple parts there, communication, technique, and then obviously the overall execution. I want to see the chemistry in a better place April 14 than we are today from being tested through football. And I want to get stronger. We're going to continue to work hard in the weight room and continue to do the things you have to do. But our priority right now is just to increase our football knowledge, our schematic knowledge and then obviously our knowledge of each other.
October, 27, 2011
10/27/11
3:45
PM ET
One of the big misconceptions about Pat Fitzgerald is he took over a Northwestern program falling apart at the seams.
Yes, Fitzgerald became Northwestern's coach at a very difficult time after the sudden death of Randy Walker in June 2006. Yes, the 31-year-old wasn't ready for the job. But Northwestern had won six or more games in each of Walker's final three seasons, reaching two bowls and going 14-10 in Big Ten play. This wasn't the train wreck that Gary Barnett inherited and, thanks to players like Fitzgerald, brought out of the depths.
Fitzgerald deserves a ton of credit for stabilizing the program after an unexpected tragedy. He upgraded things in 2008 with a 9-4 campaign and followed with two more postseason appearances, making team history by making three consecutive bowl games.
[+] Enlarge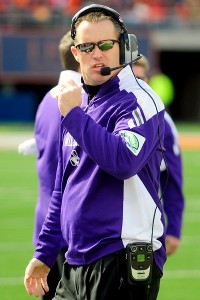 Reid Compton/US PresswirePat Fitzgerald made team history by making three consecutive bowl games, but Northwestern's win totals have dropped each season since 2008.
But Northwestern's wins total has declined since 2008, going to eight in 2009 and seven in 2010. This season has been a major disappointment, and, barring a late turnaround, the Wildcats won't make a bowl game. It's a significant step back for the program -- and for a coach who had been universally labeled as on the rise.
For Fitzgerald to turn things around -- and get Northwestern back to and beyond the good-but-not-great seasons it had for most of the past decade -- he must shape the program in his image. The most successful programs reflect their head coaches.
It's hard to say Northwestern completely reflects Pat Fitzgerald.
While many of his core values have been transmitted to the players, the bottom line is this: Fitzgerald is a former two-time National Defensive Player of the Year and a College Football Hall of Fame linebacker who coaches a team that has been anywhere from mediocre to poor on defense.
It doesn't add up.
Northwestern's identity under Fitzgerald is still a lot like it was under Walker. That's not entirely a bad thing. Walker's teams never gave up and won a bunch of close games. Until recently, Fitzgerald's teams also had excelled in close games.
Under Walker, Northwestern played many close, chaotic contests and relied on its dynamic spread offense. Walker was an offensive-minded coach, a former running back who mass-produced 1,000-yard rushers in Evanston.
Under Fitzgerald, Northwestern has continued to find itself in wild, back-and-forth games. It still relies on its offense, and produces strong quarterbacks like C.J. Bacher, Mike Kafka and Dan Persa.
Under Walker, Northwestern's defense struggled mightily, ranking no higher than 68th nationally and 81st or worse in six of seven seasons.
Under Fitzgerald, Northwestern's defense hasn't been quite as porous, ranking in the top 50 nationally in both 2008 and 2009. But the Wildcats slipped to 97th last year and currently rank 92nd.
The defensive decline has been dramatic this season, as Northwestern already has surrendered 20 plays of 30 yards or longer, the most of any Big Ten team. Although the secondary has been a major weakness, Northwestern hasn't generated much of a pass rush (11 sacks). The linebacker position, a strength under Walker and during Fitzgerald's early years, has underperformed the last year and a half.
Fitzgerald has attributed the defense's struggles to a few very bad plays in each game. Cornerback Demetrius Dugar said after a Week 7 loss to Iowa that defensive backs weren't always sure whether they were in man or zone coverage.
"When those breakdowns in communication have happened this year, they have been disastrous," Fitzgerald said after the Iowa game. "It starts with us as coaches. Why are they confused?"
Fitzgerald has remained mostly optimistic publicly, but the defensive struggles have to be eating him up. It's not like he doesn't know what a good defense looks like. As a player, he led great defenses at Northwestern in 1995 and 1996.
Most FBS coaches take on a CEO role, and Fitzgerald is no exception. But the defense must be his primary focus the rest of this year and into a crucial offseason. From the scheme to the coaches to the players to recruiting, everything should be evaluated. While overall recruiting has been on the uptick at Northwestern, player development on defense has to be a concern after the past year and a half.
Fitzgerald has succeeded in continuing what Walker started. But to get Northwestern back on track and on a sustainable path to success, his teams need to be playing how he did.
August, 11, 2010
8/11/10
3:30
PM ET
EVANSTON, Ill. -- Head coach Pat Fitzgerald and the
Northwestern Wildcats
held their preseason media day Wednesday, and I was on hand for it. I'll have some blog posts and video interviews in the coming days, but first, some notes.
Fitzgerald confirmed that the team will practice Aug. 23 at Naval Station Great Lakes, the U.S. Navy's headquarters for training. Details are coming, but check out my post earlier this summer for more about the event. Great Lakes used to be a powerhouse in college football, and there are a ton of football connections there. The team will leave its off-site training camp in Kenosha, Wis., and practice at Great Lakes before returning to Evanston the night of the 23rd. "Hopefully, a great tradition is going to be started," Fitzgerald said.
I'll have more on All-Big Ten kicker Stefan Demos in the coming days, but his workload will be lighter this fall as Brandon Williams has emerged as a solid option at punter. Demos, who has battled hip problems, handled field goals, kickoffs and punting last season and also punted in 2007 and 2008. Although his rugby style worked at times, all involved are pleased to see Williams emerge. "Nobody wants me out there punting any more, that's for sure," Demos said. "Including me. ... I'm sure [Fitzgerald] is tired of being called the worst special-teams coach ever because he doesn't have a punter."
Speaking of special teams, true freshman Venric Mark already is marking his mark on punt returns. Although safety Hunter Bates, cornerback Jordan Mabin, wide receiver Charles Brown and another freshman, receiver Tony Jones, are also in the mix, I'd be surprised if Mark wasn't the starter. Stephen Simmons and Jacob Schmidt will continue to handle kickoff returns, Fitzgerald said.
Northwestern is much healthier now than it was a year ago and has been able to practice at a good clip. The team's slow start to 2009 could be attributed in part to being limited in preseason camp. "This will be my fifth year [as head coach], and this is the best-conditioned team we've had," Fitzgerald said. "We've pushed the tempo. We go six-minute periods, and we went in such a quick tempo, we finished with two and a half minutes left in our second set of team [drills]. That's going at it, especially with where the weather was at. ... It puts us in a position maybe to be a little more accelerated than we've been in the past." Fitzgerald added that the team's speed has been upgraded through recruiting.
The secondary loses three multiyear starters but has two spots locked up with cornerback Jordan Mabin and safety Brian Peters. Justan Vaughn, Demetrius Dugar and Mike Bolden will compete at the other corner spot, while Jared Carpenter and David Arnold are the candidates to line up next to Peters. Other position battles include outside linebacker (Bryce McNaul and Ben Johnson), right tackle (Patrick Ward and Neal Deiters) and offensive guard, where Doug Bartels, Keenan Grant and Brian Mulroe are competing for two starting spots.
The recent heat and humidity in northern Illinois is helping Northwestern prepare for nonconference road games in balmy Nashville (at Vanderbilt) and Houston (at Rice). Fitzgerald also said the team uses a service for potential hot-weather games that allows players to "plug in" to an air-conditioning unit on the sideline that provides cool air underneath their shoulder pads. Northwestern used the service for its game inside the Carrier Dome at Syracuse last September and at the Outback Bowl in Tampa on Jan. 1.
April, 1, 2010
4/01/10
1:30
PM ET
EVANSTON, Ill. -- I thought it was an April Fool's joke when I heard temperatures might reach the 80s in Chicago today. But the pleasantly surprising forecast held up, at least for Northwestern's morning workout. The Wildcats put on pads for the first time this spring and practiced in incredible weather conditions.
Spring football, 70-degree temps and no clouds in the sky = a winning combination.
A few thoughts from Northwestern's practice:
Quarterback Dan Persa looked sharp for the most part, especially during the 7-on-7 portion of practice. He hit Jeremy Ebert on a deep post route and made several strong throws over the middle. He had an interception during team drills, as safety Jared Carpenter recorded the pick off of a tipped ball. But otherwise, Persa performed well. He also showed good leadership for a projected starter, checking in with wide receiver Lee Coleman after some confusion on a route.
Joining Persa with the first-team offense were running back Arby Fields, Ebert, Coleman, wideout Sidney Stewart and superback Josh Rooks. Starting superback Drake Dunsmore is out for the spring following shoulder surgery, and he actually had a follow-up shoulder procedure today. So Rooks is getting a lot of work.
Ebert's surgically repaired hip limited him throughout the 2009 season, but he should be a major factor for Northwestern this fall. The junior, who likely will be Persa's top option at wide receiver, made several receptions Thursday and had a nice gain on an end around.
As 2009 All-Big Ten cornerback Sherrick McManis watched from the sideline, the men vying to replace him this fall looked good. Junior Mike Bolden recorded several pass breakups and sophomore Demetrius Dugar had a leaping interception of an Evan Watkins pass.
Top linebackers Quentin Davie (foot, out for a few days) and Nate Williams (shoulder surgery, out for the spring) aren't practicing right now, but I was impressed with sophomore Roderick Goodlow, who recorded a tackle for loss and several other good plays. Redshirt freshman linebacker Tim Riley is also generating some buzz this spring.
Starting safety Brian Peters sat out practice with a hamstring injury, so Carpenter and projected starter David Arnold, a converted linebacker, got most of the reps at safety.
It was great to see defensive line coach Marty Long jogging around the practice field. Long underwent surgery in December to remove a growth and missed the Outback Bowl, but he's back to 100 percent. His NU predecessor Eric Washington, now the defensive line coach for the Chicago Bears, was in attendance at Thursday's practice.
The first-team offensive line had Al Netter at left tackle, Brian Mulroe at left guard, Ben Burkett at center, Neil Dieters at right guard and Patrick Ward at right tackle. Don't be surprised if this is the starting line entering the fall, as Ward, the team's top recruit in 2009, has been impressive. The most competitive position battle takes place at right guard between the 6-foot-8 Dieters and junior Doug Bartels.
Fields took all of the reps with the first-team offense and had a few nice runs, while Stephen Simmons and Scott Concannon worked with the second team. Sophomore Tyris Jones also got quite a few reps at running back.