January, 25, 2012
1/25/12
6:00
PM ET
We noted earlier that Wisconsin had filled an opening on its staff by hiring former Nevada defensive coordinator
Andy Buh as linebackers coach
. Turns out the Badgers weren't done announcing coaching moves on Wednesday.
Head coach Bret Bielema is promoting from within to fill another vacancy. Ben Strickland, a graduate assistant on staff, moves up to coach the secondary and will also be involved with special teams. He takes over for DeMontie Cross, who left for Kansas.
"Since I arrived in Madison I've been impressed with Ben, first as a player and team captain, then as a high school coach and for the last three years as a member of our staff," Bielema said in a statement from the school. "I have watched him grow personally and professionally. He exhibits great leadership and is a tremendous teacher. Our kids really respond to him. I'm thrilled to be able to give Ben his first opportunity at a full-time job."
Strickland spent the last two seasons as a graduate assistant working with the defense. He played for the Badgers, where he initially walked on before being elected team captain as a senior in 2007. A defensive back and special teams player, he had 72 career and an interception. He blocked and recovered a punt in the 2007 Capital One Bowl and recovered a blocked punt in the end zone to cap a dramatic comeback win at Minnesota in 2005.
"When Coach Bielema presented this opportunity to me I was very humbled by it," Strickland said in a release. "To be able to play for my home state school, a school I loved growing up, get my start in coaching here and then bring it full circle and be hired on full-time is a dream come true for me. It's something I feel very fortunate about and something I have worked hard for. I'm going to continue to work hard and do what's best for the program and what's best for these kids."
Strickland is the fifth new full-time assistant coach the Badgers have hired since the Rose Bowl. They still have one opening left for a tight ends coach.
January, 19, 2012
1/19/12
1:00
PM ET
When Wisconsin offensive coordinator
Matt Canada met with reporters Wednesday
, he didn't mask his excitement about his new gig.
"This isn't recruiting talk," Canada told reporters. "This is a place -- you can call my best friends, you can call anybody you want -- I wanted to be."
[+] Enlarge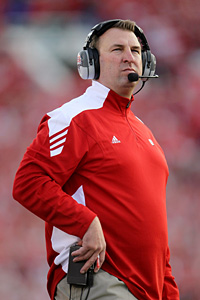 Jeff Gross/Getty ImagesWisconsin coach Bret Bielema will try to win a third straight Big Ten title in 2012 with a new-look coaching staff.
That's good news for the Badgers, especially since some are questioning how appealing it is to work for Wisconsin right now.
DeMontie Cross on Thursday became the sixth assistant coach from Bret Bielema's staff to leave Wisconsin in the past few weeks. Cross, who spent the 2011 season as Wisconsin's safeties coach/special teams coordinator, is leaving to coach linebackers on Charlie Weis' staff at Kansas.
What should we make of all the coaching departures from Madison?
When viewed individually, most if not all the departures make sense. Offensive coordinator Paul Chryst left for a head-coaching job (Pitt). Offensive line coach Bob Bostad and linebackers coach Dave Huxtable left to become coordinators for Chryst. Tight ends coach Joe Rudolph became Chryst's assistant head coach and returns to his native Pennsylvania. Wide receivers coach DelVaughn Alexander made a lateral move to Arizona State, but he's a Los Angeles native who spent much of his career on the West Coast.
Cross is leaving to coach a position (linebacker) he oversaw from 2007-10 with the NFL's Buffalo Bills. He's a St. Louis native who played at Missouri, so he'll be closer to home at KU. He also has been a bit of a job-hopper lately, spending a few weeks on Purdue's staff last winter before taking the Wisconsin job.
So you can make good cases why each coach left Wisconsin. But the entirety of it -- six coaches leaving a team that has won back-to-back Big Ten titles and reached back-to-back Rose Bowls -- is highly unusual.
Usually when six coaches are departing a staff in the same year, the head coach is part of the group. Bielema, meanwhile, is extremely secure in Madison, having built Wisconsin into a new Big Ten power.
Assistants typically want stability (i.e. Penn State) and would rather remain with a proven winner.
Bielema has hired two offensive assistants (Canada and receivers coach Zach Azzanni) and reportedly has found Huxtable's replacement (Nevada's Andy Buh). He now needs to add three more assistants to his 2012 staff.
Although coaches like to see their assistants succeed elsewhere, they also value continuity, which usually translates into success. Penn State and Iowa have had few changes until this year, and Mark Dantonio has kept his staff together for the most part at Michigan State.
Bielema might just be unlucky to lose so many assistants at once, but so much staff turnover often has consequences, at least in the short term. As Bielema continues to interview assistants, he needs to look for guys who can coach, who can recruit and who want to be in Madison for a little while.
June, 20, 2011
6/20/11
4:30
PM ET
Wisconsin's Aaron Henry is by no means a wallflower. The affable Floridian was one of the media stars of Rose Bowl week last season and an enthusiastic interview subject.
It just so happened that Henry played safety last year next to Jay Valai. Rush Limbaugh might seem quiet in the same room as Valai. But now that Valai has used up his eligibility, it's time for Henry's voice to be heard more.
[+] Enlarge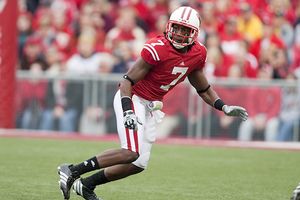 David Stluka/Icon SMIWisconsin safety Aaron Henry wants to "challenge" his teammates.
"I could tell a little difference in the spring without Jay, because he's one of those guys that will talk you ear off," Henry said last week. "He talks so much that I didn't have to be as vocal. I'll have to be a little more vocal this year. I'm definitely ready to step up to the plate and challenge my teammates."
The Badgers lost several good, respected leaders last year, including Valai, defensive end J.J. Watt, offensive linemen Gabe Carimi and John Moffitt and quarterback
Scott Tolzien
. They need new leaders to emerge, and Henry is ready to assume that role in the secondary.
He has already earned respect on the field. After switching from cornerback to free safety in 2010, he earned second-team All-Big Ten honors.
This is the time of year when leaders really start to make their presence felt, as the players are mostly on their own during summer voluntary workouts. Henry said that's where last year's Rose Bowl team experienced some of its best growth.
"This time is crucial," he said. "People tend to forget that this is where we do a lot of team bonding, and where team chemistry comes in. Everybody put in the work last year -- that was guaranteed. As far as chemistry goes, guys were really clicking on and off the field. When you're close with a guy, you'll really be willing to stick up for him when the going gets tough."
This summer, Henry said he's helping organize film sessions for the younger defensive backs. It's not all work, though. Players have spent time together at Bible study, going bowling and hanging out on the lake. Receiver
Nick Toon
has use of a speedboat owned by his father, former NFL star Al Toon, and has invited teammates out on the water. Henry said he also went fishing with long snapper Kyle Wojta one day.
"Guys are doing a good job of getting out of their comfort zone and hanging out with people they usually don't hang out with," he said.
Wisconsin lost veteran cornerback Niles Brinkley along with Valai from last year's secondary. Devin Smith showed some playmaking ability at corner this spring, and All-Big Ten performer Antonio Fenelus is back for his senior season. Several other defensive backs have at least some game experience.
There might be more pressure on that secondary, since Watt won't be around to harass quarterbacks into hurried throws this year.
"I had the year I had because J.J. made my job so much easier," Henry said. "We have guys who can pick up that slack, but those are huge shoes to fill."
Chris Ash, who coached the secondary last year, is now the defensive coordinator. He'll also work with the cornerbacks, while new assistant DeMontie Cross coaches the safeties. Henry says Cross has brought an aggressive attitude to the Badgers.
"We're tough-nosed guys who will put our pads on you," Henry said. "A lot of people will know about the Wisconsin safeties. They'll know we're tough son-of-guns who will hit you in the mouth on every play."
And they'll know that Aaron Henry will be doing most of the group's talking.
April, 12, 2011
4/12/11
10:00
AM ET
This week, I finally had the chance to catch up with the man who will be in charge of Wisconsin's defense in 2011. Chris Ash has spent only one year on the Badgers' staff, but his work with the defensive backs last fall helped him land the coordinator spot after Dave Doeren left for Northern Illinois. Wisconsin's secondary made significant strides in 2010 under Ash, recording eight interceptions and two pick sixes.

Here are Ash's thoughts about the Badgers' D:

What has it been liking making the transition to the coordinator post this spring?

Chris Ash: It's been a lot of fun, a great learning experience. I've wanted to be in this position for my whole coaching career, and I've worked hard to make myself ready once I got the opportunity. Hopefully, I had some good thoughts and ideas on how I wanted to do things if the opportunity presented itself. With the new guys on staff, Dave Huxtable coming from Central Florida and DeMontie Cross coming from the Buffalo Bills, they've got great experience. It's been great this offseason with those guys.

What has been the biggest adjustment so far?

CA: In the meeting room, the biggest change is just having the final say. Everybody's got great ideas, we all come from similar backgrounds and we see things the same, but we also see things differently. And when we see things differently, somebody's got to have the final say. And that responsibility's mine right now. To make those decisions has been different.

The biggest change at practice is when we've got non-scripted, 11-on-11, move-the-ball situations, as a position coach, I'm so used to getting out there and coaching the DBs after every play: good, bad, corrections, whatever. And as the coordinator, I can't necessarily do that because I've got to worry about the next call. So I find myself at times running out there to correct somebody, when in fact I should be back worrying about the personnel and the situation and the next call.

How did you react when Bret [Bielema] told you that you would be moving into this role?

CA: The first reaction is being excited. I'm humbled that he would even consider me for such a position. There are a lot of people around the country who are probably better coaches and have more experience than me who would like to be in this situation. When he did come to me and say, 'Hey, I'd like to make you the defensive coordinator,' I was humbled and eager to get ready.

How would you describe your philosophy for the defense?

CA: Dave [Doeren] and I came up in this profession together. We were both coaching at Drake University at the same time, learned a lot of the same things we both believed in, so we have a lot of similarities. Things that might be different, just the way we adjust to formations, the way we adjust to shifts and trades might be slightly different. If there's something I've done in my background, if I'm going to call it, I've got to be comfortable with it and I want to do it like this. Philosophically and schematically, there's a lot of similarities, but there are some subtle changes that people may see.

What are the values you're trying to get across right now this spring?

CA: We want to build an identity. When people see us on film, what do we want them to see? It doesn't matter about the front, the coverage, the blitz that we call. There are a few core things we want to see on tape. We want to see our guys playing hard and with great effort. If we play as hard or harder than anybody else, we're going to have a chance to win regardless of the call. We talk about playing with great fundamentals, better than what our opponent has. We talk about being tough. If you can play this game with toughness and be violent and get off blocks, you give yourselves a chance. And the last thing we talk about is just the consistency with which we do our responsibilities. The more we're in the right spots, the tougher we're going to be to beat and if we make ourselves hard to beat, we're going to win a lot of games. As long as we turn on the film and we see those four things, we'll give ourselves a chance to win.

How has it been looking for leadership this spring?

CA: The good thing here is you recruit well, and you're going to lose players, whether by graduation or leaving early to the NFL with a guy like J.J. Watt. But if you're recruiting well, it's really the next-man-in mentality. We have a lot of guys who have played here, whether it's one years or two years or whatever, who have taken the next-man-in [mindset]. It's been really nice to see guys come out of their shell because it's their time to shine.

Who are some of those guys?

CA: Guys like Aaron Henry. He's been a natural leader, but being moved to safety [from cornerback] last year, he was still unsure of himself on the field. Now he's found a position, he's played well, he's been very productive on the field, and it's time for him to be a leader, not only in the secondary but on the defense. Some of the guys up front, Jordan Kohout, Pat Butrym, guys who have played a lot are really starting to provide a lot of leadership. Those are guys who have been around for several years who are doing some good things.

J.J. did so many things for you guys last year. Who steps in to fill in there?

CA: You can't ever replace a guy like J.J. Watt. He was such a talented individual, played the game so hard and with great passion. It's really replacing his production by committee. We're not asking one guy to step in and be him at end. Guys who played last year, like Butrym, Kohout, Beau Allen, Louis Nzegwu and [David] Gilbert will up their production, and that increased production from all those individuals will give us something close to what J.J. gave us.

What's the outlook like at linebacker, especially with Chris Borland coming off of injury?

CA: We're going without Chris this spring. He's been out after shoulder surgery. Guys are in there right now, Mike Taylor and Kevin Claxton, two guys who played for us a year ago, are really having nice springs. At our middle linebacker position, Chris Borland and Ethan Armstrong, guys who were slated to be our first- and second-team players, are out with surgeries from last year. We've got a guy, Marcus Trotter, who was a redshirt for us last year on scout team, running with the first team. You talk about one of the most improved players on our football team. We had no idea what we'd get out of a redshirt freshman. He's making mistakes, but he's flying around out there, playing the game hard and having fun doing it and doing way more than we thought we'd get out of a redshirt freshman.

But once we get Chris back, he's a great playmaker. He's physical, he's tough, he plays hard. He's going to bring a big boost to our defense.

Who else has taken on a bigger role with the defense this spring?

CA: At our corner position, we've got two guys back who played for us a lot last year, Antonio Fenelus, Devin Smith, who was our starting nickel, those two guys we kind of take them for granted. They're there, they're consistent, they quietly go about their work and they work hard to compete every day. They're leaders by example.

What was the biggest key to the improvement you made in the secondary last year?

CA: It's the same kind of message I'm trying to preach to the defense. We've got to compete every single day. At Wisconsin, we're not getting four-, five-star recruits. We're getting the hard-hat, workman type guys, and we've got to compete every single day. Last year, the DBs did that. They got better as the season went along because they competed in practice. That's what we're trying to do with the whole unit.

They were in the right spots and were able to take advantage of offensive mistakes. You talk about getting takeaways and producing plays, it's not so much that you made a play, but you were in the right spot and you took advantage of an offensive mistake. The ball was thrown a little high, a little to the left or right, a receiver doesn't catch the ball and it bounces off his hands or shoulder pads. Who's going to make those plays? It's guys who are in the right spot and hustling to the ball. That's what we got in the secondary last year.

How do you stress that competitiveness right now?

CA: Last year, we had some success, winning the Big Ten and having a chance to go to the Rose Bowl. The biggest thing is, are guys satisfied or are they hungry? I think we've got guys that are hungry. They've tasted that success. They want to maintain that high level, and the only way you're going to be able to do it is continue to improve.

We talk every single day that you either get better or you get worse, nobody ever stays the same. We can't afford to walk off the practice field and feel we got worse because we didn't compete. We're not trying to compare any individual to another individual or ourselves to any other team. We're trying to get better every day as individuals and if we do that, collectively our defense will get better. Our guys are really buying into that so far.
March, 22, 2011
3/22/11
9:00
AM ET
The
Wisconsin Badgers
hit the practice field Tuesday afternoon for the first of 15 spring workouts.
Here's a snapshot of the defending Big Ten co-champs as they enter spring ball:

The big story:
Replacing star players. No Big Ten team loses more individual standouts than the Badgers, who say goodbye to four All-Americans as well as Johnny Unitas Golden Arm award winner
Scott Tolzien
. Wisconsin should to have enough coming back to survive losses at running back, offensive line and tight end, but the team really will miss superstar defensive end J.J. Watt and Tolzien, the archetypal Wisconsin quarterback who provided consistency in the pass game. Ohio State has dominated the Big Ten because of its ability to reload. Has Wisconsin reached a point in its program where it can do the same?
Position in the spotlight:
Quarterback and defensive end both will be closely monitored.
Jon Budmayr
, who backed up Tolzien last season, will have every opportunity to distinguish himself as Wisconsin's top quarterback this spring.
Curt Phillips
is still recovering from knee surgery and will be limited to individual drills. Returning starter Louis Nzegwu and veteran reserve David Gilbert are the top two options at defensive end, but several young players will get a close look this spring, including sophomore Pat Muldoon.
Coaching changes:
Defensive coordinator Dave Doeren left to become head coach at Northern Illinois, and secondary coach Chris Ash was promoted as his replacement. Defensive line coach Charlie Partridge will share the coordinator title, but Ash is running the show. Central Florida defensive coordinator Dave Huxtable joins the staff to coach linebackers, a group Doeren oversaw. Thomas Hammock is back in Madison to coach the team's running backs, replacing John Settle, who left for the Carolina Panthers. Wisconsin also added DeMontie Cross as safeties coach and special teams coordinator. He replaces nickelbacks coach Greg Jackson, who left for the NFL.
Keep an eye on:
Beau Allen. Defensive tackle could be a position of strength for Wisconsin, and Allen adds depth after appearing in 12 games as a true freshman last season. At 6-foot-3 and 325 pounds, Allen could be a force in the interior line.
Spring game:
April 23
February, 23, 2011
2/23/11
8:57
PM ET
For the second time in a week, Wisconsin coach Bret Bielema has raided the staff of another league member for an assistant. And the Big Ten's incredible offseason trend of assistants
switching jobs within the conference
continues.
Wisconsin has hired Minnesota running backs coach Thomas Hammock for the same position. Hammock replaces John Settle, who recently left to coach running backs for the NFL's Carolina Panthers.
Earlier this week, Bielema hired Purdue assistant DeMontie Cross, a move that
didn't sit well with Boilers coach Danny Hope
.
"Much like the hiring of DeMontie Cross, Thomas is a coach that I have watched grow and am excited to finally have as a part of our staff," Bielema said in a prepared statement. "I first met Thomas when I was the defensive coordinator at Wisconsin eight years ago and I have been impressed with his coaching ability and work ethic ever since. He has worked his way up in the coaching ranks, and is a great addition to our coaching staff. He will help us in all three phases that are important to us, recruiting the right players for Wisconsin, developing players on the field and molding them into successful young men off the field."
Hammock served as a graduate assistant at Wisconsin from 2003-04 before returning to his alma mater, Northern Illinois, to coach running backs. He mentored NIU star Garrett Wolfe before joining Tim Brewster's staff at Minnesota. Hammock was the only assistant coach from Brewster's staff whom Jerry Kill retained when he took the Gophers' top job.
Kill announced Wednesday night that Brian Anderson, a defensive quality control assistant, has been promoted to fill Hammock's role. Anderson served as Kill's tight ends coach at Northern Illinois for the past three seasons.
"This is a situation where the stability in our staff hurt us a bit," Kill said in a prepared statement. "This had nothing to do with money. It had to do with advancement in his career. Thomas felt that the stability of our coordinator situation meant that the opportunity to advance from running backs coach to offensive coordinator would come quicker at Wisconsin than it would here. I appreciate what Thomas has done for us in the transition and I wish him the best."
Some interesting words from Kill on Hammock's career path. Hammock served as Minnesota's co-offensive coordinator in 2010 and took on more play-calling duties after Brewster was fired midseason. Kill brought in his own offensive coordinator, Matt Limegrover, from Northern Illinois.
Perhaps Hammock sees a future coordinator opportunity at Wisconsin, where Paul Chryst is a hot commodity.
Hammock is good position coach who knows the Midwest and should help Wisconsin's regional recruiting efforts. He inherits two excellent running backs in James White and Montee Ball and returns to a program that thrives on producing elite ball-carriers in a power offense.
Anderson has served on Kill's staff for the past 10 seasons.
"He'll step right in and be ready to go," Kill said in a statement. "Brian had every right to be upset with me when I took this job and asked him to take an off-the-field position here. But he swallowed it up for the team. I told him if he came here and something like this happened, then I don't have to worry about the transition. That shows what kind of team player Brian is."
What a wild offseason for Big Ten assistant changes.
February, 22, 2011
2/22/11
12:00
PM ET
She had a nice face, her booty was in place, but Barney don't chase.
February, 18, 2011
2/18/11
9:10
AM ET
The
intra-conference job hopping
just keeps on going in the Big Ten.
Purdue's DeMontie Cross is the latest assistant to leave one Big Ten program for another just weeks after arriving. Cross, hired Jan. 25 as Purdue's linebackers coach after five seasons with the NFL's Buffalo Bills, is leaving to take a position with Wisconsin.
The Badgers have a vacancy on their defensive coaching staff after
nickelbacks coach Greg Jackson left for a position
with the San Francisco 49ers.
"There has been a tremendous amount of turnover in college coaching this year, and we are seeing what I consider an unprecedented number of coaches accept a job and leave soon after for another one," Purdue coach Danny Hope said in a prepared statement. "DeMontie wasn't here long enough to make a difference, and we will get to work immediately on finding someone who will. Great groundwork has already been laid in the hiring process, and we will continue our search for the right coach."
Wow. I'll give Hope credit: He never holds back, even in prepared statements. He clearly isn't thrilled about losing a coach he hired less than a month ago.
Cross is the second Purdue assistant to leave for another school within the Big Ten, as Mark Hagen went to join Kevin Wilson's staff at Indiana. The difference is Hagen spent 11 seasons at Purdue before making the move.
Wilson can sympathize
with Hope as he lost four assistants shorty after hiring them, two to other Big Ten schools (Jerry Montgomery to Michigan, Corey Raymond to Nebraska).
It's really amazing how many assistants have made moves within the league in one offseason. Although I doubt we'll see such a swell next year, this is a trend I'll continue to monitor.
Wisconsin and Purdue both have one assistant coach vacancy to fill on their staffs.
January, 25, 2011
1/25/11
1:00
PM ET
Purdue's coaching staff for 2011 appears set as the team on Tuesday announced the hiring of DeMontie Cross as linebackers coach.
Cross spent the past five seasons with the Buffalo Bills, serving as assistant linebackers coach from 2006-09 and inside linebackers coach in 2010. He replaces Mark Hagen, who left last month to join Indiana's staff.
"He has coached linebackers at the highest levels of football, both professionally and collegiately," Purdue coach Danny Hope said in a prepared statement. "He also has secondary experience and, with pass defense, it's a real shot in the arm to have someone who has worked with both areas. DeMontie is a high-energy coach with a passion for the game. We have some very talented linebackers returning for the 2011 season, and I know they will enjoy getting to know him and working with him going forward."
Donn Landholm, demoted from his defensive coordinator post after the season, will assist Cross with the outside linebackers and take on additional recruiting responsibilities, according to a news release. Gary Emanuel will serve as Purdue's sole defensive coordinator while continuing to work with the defensive line.
Cross, an All-Big 12 safety at Missouri, brings a good deal of experience coaching linebackers to Purdue. He spent five seasons as outside linebackers coach at Iowa State and tutored several Big Ten products with the Bills, including former Penn State star Paul Posluszny and former Purdue defensive end Akin Ayodele.
Cross inherits a group that loses Jason Werner but brings back some experienced options (Joe Holland, Dwayne Beckford, Chris Carlino) as well as promising freshman Will Lucas.
BIG TEN SCOREBOARD
Saturday, 12/27
Saturday, 12/20
Monday, 12/22
Tuesday, 12/23
Wednesday, 12/24
Friday, 12/26
Monday, 12/29
Tuesday, 12/30
Wednesday, 12/31
Thursday, 1/1
Friday, 1/2
Saturday, 1/3
Sunday, 1/4
Monday, 1/12
Tweets from https://twitter.com/ESPNCFB/lists/b1g