September, 20, 2011
9/20/11
3:00
PM ET
Archrivals Ohio State and Michigan can agree on this: neither program wants Dennis Talbott around.
You might remember Talbott from the
"Outside the Lines" report in June
that detailed his relationship with former Ohio State quarterback Terrelle Pryor. A former friend of Pryor's told OTL that Talbott repeatedly paid Pryor for autographed memorabilia items, a claim Talbott denied.
Talbott also is a freelance photographer who took pictures at Ohio State games until the school revoked his credentials.
No longer able to work at The Shoe, Talbott made his way to the Big House. He obtained a credential for Michigan's season opener Sept. 3 against Western Michigan and shot pictures from the sideline.
Michigan on Tuesday banned Talbott
from working future games and said his approach to gaining a sideline credential was shady. The outlet for which Talbott worked, This Week in Football, also had its credentials revoked.
"I actually spoke to him and told him he would no longer be credentialed," Dave Ablauf, Michigan senior associate athletic director for media and public relations, told ESPN.com. "He came in under a different name than what we were familiar with. Had the name I knew popped up, I wouldn't have credentialed him."
Ablauf added that he "felt we were deceived" by Talbott.
Other Big Ten schools likely will take notice. In times such as these, you can't take any chances.
As for Talbott's photography pursuits? Hey, there's always the MAC.
June, 21, 2011
6/21/11
10:29
AM ET
There's good news for the embattled Ohio State football program Tuesday as the state's Bureau of Motor Vehicles has found
no evidence Buckeyes football players or their families received improper deals on cars
.
The car issue surfaced after allegations that two Columbus-area car dealerships had sold cars to Ohio State players and their families at special rates. The NCAA recently launched a separate investigation into former Buckeyes quarterback Terrelle Pryor and his car usage while at Ohio State.
The BMV's 65-page report issued Tuesday said the certificates of titles for cars sold by Jack Maxton Chevrolet and Auto Direct to players and families accurately reflected the vehicles' sales prices.
This takes some of the heat off of Ohio State's compliance department, which had been questioned in how closely it monitored car deals.
As I've written for weeks, the car sales issue isn't Ohio State's biggest problem. Given the gray area around used cars and sales prices, it's difficult to prove NCAA violations occurred. Still, the BMV's report bodes well for Ohio State at its upcoming hearing before the NCAA's Committee on Infractions.
The allegations of memorabilia sales among players are potentially much more damaging for Ohio State. Individuals such as Edward Rife and Dennis Talbott are likely more significant than Aaron Kniffin in the NCAA's investigation of the program.
The school must prove memorabilia sales are not a systematic problem; that the seemingly hurried December investigation into sales involving Rife and players was sufficient; and that enough was done to educate and monitor the players in this area.
June, 13, 2011
6/13/11
11:15
AM ET
Maybe somewhere, Jim Tressel is spending some time alone with the NCAA rules manual.
But the disgraced former Ohio State coach
opted not to attend
a rules-compliance seminar in Tampa, Fla., last week that was supposed to be a part of his school-imposed punishment for lying about his knowledge of NCAA violations, the Columbus Dispatch reported.
Of course, now that he has resigned from his position as Buckeyes coach, Tressel didn't need to be at the seminar. While it may have helped his cause to show up at the seminar if he wants to land another college job in the future, the attention and potential media frenzy that would have followed him there probably didn't make it worthwhile for anyone. Interestingly enough, former Michigan coach Rich Rodriguez did attend the seminar.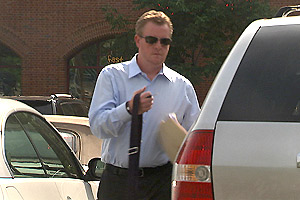 ESPNDennis Talbott reportedly bragged about paying rent for a wide receiver on the 2003 championship team.
Perhaps someone from Ohio State should have forced Dennis Talbott to attend a rules seminar. Colleague Mike Fish has
an investigative piece on ESPN.com
looking at the Columbus businessman/photographer and his relationship with Buckeyes players, including
Terrelle Pryor
. Among the story's more interesting findings:
Talbott brought Pryor and another Buckeyes player to his son's birthday party two years in a row. (Linebacker Thaddeus Gibson was there the first year, while receiver DeVier Posey came the other time.) "We all thought it was crazy," one partygoer told Fish. "It was a Saturday night, and I remember sitting there watching them watch the SEC championship game [on TV]."
Talbott drove around town in a Buckeyes-themed van with the vanity license plate "TPRYOR."
Talbott's relatives told Fish that he wore the national championship ring of a Buckeyes running back and openly bragged about paying rent for a wide receiver on the 2003 championship team.
Talbott owes more than $278,000 to the IRS and nearly $75,000 in unpaid Ohio taxes.
ESPN has reported that the owner of a private golf club warned Ohio State that Talbott was bringing Buckeyes including Pryor to play expensive rounds at the club. The Cleveland Plain Dealer reported that Tressel was sent an email in 2007 warning of memorabilia sales by Talbott. The fact that Talbott was still given a media credential and access to the field during Buckeyes games is something that may very well come back to haunt the program when the NCAA sinks its teeth into this whole mess.
If nothing else, the Talbott situation might make an illustrative example at the next NCAA rules seminar.
June, 8, 2011
6/08/11
10:00
AM ET
Jim Tressel and
Terrelle Pryor
both are gone from Ohio State, but the problems facing the program only seem to be getting worse.
The latest potential bombshell comes from ESPN colleagues Tom Farrey and Justine Gubar, who report on "Outside the Lines" that Pryor
made thousands of dollars autographing memorabilia items
, according to a former friend who said he witnessed the transactions.
The new name to know is Dennis Talbott, a Columbus businessman and a freelance sports photographer. Pryor's former friend says Talbott paid Pryor $500 to $1,000 each time the quarterback signed memorabilia. The two allegedly conducted 35 to 40 transactions in 2009-10.
Talbott denies he ever paid Pryor or other Ohio State players for signed memorabilia. He declined to comment whether he has operated a sports memorabilia business and denied that he's an Ohio State booster.
From the "OTL" report:
[Pryor's former friend] said Pryor would get the merchandise to sign from Talbott, who would "bring it to TP, and he would sign it and he would bring him cash. Dennis would give him cash." He said he witnessed the transactions occur about three to four times a week at Pryor's apartment. ...
Pryor may not have been the first active Buckeye player to collect cash for signatures from Talbott. The parent of one former Ohio State player told "Outside the Lines" that he saw Talbott provide what he called "stacks of money" to active Buckeye players, including a player now in the NFL.
Pryor's former friend said he was wary of Talbott: "He's the type of person that ... I think he really took advantage over TP because he was that person, and he would bring him, he would bring TP like memorabilia to sell for other people. So Dennis is not a good guy for college athletes. That's the guy you really don't want to be around."
SportsByBrooks reported Tuesday night that
NCAA enforcement officials have notified Ohio State
of "dozens of payments Pryor received in past years from a Columbus sports memorabilia dealer."
The NCAA violations were discovered when the name of the local memorabilia dealer, Dennis Talbott, was seen on checks Pryor was depositing in his personal bank account.
If there's a paper trail, the NCAA will have the type of hard evidence needed to drop the hammer on Ohio State. And if Talbott is connected to other Buckeyes players in this way, Ohio State should brace itself for the worst.
The allegations about memorabilia sales are
by far Ohio State's biggest problem
. While the questions about loaner cars and used cars should be asked, the gray area surrounding car transactions makes it tough to prove any violations were committed.
With the memorabilia sales, there could be mounting evidence of a potential systematic problem at Ohio State. Here's the big question in my mind: When did this issue truly appear on the radar of Ohio State's compliance staffers and other athletic officials?
SportsByBrooks provides an important clue.
Midway through the 2010 football season, Talbott was ordered by Ohio State officials to completely disassociate himself from the program. That move by the OSU athletic administration may indicate that members of the school's athletic department knew of Pryor's activities involving Talbott long before the NCAA recently discovered the payment paper trail from Talbott to the former Buckeye quarterback.
The claim by Ohio State athletic director Gene Smith in December that memorabilia sales involving players was confined to the "Tat-5" and Edward Rife is tougher to believe by the day. There are too many legs to the memorabilia allegations for Ohio State to claim it had no knowledge.
The NCAA is looking into all of it, and most folks would be surprised if additional allegations aren't levied against Ohio State.
The school's Aug. 12 hearing before the NCAA's Committee on Infractions might be less about Tressel's cover-up and more about what could be a systematic problem of memorabilia sales among players.