April, 10, 2014
Apr 10
4:00
PM ET
Head coaches from the Big Ten East Division, along with a player from each team, addressed the media this afternoon on teleconferences. The
West Division players and coaches
spoke Wednesday.
Here's a closer look at the East:

INDIANA
Defense has been a lingering Indiana concern for years, but coach Kevin Wilson believes he's starting to see a change, thanks to new defensive coordinator Brian Knorr. The scheme hasn't changed radically, but the Hoosiers return 10 starters there -- and Wilson's seen a promising spring so far with an added focus on competition and communication: "They've for sure held their own on a daily basis -- and, in some ways, probably even better -- against the offense."
Wilson believes teams need to invest scholarships into the kicking game, but he thinks it's also too risky to offer recruits straight out of high school. If you look at the NCAA's top 25 kickers, Wilson estimated at least 15 started out as walk-ons. So he's hoping to find some walk-ons who are willing to work for a scholarship, rather than be granted one right away.
At 5-foot-7, Shane Wynn is the Hoosiers' leading returning receiver, and he's transitioning to playing the outside. It's been a little different for Wynn, who said he's had to watch more film as a result. He's reading the corners now, instead of the safeties, as just one example.

MARYLAND
Maryland coach Randy Edsall is confident in his offense and believes the Terrapins have enough options so that opponents can't focus on just one person. If defenses lock on to wideout Stefon Diggs, then quarterback C.J. Brown can take off running or receiver Deon Long can pick up some slack. "The No. 1 thing I do like," Edsall said, "is we can spread the field."
Maryland's staff has already started looking at film of Big Ten teams, so they know what to expect when the conference season begins. Edsall said he wants to at least get a feel for their personnel and what kind of schemes he'll face. He's also confident the Terps will be ready: "We fully expect to be able to compete when we get into the Big Ten this year."
Brown said one of the main reasons he committed to Maryland was the coach who recruited him at the time, former Terps assistant and current Penn State coach James Franklin. He's looking forward to squaring off against Franklin this season, and Edsall said there's no question he would like to develop a rivalry with the Nittany Lions.

MICHIGAN
The quarterback derby will continue, and Brady Hoke included all three of his options in the discussion heading into the offseason. The Wolverines coach did acknowledge, though, that Devin Gardner "probably would be" the starter if there was a game on the schedule this weekend. There isn't, so Shane Morris and Wilton Speight will continue to be in the conversation.
The first opponent on the schedule will always stir emotions for Michigan fans, but Hoke didn't attach any revenge or sentimentality to his reasons for wanting to take on Appalachian State in the opener this fall. "We needed a game," Hoke said. "I thought it would be a good game." Defensive end Frank Clark was certainly aware of the history between the programs, even though he was still years away from joining Michigan and getting a shot at making up for the upset loss in 2007 -- which he called "shocking" and "shows how hard those guys play."

MICHIGAN STATE
Michigan State is coming off a Rose Bowl victory, but coach Mark Dantonio and quarterback Connor Cook would prefer not to think about that any longer. Dantonio said they've talked a lot these last four months about not growing complacent, and Cook only echoed his coach. "A lot of people keep bringing up the Rose Bowl," Cook said. "But we're past that. We're focusing on the now."
The offensive line has made some big strides since January, at least according to Cook. He felt like he had no time in the pocket last spring and said the pass rush was getting to him every time. This spring? He doesn't feel rushed in the pocket, and he thinks that's pretty indicative of how far this line has come.
Jeremy Langford earned a lot of praise from Cook, who said the running back has become a much bigger part of the passing attack. "He's improved a lot with catching the ball," Cook said, complimenting Langford's versatility. "He's done so many different things for us."

OHIO STATE
There is still work to be done in addressing the most glaring weakness on the team last season, but Urban Meyer called Ohio State's pass defense "drastically improved" and will be watching closely for more signs of progress in Saturday's spring game. The Buckeyes will play a traditional game, but the emphasis will be on throwing the football and assessing the skill players on both offense and defense -- giving Meyer a chance to evaluate backup quarterback Cardale Jones in a live setting in addition to checking out the secondary.
Arguably the strongest part of last season's team is undergoing a transition without four senior starters, and the offensive line is somewhat of a concern for Meyer heading into the offseason. With guard Pat Elflein the only other player to have earned a first-team slot to play alongside junior Taylor Decker at this point, that competition is likely to spill over into preseason camp in August. Both tackle Darryl Baldwin and guard Antonio Underwood were praised for their work by defensive tackle Michael Bennett, and Billy Price and Jacoby Boren are dueling at center.

PENN STATE
Franklin said he knew exactly what he was getting into at Penn State, in terms of the current depth and sanctions. He and former coach Bill O'Brien worked together at Maryland, and he said the two had a lot of honest conversations about the current state of the Nittany Lions. The two have continued to talk since.
Derek Dowrey and Brian Gaia are both making transitions from defensive tackle to offensive guard, and Franklin said he has been pleased with their performances so far: "They're doing a good job for us -- and they have to. We're thin at that position."
Franklin said he feels especially comfortable with the talent at running back and defensive line. Middle linebacker Mike Hull was more specific about naming the players who impressed him, pointing to backup linebacker Gary Wooten and cornerback Da'Quan Davis. Hull said Wooten is always around the football and that Davis, who missed part of the spring with a hamstring injury, has come up with several interceptions.

RUTGERS
Another open competition at the most critical position on the field -- quarterback -- is still playing out at Rutgers, and coach Kyle Flood isn't ready to declare a winner in what would seem to be a wide-open battle. Flood indicated that Gary Nova, Mike Bimonte and Chris Laviano are all "really vying for that first-team job."
The change in conference affiliation has been welcomed with open arms by the Scarlet Knights, who can "feel the energy" as theypractice for their first season in the Big Ten. Defensive tackle Darius Hamilton said the team was already buzzing with excitement about the opportunity, and Flood called joining the league a "positive in every way." The move also presents the opportunity for a rivalry to develop with new divisional neighbor Penn State, with both Flood and Hamilton citing the proximity between the schools as a bonus.
April, 4, 2014
Apr 4
10:30
AM ET
STATE COLLEGE, Pa. -- There are several ways to combat the unique depth challenges Penn State faces with its reduced roster.
1. Upgrade recruiting:
If Penn State brings in more players who can make significant contributions early in their careers, it should have fewer gaping holes on the depth chart. Not surprisingly, James Franklin and his assistants are already succeeding here.
Penn State signed a top 25 recruiting class
in February, less a month after Franklin's hiring. The Nittany Lions already have 11 verbal commitments for the 2015 class, the most in the country, and six ESPN 300 prospects in the fold.
[+] Enlarge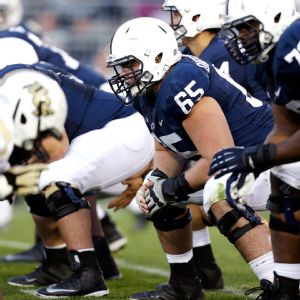 AP Photo/Gene J. PuskarLosing guard Miles Dieffenbach to a knee injury puts further stress on a Penn State offensive line that was thin to begin with.
2. Pray for good health:
Penn State's projected starters could yield good results in the fall. But the Lions can't afford many injuries because at many spots there's a sizable drop off between starter and backup. Although Penn State could get lucky here, veteran guard
Miles Dieffenbach
reportedly suffered a serious knee injury
last week. It's hard to imagine he'll be the only key Lion to go down. Just the nature of the game.
3. Maximize versatility:
If a smaller group of players fills a larger number of roles, teams can avoid major trouble spots. It's more of a patchwork solution, but Penn State's sanctions, while originally labeled catastrophic, appear to be a short-term challenge, especially with the way Franklin is recruiting.
As Franklin and his staff evaluate personnel this spring, they're looking for talent, but they're also looking for versatility.
"We as coaches have to be open-minded, and players have to be open-minded," said Charles Huff, PSU's running backs coach and special teams coordinator. "They've got to understand, 'I'm not just a linebacker, I'm not just a running back, I'm not just a wideout. I'm a football player. There may be times, whether it's by play, by game, by unit, that I'm asked to do some things that may not be under the umbrella of my given position.'
"And as coaches, we have to step out of the box with what we're comfortable with and do some things that fit the players better."
No position group at Penn State has greater depth issues than the offensive line. With Dieffenbach out, left tackle
Donovan Smith
is the only returning starter practicing this spring.
Angelo Mangiro
is the only other returning letterman who played offensive line in 2013.
There's a need for versatility up front, and
Derek Dowrey
and
Brian Gaia
, two converted defensive tackles who shifted to guard only two days before spring practice, both are in the mix for playing time.
"Sometimes it takes months or even a full year to really get it, and those guys for the most part have adapted pretty quickly," offensive coordinator John Donovan said. "It's one thing to learn a new system. It's another thing to learn a new side of the ball plus a new system."
Both Gaia and Dowrey have adjusted so well that Smith can't even tell that they played defense just months earlier.
"They've probably had a better spring than I have," Smith said.
Dowrey and Gaia could help Penn State put a decent starting five on the field this season. But Donovan would like three sets of linemen: the starters, the backups and the redshirts/developmental/emergency group.
Penn State won't have that luxury this season, so the coaches and players must get creative. Franklin recalls how one of his former Vanderbilt players,
Wesley Johnson
, started at all five offensive line spots during his career.
"We're going to have to have that here," Franklin said. "When you don't have a two-deep of scholarship players, you've got issues. I don't know if there's too many Division I programs that don't have at least a two-deep at every position. We don't. It is what it is. We're going to have to find ways to overcome it.
"It might be a situation almost like an NFL roster where you have your five starters and then your sixth man backs up every position."
Penn State's personnel situation is better on defense, but coordinator Bob Shoop and his staff still look for flexibility. Although
Deion Barnes
and
C.J. Olaniyan
have played defensive end throughout their careers, Shoop thinks both could play outside linebacker when the Lions switch from a 4-3 alignment to a 3-4.
Adrian Amos
already has started at both safety and cornerback for the Lions. While he's back at safety, he could help on the perimeter opposite
Jordan Lucas
if needed. Shoop has shown Amos film of how he used Vanderbilt defenders in multiple roles. They watched film on Wednesday of
Mark Barron
of the Tampa Bay Buccaneers working at both safety spots and as as linebacker in the dime package.
"He could definitely play corner," Shoop said of Amos. "He could play safety, he could be a nickel, he could be a dime for us. He and Jordan both provide a significant amount of flexibility."
Scholarship players who can play several positions is one way to combat depth issues. Another is the strong walk-on program that Franklin inherits at Penn State.
His PSU predecessor Bill O'Brien repeatedly emphasized the importance of non-scholarship players, whom he called run-ons. Penn State recently had a meeting for potential walk-ons and 160 students attended, according to Franklin.
"We could have given pizzas away at [Vanderbilt] and not had that many people show up," Franklin said. "We had seven guys playing for us who never played high school football. Here, we had really good numbers show up, really good quality."
The Lions coaches hope with versatile scholarship players and willing, capable walk-ons, they can win the numbers game this fall.
March, 17, 2014
Mar 17
4:30
PM ET
STATE COLLEGE, Pa. --
James Franklin
was prepared to deliver a persuasive talk on why defensive end
Anthony Zettel
should move inside. He was ready to tell him how valuable he would be; he was ready to sit him down and detail how defensive tackle was his calling.
[+] Enlarge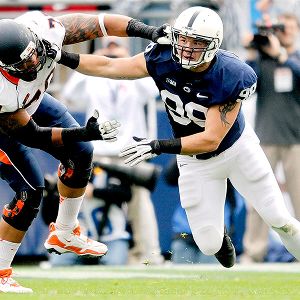 MCT via Getty ImagesAnthony Zettel finished second on the team in sacks with four in 2013.
But Franklin never even had a chance to finish his speech over the offseason.
Before Franklin's conclusion, as the two discussed a potential move, Zettel told him outright that he already wanted to move to defensive tackle. That was
his
plan.
"I learned a long time ago," Franklin said Monday with a smile, "once it's been sold, stop selling."
Franklin landed in Happy Valley on Jan. 11 and has tried his best to build up relationships before Monday's first spring practice. But, if he would have taken over the Nittany Lions in November, he would have realized how this move was a long time coming.
Zettel alternated between end and tackle throughout the 2013 season, giving the defense a critical sparkplug and finishing second on the team with four sacks. He played mostly defensive end since he weighed in at 258 pounds, but he wasn't shy about his preference for the interior.
Said Zettel in November: "I enjoy moving inside. I think the future for me is inside, maybe. I can play with lower pads, and I don't have to think as much. I enjoy getting banged around like that."
Penn State's new head coach didn't divulge exactly what was said during that offseason discussion. But Zettel clearly has wanted to move to defensive tackle for quite some time -- and Franklin clearly knew that was best for his team.
And if that wasn't clear last week, it certainly was during Franklin's news conference Monday afternoon. Franklin announced that two returning defensive tackles -- redshirt sophomores
Brian Gaia
and
Derek Dowrey
-- were moving to offensive guard.
That clears the way for Zettel to start at defensive tackle, alongside returning starter
Austin Johnson
. Franklin now has just five scholarship defensive tackles, and only Zettel and Johnson have any game experience.
"He's excited about doing it; he wants to do it," Franklin said. "He's really put on great size, tested extremely well -- but really excited about him at the three-technique and what he's going to be able to do at the position."
There is cause for some excitement with the move. In limited time last season, Zettel still finished with six tackles for loss and four sacks. And he flashed plenty of ability in 2012 when, during an 11-play span against Navy, he came away with six tackles and two sacks.
Franklin said Zettel, despite his weight nearing 280 pounds, still clocked in one of the fastest 40s on the defensive line. And both he and the staff knew Zettel would be better served at defensive tackle full-time, as opposed to last season when he saw time inside only during passing downs.
Once the staff saw tape of Zettel, it didn't take long for them to come to the same conclusion as Zettel.
"When you put on the film, that guy's a player," defensive coordinator Bob Shoop told ESPN.com. "He brings an intensity to us; he brings athletic ability. And a lot of things we do are movement-oriented, so he fits in really well."
January, 2, 2014
Jan 2
3:00
PM ET
Here's a compilation of Twitter reaction from current players, former players and recruits regarding Bill O'Brien's decision to coach the Houston Texans:
I love my 2014 class of PSU ....we have that brothers connection and we didn't even enroll to PSU yet

— Marcus Allen (@Chico_Ehhh) January 2, 2014
If it wasn't for Coach OB I probably wouldn't be playing football anymore, I wish him the best in the NFL.

— Devin Pryor #16 (@D_Pryor16) January 1, 2014
I just can't wait to figure out who my head coach is going to be next year #WeAre #WeAreAndAlwaysWillBe

— Charlie Shuman (@BigCShu71) January 1, 2014
We all we got! No reason to panic or jump ship! Doesn't matter the system nor the coach...players win games period

— Bill Belton (@W3BII) January 1, 2014
No matter what happens football games will be played and won by the Nittany Lions love all my brothers we will stick together #WeAre

— Hunter Crafford (@Craf_FordTough) January 1, 2014
Never worry about the things you can't control

— Malik Golden (@_goldenboy6) January 1, 2014
A man's gotta do what a man has GOT TO DO. It's life baby !

— Stephen Obeng-Agy... (@BigBENGTheory7) January 1, 2014
New Year, New Head Coach I suppose

— DaeSean Hamilton (@SkeeterMills__) January 1, 2014
Recruiting Class of 2014 #pennstate #weare I'm going stick by penn state side ! Regardless the new head coach I will be attending penn state

— MARK ALLEN (@theALLENshow) January 1, 2014
Bout to be the best year for me yet and bout to be the best year for Penn State #WeAre

— carter Henderson (@hendydo_42) January 1, 2014
I hope I have another chance to play under Coach O'B. I love the guy, I appreciate everything he's done for me. I couldn't be more thankful.

— Jesse James (@JJames18_) January 1, 2014
Good luck to Coach O'Brien and his family. Made a tremendous impact on my life and many others during his time at Penn State.

— Ty Howle (@THowle60) January 1, 2014
Best of luck to the O'Brien family and to the lucky man that gets to coach this prestige organization... I can't wait to meet you

— Troy Stivason (@teejaystives) January 1, 2014
To all of the Penn State family: Penn State is and will always be about more than any one man. WE ARE everything we have always been

— Derek Dowrey (@doubleDowrey) January 1, 2014
Coach O'Brien was a great mentor, coach and father figure but every coach has the aspirations to coach in the NFL. glad coach can chase his.

— Brian Gaia (@that_gaia) January 1, 2014
Gotta keep on movin forward people that's all we can do #yafeelme

— Austin Johnson (@AJohn15) January 1, 2014
One thing OB taught me is that this is a business, and u should do what's best for you.Texans are getting a good coach, I wish him the best

— Deion Barnes (@DBarnes_18) January 1, 2014
Its weird that I am one of the few penn state football players that will have 4 head coaches #mindblown #ohwell it's the business #NFL

— Matt Zanellato (@mzanellato) January 1, 2014
Coach O'brien is a great coach and great person! Proud to have called him my coach. It was his dream to coach in the NFL, best of luck. #PSU

— Mike Hull (@m_hull4943) January 1, 2014
I'll love Coach Obrien forever. He will always be apart of Penn State. One of the greatest men I've ever known. #PennStateForever

— Miles Dieffenbach (@Curiousjorge65) January 1, 2014
Fight on. We still are and forever will be.

— Garrett Sickels (@Sickels_90) January 1, 2014
Time to move on Penn State! We will find the right man for the job. BOB did plenty for us. Time for a true Blue and White bleeder! #WeAre

— OJ McDuffie (@ojmcduffie81) January 1, 2014
October, 14, 2013
10/14/13
4:30
PM ET
STATE COLLEGE, Pa. -- Bill O'Brien's gutsy decision to go for it Saturday on fourth-and-1 in the fourth overtime still has this town talking.
Punter
Alex Butterworth
tweeted Monday morning that everyone in his classes was still
chatting about the season-defining win
over Michigan. Defensive tackle
Derek Dowrey
said he was watching highlights in class -- and getting
"hyped all over again."
[+] Enlarge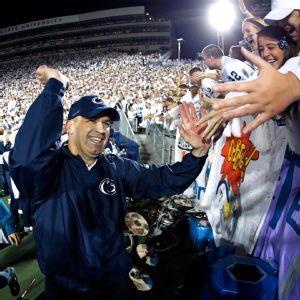 AP Photo/Gene J. PuskarNo coach in a BCS conference has gone for it on fouth down more since 2012 than Bill O'Brien.
Monday's conversations could have been markedly different had O'Brien decided to play it safe and instead try for the 33-yard field goal to force a fifth overtime. But there has been nothing safe about O'Brien's play-calling since he arrived in Happy Valley.
Since O'Brien took over, only two other coaches -- Air Force's Troy Calhoun and Army's Rich Ellerson -- have decided to go for it more often. Both coaches have left their kickers twiddling their thumbs on the sideline 57 times since the start of last season, while O'Brien has done it 51 times.
Penn State players were asked about all sorts of things Saturday night -- their surprise over the blocked field goal, their emotions after the game-winning TD, exactly when their shock gave way to joy -- but absent were any questions about whether they were surprised to see O'Brien march the offense out on the field in place of the field-goal unit.
No one asked because this was normal by O'Brien standards. There was no bewilderment from the players, the media or the fans. This was just Bill O'Brien. In fact, the head coach was thinking of gambling well before the game hit a Big Ten-record fourth OT.
He initially stuck two fingers in the air following
Christian Hackenberg
's improbable touchdown drive in the final minute of regulation. "I changed my mind and went with the PAT," he said.
So when that fourth-and-1 situation reared its head in overtime No. 4? When PSU found itself on the 16-yard line? When O'Brien had another chance to ditch the conservative play-calling? There was no question about what O'Brien wanted to do. He didn't hesitate.
"If you miss," one reporter told him, "you're going to get crucified by everybody."
"Of course I'm going to get crucified," O'Brien said, shrugging his shoulders. "That's part of the job. The thing is at that point in time, it was the fourth overtime and I felt like it was time for someone to win the game. We could sit here and keep trading field goals back and forth, but eventually it was time for someone to win the game -- and I had the opportunity to do it."
O'Brien, whose go-to play last season was the quarterback sneak, instead opted to call a handoff to his 205-pound tailback,
Bill Belton
. The junior didn't hit the hole right away, instead waiting for a block from his fullback -- pushing him forward with a left hand on his back -- and then diving forward for 3 yards.
"That was a heck of a run," O'Brien said.
It was a heck of a play-call, one that led to the game-winning score. But the decision was almost expected. O'Brien opted to go for it twice before in the game, including a curious first-quarter call when PSU found itself on its own 34. Against Indiana, PSU again kept kicker
Sam Ficken
on the sideline on a fourth-and-5 play from the IU 26. Pick out any random game, and you can find plenty of examples.
Conventional football knowledge dictates kicking the ball and, during Saturday's overtime, most coaches likely would've called upon their kicker for the 33-yard attempt -- especially considering Ficken hadn't missed a field goal under 40 yards since about 54 weeks ago. But there has been nothing conventional about these Nittany Lions ever since Jan. 7, 2012, when O'Brien became head coach and told a swarm of media, "I have a lot of confidence in my ability to lead us through what some say is a tough time."
He led Penn State to a tough win Saturday. And, although he was mostly reserved while fielding questions from reporters, he couldn't hide his emotions in the immediate aftermath of a 43-40 victory over Michigan. He jogged over to the student section, while fans leaned over the railing to pat his shoulder, arm, back, whatever they could get a hold of. He closed his eyes while thrusting his arms into the air.
At this rate, O'Brien will hit the century-mark for fourth down attempts by the final game of the 2014 season. He'll still be a gambler. But, out of all the fourth downs he has gone for or ever will go for, none might top this one.
"I've never been in a game like this," he said.
April, 17, 2013
4/17/13
2:30
PM ET
It's become something of a tradition of late for a Penn State defensive tackle to rise up and turn in a standout senior year.
That happened with Devon Still in 2011, when he won Big Ten defensive player of the year honors.
Jordan Hill
took the baton and ran with it in 2012. Could
DaQuan Jones
be next in line? As the only senior with any starting experience on the line, he fits the profile.
"I definitely think he has the potential to do that," defensive end
Deion Barnes
told ESPN.com. "He has a great opportunity this year. Even though he's got the target on his back, he can do it."
[+] Enlarge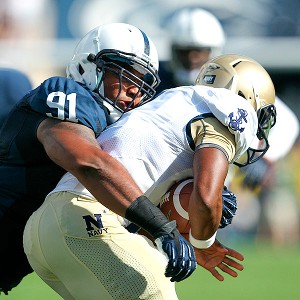 Vinny Carchietta/Icon SMIPenn State defensive tackle DaQuan Jones had 22 tackles and two tackles for loss last season.
At 6-foot-3 and 333 pounds, Jones sure looks like a guy who can throw his weight around in the middle of the line, even if he hasn't put up numbers to back that up. He had 22 tackles and only two tackles for loss last year, hardly Still or Hill type stats.
When asked to assess his first three years at Penn State, Jones said, "Decent. Average. I felt like I can do a lot more personally. I know I could have done a lot better."
Jones, though, says he's not focusing on his own improvement this spring as much as making sure he helps others around him get better. A trio of redshirt freshmen --
Austin Johnson
,
Derek Dowrey
and
Brian Gaia
-- are all vying to replace Hill at nose tackle this spring.
"I'll try to take the role and become the next guy," Jones said of following the Still and Hill tradition. "But at the same time, I'm not going to be as good as them if I don't have the support players. If I shine, I shine, and if I don't, I don't. I just want defensive line to do good, and I'm happy with that."
Barnes said Jones is "setting the bar for the younger guys" as a leader this spring.
"I like to watch film," Jones said. "Every day, twice a day. I'm just trying to get the young guys in there to watch film. Learning with each other what we have to do so that when we go on the field we don't make mistakes."
Jones has been dealing with a lower back issue that has limited his reps, and he says he's unsure if he'll play in Saturday's spring game. But he said he and the training staff are mostly being cautious with the injury, and that it's not something that should cause him problems this fall.
He played next to Hill last season and saw what Hill did on his way to All-Big Ten honors. Jones keeps in close contact with Hill, and watches film of him.
"We'll never have another Jordan Hill," he said. "I can't tell you I'll be another Jordan Hill. What he brought to the table was special, and he just did a lot of things other defensive tackles can't do. We're going to miss him a lot. But at the same time, I think we have guys who can step up and fill that role."
Maybe it will end up being Jones who fills that role. If so, he'll be carrying on a tradition.
"I'm going to be more of an aggressive player," he said. "Last year, I felt like I just trying to do my job and help out other D-line guys. This year, I'm going to try to be more aggressive and make big plays."
March, 18, 2013
3/18/13
9:00
AM ET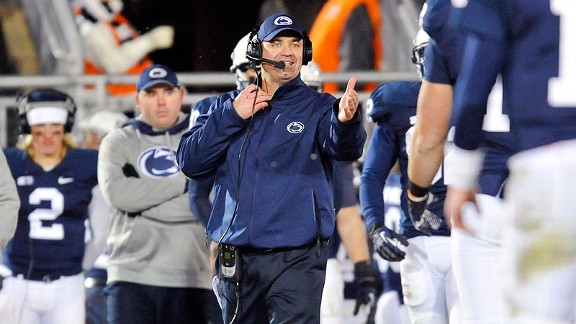 Randy Litzinger/Icon SMIBill O'Brien is excited about his team as he heads into his second season at Penn State.
The last time we saw Penn State, the Lions were celebrating a surprisingly strong finish to the 2012 season and saying farewell to a special senior class. Penn State since has turned the page and will begin spring practice Monday with a mix of familiarity and uncertainty. Bill O'Brien is not the "new coach" in Happy Valley anymore, and players have acclimated to O'Brien and his staff. But the Lions are looking for a starting quarterback for the second consecutive spring. They also must replace several outstanding defenders and fill holes on both lines. But the
depth crisis many of us envisioned
for the Lions when the NCAA sanctions came down last summer simply isn't there in State College.
ESPN.com caught up with O'Brien late last week to discuss spring ball.
What are some of the main objectives you're looking for when you get on the field again?
Bill O'Brien:
The No. 1 objective offensively is to make sure we come out of this spring practice with improvement from the quarterback position. We won't name a starter coming out of the spring, but at least at the end of 15 practices we'll have a good idea of how well these guys are grasping the system, Tyler Ferguson and
Steven Bench
. So that's a big deal for us offensively.
And defensively, some new guys will be in there, and seeing how those guys do, whether it's
Nyeem Wartman
at linebacker or
Jordan Lucas
at corner or some other guys who are going to be playing a little bit more next year, how much they improve. And then we'll work our special teams every single day, so hopefully we'll find some core special-teams players this spring.
What's your message to Steven and Tyler going into the spring? You're not naming the starter, but what do you want to see out of them?
BO'B:
[Thursday] I was talking to them, and I said, 'Look, I just want you guys to put your head down and go to work. Don't worry about what everybody else on the outside of the program thinks about your performance, whether it's in scrimmages or the Blue-White Game or whatever it is. Just try to get better every single day.' These are two really, really good kids. They're smart, they work hard at it, they're grasping it pretty well to this point. We're pretty excited about getting started with them. I don't want them to think about anything other than trying to improve and be as good a leader as they can be.
Will you have to change the offense for one or the other? Do they fit in with what you did last year?
BO'B:
We'll definitely be different. We'll be different in many ways. Matt [McGloin] had certain strengths we tried to play to, no question about it. Our system is expansive enough that you can have different parts in there to take advantage of the talents of the quarterbacks who are playing. So we'll be a different offense than we were last year.
Anything specific on what might change with these two quarterbacks or areas you can draw out more?
BO'B:
I'd rather not get into all of that, but I can tell you these are two guys who are big, they're strong, they're fast, they look to be accurate passers. We're just looking forward to working with them.