January, 2, 2014
Jan 2
12:15
AM ET
PASADENA, Calif. -- The advance billing for the 100th edition of the Rose Bowl Game presented by VIZIO played the Stanford-Michigan State matchup as a battle of shared football philosophies: two physical, line-of-scrimmage teams that run the ball and play to their stout defenses. In some ways, the media saw this as twin brothers going eyeball to eyeball for a potentially captivating barroom donnybrook.
The general feeling also was that Stanford was the more formidable brawler, mostly because it was more proven and battled tested, having emerged from the rugged Pac-12 as a BCS bowl participant four consecutive seasons.
Yet it was Michigan State that took control, made poised adjustments and imposed its will in a 24-20 victory. Stanford got, well, out-Stanford-ed. It's likely more than a few Pac-12 coaches, players and fans thought, "See … now you know what it feels like to get pushed around."
[+] Enlarge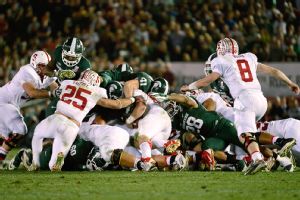 Kevork Djansezian/Getty ImagesStanford's Ryan Hewitt is stopped on fourth down by the Michigan State defense.
Stanford has now lost eight games over the past four years, but only a couple of times could you say its offensive line lost the battle at the point of attack.
"Push came to shove, we sort of started shoving back a little bit really," Michigan State coach Mark Dantonio said.
The Cardinal jumped out to early 10-0 and 17-7 leads, but the Spartans scored a touchdown just before the break, capping a 75-yard drive, and then dominated the second half. Stanford rushed for 162 yards, twice what the Spartans yielded this season, but 47 yards of that came on one play and the Cardinal had just 71 yards rushing on 27 carries over the final three quarters.
Stanford was 0-for-2 on fourth-and-short plays. Both times, it tried to run right at Michigan State and failed to get a decisive push, the most notable being fullback
Ryan Hewitt
getting stopped for no gain on fourth-and-2 at the Cardinal 34-yard line on its final possession.
There's no more straightforward measure of contesting teams' physicality than an up-the-middle run on fourth-and-short, and the Spartans won that battle. This was a point, by the way, Stanford's locker room repeatedly and graciously acknowledged.
"Fourth-and-1 is what we preach on, what we do, what Stanford football is all about," said running back
Tyler Gaffney
, who was stopped earlier on a fourth-and-3 run. "You have to give it to Michigan State for stuffing that because everybody in the building knew exactly what was coming -- a run was coming up the middle -- and it was a test of wills, and they got the better of us."
Stanford couldn't run the ball after the first quarter, and it had little intermediate passing game. The tight-end-centric passing attack of the previous three years was sorely missed. It had completions of 43 and 51 yards, but
Kevin Hogan
passed for only 143 total yards. The Spartans load the box and play man coverage with their outstanding cornerback combination, led by Thorpe award winner
Darqueze Dennard
, and dare you to consistently complete downfield passing plays.
"It's a nine-man front," Stanford coach David Shaw said. "There's a whole bunch of guys in there. There's a lot of slants and twists and pinches and sometimes [running back Tyler Gaffney] snuck out a couple, made a couple of great runs, and a couple of them he didn't have an opportunity. They're that good up front. But to beat a team like that, you've got to hit more than a couple deep balls, because it's one-on-one outside."
The Cardinal repeatedly faced second- and third-and-long, ending up just 4-of-13 on third downs.
As for Stanford's defense, it mostly shut down the Michigan State running game, holding the Spartans to just 65 yards, but it yielded 332 yards passing and two touchdowns to quarterback
Connor Cook
, who was sacked four times but mostly eluded an aggressive pass rush.
There certainly was some "what might have been" with Cook and the Stanford defense. Though
Kevin Anderson
's pick-six gave the Cardinal a 17-7 lead in the second quarter, two easy interceptions were dropped, including one by Anderson. Another interception was killed by a pass-interference call.
"Michigan State played their game and we tried to play ours," Stanford defensive coordinator Derek Mason said. "I give them all the credit. We didn't get off the field enough when we needed to. We had opportunities. Two missed picks. When you don't make those plays, those lead to scores. But we don't deal in 'What ifs.' We deal in reality."
The reality of the 100th Rose Bowl is that, in a battle of twin brothers in terms of physical football, Michigan State proved the more rugged brawler this night.
Stanford played its game. It went mano-a-mano with the Spartans, but it ended up getting counted out while the Big Ten champs celebrated their first Rose Bowl victory in 26 years.
December, 28, 2013
12/28/13
6:30
PM ET
LOS ANGELES -- When a team loses a three-year starter, a two-time All-Conference performer and a two-time team captain to a shocking suspension in advance of the Rose Bowl, as Michigan State did with linebacker
Max Bullough
, it matters. It matters big-time.
This is something that Michigan State and Stanford players agree on.
[+] Enlarge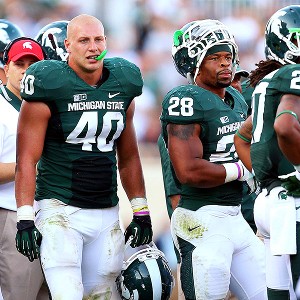 Mike Carter/USA TODAY Sports Michigan State's defense will have to find ways to replace the leadership of Max Bullough (40).
"You can tell he was a leader on defense by the way the team reacts to him," Cardinal fullback
Ryan Hewitt
said. "So you know they're going to be missing their leader, their smartest player on defense."
The Spartans led the nation in rushing and total defense, and Bullough was a big reason why. His 76 tackles and 9.5 tackles for a loss ranked third on the defense. His potential replacements, senior
Kyler Elsworth
and sophomore
Darien Harris
-- a starter hasn't been named -- combined for 17 tackles.
While the physical loss is big, it's perhaps more challenging to lose Bullough's smarts and leadership. Mental mistakes, even more than physical shortcomings, are often critical in defensive-minded, low-scoring games, as most expect the Rose Bowl to be.
"I think they'll probably miss his leadership," Stanford offensive coordinator Mike Bloomgren said. "I feel like he was probably the quarterback of their huddle, and in addition they will miss some of those checks at the line of scrimmage."
And that could provide Stanford with the opportunity for an explosive play.
STANFORD STYLE
: Bloomgren was asked about Stanford's style of play. In past years, Stanford players have talked about "class and cruelty." It appears they have a new colorful mantra.
"When I think about our offense," Bloomgren said. "I want it to be intellectual brutality."
In other words: It's about smart guys who run over their opponents.
Quarterback
Kevin Hogan
, who is not known for turning colorful phrases to the media, picked up this same theme without much prodding.
"I would say that no one can out-weigh our physicality, out-toughen us," he said. "That's our goal. We want teams to quit, we want them to tap out and say, 'If you do that one more time, I'm done.' That's our goal."
MOVING UP FROM THE IVY LEAGUE
: One of the popular topics this week is Stanford's rise to national football power as the preeminent academic university playing AQ conference football. Defensive coordinator Derek Mason pointed out that the Cardinal's recruiting pool is about "one percent" of the AQ-conference capable high school football players.
But recruiting has gotten easier than it was during the early Jim Harbaugh years. Fifth-year senior outside linebacker
Trent Murphy
said he didn't know anything about Stanford when it first started recruiting him out of Mesa, Ariz.
"I couldn't tell you what division Stanford was in," he said. "I thought it was an Ivy League school and played Harvard in a smart school bowl every year. My perception was skewed until Jim Harbaugh showed up at my door with a big grin on his face and a hungry look in his eye and he said, 'Here is what we want to do and we want you to be a part of it.' And I was like, 'Okay!'"
GOAL LINE STAND
? Stanford RB
Tyler Gaffney
has scored 18 of his 20 rushing touchdowns against eight or more defenders in the box, the most such touchdowns among AQ running backs. On average, 50 percent of rushing touchdowns are scored against defenses with eight or more defenders in the box.
Michigan State, meanwhile, has allowed just seven rushing touchdowns all year.
GETTING DEFENSIVE
: Michigan State and Stanford both rank in the top 10 in ESPN's defensive efficiency ratings. Michigan State leads the FBS in yards allowed per game (247.8), rush yards allowed per game (80.5) and third-down defense (28 percent). Entering bowl season, Stanford ranks atop the Pac-12 and among the top 15 nationally in each of those categories.
December, 31, 2012
12/31/12
2:00
PM ET
LOS ANGELES -- When he first got into coaching, Jim Harbaugh used to talk about conversations he had with his former Michigan coach, Bo Schembechler, regarding how he wanted to run an offense. How would he use the tight end, Schembechler would ask. Would he use double tights? Would the fullback and tight end work in conjunction? The answers were: A lot, yes and yes. It was vintage Big Ten thinking through and through.
True, the 2012 edition of Stanford that will take the field Tuesday against Wisconsin in the Rose Bowl Game presented by Vizio might have a healthy dusting of a classic Big Ten team; run the football, stop the run. In the offense-happy Pac-12, that breaks the mold a bit. But just because you want to run the ball and stop the run first and foremost doesn't mean you fall into into any stereotypical classification.
"That's just football," Wisconsin coach Barry Alvarez said. "I don't know if that's a traditional Big Ten team or not. To me, that's just how you play football."
Spoken like a veteran Big Ten coach.
[+] Enlarge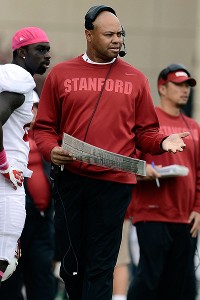 Ron Chenoy/US PresswireStanford coach David Shaw said the Cougars were one of the most physical team the Cardinal faced last year and he expects more of the same when they meet on Saturday.
The Cardinal play a brand of ball that does seem better suited for the Schembechler days than the modern spread, chuck-it-around game. But it works for them -- as evidenced by their third straight appearance in a BCS bowl game and 2012 Pac-12 championship. And that's all that matters.
"Growing up and watching a lot of Big Ten football, it's run the football, defend the run and do everything else after that," Stanford defensive end and Wisconsin native
Ben Gardner
said. "That's basically what we do. It's what we've done for the last few years. It's a little different now without Andrew Luck playing quarterback. But we still feel like we've got the playmakers on offense to have a passing game and add that dimension. The basis of what we do is run the football and stop the run and that's always what we do here.
"That's what makes this a great matchup because that's what Wisconsin does, too. And that's been the style of football in the Big Ten. Coming from the Midwest I love it. It's the kind of game I want to play and it's the kind of game our defense wants to play. We couldn't be more excited about it."
When Harbaugh and current Stanford head coach David Shaw left the University of San Diego for The Farm, they started mapping out what they wanted the team to look like. Not just in 2007, but in 2012, '13 and beyond.
"He asked me about [former coach] Denny Green," Shaw recalled. "I said, well my dad was defensive coordinator. We played great defense. We had great athletes on offense that we moved to defense and we had Tommy Vardell on the offensive side and Ed McCaffrey. So at the time we had the biggest offensive line in college football in the early '90s and that was Jim's mentality. I told him it has worked at Stanford before.
"We talked about how it came with recruiting and it seemed like a perfect fit. When everybody else was running sideways in the conference, we started running north and south with really big guys and physical guys like Toby Gerhart, Jimmy Dray blocking on the right side. There were just so many things that fit perfectly and we've been able to continue to recruit to what we want to do."
But there are limitations to just how "Big Ten" Stanford can really be. Because it doesn't play in the Big Ten. It plays in the Pac-12, where stud wide receivers are plentiful, quarterbacks are slingers and half the teams have a 1,000-yard rusher. So simply stopping the run isn't good enough.
"I think it's a fair comparison [to the Big Ten] when you talk about the style of ball," Stanford defensive coordinator Derek Mason said. "Defensively we're predicated on stopping the run. Most of the Big Ten is predicated on stopping the run. But I think the comparison probably stops there. We still generally have to defend the pass because everybody in our conference, when you talk about SC or UCLA or talk about Arizona, when you talk about Washington State and what [Mike] Leach is doing up there in Washington, there is not a team in the Pac-12 that doesn't have a receiver that can go get them in the distance.
"…It is blue collar, and that's what we want to be," Mason continued. "We try to recruit to who we are. We can't be like the rest of the other teams in the Pac-12. Don't want to be. Coach Shaw made that clear when he took over. We're going to be us and continue to do what we do and I think that served us well. So we're going to stay in our mold, and hopefully that continues to be a great brand of football."
December, 28, 2012
12/28/12
1:00
PM ET
LOS ANGELES -- Stanford's defense has to face yet another Doak Walker finalist. Heck, that's just another day at the office.
In fact, this is the fourth straight game that the Cardinal will be seeing one of the three finalists for the award given to the nation's top running back. Only this time, they are facing the guy who brought home the hardware.
First, they held Oregon's
Kenjon Barner
to just 66 yards on 21 carries. Then in they kept UCLA's
Johnathan Franklin
to just 65 yards on 21 carries. In the Pac-12 title game, also against UCLA, Franklin had a monster game, rushing for 194 yards on 19 carries. But hey, these guys are Doak Walker finalists for a reason, right?
[+] Enlarge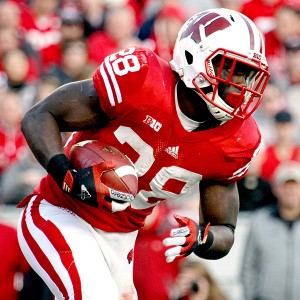 Mary Langenfeld/USA TODAY SportsStanford has already faced Doak Walker finalists Kenjon Barner and Johnathan Franklin. In the Rose Bowl it gets Doak Walker winner Montee Ball.
Now the Cardinal will complete the Tour de Doak when they take on winner
Montee Ball
and the
Wisconsin Badgers
on New Year's Day in the Rose Bowl presented by Vizio. And Ball knows the Stanford front seven is as advertised.
"They're very physical," he said. "They're big. They're big up front. The linebackers are very physical. They play extremely smart, which allows for them to make great plays … They're a lot faster than people think and they'll shock you at times because they're great athletes."
To win the Doak Walker award, you have to be a pretty good athlete as well. And Ball is that. He's rushed for 1,730 yards and 21 touchdowns while averaging 133.1 yards per game.
"First off, he's a great runner behind his pads," said Stanford linebacker
Shayne Skov
." It really goes unnoticed, but every time he gets hit, he falls forward 5 more yards, which makes a big difference, because you're looking at second-and-7 or second-and-5, for the dynamic of what you're doing from an offensive perspective. He's elusive, and I think he's faster this year than he has been in years past. So he's definitely going to be terrific competition for us."
Of course, this isn't anything the Cardinal haven't seen in the past. Stanford boasts the nation's No. 3 rush defense and is allowing just 87.69 yards per game. Considering the competition they've faced (let's not forget to include consensus All-American
Ka'Deem Carey
from Arizona in there as well) that's an awfully impressive season-long statistic.
"They do a good job," said Wisconsin offensive coordinator Matt Canada. "They're well-coached. They are. It's not clinic talk. They're gap sound. Each week, I think we can do this. Some weeks it works, some weeks it doesn't. There's always a chink. I'm sure they've watched us for a month; this is how they're going to attack us. I'm sure they're right. But they're well coached, smart football players. They do a lot and their kids don't make mistakes."
Just because Stanford has seen three All-Americans during the course of its season, it doesn't mean they can take Ball or the Wisconsin rushing attack lightly.
"When you talk about Montee Ball, you're talking about one of the best in the country, Doak Walker Award winner," said Stanford defensive coordinator Derek Mason. "He's got speed, size, and great vision. Finds seams and creases, and the one thing that he's been able to do is get better as games have gone on. So I think this group is formidable. They're probably one of the best that we'll see all year, and that presents a challenge."
Wisconsin is also giving Stanford its due respect. But they aren't going to be intimidated by the numbers.
"I think it's going to be a much different test," said Wisconsin center
Travis Frederick
. "I can't say it's going to be tougher. Their defense has done tremendous things and they deserve to be ranked where they are ... It's going to be a little bit different, but I think it's going to be a comparable challenge, and potentially a greater challenge."
December, 28, 2012
12/28/12
11:00
AM ET
The Rose Bowl Game presented by Vizio features the FBS all-time touchdown king and the leading rusher in Stanford history. Running backs
Montee Ball
and
Stepfan Taylor
undoubtedly command the lion's share of the attention from each defense.
Yet neither star may be getting enough attention from the public at large.
[+] Enlarge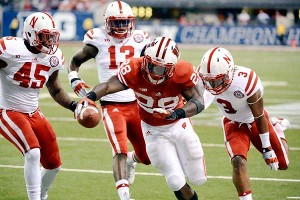 Richard Mackson/USA Today SportsMontee Ball focused on his production after contact this season. Wise move. He enters the Rose Bowl with 21 TDs.
That's a strange thing to say about the 2012 Doak Walker Award winner (Wisconsin's Ball) and a three-year starter playing in his second straight BCS game (the Cardinal's Taylor). But are we sure we truly appreciate the accomplishments of both men?
Ball has received plenty of acclaim for his record 82 career touchdowns (76 of them rushing, also a record). Still, he'll end his career having never finished higher than fifth in the Heisman Trophy voting (2011), something future college football historians may have trouble believing. After a slow start this year that was due in part to a preseason assault and a struggling offensive line, Ball was labeled by some as a major disappointment. Such a claim looks ludicrous now for a player who rushed for 1,730 yards and 21 touchdowns.
There are critics who will always be leery of a Wisconsin running back's numbers, believing they are merely a product of the Badgers' powerful offensive line opening massive holes that any decent athlete could run through. In some ways, then, Ball had a better season this year than in 2011, when he led the nation in rushing and tied an FBS record with 39 touchdowns. His running lanes were smaller, and he concentrated more on creating yards after contact.
"The thing that makes Montee so special is that he attacks the line of scrimmage," Wisconsin offensive line coach Bart Miller said. "He gets the ball and runs with fire. He runs the way we play offensive line, and guys love that. We don't want a guy who tiptoes along the line of scrimmage. We want a guy who attacks it, runs a guy over, makes him miss. All those kinds of things are what Montee does."
If Ball is underappreciated, then Taylor is criminally undervalued. He was overshadowed in his own backfield the past couple of years by Andrew Luck. This season, he carried the offense at times as it went through the post-Luck transition and reworked its offensive line, finishing with 1,442 yards and 12 touchdowns. But he had a hard time gaining notice even in his own conference, as the Pac-12 had other outstanding running backs such as UCLA's
Johnathan Franklin
, Oregon's
Kenjon Barner
and Arizona's
Ka'Deem Carey
.
[+] Enlarge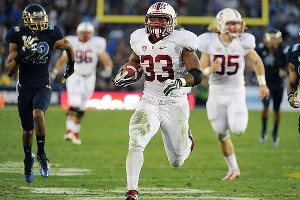 Jayne Kamin-Oncea/US PresswireWith a new quarterback and an offensive line in transition, RB Stepfan Taylor fueled Stanford's offense this season.
Franklin and Barner joined Ball as Doak Walker finalists, while Taylor got shut out. As fate would have it, Taylor will finish his career going head-to-head against those three finalists in his final four games (Stanford played UCLA twice). He outgained Barner 161-66 in the win over Oregon. He had 142 yards to Franklin's 65 in the first UCLA game, though Franklin ran for 194 to Taylor's 78 in the Pac-12 title game. More important, the Cardinal won both meetings.
"Stepfan is the kind of guy who would say he doesn't even know who's up for those awards," Stanford running backs coach Mike Sanford said. "But I remind him."
The Cardinal bill Taylor as "the most complete back in America," one who never comes off the field and who excels in pass protection and blocking as well as carrying the ball. Sanford points out that Taylor has fumbled only twice in 340 touches this season. The Cardinal pride themselves on being a physical team, and Taylor helps give them that identity on offense.
"He's the steady rock for us," Sanford said. "Even if things weren't flowing early in the season, we knew he'd be able to almost will himself to keep the chains moving. Very few backs in college football are as well-rounded as him."
Ball and Taylor share much in common. They're each listed at 5-foot-11 and 215 pounds. They're both workhorses -- Ball leads all active FBS players with 900 career carries, while Taylor ranks third with 823.
"When you talk about Montee Ball, you're talking about one of the best in the country," Stanford defensive coordinator Derek Mason said. "He's got speed, size and great vision. Very much like Stepfan Taylor."
Both will be the undisputed stars of this Rose Bowl. And both deserve every bit of the spotlight.