March, 9, 2010
3/09/10
10:30
AM ET
The Big Ten postseason player rankings, based on past performance and future potential, continue with ...
No. 4
Bryan Bulaga, LT, Iowa, Jr., 6-6, 312
Preseason rank:
5
Why he's here:
After putting himself on the NFL radar in 2008, Bulaga endured a few speed bumps this fall. He missed three games in September because of a thyroid condition and took a while to fully get comfortable at the end of Iowa's line. Some even termed 2009 a disappointing season for Bulaga in mid-October.
That was before the Orange Bowl took place. Bulaga showed in Miami why he'll be the first Big Ten player drafted in April, and why he's one of the nation's best offensive tackles. He essentially shut Georgia Tech superstar defensive end Derrick Morgan, kept quarterback Ricky Stanzi clean and helped Iowa to a big win. Bulaga was a consensus first-team All-Big Ten selection and named the league's Offensive Linemen of the Year by the coaches.
Pro potential plays a major role in these rankings, and Bulaga certainly has what NFL teams desire. He's big, smart and physical, and anchored an Iowa offensive line that turned things around after an uncharacteristically poor 2007 season. Kirk Ferentz has produced a string of elite linemen in Iowa City, and Bulaga certainly deserves to be mentioned among the best.
The rundown
January, 12, 2010
1/12/10
11:00
AM ET
A strong Big Ten bowl season leaves me with some tough choices for the All-Bowl team. We can certainly debate some of these, especially the O-linemen, but here are my selections.
OFFENSE
[+] Enlarge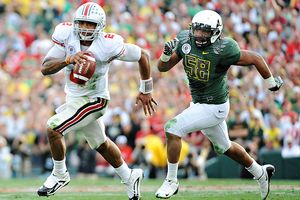 Harry How/Getty ImagesTerrelle Pryor acccounted for more Rose Bowl yards than Oregon's team did.
QB:
Terrelle Pryor
, Ohio State
He came of age in the Rose Bowl Game presented by Citi, delivering a complete performance as both a passer and a runner. Pryor accounted for 338 total yards; Oregon had 260.
RB:
John Clay
, Wisconsin
Clay gave Miami a taste of Big Ten football by bulldozing the Hurricanes for 121 rushing yards and two touchdowns on 22 carries in the Champs Sports Bowl.
RB:
Brandon Wegher
, Iowa
It seemed like no running back could stay healthy for Iowa this year, but Wegher came up huge in the FedEx Orange Bowl. The true freshman had 113 rush yards on 16 carries, including the clinching 32-yard touchdown run with 1:16 left.
WR:
DeVier Posey
, Ohio State
I saw a future NFL receiver when I watched Posey in the Rose Bowl. He had eight receptions for 101 yards, including a leaping 17-yard touchdown that all but sealed Ohio State's victory.
WR:
Andrew Brewer
, Northwestern
Brewer saved his best game for last, hauling in eight receptions for 133 yards and scoring on receptions of 35 and 39 yards in the Outback Bowl.
TE:
Drake Dunsmore
, Northwestern and
Lance Kendricks
, Wisconsin
Dunsmore had nine receptions for 120 yards, including an electrifying 66-yard touchdown dash through the Auburn defense.
Garrett Graham
might be the first-team All-Big Ten selection, but Kendricks stole the show in the Champs Sports Bowl with seven receptions for 128 yards.
C:
John Moffitt, Wisconsin
Moffitt moved back to center because of a teammate's injury and helped the Badgers overpower Miami in the Champs Sports Bowl. Wisconsin racked up 430 total yards and held the ball for 39:15.
G:
Justin Boren, Ohio State
Boren led a big and nasty Buckeyes line that generated push for the run game and helped Pryor attempt a career high 37 passes in the win against Oregon.
G:
Joel Foreman, Michigan State
The Spartans' offensive line stepped up nicely in the Valero Alamo Bowl, helping to generate 148 rush yards and allowing only one sack against a Texas Tech team that rushes the passer extremely well. Foreman, an honorable mention All-Big Ten selection, deserves some props.
OT:
Bryan Bulaga, Iowa
Bulaga showed why he's jumping to the NFL draft with a terrific performance against Georgia Tech star defensive end Derrick Morgan in the FedEx Orange Bowl.
OT:
Dennis Landolt, Penn State
Landolt and his linemates did a good job against LSU's blitz and protected
Daryll Clark
on a muddy field in Orlando. Penn State allowed only one sack and rushed for 124 yards.
DEFENSE
DL:
Adrian Clayborn, Iowa
Clayborn was an absolute beast in the Orange Bowl, recording nine tackles (all solo) and two sacks as he disrupted Georgia Tech's triple option attack.
DL:
J.J. Watt, Wisconsin
Watt led an aggressive Badgers defensive front with a sack, two tackles for loss, two pass breakups, a quarterback hurry and a fumble recovery against Miami.
DL:
O'Brien Schofield, Wisconsin
Schofield was disruptive all season and showed it in the bowl game, recording two sacks and forcing a fumble that led to a crucial field goal in the fourth quarter.
DL:
Thaddeus Gibson, Ohio State
The Buckeyes defensive front made life miserable for Oregon quarterback
Jeremiah Masoli
, and Gibson stepped up with two tackles for loss in what proved to be his final collegiate game.
LB:
Navorro Bowman, Penn State
Bowman had a game-high nine tackles, including 1.5 for loss, and forced LSU into a critical penalty in the final minute as the Lions preserved a Capital One Bowl win.
LB:
Ross Homan, Ohio State
Homan ended the season as one of the Big Ten's top linebackers and turned in a terrific performance in Pasadena with 12 tackles and an interception that set up a field goal just before halftime.
LB:
Pat Angerer, Iowa
The triple option will test a middle linebacker, but Angerer stepped up for Iowa with a game-high 10 tackles, including one for loss, against Georgia Tech.
DB:
Kyle Theret, Minnesota
Theret was the Gophers' MVP in the Insight Bowl, recording seven tackles (all solo), two interceptions, a tackle for loss and a 40-yard reception on a fake punt that set up the team's first touchdown.
DB:
Ross Weaver, Michigan State
The Spartans' secondary struggled against Texas Tech, but Weaver recorded a team-high seven solo tackles and had a forced fumble and an interception that led to 10 Michigan State points in the second half.
DB:
Kim Royston, Minnesota
Royston recorded a career-high 15 tackles, tying the Insight Bowl record, including 14 solo stops against Iowa State. He also forced a fumble that turned into a Minnesota field goal.
DB:
Sherrick McManis, Northwestern
McManis made plays throughout his career and finished it in typical fashion with an interception and a fumble recovery, both occurring in Northwestern's end of the field.
SPECIALISTS
K:
Collin Wagner, Penn State
The horrible field conditions didn't bother Wagner, who went 4-for-4 on field-goal attempts and drilled the game winner with 57 seconds left in the fourth quarter.
P
: Blake Haudan, Minnesota
Haudan averaged 49.6 yards on five punts and completed a 40-yard pass to Theret on a well-timed fake in the third quarter.
Returner:
Keshawn Martin
, Michigan State
Martin blossomed as the Big Ten's most dangerous kick return man this fall and averaged 24.8 yards per runback with a long of 36 against Texas Tech.
Honorable mention --
WISCONSIN: QB
Scott Tolzien
, RB
Montee Ball
, P Brad Nortman, LB Chris Borland, TE Garrett Graham, starting offensive line. MINNESOTA: WR
Da'Jon McKnight
, LB Lee Campbell. NORTHWESTERN: QB
Mike Kafka
, WR
Zeke Markshausen
, WR
Sidney Stewart
, CB Jordan Mabin, LB Quentin Davie. PENN STATE: QB Daryll Clark, RB
Stephfon Green
, TE
Andrew Quarless
, LB Sean Lee, DT Jared Odrick, CB A.J. Wallace, starting offensive line. OHIO STATE: DE Cameron Heyward, DT Doug Worthington, RB
Brandon Saine
, WR
Dane Sanzenbacher
, K Devin Barclay, K Aaron Pettrey, P Jon Thoma, starting offensive line. MICHIGAN STATE: RB
Edwin Baker
, WR
Blair White
, P Aaron Bates, LB
Greg Jones
, starting offensive line. IOWA: QB
Ricky Stanzi
, TE
Tony Moeaki
, P Ryan Donahue, DT Karl Klug, LB A.J. Edds, DE Broderick Binns, starting offensive line.
January, 6, 2010
1/06/10
10:19
PM ET
The Big Ten's top offensive lineman is taking his skills to the next level.
And after watching the FedEx Orange Bowl on Tuesday night, it's easy to see why.
As expected, Iowa left tackle Bryan Bulaga announced Wednesday that he's
declaring for the NFL draft
. Bulaga, named Big Ten Offensive Lineman of the Year this fall, is projected by many as a first-round pick in April.
He entered the fall very much on the draft radar and often drew comparisons to former Iowa star tackle Robert Gallery, the No. 2 overall pick in the 2004 NFL draft. Bulaga missed three games in September after a thyroid condition caused him to be hospitalized, and he didn't have the dominant season many had projected. But he looked great in the bowl game against Georgia Tech's Derrick Morgan, a projected top-10 pick.
Bulaga said the time away from the field contributed to his decision.
"This was not an easy decision since my Iowa experience has been very positive and rewarding," Bulaga said in a statement released through the school. "The illness I was faced with at the beginning of the 2009 season made me realize how important football is in my life, and how quickly it can be taken away. I want to thank coach [Kirk] Ferentz, coach [Reese] Morgan and the rest of the Iowa football staff who played a significant role in my development."
This is a major loss for Iowa, though Bulaga's departure has been expected. If there's an area that could derail the Hawkeyes this fall, it's the offensive line. Iowa loses three starters, each of whom earned All-Big Ten honors, and needs some young players to emerge like Riley Reiff did this year.
Iowa is still awaiting a decision from junior cornerback Amari Spievey, who said Tuesday that he's 50-50 regarding the draft.
Best of luck to Bulaga, one of the nicest guys in the league.
January, 6, 2010
1/06/10
10:33
AM ET
Dace Richardson's star-crossed college career ended on a high note, as he helped Iowa's offensive line overpower Georgia Tech in the FedEx Orange Bowl.
Richardson will go out on top, opting not to petition the NCAA for a sixth year of eligibility. The All-Big Ten guard hopes to make it in the NFL, and if he can stay healthy, he's got a good shot.
With Richardson gone, the attention turns to left tackle Bryan Bulaga and cornerback Amari Spievey, both of whom face decisions about the NFL. Bulaga plans to release a statement later this week regarding his decision, while Spievey is heading home to Connecticut with no guarantees he'll be back in Iowa City for the start of the spring semester.
Here's what Bulaga told The (Cedar Rapids) Gazette on Tuesday night
about his decision
:
"The thing is it's not all about the money. I don't think a lot of people realize that. It's about the love of the game. Every guy in here dreams about the next level and going to the NFL. When an opportunity knocks on the door, some guys are ready to take it and some want to stay an extra year. That's where I'm at right now. It's more than just the money. It's your career, it's your dreams, it's everything. There's a lot more that goes into it than just making some money. There's more to it than just that."
Sounds like a guy who's ready to make the jump to the next level. Bulaga certainly helped his cause Tuesday night against Georgia Tech. Aside from one holding penalty, he pretty much shut down star defensive end Derrick Morgan and created rushing lanes for
Adam Robinson
and
Brandon Wegher
.
Bulaga already has the credentials to get noticed. He was named Big Ten Offensive Lineman of the Year this fall and earned back-to-back All-Big Ten honors.
It'd be a surprise if he came back. If Bulaga leaves, Iowa's offensive line will have to replace three starters, which is tough but far from impossible.
Spievey also could make the jump, though he said he's 50-50 right now. Another year at Iowa could help his draft stock, but it's already pretty high.
January, 5, 2010
1/05/10
8:00
AM ET
A winning bowl record is on the line for both the ACC and the Big Ten as No. 9 Georgia Tech takes on No. 10 Iowa in the FedEx Orange Bowl on Tuesday night (Fox, 8 p.m. ET). Georgia Tech makes its first Orange Bowl appearance since 1967, while Iowa hopes for a better showing in Miami after getting crushed by USC 38-17 in the 2003 game.
As kickoff approaches, bloggers Heather Dinich (ACC) and Adam Rittenberg (Big Ten) break down an intriguing matchup that has largely flown under the national radar.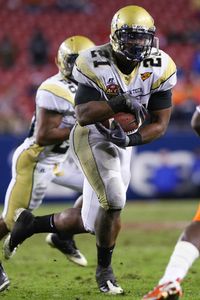 Tim Larson/Icon SMIGeorgia Tech has a lot of weapons on offense, including running back Jonathan Dwyer.
Heather Dinich:
Well, Adam, it's almost time for the showdown of the two conferences whose recent bowl history has been suspect at best. Both the Big Ten and ACC have 3-3 records this postseason entering the Orange Bowl. Consider this game the tiebreaker. It's been one of the most difficult games of the season to predict, but I think Georgia Tech's offense will come through as it has all season, the ACC will finish with a much-needed winning bowl record and the Big Ten will fall to 3-4 in the postseason. Besides, the Big Ten only has three teams with winning bowl percentages (granted, Iowa is one of them), so why should this year be any different?
Adam Rittenberg:
You're right about the records, HD, but I'd like to challenge the ACC or any other league to go through the Big Ten's bowl lineup. No other lineup comes close in terms of difficulty with matchups and locations. I doubt the ACC would enjoy facing USC in its backyard every Jan. 1, especially after stumbling in all those Orange Bowls. I definitely agree with you about picking this game. It ain't easy (more on that later). Let's talk more about the game's premier matchup, Georgia Tech's triple option offense vs. Iowa's fundamentally sound defense. The Hawkeyes are very solid in all three phases of their defense, especially the front seven with Adrian Clayborn, Broderick Binns, Pat Angerer and others. Veteran defensive coordinator Norm Parker has had about a month to prepare for the triple option, and it still might not be enough time to stop
Jonathan Dwyer
and
Josh Nesbitt
.
Do you think a team has a major advantage with more time to prepare for Georgia Tech's offense, or are the Yellow Jackets simply too good on that side of the ball?
Dinich:
As Iowa coach Kirk Ferentz said, there is simply no way for Iowa – or any other team for that matter – to simulate what Georgia Tech can do, in terms of the precision, speed and playmakers who will execute it on Tuesday night. Yes, there is some advantage to having more than a week to prepare -- both Clemson and Miami devoted some of their summer camp to getting a head start on that conference game and it paid off (especially for Miami). The key is how long it will take Iowa's defense to get comfortable with it? Norm Parker will have his players as prepared as they can be, and Iowa has the discipline it will take to stop them, but my question is whether or not the Hawkeyes have the offense to keep Georgia Tech off the field. The best defense against the Jackets is for Iowa to sustain its own drives and control the clock. Do the Hawkeyes have the offensive line to make that happen?
Rittenberg:
That's an excellent question, Heather. Iowa's offensive line gets a lot of accolades, and the group boasts two first-team All-Big Ten performers in tackle Bryan Bulaga (Big Ten Offensive Lineman of the Year) and guard Dace Richardson. But most of us who have watched Iowa all season agree that at times, the line has underachieved. It's far from a bad O-line, but Iowa certainly has the potential to stall. According to ESPN's Stats & Information group, Iowa averages just 3.3 yards rushing on first down, which is seventh worst in the country. The Hawkeyes should have backs
Adam Robinson
and
Brandon Wegher
on the field Tuesday night, and Richardson's return from injury will be huge, but they'll need to run the ball decently to set up the play-action passing attack. The line also needs to keep Derrick Morgan away from
Ricky Stanzi
, which won't be easy.
I was struck by something you wrote Monday, about Georgia Tech
not being a catch-up team
. That description fits Iowa, which has rallied in eight of its 10 victories. Iowa has been a pretty average team in the first three quarters, but a great one in the fourth.
Should Georgia Tech grab the early lead, how do you see things playing out?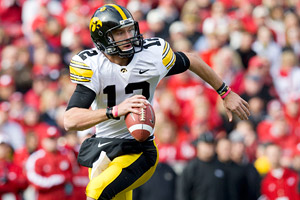 Jeff Hanisch-US PRESSWIREIowa quarterback Ricky Stanzi's Hawkeyes have come from behind in eight of their 10 victories this year.
Dinich:
If Georgia Tech starts fast, it could be a long night for Iowa. On the flip side, though, it could make for one heck of an interesting fourth quarter. We both know Iowa has been one of the most exciting teams in the country to watch in the final minutes, but Georgia Tech has come from behind in seven of its last eight games, including in the ACC championship, when it trailed Clemson 34-33 in the fourth quarter. In fact, they had to come from behind to beat Clemson both times this season. I'll be honest, I have no idea who's going to win this game, but I think how Iowa's defense starts will go a long way in revealing that answer to that. So what's your final prediction on this one, Ritt?
Rittenberg:
Ah, so they are a catch-up team. You trying to trick me, HD? As you know, Georgia Tech has several NFL-ready players and an offense that seems to be working well in other bowl games (Air Force, Navy). But having been around Iowa a lot this season, I can say there's something special about this Hawkeyes team, which just won't go away and continues to find ways to win games. The combination of Parker with a month to prepare and Stanzi's return to the lineup gives Iowa enough confidence to pull out another thriller, in come-from-behind fashion, of course. Iowa wins this one, 28-27. What say you?
Dinich:
Haha yes, always trying to baffle the Big Ten. :) But really, if Iowa is the hot team early, that means they've figured Georgia Tech out, and the Jackets won't be able to overcome that, especially knowing how they've struggled defensively. That being said, I think Paul Johnson controls the clock, Stanzi gives up a gift or two (not five) and GT wins, 28-24. And knowing my picks and the ACC, that adds up to a win for the Hawkeyes.
January, 4, 2010
1/04/10
5:00
PM ET
Georgia Tech defensive end Derrick Morgan likely will be a top 10 pick in April's NFL draft.
At 6-4 and a chiseled 272 pounds, Morgan has all the measurables that make pro scouts salivate. He earned ACC Defensive Player of the Year honors after leading the league with 12.5 sacks. He finished the regular season with 18 tackles for loss, two forced fumbles and two fumble recoveries. ESPN's Mel Kiper Jr. has Morgan at
No. 8 on his draft board
.
So, should Iowa be afraid of Morgan on Tuesday night in the FedEx Orange Bowl? Not a chance.
The Hawkeyes haven't seen an offense that as talent and tricky as Georgia Tech's triple option, but they've seen defensive ends like Morgan.
Pretty much every week in the Big Ten.
No league in the country had a deeper group of standout pass rushers than the Big Ten. Iowa faced stars like Michigan's Brandon Graham (nation-leading 26 tackles for loss), Wisconsin's O'Brien Schofield (No. 2 nationally with 24.5 TFLs), Penn State's Navorro Bowman, Indiana's Jammie Kirlew and Ohio State's Thaddeus Gibson and Cameron Heyward. The Hawkeyes also lined up against future NFL draft picks like Penn State defensive tackle Jared Odrick and Northwestern defensive end Corey Wootton.
Plus, Iowa's offensive linemen practice against All-Big Ten players like defensive end Adrian Clayborn every day.
"We've played a lot of good ends here, the last two years," head coach Kirk Ferentz said. "We have a lot of them in our conference, Graham, Penn State's guys were good. You can go right down the list. ... Certainly Morgan's an excellent football player. All the accolades that he's received, he's earned. He didn't just stumble into them. All that being said, we're not a big team for putting four guys on one guy."
Tuesday night will be an excellent chance for Iowa's offensive linemen, and particularly left tackle Bryan Bulaga, to shut down one of the game's premier defensive ends.
December, 23, 2009
12/23/09
9:00
AM ET
Iowa quarterback
Ricky Stanzi
had a lot of time to think as he made the long drive Tuesday from Iowa City to his home in suburban Cleveland.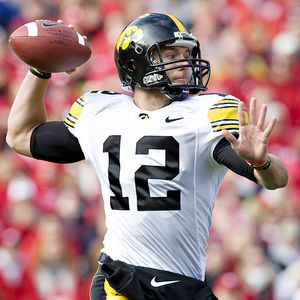 Jeff Hanisch/US PresswireIowa quarterback Ricky Stanzi will be back on the field for the first time in 59 days when he starts for the Hawkeyes in the Orange Bowl.
Georgia (Tech) certainly was on Stanzi's mind. His right ankle? Not so much.
"The ankle's good," Stanzi told me Tuesday, about one-third of the way through his drive. "I've been able to practice 100 percent each day for the last three weeks. So that's not been a problem. That'll be something I won't have to worry about."
The last time we saw Stanzi on the football field, he was on his back in the north end zone at Kinnick Stadium. His ankle had been severely sprained following a hit by Northwestern's Corey Wootton, and the injury would keep him sidelined for the rest of the regular season.
That was 46 days ago. When Stanzi steps on the field Jan. 5 against Georgia Tech in the FedEx Orange Bowl, he'll end a 59-day layoff between snaps.
The long lull certainly can't be dismissed, and Iowa is addressing it in its preparation by using each week this month as if it were a game week. But Stanzi is confident he and his teammates will be ready to go against Tech.
"I'm sure when the game time comes, it'll just be regular routine," he said. "You do it so many times that it's weird more so when you're not in there than it is when you have to be thrown back in there after a while. I don't see it being a problem. I haven't thought of it as weird at all throughout practice, to get back into the swing of things after being off for a couple of weeks."
Stanzi also remains confident that the offense will re-establish the chemistry it had with him at the helm. Iowa never lost a game that Stanzi finished, and Stanzi owns a 17-4 record as the Hawkeyes starter.
After Stanzi went down against Northwestern, his teammates
candidly told of what he meant to the offense
.
"There's no doubt that we're a different team when Rick Stanzi's in there," wide receiver
Derrell Johnson-Koulianos
said. "We had a gift in Ricky."
A gift the Hawkeyes get back for the bowl game.
"You can get a feeling about whether a team clicks or not, and our team has that," Stanzi said. "Some of the leaders who have been here for a while, we've played a lot of football together, whether it be spring ball or actually this season and camp. We've put in a lot of time and a lot of effort together, and those things have been showing up on the field for us.
"There's definitely a sense of camaraderie within our team, and it's a good team feeling to have that when you're going into a big bowl game and you have a big [layoff] where things can get rusty but guys all have the same goals. When you have that, it definitely leads to good things."
Stanzi is very aware of the task ahead of him in Miami. Georgia Tech's defense looks fairly average on paper, but the Yellow Jackets boast several individual standouts, including end Derrick Morgan.
"With Morgan coming off the edge, there's not a lot of guys who do it as good as he does," Stanzi said. "It's definitely a different type of defense with the aggressive side and a number of big-name players they have over there that we have to try to isolate."