Big Ten:

Devan Cunningham
January, 13, 2010
1/13/10
2:00
PM ET
The Big Ten gave us plenty to remember in 2009, and here are 10 moments that stood out to me.
[+] Enlarge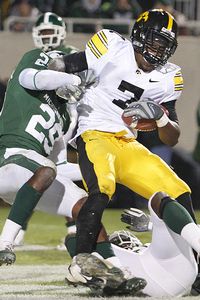 AP Photo/Al GoldisMarvin McNutt's TD reception as time expired gave the Hawkeyes the win over Michigan State.
Stanzi to McNutt with 0:00 on the clock:
Iowa's perfect record was on the line as the Hawkeyes offense lined up for one final play, trailing Michigan State 13-9 with two seconds left in an Oct. 24 game at Spartan Stadium. On fourth-and-goal from the 7-yard line, quarterback
Ricky Stanzi
found wide receiver
Marvin McNutt
in the end zone
for the win
as Iowa improved to 8-0.
Barclay kick comes up roses:
The pseudo Big Ten championship between Ohio State and Iowa went to overtime before Buckeyes backup kicker Devin Barclay, a 26-year-old former Major League Soccer player, drilled a 39-yard field goal for a
27-24 win
. Barclay's kick gave Ohio State the outright Big Ten title and its first berth in the Rose Bowl in 13 years.
Expansion on the table:
Arguably the Big Ten's biggest news story of 2009 didn't take place on the field, but in a meeting of league presidents and athletics directors in early December. The suits agreed to put league expansion on the front burner and
explore the possibility of adding a new member or members
. Though the Big Ten typically explores expansion every five years, the league's decision to go public about it is significant.
Decker gets decked but hangs on:
Minnesota wide receiver
Eric Decker
made a national name for himself against Cal, and one play stands out. Early in the second quarter, Decker
caught a 26-yard touchdown pass
and held on despite taking a vicious shot from Bears safety Sean Cattouse. He needed stitches in his chin but didn't miss a play and caught another touchdown just before halftime.
Rodriguez on the defensive:
After allegations of NCAA rule violations rocked Michigan a week before the season, an emotional
Rich Rodriguez defended his compliance record
and his approach with players at a Sept. 1 news conference. "We know the rules," Rodriguez said, "and we follow the rules." The NCAA launched an investigation into the allegations that has yet to conclude.
Bowl bliss for the Big Ten:
OK, so this isn't one moment, but four of them. Two took place in Orlando, one in Miami and one in Pasadena. They marked four bowl victories for Big Ten teams, all against top-15 opponents. These moments signified that the Big Ten hadn't fallen as far as many believed, and that the league will be a major player in the national title race in 2010.
Wootton sacks Stanzi:
It's rare when one play has as strong of an impact on two teams' seasons as Corey Wootton's
sack of Stanzi
did in a Nov. 7 game at Kinnick Stadium. It resulted in a Northwestern touchdown as the Wildcats went on to upset Iowa and go 3-0 in November to reach a New Year's Day bowl. Stanzi suffered a severe ankle sprain and missed the rest of the regular season, as Iowa saw its hopes for a perfect season and the Big Ten title disappear.
Fearless Forcier rallies Michigan past Irish:
The Michigan-Notre Dame game turned out to be an entertaining matchup between two very mediocre teams, but it also put
Tate Forcier
on the national radar. Forcier led the game-winning drive in the final minutes and found
Greg Mathews
in the end zone
with 11 seconds left
. The freshman accounted for three touchdowns (2 pass, 1 rush) and 310 total yards.
Illini season ends with a thud:
Illinois would like to forget the 2009 season, but it's easy to remember how the miserable campaign ended for Ron Zook's squad. Illinois led 52-51 as Fresno State went for a two-point conversion and the win.
Ryan Colburn
's desperation pass deflected to Devan Cunningham, a 350-pound offensive tackle, who
rumbled into the end zone
to give Fresno a 53-52 win.
Penn State punt team gets punk'd:
At a rain-soaked Beaver Stadium, Penn State led Iowa 10-5 early in the fourth quarter when Hawkeyes defensive end Adrian Clayborn trucked Nick Sukay, blocked Jeremy Boone's punt and
raced 53 yards to the end zone
. The play turned around the game, launched Iowa's magical run and handed Penn State a painful loss.
December, 9, 2009
12/09/09
6:00
PM ET
Ron Zook put it best after Fresno State offensive tackle Devan Cunningham scored a 2-point conversion off of a deflected pass with two seconds remaining to hand Illinois a 53-52 loss on Saturday.
"The way the season was going," Zook said, "it's not a big surprise that the game went like that."
Cunningham's plunge marked a heartbreaking end to a miserable season for Illinois, which has lost all the momentum it generated from the Rose Bowl run in 2007. Illinois fell apart in the opener against Missouri and never got on track, tumbling to 3-9 and earning the tag of Big Ten's biggest disappointment for the second consecutive season.
Things looked promising at Camp Rantoul, as Illinois boasted the Big Ten's most experienced quarterback in
Juice Williams
and seemingly the league's best group of wide receivers, led by
Arrelious Benn
. But Benn went down with an ankle injury early in the Missouri game, and the offense stalled. Injuries and poor play doomed a once-promising unit and Zook changed quarterbacks midseason, only to go back to Williams for the stretch run.

While the offense seemed to find a rhythm in the last five games, the defense couldn't keep it together. The season-ending loss of linebacker Martez Wilson certainly played a role, but Illinois hemorrhaged yards and points at the end. Aside from a two-game win streak that briefly elevated bowl hopes, nothing went right for the Illini in 2009.
Offensive MVP:
Mikel LeShoure
. The sophomore quietly had a very solid season rushing the football. LeShoure led Illinois and ranked fifth in the Big Ten in rushing yards (734). He averaged 6.8 yards a carry, scored seven touchdowns (5 rush, 2 receiving) and ended with a huge performance against Fresno State.
Defensive MVP:
Clay Nurse. Nurse developed into a solid pass-rusher for Illinois, leading the team in both tackles for loss (10.5) and sacks (5.5) to go along with two forced fumbles. His four-sack performance in Illinois' win against Minnesota tied the second-highest single-game total in team history.
Turning point:
It's never good when the turning point takes place in the opening game, but Illinois never looked right from the get-go. The Illini got crushed 37-9 by Missouri in the season opener, and after a two-week respite, their offensive woes returned in a 30-0 loss at Ohio State. Illinois' slim bowl hopes went out the window after its rally fell short against Northwestern on Nov. 14.
What's next:
Zook is expected to return, but athletic director Ron Guenther said there will be changes on the staff for next year. Ticket sales are struggling, and the team has only eight verbal commitments for 2009, so Zook definitely needs some magic on the recruiting trail, where he's done his best work as a college coach.
December, 8, 2009
12/08/09
9:00
AM ET
Two more wins to pad the record before imploding in bowl picks.
FRESNO STATE-ILLINOIS
The pick: Fresno State 33, Illinois 30
Actual score: Fresno State 53, Illinois 52
20-20 hindsight: If I predicted that a 350-pound Fresno State offensive tackle (Devan Cunningham) would catch a deflection and tumble into the end zone to score the game-winning 2-point conversion with two seconds left, I wouldn't be typing this post. I'd be in Vegas. As predicted, Ryan Matthews stepped up for Fresno State and Juice Williams finally hooked up with Arrelious Benn for a touchdown pass, but the shootout in Champaign was a surprise.
WISCONSIN-HAWAII
The pick: Wisconsin 38, Hawaii 27
Actual score: Wisconsin 51, Hawaii 10
20-20 hindsight: I really went out on a limb in predicting John Clay would steamroll Hawaii, and the Badgers sophomore running back came through with 172 rush yards and three touchdowns. On the flip side, I gave Hawaii's passing attack too much credit, as Wisconsin limited the Warriors to only 197 pass yards. As predicted, Wisconsin defensive end O'Brien Schofield came through with two sacks, though fellow end J.J. Watt was an even more disruptive force.
Week 14 record:
2-0
Season record:
64-24 (.727)
December, 5, 2009
12/05/09
9:09
PM ET
It's hardly a surprise that Illinois and Fresno State shattered the Memorial Stadium record for combined scoring today, combining for 105 points in Fresno State's
53-52 win
.
The previous record had been 89 points, set in 1996 during a 46-43 Illinois overtime victory against Indiana.
So much for cold weather keeping the point-total low.
Illini quarterback Juice Williams finished his career with 10,594 total yards -- 8,037 yards passing, 2,557 yards rushing -- and 56 touchdown passes.
A few quotes on the wild ending, as Fresno State scored on a 2-point conversion with two seconds remaining as offensive lineman Devan Cunningham caught a deflection and rumbled into the end zone.
Head coach Ron Zook:
"I guess that's the way the year has gone. That's probably not a surprise the game went like that."
Illinois guard Jon Asamoah:
"This big good-for-nothing I don't know what. It's ironic. When it fell into his hands, this is what happens."
Cunningham:
"After I caught the ball I thought to myself, 'Oh man, the end zone is right there.' The [Illinois player] hit me and then Joe [Bernardi] hit me from behind, which made me go forward and I was able to get into the end zone."
December, 5, 2009
12/05/09
4:06
PM ET
I feel sick for
Juice Williams
. And
Arrelious Benn
. And Ron Zook.
If there's a more heartbreaking way to lose a football game, please feel free to let me know. Illinois seemingly had a shootout victory in hand, up 52-45 in the closing seconds. But Fresno State reached the end zone on an incredible stretch by wide receiver
Jamel Hamler
on a 19-yard reception.
Hamler's touchdown set up The Craziest Play of the 2009 Season.
Fresno State head coach Pat Hill went for the 2-point conversion and the win, which didn't surprise me one bit. Illinois got the penetration it wanted and had quarterback
Ryan Colburn
in its grasp, forcing a desperation throw to Hamler. Illinois couldn't knock down the pass, and it caromed to Devan Cunningham, a 6-6, 350-pound offensive tackle, who rumbled into the end zone to put Fresno State up
53-52
.
A replay review upheld the call, though it looked like the ball hit Hamler first, which would have prevented a teammate from advancing it. What a tough blow for Illinois.
The Illini offense really showed up today, especially sophomore running back Mikel Leshoure, who rushed for 184 yards and two touchdowns on only 11 carries. Williams passed for 211 yards and three scores, though he also had two interceptions. Still, Juice deserved to win this game.
Illinois' defense didn't show up when it mattered, and it likely will lead to changes on the staff. Williams is gone, and Benn could join him.
You can't fault the effort from the Illini today. But the results are still ugly: 3-9.