Big Ten:

Devils-Badgers-091810
September, 18, 2010
9/18/10
9:05
PM ET
MADISON, Wis. -- In a perfect world, Wisconsin would have delivered 60 minutes of dominance.
The Badgers would have bolstered
John Clay
's Heisman Trophy candidacy, dominated the line of scrimmage, stormed out to a big lead and exacted revenge on Arizona State quarterback
Steven Threet
for what he did at Michigan nearly two years ago.
But in the imperfect game of football, Wisconsin had to settle for 60 minutes of resolve.
[+] Enlarge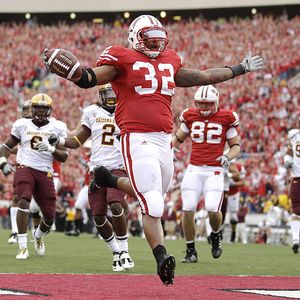 AP Photo/Morry GashWisconsin's John Clay rushed for 123 yards and a touchdown against Arizona State.
Many things went wrong Saturday against Arizona State, but the 11th-ranked Badgers didn't let the negatives linger in a
20-19 victory
at Camp Randall Stadium.
"There's a handful of plays that determine games, that determine seasons," Badgers coach Bret Bielema said. "Football is a game comprised of four quarters, 15 minutes each, 60 minutes of playing time. But really, it's 60 minutes of reaction.
"Who reacts better to what happens?"
Wisconsin reacted better Saturday, especially in two moments when things seemed dire.
The first came at the end of the opening half. Wisconsin's offense finally had translated yards into points, as
Scott Tolzien
found Herculean tight end
Lance Kendricks
in the end zone to claim a 13-10 lead.
Only 10 seconds remained in the half, but Philip Welch botched a squib kick. Arizona State already had one kick return for a touchdown against a Badgers team that ranked 119th nationally in kickoff coverage in 2009.
This time, Sun Devils receiver
Kyle Middlebrooks
broke into the open field.
"Just watching, I'm like, 'Run Shelton, run Shelton, run Shelton,'" safety Jay Valai said. "I thought I had an asthma attack for a second."
Added defensive end
J.J. Watt
: "If he scores a touchdown there, it changes the entire dynamic of the game."
Badgers safety
Shelton Johnson
, with help from safety Dezmen Southward, tripped up Middlebrooks just shy of the goal line as time expired. Johnson said he had a good angle on Middlebrooks but likely needed Southward to slow him down before the end zone.
"That's a touchdown," Valai said. "Shelton stopped six or seven points right there. That was the biggest play of the game."
Johnson disagreed, giving the credit to Valai for his own "special" moment.
Wisconsin's defense had kept Arizona State out of the end zone for nearly 56 minutes before
Cameron Marshall
crossed the goal line with the apparent tying touchdown. Former Lou Groza Award winner Thomas Weber lined up for the extra-point try, but Valai burst through the line, hoisted his 5-foot-9 frame into the air and blocked the kick.
"A lot of guys don't pay attention to every play, but one thing the coaches drill into our heads is, 'This could be the play, this could be the play,'" Valai said. "I saw the hole, went over it, guy lifted me up in the air and I blocked it."
Veteran coach Dennis Erickson was as surprised as anyone to see Valai burst through.
"In all my career, I've never seen something like that," the Sun Devils coach said.
Bielema often watches how a defense, his own or an opponent's, responds after a touchdown is scored.
"It's a huge emphasis for me," Bielema said. "I point it out all the time when we go against a defense that gives no effort on a PAT. That doesn't just happen. That's from 365 days of mental and physical conditioning that our guys pride themselves on."
Valai's effort helped Wisconsin live another day as an undefeated team.
There were other examples of Badger resolve Saturday:
Down two primary receivers (Nick Toon and David Gilreath) because of injury, Wisconsin leaned on Kendricks, who recorded a career-high 131 receiving yards on seven catches. Tolzien also had his best performance of the young season (19-for-25, 246 pass yards, TD).

The defense held Arizona State to one offensive touchdown despite losing standout linebacker Chris Borland (shoulder) early and Watt and linebacker Culmer St. Jean for parts of the game.

Star left tackle Gabe Carimi, who is Jewish, played on Yom Kippur and fasted from noon Friday to 1 p.m. Saturday, when he received an IV before the game.

Watt twice left the game with a bruised quad but walked it off on the sideline and returned to record three quarterback hurries and a pass breakup.
"We had so many different situations of adversity today," Watt said. "For our team to respond every single time and get out of here with a win, it's huge for us and gives us a lot of confidence going forward."
The Badgers certainly aren't without their issues.
Kick coverage lapses like the ones against Arizona State usually get you beat. Wisconsin continued a disturbing trend of racking up a ton of yards (440) but not translating it into points. Clay had another big day (22 carries, 123 rush yards, 1 TD) but couldn't convert two third-and-short situations in the fourth quarter.
Most unsettling is the potential loss of Borland, the team's best all-around player. The 2009 Big Ten Freshman of the Year on Saturday aggravated his surgically repaired left shoulder, which kept him out of last week's game.
Bielema didn't know the extent of the injury after the game but said, "We definitely want to do what's best for Chris. You can't just keep going with him not going to be there or going to be there. The fortunate thing is he does have a redshirt year available."
Can the Badgers overcome obstacles and still take a step from being very good to elite? Time will tell, Saturday's win showed they won't shy away from adversity.
"We've got to take everything we can from this game," Bielema said, "the breakdowns, the mistakes, but also the positives and the extra efforts. It's a summation of everything that went on. We did enough good things to win this football game, but we have to correct and move past anything that can prevent us from winning in the future.
"I really just like the resolve of these guys."
September, 18, 2010
9/18/10
8:19
PM ET

Adam Rittenberg talks with John Moffitt about Wisconsin's offensive performance.
September, 18, 2010
9/18/10
8:12
PM ET

Adam Rittenberg talks with Wisconsin's J.J. Watt following the win over Arizona State.
September, 18, 2010
9/18/10
6:50
PM ET
MADISON, Wis. -- Nothing was easy about Wisconsin's
20-19
win, but the 11th-ranked Badgers certainly will take it and move on.


Down six starters at times during the game, the Badgers did just enough to hold off a tough Arizona State team. You've got to credit offensive coordinator Paul Chryst for a gutsy call on third-and-2, as quarterback
Scott Tolzien
hit tight end
Lance Kendricks
across the field for a huge first down.
The Tolzien-Kendricks connection was huge today, and the Badgers got enough from their running backs and a short-handed defense.
Wisconsin didn't make the national statement it hoped to, and there are several lingering issues on this team, namely kickoff coverage. But two special teams plays from Shelton Johnson and Jay Valai proved to be the difference today.
I'm heading down for interviews but will be back with more from Camp Randall.
September, 18, 2010
9/18/10
6:33
PM ET
MADISON, Wis. -- All week long, Wisconsin's
theme has been FINISH
.
Finish plays. Finish drives. Finish games.
A shorthanded Badgers defense finally relented, allowing a
Cameron Marshall
touchdown with 4:09 left. But safety Jay Valai continued a day of huge special teams plays by blocking the tying PAT attempt. Wisconsin clings to a 20-19 lead.
Can the offense finish things off?
Star running back
John Clay
twice has been stopped on third-and-short situations, running laterally rather than busting Arizona State up the gut. You'll see a lot of Clay on the upcoming drive as Wisconsin tries to run out the clock.
We'll find out a lot about Wisconsin's ability to finish right here.
September, 18, 2010
9/18/10
6:04
PM ET
MADISON, Wis. -- It's not very much fun to face Wisconsin's offense on third-and-1.
You pretty much know mammoth junior running back
John Clay
will get the ball. And there's very little you can do to stop him.
Arizona State tried on a third-and-1 just inside the red zone, but Clay got through the first line of defense and was gone. With so many defenders committed to the line of scrimmage, Clay scooted through the right side of the line and had nothing but open field ahead of him.
Wisconsin's 8-play, 88-yard scoring drive might be the turning point of this game. The Badgers did an excellent job of mixing personnel and plays. Quarterback
Scott Tolzien
continued a very good performance, and
Jared Abbrederis
and talented freshman running back
James White
both contributed nicely.
Despite missing two starting linebackers (Chris Borland and Culmer St. Jean), the Badgers defense continues to keep ASU out of the end zone.
Wisconsin's offense tends to get stronger as the game goes on, so we'll see if the Sun Devils can handle Clay and the massive Badgers' O-line in the fourth quarter. Badgers lead 20-13 at the end of three quarters.
Time to jump around!
September, 18, 2010
9/18/10
5:40
PM ET
MADISON, Wis. -- This feels like a high-scoring game, but the scoreboard says otherwise. Both offenses continue to move the ball pretty much at will until inside opposing territory.
Arizona State quarterback
Steven Threet
continues to pass the ball in rhythm, but an incomplete pass in the end zone to
T.J. Simpson
forced a game-tying field goal by Thomas Weber. Wisconsin cornerback Niles Brinkley seemed fortunate to avoid a pass-interference penalty on the play, as he never turned around for the ball. Threet has completed 14 of 20 passes for 140 yards.
The Sun Devils have racked up 239 yards without reaching the end zone. That needs to change against a Wisconsin offense that usually gets stronger as the game goes on.
September, 18, 2010
9/18/10
5:13
PM ET
MADISON, Wis. -- A few thoughts at halftime, as No. 11 Wisconsin has rallied to take a
13-10 lead
against Arizona State.
Turning point:
In a half defined by special-teams highlights and lowlights, Wisconsin's Shelton Johnson made the biggest play of them all. After Wisconsin had taken a 13-10 lead with 10 seconds left in the half, Arizona State's
Kyle Middlebrooks
broke away for what looked like the Sun Devils' second kick return touchdown of the half. But Johnson caught up and tripped up Middlebrooks at the 1-yard line as time expired, preserving the Badgers' lead.
Best player in the half:
Wisconsin tight end
Lance Kendricks
. Down two starting receivers (
Nick Toon
and
David Gilreath
), the Badgers clearly are relying on Kendricks to be the No. 1 option in the passing game. The senior has stepped up so far with five receptions for 104 yards and a 14-yard touchdown despite defensive pass interference with 10 ticks left in the half.
Stat of the half:
The teams have combined for 407 offensive yards but only one offensive touchdown (Kendricks' catch). Arizona State's lone touchdown came on a 97-yard kickoff return by Omar Bolden.
September, 18, 2010
9/18/10
4:37
PM ET
MADISON, Wis. -- Wisconsin is fortunate to be down only 10-3 right now.
Former Michigan quarterback
Steven Threet
is doing it again to the Badgers, leading a confident Arizona State offense down the field. Threet looks great but is getting lots of help from his running backs and a powerful offensive line. Arizona State has racked up 168 yards of offense in a quarter and a half.
The Sun Devils are playing Wisconsin-type football, running the ball right through the heart of the Badgers' defense. Wisconsin is young at the defensive tackle spot, and with linebacker Chris Borland (shoulder) sidelined, there's some vulnerability there. Threet made some very nice throws and got a boost from running backs
Deantre Lewis
and
Cameron Marshall
. He nearly had a touchdown strike to
George Bell
, but Bell's foot hit just out of bounds.
Wisconsin needs to respond and get a lot more physical on both sides of the ball. Aside from tight end
Lance Kendricks
, the Badgers are struggling right now.
September, 18, 2010
9/18/10
4:09
PM ET
MADISON, Wis. -- The kicking game has been huge so far at Camp Randall Stadium.
We've already seen three field goal attempts, one conversion by Wisconsin, misses by each team, and an electrifying kick return for a touchdown by Arizona State's Omar Bolden. Wisconsin ranked 119th nationally in kickoff coverage a year ago, and the problems have continued.
The Sun Devils' speed really seems to be giving the Badgers trouble right now, as
ASU leads 7-3
.
Wisconsin easily marched into Arizona State territory on its first two possessions behind its running backs and the
Scott Tolzien
-
Lance Kendricks
connection. But the Sun Devils' defense tightened up both times, forcing two lengthy field goal attempts, the second of which Philip Welch converted for a 3-0 lead.
Arizona State's speed on offense seemed to put Wisconsin back on its heels, as the fast tempo and fast running backs moved the ball downfield. But after losing standout linebacker Chris Borland to a left shoulder injury -- Borland underwent offseason surgery on his right shoulder and missed last week's game after tweaking it against UNLV -- the Badgers made some nice plays in the red zone. Borland's return is uncertain.
September, 18, 2010
9/18/10
3:23
PM ET
MADISON, Wis. -- A very late-arriving crowd here in Madison, as the tailgates on Regent Street and Breese Terrance must still be raging.
I caught a bit of warm-ups, and
Jared Abbrederis
worked on punt returns for the Badgers in place of the injured
David Gilreath
(concussion). Arizona State specialists Thomas Weber and Trevor Hawkins are pretty impressive.
Arizona State is surprisingly well represented here. The Sun Devils fans were out in force last night on State Street, and there are several pockets of maroon and gold around the stadium.
I'll have more throughout the day from Camp Randall, so keep it right here.
September, 18, 2010
9/18/10
2:30
PM ET
MADISON, Wis. -- Greetings from my favorite Big Ten venue, where No. 11 Wisconsin hosts a talented Arizona State team this afternoon
(ABC, 3:30 p.m. ET)
.
Wisconsin is looking for its first complete performance of the season after two somewhat watered-down wins. The Badgers haven't been as efficient on offense as they'd like, and the defense seemed to let down in the fourth quarter last week against San Jose State. Today also marks an opportunity for Wisconsin running back
John Clay
to put himself on the Heisman Trophy radar with a big performance against a Pac-10 foe. So far, I'm the only one beating the drum for Clay in
the Heisman race
.
Arizona State has beaten up on two FCS opponents (Portland State and Northern Arizona) and
can make a statement today in a totally wide-open Pac-10
by knocking off a top-15 opponent. It will be interesting to watch Sun Devils quarterback
Steven Threet
lead the offense after seeing his struggles at Michigan in 2008.
Weather:
It has gone from perfect last night to rainy overnight to gray this morning to pleasant right now with just some light clouds overhead. Rain is possible, especially later in the game.
Injuries:
Wisconsin
will play without starting wide receivers
Nick Toon
(turf toe) and
David Gilreath
(concussion). Walk-on
Jared Abbrederis
will get the start alongside
Isaac Anderson
. Ricky Wagner will start at right tackle in place of
Josh Oglesby
(knee), who might play. The Badgers also should have all their top linebackers on the field for the first time this year. Arizona State should get a boost along its defensive line as Toa Tuitea (elbow) and Corey Adams (knee) are expected to return.
I'll have more from Camp Randall throughout the day, so be sure and check back.