July, 26, 2011
7/26/11
2:00
PM ET
The wait is finally over for Big Ten players not selected in April's NFL draft.
Free agent deals are finally taking place during a whirlwind week in the post-lockout NFL.
We'll have
additional updates
as the day goes on, but here's a look at where Big Ten players are landing.
ILLINOIS
CB Travon Bellamy, St. Louis Rams
WR Jarred Fayson: New Orleans Saints
G Randall Hunt: St. Louis Rams
DE Clay Nurse: New England Patriots
INDIANA
QB Ben Chappell: Washington Redskins
WR Terrance Turner: Philadelphia Eagles
IOWA
P Ryan Donahue: Detroit Lions
LB Jeremiah Hunter: New Orleans Saints
TE Allen Reisner: Minnesota Vikings
LB Jeff Tarpinian: New England Patriots
MICHIGAN
T Perry Dorrestein: New York Jets
CB James Rogers: Denver Broncos
TE Martell Webb: Philadelphia Eagles
MICHIGAN STATE
WR Mark Dell: Denver Broncos
LB Eric Gordon: Jacksonville Jaguars
T D.J. Young: Arizona Cardinals
MINNESOTA
T Dom Alford: Cleveland Browns
FB Jon Hoese: Green Bay Packers
QB Adam Weber: Denver Broncos
NEBRASKA
K Adi Kunalic: Carolina Panthers
TE Mike McNeill: Indianapolis Colts
DE Pierre Allen: Seattle Seahawks
G Ricky Henry: Chicago Bears
T D.J. Jones: Miami Dolphins
S Rickey Thenarse: Seattle Seahawks
NORTHWESTERN
DT Corbin Bryant: Chicago Bears
LB Quentin Davie: Detroit Lions
OHIO STATE
G Bryant Browning: St. Louis Rams
G Justin Boren: Baltimore Ravens
RB Brandon Saine: Green Bay Packers
WR Dane Sanzenbacher: Chicago Bears
DT Dexter Larimore: New Orleans Saints
CB Devon Torrence: Minnesota Vikings
PENN STATE
WR Brett Brackett: Miami Dolphins
LB Chris Colasanti: Indianapolis Colts
LB Bani Gbadyu: Oakland Raiders
DT Ollie Ogbu: Indianapolis Colts
PURDUE
TE Kyle Adams: Chicago Bears
WR Keith Smith: Detroit Lions
WISCONSIN
CB Niles Brinkley: Pittsburgh Steelers
RB John Clay: Pittsburgh Steelers
QB Scott Tolzien: San Diego Chargers
September, 1, 2010
9/01/10
8:00
AM ET
We knew going into the season that Minnesota had to replace nine defensive starters, more than any other Big Ten squad.
Make it 10. And possibly all 11.
Safety Kyle Theret is
suspended for Thursday night's opener at Middle Tennessee
, head coach Tim Brewster announced Tuesday. Theret continues to serve a penalty for his drunken-driving arrest in March, although he practiced with the team in preseason camp. Veteran offensive lineman Dom Alford, a projected starter, also is suspended for an unspecified violation of team rules. Ed Olson will start in Alford's spot.
Minnesota really could use Theret, who led the team in interceptions (3) last year and recorded 73 tackles and seven passes defended. The team's only other returning starter on defense, safety Kim Royston, also could miss the game as he continues to rehab a broken leg suffered in spring practice.
Brewster said there's only "a small chance" Royston will play, adding, "I don't want to put him out there until I'm 100 percent certain that he's ready."
If Royston sits, Minnesota will take the field with 11 new starters on defense. Good thing Middle Tennessee will be without star quarterback Dwight Dasher,
suspended for the game
.
Get to know names like Christyn Lewis, James Manuel, D.L. Wilhite, Mike Rallis and Michael Carter. They're just some of the new starters Minnesota needs to step up Thursday night against the Blue Raiders.
April, 22, 2010
4/22/10
11:12
AM ET
D.J. Burris doesn't need to be reminded of the way it used to be at Minnesota.
The Golden Gophers weren't just a good rushing offense, but a record-setting one. Minnesota didn't just produce good offensive linemen, but great ones like All-Americans Greg Eslinger and Ben Hamilton.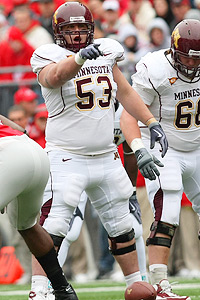 Aaron Josefczyk/Icon SMID.J. Burris & Co. are looking forward to running an offense that emphasizes the power run.
The team's history isn't lost on Burris and his linemates this spring.
"We're definitely aware of the tradition here about running the football," said Burris, Minnesota's starting center. "That's why we're taking it upon ourselves to get it back."
Pride is the word Burris and even non-linemen like quarterback
Adam Weber
use to describe what's happening up front this spring in Minneapolis. The team's running game hasn't merely slipped off its perch, but plummeted to the bottom of the Big Ten.
The last two seasons have seemed extremely un-Gopher-like:
2008: Minnesota finished last in the Big Ten and 104th nationally in rushing offense (103.8 ypg)
2009: Minnesota finished last in the Big Ten and 111th nationally in rushing offense (99.5 ypg)
Part of the problem has been a lack of continuity. Minnesota ran the spread offense under Mike Dunbar in 2007-08, and then switched to a pro-style system, designed to emphasize the power run, under Jedd Fisch last season.
The Gophers are adjusting to another new coordinator this spring, as Jeff Horton takes over the offense. But Horton's top goal, one the players clearly appreciate, is simplifying a convoluted system and identifying the hallmarks for the unit to succeed.
"We know where we're going as an offense," said Burris, who started at guard as a freshman before moving to center the last two seasons. "Our playbook's a lot thinner, and we know exactly what we're doing on every play now, so it's nice. Every season, it's been something new, something new, and then this year we simplified it with what we've already been doing.
"That makes us a lot more comfortable."
Head coach Tim Brewster didn't hide the fact he wanted more toughness from the line this spring, and he has seen the group respond. All five starters are back and continuing to work in the top spots, but they're being pushed by players like Ed Olson and Brooks Michel. Returning starters like Matt Carufel and Jeff Wills are healthier, and massive tackle Jeff Wills has slimmed down a bit.
During an April 10 scrimmage, the line started slow but got stronger as things went along, creating holes for backs
DeLeon Eskridge
and
Duane Bennett
.
Weber, who has a vested interested in the line's performance, has seen a difference this spring.
"They're playing with confidence and they're playing with pride," he said. "You can definitely tell, when it's third-and-1, when it's fourth-and-1, they can sense that they need to pick up their game a little bit, and we've been winning a lot of those battles."
After being pushed around too much the last two seasons, Burris and his crew expect to turn the tables this fall.
"As an offensive line, that's where your pride comes from, when you can walk into a game and you can run the ball up and down the field," he said. "That's when you feel good about yourself."
March, 8, 2010
3/08/10
4:00
PM ET
Minnesota had the Big Ten's most experienced roster in 2009, and there are quite a few holes to be filled this spring. The Gophers must replace nine starters on defense as well as All-Big Ten wide receiver
Eric Decker
, a team record-holder.

The spring features a competition at quarterback between
Adam Weber
and
MarQueis Gray
and plenty of opportunities for young, highly recruited players to step up.
Here's a look at Minnesota's strong point and weak point heading into spring ball, which kicks off March 23.
Strongest position:
Safety
Key returnees: Senior Kyle Theret (73 tackles, 3 INTs, 7 passes defended); senior Kim Royston (86 passes, 1 interception, 1 forced fumble, 7 passes defended); senior Ryan Collado (34 tackles, 4 tackles for loss, 2 sacks, 1 pass defended).
Key departures: None
The skinny: Minnesota boasts the Big Ten's top safety tandem in Theret and Royston. The two finished the 2009 season on a high note in the Insight Bowl. Theret had two interceptions and a 40-yard reception on a fake punt, while Royston recorded a career-high 15 tackles, including a forced fumble. Collado provides depth behind them. Although the Gophers lose both starting cornerbacks (Traye Simmons and Marcus Sherels), the veteran leadership at safety combined with some exciting young players should fill in the gaps.
Weakest position:
Offensive line
Key returnees: Tackles Dom Alford, Jeff Wills and Ryan Wynn; guards Matt Carufel, Chris Bunders and Trey Davis; and center D.J. Burris.
Key departures: Tackle Matt Stommes, center Jeff Tow-Arnett
The skinny: It would be easy to spotlight linebacker or defensive tackle, positions where the Gophers lose multiple starters from 2009. But until the offensive line starts stepping up, this team is going to struggle. Minnesota has ranked last in the Big Ten in rushing yards in each of the past two seasons, which is simply unacceptable for a program steeped in running tradition. The Gophers have experience, but whether these linemen are good enough or tough enough to execute a new scheme remains to be seen.
September, 19, 2009
9/19/09
11:00
AM ET

Posted by ESPN.com's Adam Rittenberg
MINNEAPOLIS -- Greetings from the Big Ten's newest stadium, which definitely lives up to the hype.
Minnesota finally has a real home stadium, but whether the friendly surroundings pay off today remains to be seen. The Gophers face an enormous test in eighth-ranked California, led by Heisman Trophy candidate
Jahvid Best
at running back.
For the first time in my journalism career, I'm happy to provide a weather forecast for a Minnesota home game (instead of the standard room temperature joke at the Metrodome). It looks like a gorgeous day, with temperatures around 70 degrees at kickoff, working their way up to 77 during the fourth quarter.
A couple of personnel notes for Minnesota: cornerback Marcus Sherels (ankle) isn't expected to play, and Dom Alford will start at left tackle over Matt Stommes.
THREE KEYS FOR CALIFORNIA
1.
Stay awake. Head coach Jeff Tedford hates hearing about how the early kickoff last year against Maryland doomed his team, which looked utterly lifeless in College Park. A strong start on offense, especially from quarterback
Kevin Riley
, would prove the Bears are ready this time and could take the crowd out of the game.
2.
Find
Eric Decker
on every play. The Gophers senior wide receiver has been the team's only consistent offensive weapon so far. Talented Bears cornerback Syd'Quan Thompson likely will be assigned to Decker (the game's best matchup, in my opinion), but he could use some safety help against the Biletnikoff Award candidate.
3.
Pressure quarterback
Adam Weber
. Cal ranks sixth nationally in sacks (4.5 spg), and the Gophers' offensive line is still adjusting to a brand-new system. Weber will make mistakes under pressure from time to time, so Cal should take an aggressive approach with defensive end Ernest Owusu and others.
THREE KEYS FOR MINNESOTA
1.
Make Riley win the game. Minnesota's linebackers have been fabulous so far, but Best and
Shane Vereen
can take over a game with their big-play ability. The Gophers need to load up the box and force Riley to make tough throws. Riley has been extremely efficient this season, but Minnesota can't let Cal's running backs take over.
2.
Diversify the offense. Decker can't beat a team like Cal by himself, and he'll need help from his fellow wideouts, tight end
Nick Tow-Arnett
and running backs
Duane Bennett
and
DeLeon Eskridge
. This needs to be the game where wideout
Hayo Carpenter
becomes a difference maker for the Gophers.
3.
Make plays on special teams. The Gophers rank among the top 20 nationally in both kickoff and punt returns, and sophomore Troy Stoudermire can be a game-changer Saturday. Stoudermire should give Minnesota's offense good field position, and the Gophers need continued excellence from punter Dan Orseske and kicker Eric Ellestad.
May, 26, 2009
5/26/09
11:30
AM ET
Posted by ESPN.com's Adam Rittenberg
Fifteen spring practices still don't mask all the warts a team has, and every head coach has a position group that keeps him awake at night. After looking at where each Big Ten team got help this spring, here's a look at the positions that still look a little shaky around the league.
Illinois' offensive line -- The Illini boast arguably more offensive firepower than any Big Ten team, but they'll struggle without improvement up front. There's youth throughout the front five, and while players like Jeff Allen boast loads of potential, there are a few unknowns heading into the fall. The line allowed five sacks and 16 tackles for loss in the spring game.
Indiana's wide receivers -- Kellen Lewis' dismissal from the program after spring practice creates a major void at receiver. Lewis was pegged to be Ben Chappell's top target, and with Ray Fisher moving from wideout to cornerback, the Hoosiers need big things from young players like Tandon Doss and Damarlo Belcher.
Iowa's defensive tackles -- This position will be a question mark for the Hawkeyes right up until the season opener, and most likely beyond. Iowa must find a way to replace mainstays Mitch King and Matt Kroul, and it lacks much experience besides Karl Klug. The team needs continued development from guys like Mike Daniels and Cody Hundertmark.
Michigan's defensive line -- Brandon Graham should be one of the nation's top pass-rushers this fall, but he needs some help up front. Michigan likes what it has in young linemen like Ryan Van Bergen, Mike Martin and incoming freshman Craig Roh. Those players will need to grow up fast so the defense can generate consistent pressure.
Michigan State's running backs -- Few players meant more to an offense than Javon Ringer did to Michigan State last fall, and the search for a replacement remains a bit murky. Aside from a brief surge by Ashton Leggett, the running back room remains very crowded as Caulton Ray entered the mix this spring. Two heralded freshmen arrive during the summer in Edwin Baker and Larry Caper.
Minnesota's offensive line -- The Gophers have the bodies up front, but they've still got a long way to go in picking up the new offensive system/philosophy. It's a fairly dramatic change for returning starters like Dom Alford and Ned Tavale, so growing pains are expected. But a talented Gophers team can't take another step forward if its offensive line doesn't come together.
Northwestern's wide receivers -- Three starters are gone at receiver, and no one really wowed during spring practice. Northwestern should get better here as Jeremy Ebert returns from hip surgery, but it's time for experienced players like Andrew Brewer and Sidney Stewart to step up as primary targets for new starting quarterback Mike Kafka.
Ohio State's offensive line -- Michigan transfer Justin Boren undoubtedly had a positive effect on the offensive line this spring, but questions remain about a group that underachieved for most of 2008. Can Mike Adams complement his physical gifts with a toughness needed to play left tackle in the Big Ten? How will Jim Cordle and Bryant Browning adjust to new positions when the games begin? Stay tuned.
Penn State's secondary -- Head coach Joe Paterno didn't hide his concern for this group, which lost all four starters from 2008. Breakdowns in the secondary doomed Penn State in its only two losses last fall. Safety Drew Astorino should be ready for big things, but cornerback A.J. Wallace must find a way to stay healthy and become a legit shutdown guy on the outside.
Purdue's quarterbacks -- Joey Elliott boasts the knowledge to be an effective Big Ten starter, but does he have the skills to get it done? He has spent a lot of time on the sideline during his college career, and Purdue would benefit from having another viable option at quarterback. Justin Siller's dismissal really stings, and the development of backup Caleb TerBush looms large this summer.
Wisconsin's linebackers -- The Badgers lose a lot of production in DeAndre Levy and Jonathan Casillas, and they don't have much proven depth at linebacker. They can ill afford an injury to Jaevery McFadden or Culmer St. Jean, and it's imperative to develop more linebackers during preseason camp.
April, 6, 2009
4/06/09
2:50
PM ET
Posted by ESPN.com's Adam Rittenberg
MINNEAPOLIS -- Tim Brewster knows what an NFL player looks like. So do the scouts that visit Minnesota to evaluate Gophers players.
When they look at a filled-out Matt Stommes, they like what they see.
"He just has some great measurables," Brewster said.
Stommes doesn't just pass the eye test. He aces it. The senior is 6-foot-7 and 296 pounds and has arms that measure 36 inches, the same as Denver Broncos first-round pick Ryan Clady.
He looks the part of an elite offensive tackle, and this spring he's getting the chance to prove himself.
Brewster surprised some when he announced that Stommes would open spring ball as Minnesota's starting left tackle. After all, this is a guy who played defensive line for two years and didn't log significant playing time along the offensive front until late last season.
But Stommes made a surprising start at right tackle in the Insight Bowl against Kansas, and as the Gophers change gears on offense to a pro-style, power run attack, he very much figures in the plans.
"It just sometimes happens like that," Brewster said, "where it takes a guy a little while to get to the right spot."
Or, in Stommes' case, grow into the right spot.
He came to Minnesota as a 240-pound defensive end and immediately added 35 pounds his first year. After appearing in nine games as a sophomore, Stommes was asked to switch to offense in preseason camp last summer.
"I had mixed feelings right away," he said. "Playing a bunch my sophomore year, I was like, 'Well, what's going to happen now? Am I going to play at all this year?' So it was a little more encouraging to get some playing time in at the end of [2008], just fed off of that in the offseason."
Stommes added another 20 pounds or so last year to top out at around 295 pounds, though he's leaner than most of the Gophers' linemen.
"When I was a kid, I always had the mentality to be active," said Stommes, who recorded 12 tackles (two for loss) in 2007. "And I give a lot of credit to our strength and conditioning staff. They're excellent. They know how to put the right weight on us."
The adjustment in technique from defense to offense took some time to pick up. Stommes went from reacting and moving forward to "sitting back, kind of in an awkward position."
But there are benefits to playing offensive line, especially when you know the opponent's thought process.
"It's a little different when you go up to the line knowing what you're going to do," Stommes said. "I try to use some things I learned on defense and try to apply them to offense, what they're trying to do to you on a 1-on-1 basis."
Brewster's hiring of new offensive line coach Tim Davis in late November marked the first step toward a fundamental transition of offensive philosophy. It was clear early on that Stommes factored heavily in Davis' vision for the group.
Ryan Wynn had started every game at right tackle during the regular season, but he shifted to left guard as Stommes made his first career start. For spring ball, Dom Alford moved from left tackle to left guard, clearing a spot for Stommes.
"Obviously, it's nice to be running with the 1s," Stommes said, "but it's something each person wants to fight for."
Stommes is aware of his pro potential, but he doesn't dwell on it.
"The coaches sometimes say something," he said. "They're just trying to get me motivated, which is a good thing. All that matters right now is running a good offense, running a good offensive line. That's what I'm focused on."
March, 25, 2009
3/25/09
10:36
AM ET
Posted by ESPN.com's Adam Rittenberg
MINNEAPOLIS -- There's a noticeable buzz around Minnesota football right now, with a new on-campus stadium opening this fall and plenty on the agenda for spring practice, which began Tuesday. The Gophers welcome new coordinators on both sides of the ball and a new offensive system, which will look more what fans are used to in the Twin Cities.
| | |
| --- | --- |
| | |
| | Jeff Gross/Getty Images |
| | Minnesota coach Tim Brewster is excited about the depth he has coming back this season. |
Head coach Tim Brewster saw the team improve its record by six games last fall, but the Gophers ended on a five-game slide, including a 55-0 thrashing at the hands of archrival Iowa. With 10 offensive starters back and several playmakers on the defensive side, Minnesota hopes to take another step forward this fall, but will negotiate what appears to be a much tougher schedule. Here are Brewster's thoughts on the squad as spring ball gets under way.
It seems pretty ambitious what you guys are doing this spring, with the new guys, the scheme tweaks and changes. Is it one of the more ambitious spring practice sessions you've been a part of?
Tim Brewster: I just don't think it's quite as ambitious as you think. We installed quite a bit of the offense before the bowl game. To me, what's exciting about where we're at is we've got some depth, we've got some experienced players, but more importantly, some really talented players coming back. And then when you add to the mix guys like [linebackers] Keanon Cooper, Spencer Reeves and Gary Tinsley, some of these guys particularly on defense, that's really an exciting thing for us.
You said you wouldn't trade [quarterback] Adam [Weber] for anybody in the country. You also think highly of MarQueis Gray. Do you envision MarQueis just sitting and waiting the next two years?
TB: No, no. We're going to incorporate MarQueis into every game. We'll go in with a plan on how we're going to utilize him. I brought [Texas offensive coordinator] Greg Davis up here from Texas, and I talked to Greg about how they incorporated Vince [Young] into the game plan in Vince's redshirt freshman year. He played every game, but what was the real thought process that went into it. We really had some good conversations on how to do that. It's a tough thing because of the flow of the game. You say, 'I want him to play the third series.' Well, something may dictate that the third series, you want to keep Adam in the game. But he'll make a contribution. Heck, MarQueis could play wide receiver. MarQueis could be a running back. There's a lot of different ways to utilize a player of his ability.
Does it help to have that reference point with Vince Young?
TB: Very strong similarities between the two. But the biggest challenge is this: We've been really lucky. Adam Weber's taken every snap. At some point, injuries happen. Is MarQueis Gray ready to step in and drive this car and run this offense? That's the biggest challenge that [new offensive coordinator Jedd Fisch] has, making sure MarQueis Gray is ready to be a full-time quarterback. He's the No. 2 quarterback at worst right now, so that's a real challenge.
It seems like line play is going to be a focus on both sides of the ball.
TB: Yes, and I think we're going to be much better up front. It really helped moving [left tackle] Dom Alford inside. Ryan Wynn is a very talented guy who was playing right tackle. He doesn't need to be a right tackle. He'll play at center, possibly at guard. Matt Carufel, also [at guard]. And then you look at the development of [left tackle Matt] Stommes. Stommes' measurables, shoot, the NFL people who have come in here have said, 'Who the heck is that?' It's kind of like the guy's come out of nowhere. And [right tackle Jeff] Wills' development is going to be big. Is he putting himself in a position where he can be a starter?
Some people would look to the secondary and say look what you guys did there last year, but it sounds like you're almost more excited about the D-line and the linebackers.
TB: I really am. The front seven for us has got a chance to be really good. I think we'll be good on the back end, too. We're just a little thin. A kid like [cornerback] Michael Carter coming in, Michael's going to have to play as a freshman. And we've got some other guys. Today it's so hard to find defensive linemen, and particularly the young inside guys, Jewhan Edwards and Brandon Kirksey, they've got a chance to be really good. And then you've got [Eric] Small and [Garrett] Brown. So we've got four inside guys. And then I think we'll be better on the edge. D.L. Wilhite's a kid who redshirted last year and has got really good speed. And with [Cedric] McKinley, [Derek] Onwuachi, we've got some guys there.
The spring gives you a chance to find some playmakers, too, especially with Weber limited and Eric Decker playing baseball.
TB: Eric Decker's going to be ready to play. What I'm concerned about is somebody else being ready. That's how you've got to look at it, a positive thing and not a negative thing.
You mentioned last year's team was significantly improved. Is that the same goal for 2009?
TB: This year, we want to make the same improvement, but it's a tougher step, a much tougher step, particularly with a much tougher schedule.
March, 24, 2009
3/24/09
5:50
PM ET
Posted by ESPN.com's Adam Rittenberg
MINNEAPOLIS -- Minnesota kicked off spring ball this afternoon as the team held its first practice indoors at Rod Wallace Field. Players and coaches seemed amped up to get started, and here are some notes from the Gophers' first workout.
Linebacker Sam Maresh participated in his first practice as college player after battling back from open heart surgery last summer and a benign tumor in his left calf discovered this winter. Maresh worked with the third team and ran a bit gingerly, but he looks strong at 6-foot-3 and 235 and should improve throughout the spring. The first-team linebackers consisted of Lee Campbell and Simoni Lawrence, while Gary Tinsley and Ryan Grant alternated at the third spot. Freshman Keanon Cooper certainly brings speed to the group, but he's a bit undersized at outside 'backer.

The Gophers' four new coaches are fun to watch, particularly offensive line coach Tim Davis and offensive coordinator Jedd Fisch, who employs some creative teaching techniques. The line will be a focal point throughout the spring as Minnesota transitions to a pro-style, power run offense. The first-team line consisted of left tackle Matt Stommes, left guard Dom Alford, center Trey Davis, right guard Matt Carufel and right tackle Jeff Wills.

Stommes, who made a meteoric rise to a starting tackle position after switching from defensive line, passes the eye test. He flat out looks like an athlete at left tackle. Wills, a junior college transfer, is huge but probably needs to improve his conditioning just a touch. Tim Davis rode him pretty hard for not finishing a drill.

The NCAA prevents teams from hitting during the first three practices, so starting quarterback Adam Weber (shoulder surgery) participated alongside backup MarQueis Gray, who looks every bit 6-foot-4 and showed good arm strength on several throws. Fisch spent time working with the quarterbacks on quick releases and at one point had them throw passes any way but overhand, to expand the types of throws (sidearm, flips) they need to make in games. "Turn that double play," Fisch told Weber and Gray while working on their releases.
Running back Duane Bennett, who comes off ACL surgery, ran with the first-team offense along with fullback Jon Hoese, wide receiver Brandon Green and others.

The best line of the practice came from defensive line coach Tim Cross after several players jumped early on a drill with the blocking sled. "You can't make a mistake being an assassin," Cross said. "One shot, one kill."
David Pittman, Green and Marcus Sherels (out for spring ball after shoulder surgery) worked as return men during a special-teams period.

Guard Ned Tavale definitely makes my early All-Big Ten hair team. Nice 'do.
March, 23, 2009
3/23/09
7:16
PM ET
Posted by ESPN.com's Adam Rittenberg
MINNEAPOLIS -- Minnesota will open spring practice Tuesday with a new offensive coordinator (Jedd Fisch), a new run game coordinator (Tim Davis) and a new offensive philosophy (pro-style sets, power run, physical play).
Given all the changes, it doesn't seem like an ideal time to have star wide receiver Eric Decker playing baseball or veteran quarterback Adam Weber held out of contact drills.
Think again.
"People think I'm crazy, but I think it's a tremendous thing for our football team that Adam Weber is not going to get contact reps," head coach Tim Brewster said.
You're probably nodding your head about the crazy part. But let him explain.
"MarQueis Gray is going to get the contact reps," Brewster said. "MarQueis Gray is going to get forced development this spring. That's a great thing for our football team."
Gray, a heralded recruit from Indianapolis, enters spring ball as the team's No. 2 quarterback despite not taking a snap in a college game. An issue with Gray's ACT scores put his college career on pause last fall, but the 6-4, 215-pound freshman will be back on the field Tuesday.
Brewster said he wouldn't trade Weber for any quarterback in the country, but don't expect Gray to sit on the sidelines the next two seasons. He's going to get on the field some way, whether it's as a quarterback, wide receiver or even running back.
"MarQueis has got to put himself in a position where he can take control of our offense and execute our offense, and we don't miss a beat," Brewster said. "Because he's one play away from being our starting quarterback. He's an extremely gifted, talented football player."
Decker's absence with the Gophers baseball team opens up opportunities for other playmakers to develop. Minnesota relied on Decker at times too much last fall, and Brewster is looking for young players like Brandon Green, Xzavian Brandon and Ben Kuznia to step up.
"I didn't think we had enough dynamic playmakers [in 2008]," Brewster said.
Here are some other notes from Brewster's pre-spring news conference.
Former defensive lineman Matt Stommes will enter the spring as Minnesota's starting left tackle, as junior Dom Alford shifts from left tackle to left guard. Stommes emerged after Tim Davis became offensive line coach in November and started at right tackle in the Insight Bowl. The senior is listed at 6-7 and 284, but Brewster said he's closer to 300 pounds.

"He's our best athlete in the offensive line," Brewster said. "The pro scouts that have come in and looked at his prototype ... he's got outstanding measurables. We really feel good about him."
Linebacker Sam Maresh will be on the practice field Tuesday, which is an amazing accomplishment after he underwent open heart surgery last summer and discovered a non-cancerous growth in his calf this winter. Brewster isn't sure how much Maresh will do but said the freshman went through a rigorous conditioning session Monday morning with his teammates. "There's a chance that he can play [this season]," Brewster said. "I don't want to rush him back. I want to make sure he's 100 percent confident in the calf."
Starting cornerback Marcus Sherels will miss most of spring drills following offseason shoulder surgery. He should be fine for preseason camp. Offensive lineman Jeff Tow-Arnett also will miss spring ball after undergoing knee surgery in November. Brewster hopes to have him back for the summer.
Sophomore running back Duane Bennett, who started last season before suffering a torn ACL, likely will be held out of contact drills this spring. Same goes for Weber, who will participate in everything else as he grasps the new offense.
Expect heralded 2008 recruit Keanon Cooper to play a significant role this fall at one of the outside linebacker spots. Cooper is still listed as a free safety but boasts speed and decent size (6-1, 220). Brewster said Cooper ran a 4.41 in the 40-yard dash. Linebacker Simoni Lawrence, who Brewster said is on the cusp of becoming one of the Big Ten's top defenders, ran a 4.43 in the 40.

Brewster expects transfers Matt Carufel (Notre Dame) and Kim Royston (Wisconsin) to play major roles right away. Carufel projects as the starting right guard, while Royston will be in the mix at safety. Brewster said Kyle Theret, who recorded three interceptions and 11 pass deflections last fall, will be pushed to keep his starting job. There could be a hole at the other safety spot, as Tramaine Brock has left the team because of academic issues. Brewster didn't say much about Brock, only that he's waiting to see how everything plays out.

The team hopes to move into TCF Bank Stadium by July 1 and conduct several preseason practices on the field before the Sept. 12 opener against Air Force. "It's something that's been needed at the U. for a long time," Brewster said. "Fortunately, the dream, it's happened."
Minnesota's schedule gets tougher in 2009, as it faces Cal and Air Force and adds defending Big Ten co-champ Penn State and Michigan State to the conference slate. The Gophers will not play Indiana or Michigan, and in 2010 they begin a series with USC. "I was a big part of making the schedule a lot stronger," Brewster said. "It does a whole lot more good than it does harm. ... I don't want to play USC every week, but I want to play a schedule our fans are really excited about."
October, 8, 2008
10/08/08
1:07
PM ET
Posted by ESPN.com's Adam Rittenberg
Happy hump day. All I know is we're a little bit closer to Saturday.
The links begin with Ohio State coach Jim Tressel, who felt the hit from Wisconsin that knocked reserve running back Dan "Boom" Herron out of last Saturday's game falls under the officials' new point of emphasis to limit helmet-to-helmet blows.
Elsewhere:
Paterno, 81, has faced questions about his future for years. But his declining mobility, coupled with the announcement last April that he would not receive a new contract when his current deal expires after the season, has made for an increasingly uncertain time in his 43-year tenure as the coach. Paterno has worked without a contract for most of his career.
Illinois coach Ron Zook wants a packed house and plenty of "Zook Zone" towels Saturday against Minnesota, Mark Tupper writes in the Decatur Herald & Review. Here's a juicy nugget about the game:
Players say they've heard Minnesota's second-year coach, Tim Brewster, is particularly motivated because he wanted the Illini head coaching job when Zook was hired. Brewster played tight end at Illinois and helped the Illini to the Big Ten Conference championship in 1983.
Purdue coach Joe Tiller doesn't take kindly to boo-birds during home games, calling them "believers of stinking thinking," Tom Kubat writes in The (Lafayette, Ind.) Journal and Courier. Man, I'm going to miss Tiller's lines.
Wisconsin's quarterbacks weren't allowed to talk to reporters Tuesday, but offensive coordinator Paul Chryst has some ideas on how to improve the Badgers' struggling passing attack, Tom Mulhern writes in the Wisconsin State Journal.
Minnesota's top cornerback Marcus Sherels should play against Illinois, and left tackle Dom Alford also is expected to be on the field, the St. Paul Pioneer Press' Marcus Fuller writes in his blog.
September, 17, 2008
9/17/08
10:15
AM ET
Posted by ESPN.com's Adam Rittenberg
It's time to take a look inside five Big Ten teams:

Indiana -- After two cakewalk victories, the Hoosiers face their first test of the season Saturday against Ball State and need a solid effort from their secondary, which might be without a big piece. Strong safety Austin Thomas is questionable for the game with a lower leg injury sustained last week at practice. Coach Bill Lynch said Thomas, the team's leading tackler last fall, won't practice much this week leading up to the game. If Thomas can't go, heralded Florida transfer Jerimy Finch would get the nod. The matchup with Nate Davis and the Cardinals would give the Hoosiers a great chance to evaluate Finch, considered arguably the nation's best safety coming out of high school.

Iowa -- The Hawkeyes still don't have a definitive starting quarterback, but coach Kirk Ferentz reiterates that the situation under center looks much more stable than it did a year ago because the team boasts two players (Jake Christensen and Ricky Stanzi) capable of running the offense. Stanzi started the last two games, but Ferentz is leaning toward Christensen for Saturday's game at Pitt (ESPN2, noon ET). Throughout the competition Ferentz has given Christensen every chance to cement himself as the starter. If the junior steps up against the Panthers, Iowa could finally decide to stick with him.

Minnesota -- There could be some shuffling on the offensive line after tackle Dom Alford sprained his ankle last week. Coach Tim Brewster is holding out hope Alford can return Saturday against Florida Atlantic, but junior Ryan Ruckdashel or backup right tackle Jason Meinke likely will get the nod. Redshirt freshman Trey Davis will start at center, but Brewster thinks there's a chance Jeff Tow-Arnett can return from a knee injury. Ned Tavale should return after an ankle injury and is expected to share time with Chris Bunders at right guard.

Ohio State -- Freshman quarterback Terrelle Pryor will continue to see increased playing time Saturday against Troy and could split snaps 50-50 with senior Todd Boeckman for the second straight game. Pryor impressed coach Jim Tressel with the way he handled the spotlight last week against USC and made no major mistakes, while Boeckman threw two interceptions, one of which was returned for a touchdown. Tressel won't name a starter until later in the week. Though the coach is usually partial to seniors, he doesn't tolerate turnovers and admits he's surprised at how quickly Pryor has grasped the system after getting far fewer reps than Boeckman during the preseason.

Penn State -- A rapidly evaporating group of defensive linemen forced Joe Paterno to move Mike Lucian from offensive guard to defensive tackle last week against Syracuse. The switch might have backfired as Lucian sustained an ankle injury, but Paterno expects the senior to be ready for Saturday's game against Temple. Paterno remains "very concerned" about the depth on the defensive line, and more moves could be on the way if Maurice Evans and Abe Koroma remain suspended. Jack Crawford, a 248-pound true freshman, is in the mix at tackle. The Lions can't afford injuries to reserve tackles Tom McEowen and Chima Okoli.
September, 15, 2008
9/15/08
6:32
PM ET
Posted by ESPN.com's Adam Rittenberg
Wisconsin coach Bret Bielema wants to move a future road game to a neutral site, possibly Soldier Field in Chicago, the Milwaukee Journal Sentinel's Jeff Potrykus writes in the Badgers Blog. Bielema didn't specify the game, but the likely choice is next year's road contest at Northern Illinois.
Though DeKalb, Ill., is a short drive from Madison, Huskie Stadium only seats about 31,000 and Wisconsin would benefit more from a game at Soldier Field. Northern Illinois played Iowa in Chicago to open the 2007 season. I covered that game and on the field, it was one of the worst I've ever watched, but it still was a successful endeavor for both schools. Iowa fans showed up in force, and no doubt Wisconsin backers would as well.
A few other items before your drive home: