Big Ten:

Dominique Easley
July, 15, 2014
Jul 15
1:30
PM ET
STATE COLLEGE, Pa. --
Jesse James
is a freak of nature.
Really, there's no other way to describe the 6-foot-7, 272-pound tight end. Coaches and teammates tried their best Saturday to brainstorm other fitting adjectives or ways to encapsulate the junior's ability. But, without fail, they kept returning to that same phrase.
"Jesse is just a freak of nature," fellow Penn State tight end
Adam Breneman
said. "I don't know how else to describe him."
Added strength coach Dwight Galt: "He's a freak. ... Athletically, talent-wise, there's not another tight end in the country better than him, for sure. He's got speed, he's got strength, he's got agility, he's got size. He's got everything."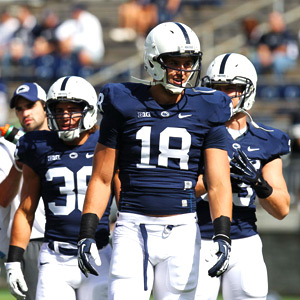 Matthew O'Haren/USA TODAY SportsThe 6-foot-7 Jesse James can bench-press 225 pounds 27 times and he runs the 40-yard dash in about 4.6 seconds.
James lived up to that billing during Saturday afternoon's annual Lift for Life event, which pit the offense and defense against one another in seven strength competitions while
helping raise money to fight kidney cancer
. During the 225-pound bench press, the weights exploded off James' chest so quickly it was as if they came from a balloon stand. The tight end's spotter called out "Seven!" before his defensive end opponent reached three.
The reps came so quickly, it was easy to lose count. Once finished, a Penn State trainer turned to James' spotter and asked about the final tally. Upon hearing the answer, he just shook his head and looked confused: "What? ... Twenty-seven?" James' teammates alternated between head-shaking and patting him on the shoulder.
Had James reached that number in any of the last 10 NFL combines, he would've placed within the top five at his position -- and he would've been at the very top in
2008
and
2011
. Compared to the most recent combine, his 27 reps were two fewer than first-round offensive tackle Taylor Lewan and one more than first-round defensive tackle Dominique Easley.
"He'll surprise you every day. You never know what's coming with Jesse,"
Christian Hackenberg
said. "It's actually interesting when you get out there with what he does, just how good he is and how fast he is and how strong he is."
It's not easy to overthrow James, who reportedly runs in the 4.6 range and stands as the second-tallest player on the 121-man roster. That might have something to do with his recent addition to the Mackey Award watch list. Of course, the fact he's Penn State's leading returnee with 25 catches and 333 yards doesn't hurt either.
Put simply, yes, the guy's a freak.
"To get a guy that big that does what he does, I haven't seen that," Galt said. "I've been really lucky. I had five tight ends in the NFL at one time, including
Vernon Davis
and Dan Gronkowski, Rob's brother, and I'll tell you what -- I'll put Jesse James up there with any of them. The kid is really that athletic and that good of a player."
Players spoke in such revered and hyperbolic fashion about James that, at times, it seemed as if they were discussing Bigfoot or the Loch Ness Monster. Tailback
Akeel Lynch
just laughed when asked about what impressed him most about James and cautioned that it might not sound believable.
While most players dead lift with five or six plates and let out painful groans between each lift, Lynch said, Penn State's tight end takes it a step further. Lynch smiled, bent his knees and pantomimed lifting up and down with ease. "And he puts the max weight you can on a bar," Lynch said. "He's a freak. He's a good guy, but he's a freak."
On Saturday, James
performed 12 reps on the dead lift
at 495 pounds. And he promised before the event that he planned to take it easy since this was for charity. ("I won't put too much on today, but it'll be fun.") So what exactly is the max weight the junior can dead lift?
"I have no idea," he said matter-of-factly, with a slight shrug. "We haven't found it."
James is one of the last players who would exaggerate his talent. The aw-shucks kid from the small, blue-collar borough of Glassport, Pennsylvania, didn't mind dissecting Hackenberg's improvement or waxing poetic on how the freshman receivers were coming along. But it was as if his white T-shirt grew itchy whenever he was asked about himself.
"I'm not really the person to talk to about that," James said. "That's just how I was raised."
Added offensive guard
Miles Dieffenbach
: "That's the way he is. Modest guy, really good guy."
Humility might serve him well, but the Nittany Lions need someone to step up in a big to make up for more than 125 receptions of lost production from last season. (Allen Robinson, who caught 97 balls in 2013, is now in the NFL.) James is certainly a candidate to be that player, at least in the end zone, and expectations are soaring for the junior.
It's still to be determined how James' speed and strength will transfer over to the gridiron this season. But at least one thing is for certain.
"He's a freak," Dieffenbach said. "A freak of nature."
January, 8, 2010
1/08/10
12:00
PM ET
Only 237 days left until the 2010 Big Ten season kicks off with Minnesota against Middle Tennessee State.
January, 4, 2010
1/04/10
1:54
PM ET
Bowl season is nearly complete, which means recruiting season will heat up all the way until National Signing Day in February.

It's time to catch up on a few Big Ten-related recruiting tidbits from ESPN's Scouts Inc.

ESPNU 150 running back Marcus Lattimore down to four

Four-star ball-carrier Marcus Lattimore (Duncan, S.C./Byrnes) has eliminated Georgia from contention, ESPN affiliate Web site TheBigSpur.com reports.

The ESPNU 150 talent is now only considering Auburn, Oregon, Penn State and South Carolina.

Lattimore has already completed official visits with the Tigers and Nittany Lions. He plans to visit the Gamecocks on Jan. 15th and the Ducks on Jan. 22nd before announcing his decision February 2nd.

Fort Lauderdale running back James White names Badgers

Wisconsin has added a Class of 2010 commitment from three-star prospect James White of Saint Thomas Aquinas (Fort Lauderdale, Fla.).

The 5-foot-10, 195-pound White chose the Badgers over Michigan State, Clemson and North Carolina State.

Among his other offers were Boston College, Indiana, Iowa, Minnesota, Purdue, Louisville, Rutgers, South Florida, Syracuse and Tulane.

Spartans snare Westland running back Jeremy Langford

Jeremy Langford, who rushed for 1,932 yards and 24 touchdowns as a senior for John Glenn (Westland, Mich.), has accepted a Class of 2010 offer from Michigan State.

Colorado, Bowling Green and Eastern Michigan also offered the 6-foot-0, 185-pound running back.

The Spartans have 17 commitments.

Florida comes out of nowhere to land Dominique Easley

In a surprise move, Under Armour All-American Dominique Easley (Staten Island, Fla./Curtis) committed to Florida over Oregon, Miami-FL and Penn State Saturday at Tropicana Field. Easley originally picked the Nittany Lions.

"The guys helped make my choice," Easley told ESPN affiliate Web site GatorCountry.com, in referring to Leon Orr and several of the other 10 Florida commitments playing in St. Petersburg on Saturday. "After talking with the (Florida) coaches, it was settled."

Four-star receiver Dyjuan Lewis reopens pledge to Cincinnati

Dyjuan Lewis, a highly-recruited wideout from Pike (Indianapolis, Ind.) has decommitted from the Bearcats.

The 6-foot-2, 190-pound Lewis is now considering Kentucky, Purdue, Oregon and the Bearcats for the Class of 2010. He also lists Notre Dame, but the Irish have not offered.

Lewis also has offers from Colorado, Illinois, Indiana, Iowa, Louisville, Michigan State, Missouri, Oregon and South Carolina.
December, 8, 2009
12/08/09
1:30
PM ET
As National Signing Day gets closer, you'll see more recruiting updates in the blog. The fine folks at
Scouts Inc.
are on top of it all, and here are some Big Ten-related notes from national recruiting director Tom Luginbill.
It looks like Purdue has had a nice few days.
Defensive back Antoine Lewis drops Gophers for Purdue
The Boilermakers have snared a pledge for the Class of 2010 from three-star cornerback Antoine Lewis of Proviso East (Maywood, Ill.).
The 5-foot-10, 170-pound Lewis decommitted from Minnesota. He also holds offers from Bowling Green, Eastern Michigan and Western Kentucky.
Purdue has 21 commitments.
Wisconsin athlete Justin Sinz commits to the Boilermakers
Three-star athlete Justin Sinz, who played quarterback for Edgar High School (Edgar, Wis.), has given a Class of 2010 pledge to Purdue
Recruited as a tight end, the 6-foot-4, 215-pound Sinz also holds an offer from Illinois State.
"I really like everything, the facilities, the players and the coaches," Sinz told the Journal and Courier. "I talked with coach Hope this morning, and he asked what I had thought of the whole thing or if I needed time. I told him I had made up my mind before I went there this weekend that if I liked everything, I would probably be ready to commit."
He is the 21st commitment for the Boilermakers.
Easley still committed to Penn State but considering Oregon
Under Armour All-American defensive lineman Dominique Easley (Long Island, N.Y./Curtis), a Penn State commitment, made an official visit to Oregon for its Civil War victory and spoke with ESPN affiliate Web site NittanyNetwork.com his current status.
"I'm still committed to Penn State, but I'm considering Oregon," he said. Easley will make an official visit to Penn State this coming weekend.
November, 30, 2009
11/30/09
1:30
PM ET
My in-season responsibilities prevented me from updating the scorecard for quite a while, but it's back now. And with recruiting season heating up and several big prizes (Seantrel Henderson, Jordan Hicks) still out there, this is the perfect time to see how teams are doing.
For all your recruiting needs, go
here
and
here
.
ILLINOIS
2010 verbal commits: 8
ESPNU 150 prospects: 0
Comment: Another disappointing season finally cost Illinois on the recruiting trail, as tight end C.J. Fiedorowicz, an ESPNU 150 prospect, switched his verbal to Iowa. The Illini still boast several good prospects, including quarterback Chandler Whitmer, who remains in Ron Zook's corner. Illinois hasn't had a verbal commitment since early August, so Zook really needs to work his magic in the coming weeks.
INDIANA
2010 verbal commits: 21
ESPNU 150 prospects: 0
Comment: Jibreel Black's decommitment and switch to Cincinnati stings the Hoosiers, but IU still brings in a sizable class that includes some solid players. Indiana hasn't had a verbal commitment since late August, but the class looks pretty complete.
IOWA
2010 verbal commits: 20
ESPNU 150 prospects: TE C.J. Fiedorowicz
Comment: The Hawkeyes' success on the field has translated very well to recruiting, as the team added several excellent players during the fall. Fiedorowicz headlines a class that also includes Iowa prep star A.J. Derby. Iowa has received six verbals since the start of the season.
MICHIGAN
2010 verbal commits: 21
ESPNU 150 prospects: QB Devin Gardner
Comment: Gardner hasn't wavered in his commitment to head coach Rich Rodriguez and the Wolverines, and the lure of early playing time likely has kept the class in place. Michigan got a big commitment from cornerback Cullen Christian days after the season ended, though things have been fairly quiet since the summer.
MICHIGAN STATE
2010 verbal commits: 15
ESPNU 150 prospects: DE William Gholston
Comment: Gholston could reopen his recruitment, which would leave Spartans fans holding their breath. The top-rated player in the state of Michigan would be a major boost for MSU. Mark Dantonio's team picked up three verbals during the season, including one from wide receiver Keith Mumphery.
MINNESOTA
2010 verbal commits: 22
ESPNU 150 prospects: 0
Comment: Tim Brewster and his staff continue to recruit at a high level and landed several solid prospects during the season. Among them is wide receiver Chris Hawkins, who could make an immediate impact in 2010. Running back Josh Huff from Texas also is a solid addition. Minnesota picked up 11 verbals during the season, tops among Big Ten teams.
NORTHWESTERN
2010 verbal commits: 15
ESPNU 150 prospects: 0
Comment: After a slow start, Northwestern is putting together a solid 2010 class. The Wildcats recently added running back Ibraheim Campbell, the fifth player to commit during the season. The class seems heavy on defensive tackles and offensive skill players, both areas of need.
OHIO STATE
2010 verbal commits: 13
ESPNU 150 prospects: RB Roderick Smith, WR James Louis, DE Darryl Baldwin, WR Corey Brown
Comment: Offensive firepower might be an issue in Columbus right now, but help is certainly on the way. Brown has been Ohio State's only in-season commit, but other big names soon could follow. Ohio State has bolstered the wide receiver and defensive end/linebacker spots.
PENN STATE
2010 verbal commits: 20
ESPNU 150 prospects: DE Dominique Easley, LB Khairi Fortt, DT Evan Hailes, DE Dakota Royer, WR Adrian Coxson, QB Robert Bolden, C Miles Dieffenbach, DE C.J. Olaniyan
Comment: Penn State entered the season with the Big Ten's best recruiting class and has only made it better. The Nittany Lions staff has done a fabulous job with this class, landing Fortt, Easley, Olaniyan and two other prospects during the season. Penn State has addressed almost every position and should be very pleased on national signing day.
PURDUE
2010 verbal commits: 20
ESPNU 150 prospects: 0
Comment: Danny Hope and his assistants continue to raid the state of Florida, and now they're bringing in more coveted prospects to Purdue. Wide receiver O.J. Ross from Daytona Beach, Fla., headlines a class that already includes seven Floridians. Purdue added eight verbals during the season, including cornerback Ricardo Allen.
WISCONSIN
2010 verbal commits: 18
ESPNU 150 prospects: 0
Comment: Wisconsin has a tradition of turning solid players into stars and should have ample opportunities with this class. The Badgers added six verbals during the season, including safety/linebacker Manasseh Garner and offensive tackle Rob Havenstein.
September, 30, 2009
9/30/09
3:30
PM ET

Posted by ESPN.com's Adam Rittenberg
The fine folks at ESPN's Scouts Inc. have published their
September recruiting rankings
, which feature two Big Ten teams in the top 15.
Penn State comes in at No. 7, two spots below its August mark but still tops in the conference . Ohio State moves down a spot to No. 10. Despite a fast start to the 2010 class and the commitment of quarterback Devin Gardner, Michigan didn't make the rundown.
Here are the comments about both the Nittany Lions and the Buckeyes.
No. 7 Penn State
Commits:
18

ESPNU 150 Commits:
6
Top Prospect:
DE Dominique Easley
Penn State's stellar class got a big bump last week with the commitment of 260-pound end Dominique Easley (Staten Island, N.Y./Curtis). The talented pass-rusher is one of the quickest players off the ball in this class. In addition to Easley, Joe Paterno and his staff will be bringing two other supremely talented D-linemen in Dakota Royer (Manheim, Pa./Central) and Evan Hailes (Chesapeake, Va./Oscar Frommel Smith). Penn State needs quarterbacks, and it got two in this class with P.J. Jones (McKees Rocks, Pa./Sto-Rox) and heralded Robert Bolden (Orchard Lake, Mich./St. Mary's). Bolden is the more athletic of the two. Wideouts Adrian Coxson (Baltimore/City College) and Alex Kenney (State College, Pa./State College) and running back Silas Redd (Stamford, Conn.) give this class excellent skill talent that will help to support the young quarterbacks -- both of whom could be candidates to replace
Daryll Clark
.
No. 10 Ohio State
Commits:
13
ESPNU 150 Commits:
5
Top Prospect:
RB Roderick Smith
The Buckeyes are adding some offensive weapons in this class, highlighted by four-star RB Roderick Smith (Fort Wayne/Harding). He will provide a bruising dimension in the backfield. He resembles former Buckeye great Beanie Wells on film and is tall, has great bulk and is still lean enough through the waist and lower body to remain fluid with some wiggle. He joins a pair of Under Armour All-American WRs in James Louis (Delray Beach, Fla./Atlantic Community) and Corey Brown (Springfield, Pa./Cardinal O'Hara). Both have explosive speed, quickness and acceleration. Ohio State also added some playmakers on defense, including a pair of four-star DEs in Darryl Baldwin (Solon, Ohio/Solon) and David Durham (Charlotte, N.C./Charlotte Christian). Baldwin, 6-5, 255 pounds, has a great physical build to go with good tools. Durham, 6-2, 225 pounds, is a talented and versatile player who can play a number of positions, but will likely wind up at end.
September, 22, 2009
9/22/09
9:45
AM ET

Posted by ESPN.com's Adam Rittenberg
Here are two Big Ten recruiting nuggets for you, courtesy of the fine folks at ESPN's Scouts Inc.
Under Armour All-American defender Dominique Easley picks Nittany Lions
ESPNU 150 defensive end Dominique Easley of Curtis (Staten Island, NY) has given Penn State a commitment for the Class of 2010.
The 6-foot-3, 260-pound prospect also visited Florida, Georgia and Rutgers. Others among his 18 offers were Tennessee, Michigan, Miami-Florida, Oregon, Boston College, UConn, Duke, Maryland, Pittsburgh, Texas Tech, UCLA and Syracuse.
Easley pledged after watching the fifth-ranked Nittany Lions defeat Temple, 31-6, on a campus visit this past weekend.
"I always liked Penn State," Easley told Staten Island Live.Com. "I didn't think I was going to commit, but being out there and talking to everybody made me feel like this was the place."
He also told ESPN affiliate Web site NittanyNetwork.com via text message, "The education is unbelievable and Coach [Larry] Johnson is the coach for me because he reminds me of my high school coach."
ESPN's Craig Haubert said of the news, "The New York prep star seemed like he was headed to Florida at one point over the summer, but Penn State was able to persevere and land the talented defender. With Easley they get a versatile lineman who possesses one of the quickest get-off's in the 2010 class. The ESPNU 150 member is a DE/DT tweener who we think will grow more into a true DT in time, but he can give Penn State some options in how they use him especially early on.
"The Nittany Lions are assembling a very talented group of defensive line help in this class and are preparing to inject a big infusion of youth to the position. Easley along with fellow UA All-Americans end Dakota Royer (Manheim, Pa./Central) and defensive tackle Evan Hailes (Chesapeake, Va./Oscar Smith) sit at the top of Penn States class and join recent commit C.J. Olaniyan (Warren, Mich./Mott) as talented defensive line prospects in this class."
Easley registered 51 tackles, 10 sacks and two fumble recoveries, both returned for touchdowns, during his junior season.
Indy safety James Manuel says yes to the Gophers after official
James Manuel (Indianapolis, Ind./Warren Central) committed to Minnesota over offers from Michigan State, Iowa, Louisville and Cincinnati after making an official visit to campus, NittanyNetwork.com's Bill Kurelic reports.
"I really enjoyed my visit," Manuel said. "I had a great, great time at the game even though they lost. The atmosphere was crazy. The coaches said I have a good chance to come in and compete for a spot."
The high school corner who projects as a safety for the Gophers registered a 4.19 20-yard shuttle, 7.26 three-cone drill, 30.5-inch vertical and 10-foot-8 broad jump at the Atlanta Under Armour Combine.