May, 12, 2014
May 12
10:30
AM ET
Thirty Big Ten players heard their names called
during the 2014 NFL draft, but many others received phone calls immediately after the event. The undrafted free-agent carousel is spinning, and players from around the Big Ten are hopping aboard.
Unlike the draft, the UDFA list is somewhat fluid, and other players could get picked up later today or in the coming days. To reiterate:
This is not the final list
.
Here's what we know right now from various announcements and media reports:

ILLINOIS
LB Jonathan Brown, Arizona Cardinals
WR Ryan Lankford, Miami Dolphins
TE Evan Wilson, Dallas Cowboys
WR Steve Hull, New Orleans Saints
WR Spencer Harris, New Orleans Saints
Notes:
Illini OT Corey Lewis, who battled knee injuries throughout his career, told Steve Greenberg that
several teams are interested in him
if he's cleared by doctors.

INDIANA
WR Kofi Hughes, Washington Redskins
RB Stephen Houston, New England Patriots
Notes
: S Greg Heban and K Mitch Ewald have tryouts with the Chicago Bears.

IOWA
LB James Morris, New England Patriots
OT Brett Van Sloten, Baltimore Ravens
G Conor Boffeli, Minnesota Vikings
WR Don Shumpert, Chicago Bears
LS Casey Kreiter, Dallas Cowboys

MARYLAND
LB Marcus Whitfield, Jacksonville Jaguars
CB Isaac Goins, Miami Dolphins

MICHIGAN
LB Cam Gordon, New England Patriots
S Thomas Gordon, New York Giants
Notes:
RB Fitzgerald Toussaint (Baltimore), DT Jibreel Black (Pittsburgh), LS Jareth Glanda (New Orleans) and DT Quinton Washington (Oakland)
will have tryouts
.

MICHIGAN STATE
LB Denicos Allen, Carolina Panthers
S Isaiah Lewis, Cincinnati Bengals
T/G Dan France, Cincinnati Bengals
WR Bennie Fowler, Denver Broncos
LB Max Bullough, Houston Texans
DT Tyler Hoover, Indianapolis Colts
DT Micajah Reynolds, New Orleans Saints
OL Fou Fonoti, San Francisco 49ers
Notes:
LB Kyler Elsworth has a tryout scheduled with Washington.

MINNESOTA
LB Aaron Hill, St. Louis Rams

NEBRASKA
QB Taylor Martinez, Philadelphia Eagles
OT Brent Qvale, New York Jets
CB Mohammed Seisay, Detroit Lions
DE Jason Ankrah, Houston Texans
C Cole Pensick, Kansas City Chiefs
OT Jeremiah Sirles, San Diego Chargers
Notes:
CB Ciante Evans has yet to sign but will do so soon. DB Andrew Green
has a tryout with the Miami Dolphins
.

NORTHWESTERN
WR Kain Colter, Minnesota Vikings
K Jeff Budzien, Jacksonville Jaguars
WR Rashad Lawrence, Washington Redskins
DE Tyler Scott, Minnesota Vikings

OHIO STATE
S C.J. Barnett, New York Giants
K Drew Basil, Atlanta Falcons
WR Corey Brown, Carolina Panthers
G Andrew Norwell, Carolina Panthers
G Marcus Hall, Indianapolis Colts
WR Chris Fields, Washington Redskins

PENN STATE
OT Garry Gilliam, Seattle Seahawks
LB Glenn Carson, Arizona Cardinals
S Malcolm Willis, San Diego Chargers
Notes:
OT Adam Gress will
have a tryout with the Pittsburgh Steelers
.

PURDUE
DE Greg Latta, Denver Broncos
S Rob Henry, Oakland Raiders
G Devin Smith, San Diego Chargers
DT Bruce Gaston Jr., Arizona Cardinals
Notes:
P Cody Webster will have a tryout with Pittsburgh.

RUTGERS
WR Brandon Coleman, New Orleans Saints
WR Quron Pratt, Philadelphia Eagles
LB Jamal Merrell, Tennessee Titans
DE Marcus Thompson, Miami Dolphins
S Jeremy Deering, New England Patriots
Notes:
According to
Dan Duggan
, DE Jamil Merrell (Bears) and G Antwan Lowery (Baltimore) will have tryouts.

WISCONSIN
G/T Ryan Groy, Chicago Bears
TE Jacob Pedersen Atlanta Falcons
TE Brian Wozniak, Atlanta Falcons
DE Ethan Hemer, Pittsburgh Steelers
Quick thoughts:
Martinez's future as an NFL quarterback has been heavily scrutinized, but Chip Kelly's Eagles are a fascinating destination for him. Whether he plays quarterback or another position like safety, Kelly will explore ways to use Martinez's speed. ... The large Michigan State contingent is still a bit startling. The Spartans dominated the Big Ten, beat Stanford in the Rose Bowl, use pro-style systems on both sides of the ball and had just one player drafted. Bullough, Allen and Lewis all were multiple All-Big Ten selections but will have to continue their careers through the UDFA route. ... Colter certainly
looked like a draft pick during Senior Bowl practices
in January, but that was before his ankle surgery and his role in leading the unionization push at Northwestern. I tend to think the injury impacted his status more, but NFL teams have been known to shy away from so-called locker-room lawyers. ... Other Big Ten standouts like Jonathan Brown, Morris and Pedersen were surprisingly not drafted. Morris should be a great fit in New England. ... Coleman's decision to leave Rutgers early looks questionable now that he didn't get drafted.
April, 26, 2013
4/26/13
10:00
AM ET
Big Ten spring football wraps up Saturday as both Iowa and Minnesota hold their annual spring games/scrimmages. We're taking a quick look at each one.
First up, Iowa's spring scrimmage presented by Coke Zero.
When:
Saturday, 3:05 p.m. ET
Where:
Kinnick Stadium in Iowa City, Iowa
Admission:
Free. The west and south grandstands are open, and Gates A and G open at 2 p.m. ET. Parking is available in all university lots around Kinnick Stadium. Fans are invited to bring nonperishable food items for the ANF Food Bank Drive.

TV:
Live on BTN2Go. Big Ten Network will broadcast scrimmage on tape-delay at 8 p.m. ET Sunday.
Weather:
Partly cloudy, 60-64 degrees, winds at 7-9 mph.
What to watch for:
Iowa has been more fan friendly this spring, and the theme continues with the spring scrimmage, which will be more like a real game with four 15-minute quarters and a
scoring system
for both the offense and the defense. Most of the attention will be on the quarterbacks, as
Jake Rudock
,
Cody Sokol
and
C.J. Beathard
continue to compete for the starting position.
Rudock looked like the man to beat
in the April 14 scrimmage in West Des Moines, although offensive coordinator Greg Davis said Wednesday that he has "no idea" who the starter will be. The race will spill into fall camp, but Saturday marks the final chance for the candidates to impress the coaching staff before the summer. Davis said each quarterback likely will get to lead his own drive in the scrimmage.
"They've all done some really good things," Davis said, "but they have not separated themselves yet."
Fans also want to see who emerges at wide receiver, where returning starter
Kevonte Martin-Manley
,
Don Shumpert
and
Tevaun Smith
are getting the most work. The running back rotation also will be a focal point as Iowa's coaches have talked a lot about using multiple backs on the field together.
Mark Weisman
and
Damon Bullock
are getting the most work, and
Jordan Canzeri
also is in the mix.
The defensive line also figures to be in the spotlight Saturday as Iowa works toward filling out its rotation. Tackle
Carl Davis
has impressed the coaches this spring, and true sophomore
Drew Ott
is working as a starting defensive end. Young players like
Darian Cooper
and
Faith Ekakitie
also will be in the spotlight Saturday, as Iowa looks to boost its pass rush.
"Faith, he's probably the most intriguing guy," defensive coordinator Phil Parker said. "He can play inside and I think he can play outside as an end. Very impressed with the way he can run and move. We moved him out here late a little bit at the end. He probably had four or five days of practice. So we're intrigued by putting him out on the edge."
Iowa is solid at linebacker but has a few question marks in the secondary. Cornerback
Jordan Lomax
, who missed last season with a shoulder injury, is in the mix to start opposite
B.J. Lowery
.
April, 24, 2013
4/24/13
3:30
PM ET
Iowa fans, know this: Greg Davis felt your pain about last year's offense.
"It obviously wasn't the season we wanted, and it was frustrating for all of us," the second-year Hawkeyes offensive coordinator told ESPN.com. "It was frustrating for me."
Iowa finished 11th in the Big Ten in scoring in 2012 and averaged just 16.7 points in the final six games of a dismal 4-8 season. So Davis, along with head coach Kirk Ferentz and the rest of the offensive staff, set about trying to fix things this offseason. The problems weren't hard to pinpoint when they gathered together to go over what went wrong.
"Everybody came in with a list of things that was pretty similar," Davis said. "There were a lot of things that were on everybody's sheet."
[+] Enlarge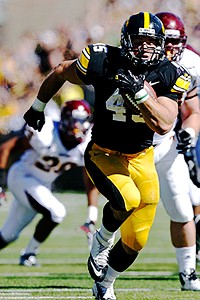 AP Photo/Charlie NeibergallMark Weisman led the Hawkeyes in rushing last season with 815 yards.
The lack of a downfield passing game checked in very high on that list. One of the indelible images of the Hawkeyes' season was watching quarterback
James Vandenberg
throw horizontal passes to receivers well short of the first-down marker.
Davis wants to use the vertical passing game a lot more this year, but that is easier said than accomplished.
"We had to look at, how do we get the ball deep?" he said. "We're not all of a sudden going to have Jerry Rice and John Taylor on the outside."
The Hawkeyes' lack of playmakers at receiver became painfully obvious last season. Though Davis likes the progress of slot receiver
Kevonte Martin-Manley
and the speed of
Jordan Cotton
and
Don Shumpert
, Iowa still looks a little athletically challenged on the perimeter.
So Davis' plan is to use one of the team's main strengths -- its running game -- to shore up a weakness.
"Because of our ability to run the ball, we've really worked hard on play-action shots," he said. "Hopefully, many of our big plays will come off play-action."
With the healthy return of
Brandon Scherff
and
Andrew Donnal
, Davis thinks the offensive line will perform like a typical group of Iowa mashers up front. The Hawkeyes -- dare we tempt fate by saying it -- are now flush with running backs, led by bulldozer
Mark Weisman
and the speedier
Damon Bullock
. Building pass plays out of run looks should both improve the protection for the quarterback and give receivers more time to get 15 yards or so downfield and read the defense.
"There's more of a threat all around," running back
Jordan Canzeri
said. "We have some new plays where we're taking more shots downfield, different routes."
Davis also wants the offense to simply have more opportunities, period. Iowa averaged only 66 offensive snaps per game last year, running the fewest plays in the Big Ten. Part of that, of course, is converting third downs and staying on the field. But Davis also hopes to incorporate more no-huddle, which the Hawkeyes used in stretches last year.
"We want to play faster, we want to get more snaps and we want to stress the defense more," Davis said. "We do so much at the line of scrimmage anyway, so why huddle?"
That doesn't mean that Iowa is about to become a spread team by any means. But having both Bullock and Weisman, who were almost never healthy at the same time last year, adds more options. Weisman can line up as the fullback in the I-formation, or the Hawkeyes can use him as a single back with Bullock splitting out as a receiver. If they do that without huddling, that should create some favorable matchups against defenses.
Of course, first and foremost, the Hawkeyes need to identify a starting quarterback, and they're not much closer to doing so with spring practice set to end Saturday. Davis said the three contenders for the job --
Jake Rudock
,
Cody Sokol
and
C.J. Beathard
-- are still "too close to call."
"They've all done some things where you say, 'Wow, this is really pretty good,'" he said. "They've also all done some things where you say, 'Wow, this is really not very good.' I'm pretty sure won't know until [preseason] camp."
Throughout the spring, Iowa has rotated the three quarterbacks every two plays. Last Saturday, for the first time, each was given a chance to lead a drive until its completion during team drills. Yet, there's still not much separation.
Davis said it reminded him a little of when he was at Texas and the quarterback race was so close that the Longhorns began the season alternating freshmen Colt McCoy and Jevan Snead. McCoy didn't show he was the guy until he actually had to make plays with defenders chasing him and without the comfort of a no-contact jersey.
Iowa fans -- and Davis -- just hope that whoever starts ends up running an offense that makes many more plays than last year.
September, 8, 2012
9/08/12
7:24
PM ET
By
ESPN.com staff
| ESPN.com
For the second straight game to open this season, Iowa had the ball late and needing to score to avoid a loss.
Unlike last week's Houdini act against Northern Illinois, the Hawkeyes couldn't get it done Saturday against Iowa State in a painful defeat. Not only was it the second straight loss to rival Iowa State -- at home, no less -- this one exposed some potentially serious problems for Kirk Ferentz's team going forward.


Iowa had to score a late touchdown to beat NIU, and that was the only touchdown it mustered in Week 1. Against Iowa State, the offense failed to reach the end zone in
the 9-6 loss
. Once again, the passing game looked anemic in continually settling for short passes and not getting much at all going downfield.
James Vandenberg
finally seemed to find a rhythm on his team's final drive, leading the Hawkeyes down to the Iowa State 32 in the final 90 seconds. But then the senior quarterback made a terrible throw across the middle that the Cyclones'
Jake Knott
intercepted to seal the game.
Vandenberg and his receivers just haven't been able to build much cohesion so far this season in an offense that misses Marvin McNutt dearly. Vandenberg completed only 20 of his 42 pass attempts and averaged fewer than six yards per completion. New offensive coordinator Greg Davis is sure to come under heavy criticism for his play-calling, which has featured a whole lot of short throws and not much success. Some of the blame also has to lie with the receivers. C. J. Fiedorowicz and
Don Shumpert
dropped extremely catchable balls to short-circuit Iowa's penultimate drive.
Iowa State didn't let
Damon Bullock
play the hero for a second straight week, holding the sophomore running back to just 53 yards on 22 carries.
On the plus side, the Iowa defense did about all it could have, causing four turnovers and repeatedly stiffening near its own goal line. The Cyclones turned it over three times inside the Iowa 11-yard line and missed a field goal, or else this game wouldn't have even been all that close.
The defense allowed the Hawkeyes an opportunity to create some late-game magic, but it didn't happen this time. Iowa is lucky not to be 0-2 right now. We talked about how the schedule could allow this team to get off to a great start, but now it looks like every week will be a fight. Next week's opponent, Northern Iowa, certainly won't be a pushover if it played as well as it did at Wisconsin in the opener.
This won't be a fun week to be an Iowa player or coach, as the fan base will not easily accept losing to Iowa State two straight years. The Hawkeyes have a lot of problems to fix, especially on offense, if they want avoid a long season.
June, 5, 2012
6/05/12
12:00
PM ET
Great. Now I'll never get my lost wallet back from Lane Pryce.
May, 11, 2012
5/11/12
10:30
AM ET
2011 record
: 7-6
2011 conference record
: 4-4 (fourth, Legends Division)
Returning starters
: offense: 6; defense: 5; kicker/punter: 1
Top returners

QB
James Vandenberg
, C
James Ferentz
, WR
Keenan Davis
, TE
C.J. Fiedorowicz
, CB
Micah Hyde
, LB
James Morris
, LB
Christian Kirksey
, S
Tanner Miller
Key losses
RB Marcus Coker, WR Marvin McNutt, OT Riley Reff, G Adam Gettis, DT Mike Daniels, DE Broderick Binns, LB Tyler Nielsen, CB Shaun Prater
2011 statistical leaders (*returners)
Rushing:
Marcus Coker (1,384 yards)
Passing:
James Vandenberg* (3,022 yards)
Receiving:
Marvin McNutt (1,315 yards)
Tackles:
James Morris* and Christian Kirksey* (110)
Sacks:
Mike Daniels (9)
Interceptions:
Micah Hyde* and Tanner Miller (3)
Spring answers
1.
Embracing change:
Iowa is going through a historic number of changes, including the first new coordinators (Greg Davis and Phil Parker) in Kirk Ferentz's tenure as head coach. But for the most part, players and coaches seem to be embracing the new elements of the program, including an offense that will diverge a bit from what Iowa ran under Ken O'Keefe. The Hawkeyes will be a more up-tempo offense and mix in some no-huddle elements. "They've been extremely open to everything," Davis told ESPN.com. "Sometimes the same play said differently and explained differently creates excitement. And I sense an excitement."
2. Back seven emerging:
There's no doubt Iowa will lean on its defensive back seven this season. Cornerback Micah Hyde has established himself as a premier playmaker and a team leader, and Ferentz likened the career paths of linebackers James Morris and Christian Kirksey to those of former stars Chad Greenway and Abdul Hodge. Linebacker play could be a major strength for Iowa this fall, while players like Hyde and Tanner Miller bring experience to the secondary.
3. C.J.'s time:
Tight end C.J. Fiedorowicz arrived at Iowa with a lot of hype and attention. He appears poised for a breakout junior season in Davis' offense. "This is only 39 springs I've been in, and I've never had a tight end like C.J.," Davis
told reporters
. At 6-foot-7 and 265 pounds, Fiedorowicz can create a lot of problems for opposing defenses and should be an integral part of the Hawkeyes' passing attack this fall.
Fall questions
1. Defensive line:
Iowa hasn't been this young up front in recent memory, and despite a strong track record at defensive line, there are major question marks entering the summer. The coaches are relying on
Steve Bigach
and
Joe Gaglione
, the only veteran linemen on the field this spring, as well as
Dominic Alvis
, who will return from a torn ACL this fall. But Iowa undoubtedly needs young players like
Darian Cooper
,
Riley McMinn
and
Carl Davis
to take steps and contribute.
2. Running back:
Stop me if you've heard this before, but Iowa enters the summer with big questions at the running back position following Marcus Coker's transfer and
Jordan Canzeri
's ACL injury during spring ball. The good news is that despite an unfortunate stretch of bad luck and bad circumstances, Iowa has consistently developed good to great Big Ten backs. The Hawkeyes must do so again as unproven returnees
Damon Bullock
and
De'Andre Johnson
compete with decorated incoming freshmen Greg Garmon and Barkley Hill.
3. The search for No. 1 receiver:
All-Big Ten selection Marvin McNutt leaves a significant void, and given Iowa's question marks at running back, the team really needs a No. 1 receiver to emerge. Keenan Davis seems like the obvious choice, but he had an "up and down" spring, according to Ferentz, with some injuries.
Kevonte Martin-Manley
played a lot last year and could be ready to make some strides, as could
Don Shumpert
. "We have some room there for guys to step up," Ferentz said.
April, 16, 2012
4/16/12
3:15
PM ET
Our first set of spring game recaps finishes up with the
Iowa Hawkeyes
, who held a controlled scrimmage at the end of Saturday's practice at Kinnick Stadium.
Recaps can be found
here
and
here
and
here
. Here are some
unofficial statistics
.

Star of the game:
Cornerback
B.J. Lowery
had a forced fumble, and he would have added an interception if not for a pass interference penalty on safety
Nico Law
.
How it went down:
As is its custom, Iowa didn't hold a true spring game but rather a controlled scrimmage that featured some situational portions.
The big attraction for fans was the new offense, which predictably had some ups and downs.
James Vandenberg
completed only 12 of 30 passes, making an excellent throw to
Don Shumpert
for a 38-yard gain but not establishing much of a rhythm without his top receiver (
Keenan Davis
) on the field for the scrimmage portion. He had an interception nullified by penalty, while reserve quarterbacks
Jake Rudock
and Cody Sokol both were picked off once.
Running backs
Damon Bullock
and
De'Andre Johnson
both had big gains, including a 84-yard touchdown dash by Bullock that highlighted the scrimmage. Johnson had a fumble in the scrimmage, but both men eclipsed 100 rush yards.
"There's a little bit of mental gymnastics going on with guys on calls and formations and you saw us not line up correctly a couple of times," head coach Kirk Ferentz told reporters. "But that's part of the process. ... My sense is the guys knew there was a lot to learn coming in and I think they've been tuned in as a result of that."
Like the offense, Iowa's defense has a new coordinator in Phil Parker, but the scheme changes are less dramatic, and the unit showed some bright spots Saturday. The secondary should be better than it was in 2011, particularly at cornerback with Lowery and All-Big Ten candidate
Micah Hyde
. Corners
Gavin Smith
and
Jordan Lomax
also contributed big plays during the scrimmage.
The back seven will lead Iowa's defense entering the season, while the line looks to get healthy and build more depth during the summer months. Vandenberg should be fine by September, but Iowa needs to add more weapons around him, making running back, receiver and tight end interesting positions to watch. The offense remains a work in progress, but it could be a dynamic unit this fall.
The scrimmage produced some good news for the future as defensive back recruit
Delano Hill
, who was in attendance,
verbally committed for the 2013 class
.
March, 25, 2011
3/25/11
5:30
PM ET
Lot of Tressel-related emails today, which is no surprise. You can
send all your comments here
.
Dan from The Villages, Fla., writes:
Do you think that Coach Tressel was concerned for his players safety after the shooting death of the tatoo parlors partner in the drug business? This case is showing how much Tressel is trying to protect is players from any outside harm. He was wrong in not informing Athletic Director Smith in the beginning, but any further sanctions against his program than the five games and the $250,000 personal fine would be to much considering all his past history.
Adam Rittenberg:
Dan, I'm sure Tressel was concerned when he heard about the federal investigation, and he wanted to make sure the players' involvement with the tattoo parlor owner had ended. But he really put himself in a compromising position by not sharing information with the right people, namely Gene Smith and Doug Archie, Ohio State's compliance director. Since no one else at Ohio State knew, Tressel is the only one who can get hammered here. We all know that penalties for Tressel also are penalties for the program, but the program will go on, with or without Tressel as coach. I'd be surprised if more penalties aren't on the way for Tressel/Ohio State.
---
Oliver from Columbus, Ohio, writes:
Adam, if a change is deemed to be made now rather than later (meaning after the 2011 season or so), is it too late for a program like Ohio State to lure a big-named coach? Would the program probably have to go through the 2011 season perhaps with an interim coach and, if that doesn't work out, hire a coach next December (or so)?Would a big-named coach want to take over OSU right now, in other words, versus next winter?
Adam Rittenberg:
Oliver, it would be tough to land a big name right now, but the Ohio State job has incredible appeal whenever it next comes open. This is a program with all the resources to compete for national championships every year, and some of the game's top coaches will be interested. It's important for Smith and E. Gordon Gee to protect the brand and ensure that this situation doesn't result in a major step back for the program. You don't want to become Notre Dame or Michigan, big-name programs that slipped back to mediocrity. Both men are extremely loyal to Tressel, but they have to put the Ohio State football brand first.
---
Jesse from New Philadelphia, Ohio, writes:
Did Michigan dodge a bullet four years ago by not landing Pryor, or would Rich Rod still be there with a successful team? And will Ohio fans look back at this as a win for Ohio or does Pryor need to have the best Big Ten season of his career to leave the school with a favorable memory?
Adam Rittenberg:
This is a fascinating question, Jesse. Despite Pryor's success on the field, would Ohio State have been better off without him? What would have happened if he ended up with Rich Rodriguez at Michigan? I still tend to think Rodriguez would struggle because of Michigan's defensive woes. The Wolverines certainly didn't struggle last season because of their quarterback (
Denard Robinson
). But Pryor's long-term legacy at Ohio State will be truly fascinating. He has been instrumental in two BCS bowl wins and boasts a sparkling record as the starter. But he's also at the center of a situation that could alter the program's course.
---
Joe from Chicago writes:
Looking forward to football season and a potentially dynamite Iowa offense. I think this will be the first year that Erik "Soup" Campbell has a group of receivers he recruited or recruited while he was here (McNutt being "recruited" from his previous position, Shumpert would've been recruited by Coach Johnson).
Don Shumpert
has been called the best pure athlete on the team. Not surprised considering he ran a sub 50 400 meter dash his high school senior year after never having run it before.
Kevonte Martin-Manley
(dubbed, "KMM") could have played last year. He looks like a future star on practice videos that Morehouse posts.McNutt will likely be the best receiver in the league and CJ has been referred to as one of Iowa's two best receivers. He couldn't block an ant last year though. Where you at Keenan???
Adam Rittenberg:
Joe, some really good points here, especially about Campbell working with receivers he recruited to Iowa. McNutt is a stud, but Iowa really needs
Keenan Davis
, Shumpert or someone else to emerge as a No. 2 option. You're dealing with a new starting quarterback this year, and you want to give that guy as many targets as possible. McNutt and the tight end group help, but Iowa will be looking for more.
---
Mark from Battle Creek, Mich., writes:
Adam, not only are you correct about wide receiver being Michigan's deepest position, but your forgot about
Martavious Odoms
, who has been very reliable when healthy over the course of his career, and tight end
Kevin Koger
who will have a much bigger role in the new offense. Also a few very good young receivers like Miller and Jackson who are anxious to prove themselves, and a highly touted tight end recruit coming in who will probably see the field. What say you sir?
Andrew from D.C. writes:
Hey Adam, in both your Spring Superlatives and article on WR depth in the B10, you forgot about Martavious Odoms for Michigan. He could have been one of our top targets last year if not for the early injury that shelved his season. Should be interesting to see how he fits in the new system, though RR's staff had enough faith in his receiving abilities to move him from slot to the outside.
Adam Rittenberg:
Mark and Andrew (and others), thanks for bringing up Odoms. I should have included him among the top returning wideouts despite his injury issues last season. The thing with Odoms is he seems like a classic spread-offense wideout, and it will be interesting to see how he transitions to a new system. Michigan's offensive coaches will be looking for more than just pure speed. It's a big year for Koger at tight end, a position that could be featured more in the new system.
---
Adam from Baltimore writes:
Hey Adam,Regarding the dark horse Heisman candidates, while I think Baker could improve upon his numbers from last year (maybe even up to 1,400 yards), because MSU's offense isn't as flashy as Oregon's, and because he probably will have to compete with his own quarterback for a few votes, I just don't like Baker's chances. I think it would take a really extraordinary year (2,000+ yards, 7 ypc, 25 touchdowns, MSU going undefeated) and
Andrew Luck
&
Kellen Moore
having less than stellar years for him to be really in the mix, because as you know this award is now QB driven. They've got the gaudy stats and get the hype. That's why I think it'll be tough even for James to win it this year. Andrew Luck is still probably my front-runner.
Adam Rittenberg:
It's going to be tough for any Big Ten player to win the Heisman if Luck has a season like he did in 2010. Same goes for Moore. But Baker is a guy who could put himself in the mix if he puts together a complete season. He was great early on for Michigan State, but the Spartans' rushing attack struggled a bit down the stretch. Michigan State also likely will feature multiple backs, as
Le'Veon Bell
was very impressive early on and
Larry Caper
brings something to the table as well. It's a very good group of backs in East Lansing.
---
Jim from Green Bay, Wis., writes:
What do you think about the Badgers defense, and Mike Taylor to be more specific?
Adam Rittenberg:
Taylor is a very solid player, and he and his fellow linebackers might have to lead the way on defense this season. Wisconsin loses an All-American up front in J.J. Watt and two starters in the secondary (Jay Valai and Niles Brinkley). Although the depth in the secondary isn't bad at all, Wisconsin should be a linebacker-led defense with Taylor and Chris Borland, who returns from a shoulder injury.