October, 25, 2013
Oct 25
2:00
PM ET
John Urschel
is a senior offensive guard who might have more accomplishments off the field than on. He was an All-Big Ten lineman last season and also co-authored a paper in the journal, "Celestial Mechanics and Dynamical Astronomy" that sought to prove how asteroids move in an unstable manner.
He carries a 4.0 GPA, is working on his second master's degree, taught a Penn State math class -- and he's also one of the leaders on Penn State's offense. I recently caught up with Urschel to talk about life on and off the football field for this week's Friday Q&A:
[+] Enlarge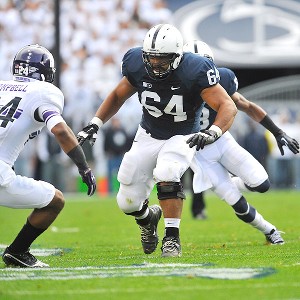 Randy Litzinger/ Icon SMIPenn State senior lineman John Urschel is accomplished on and off the field.
Right after Bill O'Brien's news conference this week, you joked that your head coach didn't ask you -- the math genius -- whether you should've gone for two at the end of the Michigan game. Well, tell me, what does math say you should've done?
John Urschel:
I don't know what math says, but the offensive lineman in me says you go for two and you run the ball. [Laughs]
By now, everyone knows you're pretty good at math. (It's been documented here, here and here.) What's one thing you're good at that people don't know about?
JU:
I'm a pretty good chess player. I do not have a ranking; I haven't played in any official matches or tournaments. But I figure once I get done with football, I might get into that and play competitively. I've only been into it for the past two years, but I've been pretty serious about it.
How are you serious about it?
JU:
Whether it's practicing certain end games, different openings, just training my tactical vision. I do that in my free time -- not so much in the fall because I just don't have time, though.
You don't really come across as a person who does things halfway. It seems like once you do something ...
JU:
Yeah, I try to do it well. I don't do things halfway. Another interesting thing -- Connect Four, have you ever played?
Oh, yeah. I can still tell you that '90s commercial jingle.
JU:
When I move first, I am unbeaten. Unbeaten. And I dare someone to beat me. Bring this Connect Four game. I challenge someone to beat me, me moving first.
Is it because, mathematically, the person who goes first can always win? I'm onto you John ...
JU:
[Laughs] Mathematically, you're always going to win if you play perfectly -- which not everyone can do. But playing perfectly, you will always win. Last time I played? Three or four days ago. I think I played someone on the team. I won.
Can I test your math ability a bit? If I just give you a series of double-digits, can you multiply them all together like a human calculator?
JU:
Here's the thing. I get this question a lot. I have to warm myself up. This is something people don't get. So you're playing football -- you warm up before you play. Suppose you're doing some heavy computations -- you're doing a lot of math and a lot of heavy thinking. You don't do your best work when you just start, sit down and start doing it. You have to warm yourself up; it takes time. So if I'm completely not doing something math-related and somebody bothers me with that, I have to warm myself up. It's different.
OK, fine -- we'll skip the math pop quiz for now. Let's talk about football a little bit. How do you feel about your performance so far this season?
JU:
I'd say, honestly, I had a slow start this year. But I'm really becoming more happy with my play as the season goes on. I'm really hoping to continue that strong performance throughout the Big Ten season.
What about two of your teammates on the line, Ty Howle and Donovan Smith? You had a lot of praise for Smith over the offseason.
JU:
Ty's played really well. You know Ty's my boy; we're real tight. I love that guy to death. We've been playing together for -- this is our fifth season. He's played really well. He's taken that starting center spot and run with it. He's a big-time player. Donovan is a physical talent; he has as much talent as anyone on this offensive line. End of story. Footwork, good size, good job running through blocks. The list goes on.
You mentioned before you can go to Stanford or MIT after football's over. So you want to test the -- I mean, play in the NFL and then kind of move on?
JU:
No, no. No testing the waters.
[Laughs] I tried to take that back.
JU:
No testing. All in. I have every hope and aspiration to play in the NFL and I'm going to try to do everything I can to make it until they don't want me anymore. And when they say, 'John, stop trying,' that's when I'll go and get my PhD in math.
Do you think you're better at football or math?
JU:
I think I've been given more gifts in one than another. More gifts in math. I've grown up to be 6-3 -- good size, good frame. But I'm no Donovan Smith. I'm not 6-7 or 6-6, or you know. It took work to get big and strong and become a good football player. Math has always been there; I've known that since I can remember.
Known since you were beating all the school kids at Connect Four?
JU:
[Laughs] Yeah. That must have been it.
August, 8, 2013
Aug 8
12:00
PM ET
Happy happiness happens day.
May, 3, 2013
May 3
10:00
AM ET

2012 record:
8-4
2012 conference record:
6-2 (second, Leaders Division)
Returning starters:
Offense: 8; defense: 6, kicker/punter: 2
Top returners
RB
Zach Zwinak
, WR
Allen Robinson
, TE
Kyle Carter
, OG
John Urschel
, OT
Donovan Smith
, DE
Deion Barnes
, LB
Glenn Carson
, CB
Adrian Amos
Key losses
QB
Matt McGloin
, FB
Michael Zordich
, C
Matt Stankiewitch
, DT
Jordan Hill
, LB
Michael Mauti
, LB
Gerald Hodges
, CB
Stephon Morris
2012 statistical leaders (*returners)
Rushing:
Zach Zwinak* (1,000 yards)
Receiving:
Allen Robinson* (1,018 yards)
Tackles:
Gerald Hodges (109)
Sacks:
Deion Barnes* (6)
Interceptions:
Michael Mauti (3)
Spring answers
1. "Tight End U."
If there's one position the Nittany Lions don't have to worry about, it's this one -- and that's probably why some PSU players have taken to dubbing the university "TEU." Kyle Carter's injured wrist should be just fine once the season rolls around, and there's plenty of depth here. Teammates have pointed to the offseason work of 6-foot-7 target
Jesse James
, who really came on strong in the second half of last season. He was also the receiving star in the annual spring scrimmage with five catches and 77 yards. Couple him with
Matt Lehman
,
Brent Wilkerson
and
Adam Breneman
, and it wouldn't be a surprise to see quite a few formations with multiple tight ends on the field.
2. Versatility at a premium.
Bill O'Brien doesn't mind moving players around. Wideouts
Malik Golden
and
Trevor Williams
switched over to the secondary, and Williams has especially picked up the position quickly. But those two aren't the only to play at different positions. Adrian Amos can play safety or cornerback, and a lot of Penn State's younger DBs have the ability to slide between those two. Penn State's trying to combat a lack of depth with versatile players here, so players who can play at multiple spots are especially valuable.
3. Young standouts.
Several true and redshirt freshmen could contribute heavily this season, and O'Brien has praised multiple first-year players for picking things up quickly. On defense, DT
Austin Johnson
looks to be a starter after a redshirt season, and LB
Nyeem Wartman
has a leg up on an injured
Ben Kline
. On offense, WR
Eugene Lewis
made a one-handed grab in the spring scrimmage to show he can make the tough catches, and RB
Akeel Lynch
has also made a strong case for playing time. PSU doesn't historically have many four-year starters, but this year could change that.
Fall questions
1. Quarterback question marks.
Neither option, early enrollee
Tyler Ferguson
nor incoming freshman
Christian Hackenberg
, has ever thrown a pass in the FBS -- and one of those two players will be the Penn State starter. Inexperience is a big concern, and the QB will have to learn a complicated offense in a short period of time. Hackenberg has a lot of potential and Ferguson showed glimpses, however inconsistent, in the spring game. But the offense's strength last season was the quick no-huddle offense -- and it remains to be seen whether either of these signal callers can pull the fast playing style off.
2. Withstanding lack of depth.
O'Brien has gotten this team down to about 67 scholarships in preparation for 2014 when the 65-scholarship limit kicks in, so depth is a real concern this season. If a quarterback or linebacker becomes injured, PSU could be in trouble. The Lions need to remain healthy to have a shot at repeating last year's success. And one injury could really have a ripple effect on this team. Health is one question, one uncertainty, that can't be answered anytime soon.
3. Kicking game.
Sam Ficken
was just 14-of-21 on field goals last season and didn't make a single kick over 39 yards. He did wind up converting his last 10 attempts, but his inconsistency carried over in the spring game when he missed a 37-yard field goal and an extra point. O'Brien was known for leaving the special-teams unit on the sideline a lot on fourth downs last season and, if Ficken struggles again, that would put even more pressure on the young quarterbacks. Or force O'Brien to use incoming walk-on kicker
Chris Gulla
.
April, 11, 2013
Apr 11
5:00
PM ET
On Wednesday, the head coach and one player from each Big Ten Legends Division team participated in a
spring football teleconference
with the media. On Thursday, it was the Leaders Division's turn. Here are some notes and updates from the call:

Illinois
Head coach Tim Beckman said the junior college players he brought in helped with depth and age issues on his young team. "We have 40 football players that have never been in our spring football until this year," he said. Of the juco imports, Beckman said wide receiver Martize Barr has quick hands and good playmaking skills, both in the passing game and on kick returns; Eric Finney has earned a starting job at the Star linebacker position; Abe Cajuste is adding depth by playing both defensive tackle and defensive end; and Dallas Hinkhouse is making an impact at offensive tackle.
Beckman sung the praises of offensive lineman Corey Lewis, a sixth-year senior who has battled back from five knee surgeries and has become a team leader. "Corey Lewis comes to my office probably four or five times a week, just to talk," he said. "To me, he is what college football is all about." Beckman said that Lewis has "had a special spring" and hinted that he has earned a starting job.
Quarterbacks Nathan Scheelhaase and Reilly O'Toole will take most of the snaps in Friday's spring game so they can get more experience in the new offense. Beckman said Scheelhaase has "got a step in front" because of his experience, but the competition continues.
Scheelhaase on reasons for optimism in 2013: "Establishing an identity. That's something I don't know that we necessarily had last year, on offense or defense or as a team in general.

Indiana
Like many of you, head coach Kevin Wilson would like to know the new Big Ten division alignment. The reason? It's harder to recruit without being able to tell a prospect where he'll be playing his freshman season. Wilson added that if the league does indeed go to an East/West split, he'd like to see the Hoosiers placed in the East since they're located in the Eastern Time Zone.
Wilson said run defense and takeaways are two huge priorities for the Hoosiers' defense during the offseason. He noted that the Big Ten doesn't boast a large group of elite pass offenses, so IU must prepare better for run-driven attacks. Indiana finished last in the Big Ten in both run defense (231.3 ypg) and takeaways (13). Cornerback Greg Heban said the defense is working on takeaways every day in practice. "Every time the ball touches the ground, the defense is scooping it and scoring it," Heban said, "trying to give us a feel of what it's like."
Both Wilson and Heban praised the play of junior cornerback Tim Bennett this spring. Other spring standouts include linebacker T.J. Simmons, a freshman early enrollee, and Steven Funderburk, a junior-college transfer.
Heban called this "easily the best spring I've been around." He has seen more physical play and better effort on both sides of the ball, and the team also is having more fun than in past springs.

Ohio State
Head coach Urban Meyer said running back Rod Smith won't play in Saturday's spring game because he recently suffered a concussion. Before that, Meyer said Smith was one of the five most improved players on offense this spring. Meyer listed Carlos Hyde and Smith as the team's top two running backs, while Bri'onte Dunn and Warren Ball are even for the No. 3 spot.
Although the receivers have been better this spring -- especially Corey Brown and Chris Fields -- the depth is still nowhere near where it needs to be for Meyer's spread offense. "We're way behind on quality of depth at that position," Meyer said. "That's a major, major concern." Moving Jordan Hall to H-back should help, and Meyer noted that the Buckeyes boast two good tight ends in Jeff Heuerman and Nick Vannett.
Buckeyes offensive tackle Jack Mewhort paid close attention to the way John Simon and others led in 2012. He's ready to take on a greater load this season. "I welcome that," he said. "I see that as an honor, being compared to a guy like John Simon. I also see it as a challenge. I feel the pressure to step up and get guys going in the right direction." Mewhort also has seen quarterback Braxton Miller recognize his leadership responsibilities more this spring and get after teammates when he needs to.
Meyer said he puts more emphasis on spring practice and the spring game than most coaches. He has told his players that there will be a depth chart after spring ends, and while changes are possible in the summer, they're not likely. "In spring ball, you're trying to win a spot," he said. "During the fall, we're trying to win games."

Penn State

Purdue
Head coach Darrell Hazell said the Boilermakers have made major improvements in the last three and a half weeks. "Anytime you put in three different schemes, there's a little bit of a learning curve for the first couple weeks," he said. "You could see guys start to really get comfortable the last five or six practices."
Hazell said he has "three capable guys" right now at quarterback with Rob Henry, Danny Etling and Austin Appleby. He reiterated that he would keep the competition open until two weeks before the opener at Cincinnati. Of Etling, a freshman early enrollee, Hazell said: "For a young guy, a guy that should be at his prom, I think he's got tremendous poise. He's smart and really studies the game."
Hazell said backup tight end Justin Sinz and center Robert Kugler are two guys that have really caught his eye this spring. He called Kugler a "very much a leader on the offensive line."
Cornerback Ricardo Allen said Hazell has instilled an "all is one" mentality. "If one person does something, we all have to do it. We all wear black socks. We all wear the same uniform. We all tuck our shirts in. I feel like we're becoming closer as a team, and it's helping us build."

Wisconsin
Head coach Gary Andersen confirmed Curt Phillips and Joel Stave have separated themselves in the quarterback competition. It's a "mixed bag" of who takes snaps with the first-team offense, but both will continue to rotate through the rest of the spring and into fall camp. "The way they've separated themselves is simply production," Andersen said. "They know exactly where they sit and so does the rest of the team. … If they put all their friendships aside, their depth chart would look exactly like our depth chart."
Andersen praised the offensive line for tackling another transition, as the group works with its fourth position coach (T.J. Woods) since the 2012 Rose Bowl. The line has seen varying looks from the defense in practice and had players move around to different positions, in part because of injuries. Wisconsin had only seven healthy linemen a week ago, but Andersen is hopeful the number will rise to nine or 10 by next week's spring game. "Those kids have grinded through it every single day," Andersen said. "They're a tough-minded group."
Badgers senior linebacker Chris Borland said losing defensive end David Gilbert to recurring foot problems is a blow but the team has others to step in like Tyler Dippel, Brendan Kelly and Jesse Hayes, a redshirt sophomore who has stood out this spring.
Much like his old boss Urban Meyer, Andersen believes in constant competition and declares winners and losers in each practice. Andersen also mixes in some fun with a dance-off and throwing footballs into trash cans. "Some of them are a little bit quirky, but through the years establish some things we like," he said.
Borland said the strength program has brought the biggest changes in the transition to Andersen's staff. Cardiovascular work is stressed more, as is preventative care. Head strength and conditioning coach Evan Simon operates at a faster pace and uses more of an instructional approach than Ben Herbert, who stressed motivation.
December, 11, 2012
12/11/12
9:00
AM ET
The Big Ten doesn't name an official all-freshman team, but that won't stop us from coming up with our own.
There were many impressive debuts this year in the league, and several players showed off promising potential. Here is our 2012 all-freshman squad, captained by freshman of the year
Deion Barnes
:
Offense
QB:
Joel Stave
, Wisconsin*
RB:
Melvin Gordon
, Wisconsin*
RB:
Imani Cross
, Nebraska
WR:
Aaron Burbridge
, Michigan State
TE:
Kyle Carter
, Penn State*
TE:
Devin Funchess
, Michigan
TE:
Dan Vitale
, Northwestern
OL:
Jack Allen
, Michigan State*
OL:
Jason Spriggs
, Indiana
OL:
Donovan Smith
, Penn State*
OL:
Austin Blythe
, Iowa*
OL:
Dan Feeney
, Indiana
Defense
DL: Deion Barnes, Penn State*
DL:
Adolphus Washington
, Ohio State
DL:
Noah Spence
, Ohio State
DL:
Dean Lowry
, Northwesterm
LB:
Mason Monheim
, Illinois
LB:
Joe Bolden
, Michigan
LB:
Mike Svetina
, Illinois
LB:
James Ross
, Michigan
DB:
Nick VanHoose
, Northwestern*
DB:
Frankie Williams
, Purdue*
DB:
RJ Williamson
, Michigan State*
Specialists
K:
Taylor Zalewski
, Illinois*
P:
Drew Meyer
, Wisconsin*
KR:
Dennis Norfleet
, Michigan
All-purpose:
Josh Ferguson
, Illinois*
* -- redshirt freshman
As you can see, we got creative again -- we had a 3-4 defense for our ESPN.com All-Big Ten team, and now we have a revolutionary 4-4-3 setup on our all-freshman defense. Why? Well, the pool for newbie defensive backs in this league was very shallow, so we preferred to recognize an extra linebacker instead of forcing the issue at DB. ... You might also notice our 12-man, three-TE offense. We believe the young tight ends in this league are extremely promising, and we didn't even include Penn State's
Jesse James
. Outside of Burbridge, there wasn't much production from freshman receivers. ... We left off some pretty good young offensive linemen who just missed the cut, including Minnesota's
Josh Campion
and Illinois'
Ted Karras
. ... Stave gets the nod over the Gophers'
Philip Nelson
even though he missed the final month with a broken collarbone. Nelson had a great game against Purdue but had some poor statistical outings down the stretch. ... Carter was the only freshman who also made our All-Big Ten team. ... Gordon showed what a high ceiling he has with his 200-plus yard performance in the Big Ten title game. He could be an absolute superstar.
September, 18, 2012
9/18/12
3:10
PM ET
Some key personnel notes and nuggets from around the Big Ten ...
IOWA
Running back Damon Bullock (head) is doubtful and running back Greg Garmon (elbow) is questionable for Saturday's game against Central Michigan. Although Garmon's injury looked pretty gruesome against Northern Iowa, he has a better chance of playing, head coach Kirk Ferentz said. Mark Weisman will start for Iowa following his three-touchdown performance, while fellow walk-on Michael Malloy will be the backup.
The good news at running back is that Jordan Canzeri, who suffered a torn ACL in March during spring practice, has been medically cleared and should play at some point this season, Ferentz said. It's amazing how quickly some players come back from ACL tears these days.
MINNESOTA
Quarterback MarQueis Gray is clearly a very fast healer. How fast? Gophers coach Jerry Kill said Tuesday that there's a chance Gray is available as a backup Saturday night against Syracuse despite suffering a high ankle sprain last week. Gray is still sore, Kill said. It would be a pretty big surprise to see him return so soon from an injury that can take up to six weeks to heal, but the senior seems to be ahead of schedule. Kill said Minnesota has a plan if Max Shortell struggles or gets hurt -- whether it includes using true freshman Philip Nelson remains to be seen.
Cornerback Martez Shabazz will miss at least another week with a dislocated toe.
PENN STATE
Senior defensive end Pete Massaro (shoulder) and linebacker Nyeem Wartman (knee) have been ruled out for Saturday's game against Temple. Massaro, who has dealt with injuries throughout his career, missed last week's contest with Navy. Standout redshirt freshman Deion Barnes will start in his spot.
Running backs Derek Day (shoulder) and Bill Belton (ankle) are both day-to-day for the Temple game, with Day having a better chance to return than Belton, coach Bill O'Brien said. "They're running backs," O'Brien said. "That's the nature of the position, so the next guy has got to be ready to go." That next guy would be junior Curtis Dukes.
Left tackle Donovan Smith (ankle) also is day-to-day after missing the Navy game. Smith's chances to play this week depend largely on how he moves around in practice Tuesday and Wednesday. "If he comes out today and he's gimpy, then [he] probably won't play," O'Brien said. Mike Farrell started in Smith's place against Navy.
INDIANA
The Hoosiers are off this week, but starting quarterback Cameron Coffman possibly could play if there was a game. Coffman left last week's loss to Ball State with a hip pointer, and Nate Sudfeld entered the game and performed well. Coach Kevin Wilson said Coffman remains the starter, at least right now, for next week's Big Ten opener at Northwestern. "He's just not full tilt pushing off yet," Wilson said. "We'll see. We'll get him checked out here later today. ... We'll decide tomorrow and Thursday how much he needs to do. It will be our trainer's call. Will it be best to take the whole week on the low key or does he need the reps?"
Sophomore quarterback Tre Roberson, who suffered a season-ending broken leg Sept. 8, said Tuesday that he "should be back" by spring practice. He said he can throw and put a bit of pressure on his surgically repaired leg.
ILLINOIS
September, 13, 2012
9/13/12
12:00
PM ET
Gearing up for a slightly big night in Chicago sports (Bears-Pack, Sale-Verlander).
July, 24, 2012
7/24/12
2:30
PM ET
It's time to jump back into our preseason position rankings with a look at the offensive line units.
On Friday, we ranked the
top individual players at the position
. These unit rankings reflect star power as well as depth. We're heavily weighing these on last year's performance, along with potential for the 2012 season.
Away we go:
1. Wisconsin:
Sure, the Badgers lost two All-Americans (Kevin Zeitler and Peter Konz) from last year's line. But they've earned the benefit of the doubt for their ability to reload up front. Left tackle
Ricky Wagner
is an Outland Trophy candidate, and center
Travis Frederick
should be one of the best in the Big Ten. The key will be how the new-look right side with
Rob Havenstein
and likely
Robert Burge
moving into starting roles.
[+] Enlarge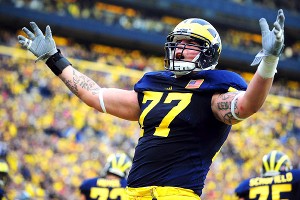 Andrew Weber/US Presswire With top tackle Taylor Lewan returning, Michigan fields one of the best offensive lines in the Big Ten.
2. Michigan:
The Wolverines might have the top tackle in the league with junior
Taylor Lewan
, and guard
Patrick Omameh
is a three-year starter. Senior
Ricky Barnum
is taking over for David Molk at center.
Michael Schofield
should be solid at right tackle, though the left guard spot remains a competition. It should be a strong starting group, though depth here is a major concern.
3. Michigan State:
This could be the best offensive line Mark Dantonio has had in East Lansing. Six players who started games last year are back, and there will be depth and competition at several spots. Third-year starter
Chris McDonald
is one of the league's top guards, while tackles
Dan France
and
Fou Fonoti
are dependable.
4. Nebraska:
The Cornhuskers lost three starters from last year's line, but much like Wisconsin, this is a group that usually reloads. Guards
Spencer Long
and
Seung Hoon Choi
provide nice building blocks, with
Tyler Moore
,
Jeremiah Sirles
and
Andrew Rodriguez
solidifying the tackle spots. The big question here is center and who will replace
Mike Caputo
.
5. Ohio State:
The Buckeyes had their problems up front last year and now are implementing a new offensive system. Urban Meyer wasn't happy with the group's work ethic in January but felt much better about them by the end of spring.
Jack Mewhort
replaces Mike Adams at left tackle, while
Andrew Norwell
and
Marcus Hall
try to live up their potential at guard.
Corey Linsley
earned Meyer's praise for his work at center. Keep an eye on the right tackle spot, where former tight end
Reid Fragel
is now the first-stringer. But true freshman Taylor Decker is pushing him.
6. Purdue:
Injuries kept the Boilers from building much cohesion this spring, but this can be a sturdy group when healthy. Three starters are back, with
Trevor Foy
moving from right to left tackle. This is an experienced bunch, but Danny Hope wants to see more dominance. Senior center
Rick Schmeig
should be a leader
7. Iowa:
The Hawkeyes must replace three starters, including NFL draft picks Reilly Reiff and Adam Gettis. But Iowa usually fields good offensive lines, and hopes are high for this year's edition. The leader is center
James Ferentz
, who now will be coached by his older brother, Brian Ferentz. Much will depend on how players like
Brett Van Sloten
and
Brandon Scherff
develop.
8. Northwestern:
The Wildcats lost two valuable starters in tackle Al Netter and
Ben Burkett
but return three-year starter
Brian Mulroe
at guard and promising sophomore center
Brandon Vitabile
. There should be good depth up front, but can the Wildcats generate a consistent rushing attack?
9. Penn State:
The good news is that the Nittany Lions played better than expected last year on the offensive line. The bad news is four starters are gone, not to mention some potential transfers in the wake of the NCAA sanctions. There is still talent here, including guard
John Urschel
and tackle
Donovan Smith
. But the least experienced line in the league will have to learn a new offensive system.
10. Illinois:
There was little excuse for the Illini O-line to play as bad as it did last year with standout players Jeff Allen and
Graham Pocic
in the mix. Pocic is back this year at center, though he might take some snaps at tackle as well. Young players like sophomore
Simon Cvijanovic
and redshirt freshman
Ted Karras
will need to come on. This unit should be improved, but it ranks low based on last year's finish.
11. Minnesota:
Jerry Kill shuffled this group last year and played a lot of youngsters. It's still a relatively inexperienced unit, but there is hope for improvement. Junior left tackle
Ed Olson
has the best chance to be a star.
12. Indiana:
Center
Will Matte
is one of the most experienced linemen in the league. But beyond him are several young players, including three true sophomores who started as freshmen last year. There's nowhere to go but up.
July, 22, 2012
7/22/12
3:38
PM ET
Penn State's specific penalties won't be known officially until Monday, but the consensus is that the NCAA will come down hard on the Nittany Lions football program.
As is the case with NCAA penalties, players who had nothing to do with the problems that occurred are the ones most directly impacted. Although most initial media reports, including
one from colleague Joe Schad
, indicate Penn State won't receive the so-called "death penalty," other penalties such as a postseason ban and scholarship losses are very real. Penn State might be playing football every season, but what the program looks like remains a giant question mark.
There likely will be significant fallout both with the current roster and with recruits, as some players likely will look to play elsewhere.
Several Penn State players have reacted to Sunday's news on Twitter. Not surprisingly, they remain firmly behind their program.
Here are a few tweets:
Quarterback Matthew McGloin:
The hotter the fire, the stronger the steel.

— Matt McGloin (@McGloinQB11) July 22, 2012
Offensive tackle Donovan Smith:
Stop asking if im transferring im staying at PSU no matter what I love my school #WeAre

— Donovan Smith (@PSU_Smith_76) July 22, 2012
Tight end Garry Gilliam:
No matter what happens I'm staying at Penn State ...

— Garry Gilliam " (@GarryGilliam89) July 22, 2012
The people saying this is more than football, are the same people wanting a death penalty, thus making it about football again, really?

— Garry Gilliam " (@GarryGilliam89) July 22, 2012
Linebacker Khairi Fortt
tweeted about not talking to the media
, while cornerback Adrian Amos added, "I am confused to what lessons we are learning from this."
Lot of confusion in Happy Valley right now. We should get plenty of answers in the coming day.
June, 5, 2012
6/05/12
12:45
PM ET
Four days after naming
Matthew McGloin
as Penn State's starting quarterback entering the fall, new Nittany Lions coach Bill O'Brien has issued his
summer depth chart
. Penn State opens preseason practices Aug. 6.
The first thing you'll notice is 13 offensive positions listed. Penn State can only have 11 players on the field at once, but as O'Brien explains in a news release, "We will be a multiple personnel grouping team, particularly at wide receiver and tight end." Translation: this isn't the old Penn State offense. Get ready for a lot of passing.

BO'B adds that aside from quarterback and a handful of other positions, Penn State will have competitions at most spots when camp kicks off in August.
O'Brien announced three position changes today: sophomore
Adrian Amos
moves from safety to cornerback, sophomore
Kyle Baublitz
moves from defensive end to defensive tackle; and redshirt freshman
Anthony Zettel
moves from defensive tackle to defensive end. The Amos move makes sense after
Curtis Drake
, who moved from wide receiver to cornerback this spring, left the program.
Four positions feature co-starters on the depth chart. They are:
All four should be interesting competitions, particularly the one at middle linebacker, where Carson started in 2011 and recorded 74 tackles and two forced fumbles. Fortt has shown promise at times, racking up 33 tackles, including six for loss, as a reserve last fall.
Some more notes and thoughts on the Lions' two-deep:
Penn State has redshirt freshman Donovan Smith listed as the starting left tackle, while Adam Gress, one of the standouts of spring practice, checks in as the starting right tackle. The right side looks strong with Gress and John Urschel, but there are some question marks on the left side.
Garry Gilliam is listed as one of the starting tight ends ("Y" position) ahead of promising freshman Jesse James, who impressed me while I was at practice in April. It's interesting to see redshirt freshman Kyle Carter listed ahead of junior Kevin Haplea at the other tight end spot ("F").
Two secondary spots seem fairly set -- junior free safety Malcolm Willis and senior cornerback Stephon Morris -- while the others should be interesting to watch in August. Senior Jake Fagnano is a somewhat surprise starter at strong safety ahead of Stephen Obeng-Agyapong, while Amos and Thomas will compete at the right cornerback spot.
Penn State's starting defensive line looks strong with Jordan Hill and DaQuan Jones at the starting tackle spots, and Pete Massaro and Sean Stanley at the starting end spots. The key is whether several former heralded recruits like Baublitz and C.J. Olaniyan, or promising young end Deion Barnes, bolster the depth up front.
Bill Belton is listed as the No. 2 running back behind Silas Redd. Curtis Dukes isn't listed, but O'Brien confirmed last week that Dukes is rejoining the squad after clearing up some academic issues. The 6-1, 242-pound Dukes should be in the mix for a good chunk of carries.
Justin Brown and Devon Smith, who had an off-field issue this spring, are listed at two of the starting wide receiver spots. Kersey is listed as Brown's backup, while the speedy Alex Kenney likely will push Smith.
Anthony Fera handled the double duties of kicker and punter quite well in 2011, converting 14 of 17 field-goal attempts and averaging 42 yards per punt. He's once again listed as the starter at both spots entering camp.
Amos and Belton are listed as the top two kickoff returners. Amos shared the role with primary returner Chaz Powell last fall. Brown is listed as the top punt returner, followed by Belton.
Two young players worth watching are the men wearing jersey No. 18: James and Barnes.
Thoughts on the Penn State depth chart?
May, 4, 2010
5/04/10
11:00
AM ET
The calendar reads May, and Penn State is still waiting to get on the scoreboard for 2011 recruiting. Cause for concern? Not at all, as Penn State, after signing decorated classes of 27 and 20 the last two seasons, only has a handful of scholarships to give for 2011.
It's likely that Penn State will sign no more than 15 players next February, and barring a mass exodus or something crazy like that, the Lions' limit looks like 17 or 18.
As colleague
Bill Kurelic
writes:
Penn State coach Joe Paterno is going to sign a small 2011 recruiting class. At this point the Nittany Lions have just 14 scholarships to give, and have yet to land a commitment this recruiting season. Right now, it is anybody's guess as to which prospect will break the ice and become JoePa's first 2011 commitment.
So who's in the mix?
Here are a few targets:
Donovan Smith, offensive tackle, Owings Mills, Md. -- Smith's stock appears to be on the rise, and Penn State has made him a high priority as it looks to land another top prospect from the state of Maryland.
Savon Huggins, running back, Jersey City, N.J. -- Penn State really wants Huggins, and it's easy to see why. He's one of the nation's top prospects at running back for 2011, and the Nittany Lions, who couldn't land Marcus Lattimore this year, would love to sign Huggins. A ton of schools are in the mix for the New Jersey star.
Doran Grant, cornerback, Akron, Ohio -- Grant stood out Sunday at the Nike Football Training Camp in State College, and he talked about the thrill of getting to meet JoePa. The thrill is mutual for Penn State, but the Lions need to beat out fellow Big Ten members Ohio State and Michigan State, where Grant's father was an all-conference receiver.
Terrell Chestnut, athlete, Pottstown, Pa. -- Chestnut is a dynamic running quarterback but likely will play defensive back at the collegiate level. He has a ton of offers from schools in the east as well as from several Big Ten teams, including Penn State, Michigan and Michigan State.
Maika Polamalu, safety, Pottsgrove, Pa. -- Polamalu is the cousin of Steelers star Troy Polamalu, and his father won a national championship at Penn State in 1986. He's not a mega prospect but reportedly has a verbal offer from Penn State.
BIG TEN SCOREBOARD
Saturday, 12/21
Monday, 12/23
Tuesday, 12/24
Thursday, 12/26
Friday, 12/27
Saturday, 12/28
Monday, 12/30
Tuesday, 12/31
Wednesday, 1/1
Thursday, 1/2
Friday, 1/3
Saturday, 1/4
Sunday, 1/5
Monday, 1/6
Tweets from @ESPNCFB/big-ten