August, 29, 2013
8/29/13
4:00
PM ET
When Michigan released its first depth chart of the season on Monday, six running backs were listed on it. As in, every single running back on the roster was on the depth chart.
[+] Enlarge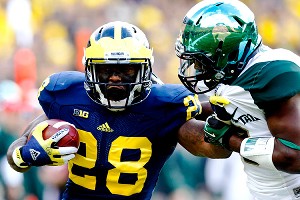 Rick Osentoski/US PRESSWIREAs Michigan's featured back, Fitz Toussaint is expected to get between 18-25 carries a game.
That's pretty rare for a team, especially one like Michigan, which rarely likes to give anything away. But offensive coordinator Al Borges said he has done it before.
"At one point I did," Borges said. "It may not have been at running back. Yeah, I'm sure I have at some place I've been. That's a lot, though. I will say that."
Michigan coach Brady Hoke clarified Monday that while not every guy on the running back depth chart might carry the ball, he will play, whether it be as a back or on special teams.
But one name who we know we'll see at running back is redshirt senior
Fitzgerald Toussaint
. He was named the starter midway through fall camp, and Hoke said he'd like to get Toussaint anywhere between 18-25 carries a game as a featured back.
"He just looks like the old Fitz," Borges said. "Fitz is a hard worker and he goes hard every single down, and he's got great feel for our system and our run game in particular."
Last season, when the Wolverines transitioned into a more traditional pro-style offense with
Devin Gardner
at QB, they actually stayed relatively consistent with carries. Through the first eight games of the season, Michigan averaged 40 carries per game. Beginning at Minnesota and through the rest of the season, when Gardner was the starting quarterback, that number dropped to 37 carries per game.
However, if Toussaint does carry the ball 18-25 times against Central Michigan, the additional seven 12-19 carries will be up for grabs, and they could go to any of the other five running backs.
Listed in the No. 2 spot is redshirt freshman
Drake Johnson
, who was a late addition to the Wolverines' 2012 class. He's a local kid who played high school football at Ann Arbor Pioneer, one block from Michigan Stadium. Hoke said he was impressive last season on the Wolverines' scout team and through fall camp this season.
In the three and four spots are redshirt sophomore
Justice Hayes
and junior
Thomas Rawls
, respectively. Rawls was Toussaint's backup last season and finished with 242 yards on 57 carries and four touchdowns. But he has dropped behind Hayes, who had 18 carries for 83 yards and one touchdown last season.
Splitting the fifth-string position are freshmen
Derrick Green
and
De'Veon Smith
. Green was expected to compete for the starting spot with Toussaint during fall camp, but he hasn't quite lived up to that expectation, whereas Smith has been more of an unknown.
However, it's not too surprising to see the freshmen listed lower on the depth chart. It takes a while to adjust to the college game, and one of the biggest jumps true freshmen have to make, especially in Michigan's offense, is pass protection.
"If you had to pinpoint one issue with a young back, it's trying to figure out all the pickup and the protections," Borges said. "Whether it's six-man protection or whether there's play-action or whatever -- just figuring out who to target. That's not always easy to do."
Toussaint said that was the hardest jump for him to make when he got to Michigan, too. He said that Michigan has really emphasized that this fall, but it's something that comes with experience.
"My best advice is to go out there and take a fast game and slow it down," Toussaint said. "You have to get in the playbook. You have to know exactly what's going to happen."
March, 13, 2013
3/13/13
9:00
AM ET
Michigan begins spring practice on Saturday with both some question marks and some major returning talent. Brady Hoke says of his team: "We're very young. But these guys have a lot of fight to them." There will also be a lot of fighting for starting jobs, beginning in a few days. I recently caught up with the third-year Wolverines coach for his thoughts on the approach of spring ball:
What are the main things you're looking for this spring?
Brady Hoke:
Well, you know, we've got a lot of open spaces. Some guys graduated, some guys aren't with the program anymore and we've got a lot of young guys. I think we only have 11 starters back on both sides of the ball, so there's going to be a lot of great competition, which is exciting. I think the leadership of our seniors, they've done a nice job of holding everybody accountable. But when you get out there with the pads on, it's a little different than just running around in shorts.
[+] Enlarge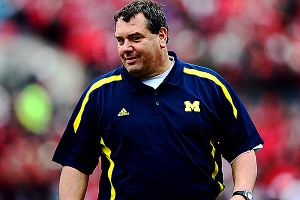 Andrew Weber/USA TODAY SportsWith only 11 returning starters, Michigan coach Brady Hoke said he's excited about the competition this spring.
Some of that competition will be on the offensive line, where you've got three open jobs on the interior. How do you see those battles right now?
BH:
Well, I think the interior of both lines, there's going to be a lot of competition. We've got to find a center, and that's between [
Jack] Miller
and [
Graham] Glasgow
, and
Joey Burzynski
will try to figure that out a little bit, too. At the guard positions,
Ben Braden
is going to move down inside and start out at the left guard, but he'll have a lot of competition because Burzynski is back and so is
Blake Bars
.
Kyle Kalis
will move into the right side, and it will be interesting again with [
Kyle] Bosch
and some of the guys who have been here a little bit. I think it will be a really good competition at all three of those inside positions.
Having
Taylor [Lewan
] back is huge. I think it's great for him and great for Michigan.
Mike Schofield
has had a really good winter. He had some real bright spots during the course of last season, and I think his development is going to be something special.
You mentioned the defensive line, where you also lost a couple of veterans. How does that shape up?
BH
: I think inside, we get
Jibreel Black
for another year and
Quinton Washington
. But once you get through that, there are a lot of young guys ...
Willie Henry
,
Ondre Pipkins
,
Ryan Glasgow
,
Richard Ash
and
Chris Wormley
are all guys who can either play the inside tackle or the strongside end. We'll find out the guys who are competitive.
Tommy Strobel
is another guy we think had a real good winter, and
Keith Heitzman
. So it's going to be fun to see them compete.
Does having so many young guys in key spots on the line make you nervous? Or do you have a lot of confidence in them because you recruited most of them?
BH:
I think it makes you nervous if you think you may have recruited the wrong guys. But we like the work ethic. We like how they've come in to learn and with a lot of enthusiasm. I think there's some competitiveness that we need to keep pushing as a program. You know, we lost five games on the road. We've played pretty well at home but we've got to do better on the road and that's a mindset, a mentality that you have to compete through everything, on every down.
Devin Gardner goes into spring practice as your starting quarterback. How has he developed as a leader?
BH:
I have been really excited about the progress he's made. I'm seeing that maturity that it takes and the leadership it takes and the competitiveness it takes to be the quarterback at Michigan. I think that's a real big part of how he's grown, and I think he's done a nice job with it. I'm liking the direction he's going, and hopefully he can just keep going and keep growing.
What about your running back position this spring, with Fitz Toussaint hurt and Derrick Green not there yet?
BH:
You know, Fitz has come along pretty well. I don't think he'll do a lot of contact or anything like that, but I think he'll be cleared for a lot more drill work. That's gone real well. We've moved [
Dennis] Norfleet
back to running back and we're going to give him an opportunity. Dennis, he's a smaller guy, but he's a very competitive, very tough young man.
Drake Johnson
is a guy we redshirted a year ago, and we really liked the way he competed in scout situations. In the bowl practices, we did some scrimmages and gave him a lot of carries, and we're very excited about what he has to offer.
Thomas Rawls
is coming back, and I think he learned a lot last year about the vision he needs to play with, and I like how he's competed through the [winter]. And
Justice Hayes
is a guy who gives you a little bit different look because of how he can get on the perimeter. He did some things in a couple of games last year, but now I think he'll have a big stage to prove himself more this spring. And he's a bigger guy now, he's 190-something pounds, so he's a little bigger.
[+] Enlarge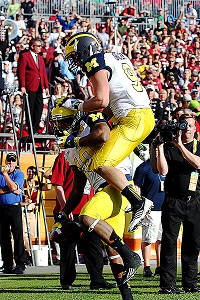 Kim Klement/USA TODAY SportsMichigan coach Brady Hoke said that he's pleased by more than just the on-field success of WRs Drew Dileo and Jeremy Gallon.
You have Jeremy Gallon back at receiver, but you lost Roy Roundtree. You sounded excited about some of the younger guys there during bowl prep. Is spring their time to step up now?
BH:
Yeah, I think so. First of all, I think the leadership with Gallon and
Drew Dileo
, they've done a really nice job being leaders at that position. They're not big guys, but they have a real spirit for the game and really do a nice job of working and leading. We have
Amara Darboh
, who played a little last year, and
Jehu Chesson
, who we redshirted a year ago. And I think
Jeremy Jackson
has had a very good winter; we're very excited about some of the progress he's made.
Joe Reynolds
is a guy who walked on here, and he's done a very nice job. And
Bo Dever
, his dad played here and he walked on. I think that during the course of the spring, we'll be in pretty good shape there. I think as we keep going, we'll keep improving at that position.
Linebacker was a strength for you last year and looks to be so again. Do you see some good competition there this spring, particularly at the weakside spot?
BH:
Yeah, I think with
Desmond Morgan
and
James Ross
, there's going to be great competition.
Joe Bolden
and
Royce Jenkins-Stone
and
Mike Jones
are all guys who are very competitive, and I think the three young guys coming in are going to be guys who will give us a lot of good competition and a lot of good depth.
Kaleb Ringer
is coming back from injury, so we'll see what he can give us. At the sam linebacker,
Jake [Ryan
] is coming back, and we really like what
Cam Gordon
has done during the winter. So I think we feel a little stronger at that position.
How do you replace what Jordan Kovacs gave you in the secondary?
BH:
I don't know if you ever replace that kind of leadership, but I really think
Thomas Gordon
, he's played a lot of football here, and it's time for him to demonstrate the leadership. And he's doing that. Because of the number of snaps and everything he's done, he's really fallen into his own a little bit.
Courtney Avery
has played a lot of football, and whether he's a corner a nickel or wherever, he's got to give us great leadership and great reps.
Blake Countess
is getting healthier; he'll do some things during the spring.
Josh Furman
, I think, has come on.
We've got to see where
Terry Richardson
is and where
Marvin Robinson
is. Both those guys have played a number of snaps. We've got
Raymon Taylor
back, who I think started every game for us last year, we're excited about his development.
Dymonte Thomas
is a guy who's going to compete, and he'll pressure some guys.
Jarrod Wilson
is another guy who played some last year for us. Ross Douglas is here early.
Jeremy Clark
is a 6-foot-4, 210-pound safety we redshirted a year ago, and it's going to be a big spring for him to make some moves.
So I think we may have more personnel back there. And even more in the fall when
Channing Stribling
gets in, and
Reon Dawson
gets in and
Jourdan Lewis
. I think it's going to add something to our secondary.
Finally, what has your message been to the team this offseason after last year's 8-5 season?
BH:
Well, our message has been, we haven't met the expectations at Michigan. That's something that as a football community… that we really feel that we have to do a much better job in all areas, from the coaching aspect of it, from learning and playing with the competitiveness we want to have, from every player at every position playing with the intensity we want to play with. It's about having a mindset and a mentality of how we want to play the game. We make no excuses, but at the same time, we know we have a lot we can do to play better football.
February, 2, 2012
2/02/12
1:00
PM ET
Brady Hoke on Wednesday technically signed his
second recruiting class as Michigan's coach
, but unlike the first, this crop had his fingerprints all over it. Hoke and his staff had a full year to put the class together and rode some early momentum last spring and summer to a class rated in the top 10 nationally by the recruiting services. Michigan re-established itself on the home front with nine in-state players and nine more from neighboring Ohio. The Wolverines loaded up on both lines and added some decorated skill players as well.
ESPN.com caught up with Hoke on Wednesday. Here are his thoughts:
What were your main objectives with this recruiting class?
[+] Enlarge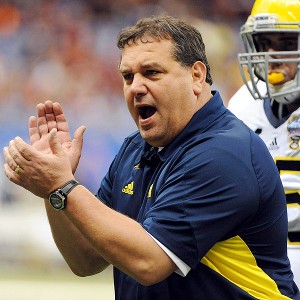 Chuck Cook/US PresswireBrady Hoke signed a class of 25 on national signing day, including 18 players from the states of Ohio and Michigan.
Brady Hoke:
Number one, we had some holes that we needed to fill. We had eight guys on scholarship on the offensive line a year ago, and we needed to get some guys who will be great fits within the offense, and secondly, we need to get numbers and quality numbers. Same thing defensively. Coming out of a 3-3-5 scheme to a four-man scheme, you obviously have got to do a good job of changing and getting the bodies you need.
What stands out to you about the linemen you were able to sign on both sides?
Hoke:
They're all quality kids and character kids. I think there's a toughness to them when you watch them play. There's great size potential and genetically, you've got some bigger guys.
A couple of those bigger guys are [offensive lineman] Kyle Kalis and [defensive lineman] Ondre Pipkins. What stood out to you about them?
Hoke:
The movement a guy like 'Pee-Wee' [Pipkins] has. When you look at the size that he is and what the potential down the road is and how he plays the game. And with Kalis, he's a road grader. He's physical at the point of attack and finishes blocks.
How important was it to do well within the state? How big an emphasis did you put on Michigan and northern Ohio?
Hoke:
Both states have outstanding high school football programs, and there's an emphasis and it's coached very, very well. Recruiting the state of Michigan is always going to be an important part of what we do, the heart and soul and core of your team, nucleus-wise. And Ohio is the same way. That is always a state because of population and the love they have for the game of football, it's always going to be a place we're going to recruit hard.
How important was it to get off to the start that you did last spring?
Hoke:
That's always important, if you can get that done. Some years may be different than others, but you grab some momentum, and then kids start recruiting kids. They find guys they want to play with and be around for four or five years.
You played quite a few younger players, especially on defense, last year. Do you see that same potential with this class, guys able to contribute early in their careers?
Hoke:
We're going to see. That's why it's an inexact science, but there's always opportunities out there for guys.
Was the competition recruiting this area any different this past year than when you were an assistant at Michigan?
Hoke:
I don't think so. I didn't feel any different, let's put it that way.
How important was your vision for Michigan during this recruiting cycle?
Hoke:
The more you know about the guys that you want to recruit, the more they know you, the relationships you build, all those things are important. Having 12 months to recruit a class is always beneficial.
How much were you able to recruit to where Michigan is going on the offensive side?
Hoke:
We signed a fullback (
Sione Houma
), and that's an important position when you want to get in the two-back, I-back, and run the power play and the lead play and the play-action schemes off of it. A big back like Drake [Johnson] is an important piece to it. Tight end is an important piece, and signing the two tight ends [
Devin Funchess
and
A.J. Williams
] are going to help us down the road.
What's your take on the four-year scholarships that you and many other Big Ten schools began offering this year?
Hoke:
I've got a feeling they'll revisit those things. There may have been a rush to judgment about how some of those things are pushed through six or seven months ago. I never saw a problem with the one-year, renewables. Maybe [the solution] is somewhere in the middle and they become two-year deals.