December, 3, 2014
Dec 3
1:00
PM ET
Nebraska is not a broken football program. As the Huskers search for Bo Pelini's replacement, they have plenty that'll look attractive to candidates, from returning personnel on the field to resources away from it.
Here's a look at what the next coach figures to inherit:
[+] Enlarge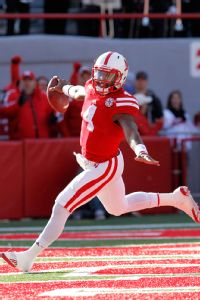 Bruce Thorson/USA TODAY SportsThe Cornhuskers are losing some big-time playmakers on offense, but they do bring back quarterback Tommy Armstrong Jr.
Offense:
Nebraska loses its most productive running back-receiver combo of the past 30 years in
Ameer Abdullah
and
Kenny Bell
, but quarterback
Tommy Armstrong Jr.
brings back experience and possesses strong leadership qualities. Emerging talent on the offensive line must jell in a way that did not happen this year. Line play, in fact, ranked as the Huskers' most glaring deficiency in 2014.
Imani Cross
,
Terrell Newby
and
Adam Taylor
, who has yet to play, are solid in the backfield but likely lack the star quality of Abdullah.
Jordan Westerkamp
must account for the loss of Bell with help from explosive wideouts
De'Mornay Pierson-El
,
Taariq Allen
and
Alonzo Moore
. The biggest question, of course, involves fitting these nice pieces into the style of play installed by the next staff. New leadership could provide an opportunity for former blue-chip QB
Johnny Stanton
, who has not made an impact in two seasons, to challenge Armstrong.
Defense:
Even without defensive end
Randy Gregory
, who is expected to leave early for the NFL, the Huskers' strength remains up front with the return of
Greg McMullen
,
Vincent Valentine
and star-in-the-making
Maliek Collins
. Nebraska is dangerously thin, though, at end, and linebackers
Zaire Anderson
and
Trevor Roach
are gone, leaving a lot of work for the next staff. They'll be tasked to find the right spots for once-promising
Josh Banderas
and
David Santos
. Youngsters
Marcus Newby
and
Courtney Love
look the part but did not contribute as expected. Linebacker Michael Rose and safety Leroy Alexander return and should offer a big boost. In the secondary, first-year coach Charlton Warren may have a chance to stay. He did great work with safety
Nate Gerry
this year, and this area features the team's best collection of young talent with the likes of
Kieron Williams
,
Josh Kalu
and
Chris Jones
.
Special teams:
Looks good all around, with the return of punter
Sam Foltz
, who developed into a weapon in his second season, and freshman place-kicker
Drew Brown
. Pierson-El amassed more punt-return yardage -- by a margin of 30 percent -- than any other team nationally, returning three kicks for touchdowns. His value to the next coach cannot be overstated.
Fan base:
Here's where it gets tricky. Husker Nation is again splintered after the firing of Pelini, whose backers will struggle to accept anything less than the Bo standard of nine or 10 wins. Even then, if the Huskers don't win a conference title in a short time, a faction of fans will loudly question the need for change. It has the potential to get toxic in a way similar to the dark days of the Bill Callahan era, when many fans and former players felt alienated. All of this magnifies the need for Nebraska to find a coach who embraces the school's tradition and can unite people. There are hurt feelings to soothe, and if Pelini's replacement doesn't understand that, he's facing a stacked deck from the start. Nebraska has sold out an NCAA-record 340 consecutive games. And since the expansion of the stadium to more than 90,000 in 2013, ticket demand has softened. As an institution, Nebraska can't afford empty seats in the stadium.
Administrative support:
It's strong. Athletic director Shawn Eichorst, asked why he fired Pelini after a 9-3 regular season when 8-4 was good enough to stay last year, pointed immediately to support from the administration. Pelini made requests, particularly to better fund recruiting, and Eichorst complied. Even the former coach mentioned several times that Eichorst provided all the resources that Nebraska needed to win. Was it a scheme from the boss, who planned to fire Pelini all along and wanted to remove every potential excuse? That's a theory for the most fierce of the Pelini loyalists. Regardless, the next coach will be Eichorst's guy, tied to him for the duration, so it stands to reason that Nebraska's administrative support, already outstanding, will only grow. The school has millions in its reserve fund, evidenced by the ease with which it is handling Pelini's $7.9 million buyout. And as long as the stadium remains full, the resources will expand after the Big Ten inks a new, rich TV contract in 2016.
Recruiting:
Nebraska had a small senior class in 2014 and expected to sign a group of less than 20 in this recruiting cycle, though normal attrition that accompanies a coaching change could increase the demand for reinforcements. If a coach is hired soon, he could likely salvage much of the 2015 class, headlined by Louisiana running back Kendall Bussey, who has re-opened his recruitment, and Coloradans Avery Anderson and
Eric Lee
. Anderson and Lee, defensive backs who signed early enrollment paperwork in August, can still renege. In the big picture, Nebraska could benefit from a coach with connections in talent-rich California, Texas or the South. And at a minimum, the next staff must feature the diversity and experience to recruit nationally. Nebraska faces challenges here that are unique among the elite programs, but the right group of recruiters can make it work well.
September, 3, 2014
Sep 3
8:00
AM ET
We interrupt the
latest round of back-pedaling at Wisconsin
to peer three years into the Big Ten future, when its conference schedule finally follows the path of other Power Five leagues.
The Big Ten's roster of games on Saturday includes of healthy dose of attractive matchups, featuring Michigan State at Oregon, Michigan at Notre Dame and Virginia Tech at Ohio State.
But wouldn't you like to see Iowa-Northwestern? Bad example. How about Iowa-Minnesota?
You get the idea.
As the ACC, SEC, Pac-12 and Big 12 incorporate conference games into the early-season schedule -- just a tease for fans of the fun to come in October and November -- the Big Ten stands pat. In 2017, when the nine-game conference schedule takes hold, you'll get Ohio State and Indiana on Labor Day weekend.
Others will follow, including Rutgers-Ohio State in Week 2 of 2018.
Until then, enjoy McNeese State-Nebraska. Really, that's an unfair criticism. Every league's composite schedules features dud games.
And as colleague Adam Rittenberg writes,
plenty of excellent nonconference action
is set to soon spice up the College Football Playoff era. The Big Ten is actively involved in this fantastic trend.
I can't help but think, though, that the league is missing an opportunity right now.
A year after Florida State introduced the nation to
Jameis Winston
on Labor Day with an ACC visit to Pittsburgh, Texas A&M showcased freshman QB
Kenny Hill
last Thursday at South Carolina. And suddenly, Hill's a
Heisman candidate
.
Auburn beat Arkansas last week. Louisville announced its presence in the ACC year in the league's traditional first-Monday-of-September spot with a win over Miami. Stanford-USC, one of the Pac-12 marquee's games, gets early-season placement on Saturday.
Kansas State visits Iowa State this week and Ole Miss plays at Vanderbilt.
Next week, the Big Ten's got Penn State at Rutgers, an anomaly because it was scheduled before the Scarlet Knights joined the Big Ten. Still it counts for something alongside Louisville-Virginia, Arizona State-Colorado, Georgia-South Carolina and Florida-Kentucky.
What does Iowa coach Kirk Ferentz think about early league games?
"I really don't have much reaction to that," he said. "For us, it's about playing whoever's on our schedule, going out and playing to the best of our ability and improving each week. Typically, the good teams that we've had have been better in November than they were in September."
Such logic, it seems, would also discourage the scheduling of elite nonconference foes. College football is headed in a different direction. Good teams are playing good teams in early September, even within their own leagues.
And in just three years, they'll do it in the Big Ten, too.
Let's go around the league . . .
East Division
West Division
And finally, James Franklin can't make a wrong move these days. Remember the volcano in Iceland that threatened the Nittany Lions' transatlantic travel to face Central Florida in Ireland? Within hours after Penn State returned home with a win in Franklin's debut, it erupted.
PHOTOS: Volcanic eruption in Iceland http://t.co/vlMw15zQeT Photo: Ragnar Th. Sigurdsson-Arctic Images pic.twitter.com/hAZfF7kx8U

— TIME.com (@TIME) September 2, 2014
BIG TEN SCOREBOARD
Saturday, 12/20
Monday, 12/22
Tuesday, 12/23
Wednesday, 12/24
Friday, 12/26
Saturday, 12/27
Monday, 12/29
Tuesday, 12/30
Wednesday, 12/31
Thursday, 1/1
Friday, 1/2
Saturday, 1/3
Sunday, 1/4
Monday, 1/12
Tweets from https://twitter.com/ESPNCFB/lists/b1g