June, 13, 2013
Jun 13
10:00
AM ET
Quarterback competitions
took center stage around the Big Ten this spring
and will continue to do so when preseason camps kick off in August. As camp approaches, we're examining each of the unsettled signal caller races in the league, where they stand and what needs to be done in the all important summer months.
Next up, Iowa.
The candidates:
Jake Rudock
, 6-3, 205, sophomore;
Cody Sokol
, 6-2, 215, junior;
C.J. Beathard
, 6-2, 195, redshirt freshman
[+] Enlarge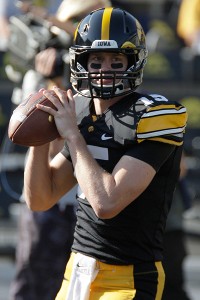 AP Photo/Matt QuinnanJake Rudock emerged from the spring with a slight edge in Iowa's wide-open QB competition.
Statistics:
Rudock didn't see any game action in 2012 despite being the primary backup to Hawkeyes starter
James Vandenberg
. Sokol redshirted at Iowa last season after passing for 3,807 yards and 43 touchdowns as a sophomore, and 2,443 yards and 24 touchdowns as a freshman at Scottsdale (Ariz.) Community College. Beathard has yet to see action in a collegiate game.
Where things stand:
Rudock emerged from the spring with a slight edge, and head coach Kirk Ferentz said last month that
if the season started immediately, Rudock would be the starter
. But the race remains fairly close, and while Rudock and Sokol have a bit more experience, Beathard can catch up with a strong summer.
Rudock looked the best in the two open scrimmages
Iowa held this spring, but Sokol wasn't far behind and Beathard also had his moments.
Summer buzz:
Iowa lacks a quarterback who has taken a snap in an FBS game, so not surprisingly, Ferentz didn't expect to make any big decisions coming out of the spring.
Rudock and Sokol practiced with the second-team offense in 2012, while Beathard spent those workouts running the scout team. Spring practice provided a platform for all three to finally work with the team's top receivers, tight ends, backs and linemen. Ferentz achieved his goal of an equal and fair competition in the spring, but he expects all three quarterbacks to look different when the team reconvenes in August.
"It's fair to say that Jake and Cody were at a little different plane than C.J.," Ferentz recently told ESPN.com, "but the biggest thing now after going through 15 days of spring practice that this is where they have an opportunity to go back and look at that tape in a more sterile environment and see what they can pull from it. And, as they work with their teammates over the course of the summer, hopefully sharpen their skills a little bit.
"Ultimately, it's what they do in August that's going to determine how this thing shakes out."
Ferentz is seeking proficiency, decision-making, accuracy, ball protection and the ability to move the offense in the quarterback who starts for Iowa in 2013. Although all three quarterbacks have what Ferentz called a "workable" knowledge of the offense, which sputtered under first-year coordinator Greg Davis last season, they all must make strides during the summer.
Inexperience is the common denominator, and all three candidates have the needed throwing ability and mobility, Ferentz said. But there are some differences with each, which is nothing new at Iowa.
"We've had all kinds of quarterbacks play here historically," Ferentz said. "Brad Banks is a very different quarterback from Nathan Chandler, and Drew Tate was a very different quarterback from those guys. And then [Ricky] Stanzi came along later and certainly was different than all three of those guys. We don't have the luxury of being locked in, because we don't always get the first choice. If you're able to draft in the first round every time, you can figure out, 'Hey, this is what we're looking for.'
"But we try to find the guy who we think is best in every recruiting class, and as they come along, we'll try to bend toward their skill set."
Rudock and Sokol have a slight leg up entering camp, but Beathard isn't "miles behind," Ferentz said.
"He's just not quite as knowledgeable right now, for obvious reasons," Ferentz said. "But I could also argue that he's got the best opportunity to gain ground and change more than the other guys, because this is a time where, if a summer is done right for a college player, they can improve at any position. The less experienced a guy is, the more opportunity there is to look more significantly different than a guy who has played three years."
Ferentz doesn't have a rigid timetable for determining the starter in camp, noting that if separation doesn't take place naturally, he'll need to make some decisions and divide the reps differently. At some point in August, "you've got to let a guy work with the first team and prepare to be the starter," he said.
What is done now, while the quarterbacks work with teammates away from the coaches, likely will shape who emerges.
"All three need to take what they learned in the spring," Ferentz said. "The challenge now is to push their game forward."
June, 28, 2012
6/28/12
3:20
PM ET
Earlier today Brian Bennett listed
the Big Ten's best and worst moments of the BCS era
. Despite just one national title, the Big Ten has been a familiar part of BCS bowls, appearing in more games (24) than any other league.
The best moment from a league standpoint seems fairly obvious: Ohio State's national title in 2002. But Michigan fans likely won't agree with this. Neither will other fan bases.
That's why
I want to hear from you
.
Send me your picks for the Big Ten's best and worst moments from the BCS era. If you want to make it all about your team, by all means. I expect Iowa to fans mention Drew Tate-to-Warren Holloway or the magical 2002 and 2009 seasons. I expect Wisconsin fans to talk about Ron Dayne and the 1999 and 2000 Rose Bowls, or maybe last year's Big Ten championship game victory. I expect Michigan fans to mention the Wolverines' exciting bowl wins in Orlando in 2000 and 2008.
These are supposed to be biased, which shouldn't be a problem for any of you.
I'll post the best (and worst) submissions Friday or Monday.
August, 3, 2011
8/03/11
2:36
PM ET
The latest installment of
Yards to Glory
is up, as we look at college football's most memorable touchdowns scored between the 60-yard line and 41-yard line.
Three items with Big Ten connections made the rundown, including one play I remember well -- and Iowa fans will never forget -- from the 2005 Capital One Bowl.
56. Fantastic Finish

Iowa beats LSU in bowl game's final play
Jan. 1, 2005: Known by Iowa fans simply as "The Catch," Drew Tate and Warren Holloway produced one of the most exciting finishes in bowl history. Iowa had squandered a 24-12 fourth-quarter lead and trailed LSU 25-24 with 46 seconds left in the 2005 Capital One Bowl. A penalty pushed back Iowa to its own 44-yard line, and no timeout was called as the clock ticked. Needing a miracle, Tate launched the ball to Holloway, who slipped into the end zone for a 56-yard touchdown as time expired.
-- Adam Rittenberg
44. Red Baron

Red Grange runs all over unbeaten Michigan
Oct. 18, 1924: Michigan visited Illinois riding a 20-game unbeaten streak, and athletic director Fielding Yost had confidence his team could handle Illini star Harold "Red" Grange. Yost was wrong. Grange entered college football lore that day, scoring four touchdowns in the first 12 minutes. He capped the scintillating stretch with a 44-yard scoring run. After a rest, Grange returned to record his fifth touchdown and threw for a sixth as Illinois thumped Michigan 39-14. Grange compiled 402 yards in the win.
-- Adam Rittenberg
42. Leonard Part II

Leonard Conley runs Miami past Nebraska in Orange Bowl
Jan. 2, 1989: Miami's diminutive Leonard Conley stood tall in the Orange Bowl against Nebraska, scoring both of the Hurricanes' touchdowns in a 23-3 win. The second score stood out, as he caught a Steve Walsh pass in the flat, juked Nebraska's Lorenzo Hicks and scooted down the sideline for a 42-yard touchdown. Miami receiver Dale Dawkins spurred Conley with a crushing downfield block. The catch marked Conley's longest in college as Miami handed Nebraska its first loss of the season.
-- Adam Rittenberg
Watching video from the 2005 Capital One Bowl, I forgot how desperate things had gotten for Iowa before the Tate pass to Holloway. Coach Kirk Ferentz would have taken heat for clock management -- much like he did after last year's loss to Wisconsin -- had things worked out differently. But that's the thing about these plays -- they make everything else irrelevant.
June, 3, 2010
6/03/10
5:30
PM ET
I'm going to be off most of Friday and Monday -- I'll be at the Big Ten presidents and chancellors meeting Sunday -- so the mailblog comes to you a little bit earlier.
We'll begin with a plea from an ailing Penn State fan.
Dan from Center Valley, Pa., writes:
Adam-I read your blog every day at least once I day. Just had surgery this morning and I'm in a terrible friggin' mood. Being a recent Penn State grad, think you could write something...ANYTHING...to brighten my mood? The merits of Larry Johnson Sr.'s coaching, how awesome Joe Paterno is, the deliciousness about the creamery's ice cream? These doctors are saying I might be here overnight, think you could help me out. (Yes, I'm reading your blog from the recovery ward)
Adam Rittenberg:
Dan, thanks for checking in and hope you get out of there soon. Let's see ... Penn State is
playing Alabama at night
, which should be an amazing atmosphere at Bryant-Denny Stadium. Penn State fans love night games, right?!?! Also, I'm pretty excited to see what
Evan Royster
does in his senior season. He's been so consistent for Penn State the past two years, and with a new quarterback, he should finally get a full load of carries. When will Royster break Curt Warner's career rushing record? When will Joe Paterno reach 400 wins? Both things should happen this fall, so get excited! And get well soon, my friend!
---
Hunter from Iowa City, Iowa, writes:
I like the Best Case/Worst Case videos. On the first one (MSU I think) at the end you said what YOU think is PROBABLE for their record, and I missed that with the Penn State and Northwestern videos. I know it's Best/Worst, but I'm interested at least in a general opinion of where you think each team will be at the end of the year. Speculation is just fun, you know?
Adam Rittenberg:
Good catch, Hunter. The Spartans can go 8-4 or 9-3 this fall, especially because of the record. They'll lose a game or two that they're not supposed to, but it will be a solid season overall. For Northwestern, the probable result is 7-5 or 6-6. The Wildcats lose a lot of key players, but they have enough winnable games on the schedule, especially early on, to get back to a bowl game.
---
Kelly from Manassas Take 1:
Adam, normally I resist the urge to call you an idiot, but not today. You show your ignorance of Penn State by capping them at 10 and 2 for your best case scenario and greatly underestimate this team with a worst case of 6 and 6. Penn State has more speed than any team they play this year, Alabama included. They can hold their own talent wise with just about anyone. While you are right to question the QB position, it is not as big of a question mark as the fools in the media think it is. Nor is the offensive line where they will field the top player in the league at no less than two positions. The defense is fine. Best case scenario is an undefeated season. Worst case is 9 and 3 as no team on their schedule can match up to them at home.
Kelly from Manassas Take 2:
I may have overstated Penn State's chances. While 6 and 6 is a moronic worst case when you look at that schedule, my 9 and 3 may be a game too high. An 8 and 4 absolute worst case scenario is a bit more accurate. Looking at the schedule, talent alone nets them wins against Youngstown State, Kent State, Temple, Illinois, Minnesota, Indiana and Michigan. Michigan State and Northwestern play in State College and have never had much success but it is possible to lose one of them. Either way, 6 and 6 is not realistic. And this team is entirely capable of running the table whether you want to admit it or not.
Adam Rittenberg:
Well, Kelly, since you refrained from calling me an idiot outright -- feel free to do so, by the way -- and you adjusted your scenarios, I'll do the same. Penn State's worst-case scenario can be upgraded to 7-5. I'm not going to go any higher than that because there are far too many questions in all three phases of the game. Everyone focuses on the quarterback situation (guilty as charged), but there are also concerns at offensive line and in special teams. And I didn't show my ignorance by capping the best case at 10-2. Many Penn State fans have contacted me today saying 10-2 or 9-3 is right on the money. Penn State isn't going undefeated, not this year.
---
Frank from Chicago writes:
Adam, the hype surrounding the 2010 Hawkeyes reminds me a lot of the summer of 2005, when Iowa was coming off a Capital One Bowl victory and had Drew Tate and a host of other key players returning. Iowa went on to underachieve horribly, with Tate and many other players being ineffective. How do you think Ferentz will try to prevent the same thing from happening this fall?
Adam Rittenberg:
Good comparison, Frank, and Hawkeyes fans should hope history doesn't repeat itself. The difference this year is that many of these players have already been through some mental challenges in 2009, when Iowa had to overcome a lot of adversity to go 11-2. These guys understand expectations, and they know that wins are never guaranteed. Kirk Ferentz is very aware that Iowa football is in a fishbowl, and the Hawkeyes are such a huge deal in that state. I think he'd prefer if everyone toned down the hype, but he knows why it's there. I just don't get the sense Iowa will underachieve because of overconfidence or a lack of focus. The coaching staff and these team leaders won't let that happen. If Iowa struggles, it will be because the Hawkeyes just aren't good enough.
---
John L. from Phoenix writes:
You wrote, "The league also wants to avoid mistakes made in past expansions, and minimize the damage on the back end."I was wondering what you meant by that? Do you feel the Big Ten (11) has made a mistake in past expansion(s)? Or, rather, avoid mistakes made by other conferences? Either way, however, I'm curious to know what mistakes come to your mind when conferences expanded, Big 10 or otherwise.Thank you.
Adam Rittenberg:
I was referring to mistakes made by other conferences, not the Big Ten. Jim Delany has brought up the ACC-Big East situation enough to indicate that he'd like to avoid the nastiness that took place in 2003. He knows that there is some inherent messiness when expansion occurs, but he wants to go about things in a certain way, contacting league commissioners before contacting individual institutions.
January, 20, 2010
1/20/10
11:00
AM ET
The decade recap marches on as it's time to examine the top 10 games involving Big Ten teams from 2000-09. As with all of these categories, the games list easily could include 25-30 items, so getting it down to 10 wasn't easy. Especially with games. I could probably identify 10 great ones just from my two years of Big Ten blogging.
What makes a great game? Good teams, good players, lots at stake and lots of drama, particularly in the closing minutes.
I put a
special emphasis
on games that helped to decide Big Ten championships, bowl championships and national championships.
Without further ado ...
1. Ohio State vs. Miami, 2003 Fiesta Bowl:
When the national championship game goes to two overtimes and a Big Ten team wins, it'll be at the top of the list. Ohio State nearly won in regulation, nearly lost in the first overtime and then finally prevailed 31-24 against a talent-stocked Miami team that had won 34 consecutive games.
2. Michigan at Ohio State, 2006:
This game had it all: No. 1 vs. No. 2, the sport's top rivalry, national championship implications, unparalleled buildup, the drama of Bo Schembechler's death a day before the game. Ohio State and Michigan combined for 81 points before the Buckeyes prevailed to reach the title game.
3. Michigan at Northwestern, 2000
: As regular-season games go, this is about the best you can find. The teams combined for 105 points and 1,189 yards of offense in a contest that saw tons of plot twists. Star running backs Damien Anderson and Anthony Thomas both committed an error in the closing minutes -- dropped touchdown for Anderson, lost fumble for Thomas -- before Northwestern emerged with a 54-51 win. Both teams went on to share the Big Ten title with Purdue.
4. Texas vs. Michigan, 2005 Rose Bowl:
It didn't go the Big Ten's way in the end, but Michigan and Texas certainly gave us a game to remember. The Wolverines received great play from quarterback Chad Henne and wide receivers Braylon Edwards and Steve Breaston, but Vince Young proved to be too much as Texas won 38-37 on a field goal as time expired.
5. Iowa at Ohio State, 2009:
This game essentially decided the Big Ten championship, as the teams met with a Rose Bowl berth at stake. Iowa came in as a major underdog after losing starting quarterback
Ricky Stanzi
to injury the previous week against Northwestern. Redshirt freshman
James Vandenberg
displayed incredible poise in his first career start, but Ohio State eventually prevailed in overtime after a 39-yard field goal from backup kicker Devin Barclay, a 26-year-old former Major League Soccer player.
6. Iowa vs. LSU, 2005 Capital One Bowl:
You'll never see a more exciting end to a bowl game, and the first 59 plus minutes weren't bad, either. Iowa built a 24-12 fourth-quarter lead behind quarterback Drew Tate, only to watch it disappear down the stretch. It set the stage for Tate's 56-yard touchdown strike to Warren Halloway as time expired as Iowa won 30-25.
7. Michigan State at Michigan, 2004:
Michigan State's losing streak at the Big House appeared over as the Spartans led 27-10 with 8:43 left. But Michigan rallied to tie the game as Braylon Edwards hauled in two touchdowns from Chad Henne. Henne and Edwards hooked up again in the third overtime as Michigan won 45-37 and went on to share the Big Ten title with Iowa.
8. Penn State vs. Florida State, 2006 Orange Bowl:
Joe Paterno and Bobby Bowden generated tons of buildup before kickoff, and the game itself didn't disappoint. It was hardly a masterpiece on either side, but the game generated plenty of excitement as the teams went to three overtimes before Penn State won 26-23 on a Kevin Kelly field goal.
9. Michigan at Minnesota, 2003:
Michigan's Big Ten title in 2003 could be directly linked to the greatest comeback in team history against Minnesota at the Metrodome. The Wolverines trailed 28-7 in the third quarter before rallying to win 38-35 on a Garrett Rivas field goal in the final minute. Minnesota was 6-0 before the loss.
10. Penn State at Iowa, 2008:
Penn State came to Iowa City with national title aspirations and jumped ahead of Iowa 23-14 late in the third quarter. But Ricky Stanzi stepped up in the fourth quarter and led a dramatic comeback that ended with Daniel Murray's field goal. It marked Penn State's only loss, though the Lions still won a Big Ten title and went to the Rose Bowl.
January, 19, 2010
1/19/10
11:00
AM ET
The last decade brought us many memorable moments in the Big Ten. From coaching milestones to individual awards to a national championship to the possibility of expansion, the Big Ten had it all in the aughts.

Here's a look back at 10 moments that stand out:

1. The Game pits No 1. vs. No. 2 -- Nov. 18, 2006: The Big Ten had the national stage all to itself as its premier rivalry pitted college football's top two teams, No. 1 Ohio State and No. 2 Michigan, at Ohio Stadium. A day after the death of coaching legend Bo Schembechler, the Buckeyes and Wolverines met in the most anticipated regular-season game ever. Ohio State won, 42-39 and earned the right to play in the BCS National Championship Game.

2. The Flag -- Jan. 3, 2003: It was the most famous -- or infamous -- call of the decade, a pass interference penalty on Miami's Glenn Sharpe that gave Ohio State new life in overtime at the 2003 Fiesta Bowl. The Buckeyes went on to tie the game and win in the second overtime for the Big Ten's only national championship in the aughts.

3. JoePa passes The Bear -- Oct. 27, 2001: Joe Paterno became college football's all-time winningest coach as Penn State rallied from a 27-9 deficit to beat Ohio State 29-27 at Beaver Stadium. Paterno's 324th career win pushed him past Paul "Bear" Bryant for the record.

4. Iowa wins bowl on final play -- Jan. 1, 2005: In one of the most exciting bowl game finishes ever, Iowa's Drew Tate found Warren Halloway for a 56-yard touchdown with no time remaining as the Hawkeyes stunned LSU 30-25 in the Capital One Bowl. LSU had taken a 25-24 lead with 46 seconds left before Tate's heroics.

5. Big Ten announces expansion plans -- Dec. 16, 2009: For the first time, the Big Ten publicly announced it would explore the possibility of expansion. More football coaches and athletic directors were behind the movement than ever before, and the league felt that the "time is right" to seriously look into a hot-button issue.

6. Starks' fumble return against Purdue -- Oct. 16, 2004: Purdue entered the game ranked No. 5 nationally and boasted the Heisman Trophy frontrunner in quarterback Kyle Orton. The Boilers led 17-14 late in the fourth quarter when Orton, running for a key first down, lost the ball. Wisconsin's Scott Starks recovered and raced 40 yards for a touchdown. Purdue never recovered that season.

7. Spartans win in Clockgate -- Nov. 3, 2001: Michigan State beat archrival Michigan 26-24 as Jeff Smoker found T.J. Duckett in the end zone with no time remaining. Many believe the Spartans shouldn't have had a chance to run the final play, as the clock could have expired before Smoker spiked the ball on third down.

8. Deaths of Walker and Hoeppner -- June 29, 2006 and June 19, 2007: The Big Ten tragically lost head coaches Randy Walker (Northwestern) and Terry Hoeppner (Indiana). Walker died suddenly of a heart attack weeks before training camp, while Hoeppner lost a battle with brain cancer almost exactly one year later.

9. Michigan beats Penn State on final play -- Oct. 15, 2005: Penn State's quest for a perfect season and a national championship ended on the final play at Michigan Stadium. Chad Henne found Mario Manningham for a 10-yard score as Michigan handed Penn State its only loss.

10. Krenzel to Jenkins on fourth down, Nov. 9, 2002: Ohio State's national title hopes teetered as the offense faced fourth-and-1 with less than two minutes left against Purdue. On a call that surprised everyone, Craig Krenzel threw to Michael Jenkins for a 37-yard touchdown as the Buckeyes rallied for a 10-6 win and went on to the championship.


October, 9, 2009
10/09/09
4:30
PM ET

Posted by ESPN.com's Adam Rittenberg
Send in your Iowa City recommendations now.
Jon from Irvine, Calif., writes:
Is it me or is Michigan getting a lot of hype for their 4-1 record? Eastern Michigan, Western Michigan, Notre Dame and Indiana hardly constitute quality wins (perhaps Notre Dame but they aren't nearly as good as Lou Holtz thought they would be). Yes, Michigan is much better than last year, but give me a break! Shouldn't we wait for them to win a big game before giving them this much attention?We'll see what Michigan is made of this weekend in Kinnick ...
Adam Rittenberg: Definitely agree on your last statement, Jon. Here's the deal with Michigan. It's good for the game when Michigan is doing well. It's good for the Big Ten when Michigan is doing well. As a result, the Wolverines will get hyped more than other teams despite an average
résumé to this point in the season. Michigan gets a ton of attention, win or lose, and especially since the Wolverines were so bad last year, they're going to get some love when obvious improvements are made. It also helps to have a young quarterback (
Tate Forcier
) consistently coming up big in the clutch.
---
Frank from Chicago writes:
Adam, first off, I love the blog and it keeps me very well occupied during classes, Thanks. More importantly, it seems as though Iowa's national profile has diminished from its close win over Arkansas State this past weekend. However, in light of Penn State's thorough victory over preseason sleeper Illinois, doesn't the Hawkeyes win in Happy Valley look more impressive?
Adam Rittenberg: Thanks, Frank. Not sure exactly what you mean, since Iowa actually moved up a spot in this week's AP Poll to No. 12. I thought the Hawkeyes would pay a steeper price for struggling to put away a Sun Belt team on their home field. As for Penn State's win over "preseason sleeper" Illinois, that gave me a good laugh. Beating Illinois doesn't mean a whole lot right now. Iowa's win in Happy Valley still carries a ton of weight in my book, but not for what Penn State did to the hapless Illini.
---
August, 25, 2009
8/25/09
9:00
PM ET
Posted by ESPN.com's Adam Rittenberg

The third installment in a series examining the best and worst outcomes, within reason, for each Big Ten squad.



BEST CASE

The Hawkeyes pave the road in black and gold, the defensive line holds together and "Stanzi is the Manzi" T-shirts are worn all across the state.

No Shonn Greene? No problem for Iowa, which continues its momentum from 2008. Junior quarterback Ricky Stanzi blossoms after a season of trial-and-error, and running backs Jewel Hampton and Jeff Brinson find plenty of daylight behind the Big Ten's best offensive line. Wide receiver Derrell Johnson-Koulianos gets the message after his depth-chart demotion and earns All-Big Ten honors. The defense misses tackles Mitch King and Matt Kroul, but an improved pass rush combined with more playmaking from linebacker Pat Angerer, safety Tyler Sash, cornerback Amari Spievey and others more than makes up for it.

The Hawkeyes easily handle Northern Iowa in the opener before heading to a place they hate -- Jack Trice Stadium. Wins are never easy in Ames, but Stanzi steps up and delivers big as the visitors roll 31-7. Iowa then ruins Mike Stoops' homecoming and takes care of Arizona, setting up the matchup the two most vocal fan bases on this blog have waited for -- Sept. 26 at Penn State. The sight of 185-pound kicker Daniel Murray makes Penn State fans tremble, and Iowa doesn't flinch in front of the "Whiteout" crowd, upsetting the Nittany Lions by a touchdown. The Big Ten blog server crashes after being flooded with celebratory Hawkeye fans.

Stanzi makes sure the team avoids a letdown against Arkansas State, and the defense shuts out Michigan as Adrian Clayborn introduces himself to the Wolverines' quarterbacks. Iowa splits its next two road games, against Michigan State and Wisconsin, before posting another shutout against Indiana on Halloween. Now ranked in the top 15, Iowa overcomes its recent demons against Northwestern as Angerer knocks one of the Wildcats' running backs from the game in a convincing win.

Can't see Iowa winning in Columbus, but the team finishes with a very respectable 3-2 road record. To celebrate, the Hawkeyes beat Minnesota 55-0 for the second straight year. At 10-2, Iowa heads back to Florida for the Capital One Bowl and Stanzi does his best Drew Tate impression, throwing the game-winning touchdown pass against LSU. The Hawkeyes finish No. 8 nationally, left tackle Bryan Bulaga returns for his senior season
and NFL teams leave head coach Kirk Ferentz alone for a change.


WORST CASE

Iowa is left seeing red without Greene, Stanzi records double digits in picks and the run defense crumbles without King and Kroul.

Hampton's knee never fully heals, and the offensive line doesn't jell without several key pieces early in the season. The Hawkeyes are forced into third-and-long situations, and Stanzi continues to take the risks that plagued him at times last season. There's friction with DJK and converted quarterback Marvin McNutt struggles to be a No. 1 wideout. Opponents quickly spot the holes in Iowa's defense, and the young tackles pegged to replace King and Kroul inside simply aren't up to the task. The secondary struggles to replicate its playmaking prowess from 2008, and Iowa's bad habits in close games resurface. Injuries crop up on both sides of the ball, and the program gets more bad press for off-field issues.

The season begins with a too-close-for-comfort win against Northern Iowa, a strong FCS program. Then disaster strikes once again in Ames, as a horrible Iowa State team upsets the Hawkeyes 10-9 in a rainstorm. It marks Iowa's fifth loss in its last six trips to Jack Trice Stadium. After squeaking by Arizona, Iowa heads to Happy Valley and pays the price for last year's upset at Kinnick Stadium. Penn State rolls the Hawkeyes by 20 points, giving Nittany Nation bragging rights on the Big Ten blog.

After pounding Arkansas State, the Hawkeyes survive a scare against Michigan. The team hits the road again and struggles, as Bret Bielema gets revenge for last year's drubbing and Michigan State wins another close one in East Lansing. Iowa recovers against Indiana but drops its third consecutive home game to Northwestern. Needing to split its final two games to make the postseason, Iowa can't keep pace with Ohio State. A bowl-bound Minnesota team then comes to Kinnick Stadium and rolls to a win, as wideout Eric Decker hauls in four touchdowns and two Gophers fans are arrested doing naughty things in a bathroom.

The 5-7 clunker raises doubts about Ferentz's leadership, Bulaga and Spievey bolt for the NFL and the program wastes the momentum it generated last fall.