Big Ten:

East-West Shrine Game
January, 22, 2010
1/22/10
11:15
AM ET
The East-West Shrine Game is nearly here (Saturday, 3 p.m. ET), and final preparations are under way in Orlando. ESPN's Scouts Inc. has been watching all of the practices as 11 Big Ten players get ready for the game.
[+] Enlarge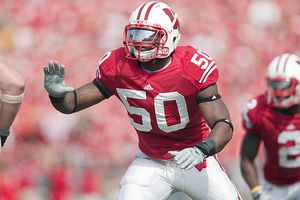 David Stluka/Icon SMIO'Brien Schofield will transition from playing defensive end in college to linebacker in the NFL.
The Scouts Inc. folks have watched Wisconsin's O'Brien Schofield all week as the All-Big Ten standout transitions from playing defensive end in college to linebacker in the NFL. Schofield's speed made him particularly tough to handle this fall in the Big Ten, but at just 248 pounds, he's a better fit for outside linebacker in a 3-4 system at the pro level. Schofield ranked second in the Big Ten in both sacks (12) and tackles for loss (24.5) this season.
Todd McShay writes of Schofield: "He's reacting and just playing now instead of needing that split second to think about what he's supposed to be doing. He has good, quick feet. Maybe the quickest feet on anyone here and that will help him. Give him lots of credit for hanging in there in what had to be a frustrating week at times and for getting better and better as the week went on."
Here are some other Big Ten-related comments from
Thursday's practice session
:
"Penn State QB Daryll Clark has struggled with his accuracy during drills. He's not doing a good job of throwing with rhythm when hitting his back foot."

"Michigan State WR Blair White made a nice catch snagging the ball at the highest point on a fade route. It was just in a drill with no DBs, but for a guy who has been trapping the ball way too much here, it was worth noting how he used his hands here."

"Purdue DT Mike Neal is showing very good first step quickness during bag drills. He's been lining up next to LSU DE Rahim Alem and beat Alem off the line three straight times. That's saying a little something since Alem is a DE while Neal is a DT. Neal is having a very strong week."
January, 19, 2010
1/19/10
2:30
PM ET
As AI
famously said
, "We talkin' about practice."
East-West Shrine Game practice, that is.
If you haven't done so already, check out Scouts Inc.'s coverage of the Shrine Game preparations this week in Florida. Todd McShay and the other experts are weighing in about all of the players in Orlando, including Big Ten NFL hopefuls on the East squad.
Scouts Inc. has been blogging on
Day 2 of practice
, and McShay recapped
Day 1
.
Here are some comments about the Big Ten contingent:
Penn State QB Daryll Clark:
"Clark appears to be much more comfortable in the early part of this practice. He is throwing with better confidence and accuracy. He did overthrew 6-10 Army TE
Ali Villanueva
once, but so far he has looked much more confident and comfortable today."
Northwestern QB Mike Kafka:
"Kafka, on the other hand, was by far the most accurate East quarterback on Monday and he put great touch on his passes. The concern with him is his drops. Kafka is trying to transition from playing in a shotgun-heavy attack to a pro-style system and his footwork appeared awkward at times." ..."He's looking poised in the pocket and he's moving around well. One concern of ours that showed up again today is his arm strength. The ball does not explode off his hand and there's not enough velocity on his downfield passes.
Wisconsin LB/DE O'Brien Schofield:
"Quickness and straight-line speed do not appear to be an issue." ... "On the other hand, Schofield stumbled once when asked to change directions during bag work and looked stiff in space during the team period. In fact, the East coaching staff lined him up on the inside at times. Additionally, he's clearly a raw linebacker." ... "He's switching from DE to LB this week -- and it's a traditional LB, not just a pass rusher -- so we give him credit because he's flying around, mixing it up and showing he's very coachable. Players come here to showcase their skills, but he's learning on the job and it must be a very frustrating experience."
Purdue DT Mike Neal:
"Neal is a bit undersized by most teams' standards, but he will fit well as a three-technique in a Tampa 2 type scheme (Colts, Bears, etc.)."
Michigan State WR Blair White:
"One of the most underrated receivers in attendance is Michigan State WR
Blair White
. While he isn't the fastest receiver on the field, he makes up for it with sudden route running."
Penn State TE Andrew Quarless:
"Penn State's
Andrew Quarless
might be the most physically gifted tight end here -- and that's including BYU's
Dennis Pitta
-- but he looks annoyed that he's having to practice. He's not dogging it or anything, but there's no extra effort, the attention to detail kind of wanes and you see it in his play and technique. Something's missing with him."
Ohio State OL Jim Cordle:
"OL
Jim Cordle
was very slow off the ball, heavy footed and lacked the initial quickness off the ball needed to make the block. Against Virginia's
Nate Collins
, he didn't get out of his stance quick enough, had his head down and Collins exploded out, used his hands and beat Cordle to the side."
Ohio State DT Doug Worthington:
"Worthington lacked explosion and pop off the ball. He's kind of a one-speed guy and not changing it up. He's high out of his stance as well. We'll look for more from him during the team period."
Indiana LT Rodger Saffold:
"Watching 1-on-1 pass rush drills and Indiana OL
Rodger Saffold
stole the show. He showed great feet and stoned LSU's
Rahim Alem
twice, the second time putting him on the ground." ... "On a later turn, Saffold kept in front of Ole Miss'
Greg Hardy
off the edge."
January, 20, 2009
1/20/09
10:30
AM ET
Posted by ESPN.com's Adam Rittenberg
The Big Ten's porous bowl record isn't going to change, but the conference got some degree of postseason satisfaction from the East-West Shrine Game this weekend. Several Big Ten players lifted the East squad to a 24-19 victory and likely helped their NFL draft stock in the process.
Among the notables:
Michigan State quarterback Brian Hoyer completed 3 of 4 passes for 60 yards and led two scoring drives for the East squad. He also had two carries for 14 yards.
Northwestern running back Tyrell Sutton had 10 carries for 37 yards and a 2-yard touchdown run late in the third quarter that proved to be the winning margin for the East team. Sutton also served as a kick returner, a role he didn't play at Northwestern, and had three runbacks for 82 yards

Penn State wide receiver Deon Butler led the East team with three receptions for 69 yards, while Purdue's Greg Orton had a 13-yard catch.

Michigan cornerback Morgan Trent accounted for the game's only turnover when he picked off Central Washington's Mike Reilly.
January, 6, 2009
1/06/09
3:25
PM ET
Posted by ESPN.com's Adam Rittenberg
The rosters are complete for the East-West Shrine Game, and 14 Big Ten players have been selected for the East squad. The game takes place Jan. 17 in Houston (ESPN2, 4 p.m. ET).
I made a mistake in an earlier post and listed Wisconsin guard Kraig Urbik as a Shrine Game participant. It's actually Badgers guard Andy Kemp. Urbik will play in the Senior Bowl.
Here's the full rundown of Big Ten players.
Greg Orton, wide receiver, Purdue
Deon Butler, wide receiver Penn State
Brian Hoyer, quarterback, Michigan State
DeAndre Levy, linebacker, Wisconsin
Tyrell Sutton, running back, Northwestern
Otis Wiley, safety, Michigan State
Morgan Trent, cornerback, Michigan
Kory Sheets, running back, Purdue
A.Q. Shipley, center, Penn State
Terrance Taylor, defensive tackle, Michigan
Alex Boone, offensive tackle, Ohio State
Seth Olsen, guard, Iowa

Andy Kemp, guard, Wisconsin
Matt Shaughnessy, defensive end, Wisconsin