Big Ten:

Eastern Illinois Panthers
September, 1, 2013
9/01/13
12:55
PM ET
Eastern Washington coach Beau Baldwin won a Football Championship Subdivision national title in 2010. Both personally and professionally, he feels a duty to call his team's one-point win against Delaware his finest victory as a coach.
But he also knows how fans work. Their memories can be short, and big names tend to get embedded in their minds.
"Ten or 15 years from now, people might not remember who we beat in the national title game, but they'll remember the ranked team who we beat in the Pac-12," Baldwin said. "It puts you that much more on the map."
Baldwin spoke from a bus carrying happy Eastern Washington players and coaches from Corvallis, Ore., back to their campus in Cheney, Wash., Earlier in the day, Eastern Washington came to Reser Stadium and outlasted No. 25 Oregon State 49-46, recording the first win against a Pac-12 opponent in program history.
[+] Enlarge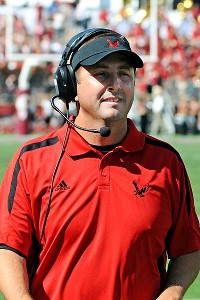 James Snook/USA TODAY SportsBeau Baldwin and the Eastern Washington Eagles stunned ranked Oregon State in Week 1.
The Eagles' win highlighted a huge opening weekend for FCS teams, which brought down Kansas State (North Dakota State), Iowa State (Northern Iowa), San Diego State (Eastern Illinois), South Florida (McNeese State) and Connecticut (Towson), to name a few. The FCS ended up with seven wins against the FBS, which boasts more athletic scholarships (85 versus 63), resources and, of course, home-field advantage.
After falling just short against Washington State last season (a 24-20 loss) and Washington (30-27) in 2011, Eastern Washington finally soared past the big, bad Pac-12. It marked just the third FCS win against a ranked FBS opponent and the first since 2010.
"It's a huge win for the program," Baldwin said. "I won't undersell it. People remember Appalachian State beat Michigan [in 2007]. They can't remember who they beat for three straight [FCS] national titles [in 2005, 2006 and 2007]."
McNeese State outlasted Appalachian State in 2009 for a signature program win under coach Matt Viator. But it's likely the folks in Lake Charles, La., will be talking about Saturday's win against South Florida for much longer.
Viator's Cowboys didn't just beat South Florida for their second win against a team from a BCS automatic-qualifying conference (North Carolina, 1999). They lassoed the Bulls, using a 31-point second quarter to win 53-31, the largest margin of victory for an FCS team against a BCS AQ opponent.
"I thought we had a chance," Viator said. "Our kids were in shape, we were sound in the kicking game. That's usually what gets you against FBS teams. I didn't see something like this coming."
Each FCS team had its own source of motivation heading into the FBS showdowns. Eastern Washington had the close calls against the Pac-12. Northern Iowa had the near misses against Big Ten foes Wisconsin (2012) and Iowa (2009), not to mention the 67 Iowa natives on the roster. Viator's players showed up to the team breakfast Saturday inspired by North Dakota State's come-from-behind win at Kansas State the night before.
North Dakota State, the back-to-back defending FCS champion, is "the measuring stick for all of us," Viator said.
Eastern Illinois coach Dino Babers might have been too motivated for Saturday's opener at San Diego State. The San Diego native spent the 1994 season as a San Diego State assistant and couldn't stop yammering about the Aztecs all week.
"The biggest negative about this game was me because I knew so much about San Diego State," Babers said. "Nobody wanted to be around me. It was like I had stink juice on me. I was a grizzly bear."
EIU players also might have been sick of Babers talking about the team's 2001 game against San Diego State, when a quarterback named Tony Romo led the Panthers. That night, the Aztecs pummeled Eastern Illinois 40-7.
[+] Enlarge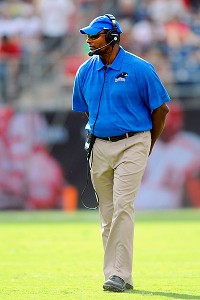 Christopher Hanewinckel/USA TODAY SportsFormer San Diego State assistant Dino Babers took Eastern Illinois into his hometown and trounched the Aztecs.
"I told them about it all week long," Babers said, "that Tony Romo's team went in there and scored only seven points. I love Tony, I know him now, so I know he won't get mad at me for saying it."
As if that wasn't enough, Babers had one final request in his pregame speech. His mother, Patsy Ann Plummer, doesn't fly and had never seen her son lead a team as a head coach.
She was scheduled to be at Qualcomm Stadium on Saturday night.
"I said, 'I knew you guys want to win, but it would be really cool if my mom could see a win,'" Babers said. "They said after the game, 'You get to be happy with your momma.' It's really cool."
The FCS coaches recognize the differences between their programs and those in the FBS, but they note that the gap is narrower in Week 1 than later in the season, when injuries take a toll. Opening weekend is by far the best opportunity to strike.
Northern Iowa coach Mark Farley had major questions about his team entering Iowa State's Jack Trice Stadium, not knowing what to expect in the secondary or at fullback or tight end. When Northern Iowa needed a fourth-down conversion late in the game, Farley watched tight end Braden Lehman, fullback Shawn Rush and others pave the way.
"Iowa State is a program on the rise," Farley said. "We beat them in front of a full house. But it wasn't about beating Iowa State. To finish one of these games and beat an FBS team, it takes more than 22 starters. It takes a lot of people pulling in the same direction. That's what really changed."
How many more opportunities Northern Iowa gets to take down FBS foes remains to be seen. The Big Ten Conference wants its teams to eliminate the scheduling of FCS foes, citing the scholarship discrepancies.
If other leagues follow suit, the guarantees FCS schools get for playing at FBS stadiums will disappear. According to ESPN's Darren Rovell, Eastern Washington ($450,000), McNeese State ($400,000) and North Dakota State ($350,000) all took home a little more than wins this weekend.
"We need these games," Farley said. "The reason we do this is to give every student-athlete a championship experience. FCS players should get up to play in these environments and these stadiums. As long as they're competitive games, it's a great thing for college football."
Week 1 was undoubtedly great for the FCS.
When informed about several other giant slayers, Baldwin replied, "Holy cow!" and "You're kidding!"
"You're happy for those teams," he said. "You know the limitations they have like you have, so when you see that, you know that's the type of game those guys remember for the rest of their lives."
October, 10, 2009
10/10/09
3:32
PM ET
Posted by ESPN.com's Adam Rittenberg
After an exciting Week 5, things have gotten off to a bit of a boring start in the Big Ten today. All four early games were decided by double digits.
Michigan State 24, Illinois 14
-- A game that was supposed to feature two sleeper teams in the Big Ten instead paired two squads with losing records. But after today, it's clear that these two teams are headed in opposite directions. Michigan State turned in its second consecutive strong defensive performance, holding Illinois scoreless for more than 40 minutes. The Spartans won without starting quarterback
Kirk Cousins
, who missed the game with an ankle injury, and got good production from young running backs
Larry Caper
and
Glenn Winston
. Illinois continued its downward spiral with another horrendous offensive performance. Benching quarterback
Juice Williams
clearly wasn't the answer, as starter
Eddie McGee
struggled. Williams did some nice things in mop-up time for the second straight week, but it wasn't nearly enough. Think about this: Illinois has failed to score a first-half touchdown against a BCS opponent. Ron Zook's seat has to be sweltering after this one.
Minnesota 35, Purdue 20
-- When a team talks about the motto "Pound the Rock," like Minnesota does, you need to back it up. The Gophers walked the walk today. Actually, they ran. After falling behind 10-0, Minnesota discovered its rushing attack in the second quarter and never let up. Running backs
Kevin Whaley
and
Duane Bennett
led the way, and
DeLeon Eskridge
chipped in with two rushing scores. Quarterback
Adam Weber
also got more involved in the run game, which piled up 207 yards against the Boilers. Weber only had to attempt nine passes in the win. Minnesota also turned the momentum on defense and special teams with Lee Campbell's interception and Traye Simmons' return for a touchdown on a blocked field-goal attempt. Purdue blew another early lead and fell victim to too many mistakes.
Joey Elliott
did some good things but committed two costly interception. Danny Hope is having a rough time with a team that continues to hurt itself.
Penn State 52, Eastern Illinois 3
-- The Lions did what they needed to do against an overmatched opponent, grabbing a huge lead and giving backup quarterback
Kevin Newsome
some valuable playing time.
Daryll Clark
turned in his second strong performance, tossing three touchdown passes to three different receivers, and running backs
Evan Royster
and
Stephfon Green
both had big days. But Penn State fans wanted to see Newsome today, and they had to like how the freshman looked. Newsome completed 4 of 5 passes to go along with 48 rushing yards, including a 9-yard scoring run. Penn State's joke of a nonconference slate is now complete, and we'll finally start to get a good read on the Lions in Big Ten play.
Northwestern 16, Miami (Ohio) 6 --
There are two ways to look at this. Northwestern needs to win games with defense, and the Wildcats certainly have picked things up on that side of the ball. After forcing six turnovers last week against Purdue, Northwestern recorded four takeaways and seven sacks against Miami (Ohio). Defensive backs Brian Peters and Sherrick McManis were fabulous, and the Wildcats nearly posted a shutout despite playing without safety Brendan Smith and defensive end Corey Wootton. On the down side, the offense was extremely sloppy and once again couldn't generate a run game. A veteran offensive line should perform much better against a Miami defense that ranked 95th against the run. Northwestern can feel good about its defense, but it won't win many more games without better production from the run game.
October, 7, 2009
10/07/09
2:00
PM ET

Posted by ESPN.com's Adam Rittenberg
One of the things
Jake Christensen
likes about playing football at Eastern Illinois is the appreciation Panthers players have toward the game.
"The guys care more about football at this level, honestly," Christensen said Monday on a conference call with reporters. "It's easy to care about football when you're playing in front of 100,000 people every weekend and you're a superstar in town."
| | |
| --- | --- |
| | |
| | Stephen Mally/Icon SMI |
| | Jake Christensen returns to Penn State Saturday, this time as Eastern Illinois' quarterback. |
EIU players will get a taste of the limelight Saturday (ESPN Classic, noon ET) when they face Penn State at Beaver Stadium (capacity: 107,282). The atmosphere will be unlike any the Panthers experience in the Ohio Valley Conference.
Christensen expects many of his teammates to be "awestruck at first," but he won't be. The former Iowa quarterback will be making his second trip to Happy Valley as a player after facing Penn State in 2007. Christensen endured a rough day in a rough season, as Iowa lost 27-7 and he was sacked five teams as the Hawkeyes recorded only eight first downs.
His lasting impression from Beaver Stadium?
"Real loud," he said. "They're going to be bigger than we are and probably faster than we are at every position, but it's been done before and there's no reason why we can't do it. We're not scared, we're not intimidated. We're ready to play football."
Christensen, who transferred to EIU this summer, would rather not look back at his time in Iowa City, but his connection to the Hawkeyes does work in his favor Saturday. After all, Iowa has won seven of its last eight games against Penn State, including a 21-10 triumph on Sept. 26.
"I don't know, man," he said when asked to explain Iowa's success in the series. "They get some breaks against that team that I've never seen before in my life."
That wasn't the only playful jab he took at his former team. When asked if left-handers get picked on by their coaches, Christensen, a southpaw, said with a laugh, "Well, apparently Iowa's coaches didn't like me very much."
Christensen has done well at Eastern Illinois, completing 65.4 percent of his passes for 1,090 yards and 11 touchdowns with three interceptions in five games.
Here's a look at how several quarterback transfers from the Big Ten are faring with their new teams.
Jake Christensen (Iowa), Eastern Illinois: 89 of 136 passing for 1,090 yards, 11 TDs, 3 INTs, 218 ypg, 155.04 rating, 4-1 record
Kellen Lewis (Indiana), Valdosta State: 93 of 142 passing for 934 yards, 3 TDs, 3 INTs, 123.5 rating, 233.5 ypg, 4 rush TDs, 2-2 record
Pat Devlin (Penn State), Delaware: 100 of 155 passing for 1,252 yards, 7 TDs, 2 INTs, 144.7 rating, 4 rush TDs, 3-2 record
Clint Brewster (Minnesota), Tennessee Tech: No pass attempts this season.
Steven Threet (Michigan): sitting out the season at Arizona State, per NCAA transfer rules.
August, 19, 2009
8/19/09
11:51
PM ET
Posted by ESPN.com's Adam Rittenberg
Good news for former Iowa quarterback Jake Christensen, who had his waiver granted by the NCAA and is now cleared to play games for Eastern Illinois. Christensen's transfer was a bit more complicated than most because he already graduated from Iowa.
He has been competing for the starting job at Eastern Illinois in practice and feels better about his passing mechanics after struggling at Iowa.
September, 5, 2008
9/05/08
10:16
AM ET
Posted by ESPN.com's Adam Rittenberg
There's obviously not a great game selection this week, but the Big Ten features plenty of intriguing storylines on Saturday. And no, not all of them have to do with Beanie Wells' big toe.
Here are 10 things to keep an eye on:
1. Penn State's response to turmoil
:
The Nittany Lions thought they were past
off-field melodrama
, but the suspensions of starting defenders
Maurice Evans
and
Abe Koroma
and reserve tight end
Andrew Quarless
cast a shadow over Happy Valley. Will this team cave to the distractions or take care of business against a decent Oregon State team? The D-line will be shorthanded against Beavers quarterback
Lyle Moevao
.
2. Boom and Zoom
:
With Beanie Wells out, the spotlight turns to Ohio State's young running backs
Dan "Boom" Herron
and
Brandon "Zoom" Saine
, who along with
Maurice Wells
will carry the rushing load against Ohio. The Buckeyes need every weapon they can muster for USC, and the performances of the three backs against Ohio could loom large for next week.
3. Steven Threet era might begin
: The Michigan redshirt freshman seemed to gain confidence toward the end of a season-opening loss to Utah and should get the starting nod against Miami (Ohio). Both Threet and
Nick Sheridan
are far from finished products, but Threet could take an important step in his evolution with an efficient performance against the RedHawks.
4. Tyrell Sutton faces Duke
:
The Northwestern senior sat out last season's embarrassing home loss to the Blue Devils, a game that kept the Wildcats out of a bowl. He'll be ready to roll on a potentially sloppy track in Durham, N.C., as Northwestern aims for redemption and a 2-0 start.
5. Star-studded crowd in Champaign
: It should be a banner day for Illinois, which unveils the renovated Memorial Stadium and plays before a collection of living legends, including Dick Butkus. Eastern Illinois shouldn't present too much trouble, but the Illini are searching for a stronger defensive effort after last week's poor tackling display against Missouri.
6. Doyt Perry Stadium rocks as Gophers arrive
: Bowling Green hosts its first-ever Big Ten opponent at Doyt Perry, and Minnesota will try to spoil the fun. The Gophers barely survived at home against a rebuilding Northern Illinois team last week and will need a much stronger effort, particularly on defense, to overcome
Tyler Sheehan
and the Falcons on the road.
7. Flipping quarters at Iowa
: Is this the week Hawkeyes junior
Jake Christensen
cements himself as the starting quarterback? He'll have the chance to do so against Florida International, but improved sophomore
Ricky Stanzi
remains very much in the mix. It's important to see some separation soon, and Christensen still needs to improve his consistency and decision-making.
8. Beckum returns for Badgers
: Wisconsin gets All-American tight end
Travis Beckum
back against Marshall, a potential tune-up for next week's trip to Fresno State. It's important for Beckum and new starting quarterback
Allan Evridge
to establish a good in-game rhythm, particularly in the red zone, where Wisconsin had two turnovers last week. Evridge can't rely solely on the run game, and he knows Beckum will be his greatest asset.
9. Penn State's Clark ready to run
: We should get a much better read on Nittany Lions starting quarterback
Daryll Clark
this week against Oregon State. After facing no pocket pressure last week, Clark expects to showcase his running skills often against a Beavers defense that allowed 210 yards in a season-opening loss to Stanford. Clark will get help from
Evan Royster
and
Stephfon Green
as Penn State tries to run over the Beavers.
10. Purdue's offense takes flight
: The Boilermakers finally make their debut and feature several offensive players in different roles. Senior
Kory Sheets
becomes Purdue's featured running back -- a spot he always coveted -- following a season-ending knee injury to
Jaycen Taylor
. Quarterback
Curtis Painter
gets to sample several wide receivers in more prominent roles (
Brandon Whittington
,
Keith Smith
,
Desmond Tardy
) against Northern Colorado.
September, 4, 2008
9/04/08
10:06
AM ET
Posted by ESPN.com's Adam Rittenberg
My editors don't know it yet, but this will be my last blog post for ESPN.com. I'm taking the fiancée, moving to Vegas and setting up shop. C'mon, did you see last week's picks? Sure, there were only three or four true toss-up games, one of which I got woefully wrong. But a 9-1 record with five near-perfect score predictions tells me I'm in the wrong line of work. In all seriousness, I highly doubt I'll have another week like that all season, so please don't mortgage your house on what you read below. However, this should be another Saturday to pad the season record before things get much tougher in Week 3.
Here we go:
Ohio State 45, Ohio 7 -- No Beanie, no problem for the Buckeyes, who have the chance to showcase their creativity on offense before the USC game. Running backs Dan "Boom" Herron, Mo Wells and Brandon Saine have big games as the Buckeyes roll. Ohio has some speed threats in wideout Taylor Price and return man Donte Harden, but the Buckeyes defense stands tall again.
Wisconsin 40, Marshall 13 -- Quarterback Allan Evridge and the Badgers should iron out the kinks in the red zone against the Thundering Herd. Evridge will find a healthy Travis Beckum for the first of many touchdown passes this season. Like Akron, Marshall could present some first-half trouble with with Dariuses (Marshall and Passmore), but ultimately the Badgers will be too strong.
Illinois 52, Eastern Illinois 3 -- There are several factors working against the Panthers. Illinois unveils its renovated stadium and welcomes back the program's greatest living players to Champaign. The team wears Dick Butkus-era throwback jerseys. And the Illini are ticked off after the Missouri loss. The Illinois defense forces at least three turnovers and Juice Williams continues to surge.
Michigan State 42, Eastern Michigan 14 -- Expect a big day for Spartans senior Javon Ringer, both at running back and kickoff returner. Quarterback Brian Hoyer finds his rhythm and another wide receiver follows Mark Dell's performance with a big game. Eagles quarterback Andy Schmitt and tailback Terrence Blevins test a still-iffy Spartans defense, but Michigan State pulls away in the third quarter.
Michigan 27, Miami (Ohio) 6 -- The Wolverines offense won't look quite as bad with Steven Threet most likely at the helm, and a running back -- don't know which one -- steps up big against Miami. Linebacker Obi Ezeh and the Michigan defense builds off the second-half performance against Utah and shuts down a turnover-prone RedHawks offense.
Iowa 44, Florida International 10 -- I won't make the same mistake twice after doubting the Hawkeyes' offense last week. Iowa's run game continues to prosper behind Shonn Greene, and junior quarterback Jake Christensen finally cements himself as the clear-cut starter with a strong performance. Aside from return man T.Y. Hilton, FIU doesn't have much to scare the Hawkeyes.
Purdue 41, Northern Colorado 0 -- Given what's coming up next, the Boilers need a strong start and get one from quarterback Curtis Painter and running back Kory Sheets. At least three receivers catch touchdown passes as coach Joe Tiller samples what he has besides Greg Orton. Purdue's improved secondary will shut down a Northern Colorado team that averaged just 11.3 points a game last fall and is picked last in its league.
Penn State 38, Oregon State 30 -- The Beavers secondary looks strong, but will it matter if the front seven can't stop the run? If Stanford racked up 210 yards against Oregon State, just think what Penn State will do with Evan Royster, Stephfon Green and mobile quarterback Daryll Clark, who will be on the move much more this week. Quarterback Lyle Moevao presents some problems for Penn State's secondary, but the Lions pull through at home.
Indiana 45, Murray State 10 -- Quarterback Kellen Lewis breaks another long run or two, but the Hoosiers get more help from their running backs against a Murray State team that was tied with Lambuth early in the second half of last week's victory. Hoosiers defensive end Greg Middleton picks up two or three sacks as the walk down easy street continues.
Northwestern 30, Duke 21 -- Several factors could hurt Northwestern: the weather, an improved Duke team, mobile quarterback Thaddeus Lewis and the emotions after last season's embarrassing loss in Evanston. Here's another factor: running back Tyrell Sutton, who missed last year's game with an ankle injury. Sutton will be the best player on the field Saturday night and help Northwestern escape with a win.
Bowling Green 38, Minnesota 34 -- There's still too many problems on the Gophers defense, and Falcons quarterback Tyler Sheehan will capitalize in a big way. I could see a mini-letdown for Bowling Green after the Pitt win, but the Falcons are hosting their first Big Ten opponent at Doyt Perry Stadium and should prevail. Gophers quarterback Adam W
eber has another big game, but it's not enough.
Bye: None
Season record: 9-1
September, 2, 2008
9/02/08
11:29
AM ET
Posted by ESPN.com's Adam Rittenberg
The Big Ten whiffed on several opportunities to boost its national reputation in Week 1. Now it's time to make sure things don't get worse. The Week 2 slate is underwhelming, to say the least, but still extremely important for Big Ten teams to take care of business.
Here's a look:
Ohio at Ohio State (ESPN2, noon ET)
Beanie Wells' foot injury has overshadowed any intrigue about the game, and the spotlight likely will be on the sideline rather than the field Saturday. If Wells doesn't play -- a strong possibility -- it will be interesting to see how Ohio State's coaches readjust. Do Dan Herron, Maurice Wells and Brandon Saine split carries? How will freshman sensation Terrelle Pryor be used differently? Ohio has some good team speed and should provide somewhat of a challenge for a Buckeyes defense that smothered Youngstown State last week. The Bobcats haven't faced the state's flagship team since 1999, so they'll be up for this one.
Marshall at Wisconsin (noon ET)
The Badgers hope to get healthier and more precise before a huge road matchup against Fresno State in Week 3. Though the running game surged and the offense put up 38 points against Akron, Wisconsin had two turnovers inside the Zips' 10-yard line. Quarterback Allan Evridge must build off his first start in three years against a Marshall defense that struggled last season. Badgers star tight end Travis Beckum practiced earlier this week and might play against the Thundering Herd.
Eastern Illinois at Illinois (noon ET)
Illlinois will unveil its renovated stadium, wear throwback jerseys and welcome back dozens of program greats, including iconic linebacker Dick Butkus. It should be an interesting day on the field as well as the Illini try to atone for a season-opening loss to Missouri against Eastern Illinois. The Panthers feature two former Illinois players, defensive tackle D'Angelo McCray and defensive end Jeff Sobol, and come off a 31-12 loss to Central Michigan.
Eastern Michigan at Michigan State (noon ET)
Despite some positives from wide receiver Mark Dell and others, Michigan State is 0-1 and can't afford to backslide against Eastern Michigan. The Spartans defense needs a much stronger performance against an Eagles team that thumped Indiana State 52-0 and boasts a versatile quarterback in Andy Schmitt. Better discipline also is a priority for the Spartans after being penalized for 82 yards against Cal. Michigan State has scored 47 points or more in its last four meetings with Eastern Michigan.
Miami (Ohio) at Michigan (ESPN, noon ET)
It's only Week 2, but Michigan faces a must-win situation against a Miami (Ohio) program that has regressed in recent years. Don't be surprised if redshirt freshman Steven Threet replaces Nick Sheridan as the Wolverines' starting quarterback, though both men could play. Michigan has to get more from its running backs, particularly freshmen Sam McGuffie and Michael Shaw, against a Miami defense that surrendered 269 rushing yards against Vanderbilt last week. The RedHawks also could go with two quarterbacks, though Daniel Raudabaugh will start.
Florida International at Iowa (noon ET)
It's important for the Hawkeyes to settle on a starting quarterback before games with Iowa State and Pitt, so the spotlight will be on Jake Christensen. The junior had some bright spots and some not-so bright ones against Maine in Week 1, but coach Kirk Ferentz seems to want him to step up and claim the spot for good. Iowa should have no problem with Florida International as long as it can stop T.Y. Hilton, who ranks second nationally in punt returns (44.5 ypr) and 23rd in kickoff returns (25 ypr).
Northern Colorado at Purdue (noon ET)
The Boilers open the season and can finally see what they have at wide receiver. There's little concern about Greg Orton, but expect coach Joe Tiller to use a sizable rotation of receivers to see who else can contribute. Kory Sheets plays his first game as Purdue's featured running back, though it'd be wise to get backup Dan Dierking a decent number of carries. Northern Colorado was picked last in the preseason Big Sky polls, so the Boilers shouldn't be tested too much before a big matchup against Oregon.
Oregon State at Penn State (ABC, 3:30 p.m. ET)
What looks to be the day's best game by far lost a little luster after Oregon State dropped its opener against Stanford. Beavers quarterback Lyle Moevao provides a good test for a Penn State defense that's stacked up front but inexperienced at linebacker. Oregon State struggled to contain Stanford's run game and could be in trouble against Evan Royster and Stephfon Green, but if the Beavers flood the box and make Daryll Clark beat them with his arm, this could get very interesting.
Murray State at Indiana (7 p.m. ET)
Indiana and Iowa should co-author a book entitled, "Easing into the season." Like the Hawkeyes, it will be tough to get a great read on the Hoosiers until later this month. Star pass rusher Greg Middleton returns to the field for Indiana after serving a one-game suspension, and the defense looks to limit the pass after allowing 219 yards against Western Kentucky. Murray State allowed 73 points last year against Louisville in its only game against an FBS opponent.
Northwestern at Duke (7 p.m. ET)
If Northwestern wants to change its national perception, beating teams like Duke is a must. The Wildcats failed to do so last year, falling 20-14 at home following an unsightly series of penalties, turnovers and missed opportunities. Duke looks to be improving under new coach David Cutcliffe, but the difference Saturday could be Northwestern running back Tyrell Sutton, the best player on either squad and a guy who missed last year's game with an ankle injury. Keep an eye on the weather as Hurricane Hannah should hit North Carolina on Friday night.
Minnesota at Bowling Green (ESPNU, 7:30 p.m. ET)
The Gophers deserved to celebrate a bit after a season-opening win against Northern Illinois, but if they want to prove they're really a better team, this is the perfect stage. Bowling Green comes off a Week 1 road upset of Pitt and stunned Minnesota last season with a two-point conversion in overtime to seal a 32-31 win. Falcons quarterback Tyler Sheehan will test
a still-unproven Gophers secondary, but Adam Weber should also be a handful for Bowling Green.