July, 12, 2013
Jul 12
12:00
PM ET
April, 3, 2013
Apr 3
11:00
AM ET
COLUMBUS, Ohio -- Several factors usually get mentioned first as reasons for Ohio State's 12-0 season in 2012.
Braxton Miller
's heroics.
Carlos Hyde
's emergence. The play of the defense down the stretch, led by
John Simon
and
Ryan Shazier
.
But one factor probably doesn't get mentioned enough: the performance of the team's offensive line. A major question mark going into last season, the line shaped up as one of the best in the Big Ten last year under the tutelage of Ed Warriner. And with most of the group back and some better depth, the unit provides a strong reason to believe in the Buckeyes again in 2013.
[+] Enlarge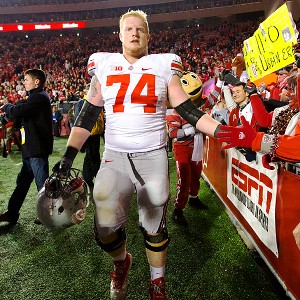 Jeff Hanisch/USA TODAY SportsLeft tackle Jack Mewhort, an all-Big Ten-level talent in 2012, could be the Buckeyes' next great leader.
Warriner turned in one of the better coaching jobs in the league last year, rounding into shape a crew that was previously undistinguished and underwhelming. He turned
Reid Fragel
, a former tight end, into a standout right tackle who should get drafted later this month.
Corey Linsley
went from playing guard to one of the conference's top centers, while
Jack Mewhort
developed into a top-flight left tackle. One of the indelible images of the Buckeyes' season was the line pushing around Michigan State's terrific defense to grind out the victory in East Lansing.
About the only thing Warriner had to worry about last season was health, as there was no experience and precious little depth behind the starters. He doesn't have the same worries this spring.
"It's a nice feeling to know you probably have a backup tackle and a backup guard," he told ESPN.com.
Four starters are back, so the real battle this spring is to replace Fragel at that right-tackle spot. Right now, sophomores
Chase Farris
and
Taylor Decker
are splitting a lot of first-team reps there, with
Darryl Baldwin
also in the mix.
"Those two guys have a lot of ability," Warriner said. "The more comfortable they get and the more confidence they get, one of them could take off -- or maybe both will and we'll play by committee. But they have high-level talent and all the traits of really good linemen."
Head coach Urban Meyer said Tuesday that redshirt freshman
Pat Elflein
has been one of the surprises of the spring, and he could add depth at guard or tackle. Warriner also said
Jacoby Boren
is making strides at center. While the team suffered a setback when reserve
Antonio Underwood
tore his anterior cruciate ligament late last week, the Buckeyes should still be able to rotate more guys on the offensive line this fall.
"If the next man in can play a certain amount but the level doesn't drop off enough to hurt our team, we might do that just to keep the unit fresh and hopefully be smart throughout the season," Warriner said.
But Ohio State will want its veterans on the field as much as possible. Mewhort, whom ESPN.com voted as a first-team All-Big Ten performer, has been hailed as one of the team's best leaders and anointed by Meyer as a possible replacement for Simon in that regard.
"He's what you want in terms of an attitude, of work ethic, of being a competitor," Warriner said. "When you're a first-year starter at a new position with a new coaching staff, sometimes you just worry about your own business, and that was him to some degree last year. But now, he's taking kind of a bigger role with his leadership on offense and even the team as a whole."
Warriner said guards
Andrew Norwell
, a first All-Big Ten team honoree by the media last season, and
Marcus Hall
have made maybe the biggest improvements of anyone on the line this offseason. Along with Linsley, whom Warriner said has "elite-level strength," the Buckeyes have the potential to field four all-conference type linemen.
"We think we possibly could, if they play up to their ability level," he said. "The good thing about the group is, they don't really care about that. If we won the Big Ten and none of them made all-conference, they wouldn't care a bit. That's the kind of unselfish players they are."
Warriner said he has challenged the group to help lead a top-five national offensive attack this season. Ohio State led the Big Ten in scoring last year (37.2 points per game) and finished second in rushing yards per game (242.3). The offensive line led the way, though players like Miller and Hall sure helped.
"We know the quality of our skill guys can erase some things and create some big plays," Warriner said. "If you block it for six, you might get 16. At some places, if you block it for six, that's what they'll get -- six yards."
Everything works in concert. But don't forget the Buckeyes' offensive line when talking about reasons for the team's success.
February, 13, 2013
Feb 13
10:15
AM ET
The postseason position rankings march on with the group where it all begins: the offensive line. Traditionally one of the stronger positions throughout the Big Ten, the 2013 season brought mixed results. Several traditionally strong lines took a step back, while other groups surprised us.
As a reminder, these rankings are based solely on performance during the 2012 season. Star power matters, but depth often matters more, especially for a spot like offensive line. If you missed our preseason O-line rankings,
check 'em out
.
Let's begin ...
1. Ohio State (Preseason ranking: 5):
Few position coaches in the country made a stronger impact in Year 1 than Ohio State line coach Ed Warinner. He took a talented group that had underachieved in 2011 and turned it into the powerful engine of the Buckeyes' revamped offense. Converted tight end
Reid Fragel
blossomed at tackle along with
Jack Mewhort
, while center
Corey Linsley
stepped forward in his first year as the starter. The Buckeyes received solid guard play, and the line came on strong during the Big Ten schedule, beating up opponents in the red zone. Ohio State led the league in scoring (37.2 ppg) and finished second in rush offense (242.2 ypg).
[+] Enlarge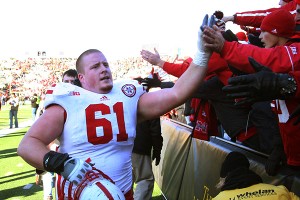 Reese Strickland/US PresswireSpencer Long stood out on a Huskers offensive line that blocked for the Big Ten's top offense.
2. Nebraska (Preseason ranking: 4):
Personnel losses didn't faze Nebraska in 2012, whether it was running back
Rex Burkhead
dealing with chronic knee issues or offensive lineman
Tyler Moore
transferring to Florida
. The Huskers' line took a nice step, leading the way for the Big Ten's top offense. Guard
Spencer Long
earned first-team All-Big Ten honors and second-team AP All-American honors, and tackle
Jeremiah Sirles
received second-team All-Big Ten honors. Nebraska's walk-on tradition remained alive and well with Long,
Justin Jackson
and
Seung Hoon Choi
. The line blocked well no matter who was carrying the ball. The only knock against Nebraska, much like Ohio State, was its sacks allowed total (35).
3. Penn State (Preseason ranking: 9):
First-year coach Bill O'Brien called the offensive line a pleasant surprise during spring practice, and the group continued its upward trajectory during the season. Despite losing four starters from 2011 and needing to absorb a dramatically different system, Penn State's line came together around senior center
Matt Stankiewitch
. The Lions protected quarterback Matt McGloin and created room for several running backs, including
Zach Zwinak
, who surged late in Big Ten play. Stankiewitch, guard
John Urschel
and tackle
Mike Farrell
all received All-Big Ten recognition, as Penn State's offense proved to be one of the league's biggest surprises in 2012.
4. Northwestern (Preseason ranking: 8):
Northwestern rarely has struggled to move the ball since installing the spread offense in 2000, but the run game had been lagging until this year. Although the Wildcats needed a featured back to take charge, as
Venric Mark
did in 2012, they also needed more from the offensive line, a group to which the coaches had recruited well. The line stepped forward in a big way as Northwestern finished 19th nationally in rushing. Guard
Brian Mulroe
earned second-team All-Big Ten honors, while tackle
Patrick Ward
was an honorable mention selection. The Wildcats didn't pass much but protected the pocket well, allowing a league-low 16 sacks.
5. Indiana (Preseason ranking: 12):
Youth was our big concern with the Hoosiers before the season, but the line came together nicely despite throwing several unproven players into the fire. Indiana surrendered only 17 sacks despite passing the ball more than anyone else in the league -- and racking up more pass yards (3,734). Freshmen
Jason Spriggs
and
Dan Feeney
held their own, and center
Will Matte
anchored the unit. Indiana struggled at times to run the ball but performed well in the red zone.
6. Michigan (Preseason ranking: 2):
The Wolverines' line had its moments, especially in pass protection, but Michigan struggled to generate a run game outside of quarterback
Denard Robinson
. Left tackle
Taylor Lewan
did his part in earning Big Ten Offensive Lineman of the Year honors, and his return for 2013 gives Michigan a big boost. Guard
Patrick Omameh
also earned first-team All-Big Ten honors from the coaches, but the line had some inconsistency against strong defensive fronts such as Notre Dame's and Michigan State's. Help is on the way as Michigan piled up elite offensive line prospects in its 2013 recruiting class.
7. Wisconsin (Preseason ranking: 1):
If the Wisconsin line was graded on its three performances in the Hoosier State -- at Purdue, at Indiana and against Nebraska in the Big Ten championship game in Indianapolis -- it likely would be at the top of the list. But the Badgers line only looked like a Badgers line for stretches this season. There were as many depressing performances (Oregon State, Michigan State) as dominant ones. The line repeatedly faced adversity, from the firing of line coach Mike Markuson after Week 2 to three different starting quarterbacks. To its credit, the group kept bouncing back. Tackle
Rick Wagner
, center
Travis Frederick
and guard
Ryan Groy
all earned All-Big Ten honors, and Frederick, like his predecessor Peter Konz, opted to skip his senior season and enter the NFL draft.
8. Purdue (Preseason ranking: 6):
The Boilers' line ended up just about where we thought it would, in the middle of the pack. Purdue finished in the top half of the Big Ten in total offense (fifth), rushing offense (sixth) and pass offense (third), despite dealing with a quarterback rotation for much of the season. There were some issues in pass protection, especially early in the season. The line lacked star power but
Robert Kugler
's emergence at guard later in the season was a bright spot. Purdue has endured some ups and downs with several converted defensive linemen on the offensive front and could take a step forward in 2013.
9. Michigan State (Preseason ranking: 3):
The Spartans had high hopes for their offensive line before the season, but things never really got on track. The
season-ending loss of right tackle Fou Fonoti
after two games really hurt, and other injuries cropped up throughout the fall. Although running back
Le'Veon Bell
racked up 1,793 rush yards, he made a lot of things happen on his own, and Michigan State struggled to convert red zone opportunities (44) into touchdowns (23). Guard
Chris McDonald
earned honorable mention All-Big Ten honors.
10. Minnesota (Preseason ranking: 11):
Notice a theme here about injuries? It continues with the final three teams on the list. Injuries hit Minnesota's offensive line especially hard, as the Gophers lost their top two centers in a win against Illinois and were constantly moving pieces around up front. The good news for Gopher fans is that the offensive line made significant strides for the bowl game against Texas Tech, as Minnesota racked up 222 rush yards. But the line had its struggles during Big Ten play, as Minnesota eclipsed 17 points just once in eight league games.
11. Iowa (Preseason ranking: 7):
Like Michigan State and Minnesota, Iowa's offensive line endured several key injuries, losing two starters (
Brandon Scherff
and
Andrew Donnal
) in a blowout loss to Penn State at Kinnick Stadium. The line blocked well for
Mark Weisman
during his early season surge, but Iowa still finished with the league's worst rushing offense (123 ypg) and second worst total offense (310.4 ypg). Iowa also struggled to reach the red zone (38 opportunities) or convert those chances into touchdowns (league-low 18). Center
James Ferentz
and guard/tackle
Matt Tobin
both earned honorable mention All-Big Ten honors.
12. Illinois (Preseason ranking: 10):
No position group is absolved of blame for Illinois' offensive struggles, and the line certainly underachieved for the second consecutive season. The Illini finished last in the Big Ten in both scoring and total offense, and 11th in both rushing and pass offense. They allowed a league-worst 39 sacks, and Illinois failed to score more than 22 points in any Big Ten contest. Sure, injuries were a factor, but the Illini had two good building blocks in tackle
Hugh Thornton
, a likely NFL draft pick in April, and veteran center
Graham Pocic
. Thornton earned second-team All-Big Ten honors from the coaches, while Pocic was an honorable mention selection. Despite the youth and a new system, this group should have been a lot better.
December, 19, 2012
12/19/12
2:15
PM ET
Paying top dollar for assistant coaches has become an issue in the Big Ten lately. Bret Bielema cited his inability to pay and retain assistants at Wisconsin as a major reason why he left for Arkansas. Purdue made a bigger commitment to its overall staff salary when it hired Darrell Hazell to replace Danny Hope.
How do the Big Ten teams stack up when it comes to salaries for assistants? Luckily, USA Today has
just compiled a database
looking at what every FBS program pays its staffs. The study found that the average major college football assistant
now makes $200,000 per year
, a number that is on the rise. According to USA Today, pay for assistants rose 10 percent from last year and is up 29 percent from 2009, the latter of which is higher than the increase in salary for head coaches during that time period.
Here is what Big Ten teams spent on their staffs in 2012, not including the head coach (Note: Because Northwestern and Penn State are not subject to the same state open-records laws as other schools, their information was not available):
Ohio State: $3.29 million
Michigan: $2.93 million
Illinois: $2.3 million
Michigan State $2.2 million
Nebraska: $2.15 million
Iowa: $2.1 million
Minnesota: $2.1 million
Indiana: $2 million
Wisconsin $1.77 million
Purdue: $1.61 million
As you can see, Wisconsin was near the bottom of the pack in the Big Ten. Purdue has given Hazell a pool of $2.1 million for assistant coaches, which would put the Boilermakers right about the average for league schools. Ohio State and Michigan are the two richest schools and have not surprisingly made the biggest commitment to salaries. When you add in Urban Meyer's salary, the Buckeyes are paying nearly $7.6 million per year in football salaries. You get what you pay for, I guess, as Ohio State went 12-0.
While the Big Ten's median salary pool for assistants was just over $2 million in 2012, the median in the SEC was around $2.5 million. According to USA Today, the SEC paid its assistants an average of $315,000, the most in the nation. The Big 12 was second at just under $290,000.
LSU is spending more than $4 million on assistants, while Alabama is doling out more than $3.8 million on assistants. Auburn ($3.77 million), Tennessee ($2.98 million), Florida ($2.89 million), Georgia ($2.77 million) and Texas A&M ($2.68 million) also far outspent most Big Ten schools, while Arkansas ($2.56 million in 2012) is making a larger commitment to assistant pay under Bielema.
Finally, here's a look at the top-paid coordinators in the Big Ten among the 10 schools whose information was available via public records:
Luke Fickell, co-defensive coordinator, Ohio State: $761,000
Greg Mattison, defensive coordinator, Michigan: $758,900
Al Borges, offensive coordinator, Michigan: $658,300
Pat Narduzzi, defensive coordinator, Michigan State: $501,700
Tom Herman, offensive coordinator, Ohio State: $456,000
Everett Withers, co-defensive coordinator, Ohio State: $456,000
Tim Banks, defensive coordinator, Illinois: $400,000
Chris Beatty, co-offensive coordinator, Illinois: $400,000
Billy Gonzales, co-offensive coordinator, Illinois: $400,000
Tim Beck, offensive coordinator, Nebraska: $372,300
Tracy Claeys, defensive coordinator, Minnesota: $340,000
Matt Limegrover, offensive coordinator, Minnesota: $335,000
Greg Davis, offensive coordinator, Iowa: $325,000
Dan Roushar, offensive coordinator, Michigan State: $307,000
Mike Ekeler, co-defensive coordinator, Indiana: $306,600
Doug Mallory, co-defensive coordinator, Indiana: $306,600
Phil Parker, defensive coordinator, Iowa: $301,500
John Papuchis, defensive coordinator, Nebraska: $300,000
Gary Nord, offensive coordinator, Purdue: $275,000
Chris Ash, defensive coordinator, Wisconsin: $267,050
Matt Canada, offensive coordinator, Wisconsin: $265,000
Seth Littrell, offensive coordinator, Indiana: $255,500
Tim Tibesar, defensive coordinator, Purdue: $250,000
Fickell, Borges and Mattison are three of 18 assistants nationwide who earned at least $600,000 in 2012, according to the study. There were 14 assistants paid that much last season and nine in 2010. Ohio State offensive line coach Ed Warinner is the highest paid position coach in the league, at a salary of $357,800.
May, 7, 2012
5/07/12
12:00
PM ET
I'm as cool as a cucumber in a bowl of hot sauce. (R.I.P, MCA).
January, 12, 2012
1/12/12
6:45
PM ET
Urban Meyer officially completed his first Ohio State coaching staff on Thursday with the additions of former Notre Dame assistants Ed Warriner and Tim Hinton.

Warriner will coordinate the running game and serve as the team's co-offensive coordinator and offensive line coach. Hinton will be the tight ends and fullbacks coach. Both spent the past two years under Brian Kelly at Notre Dame.

Warriner is entering his 29th season as a college assistant and has spent nine years as a coordinator. Tom Herman is still expected to call the plays as quarterbacks coach and offensive coordinator.

Hinton is in his 31st year as a coach, 17 of them in college. He worked with Meyer on the Ohio State staff in 1986. Both coaches are Ohio natives, which played a big reason in why they left Notre Dame.

Meyer said he would serve as his own special teams coach, as he has in the past.

Meyer also talked Thursday about how good he feels to be back in coaching. Strength coach Mickey Marotti, who has known Meyer for years, said his boss looked "100 percent revitalized" and ready to roll.