December, 28, 2012
12/28/12
7:15
PM ET
At his introductory news conference a week ago, new Wisconsin coach Gary Andersen described the team's offensive coordinator post as a great job, not merely a good one.
"They'll line up a thousand deep if you want them to," Andersen said.

Andersen likely didn't interview 1,000 candidates for the post. Instead, he will reportedly
turn to a familiar name in Andy Ludwig
, who served as San Diego State's offensive coordinator the past two seasons.
The
Milwaukee Journal Sentinel
first reported that Wisconsin is set to hire Ludwig as its new offensive coordinator. Because of hiring rules for state employees, Ludwig won't be officially on board until the job posting expires. He attended Wisconsin's pre-Rose Bowl practice Friday in Los Angeles.
Andersen and Ludwig served as Utah's coordinators -- Andersen defense, Ludwig offense -- from 2005-08, helping the Utes to a 13-0 season and a Sugar Bowl championship in 2008. While Andersen moved onto the top job at Utah State, Ludwig went to Cal, where he struggled as offensive coordinator for two seasons before taking the same post at San Diego State.
Ludwig has bounced around quite a bit, serving as offensive coordinator at San Diego State (2011-12), California (2009-10), Utah (2005-08), Oregon (2002-04) and Fresno State (1998-2001). He initially went to Kansas State after Utah but was hired away by Cal before coaching a game.
The guy is clearly in demand as an offensive mind and runs a pro-style system, but he hasn't led a top-25 offense since the 2005 season (Utah finished 12th nationally). His San Diego State offense ranks 38th nationally in scoring (32.9 points per game) and 64th in total offense (396.6 yards per game) this season. As someone who follows Cal football somewhat closely from a distance, I wasn't overly impressed by Ludwig, but he definitely brings experience to the position and inherits a talented group in Madison.
Andersen wisely is retaining running backs coach Thomas Hammock, and it would be a smart move if he kept offensive line coach Bart Miller as well. Wisconsin has lost three offensive assistants in recent weeks: coordinator Matt Canada (NC State), tight ends/fullbacks coach Eddie Faulker (NC State) and receivers coach Zach Azzanni (Tennessee).
December, 17, 2012
12/17/12
11:15
AM ET
Former Wisconsin head coach Bret Bielema and former Badgers defensive coordinator Dave Doeren both are assembling new staffs at Arkansas and NC State, respectively.
Both men also are looking to their old stomping ground for quality assistants.
Bielema already has hired two Wisconsin assistants -- defensive coordinator Chris Ash and co-defensive coordinator/defensive line coach Charlie Partridge. Doeren added offensive coordinator Matt Canada during the weekend and swiped another assistant from a Badgers program still without a head coach.
Eddie Faulkner will
join Doeren's staff at NC State
as the team's tight ends/fullbacks coach and special teams coordinator. Faulkner, a former Wisconsin running back, spent just one season back at his alma mater coaching tight ends. Like Canada, Faulkner spent the 2011 season coaching for Doeren at Northern Illinois.
"He's a very detailed, ultra-organized, connected recruiter who also has great passion and pride for special teams performance," Doeren said in a prepared statement. "Eddie has coached on back-to-back conference championship staffs -- 2011 in the MAC and 2012 in the Big Ten with Wisconsin -- and has been on championship ball clubs as a player, an assistant coach and coordinator. He also has experience as a tailback in the Big Ten on a Rose Bowl team. I look forward to working with him again."
Wisconsin athletic director
Barry Alvarez expressed his disappointment Sunday
in losing so many quality assistants in recent days. He didn't cite Bielema or Doeren by name but made it known he didn't appreciate coaches giving Wisconsin assistants short deadlines to make decisions on offers. The flip side of that is that both Bielema and Doeren are trying to assemble their staffs as quickly as possible.
Only three Wisconsin assistants haven't accepted offers elsewhere: running backs coach Thomas Hammock, who reportedly has an offer from Bielema at Arkansas; offensive line coach Bart Miller and secondary coach Ben Strickland.
December, 16, 2012
12/16/12
12:50
PM ET
Wisconsin's coaching staff will have a dramatically different look for the second consecutive year. Depending on the next head coach, it could have a completely different look.
There are more staff departures to report as co-defensive coordinator/defensive line coach
Charlie Partridge rejoined former boss Bret Bielema at Arkansas
. Partridge spent the past five seasons in Madison, mentored stars such as J.J. Watt and spearheaded Wisconsin's recruiting efforts in Florida. He's a significant loss but not a surprising one as the Badgers have yet to name a head coach.
Linebackers coach
Andy Buh is leaving to become Cal's defensive coordinator
. And the Milwaukee Journal Sentinel reports that Badgers running backs coach Thomas Hammock is weighing an offer to join Bielema at Arkansas. Hammock would join former Bielema aides Partridge and defensive coordinator Chris Ash. Buh also had an offer from Bielema, according to the Journal Sentinel.
Wide receivers coach Zach Azzanni has accepted the same job at Tennessee, reuniting with former boss Butch Jones. Both Azzanni and Buh are in their first seasons at Wisconsin.
Here's the list of Wisconsin assistants who have accepted other jobs:
Defensive coordinator Chris Ash -- Arkansas
Offensive coordinator/quarterbacks Matt Canada -- NC State
Co-defensive coordinator/defensive line Charlie Partridge -- Arkansas
Wide receivers coach Zach Azzanni -- Tennessee
Linebackers coach Andy Buh -- Cal
That leaves Hammock, tight ends coach Eddie Faulkner, offensive line coach Bart Miller and secondary coach Ben Strickland.
August, 20, 2012
8/20/12
3:30
PM ET
Four Big Ten teams had massive coaching staff overhauls during the offseason. Three lost their head coaches. One won the Big Ten championship.
Wisconsin finds itself in an odd spot, having to replace six assistant coaches despite back-to-back Rose Bowl appearances. Head coach Bret Bielema is firmly entrenched in Mad City, but his program faces significant turnover on the staff as well as other new faces, such as that of new starting quarterback Danny O'Brien.
I write about the Badgers' approach to the transition game for today's Big Ten preview:
Why is Wisconsin so comfortable with all the new faces in the program? For starters, the Badgers don't have an identity crisis. They lost one of the nation's top playcallers in Chryst, but the offensive structure isn't changing. They lost one of the nation's top line coaches in Bostad, but they're still expected to have multiple linemen in the mix for national honors.

"The brand of football we play," Faulkner said, "is not going to change."

Wisconsin has had tremendous stability at the top -- two head coaches since 1990, both of whom are still with the program. Plenty of assistants have left, but the wins keep coming.

"Coaching's overrated at times," Azzanni said. "If you're saying it's all about coaching, then you're saying our players aren't very good. That's how I approach it with our wideouts. If your offensive coaching is so great and now there's new coaches and we're going to be awful, then that means you guys aren't very good either. It's about players. … Coach Bielema and Coach Alvarez have built a machine here.

"We just plug in the right people, the right fits and keep on the same path."
Check out the full story here
.
March, 2, 2012
3/02/12
3:50
PM ET
Wisconsin assistant Thomas Hammock interviewed for a job with the St. Louis Rams recently. But he ended up staying with the Badgers, and now Hammock has an added responsibility on Bret Bielema's staff.
The running backs coach will serve as Wisconsin's recruiting coordinator, according to a
story by Mike Lucas on the school's website
. Former assistant Joe Rudolph, who left to join Paul Chryst's staff at Pittsburgh, used to have that title. Bielema told the website that he was impressed with how Hammock performed on the recruiting trail in January, when the Badgers were a little shorthanded after several assistants left for other jobs.
Hammock, 30, is in his second year as a Badgers coach. He played at Northern Illinois, rushing for more than 1,000 yards in 2000. He also spent four seasons on Minnesota's staff.
Bielema also told the Badgers site that the program would explore some new recruiting areas based on the backgrounds of their new assistants. Linebackers coach Andy Buh will work in the St. Louis area and in Texas. New secondary coach Ben Strickland will handle in-state recruiting as well as Atlanta. Wide receivers coach Zach Azzanni will have most of Ohio, offensive line coach Mike Markuson will have Minnesota and tight ends coach Eddie Faulkner will take Indiana, Michigan and Cleveland. New offensive coordinator Matt Canada will recruit around the Midwest and specifically handle all quarterbacks.
February, 22, 2012
2/22/12
9:00
AM ET
Wisconsin's offense has put up record-setting numbers in each of the past two seasons, surviving key personnel losses after the 2010 campaign, only to reload in 2011. The Badgers have ranked in the top 25 nationally in rushing in each of the past five seasons, replacing productive running backs and offensive linemen almost every year. The one constant throughout had been offensive coordinator Paul Chryst, but he's no longer in Madison after taking the head-coaching job at Pitt.
Bret Bielema selected Northern Illinois offensive coordinator Matt Canada to replace Chryst. Canada, one of six new Badgers assistants for the 2012 season, returns to the Big Ten after spending seven seasons at Indiana from 2004-10, the last four as IU's offensive coordinator. While he ran a spread offense at both Indiana and NIU, he'll direct a pro-style system in Madison that has become Wisconsin's identity. Canada's biggest priority: keep the momentum going.
ESPN.com recently caught up with Canada. Here are his thoughts:
[+] Enlarge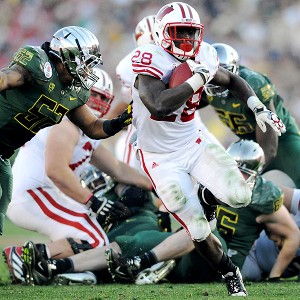 Kelvin Kuo/US PRESSWIRERemember the big-game feel of this past Rose Bowl between Wisconsin and Oregon? That anticipation could diminish with a new playoff system set.
You expressed a lot of excitement about this job when you were hired. What has it been like being in Madison these last few weeks?
Matt Canada:
I'm still real excited. It's a great place, and I continue to enjoy the opportunity that's been presented. I'm really excited about getting to know the players, and very, very happy with what great kids we have here in the program. Obviously, there's a reason for the success that's going on here. We've got great players, and [Bielema] has put together a really good staff. I'm excited about getting to know all the staff, focusing with the offense, obviously, and reconnecting with a couple guys I knew and getting to know a couple guys I don't. It's been a really, really good month.
What was your perception of Wisconsin from the outside, and how has that changed being on the inside?
MC:
My perception is it's a very physical program. They're going to come in and run the football and stop the run. They do the things the right way. They're very, very sound. They don't beat themselves. And you come in and study the film, and it's exactly what I thought it was. I've played against them for a lot of years and been around the program as an opponent, so I've spent time studying it because it's a program you look at and want to emulate in why they are so successful. I don't think it's anything different [being there]. Things are even better than you thought they might be.
Bret wanted to bring in assistants from different backgrounds and different parts of the country. How many of the offensive assistants did you know and how many were you involved in bringing in?
MC:
Well, I knew all but one, and the other one, I had a chance to be involved in the interviewing process. Thomas Hammock, obviously I coached when he was a running back at Northern Illinois. I was involved in recruiting Thomas and then coached him as a position coach for a couple of years, so I've known him a long, long time. Eddie Faulkner, who we hired, I worked with last year at Northern Illinois. Zach Azzanni, I've known through recruiting, so not as well, and then Mike Markuson, I was simply involved with [Bielema] on making that decision. I've known two really well, if you want to be specific.
You have a varied background, running some spread, running some pro-style. I know Bret wants to keep the pro-style in place. How do you blend your background with what Wisconsin has done and what it wants the identity to be?
MC:
The identity won't change. There's no question what this place is about. Our job as coaches is putting our kids in positions to make plays and utilize the talent you've got. We certainly have talent on this team to continue to run what is considered a pro-style, downhill offense. We're going to continue to do that. Our recruiting base gives us a chance to recruit those types of players, so we're going to continue to be what Wisconsin has been. There's a reason I wanted to be here so bad. I certainly am well aware of what has gone on here. We're not going to come in here and change something that's not broke. Obviously, there's going to be nuances and little things. We all coach in our own way, we all have our own tendencies and things that we like, but the general rule is it's going to stay the same.
Is the Northern Illinois offense you coordinated in 2003 the most similar to what you want to do with Wisconsin now, rather than what you did at Indiana or NIU the second time?
MC:
I would say so. We had a real special back [
Michael Turner
]. We had [Dallas Cowboys offensive tackle] Doug Free on the line. He was a young kid then. We had some pretty good linemen. We had some good tight ends, both went on to play in the league. So we had a real good program and real good players that year. It was such a special year. I feel good about what we've done in the sense that at certain times we used our talent as what it was. Obviously, we had a great runner in Michael and were able to utilize him. We go to Indiana and had some success with Kellen Lewis, who people considered a running type of quarterback. Ben Chappell was a drop-back guy. And you go to Northern and we rushed for 250 yards a game for the majority of the season in a different way. So we're going to maximize our talent. We've got a really good staff on offense, guys who are going to find ways to use what we've got, matchups and all the things that come along with it. We certainly understand how the system is going to work.
A lot of people on the outside see Wisconsin and these two record-setting seasons on offense. Now there's all this change with players and coaches. Is it a challenge to keep the momentum going with all the transition?
MC:
It's all the way around. They won two Big Ten titles here, so obviously the challenge is to be great today and keep doing everything that's been done. But as a competitor, you have that regardless. I've been very, very fortunate, you look at the last two moves I had to make. I went to a program that won 11 games [in 2010] and we came in and found a way to do it again and go ahead and get the championship and win a bowl game and all those things we wanted to do. You compete against today. You compete against where you are and being great today. That's what we're going to do. We're certainly respectful of what we've done, but we're moving forward and looking ahead to the opportunities we've got and the great players we have that want to play. We have a bunch of great players still here. We're excited about that, and the guys who need to step up, they get a chance to show what they can do now.
Some of those guys are going to be at the quarterback position. Have you reviewed tape of those guys? What type of players are you inheriting?
MC:
A little bit. I know some of them through things in the past. We've got a couple guys who have been nicked up, so it's a bit of a clean slate for those guys. We're certainly embracing everybody's concern. Look at what Russell [Wilson] was able to do when he came in here. What a great talent. When you watch the film, my goodness, he made some plays. He made some things happen when they weren't there. Certainly an unbelievable year for him, which led to the success. I told [the quarterbacks] the first day I met them that they play the greatest position in all of sports, and they get to do it at a great place with great players, great running backs and the whole deal. So I'm excited about it. We've got a good group of good kids that get along well, but obviously it's competition and we're excited about getting going with that.
You mentioned some guys are nicked up. How are Jon [Budmayr] and Curt [Phillips] from what you can tell?
MC:
Everything is coming along well. This time of year, we're being very, very cautious in trying to get ourselves back, but everything is going well and they're working hard and feeling good about where they are.
You've been around some great running backs. Where does Montee Ball rank in that mix?
MC:
I've certainly been fortunate to be around to be around [some good backs]. Thomas was a great, great player, and then Michael was a great player, and on and on. Montee, we're certainly excited he's here. I knew Montee through recruiting, and Montee was the first player I got to meet when I got here. It was over winter breaks, and most of the kids were gone, but he had been honored at the basketball game the night before and came up and said hello. Montee's just proven to be such a great kid, and everything he's seen and done is about the team and the program. He told me he was excited I was here. I certainly reassured him I was a lot more excited he's here. There's no doubt about that.
He's a great ambassador for what our program is about. Everything Coach B talks about in the quality of kids we have, everything he shows is what this place is about. It's going to be fun to watch him really explode into his senior year. I'm fired up to be part of that.
How much of spring practice is going to be the players getting to know you and the other new assistants?
MC:
That happens all the way around. We're talking about coming into a place that has unbelievable success. They're going to get to know us, and the great part about it is this is what Wisconsin's about. It's a developmental program where guys are excited to work. They're excited to see how we're going to be, and we're excited to get to coach them. So it's a two-way street in getting to know each other. There's no confusion. We're trying to win a third Big Ten championship and take it from there, and let's go. Let's keep doing what they've been doing.
You're about a month away from spring ball. What will your main objectives be with the unit in the spring?
MC:
Just get better every day. We feel we need to find a quarterback. That's one area everybody can talk about. But each day, I would be remiss in imagining I know exactly who we are. There's changes and we've got some guys nicked up, we're finding some guys to step in there currently and then maybe get those guys back. All those things come into spring football. So it's really about embracing the challenge of being great every day, and enjoying and getting to know each other.
February, 8, 2012
2/08/12
12:00
PM ET
Back from some basketball moonlighting:
February, 6, 2012
2/06/12
3:40
PM ET
Wisconsin's new-look coaching staff is complete.
Bret Bielema has made his final assistant coaching hire by naming former Wisconsin player Eddie Faulkner as the team's new tight ends coach. Faulkner, a former Wisconsin running back who backed up Ron Dayne during his career from 1996-2000, replaces Joe Rudolph, one of three Badgers assistants who left to join former Wisconsin offensive coordinator Paul Chryst at Pitt.

Faulkner spent the 2011 season as Northern Illinois' running backs coach and special teams coordinator, working under former Badgers assistant Dave Doeren. Here's the interesting part: he had left NIU's staff last month to join Chryst at Pitt but now jumps to Wisconsin. Maybe this is Bielema's way of telling Chryst: two can play this game.
Those conversations between Bielema and his former assistants at Bielema's wedding next month will be fascinating. Chryst took three assistants from Bielema, who took Faulkner and offensive coordinator Matt Canada away from Doeren and Faulkner away from Chryst.
"I'm excited to be able to bring Eddie back to Madison," Bielema said in a statement. "It's always special to be able to hire a former letterwinner. In addition to coaching our tight ends, Eddie brings great experience coaching special teams and has tremendous talents as a recruiter. He's obviously worked with Matt and he is highly-respected among the coaches on our staff."
Faulkner's special teams expertise is key, as he also coached special teams at Ball State, serving under current Michigan head coach Brady Hoke from 2003-08. He hasn't coached tight ends before in his career but inherits a talented group led by
Jacob Pedersen
.
Barring any more changes in Madison, here's what has transpired with Wisconsin's staff.
WHO'S GONE
Paul Chryst, offensive coordinator/quarterbacks
Bob Bostad, offensive line coach
Dave Huxtable, linebackers coach
Joe Rudolph, tight ends coach
DelVaughn Alexander, wide receivers coach
DeMontie Cross, safeties coach/special teams coordinator
WHO'S IN
Matt Canada, offensive coordinator/quarterbacks
Mike Markuson, offensive line
Zach Azzanni, wide receivers
Eddie Faulkner, tight ends
Andy Buh, linebackers
Ben Strickland, assistant for defensive backs and special teams
BIG TEN SCOREBOARD
Saturday, 12/27
Saturday, 12/20
Monday, 12/22
Tuesday, 12/23
Wednesday, 12/24
Friday, 12/26
Monday, 12/29
Tuesday, 12/30
Wednesday, 12/31
Thursday, 1/1
Friday, 1/2
Saturday, 1/3
Sunday, 1/4
Monday, 1/12
Tweets from https://twitter.com/ESPNCFB/lists/b1g