November, 12, 2013
11/12/13
9:00
AM ET
Taylor Martinez
exploded on the scene during the 2010 season, breaking off big runs and making a national name for himself -- his catchy nickname, T-Magic, didn't hurt -- as a redshirt freshman for Nebraska. Martinez's Husker career seems to be ending much more quietly, as a foot injury suffered in the season opener
might prevent him from returning to the field
. Colleague Joe Schad
tweeted Monday
that Martinez's injury won't improve without rest and might require 6-8 months to fully heal.
Asked Monday about whether Martinez can return this season, Nebraska coach Bo Pelini said, "I don't know if the chances are really good. It's not a good injury to have."
It appears as though we've seen the last of Martinez in a Nebraska uniform. If so, he finishes his career with several notable team records, including career passing yards (6,591), career total offense (9,449 yards), career touchdown passes (46) and career starts by a quarterback (39). He helped Nebraska to a pair league championship games – and maybe even a third this season -- but struggled at times on the biggest stages.
Today's roundtable looks at Martinez's unique career for Big Red.
What is Taylor Martinez's legacy at Nebraska?
[+] Enlarge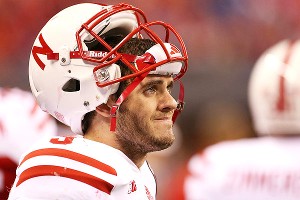 Leon Halip/Getty ImagesTaylor Martinez has had an up-and-down career at Nebraska, but he'll leave Lincoln holding many Cornhuskers records for a quarterback.
Mitch Sherman:
Despite his statistical greatness, Martinez failed to embrace a leadership role until his senior year. And even that, at times, seemed forced before the injury situation simply turned everything into awkwardness. A lasting quarterback legacy in Lincoln also involves signature victories, and Martinez fell short there, too. The Huskers lost two conference-title games and three bowl games with the offense under his guidance. Fair or not, he'll be remembered as much for the shortcomings as his inventory of records.
Adam Rittenberg:
It's definitely a unique one as Martinez had so much production, provided so many highlights and endured so many extremes, both positive and negative. He never led Nebraska to a championship and had some big-game blunders, which are part of his legacy. But he also improved significantly from his sophomore to his junior season, and he showed resiliency in leading many comebacks during his career. Like his coach, Pelini, Martinez struggled at times to connect with Nebraska's fan base. He leaves a mixed legacy and an incomplete one because of his injury issues this season.
Brian Bennett:
Ultimately, you're judged on championships at Nebraska, and Martinez didn't deliver so much as a league title during his four years (sure, it's still possible this season, but it won't be because of him). And that's a little unfair, because although Martinez struggled with turnovers in big games, he also often had to try and make things happen himself because his defense let the team down. But even with all his records, Martinez will not be remembered as an icon in Huskers history like Tommie Frazier, Turner Gill or
Eric Crouch
. Respected, yes. Revered? No.
What could Martinez have done this season if healthy?
Bennett:
I was convinced Martinez was due for a fantastic senior season. He did lead the Big Ten in total offense in 2012, after all, and this was his third year in Tim Beck's system. By all accounts, he was in total command of the offense in the spring, and he finally seemed comfortable -- or at least at peace -- with being the face of the program. Unfortunately, his season never really got going, as he looked tentative in Week 3 against UCLA and afterward clued us in to his problems by wearing a walking boot. He was a shell of himself at Minnesota. I think Martinez would have made a serious run at Big Ten offensive player of the year honors this year had he been healthy.
Rittenberg:
Martinez could have had a monster senior season, especially looking at how much he improved from 2011 to 2012. The turnovers still would have cropped up, but he had a strong supporting cast of receivers and an excellent backfield mate in
Ameer Abdullah
, not to mention a solid line. Pelini was very excited about Martinez's potential as a passer before the season, and Martinez's explosive running ability added another threat to the offense. Unfortunately, it never came to fruition.
Sherman:
Everything set up well. Teammates trusted him and looked to Martinez for guidance. He had more talent around him than at any point in his career and more capable backups than since 2010. Abdullah and the receivers would have helped shoulder the load, and Beck could have taken more risks with his QB because of the depth. All of it may have contributed to a consistently explosive element to his game, last seen in the first half of his freshman year. More motivation for Martinez existed, too, to shape that aforementioned legacy.
Where does Martinez rank among Nebraska's top quarterbacks:
Rittenberg:
He never won a championship, so he's a notch below players like Frazier, Gill,
Scott Frost
and Crouch. But he played in two different offenses and put up record-setting numbers. Although his passing motion often sparked ridicule, he made tangible strides as a junior, improving his completion percentage by six points and throwing 10 more touchdowns. Martinez was more of a complete quarterback than Nebraska typically has, but he struggled at times with decision-making.
Sherman:
He didn't earn a seat at the table among the greats. That requires, at minimum, a conference championship. Athletically, few to play the position at Nebraska matched Martinez's skill. He was likely the most dangerous dual threat in program history, but his supporting cast paled in comparison to many predecessors. And unlike the championship-era quarterbacks, Martinez often struggled to improve the productivity of those around him.
Bennett:
In the top 10 all time, but not in the pantheon with guys like Frazier, Gill, Crouch or Frost. Those guys have the hardware.
What will you remember most about Martinez's time in Lincoln?
Sherman:
The excitement that surrounded his torrid start as a freshman. His performance in wins at Washington, Kansas State and Oklahoma State were electrifying. Just as impressive were the string of comeback wins last year and the Ohio State victory in 2011. The meltdown that same year at Michigan was equally memorable. But more than anything, I'll remember that by the time Martinez finally meshed with the Nebraska football culture, his career was well on its way to a premature ending.
Bennett:
When he turned the corner and took off, it was a thing of beauty. Few players could cover as much ground as quickly as Martinez. I'll remember the comeback he led at Michigan State in 2012. And though it was in a losing effort, the insane scramble for a touchdown in the Big Ten championship game. Martinez was rarely ever boring to watch.
Rittenberg:
I found the dynamic between Martinez and Nebraska fans really interesting. He took a lot of abuse at times and probably didn't help himself by being so reserved, although he opened up more toward the end of his career. Just when everyone was ready to write off T-Magic, he'd lead a comeback like Ohio State in 2011 or Northwestern and Nebraska last year. This might have been a year where Martinez won over more Husker fans. Unfortunately, we'll never know.
August, 22, 2013
8/22/13
1:00
PM ET
We've reached the final three in our countdown of the Big Ten's Top 25 players heading into the 2013 season. As a reminder, this list is based on past performance and potential for the upcoming season only. We do not consider NFL potential for purposes of these rankings.
Up next is a quarterback who made major strides from 2011 to 2012. A similar jump this fall could push him to No 1. For now, he'll settle for his jersey number ...

No. 3:
Taylor Martinez
, QB, Nebraska, senior, 6-foot-1, 210 pounds
2012 postseason ranking:
No. 5
2012 numbers:
Completed 228 of 368 passes for 2,871 yards with 23 touchdowns and 12 interceptions; 195 rushes for 1,019 yards and 10 touchdowns
Why he's here:
Vowing to be a more accurate and efficient quarterback before the 2012 season, Martinez kept to his word and led the Big Ten in total offense (277.9 ypg) and pass efficiency (141.59 rating). You could have made a good case for the Nebraska quarterback to win the league's offensive player of the year award, and Martinez earned first-team All-Big Ten honors from the coaches, ahead of Ohio State's
Braxton Miller
.
Martinez set Nebraska single-season records for total offense (3,890) and touchdowns accounted for (33), and he showed his poise by rallying the Huskers from double-digit second-half deficits in four separate games. He improved his completion percentage by nearly six percent and recaptured the running form he displayed during the first half of his freshman season in 2010. Martinez already holds Nebraska career records for total offense (9,449 yards) and passing (6,591 yards). He's on pace to set every meaningful Husker passing record and needs just 577 rush yards to break the team record for quarterback rushing held by former Heisman Trophy winner Eric Crouch.
Championships are the only thing separating Martinez from cementing himself among Nebraska's all-time greats and climbing this list to the No. 1 spot. He still commits too many turnovers, especially in big games. If he can maintain or improve his positive statistics and eliminate those frustrating errors, he'll contend for Big Ten and national honors as a senior.
The countdown
No. 25
:
Jonathan Brown
, LB, Illinois
No. 24:
Mark Weisman
, RB, Iowa
No. 23
:
James White
, RB, Wisconsin
No. 22
:
Melvin Gordon
, RB, Wisconsin
No. 21
:
John Urschel
, G, Penn State
No. 20:
Tyler Scott
, DE, Northwestern
No. 19:
Jack Mewhort
, OT, Ohio State
No. 18:
Deion Barnes
, DE, Penn State
No. 17:
Kenny Bell
, WR, Nebraska
No. 16:
Jared Abbrederis
, WR, Wisconsin
No. 15:
Ra'Shede Hageman
, DT, Minnesota
No. 14:
Kain Colter
, QB, Northwestern
No. 13:
Ameer Abdullah
, RB, Nebraska
No. 12:
Spencer Long
, G, Nebraska
No. 11:
Devin Gardner
, QB, Michigan
No. 10:
Darqueze Dennard
, CB, Michigan State
No. 9
:
Bradley Roby
, CB, Ohio State
No. 8:
Allen Robinson
, WR, Penn State
No. 7:
Max Bullough
, LB, Michigan State
No. 6:
Chris Borland
, LB, Wisconsin
No. 5
: Venric Mark, RB, Northwestern
No. 4
: Ryan Shazier, LB, Ohio State
August, 16, 2013
8/16/13
8:00
AM ET
There's hardly ever a perfect time to part ways with a coach, especially one who has had success. Some programs opt to nudge out long-tenured, mostly successful coaches only to pay the price later for their decisions. Others that part ways with a veteran coach end up seeing improvement. ESPN.com is taking a closer look at this topic today, and we're putting it under the Big Ten microscope.
Here are some notable Big Ten (and Nebraska) coaching forceouts:
LLOYD CARR, Michigan (1995-2007)
What happened:
A longtime Michigan assistant for Bo Schembechler and Gary Moeller, Carr moved into the top job in 1995 and two years later guided Michigan to a national title. He led the Wolverines to at least a share of five Big Ten championships and six bowl victories, including the 1998 Rose and 2000 Orange bowls. Carr had the Wolverines positioned for another national title run in 2006 as they faced archrival Ohio State in an epic matchup of undefeated teams ranked No. 1 and No. 2 nationally. But Carr's squad fell to Jim Tressel's Buckeyes, a theme during the later part of Carr's tenure. The 2007 season began with a humiliating loss to Football Championship Subdivision team Appalachian State. Although Carr officially retired in November 2007, there certainly was some pressure for the school to go in a new direction.
[+] Enlarge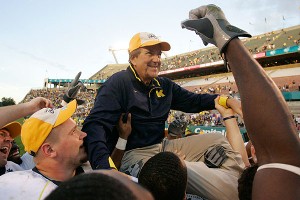 Chris Livingston/Icon SMILloyd Carr is carried off the field following Michigan's win over the Gators in the Capital One Bowl, which was Carr's final game.
What happened next:
Michigan went away from its coaching tree and plucked Rich Rodriguez from West Virginia to succeed Carr. It was a rocky situation from the start that never truly smoothed out. Rodriguez's first Michigan team in 2008 might have been the worst ever, tumbling to 3-9 and ending the school's streak of consecutive bowl appearances at 33. The following summer, Michigan admitted to committing major violations for the first time in its history -- relating to practice time -- and self-imposed probation. The Wolverines once again missed a bowl game in 2009 and struggled to make one in Rodriguez's third season. After a blowout loss in the 2011 Gator Bowl, Michigan fired Rodriguez, who went just 15-22 at Michigan (6-18 Big Ten, 0-3 against Ohio State). Michigan might have slipped a bit from the ranks of the elite under Carr, but the program plummeted to historic depths under Rodriguez. Michigan replaced Rodriguez with former Carr assistant Brady Hoke.
JOHN COOPER, Ohio State (1988-2000)
What happened:
After a rocky start (4-6-1 in 1988), Cooper went on a nice run at Ohio State in the mid- to late 1990s, averaging 10.3 victories between 1993 and 1998. He guided Ohio State to its first Rose Bowl appearance in 13 years during the 1996 season and emerged with a victory against Arizona State. He also won the Sugar Bowl after the 1998 season and coached Heisman Trophy winner Eddie George. But Cooper had two problems: an inability to beat archrival Michigan (2-10-1) and struggles in bowl games (3-8). Three times the Buckeyes entered The Game with a perfect record -- 1993, 1995 and 1996 -- and fell to the Wolverines. After a 6-6 clunker in 1999 and another loss to Michigan in 2000, Ohio State fired Cooper, who finished second on the school's all-time coaching wins list, behind Woody Hayes, with 111.
What happened next:
Ohio State made an unorthodox move in bringing in Youngstown State's Tressel to succeed Cooper. It paid off as Tressel guided the Buckeyes to a national title in his second season. Ohio State remains the only Big Ten team to win a crystal football during the BCS era. Tressel ended up dominating the Big Ten (six titles) and Michigan (8-1) during his tenure, leading Ohio State to five BCS bowl wins (one vacated) and three appearances in the national title game. Although Tressel's tenure ended in scandal, he certainly boosted Ohio State's program after the Cooper era.
BILL MALLORY, Indiana (1984-1996)
What happened:
After mostly successful runs at Miami (Ohio), Colorado and Northern Illinois, Mallory came to Indiana and put together an impressive run, reaching six bowl games between 1986 and 1993. He became the first man to win back-to-back Big Ten Coach of the Year honors in 1986 and 1987. Indiana had three top-four finishes in the Big Ten (1987, 1991, 1993), but after Mallory went just 5-17 (1-15 Big Ten) in 1995 and 1996, Indiana fired him. Mallory remains Indiana's all-time coaching wins leader (69) and is responsible for six of the Hoosiers' nine bowl teams.
What happened next:
Indiana has yet to come close to achieving the type of moderate success it enjoyed in the Mallory era. The program struggled under Cam Cameron and Gerry DiNardo before surging a bit for the late Terry Hoeppner. Still, it took 11 seasons after Mallory's dismissal for Indiana to return to the postseason under Bill Lynch in 2007. Although the Hoosiers are making strides under Kevin Wilson, the program has a ways to go to match where it was under Mallory.
GLEN MASON, Minnesota
(1997-2006)
What happened:
Mason never got Minnesota to the promised land -- its first Big Ten championship since 1967 -- but he made the Gophers a consistent bowl team. He won six to eight games in six of his final eight seasons, slumping to a 4-7 finish in 2001 but breaking through with 10 victories in 2003. Minnesota reached bowls seven times under Mason, but his middling Big Ten record (32-48) and inability to challenge for league titles eventually stirred the administration into action. The school
fired Mason two days after Minnesota squandered a 31-point third-quarter lead
against Texas Tech in the 2006 Insight Bowl.
What happened next:
The program backslid with the overmatched Tim Brewster at the helm, going 1-11 in 2007. Brewster made some splashes in recruiting but couldn't get enough talent to translate to the field. After a 7-1 start in 2008, the Gophers dropped their final five games, including a 55-0 decision to archrival Iowa at the Metrodome. A 6-7 season followed in 2009, and
Minnesota fired Brewster after a 1-6 start in 2010
. Brewster went 15-30 at the school and 6-21 in the Big Ten, which included an 0-10 mark in trophy games. His tumultuous tenure had many questioning why Minnesota ever got rid of Mason.
FRANK SOLICH, Nebraska (1998-2003)
What happened:
A former Huskers fullback, Solich had the nearly impossible task of following coaching legend Tom Osborne, who won national titles in three of his final four seasons at the school. Solich won 42 games in his first four seasons, a Big 12 championship in 1999 and Big 12 North titles in 1999, 2000 and 2001. He guided the Huskers to the 2000 Fiesta Bowl championship, and the 2001 team, led by Heisman Trophy winner Eric Crouch, played Miami for the national title at the Rose Bowl but fell 37-14. Nebraska then went 7-7 in 2002, its first nonwinning season since 1961. Solich rebounded with a 9-3 mark in 2003 but was
fired despite a 58-19 record in Lincoln
.
What happened next:
Much like Michigan, Nebraska went away from its coaching tree and hired Bill Callahan, who had led the Oakland Raiders for two seasons. And much like Michigan, Nebraska paid a price as the program went downhill. The Huskers went 5-6 in Callahan's first year, their first losing campaign since 1961. They won eight games the following year and the Big 12 North in 2006, but a highly anticipated 2007 season fell apart, particularly for the celebrated Blackshirts defense. Nebraska surrendered 40 points or more in six games and went 5-7, leading to Callahan's dismissal. Although Nebraska has rebounded under Bo Pelini, its last conference championship came under Solich's watch, 14 long years ago.
June, 24, 2013
6/24/13
12:00
PM ET
You know what they say about Detroit: It's all fun and games until they shoot you in the face.
May, 24, 2013
5/24/13
12:00
PM ET
Have a great and safe Memorial Day weekend, everybody.
May, 8, 2013
5/08/13
1:30
PM ET
Tommie Frazier's unnecessarily long wait to enter the College Football Hall of Fame
finally ended Tuesday when the Nebraska quarterback joined 11 other players and two coaches
in the class of 2013.
Frazier, perhaps more than any other eligible player, was deemed deserving of a Hall of Fame spot but had been snubbed year after year. He no longer carries that label. So who does?
Today's poll asks which former player from the Big Ten, Nebraska or Penn State (before Penn State joined the Big Ten) most deserves to be in the College Football Hall of Fame. To be eligible for a Hall pass, a player must be:
A first-team All-American
Between 10-50 years removed from his final college season
Finished with his professional playing career
A good citizen off of the field following his college career
Let's look at five eligible candidates for Hall of Fame selection with some bio tidbits for each ...
Trev Alberts, LB, Nebraska, 1990-93:
Named unanimous first-team All-America, Big Eight Defensive Player of the Year and Academic All-America in 1993, when he led the Huskers with 96 tackles, including 47 solo stops, and tied a school record with 15 sacks for 88 yards. He won the 1993 Butkus Award (still only Nebraska player to do so) and twice earned first-team all-conference honors. Alberts earned second-team All-America honors in 1992, when he had 73 tackles, including 11 for loss. He also was Big Eight Defensive Newcomer of the Year as a freshman in 1990 and had his number retired in 1994.
Eric Crouch, QB, Nebraska, 1997-2001:
Crouch won the 2001 Heisman Trophy as well as the Walter Camp and Davey O'Brien awards. He was a first-team All-America selection and won Big 12 Offensive Player of the Year honors after recording 1,115 rush yards and 18 touchdowns to go along with 1,510 pass yards and seven scores. He also earned All-Big 12 honors in 1999 and 2000. Crouch set the NCAA record for career rushing touchdowns by a quarterback (59) as well as 32 Nebraska marks, including longest run (95 yards) and rushing yards by a quarterback (191 at Missouri). Crouch won Fiesta Bowl MVP honors after leading Nebraska past Tennessee in the 2000 game.
John "Jumbo" Elliott, OT, Michigan, 1984-87:
Elliott earned first-team All-America honors in each of his final two seasons for the Wolverines, including a consensus selection as a senior in 1987. A two-time first-team All-Big Ten selection, Elliott helped Michigan share the 1986 Big Ten title and cleared a path for standout running back Jamie Morris. He started four seasons for the Wolverines, finished his career as one of the biggest players in team history and was selected by the New York Giants in the second round of the 1988 NFL draft.
Antwaan Randle El, QB, Indiana, 1998-2001:
A transformative figure in Big Ten quarterback play, Randle El was Big Ten MVP, a first-team All-American and Big Ten Offensive Player of the Year as a senior in 2001. He earned All-Big Ten honors from 1999-2001. He was the first player in NCAA history to score 40 touchdowns (45) and throw for 40 TDs (42), the first to record over 2,500 total yards in four seasons, and the first to both pass for over 6,000 yards and rush for over 3,000 yards. Randle El also won Big Ten Freshman of the Year honors in 1998.
Lorenzo White, RB, Michigan State, 1984-87:
White earned first-team All-America honors in both 1985 (unanimous) and 1987 (consensus), finishing fourth in the Heisman Trophy voting in both seasons. He led the nation in rushing as a sophomore in 1985 with 2,066 yards, which marked a Big Ten record at the time and remains the third-highest single-season total in team history. He was the first Spartan to lead the team in rushing in four consecutive seasons and helped Michigan State to a Big Ten title and a Rose Bowl championship as a senior in 1987. White also started the bell-cow running back tradition in East Lansing, racking up 419 carries in 1985, which remains a league record.
May, 7, 2013
5/07/13
12:00
PM ET
You get older, you have kids, you stop stealing, it's sad.
November, 5, 2012
11/05/12
1:30
PM ET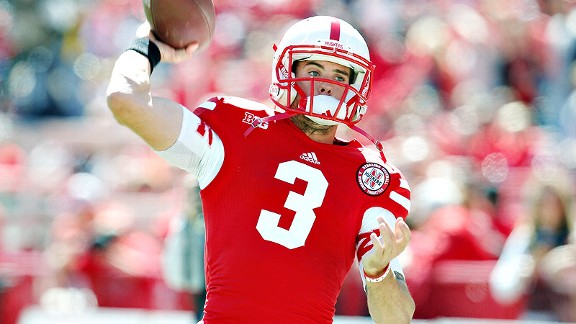 Bruce Thorson/US PresswireNo player epitomizes the 2012 Cornhuskers more than junior quarterback Taylor Martinez.
We have seen many versions of
Taylor Martinez
during his Nebraska career.
In 2010, he was T-Magic, a dynamic freshman who put himself on the national radar with lengthy touchdown runs, eclipsing 120 rush yards in five of his first seven games and shattering team records in the process. By the end of that season, he seemed to be Martinez the Malcontent, sustaining ankle and toe injuries and absorbing the wrath of Mt. Pelini during the Texas A&M loss. He became the subject of transfer rumors, which his father diffused.
Big Ten fans got their first extended look at Martinez in 2011, and it wasn't pretty. Still hampered by the ankle injury, the Husker quarterback didn't run nearly as much and regressed as a passer, completing just 56.3 percent of his attempts and being mocked for his shot-put-like motion. Criticism for Martinez spiked in the football-crazed Cornhusker State, and while he had some good moments, like the Ohio State comeback, his approval rating suffered.
Before this season, Martinez became Taylor the Proclaimer. A man of very few words, he gained attention for two statements: that
Nebraska would contend for a national title
, and that he would complete 70 percent of his passes. Both were summarily dismissed, and while the national title talk never seemed realistic, Martinez has been much more accurate with his passes.
A new version of Martinez has emerged this season, one Nebraska fans are glad to see and one that shows how far he has come.
Taylor Martinez, clutch quarterback. There's no argument about it.
Martinez has led second-half comebacks in three of Nebraska's four Big Ten victories, including last Saturday's crucial Legends Division win at Michigan State. He helped Nebraska erase a 17-point third-quarter deficit in the Big Ten opener against Wisconsin; a 12-point fourth-quarter deficit Oct. 20 against Northwestern; and a 10-point fourth quarter deficit at Spartan Stadium.
His fourth-quarter numbers in the Northwestern and MSU wins: 323 yards of offense, three passing touchdowns, one rushing touchdown.
Martinez is responsible for two of the three biggest comebacks in Husker history (last year against Ohio State and this year against Wisconsin). He's also responsible for two of the three biggest fourth-quarter comebacks in team history (Northwestern and Michigan State this year).
"We've been in that situation before a couple of times," Martinez said after Saturday's game, "and we know that we can't be stopped."
Nebraska found itself in the situation in Week 2 against UCLA, but couldn't erase a 9-point fourth quarter deficit.
[+] Enlarge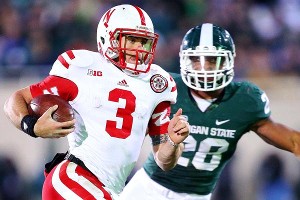 Mike Carter/US PresswireNebraska coach Bo Pelini had high praise for Taylor Martinez, calling the QB's decision-making "phenomenal" this spring.
"That UCLA game prepared us for these next three comebacks we had," Martinez said. "There was a reason we lost to UCLA, and we're figuring out how come."
Martinez is far from perfect. No player epitomizes the 2012 Huskers more than the junior signal caller, who can go from terrible to incredible in a flicker. He can be maddening and masterful. But like his team, Martinez also hasn't let low moments sink him, and he has had his share the past three seasons.
In the Northwestern game, Martinez threw near interceptions -- which likely would have sealed a loss -- on consecutive plays. How did he respond? By completing 10 of his final 11 pass attempts for 140 yards and two touchdowns in the final eight minutes.
He threw three interceptions Saturday against Michigan State, but the Spartans couldn't finish him off. His 35-yard touchdown run cut Nebraska's deficit to three points, and he completed two long passes on the decisive drive before finding
Jamal Turner
in the end zone for a 5-yard score, the game-winner, with six seconds remaining. Despite an ankle injury, Martinez rushed for 205 yards, the fourth-most by a Husker quarterback in team history.
"He made some mistakes, but you know, everybody does," Nebraska coach Bo Pelini said of Martinez. "When it came right down to the end, he didn't blink an eye. He put this football team on his back."
Pelini is right. Martinez has made his share of mistakes, even in an improved junior season. He has been fortunate at times, like when Northwestern dropped those interceptions or when a Michigan State pick-six was nullified by a personal foul penalty. He still takes criticism for his flaws,
even from opponents
(some of whom are later eating crow).
But football is all about response and opportunity, and Martinez has maximized his chances more often than not this season. With the game on the line, he and his teammates have been very good, which bodes well for the future.
"We have a lot of heart on our team," Martinez said.
Martinez is racking up milestones with the Huskers. He holds the Nebraska career record for total offense (8,166 yards). He already holds team records for total offense by a freshman (2,596) and a sophomore (2,963) and needs five yards to set the mark for a junior. He and former Heisman Trophy winner Eric Crouch are the only Husker players to record at least three seasons of 2,000 offensive yards. He needs just 189 yards to become Nebraska's all-time passing leader, and five passing touchdowns to hold Nebraska's career record.
How will Martinez be remembered in Nebraska? He'll undoubtedly leave a complex legacy. He'll never be loved like Crouch and Tommie Frazier. But his accomplishments shouldn't go unnoticed.
There likely will be more versions of Martinez to come. Remember, he'll be back in 2013 as a fourth-year starter.
But the latest version -- a clutch quarterback -- is one the Huskers should savor.
It's one that could lead them all the way to Pasadena.
April, 17, 2012
4/17/12
1:00
PM ET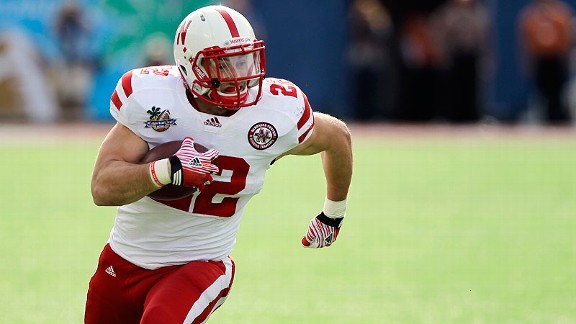 AP Photo/John RaouxRex Burkhead may not be flashy but he's one of the Big Ten's most consistent and valuable players.
Even if the weather had cooperated Saturday, Nebraska running back
Rex Burkhead
wouldn't have received much work in the spring game.
Burkhead has nothing to prove to his coaches, to his teammates or to the tens of thousands of Huskers fans who would have been in attendance. If there's one player who doesn't cause angst in that football-crazed state, it's Burkhead, who earned first-team All-Big Ten honors (coaches and media) last fall after rushing for 1,357 yards and 15 touchdowns. While Bennett and I could do a poll on Nebraska's most popular player, I think we'd be wasting our time and yours. The guy they call "Superman" would win in a landslide.
But Burkhead's name doesn't resonate nationally like it does in Nebraska or within the Big Ten footprint. It's puzzling for those who watch him play, like the Omaha World-Herald's Lee Barfknecht, who recently wrote about
Burkhead's uphill climb for Heisman Trophy consideration
. It's a topic I've been asked about several times on Nebraska radio stations in recent months, and one that will continue to be explored as the 2012 season approaches.
Barfknecht makes a convincing case for Burkhead, calling him "the most valuable offensive weapon at Nebraska since quarterback Eric Crouch did it all in 2001 while winning the Heisman." Anyone who watches Burkhead can appreciate his approach to the game, his consistent performances and his value to Nebraska's offense. He's also a
star off of the field
.
He has shown versatility, durability and reliability throughout his career.
But that's part of the problem, at least when it comes to national perception.
From Barfknecht's story:
His Heisman problem is that in today's Look-At-Me Generation, guys like him don't get many looks. ... Others will argue that Burkhead won't have the sexy plays -- those signature "Heisman moments" -- of other candidates. His long runs at Nebraska have been 34 yards as a freshman, 33 yards as a sophomore and 52 yards as a junior. As for 100-yard games, he has 10 in his career with a best of 170 yards last season at Wyoming.
This is an unfortunate truth about the Heisman race. It's a national award in every sense, and national name recognition is invaluable. Being an elite player is only part of the way to gain serious consideration.
[+] Enlarge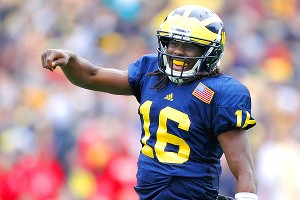 Gregory Shamus/Getty ImagesBurkhead may need some Denard Robinson-type games to garner some national attention.
It helps to be on a nationally elite team, as Crouch was in 2001. It helps to have a signature moment replayed over and over on "ESPN College GameDay" or "SportsCenter." It helps to be known as exciting or explosive. It helps to have a huge performance in a game that resonates around the country. It helps to have a unique back story, or a catchy nickname.
Michigan quarterback
Denard Robinson
reflects many of these qualities. He hasn't been as consistent as Burkhead, or Wisconsin running back
Montee Ball
, a Heisman Trophy finalist in 2011. But Robinson's name resonates nationally. President Obama
knows who he is
. Every Heisman voter knows who he is and what he can do. They've probably seen his past two performances against Notre Dame. They've definitely seen his electrifying runs. They know about the shoelaces. The 15 interceptions he threw last year? Meh.
It's why Robinson still could be the Big Ten's top Heisman candidate entering the 2012 season. If not, he's 1A next to Ball. Robinson undoubtedly will be at or near the top of the Heisman watch lists if he delivers a big performance in Michigan's opener against Alabama.
Ball should have less trouble getting noticed this season than he did in 2011. Despite impressive performances from the get-go, he was overshadowed by teammate
Russell Wilson
. Only when Ball began closing in on Barry Sanders' NCAA single-season touchdowns record did he start gaining traction for the Heisman. While he finished a distant fourth in the Heisman voting, he became a name voters know entering this year's race.
Is there hope for Burkhead? Sure. He needs to announce himself early in the season. Nebraska's nonconference schedule lacks national appeal, but Burkhead can make a statement with a big performance in the Big Ten opener against Wisconsin. He'll need to outshine Ball that night in Lincoln. It wouldn't hurt to follow it up the next week with a big game at Ohio State.
He also would benefit if Nebraska gives the nation reason to pay attention. This isn't the Nebraska program Crouch starred for, and while
the Huksers are talking big
, they're not regarded as a national player. That might have to change for Burkhead to get the recognition he deserves.
"He's one of the top running backs in the country," quarterback
Taylor Martinez
said.
No one will dispute that in Big Ten country.
But to take flight nationally in the 2012 Heisman race, Superman needs a boost.
February, 28, 2012
2/28/12
3:00
PM ET
The official 2012 FBS ballot for the College Football Hall of Fame selection is out, and it includes 15 former Big Ten players, one former Big Ten coach as well as five former Nebraska and Penn State players who didn't compete in the league.

Let's take a look at the group:
Trev Alberts, LB, Nebraska, 1990-93*
Erick Anderson, LB, Michigan, 1988-91
Otis Armstrong, RB, Purdue, 1970-72
Larry Burton, SE, Purdue, 1973-74
Dave Butz, DT, Purdue, 1970-72
Marv Cook, TE, Iowa, 1985-88
Eric Crouch, QB, Nebraska, 1998-2001*
D.J. Dozier, RB, Penn State, 1983-86*
Jumbo Elliott, OT, Michigan, 1984-87
Dave Foley, OT, Ohio State, 1966-68
Tommie Frazier, QB, Nebraska, 1992-95*
Kirk Gibson, WR, Michigan State, 1975-78
Tim Krumrie, DL, Wisconsin, 1979-83
Robert Lytle, RB, Michigan, 1974-76
Tom Nowatzke, FB, Indiana, 1961-64
Jim Otis, FB, Ohio State, 1967-69
Orlando Pace, OT, Ohio State, 1994-96
Percy Snow, LB, Michigan State, 1986-89
Lorenzo White, RB, Michigan State, 1984-87
Steve Wisniewski, G, Penn State, 1985-88*
Darryl Rogers, coach, Michigan State, 1976-79 (also coached at Cal-State Hayward, Fresno State, San Jose State and Arizona State)
*-played for team not in Big Ten
The 2012 Hall of Fame class will be announced May 15 and inducted Dec. 4.
Selection criteria:
To be eligible for the ballot, players must have been named a First Team All-America by a major/national selector as recognized and utilized by the NCAA for their consensus All-America teams; played their last year of intercollegiate football at least ten years prior; played within the last 50 years and cannot be currently playing professional football. Coaches must have coached a minimum of 10 years and 100 games as a head coach; won at least 60 percent of their games; and be retired from coaching for at least three years. If a coach is retired and over the age of 70, there is no waiting period. If he is over the age of 75, he is eligible as an active coach. In both cases, the candidate's post-football record as a citizen may also be weighed.
It's a strong group from the Big Ten, and you can definitely expect to see some names announced May 15. It's interesting to see several clusters of nominees from certain eras, like the three Purdue players from the early 1970s, the two Penn State players from the mid 1980s, the two Ohio State players from the late 1960s and the two Michigan State players from the mid to late 1980s.
September, 1, 2011
9/01/11
12:00
PM ET
Tonight, it begins.
Madison, Wis., weather:
Clear skies, temperatures between 79-88 degrees, winds at 9-10 mph
Let's get linky:
August, 2, 2011
8/02/11
2:45
PM ET
The
Yards to Glory series
today moves on to touchdowns scored between the 80-yard line and 61-yard line. There's a heavy dose of Nebraska in today's capsules, with a bit of Indiana and Michigan sprinkled in (sorry, Wolverines fans, you won't like it).
Let's take a look at the Big Ten-related capsules (Updated with Indiana capsule).
77. Johnny On The Spot
Johnny Rodgers' punt return leads to national title
Jan. 1, 1972: Defending champion Nebraska entered the game undefeated staring across at No. 2 Alabama and Bear Bryant, carrying an 11-0 record. This one was over quickly, though, courtesy of a Johnny Rodgers 77-yard punt return on the final play of the first quarter that put Nebraska up 14-0 on the way to a 38-6 win for a national title. The Huskers led 28-0 at the half after adding 14 points in the second quarter.
-- David Ubben
75. Tommie Boy
Tommie Frazier breaks tackles and Florida spirits
Jan. 2, 1996: Tommie Frazier's stampede through Florida epitomized Nebraska's physical mauling of the Gators in a Fiesta Bowl matchup that doubled as a de facto title game. It was a simple option right at the end of the third quarter, with Frazier keeping and cutting upfield. He encountered roughly half the Florida defense, but the Cornhuskers quarterback kept his legs driving and broke free for 75 yards. On TV, Jim Nantz sounded as though he'd given up on the play until Frazier suddenly and incomprehensibly was in the clear. "How many tackles can one man break?" Nantz shouted.
-- Pat Forde
72. Johnny Rocket
Johnny Rodgers thrills with another punt return
Nov. 25, 1971: No. 1 Nebraska didn't put away the 35-31 victory over No. 2 Oklahoma until late in the fourth quarter. But Johnny Rodgers' 72-yard punt return remains the iconic play of an iconic game, even though he made it in the first quarter. Rodgers used speed, balance, acrobatics and mojo to get through the Sooners. Their fans insist an illegal block helped, too. If Rodgers hadn't been so mesmerizing, the complaint might have gained traction. It never did.
-- Ivan Maisel
64. In The Buff
Colorado stuns Michigan in the Big House
Sept. 24, 1994: The day Kordell Stewart and Michael Westbrook hit the mute button on more than 100,000 fans in the Big House. With Colorado trailing Michigan 26-21, Stewart dropped back, rolled right and threw a missile more than 70 yards in the air as time expired. Receiver Blake Anderson tipped the pass out of the hands of Wolverines defensive back Chuck Winters, and Westbrook leaped to grab the deflection before landing in the end zone. The play was designed for Westbrook to do the tipping instead of the catching, but none of the Buffaloes quibbled with the result.
-- Pat Forde
63. Put It In Reverse
Eric Crouch catches a reverse pass
Oct. 27, 2001: It's known in Huskers lore as Black 41 Flash Reverse Pass, the moment that personified Eric Crouch's Heisman campaign. The Sooners know it as the play that ended their 20-game winning streak that included the national championship in 2000. Leading 13-10 midway through the fourth quarter, Crouch pitched to Thunder Collins, who handed it off to receiver Mike Stuntz, a true freshman and a former high school quarterback. Stuntz hit Crouch 40 yards downfield, and he went untouched the rest of the way for the 63-yard touchdown that provided the 20-10 final score.
-- David Ubben

62. Hoosier Stunner

Tim Wilbur leads Indiana to first bowl victory

Dec. 21, 1979: A play that began auspiciously ended beautifully for the Indiana Hoosiers. Indiana trailed BYU 37-31 with 6:53 left in the 1979 Holiday Bowl when a BYU punt hit Indiana's Craig Walls in the back. Tim Wilbur collected the ball near the sideline and raced 62 yards untouched to the end zone for what turned out to be the winning score. Indiana stunned undefeated BYU 38-37 for its first bowl victory, capping its first winning season since 1968.
-- Adam Rittenberg
Also, check out the
video of Rodgers' 77-yard punt return
against Alabama.
Nebraska fans, which of these plays stands out most in Huskers' history?
June, 27, 2011
6/27/11
11:27
AM ET
You'll have to wait until Wednesday to chat with me again, but former Nebraska star quarterback Eric Crouch is ready for your questions today!
Be sure to chat with Crouch, the 2001 Heisman Trophy winner,
today at 2 p.m. ET
.
Crouch led Nebraska to the BCS championship game after passing for 1,510 yards and rushing for 1,115 yards and 18 touchdowns in 2001. He set 32 team records at Nebraska and left with a 35-7 record as the Huskers' starter.