November, 20, 2013
Nov 20
11:00
AM ET
Any credible list of the Big Ten's best cornerbacks starts with Michigan State's
Darqueze Dennard
, moves on to Ohio State's
Bradley Roby
and then typically branches off in several directions.
Nebraska's
Stanley Jean-Baptiste
would appear third on some ballots, as would Michigan's
Blake Countess
, Iowa's
B.J. Lowery
and Nebraska's
Ciante Evans
. Wisconsin freshman
Sojourn Shelton
also is getting noticed for his recent play.
One name no one's talking about is
Eric Murray
, although Minnesota's coaches could filibuster for days about the sophomore cornerback. Murray's problem: Unlike the other aforementioned corners, he has yet to intercept a pass this season. Interceptions equal attention, especially the pick-six variety.
[+] Enlarge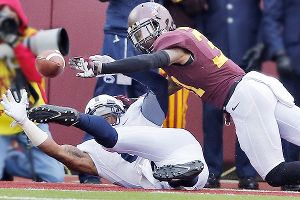 Zumapress/Icon SMIEric Murray has hounded receivers such as Penn State's Allen Robinson throughout the Big Ten season.
The irony is that Murray's lack of picks can be attributed, at least in part, to how much confidence the coaches have in his game.
"He doesn't play a lot of zone," Gophers defensive backs coach Jay Sawvel told ESPN.com "He's pretty much a man-to-man guy, and a lot of it's press-man. It's hard to get a lot of interceptions when you play as much press-man as he does.
"But we feel like he can get people stopped when we need to get 'em stopped."
It's why Minnesota often has Murray mark the opponent's top pass-catching threat. He has lined up across from Penn State's
Allen Robinson
, Michigan's
Jeremy Gallon
, Indiana's
Cody Latimer
, Northwestern's
Tony Jones
, Nebraska's
Kenny Bell
and
Quincy Enunwa
, and San Jose State's
Chandler Jones
, the nation's No. 7 wideout. The 6-foot, 194-pound Murray has the length to defend bigger receivers and the speed to pace smaller ones.
Every receiver struggled to match his typical production against Murray, whose next assignment is Wisconsin star
Jared Abbrederis
on Saturday, when the 19th-ranked Badgers visit No. 25 Minnesota in the most anticipated
Axe game
in years.
Robinson, the Big Ten's top wideout, was targeted five times with Murray guarding him and recorded just two receptions for 18 yards. Enunwa didn't record any receptions in the nine plays he went against Murray.
"Our staff, we think Darqueze Dennard's the best corner in this conference," Sawvel said. "I know Roby gets a lot of publicity, and we think he's really good, too.
"But outside of those two, we wouldn't trade Eric for anybody in the conference."
After playing mostly special teams as a freshman in 2012 -- cornerbacks Michael Carter and Troy Stoudermire started every game -- Murray had a strong offseason, leaving Sawvel optimistic about his potential for this fall.
Still, Sawvel wondered how the young cornerback would handle failure, and how often he would fail. The answer came Oct. 26 against Nebraska. On the fifth play from scrimmage, Bell beat Murray on a post for 42 yards to the Minnesota 2-yard line, setting up a touchdown.
"His reaction when he came back to the sideline was, 'I'm gonna kick his ass the rest of the game,'" Sawvel said. "It was not, 'Boy, he's tough to cover.' It wasn't any of that. There was no self-doubt. He was mad about it, but he was like, 'I got this.' And he did."
Nebraska targeted Bell three more times with Murray on him but completed zero passes, as Minnesota rallied for a 34-23 win.
"Whoever's in front of me, it doesn't matter," Murray said. "I just have to be comfortable in myself. If you think negative, negative things will happen."
Murray's positive outlook and drive helped him get to the Big Ten despite being largely overlooked in recruiting. After Murray's junior year at Milwaukee's Riverside University High School, his coach took him to three camps -- Central Michigan, Northern Illinois and Minnesota. Murray worked mostly as a receiver during the Gophers' camp, but head coach Jerry Kill wanted to see if his athleticism translated better at corner.
Days later, Murray returned to Minnesota for a second camp, where he worked one-on-one with Sawvel for 2 1/2 hours.
"Sometimes you get fortunate in recruiting," Kill said. "You've got to go with what you see."
The coaches liked what they saw then, and what they continue to see from Murray.
"Sometimes you have to motivate people to go to work, but not him," Kill said. "He loves playing football, and he takes what he does very seriously.
"He's one of those kids who really tries to master his craft."
Murray spends at least 30 minutes a day watching film of opposing receivers, charting their tendencies and the routes they most often run. He prefers man coverage to zone, where a cornerback must expand his vision rather than simply shadow the receiver.
Murray also watches other cornerbacks, like Dennard, a potential first-round draft pick who plays in an aggressive scheme where the corners are left to fend for themselves. Minnesota uses its corners similarly.
"He presses a lot, and I feel like that's more of my style," Murray said. "I would rather press more than anything."
Even if it means fewer interception opportunities. Murray has come close, as he came down out of bounds following a pick against UNLV and had an end zone interception against Penn State nullified by an offsides penalty.
"I really don't mind it," he said. "As long as my guy doesn't catch the ball, I'm all right. It'll feel really good to get my first one, but I'm not putting too much pressure on myself."
Instead, he'll keep pressuring his opponents. Next up is Abbrederis, whom Sawvel calls "the biggest challenge in the conference.
Murray won't be the only Gophers defensive back dealing with Abbrederis, but the two will see plenty of one another.
"You've got to match strength with strength," Sawvel said. "Where Darqueze Dennard and those people are, that's what Eric Murray will be in the next year or two.
"This is a guy who's going to be as good as it gets in this conference."
July, 16, 2013
Jul 16
2:45
PM ET
Last week, I caught up with Minnesota defensive coordinator Tracy Claeys and wrote about
the Gophers' linebacker situation
. Claeys had other interesting things to say about the defense as a whole, and here they are in Q&A form:
What were your general thoughts on the defense coming out of spring practice?
Tracy Claeys:
I think by far it was our best spring. I look forward to getting back with them in fall camp, and hopefully that carries over. I'd be disappointed if we don't play better than we did a year ago.
It appears as if more of your players pass the "look test" on that side of the ball, though that doesn't always translate into results. But you seem to have better athletes. Would you agree with that?
[+] Enlarge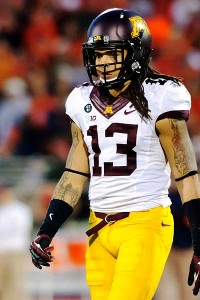 Bradley Leeb/USA TODAY SportsDerrick Wells will move to cornerback this season for the Gophers.
TC:
Yeah, and I think that was the main thing. When you're the University of Minnesota, it takes developing some kids. We've taken some kids who were a little bit smaller but who could run. Now they've had a couple of years in the weight room, and they've put on some weight. So I think all that's going well. We felt like we needed to run better with the spread offenses and the hurry-up stuff people are doing. I do think we've improved athletically, and now having had a couple of years in the weight room, I think our size is getting better. We're still not where we need to be, but I think we can make up for a little bit of that size with the strength and toughness we've added.
How did Derrick Wells' transition from safety back to corner go?
TC:
Good. I think that is his natural position. He played well at safety, but with his size that's something that will help us on the edge. He runs well enough to do it, and we have enough depth at safety that I think it balances everything out a lot better and gives us a chance to be consistent. I've been very pleased with the secondary and where we're at there.
You've got some taller guys in the defensive backfield. Is that part of your philosophy, or is it just how things have worked out?
TC:
Well, you've got to be able to run -- that's the number one thing. And playing in the Big Ten with some of the running game things people are doing, you've got to have guys who can tackle. Then the receivers are getting bigger -- everybody is putting those bigger receivers out there. I don't think you'll ever see a defense go with 6-foot-4 corners out there, but at least if you have some 6-1 guys with some strength and some length to them, you've got a chance on some of those jump balls and things that offenses are throwing up.
We always look at athletic ability first. It's important to be able to run. We've been able to develop a few kids and put some size on them -- Derrick was only 155, 160 pounds when he got here and has really benefited from the weight room. You go back and wish you could have redshirted some of them. Derrick is going to be a senior next year and so is [safety] Cedric [Thompson]; we just weren't in a situation where we able to redshirt those kids, and really their bodies, you see them just now developing as they should. They really should be redshirt sophomores with three years to play, but that's part of the situation we were in. We feel we have great kids who have worked hard to get to where they are without redshirting.
I guess the flip side to that is, they've gotten a lot of experience.
TC:
That's true, and that's part of why we changed about five years ago on secondary kids. We said, 'Hey, if they can help, we might as well play them.' Because there's a lot of space out there, and everybody is spreading the field. And then they get a lot more comfortable.
Eric Murray
, he's going to be the one this year at corner. We played him a little bit last year, and now he knows what it's like to go out in a big stadium and play in front of people. I think a lot of times [experience] does outweigh the benefit of redshirting as long as you can recruit and replace those kids.
How do you feel about the defensive end position going into the fall and your ability to rush the passer?
TC:
Theiren Cockran
continues to get bigger and had a good spring.
Alex Keith
is another guy I wish we could have redshirted, but he has good pass-rushing ability and has improved in the weight room. Michael [Amaefula] is coming back, and
Ben Perry
. So I feel really good about the defensive line. I feel the best about it since I've been here. I think we're going to have depth up there. I'm really looking forward to seeing those guys teeing it up on gameday.
It all seems to start with stopping the run in the Big Ten, and you guys have had your ups and downs there. How do you feel about your ability to do that this season?
TC:
I think sometimes our front four has taken a little too much heat. Our first year, we didn't play well in the front four. Last year, we played awfully well there, and the kids continue to get better. Our run issues were another part besides just the front four. So I think we're getting closer to getting that corrected. We're better up front than what we were a year ago and we have more depth. And I still think that's where games are won or lost up front, especially when you can keep kids healthy and get them through the 11th or 12th game.
We haven't changed a lot scheme-wise and we're not going to change a lot, just make little adjustments here and there. They're getting more comfortable, and then the more comfortable you get, the quicker you get off the ball and the more plays you make.
You should have some good competition for playing time in the front seven when training camp opens next month. How do you think that will affect the overall development?
TC:
It can help you, but you can also get some kids who are afraid of competition, make excuses and don't perform as well. When you start winning ball games is when you have kids who compete to play and don't make excuses. That's how we continue to improve as a football team. Right now, I think we've got kids who like to compete. One thing we've done since we've been here and where we've been before is, if you don't play well in the game, then the next week your spot is up for grabs. And we're going to play the people who most consistently work hard and give us the best chance to win each week. Plus, when you play as many kids as we play, then kids go through practice knowing they're going to have an opportunity to play in the game; it's just a matter of whether you take advantage of it or not. I think we do have a group of kids who like to compete and when you have competition, it keeps everybody on their toes.
You've got three experienced senior starters in Brock Vereen, Aaron Hill and Ra'Shede Hageman. Are they your obvious leaders, or have others emerged?
TC:
You're as good as your seniors. I believe that. You've got to have playmakers on the field, and they don't always have to be seniors, but the better the leadership comes from seniors, the better football team you've got. What's good about those three is that they all work their butts off -- they don't take days off in the weight room or stuff like that. I think that's the main thing for a leader. You've got to be somebody who puts in the time to be successful, and all three of those kids have. And with that, they're developing other ones. Maybe sometimes younger kids don't always know how to work the best when they get here, but then they see those seniors working hard, it puts that work ethic in everybody.
April, 5, 2013
Apr 5
12:00
PM ET
I dare type it, but spring might be finally here.
March, 26, 2013
Mar 26
9:00
AM ET
Minnesota coach Jerry Kill guided the team to a bowl game during his second season in Minneapolis despite some depth and injury problems in 2012. What's in store for Year 3 of the Kill era? I recently caught up with him to get his outlook for the Gophers' spring practice, which opens today.
How has the offseason gone for you guys so far?
Jerry Kill:
Well, I think the bowl game, even though we lost, the kids played very hard and well. We got healthy, for one, before we went to the bowl, and we had a great month with our kids and a great experience. And coming into the offseason, I think there was a lot of confidence gained. All our kids' strength and testing numbers went up. I guess I can use
Ra'Shede Hageman
as an example, He benched 450 pounds, squatted well over 500 and cleaned 350, with a 38-inch vertical. So kids like that got a lot better.
We feel up front and on the defensive line, we've gotten stronger. I think we've added some depth to the defensive line, and secondary-wise, we played several freshmen in that game against Texas Tech. We've got the flexibility to play
Derrick Wells
at corner and safety. I think the biggest question mark we've got going in is, we lost five scholarship linebackers. It's like a year ago when we lost seven secondary players and kind of hit the jackpot in recruiting. Damien Wilson, a junior college transfer, has had a great spring, and I'm looking forward to seeing him on the field. The guys who need the reps this spring are
James Manuel
,
Aaron Hill
,
Lamonte Edwards
, and young men we redshirted named
Jack Lynn
and
Nick Rallis
. And then we've got four other kids coming when fall camp starts. Our secondary a year ago had a lot of questions and really played well. I think, this year, linebacker is where we need to step up on defense.
And then on offense, I feel we'll be a much better football team than we were a year ago because we get everybody back except for
Brandon Green
and Q [
MarQueis Gray
], really. So I think that unit will be much improved.
[+] Enlarge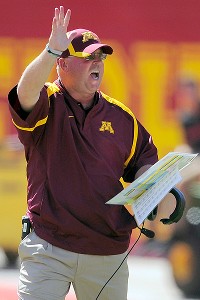 AP Photo/Mark J. TerrillJerry Kill begins his third season as head coach of the Gophers.
You showed off a good power running game in that bowl game. Is that what we should expect from your offense going forward?
JK:
Yeah, that's what we were at Northern Illinois. We could run the power at you, but then we were athletic enough to turn and run the zone read with the quarterback. Both [Chandler] Harnisch and [Jordan] Lynch, when we needed to throw it, we completed it. But we still made our living on running the football. It was the first time, in the bowl game, that we had the same offensive line that we had at the beginning of the seaon. We had so many people get experience there. But that's what we want to be -- a team that gives you a lot of different looks, shifting and motion and different personnel grouping. But you've still got to be able to run the football, and certainly in the Big Ten.
Speaking of that offensive line, after a lot of injuries there last year, how is the position looking this spring?
JK:
Well, we've got a lot of depth, no question. Eddie Olson, he won't go through the spring, but he had a good year a year ago. If we can get his foot healed up and done right, it kind of works out. He'll continue to get stronger. We redshirted
Jonah Pirsig
, who's a 6-foot-8, 6-9, 320 pound tackle,
Ben Lauer
, who's 6-7 and probably 305, and
Isaac Hayes
, who is a 6-2, 300-pound offensive guard. So those kids, I'm anxious to see them in the spring.
We've got
Zac Epping
,
Jon Christenson
and
Caleb Bak
-- in the weight room, he benched 350, squatted 550, so he's gotten stronger.
Josh Campion
is a strong kid; he benches well over 400 pounds. So the same guys who when I first got here were getting pushed around have gotten stronger. And then we've added these young kids that have come in.
Marek Lenkiewicz
is up to 290 pounds,
Tommy Olson
is healthy again and
Brian Bobek
, who transferred from Ohio State and had great credentials when he went to Ohio State, he's another one who's very physically strong. Then there's
Foster Bush
and
Joe Bjorklund
. They're all young kids, but they've gotten physically stronger.
When we got here, I think we had about seven or eight offensive linemen. So we've built it through walk-ons and kind of did it the hard way. But I feel good about that position, along with our tight ends, quarterbacks and receivers. Our defense improved tremendously from one year to the next. For us to be competitive in the Big Ten -- which I think we can be -- our offense has to take the steps our defense did a year ago. And I think we can.
Philip Nelson finished the season for you at quarterback and had a nice bowl game, but you also have some talented young guys there. Is it his job to lose this spring or a more open competition?
JK:
We took the redshirt off Philip last year, and he did some good things and had some things he struggled with, as you'd expect for a freshman. He did some great things in the bowl game. When we go into camp, somebody is going to have to go in there and beat him out. But the thing that's good about that is the competition.
Mitch Leidner
and Chris Streveler are great athletes who can play another position if needed, but they both want to play quarterback and they're very capable of giving someone a run for their money. I can tell you, our defense is very high on Leidner. Mitch is probably close to 6-5 and 230, and he is a 4.6, 4.65 guy [in the 40-yard dash]. And very strong. And then Streveler is quicker than that. He came in during the second semester, and I think he's the third-fastest guy on our team. When we had him in camp, he played receiver also.
So all three of those guys are great kids, students of the game, and the type of kids you want playing quarterback leadership-wise. We'll let it work out. Leidner and Streveler are the type of kids who would say, "Coach, if it helps the team if you move me, I'll do that." But in the spring we're going to let them compete and make sure we're solid at that position. If you look at last year, it was kind of a miracle we got to a bowl game, because we had three different quarterbacks and three different centers. Not many people can win doing that.