June, 23, 2010
6/23/10
11:30
AM ET
Chris Doyle is proud of what Iowa has built in the past 11 years. During Kirk Ferentz's tenure as Hawkeyes head coach, the program has become known as one of the nation's best for player development. Doyle has been there every step of the way, coming in with Ferentz in 1999 as the team's head strength and conditioning coach. For more than a decade, Doyle has helped unheralded recruits and walk-ons transform themselves into elite college football players and NFL prospects. His top pupils include Dallas Clark, Eric Steinbach, Chad Greenway and Robert Gallery.
[+] Enlarge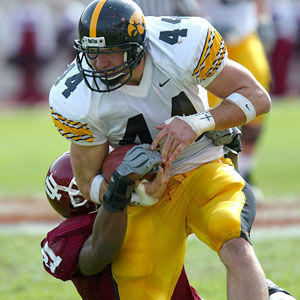 AJ Mast/Icon SMIDallas Clark was transformed from a high school quarterback into an All-American tight end.
Doyle recently shared his thoughts on shaping Iowa into a winner.
What has changed in your job between now and when you arrived at Iowa?
Chris Doyle:
I don't think there's been much of a change. When we first got here, it was about building a culture, instilling the values that match the personality of our head football coach: show up, listen, learn, do your job, no excuses. That was the challenge in '99 and that continues to be the challenge. Complacency can very easily set in to a program that's had some success, and we've had some success. We've also experienced some disappointment, so for us, it's a matter of continuing to build the culture. The good news is we have very positive examples of guys who have done things the right way and who have thus been rewarded for it. So we have built-in examples to utilize, but the challenge remains the same every single year.
How would you describe your philosophy toward doing this?
CD:
We recognize who we are and we have a niche in college football, and our niche is we're going to strive to be the absolute best at player development. When Coach Ferentz came here in '99, we said, 'We cannot be like everybody else in strength and conditioning and show up and beat great football teams. We have to do it better. We have to train harder, we have to train smarter and recognize that there's nothing comfortable about being a college football player, there's nothing comfortable about getting a degree, there's nothing comfortable about trying to perform at your highest level.' How do we do it differently? A big part of what we do is individualized program design.
We're going to look at three areas. We're going to look at training maturity, because everybody's different. We're going to look at functionality. Everyone has a different set of parents, different genetics, different medical backgrounds and different athletic backgrounds, so what functional needs do the athletes have? We screen every athlete. And the third thing is position specific training. There's extreme variation in skill sets. You're looking at a sport where a 5-foot-10, 180-pound defensive back is going to compete on the same playing field as a 6-foot-7, 315-pound lineman. That needs to be addressed in their training.
How did you approach the challenge of working with guys that maybe weren't the top recruits or the big names?
CD:
That's who we are. We don't shy away from that. At Iowa, the guys that have been the absolute most successful guys in our program, the guys who you see their pictures on the wall, are guys who share similar characteristics. They come from humble beginnings, none of them were heavily recruited, none of them were blue chip, 5-star recruits. They worked extremely hard and they were tough guys, smart guys. So you look at those qualities -- modest start, hard-working, tough kids who love the game -- we embrace that. We kind of relish that challenge of, 'Hey, we're going to bring a guy in that maybe flies under the radar in recruiting, but he's our guy.' Iowa football's not for everybody, and if you're looking to sample what Joe College samples when he goes on campus and there's a lot of different options for how kids spend their time, don't come to Iowa. We're not interested in Joe College. It's going to be challenging. We say we're going to try and progress at a faster rate than other teams, and I'm sure everyone says that. But it's one thing to say it, it's another thing to do it. And if we're going to do it, then our guys have to have a stronger commitment than everybody else.
January, 22, 2010
1/22/10
1:30
PM ET
I hope you enjoyed the decade recap series. We had a lot of fun researching and putting it together. Not surprisingly, my
top players list
generated a ton of feedback -- mostly negative, but that's cool -- from the Big Ten faithful.
Because there were so many deserving players left off the list, I decided to put together an all-decade team to recognize some of the other standouts in the Big Ten from 2000-09. I made the offensive line a bit more general to acknowledge the best players there.
Unlike the top 10, I was a bit more lenient about players who had only one outstanding season during this decade.
Enjoy.
OFFENSE
QB:
Troy Smith, Ohio State
RB:
Mike Hart, Michigan
RB:
Larry Johnson, Penn State
WR:
Braylon Edwards, Michigan
WR:
Charles Rogers, Michigan State
TE:
Dallas Clark, Iowa
C:
Greg Eslinger, Minnesota
OL:
Joe Thomas, Wisconsin
OL:
Robert Gallery, Iowa
OL:
Jake Long, Michigan
OL:
Eric Steinbach, Iowa
DEFENSE
DE:
LaMarr Woodley, Michigan
DT:
Wendell Bryant, Wisconsin
DT:
Jared Odrick, Penn State
DE:
Tamba Hali, Penn State
LB:
Paul Posluzsny, Penn State
LB:
A.J. Hawk, Ohio Sate
LB:
James Laurinaitis, Ohio State
CB:
Jamar Fletcher, Wisconsin
CB:
Malcolm Jenkins, Ohio State
S:
Bob Sanders, Iowa
S:
Mike Doss, Ohio State
SPECIALISTS
K:
Mike Nugent, Ohio State
P:
Travis Dorsch, Purdue
Returners:
Ted Ginn Jr., Ohio State and Steve Breaston, Michigan
April, 20, 2009
4/20/09
3:15
PM ET
Posted by ESPN.com's Adam Rittenberg
Mention the 2007 season to Bryan Bulaga, and the Iowa left tackle contorts his face in disgust.
A number comes to mind.
"Forty-six," Bulaga said. "We try to forget it."
Iowa's offensive line allowed 46 sacks that season, which placed 114th out of 119 FBS teams.
Any line can have an off year, and there were certainly circumstances that contributed to the Hawkeyes' struggles. But the staggering sacks total was so un-Iowa, given the program's tradition of stout line play, particularly under head coach Kirk Ferentz, a former line coach with the Hawkeyes and in the NFL.
The Hawkeyes have turned the page and appear ready to draft a new chapter in their proud offensive line history.
After clearing a path for Doak Walker Award winner Shonn Greene last fall, Iowa returns three starters up front, including second-team All-Big Ten tackles in Bulaga and Kyle Calloway. The Hawkeyes lose mainstays in guard Seth Olsen and center Rob Bruggeman, but they have plenty of upperclassmen -- Andy Kuempel, Dan Doering, Julian Vandervelde, Rafael Eubanks, even Dace Richardson if he stays healthy -- to fill the gaps.
"Bruggy and Seth were big-time players for us and leaders, but we need to move on toward next year, getting a new identity," Bulaga said. "We've done a good job of that so far this spring. I don't think we've missed a lot of beats on it."
Iowa's recent offensive line tradition includes players like Robert Gallery, Marshal Yanda and Eric Steinbach, and the hope is Bulaga will be the next star. The affable junior added seven pounds during the offseason, now checking in at 6-foot-6, 312 pounds.
Bulaga takes a streak of 18 consecutive starts into the fall.
"He's an easy guy to coach," Ferentz said. "He's pretty good physically, and he's got a great attitude, so we're just thrilled that he's on our football team. A guy that works hard like he does and has an attitude like he does, it's a contagious thing. He makes other guys better."
Ferentz notes that the problems in 2007 stemmed mainly from youth. Iowa graduated Yanda, Mike Jones and Mike Elgin the previous year and thrust Bulaga, Calloway and other young players into starting roles.
"We went through the same thing back in '84," said Ferentz, who then served as the Hawkeyes' line coach. "In '82 and '83, we had a veteran group. We had seven seniors in our two-deep, so '83 was a lot of fun but '84 was a lot of growing pains."
Ferentz expects to see continued growth from Iowa's veteran-laden line this fall. With questions at running back, wide receiver and even quarterback, to some degree, the Hawkeyes will lean on the five men up front.
Bulaga said 46 sacks allowed two years ago still comes up from time to time in the O-line meeting room, but he and his linemates are more focused on reducing a different number, 27, Iowa's sacks allowed total from 2008.
"This group's worked hard," Ferentz said. "We have no idea what our starting lineup's going to be right now, but we've got a group I think is going to be represented.
"We're a little bit more veteran now, and that's a good thing."
August, 29, 2008
8/29/08
10:45
AM ET
It's time for the final installment of three questions as I take a look at the Iowa Hawkeyes, a team trying to rebound from three consecutive subpar seasons and a troublesome stretch of disciplinary problems. Here's a look at three questions facing coach Kirk Ferentz and Iowa this fall.
1. Is Jake Christensen the right man to lead the Hawkeyes offense?
The offense's struggles last season were not all Christensen's fault. He watched several key receivers go down with injuries and got no protection from the offensive line. The junior will get another chance to prove himself this fall, but he had better do it quickly. Sophomore Ricky Stanzi came on strong toward the end of preseason camp, and coach Kirk Ferentz likely will play both quarterbacks in non-league play. Christensen doesn't make a lot of big mistakes -- he has a 19-8 career touchdown-to-interception ratio -- but his completion percentage has got to get better for defenses to respect Iowa's passing game.
2. Will the off-field problems and the ongoing investigation into the university's response to allegations of sexual assault against two former players impact the season?
It could, especially if Iowa starts slow. Ferentz is convinced he handled the situation correctly, but the longer this case drags on, the more problems it could present for the coach and the program. What Iowa can control is player conduct from this point on, and it's up to senior leaders like Matt Kroul and Mitch King to make sure the string of transgressions stops immediately. As Ferentz has said numerous times, Iowa's new director of player development won't be a panacea for the problem. It has to start with the players or Iowa will be in for a long season.
3. Can the Hawkeyes return to their running roots?
An Iowa program that recently produced standout offensive linemen like Robert Gallery and Eric Steinbach has gotten away from what made it great. For the Hawkeyes to return to glory, they need much better play up front. Injuries to promising players like Dace Richardson have hurt, but Iowa needs more from Bryan Bulaga, Rafael Eubanks, Dan Doering and others. There's also uncertainty at running back as Shonn Greene claimed the starting job after spending last season at a junior college improving his academics. Greene looks like a solid back, but he'll need some holes to run through.