Big Ten:

FedEx Orange Bowl 2009 bowls
January, 5, 2010
1/05/10
8:00
AM ET
A winning bowl record is on the line for both the ACC and the Big Ten as No. 9 Georgia Tech takes on No. 10 Iowa in the FedEx Orange Bowl on Tuesday night (Fox, 8 p.m. ET). Georgia Tech makes its first Orange Bowl appearance since 1967, while Iowa hopes for a better showing in Miami after getting crushed by USC 38-17 in the 2003 game.
As kickoff approaches, bloggers Heather Dinich (ACC) and Adam Rittenberg (Big Ten) break down an intriguing matchup that has largely flown under the national radar.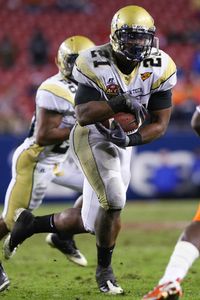 Tim Larson/Icon SMIGeorgia Tech has a lot of weapons on offense, including running back Jonathan Dwyer.
Heather Dinich:
Well, Adam, it's almost time for the showdown of the two conferences whose recent bowl history has been suspect at best. Both the Big Ten and ACC have 3-3 records this postseason entering the Orange Bowl. Consider this game the tiebreaker. It's been one of the most difficult games of the season to predict, but I think Georgia Tech's offense will come through as it has all season, the ACC will finish with a much-needed winning bowl record and the Big Ten will fall to 3-4 in the postseason. Besides, the Big Ten only has three teams with winning bowl percentages (granted, Iowa is one of them), so why should this year be any different?
Adam Rittenberg:
You're right about the records, HD, but I'd like to challenge the ACC or any other league to go through the Big Ten's bowl lineup. No other lineup comes close in terms of difficulty with matchups and locations. I doubt the ACC would enjoy facing USC in its backyard every Jan. 1, especially after stumbling in all those Orange Bowls. I definitely agree with you about picking this game. It ain't easy (more on that later). Let's talk more about the game's premier matchup, Georgia Tech's triple option offense vs. Iowa's fundamentally sound defense. The Hawkeyes are very solid in all three phases of their defense, especially the front seven with Adrian Clayborn, Broderick Binns, Pat Angerer and others. Veteran defensive coordinator Norm Parker has had about a month to prepare for the triple option, and it still might not be enough time to stop
Jonathan Dwyer
and
Josh Nesbitt
.
Do you think a team has a major advantage with more time to prepare for Georgia Tech's offense, or are the Yellow Jackets simply too good on that side of the ball?
Dinich:
As Iowa coach Kirk Ferentz said, there is simply no way for Iowa – or any other team for that matter – to simulate what Georgia Tech can do, in terms of the precision, speed and playmakers who will execute it on Tuesday night. Yes, there is some advantage to having more than a week to prepare -- both Clemson and Miami devoted some of their summer camp to getting a head start on that conference game and it paid off (especially for Miami). The key is how long it will take Iowa's defense to get comfortable with it? Norm Parker will have his players as prepared as they can be, and Iowa has the discipline it will take to stop them, but my question is whether or not the Hawkeyes have the offense to keep Georgia Tech off the field. The best defense against the Jackets is for Iowa to sustain its own drives and control the clock. Do the Hawkeyes have the offensive line to make that happen?
Rittenberg:
That's an excellent question, Heather. Iowa's offensive line gets a lot of accolades, and the group boasts two first-team All-Big Ten performers in tackle Bryan Bulaga (Big Ten Offensive Lineman of the Year) and guard Dace Richardson. But most of us who have watched Iowa all season agree that at times, the line has underachieved. It's far from a bad O-line, but Iowa certainly has the potential to stall. According to ESPN's Stats & Information group, Iowa averages just 3.3 yards rushing on first down, which is seventh worst in the country. The Hawkeyes should have backs
Adam Robinson
and
Brandon Wegher
on the field Tuesday night, and Richardson's return from injury will be huge, but they'll need to run the ball decently to set up the play-action passing attack. The line also needs to keep Derrick Morgan away from
Ricky Stanzi
, which won't be easy.
I was struck by something you wrote Monday, about Georgia Tech
not being a catch-up team
. That description fits Iowa, which has rallied in eight of its 10 victories. Iowa has been a pretty average team in the first three quarters, but a great one in the fourth.
Should Georgia Tech grab the early lead, how do you see things playing out?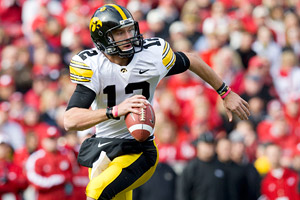 Jeff Hanisch-US PRESSWIREIowa quarterback Ricky Stanzi's Hawkeyes have come from behind in eight of their 10 victories this year.
Dinich:
If Georgia Tech starts fast, it could be a long night for Iowa. On the flip side, though, it could make for one heck of an interesting fourth quarter. We both know Iowa has been one of the most exciting teams in the country to watch in the final minutes, but Georgia Tech has come from behind in seven of its last eight games, including in the ACC championship, when it trailed Clemson 34-33 in the fourth quarter. In fact, they had to come from behind to beat Clemson both times this season. I'll be honest, I have no idea who's going to win this game, but I think how Iowa's defense starts will go a long way in revealing that answer to that. So what's your final prediction on this one, Ritt?
Rittenberg:
Ah, so they are a catch-up team. You trying to trick me, HD? As you know, Georgia Tech has several NFL-ready players and an offense that seems to be working well in other bowl games (Air Force, Navy). But having been around Iowa a lot this season, I can say there's something special about this Hawkeyes team, which just won't go away and continues to find ways to win games. The combination of Parker with a month to prepare and Stanzi's return to the lineup gives Iowa enough confidence to pull out another thriller, in come-from-behind fashion, of course. Iowa wins this one, 28-27. What say you?
Dinich:
Haha yes, always trying to baffle the Big Ten. :) But really, if Iowa is the hot team early, that means they've figured Georgia Tech out, and the Jackets won't be able to overcome that, especially knowing how they've struggled defensively. That being said, I think Paul Johnson controls the clock, Stanzi gives up a gift or two (not five) and GT wins, 28-24. And knowing my picks and the ACC, that adds up to a win for the Hawkeyes.
January, 4, 2010
1/04/10
11:00
AM ET
Here's a quick look at the final Big Ten bowl game, as No. 10 Iowa (10-2) takes on No. 9 Georgia Tech (11-2) on Tuesday night in the FedEx Orange Bowl.


WHO TO WATCH:
Iowa quarterback
Ricky Stanzi
. He hasn't played a meaningful down since Nov. 7, but his presence should provide a major boost for the Hawkeyes' offense. Despite Stanzi's ups and downs, Iowa never lost a game that he finished and mounted several amazing comebacks with No. 12 calling signals. Stanzi needs to avoid star pass-rusher Derrick Morgan, but he faces a Georgia Tech defense that isn't anything special. Iowa certainly needs to run the ball to win this game, but Stanzi also bolsters an effective downfield passing attack with wideouts
Marvin McNutt
and
Derrell Johnson-Koulianos
. The junior must limit turnovers and try to avoid a slow start, which plagued him most of the season.
WHAT TO WATCH:
Iowa defensive coordinator Norm Parker matching wits with Georgia Tech head coach Paul Johnson. These are two coaching veterans who have done things their own way forever and enjoyed excellent success. Parker has been instrumental in Iowa's season, but will have his hands full with Johnson's tricky triple-option offense. This matchup pairs an Iowa defense known for sound fundamentals and cohesion against a Georgia Tech offense that tests those exact principles. Parker will have his defenders prepared for the Yellow Jackets, but Iowa can't let
Jonathan Dwyer
or
Josh Nesbitt
get into the open field.
WHY TO WATCH:
The Big Ten's bowl record stands at 3-3, so Iowa's outcome will go a long way toward shaping national perception about the league. A 2-0 mark in BCS bowls to go along with wins in the Capital One and Champs Sports Bowl would cement a very solid bowl season for the Big Ten. A Hawkeyes loss drops the Big Ten below .500 in bowls for the fifth consecutive season. Iowa also has been the most exciting team to watch in the Big Ten this year, with eight come-from-behind victories and several unforgettable finishes. Stanzi's return to the lineup will be fascinating to watch. He could implode for three picks or lead Iowa to another fourth-quarter comeback. Or both!
PREDICTION:
Iowa has been underestimated all season and undoubtedly will be overlooked again by most of the country. Georgia Tech has the sexy offense and the NFL prospects, but the Hawkeyes are a special team this year. And with a month to prepare for the triple option, Parker's defense will be ready. Iowa falls behind (no surprise) but rallies behind Stanzi in the fourth quarter to beat Georgia Tech, 28-27.
January, 4, 2010
1/04/10
10:15
AM ET
From a macro level, there's very little mystery about the Georgia Tech offense.
The Yellow Jackets run the football 82.5 percent of the time, and have great success in doing so, ranking second nationally in rushing average (307.2 ypg). Iowa knows exactly what's coming from Georgia Tech on Tuesday night in the FedEx Orange Bowl (Fox, 8 p.m. ET), and while figuring out the triple option isn't easy, the Hawkeyes defenders can dig in to stop the run.
"We've going to have to do a really good job with our front four," Iowa head coach Kirk Ferentz told me. "In a lot of games, certain players only have to really focus on one part of the attack, but these guys do a great job of making all 11 guys play at their best. They've got good players who are very well coached. It's going to be a heck of a challenge for our defense."
How has Iowa fared against the run this season? For the most part, very well.
The Hawkeyes rank 30th nationally in rushing defense (122 ypg), allowing only eight touchdowns on the ground and none in the first five games. Iowa's defensive line of Adrian Clayborn, Broderick Binns, Karl Klug and Christian Ballard is quite possibly the most recognizable group on the team.
But there are misperceptions about this Iowa team. One, which I'll explore later in the blog, is that the Hawkeyes run a boring and conservative offense. That's dead wrong.
Another claims that Iowa has a lockdown run defense. It's true in most games but off base in others.
The Hawkeyes were very effective in limiting the run against good teams and good backs like Penn State (
Evan Royster
) and Wisconsin (
John Clay
). But they also allowed 190 rush yards to Iowa State, struggled to stop Michigan's ground game for a stretch in the second half and couldn't keep a one-dimensional Ohio State offense in check on Nov. 14.
Iowa can't expect to totally shut down
Josh Nesbitt
,
Jonathan Dwyer
and the Tech rushing attack Tuesday, but it will need a better showing than the one in Columbus.
Here's a game-by-game breakdown of Iowa's rush defense:
January, 4, 2010
1/04/10
9:00
AM ET
Ricky Stanzi
was a polarizing figure for much of the season, and even within several Iowa games.
Fans loved him in the fourth quarter but loathed him in the first three. Sometimes, Iowa seemed to win in spite of him. Other times, he played an obvious role in securing victory.
But within the locker room and on the field, Stanzi was invaluable to his teammates. And they let us know after the junior quarterback went down with an ankle injury in a Nov. 7 loss to Northwestern.
"There's no doubt that we're a different team when Rick Stanzi's in there," wide receiver
Derrell Johnson-Koulianos
said that day. "We had a gift in Ricky."
Christmas has already passed, but Iowa gets its gift back on the field Tuesday night against Georgia Tech in the FedEx Orange Bowl (Fox, 8 p.m. ET). The Hawkeyes are 9-0 in games Stanzi both starts and finishes at quarterback this season.
And despite a lengthy layoff, his return from the injury should provide a confidence boost for the entire offense.
"A lot of the questions were about this problem he had or that problem he had," head coach Kirk Ferentz said. "All I knew is I looked at his record and it seemed like we were playing pretty well when he was our quarterback. The bottom line is he is a leader of our football team. He was elected a captain by his teammates.
"That's Rick's biggest attribute. He leads our team. And we're counting on that this week."
Stanzi led the most in the fourth quarter, when quarterbacks are supposed to step up. According to ESPN's Stats & Information, Stanzi has completed 66.7 percent of his passes in the fourth quarter, tossing six touchdowns and only one interception. He's also been extremely effective in attacking downfield, averaging 17.6 yards per completion.
Overall, Stanzi completes 56 percent of his passes and averages 14.2 yards per completion. In the first three quarters, he has nine touchdown passes and 13 interceptions.
Iowa outscored its opponents 114-55 in the fourth quarter this season.
"We never as a team want to come in and say, 'Let's just play decent football the first three quarters and if we can get into the fourth, then we can [have success],'" Stanzi said. "We want to come out and start fast. Every team does. We've had some struggles with that this year, me in particular. It's something that really needs to be addressed, and there's really no excuse for it.
"The second focus comes into finishing strong. You want to start fast and finish strong. That gives you your best chance."
Iowa players would agree Stanzi gives them their best chance Tuesday night.
January, 2, 2010
1/02/10
2:47
PM ET
Iowa's last trip to the FedEx Orange Bowl didn't go well.

USC had a lot to do with it, as a squad loaded with NFL talent (Carson Palmer, Justin Fargas) thumped the Hawkeyes 38-17. But Iowa didn't help itself, either. The Hawkeyes were uncharacteristically undisciplined, committing 13 penalties and two turnovers in the loss.

"It was more where we were at as a program, more than anything else," Hawkeyes head coach Kirk Ferentz told me Saturday morning. "The year before, we broke the ice, we went to our first bowl, it was my third year there. And we just got off the track in that month of December in 2002. It wasn't like our plan was that much different, but we were just a little distracted.

"We had had a quote-unquote storybook season. I really liken it a lot to 1981, where we broke the ice of 19 straight losing seasons. We just didn't handle it well. We didn't handle prosperity well. It's not that we were bad, but we just didn't have the focus you need to beat a good team."

Many would call 2009 a storybook season for Iowa, which won its first nine games, eight in come-from-behind fashion, and produced several of the more exciting finishes of the college football season. But that's where the similarities with the 2002 squad end.

Ferentz has taken a different team to Miami to play No. 9 Georgia Tech on Tuesday night in the Orange Bowl (Fox, 8 p.m. ET). It's a group that has tasted success before and handled the ups and downs well throughout the fall.

"We won nine games last year, we were nationally ranked," Ferentz said. "The majority of the guys that are doing the heavy lifting for us this year were in the Outback Bowl, a January game, and we played a very worthy SEC opponent and handled it well. I just think we're in a different place than we were, certainly, in 2002."

Iowa's focus rarely if ever wavered this fall, in large part because the team was constantly underestimated and faced several bouts with adversity. Though individual players earned regional and national recognition, there was no Brad Banks on this team.

And since every Saturday brought a major battle for Iowa, overconfidence simply was not an option.

"I don't think there's anybody on our team that's overly impressed with what we've done this year. We're happy about the season, we're proud of it, but nobody's patting each other on the back. We all realize we've got a very tough game in front of us."