Big Ten:

flipping out review 122413
December, 24, 2013
12/24/13
11:00
AM ET
Editor's note: During Week 12, 10 ESPN.com reporters changed conferences to experience college football in unfamiliar territory. Here is what they learned from the experience.
As you know, we here on the blog circuit changed things up this year and took trips to relatively foreign college football lands. We had Big Ten guys in SEC surroundings. SEC guys in 40-degree, rainy weather. ACC folks hanging out with Bevo!
It was a lot to consume during our exciting flip week of fun, and we couldn't express our emotions in just one post. So we are throwing out superlatives for our trips. I dared to set foot in Madison, Wis., for the Badgers game against Indiana in November. It was rainy and gross, but the fans didn't disappoint and Wisconsin rolled over the Hoosiers 51-3 in a game that was pretty much over after the opening kick.
I stuffed my face and started to adore that Midwestern accent that makes Wisconsin go 'round.
Madtown was a blast. Here are a few things that I took away from my time in Dairy Land:
Best meal:
I love food. I want to taste every single flavor in whatever I'm consuming, and I want a good atmosphere. While I loved the signature "Jake" and delicious Oreo malt at Potbelly on State Street, I have to go with homegrown on this one. The cheese curds and brats were scrumptious at State Street Brats, but the meal that almost put me in a food coma was the scrambler I had at Mickies Dairy Bar (cash only!). It was loaded with potatoes (yanks), peppers, onions, eggs and chicken, and was topped with a mound of cheese. I put some salsa and hot sauce on that bad boy, smushed what I could between two slices of whole wheat bread and went to town!
[+] Enlarge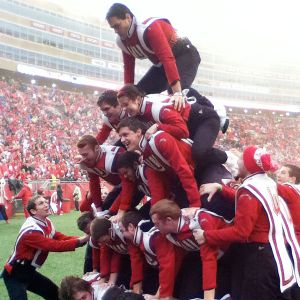 Edward AschoffTheres as much entertainment in the stands as there is on the field during a Wisconsin home game.
Must-see sight in Madison:
There's so much, but I was in awe of how cool the UW Field House looked attached to Camp Randall Stadium. The rustic cathedral is still holding up after opening in 1930, and it really did bring a nostalgic feel to my experience.
Also, check out the "Badger Wagon." It's a souped-up tailgate wagon made from an old utility truck. Thousands of dollars have gone into it, making it this beautiful, metallic party bus. It has a wet bar, there's a push button for four different liquors, an electronic beer tap on the side of the truck that is operated via remote, two grills attached (one for pizza and the other for just about anything), a beautiful TV, an amazing 10-speaker stereo system operated by an iPad and a V-8 engine. You'll find it parked just outside the stadium every Saturday.
Biggest surprise:
The weather was bad so I won't blame UW students too much, but Friday night before the game, I couldn't tell that it was a game-day weekend. Down South, Fridays are sacred nights of celebration. I was expecting a lot of action on State Street, but it was relatively quiet. The students more than made up for it with the most entertaining performance in the stands that I've ever seen at any sort of sporting event. I barely knew the game was going on! That just doesn't happen in the SEC.
Biggest difference from SEC:
The entertainment from the fans, students and band during the game blew my mind. I'm so used to the actual game being the one and only focal point, but inside Camp Randall, everything is the focal point. There's the wave, choreographed dances during songs and action during plays. Students blurted chants at random times and the band struck up tunes while the Badgers played just yards away from them. I didn't know who to focus on.
They said it:
Wisconsin athletic director Barry Alvarez on his first time getting on the team bus with former assistant Dan McCarney on lower University to drive to the stadium before a game with barely any fans around: "You could have shot a cannon through there. There wasn't anybody. I looked at Mac and said, 'We're going to change this.' And we did."
They said it II:
Badgers fan Melissa Lund on comparing tailgates at Wisconsin with the rest of the Big Ten: "Like, Ohio State compared to Wisconsin, they're a football fan first and then they're a tailgater. Where here, it's definitely tailgate and an atmosphere, then it's the football experience.
"Other places it revolves around the football program, which isn't necessarily a bad thing. But at least here, it doesn't matter if you're football, basketball or any other fan, you're definitely a tailgater first and then you're a fan."
If I could go back:
I want to see a big game in Camp Randall. I want to see that place rocking for Ohio State or Michigan. I want to see what kind of show the students can put on when the big boys come to town. I bet it's great.
December, 24, 2013
12/24/13
10:30
AM ET
Editor's note: During Week 12, 10 ESPN.com reporters changed conferences to experience college football in unfamiliar territory. Here is what they learned from the experience.
One of my best friends in Oklahoma City is a Penn State grad who moved to the Sooner State a couple of years ago. Since we met, she's always talked about how special a place Penn State is.
As fate would have it, my Flip Week assignment happened to be State College, Pa., which gave me the chance to inspect firsthand whether she's been telling the truth.
Turned out, she was.
My visit to Penn State exceeded even the expectation she set for me. The food was great. The people were even better. And the experience was a memorable one.
Below is an overview of my trip to a place I hope to return to someday soon:
(Me eating a Penn State mooseburger)
My first moose burger #campusconnection #flipweek #pennstate pic.twitter.com/3Am5pIrxca

— Jake Trotter (@Jake_Trotter) November 16, 2013
Best meal:
Does this have to be an actual meal? The best thing I ate in State College was a grilled sticky from Ye Olde College Diner. The grilled stickies are akin to cinnamon rolls, only more delicious. ESPN.com Penn State reporter Josh Moyer gave me the sage advice of ordering it a la mode (with ice cream). Add in a cup of black coffee, and it was tremendous. So tremendous I ordered a to-go box to take to the tailgate I had been invited to the next day. And I learned, there's no better way to win over a group of Penn State strangers than a box of grilled stickies from Ye Olde College Diner.
Must-see sight in State College:
The heartbeat of the Penn State football experience is the tailgate. Before every game, tens of thousands descend to the parking lots and fields outside Beaver Stadium for pregame camaraderie. As several tailgaters explained to me, the Penn State tailgate is a way for family and friends who might not live close to one another to reconnect, which is difficult to do during the actual game. The tailgating doesn't end when the final whistle blows, either. Floodlights outside the stadium are kept on hours after the game, so the tailgates -- and the reunions -- can carry on into the night.
Biggest surprise:
Despite everything that has happened the last couple of years, the school spirit at Penn State couldn't be stronger. Students camped out for the best seats the night before, even though the opponent was Purdue. Downtown State College was hopping the night before the game. Penn State bumper stickers lined the highway all the way back to the airport I flew into (Pittsburgh). I couldn't detect any malaise on campus, and thanks in large part to coach Bill O'Brien, there is an infusing optimism that Penn State will be back on top before long. That's saying a lot, considering the program was on the brink of decimation just a year ago.
Biggest difference from Big 12:
The fans in the Big 12 are great. The student sections are great, too. But I'm not sure any students in the Big 12 would camp out in 30-degree weather the night before to get tickets for a game featuring an opponent the caliber of Purdue. In fact, I've seen many student sections in the Big 12 with empty seats under similar circumstances. Not only was the student section at Penn State overflowing, but it was boisterous the entire day. I'm not sure I've seen a student section live or die on every single play in a game that was never really in doubt.
They said it:
"In this state, the one thing you have to do before you die is go to a Penn State tailgate." – Penn State fan Luigi Puglia
If I could go back:
I would take in more of the State College nightlife and the Penn State campus. Because I was on official assignment, I avoided State College staples such as Otto's Pub and Brewery and the American Ale House & Grill, but both came highly recommended. Because my itinerary was crammed, I didn't have a chance to just walk around the Penn State campus and go through buildings like the Hub, either. Apparently, there's a mule skeleton on display there.
December, 24, 2013
12/24/13
9:30
AM ET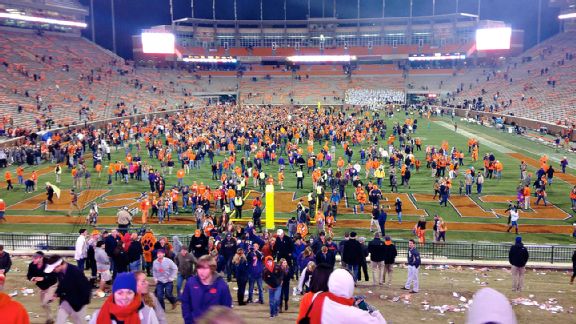 Brian Bennett/ESPNClemson fans take the field at Memorial Stadium after the Tigers' win over Georgia Tech on Nov. 14.
Editor's note: During Week 12, 10 ESPN.com reporters changed conferences to experience college football in unfamiliar territory. Here is what they learned from the experience.
I had a choice to make when the Georgia Tech-Clemson game ended.
Once the crowd cleared out, I made my way up to the top of "The Hill," the famous incline where the Tigers enter before games. I wanted to get an up-close view of Howard's Rock and see the field from that vantage point.
Then it was decision time. Should I run down the Hill, as Clemson players and coaches do, and risk making a fool of myself by tripping? That sucker's pretty steep, and it undulates. Plus, my out-of-shape sportswriter quads were already burning from traversing the hilly terrain around Memorial Stadium for several hours while visiting tailgaters. When you're in a place called Death Valley that's situated below a cemetery, it doesn't take much to get you contemplating your own mortality.
But I'd also heard so many people in the previous two days talk about how special that entrance was, how much the rock and the running down the hill meant to them. How students like freshmen Austin Stevenson and Connor Sweeney camped out for a full week just to sit on the hill for the Florida State game. How, as fan Ricky Thompson told me, "It brings you chills every time they do it." I had witnessed just how special that tradition was a few hours earlier.
So in the end, there was really no choice at all. How many times would I get a chance like this? So I rubbed the rock for good luck, and I ran, quite unathletically, down that hill.
There were no spills. Just thrills.
Here are some other highlights of my "flip week" experience at Clemson:
[+] Enlarge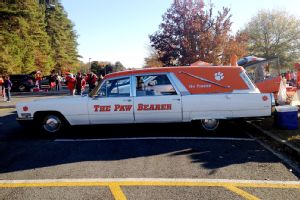 Brian Bennett/ESPN.comA Clemson fan has a unique way of showing his devotion to the Tigers with a "Paw Bearer" vehicle.
Best meal:
Sorry, Midwesterners, but it's true: Barbecue just tastes better in the South. So I wasn't going to miss a chance to hit The Smokin' Pig in Pendleton on game day. It's open only Thursday through Saturday, so I got there just after the doors opened at 11 a.m. Good thing, too, because the line was out the door by 11:15 a.m. I asked my waitress whether it was so crowded because of the Clemson game. She replied, "Honey, it's like this every day." As I inhaled my chopped pork plate and tested out the homemade sauces, I easily could understand why.
Must-see sight in Clemson:
They call the Tigers' entrance to the field "the most exciting 25 seconds in college football." It actually lasts a bit longer than that, as the video board shows the team arriving via bus from its locker room on the other side of the stadium and the crowd starts to go nuts. Thanks to Clemson giving me a photo vest, I got to stand at the bottom of the hill as the team touched Howard's Rock and ran down right past me, to eardrum-splitting noise. It was every bit as cool as advertised.
Biggest surprise:
How incredibly friendly and outgoing everyone at Clemson was. I thought there might be some insecurity over the whole "Clemsoning" thing, but Tigers fans simply love their team and their school and are happy to share it with outsiders.
Biggest difference from the Big Ten:
Clemson has a definite out-of-the way, small-town, close-knit atmosphere that you don't get in many Big Ten towns, except for maybe State College, Pa. Midseason Thursday night football also provided a much different environment than the Big Ten, which cherishes its Saturday afternoons. Clemson canceled classes on Thursday to accommodate the game, and I can't imagine many -- if any -- Big Ten schools going for that. On the field, the biggest difference was the Tigers' speed and athleticism at receiver, with
Sammy Watkins
and
Martavis Bryant
. Most Big Teams are lucky to have one guy like that at wideout. Nobody has two.
They said it:
"You can bring some people here who've never been before, and it will turn them all the way around." -- Clemson fan Kevin Nettles.
If I could go back:
I'd go for a Saturday game. The Thursday game was unique, but because so many Clemson fans travel long distances to games, Memorial Stadium was not close to full. That's wildly unusual for some of the most loyal fans in the country. There was basically no game-day eve atmosphere on Wednesday night, and I was told that tailgating was much sparser than normal on Thursday afternoon. On the plus side, you actually could move around inside the ESSO Club and find places to eat without waiting. But someday, I'd like to enjoy the full Clemson game-weekend experience.
December, 24, 2013
12/24/13
9:00
AM ET
Editor's note: During Week 12, 10 ESPN.com reporters changed conferences to experience college football in unfamiliar territory. Here is what they learned from the experience.
The damn eagle nearly went to war on my face.
We stood near midfield at an empty Jordan-Hare Stadium (for Big Ten folks, it's pronounced Jerdan-Hare) on a beautiful Friday afternoon, as Nova, better known as War Eagle VII, went through his daily practice in preparation for Saturday's flight before the Georgia game. Nova's handlers from the Southeastern Raptor Center had just finished explaining how the 13-year-old golden eagle with a six-foot wingspan is a natural predator who targets a leather pouch called a lure on his flight from the upper reaches of the stadium. Solely interested in food rewards, Nova knows that when he lands on the lure, lunch is coming.
"We have to make sure other live mascots are off the field, because they will attack," Marianne Hudson, assistant director of raptor training and education, told me before Nova's first flight. "That includes Uga."
[+] Enlarge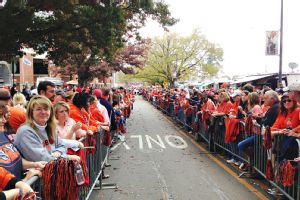 Adam Rittenberg/ESPNAuburn fans wait to welcome the Tigers to Jordan-Hare Stadium during their famed Tiger Walk.
OK, so Georgia's bulldog can't be on the field. But portly sports writers are safe, right? Not when they stand right behind the landing zone.
After watching Nova's first flight from a distance, I tried to get a better video of the second attempt and positioned myself behind handler Andrew Hopkins, who held the lure. But Nova doesn't land softly. It's more "splash and dash," as Hudson said, and as Nova approached, I quickly realized I was in trouble and went into a pathetic backpedal (Darrelle Revis, your job is safe). I'll never live down the video.
Flipping out during eagle practice was merely part of an unforgettable Flip Week experience at Auburn. My fellow ESPN.com colleagues and I traveled to a vastly different part of the country for a football weekend to see how others appreciate the game. I cover the Big Ten on a regular basis and have spent most of my life in the north and west. I was definitely a foreigner in SEC territory.
I got the best draw of the bunch, heading to Auburn for the Georgia game, the start of Auburn's incredible run to the VIZIO BCS National Championship. But the
Prayer at Jordan-Hare
was only part of an amazing weekend on The Plains.
Some highlights:
Best meal:
Blackened catfish with slaw, hushpuppies and sweet tea at Good Ol' Boys in Auburn. I wish I had stuck around long enough to eat some of the brisket or ribs Ryan Molt was cooking in a massive propane grill at the Stoll Family Tailgate in the northwest corner of the hayfields. Best drink definitely is a large lemonade from Toomer's Drugs.
[+] Enlarge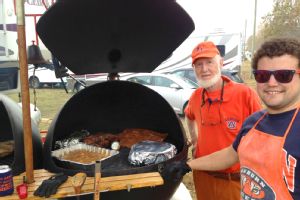 Courtesy Adam RittenbergAuburn fans take their tailgating seriously.
Must-see sight in Auburn:
The Tiger Walk. The rolling of Toomer's Corner is more famous and pretty special, too, but the Tiger Walk is more visually impressive, as thousands upon thousands line Donahue Drive to welcome the team into the stadium. A true spectacle.
Biggest surprise:
How civil the rolling of Toomer's Corner turned out to be. I had seen video of previous rolls and it looked pretty wild. After an incredible win and a long day of libations, I figured things would be pretty rowdy at the corner of College Street and Magnolia Avenue. But the gathering never got out of hand, as the crowd parted for a passing ambulance and allowed children and their families to be part of the celebration.
Biggest difference from the Big Ten:
Aside from the comfortable temperatures in mid-November, Auburn had a bigger and more organized tailgating scene than any I've seen in the Big Ten (Penn State comes the closest). From the hoity-toity corporate crowd near the stadium to the regular folks on the perimeter to the hayfields, where tailgates look more like villages, Auburn fans truly go all out. And the football weekends there really start on Thursday, not just Saturday. But my biggest suggestion for the Big Ten is more live animal mascots.
They said it:
"We've got football problems." -- Will Traylor, Auburn fan and alum, and co-owner of the Tiger Prowler, a 1988 school bus painted orange and blue and parked in the hayfields for each AU game.
If I could go back:
I'd sample some more cuisine around Auburn (Amsterdam Cafe, Hamilton's on Magnolia, Momma Goldberg's, Niffer's Place, Cheeburger Cheeburger) and spend more time in the hay fields with the RV crowd. Maybe I'll go for Thanksgiving dinner in 2015 before the next Iron Bowl at Jordan-Hare. I know they'll be there.