Big Ten:

football recruiting
February, 7, 2014
Feb 7
10:00
AM ET
Nebraska signed a
class of 24 prospects
on Wednesday that ranked 39th nationally and sixth in the Big Ten. We caught up with coach Bo Pelini on Thursday to discuss his thoughts on the group and a few issues related to recruiting:
Was there a group of positions that you considered most important to bolster with this class?
BP:
Probably where we needed some depth and we needed some numbers were offensive line and wide receiver. I feel good about the kids we got at those sports, starting with the four offensive linemen -- depending on exactly what happens with
(Mick) Stoltenberg
. I think he can do a number of different things for us. At wide receiver, we lost (Tre'vell) Dixon a year ago, and we just wanted to make sure our numbers were right there.
[+] Enlarge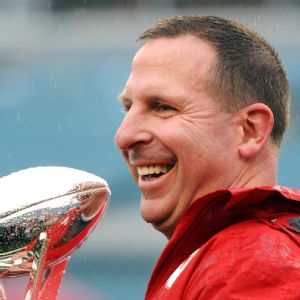 Melina Vastola/USA TODAY SportsBo Pelini believes this recruiting class addressed some depth issues.
What kind of momentum were you able to build from the Nebraska high school prospects, Stoltenberg, D.J. Foster and Luke Gifford, who committed early in the process?
BP:
They're quality kids. They're good football players, guys who we think are going to be very good for our program. Having been here and having a relationship with the guys, I thought they did a really good job of helping us in the recruiting class. Some of the other early guys like
(Demornay) Pierson-El
and
Peyton Newell
, were out on the social media, helping us recruit -- things that they weren't necessarily asked to do, but things that they just did on their own because they know it was important.
Zack Darlington
could be thrown in that group.
Is it a reflection on your staff's strengths in recruiting that you signed four players from Texas, nine from the Southeast but none from California, traditionally an important area for Nebraska?
BP:
It's different recruiting in California. They go about it a lot slower. Kids don't make as many early decisions. I think we'll still have a presence out there. How much, I don't know. When you look at the numbers, you wonder if the move into the Big Ten out of the Big 12 changes the perception a little bit of Nebraska. But we're going to continue to evaluate that.
You signed two junior-college defenders and were involved with several others at the juco level. How, in six years at Nebraska, have your feelings changed about the importance of recruiting the junior colleges?
BP:
Nothing's really changed as far as my philosophy. For us, there's been a pretty specific purpose behind recruiting a junior-college kid -- maybe to fill a spot in a class, or your lose somebody and you want a more mature, older kid to give you more balance on your roster. We're very selective on who we go after. That won't change. We're not going to be, any time soon, recruiting wholesale through the junior colleges. That's just not my philosophy. I'd rather develop them. I'd rather have four-, five-year kids than two-, three-year kids.
You added a coach last month with ties in Georgia. What have you seen already that Charlton Warren can add to your lineup of recruiters?
BP:
He has some ties. He has some built-up relationships, because he's been in there a lot. We're just going to have to play it by ear a little bit to see exactly how that works out, how that changes our reception down in Georgia. There are a lot of kids, just by sheer population, who come out of there. I'm sure he'll help us, but you've just got to constantly look at different areas and places where you have relationships.
Like just about every school, you were involved with recruits who flipped commitments, to and from Nebraska. How do you feel about the prevalence of flipping and does it affect the way you have go about recruiting?
BP:
Yeah. No. 1, you've got to recruit them and then recruit them again. With some kids, let's face it, a commitment doesn't mean much. You know until they sign on the dotted line that you're going to have to fight tooth and nail for them, regardless of what that guy has come out said publicly. There's all kinds of commitment types. It's crazy. There's something that could be done with the rules to help with that problem. Maybe an early signing date; maybe not having any signing date. When a kid commits, if he's ready, let's sign them up. I think there would be a lot of merit to that. I think it would solve a lot of issues on both sides, with coaches and players. Whether that ever happens, I don't know. As long as the rules are what they are, we'll have to continue to look for better ways to operate within them.
You generated a lot of laughs with cat tweets. But in all seriousness, how much do you recognize the importance of being a head coach, as you deal with kids in recruiting, who is somewhat in touch with social media?
BP:
Well, I think it's a reality. That's part of the deal. These kids are into it. They're aware of it, so you can't ignore that. We use it. We'll continue to use it as I get better at it. Social media is a big part of everything, so you can't just ignore it. You better embrace it and get on board.
So did you actually wrestle Tanner Farmer?
BP:
No, I didn't, but I offered to. He thought he'd break my back.
February, 5, 2014
Feb 5
6:57
AM ET
By
RecruitingNation
| ESPN.com
Signing day is here
, and RecruitingNation will have you covered with commitment news to what it means to your favorite team.
Can't get near a TV? Check out our
signing day special
on WatchESPN from 8 a.m.-7 p.m. ET And we'll have three online shows on ESPN3 at
10 a.m.
,
2 p.m.
and
6 p.m.
Here's a
full list of announcements
.
Here's how the
class rankings
stack up heading into the day. Check back regularly, as these will be updated each hour.
Where will the nation's top uncommitted players go? Go the the
Hot Board

for our experts' predictions.
And if you're stuck in the office but want to follow along, join our signing day chat, which will run from 8 a.m.-7 p.m. ET. We'll have our team of experts checking in throughout the day you keep you updated breaking news.
November, 27, 2011
11/27/11
8:36
PM ET
Critics questioned Ron Zook's coaching ability plenty throughout his tenure at Illinois,
which ended Sunday
, but few could knock his recruiting ability.
[+] Enlarge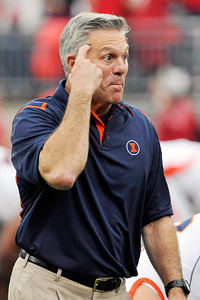 Jason Miller/US PresswireIn spite of Illinois' inconsistency on the field, Ron Zook had success on the recruiting trail.
Even while the Illini were sliding the past few months, Zook was still making ground on the recruiting trail. He landed one highly-touted recruit as late as Thursday and received three commitments on one day just two weeks ago.
"He's always been able to get top guys to commit," ESPN Midwest recruiting coordinator Jared Shanker said.
Zook's 2012 recruiting class was shaping up to be another solid one. With his firing on Sunday, there will be questions whether everyone, especially his Florida recruits, will stay loyal to their commitments.
Florida has been a hot spot for Zook since he took over at Illinois in 2005. He's had at least one Florida recruit in every class and had a total 21 Florida recruits from 2008-2011.
His 2012 class again included Florida players. Five Florida players are currently committed to the Illini. His two highest-ranked recruits -- linebackers
Keith Brown
and
Tajarvis Fuller
-- are from the Sunshine State, and running back
Dami Ayoola
, who is from Fort Lauderdale, Fla., committed to the Illini on Thursday.
Brown, the class's top-ranked player, declined to comment on Sunday.
"I think definitely the guys from the South are the ones who you'll see most likely de-commit or at least look at other options," Shanker said. "Zook was the reason the Southeast guys, especially Florida, were looking at Illinois. With him no longer around, there's no connection to Florida."
Illinois has a better shot at retaining its Midwest recruits. Six of the Illini's 14 commitments are from that region.
Zook secured three in-state commitments -- Lincoln-Way East wide receiver
Jason Robertson
, Mount Carmel defensive tackle
Vontrell Williams
and Bolingbrook offensive lineman Robbie Bain.
Fresh off a state championship victory in Champaign on Saturday night, Bolingbrook coach John Ivlow believed Zook's departure wouldn't affect Bain's commitment.
"Robbie wants to play in the Big Ten," Ivlow said. "As long as the new regime honors his scholarship, he's there 100 percent. You don't fall in love with the coaches. That's the first mistake in recruiting. There's a good chance they won't be there in 4-5 years anyway."
Class of 2012 recruit
Ryan Frain
, a kicker from Indianapolis, also said Sunday he was firm in his commitment to the Illini.
"It was pretty disappointing," Frain said of Zook's firing. "It doesn't affect my commitment. I'm just as committed as I was yesterday. I don't think anyone, especially myself, picked Illinois just because of coach Zook. I thought he was a great guy.
"The people who are committed I think will stay committed. I hope that's the truth. I hope nobody backs out."