January, 17, 2012
1/17/12
6:00
PM ET
Bring it.
Nicholas from West Des Moines, Iowa, writes:
can we PLEASE get a replacement announced for norm parker already?! ... and why is everyone so concerned with derby leaving? we seem fine at the QB position, shouldn't we be worrying about getting a RB and filling in the gaps left on defense?
Adam Rittenberg:
Nicholas, I definitely hear ya on the Norm Parker replacement. Iowa's
job posting
for an assistant coach expires Jan. 26, so hopefully we'll get an announcement by then. Regarding
A.J. Derby
's departure, I think the reaction stems more from Iowa losing several players in recent weeks, most notably star running back Marcus Coker. Also, Derby arrived with a ton of hype and immediately became a fan favorite. Fans hate to see highly touted recruits not pan out or transfer, and some see Derby's departure as a sign of a systematic problem at Iowa. But on the whole, I agree that replacing Coker and bolstering the defense, especially the line, are bigger issues for the Hawkeyes right now.
---
Ed from Rochester Hills, Mich., writes:
So the Basketball coach at Iowa throws a chair and Commishioner Delaney's response is "The conference did not ask for, nor did the conference expect, an apology from the coach. The conference is primarily focused on future conduct, not statements of apology." Pat Narduzzi makes a comment about 60 minutes of unnecessary roughness and MSU Athletic Director Mark Hollis is required to admonish the MSU coach by the commish.I am detecting a double standard by Delaney.
Adam Rittenberg:
Ed, while you make an interesting point, there are some differences with the Narduzzi situation. For starters, it was a quote to media members rather than an outburst during a game. Also, some interpreted the quote as being directed toward an opponent, Michigan. McCaffery's chair-throwing was done in front of his own team after an argument with officials. The Hawkeyes' opponent, Michigan State, had nothing to do with it. While we can debate whether Narduzzi's comment was taken out of context, you are usually going to see a stronger response from the league to something someone says or does that's directed toward an opponent. You saw similar responses to player unsportslike conduct violations directed toward opponents.
---
Samuel from Iowa City, Iowa, writes:
Adam, to answer your question about coaches, I prefer my coaches have some positive character rather than bad character or zero character. Iowa's Fran McCaffery has not crossed a line in my opinion. Slamming a chair is one thing. Bob Knight style kicking, choking, head butting and throwing chairs onto the court is something different altogether.
Adam Rittenberg:
Samuel, thanks for your response. I agree that it's fine for coaches to show some emotion on the sideline. It's an emotional game, and coaches can sometimes light fires under their teams but showing some fire themselves. I don't have a major issue with what McCaffery did. He didn't direct any of it toward Iowa's opponent. But it's something you don't want to see every game or every few games.
---
Jeff from West Chester, Ohio, writes:
Should Purdue fans be concerned that Danny Hope hasn't hired replacements for Emanuel and Elmassian? Signing day is approaching and I fear defensive recruits from the surprisingly good class may waver.
Adam Rittenberg:
Jeff, it has been extremely quiet on the Purdue coaching front. The team hasn't officially announced the departures of Gary Emanuel and Phil Elmassian, although neither are listed on the
official roster
. Although most of Purdue's 2012 class plays offense, recruits always want to know which direction the team is headed on both sides of the ball. Although Purdue didn't have a great year on defense in 2011, Emanuel's ouster is a bit surprising. Danny Hope has a former defensive coordinator, Donn Landholm, still on staff, but he'll be looking to replace two veteran assistants.
---
Elliot from East Richfield, Minn., writes:
With Troy Stoudermire being granted another year for the Minnesota Gophers, the Gophers seem to have their cornerbacks pretty set with Stoudermire and
Brock Vereen
, among others. However, both safety positions are unsettled.Who do you see emerging at safety for the Gophers?
James Manuel
and maybe
Michael Carter
? Maybe some newcomers will get a chance to play?
Adam Rittenberg:
Elliot, I really think Minnesota will enter spring practice with most of its starting spots open on defense. We heard some good things about Manuel in 2010, when he started three games, but he played strictly as a reserve in 2011, recording 11 tackles in 12 games. Carter was one of Minnesota's top recruits under former coach Tim Brewster, but he hasn't really panned out. There certainly will be opportunities for players to step up in the defensive backfield, as the Gophers must replace
Kim Royston
's production at safety. Remember that Minnesota also
signed three junior college defensive backs
. Those guys weren't brought in to sit on the bench.
---
Clayton from Fort Collins, Colo., writes:
Adam -- Thanks for your article regarding coaches sideline demeanor. It would be fun to see you and Brian have a "blog blow-up" once in a while! All jokes aside, I get tired of hearing people rant about Bo Pelini's sideline behavior. As a former college football player, I feel strongly that a passionate coach is not uncommon and actually appreciated by the players. Nebraska fans too soon forget how reserved and soft Bill Calhahan was, almost as though he didn't care enough. Bo had his issue at A&M in 2010, had a very professional apology, and has sense cleaned up his act. Can we put it to bed or are we going to keep talking about this? "cue TV panning to BO getting all red faced and mad on the sideline, chomping his gum"
Adam Rittenberg:
Clayton, thanks for your perspective. It's always interesting to ask how a coach's sideline behavior affects his team. Sometimes it certainly seems to fire up players in the right way. Other times, it seems like a coach who seems out of control leads to a team playing a bit recklessly. While I see your point about Pelini's issue at A&M being in the past, I don't think he'll be able to avoid the cameras on the sideline. No coach really escapes them these days, and TV folks are looking for reactions. I think Bo seemed calmer for the most part this season, although he was none too pleased, for obvious reasons, in the Capital One Bowl loss. While I don't believe a coach has to stomp around and scream at officials to show he cares more, I think players want to see some response from the man leading them.
---
Alan from Evansville, Ind., writes:
Hey Adam, What should IU fans make of all the departures from the IU football team, which appears to be a continuing trend with Wright-Baker and Kiel leaving the team this week? Is this a healthy sign that shows Wilson is making sure he has the kids he wants to work with, or is this a sign that something (or many things) are wrong in Bloomington and with this new coaching staff? Additionally, do you think these departures will have a negative impact on the school's ability to recruit going forward?
Adam Rittenberg:
Alan, these things can go either way. You always have some attrition after a coaching change, even some delayed attrition like we're seeing with Ed Wright-Baker and
Dusty Kiel
. The offensive direction seems pretty clear with
Tre Roberson
returning and Seth Littrell coming as as coordinator, and while Wright-Baker and Kiel would have provided some depth, their playing-time options seemed limited, especially with Cameron Coffman coming in from a juco. You see quarterbacks transfer more than those at other positions because of the playing-time issue. Now is Kevin Wilson a tough guy to play for? He's a brutally honest guy. He doesn't sugarcoat anything. His style might not jive with certain players. But I think once he gets his guys in there, he'll be pretty successful at IU.
January, 17, 2012
1/17/12
1:00
PM ET
Big Ten football coaches are immersed in recruiting these days, but they should pay attention to a
recent incident on the hardwood
.
It involved Iowa men's basketball coach Fran McCaffery and a chair. Some are calling it
the Fran Slam
.
[+] Enlarge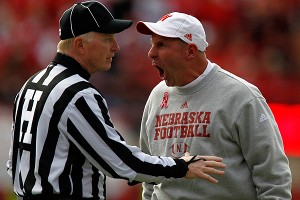 Bruce Thorson/US PresswireOutbursts by coaches, like this one by Nebraska's Bo Pelini, seem likely to draw a stern reaction from Big Ten commissioner Jim Delany in the future.
For those needing more information, McCaffery, incensed at a questionable call and at his team during a drubbing at Michigan State, slammed a chair on the court during a timeout. Not surprisingly, the Fran Slam became a YouTube sensation, and it also appeared on the radar screen of Big Ten commissioner Jim Delany.
Safe to say, Delany wasn't thrilled.
From
USA TODAY
:
Delany didn't name names but told USA TODAY in an e-mail Sunday: "The conference did communicate its concern regarding certain conduct during the Iowa-MSU game to the institution through Iowa's athletic director, the coach's direct supervisor.
"The conference did not ask for, nor did the conference expect, an apology from the coach. The conference is primarily focused on future conduct, not statements of apology. The conference does not expect similar conduct in the future."
That's a very Delany way of saying: cut it out.
Iowa athletic director
Gary Barta chimed in
, saying that while he loves McCaffery's passion and style, "It's important his passion doesn't cross a line that distracts from our greater goals. That's what happened last week."
McCaffery says
he's not going to change
and will continue to show emotion on the sideline. But I have a feeling those chairs are safe for a while.
Football coaches had better take notice, because we're in an age when every gesture is caught on camera and will make its way to the Big Ten office. One too many blowups could lead to repercussions from a league that wants its coaches to be good public representatives.
The Big Ten has some coaches known to get a bit riled up on the sideline. Nebraska's Bo Pelini had some
well-documented issues in a 2010 game at Texas A&M
. Northwestern's Pat Fitzgerald is very animated during games. Although a
gum-throwing Bill Lynch
isn't around any more at Indiana, there aren't too many Tom Landrys in this league.
Will the McCaffery incident change how football coaches conduct themselves during games? Probably not. Should they pay attention to what happened? Absolutely.
Fans seem to be split on this issue. Most want their coach to be passionate and energetic. As a
Chicago Bears
fan, I struggle with Lovie Smith's perpetually stoic sideline demeanor.
But I've also heard from some Nebraska fans irked by Pelini's blowups (imagine if Mike Stoops had ended up in Lincoln, too?).
How do you want your coach to behave on the sideline during games?