October, 4, 2013
10/04/13
2:00
PM ET
Michigan State's
Darqueze Dennard
is one of the top cornerbacks in the Big Ten and an NFL draft prospect. But Dennard learned that life on an island can be rough sometimes in the Spartans' loss to Notre Dame two weeks ago.
Dennard and fellow cornerback
Trae Waynes
were involved in several controversial pass interference and holding calls against Irish receivers in that game at South Bend. Their task now is to find ways to maintain the Spartans' physical style of play without drawing flags as they head into Saturday's game at Iowa.
The senior from Dry Branch, Ga., talked about that and other items with ESPN.com in this week's Friday Q&A:
Brian Bennett: How was the bye week for you guys?
Darqueze Dennard:
We had great practices last week. Me and Trae both, we worked on not being so physical and being smart about the game, and I think we did a great job of that.
[+] Enlarge
Brian Spurlock/USA TODAY SportsMichigan State corner Darqueze Dennard has anchored one of the nation's best defenses.
BB: Were you trying to correct mistakes or more figuring out what you can get away with as a cornerback these days?
DD:
A little bit of both, you could say. We made a special emphasis on not being so physical downfield and learning what you can get away with. Asking referees what they call pass interference, what they call holding. And just being smarter about playing the ball downfield. I think we did a good job all week, and we hope to show it in the game Saturday.
BB: Physical play at the cornerback spot is a big part of the Michigan State defensive plan. So how do you balance not losing that aggressiveness with trying to avoid penalties?
DD:
I say you've got to be smart about it. You've got to know the refs you're playing with, are they going to call the ticky-tack fouls or are they going to let you and the receiver go down and fight for the ball? I think you've got to feel out the game and play the game like that. It's kind of hard to balance both, but I feel like Trae and I can do a great job of that.
BB: Not to criticize any specific calls, but do you think offensive players are getting too much benefit of the doubt on those 50-50 type balls?
DD:
(Laughs). Yeah, I feel like they are. There are a lot of offensive rules to help those guys out these days. But at the end of the day, I feel like we've just got to continue to play the way we play and the way we've been coached to play and continue to do what we do best. If that means being physical, we've got to do that. We've got to also be smarter as well.
BB: What did you do to learn more about what's acceptable down the field? Was it watching film? Talking to officials?
DD:
It's been a little bit of both. Watching old film and asking referees who come to our practice what would they call, what we can get away with, when will offensive pass interference be called. Just getting more knowledge on that stuff is the main thing.
BB: What other cornerbacks around the country or in the NFL do you watch?
DD:
I watch pretty much all the corners around the Big Ten and around the nation. I watched [Ohio State's]
Bradley Roby
the other night. I watched the [Aaron] Colvin kid from Oklahoma. I watched
Jason Verrett
from TCU. A really good friend of mine plays at Baylor,
K.J. Morton
. I talk to him a lot. I also talk to a good friend who plays on the South Carolina defense,
Brison Williams
. I talk to those guys and see what they see, ask what they do. I am also a big fan of [Arizona Cardinals corner] Patrick Peterson. I love the way he plays the game. I try to pick a lot of people's brains and ask questions.
BB: Did you hear from any of those guys after the Notre Dame game?
DD:
I heard from a couple of those guys, and they told me to continue to play like you did, as well as my coaches. They said, "I don't think that was pass interference. Continue to play physical like you do."
BB: What challenges does Iowa's offense present to you this week?
DD:
The challenge I'm looking forward to is stopping their receivers. I feel very confident in our front seven and our safeties doing a great job stopping the run, and I feel like it will come down to me and Trae making plays on the ball when they go after us. I feel like after the running game gets stopped, they will be forced to throw. And when the ball's in the air, we've got to come down with it and make those plays.
BB: Their No. 1 receiver right now is Kevonte Martin-Manley. What are your impressions of him?
DD:
I've watched a lot of film on him, and I've played against him for a couple of years. I think he's gotten a lot better from last year. He looks like he's a little faster, he's doing a great job after the catch and a good job of blocking as well. He's physical, and he's big and strong. He's having a great year. We've got to stop him this week.
BB: You were an all-state receiver in high school. Ever lobby the coaches to put you on that side of the ball?
DD:
Nah. Yeah, I was a pretty good receiver in high school. But that was high school. We have a lot of great receivers here. I go against these guys every day. They work hard and play even harder. They're doing a great job these past few weeks of really dedicating themselves to their craft and focusing on improving their game. So they don't need me on that side of the ball.
BB: Are you related to [former Nebraska and current New England Patriots CB] Alfonzo Dennard, and if so how?
DD:
Yeah, that's my cousin. Like my third cousin.
Are you close?
DD:
Yeah, we talk pretty much like every week. We'll shoot each other a text, saying "good luck," "ball out," or whatever. We pretty much catch up that way. He's also really good at telling me to keep playing well and telling me things I should do.
BB: You both pronounce your last names differently [it's Alfonzo DENN-erd and Darqueze de-NARD). You told me this at media day, but how did that come about?
DD:
[Laughs]. It's actually kind of crazy. But I guess my mom got mad at my dad or whatever when I was young. So I came home one day and she said, 'Say de-NARD now, not DENN-erd. So it was just like that.
BB: Did having a last name pronounced de-NARD ever come up when you played Denard Robinson?
DD:
[Laughs]. Nah. It didn't at all.
BB: Finally, in each of the last two years you grabbed three interceptions. You haven't gotten one this year, though you've been close. How anxious are you to get that first one?
DD:
I've been so anxious. I can't even explain how anxious I am. It's really crazy, because I've had a few in my hands. But I get so excited that I pretty much don't look it all the way in. These past couple weeks, during the first few periods of practice and after practice, I've not been wearing gloves, like I used to do in high school. I'm pretty much getting back to my roots, looking it all the way in and focusing in on the ball. I've been working on my hands, and I feel very confident that I am where I was last year. I'm planning on more than three this year, if the Lord blesses me with the chance. I've been working on it, so I'm planning on no more drops.
October, 12, 2012
10/12/12
3:00
PM ET
Minnesota junior
A.J. Barker
ranks fifth in the Big Ten in receiving yards per game, with 19 catches for 357 yards and four scores. If you saw that kind of success coming for Barker this year, you must be a psychic. He was a little known commodity coming into the season, having played in only six games and boasting one career catch before 2012. And he's a walk-on.
I recently caught up with the St. Paul, Minn., native to find out his story for this week's Friday Q&A:
How have things been going up there with the bye week last week?
A.J. Barker:
It was good. We've gotten a lot of fresh legs under us, gotten healed up and are ready to go.
[+] Enlarge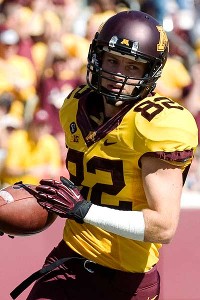 Marilyn Indahl/US PresswireA.J. Barker has made a name for himself at Minnesota this season, racking up more than 300 yards receiving and four TDs.
How quickly were you able to bounce back from the loss to Iowa before the bye?
AB:
It was tough. You never want to lose any game but we've got a really good, consistent coaching staff, and they got us refocused really quickly and the guys just bought into that. We had a great week of practice last week and a great week of practice this week, so I think we bounced back real well.
Let's talk about your background. Did you grow up a Gophers fan?
AB:
Yep. With it being the only D-I school in Minnesota, it's kind of tough not to.
What kind of recruiting interest did you draw out of high school?
AB:
I had some lower Division I schools, some FCS schools, that showed some interest. But I made it pretty clear early on that I was going to try and walk on in the Big Ten, and when I got that opportunity I wasn't going to miss it.
So did you have any actual scholarship offers from FBS schools?
AB:
It's hard to say whether any would have offered me or not. I was pretty honest in the process and told them, "Hey, I'm going to come to Minnesota." And once I got into school that's what I did. Around my junior year, I was thinking about whether I wanted to try to play basketball or football in college. I thought I could be a great football player, and I wanted to go after it. I wanted to stay home and come to Minnesota. And I was able to execute that plan, which has been awesome.
You redshirted your first year, played a little the next year and then got hurt, right?
AB:
Yeah, last year, my redshirt sophomore season, I tore my hamstring in camp. It set me back. It was a slower recovery than I wanted it to be.
So it's safe to say that you were a little under the radar coming into this season.
AB:
I knew people had no idea who I was. I know this is a little thing, but I remember seeing a poll about Gophers receivers, and there were 12 receivers listed and I wasn't even listed as one of the 12. So I was like, "Huh. All right, well, we've got to prove them wrong."
Jerry Kill said a couple of weeks ago that you play with a chip on your shoulder. Do you agree?
AB:
Oh yeah. I'm a hungry competitor. I feel like I've played that way my whole life. Yeah, I do feel like I play with a chip on my shoulder but I've always really competed with a chip on my shoulder.
How much does being a walk-on and not getting much recognition motivate you?
AB:
It's a big driver. You know, not having anyone in the outside world -- my family and my friends trust me -- but in the outside world, you're really kind of ridiculed. It's kind of like, "Oh, you're a walk-on. Good luck." You just sit there, and you really can't say anything either, because the reality is that most [walk-ons] don't pan out. You just bite your tongue and let it fuel you. Just go to work and chip away. The hardest part is when you're going to work, you don't see those rewards. Even when you're doing good things, you don't get that positive feedback. It's a struggle. But luckily for me, it just kept fueling and fueling me. I got angrier and more aggressive about it and was able to control that aggression through it. So it's paid off.
You went out in the opener and had a 100-yard game against UNLV. How good did it feel to do that?
AB:
It felt real good. It's what I thought I could do. I'm not going to say I never doubted myself. But getting to the point where it was actually happening, it was awesome. It was awesome for me, awesome for my family It just seemed like there was so much time where you were like, "Man, I want to believe it will work out but it doesn't look right." You can't really see the light at the end of the tunnel. Then it comes on quickly like that, because it really comes on fast. I mean, we're flying to UNLV and I don't know if I'm even going to play and all of a sudden, I'm making plays and it's like,"boom." This is what I had hoped for, and now it's here, so now you've got to run with it. It's been a rollercoaster.
How has that changed things for you? Are you recognized a lot more on campus now?
AB:
I get a lot more texts, from tons of people. But I like to be pretty low key when I'm going to class, so I don't get much attention. I prefer it that way.
What parts of your game have improved the last couple of years?
AB:
I just think in terms of processing the game, everything goes hand in hand. You can't just process, and you can't just be fast. So the combination of my game speed, my strength and my processing has all been able to raise. Just getting everything to come up is what's brought me up the most.
There were lots of questions about the offense and the receivers in particular this offseason. How do you think you guys have come along so far this season?
AB:
I think the offense is coming along really well. We're developing and getting a feel for what we can do and what some of our limitations may be, and I feel really confident about what we're going to be doing going forward. There have been some rough patches, but you chip away and right now we're in a very good position going forward with the offense. I think we can do a lot of damage.
MarQueis Gray got hurt and Max Shortell came in at quarterback. Gray might be back this week. What's it going to be like when both guys are healthy?
AB:
It will be interesting to see. It's not a secret that it's been tough for schools in the past to handle two quarterbacks, and that's for the coaches to decide which one plays or whether they both play. I think we as a team need to take that on as a new challenge, as if we have to discover the answer, discover a positive answer. That's going to be a huge sign of our team's maturity. Hopefully, we take that on and run with it.
Finally, has there been much discussion about putting you on scholarship?
AB:
No, it doesn't come up. I've read some things in the newspaper, but other than that, no. I'm just here to go to work.
September, 7, 2012
9/07/12
3:00
PM ET
Many people are projecting Ohio State junior defensive tackle
Johnathan Hankins
to become a first-round pick, and it's easy to see why.
Hankins is an imposing physical presence at 6-foot-3, 322 pounds, and he brings good athleticism to the position. He's a big reason why the Buckeyes have one of the top defensive lines in the country. I recently caught up with the rising star known as "Big Hank" for our Friday Q&A segment:
How do you think the defense played in the opener against Miami (Ohio)?
Jonathan Hankins:
We played pretty well. We kind of executed what we needed to do against a five-wide offense. It was kind of surprising that they went five-wide the whole game. We did as much as we could to keep pressure on the quarterback and keep him frustrated. I felt like we could have gotten a little bit more pressure, but the scheme they played made it kind of hard to get there at times. I think we did the best we could.
What challenges does this week's opponent, UCF, bring?
JH:
This is going to be a good challenge for us. They're one of those teams that does run the ball. They're not shying away from that. They have a good running back and a good offensive line. I feel like this is our type of game, and I'm really excited for this Saturday. We're expecting to see some power and zone reads, and whatever they show us, we just have to adjust and prepare for the next play.
[+] Enlarge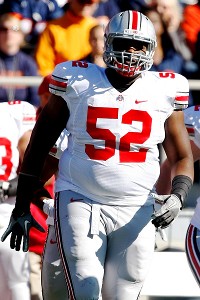 AP Photo/Scott BoehmThe massive Johnathan Hankins is a big reason why Ohio State has one of the nation's best defensive lines.
How did you feel like you prepared for this season, and how would you rate your Week 1 performance?
JH:
I feel like I prepared pretty well. The first game, I felt like I was kind of getting the rust off, but I felt I did pretty good getting some pressure and, when they did run, at stopping the run and holding my ground. I feel like this game [against UCF] will be a good opening for me because they run the ball. And getting after the quarterback, because they're going to run play action and hold the ball a little longer.
As a defensive tackle, do you really like playing against running teams the most?
JH:
Yeah, that's what I love to do, play the running game. And this year, I'm starting to get better as a pass-rusher. It's what I tried to improve upon this offseason, so I'm going to see how that goes with my pass rush. Hopefully, I'll accomplish what I want.
Some of the freshmen defensive linemen, like Noah Spence and Adolphus Washington, made their debuts last week. What do you see out of those young guys?
JH:
I feel like they're very athletic, and right now they're knowing our game plan very well. It's just going out and getting the feel of the game and not being so big-eyed and shy when there's 110,000 people out there watching them. I feel like they'll do well and definitely be a good fit for us this year.
How good was it to see Nathan Williams back in action?
JH:
It was amazing to have him back in there. It's been a year, and just having him back gives me more confidence and relaxation. I know that everybody on the line can do their job, and with him being the playmaker that he is, it gives us even more confidence.
You still have Michael Bennett coming back at some point, too. Just how good and deep can this D-line be?
JH:
I can't really explain how it's going to be. We've got so many guys -- with Nate, Michael, the freshmen -- it's kind of unique to see. Once everybody gets healthy and knows what to do, it's going to be a big edge for us.
Mike Vrabel is coaching the defensive line this year. What has he brought to you guys?
JH:
He definitely brings a lot of energy to our defensive line and always preaches going hard and relentless effort. I feel we're learning more techniques now and more about game formations and things like that. By him playing in the league, we can always relate to everything he has provided.
How many times has he mentioned his Super Bowl rings?
JH:
Every once in a while, when he wants to make a point.
You're from the Detroit area. How did you end up at Ohio State instead of Michigan?
JH:
It's kind of crazy, but Ohio State was one of the first teams that was interested in me. Michigan was one of those schools that was kind of in but not in on me. Once I took my visit here, I felt like the family atmosphere and all the coaches were a good fit for me. And I kind of wanted to be a little far from home but not too far.
Were you a Michigan fan growing up?
JH:
I was pretty much a Michigan fan until I got older, but then I started liking the
Florida Gators
. Michigan and Florida were my top schools.
So you rooted for the Gators when Urban Meyer was there?
JH:
Yeah. I took a visit there and thought about going there. And now that he's coaching here, it's kind of a funny situation. Everyone was thrilled when he got here. I knew when he came in that the offense would be amazing, and from what I've seen so far, I feel like it's pretty good. In the future, I think we'll probably be one of the best teams in the country.
You're a big guy. Did you always play football, and were you always put on the lines?
JH:
My freshman year, I played basketball, but once I realized it took up a lot of time, I stuck to football. This is my love and what I love to do. Actually, when I first got to high school, I played middle linebacker. As I got older and a little bit bigger, they moved me to defensive end and D-tackle and then offensive tackle. I was always a little bigger and athletic.
How much did you weigh when you were a freshman playing linebacker?
JH:
I'd probably say, 250, maybe 265.
So did you just put the weight on gradually?
JH:
Yeah, it was just mom's cooking and playing football. That blew me up.
What's your mom's best dish?
JH:
Lasagna. With her bread.
During the ESPN All-Access stuff, fellow defensive lineman Chris Carter complained about being on a restricted diet. Have you ever had to go through that?
JH:
I always try to eat healthy, but during camp it's kind of hard because there's always food, and they always want you to eat and hydrate. So it's kind of like a war with what you eat, to make sure you're ready for practice but don't eat too much and not be overweight. Once [new Ohio State team nutritionist Sarah Wick] got here, it made it much easier. She has helped me extremely, and I appreciate her.
Finally, your name popped up on a lot of preseason All-America lists and NFL draft talk. What do you make of all that?
JH:
It was good to hear. But I always think the more hard work I do and the more I put on the field, the more good things will happen. I'm just focusing on this year and winning as many games as I can for the seniors and just going out there and paying football. Because that's what I love to do.
November, 4, 2011
11/04/11
10:30
AM ET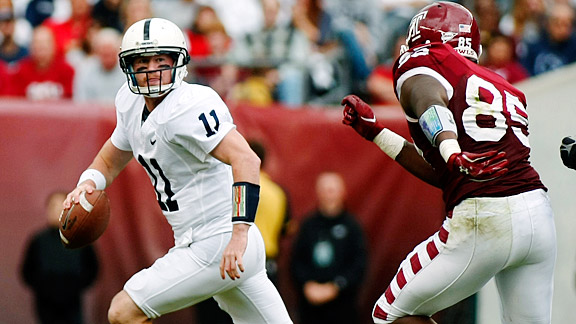 Jeff Conner/Icon SMIMatt McGloin and Penn State are 5-0 in conference play and have a firm hold on the Leaders Division.
Penn State is off this week, but it is merely the calm before the storm for the Nittany Lions. At 8-1 and 5-0 in the Big Ten, they lead the Leaders Division by 2.5 games. But they will have to get through a November schedule that sees them play Nebraska, at Ohio State and at Wisconsin. I caught up with quarterback
Matt McGloin
this week to talk about the season so far, what lies ahead and, of course, the always-interesting quarterback situation in State College:
Let's start by going back to last week. You helped put together a game-winning, 80-yard drive against Illinois on the final possession after the offense hadn't done much all game. What changed on that last drive?
Matt McGloin:
I think something this team has is, we understand that when we need to make a drive or do something, we do it as a team. Right before the half at Northwestern, we put a drive together. Against Iowa, we put a drive together to score. So I think the team realizes that when we need to get things done, we have to get it done. That's something we were stressing Saturday. We were saying, "It's going to happen, it's going to happen. It's only a matter of time." It happened a bit late. Obviously the fans were excited about it, but we want to try to keep out of those situations as we go along, because when you play teams like Nebraska, Ohio State and Wisconsin, you might not be that lucky. You might not be in that close of a games in the end.
As a quarterback in that situation, knowing you have to put a drive together, what do you say to your teammates in the huddle or before you take the field?
MM:
You have to be confident as a quarterback in those situations. You have to tell your guys you're going to get the job done. Every quarterback dreams of that position -- three minutes to go, you need to score. That's pretty much what you dream about doing as a kid, dream about putting that drive together. If you don't want to be in that position, you're playing the wrong game. And as a quarterback, like I said, you have to remain calm and confident. You have to tell your guys you're going to score whether you believe it or not, because it truly does affect how they play.
There's been so much talk about who's starting at quarterback for Penn State. Now that you've started the past two games, do you feel like you're established as the starter, or is it still something that could change every week?
MM:
I hope they do continue to start me, but whether they do or they don't, it won't have an effect on my play or the team's play. They've done a great job of adjusting to who starts week in and week out. Our team is really full of unselfish guys. We've done a great job of putting the team ahead of individual performances, and that's something you really don't see a lot. That's the reason why we've been so successful this year.
October, 28, 2011
10/28/11
10:30
AM ET
Purdue no longer has Ryan Kerrigan, a first-round NFL draft pick this spring, but the Boilermakers have another star in the making on the defensive line. Junior tackle Kawann Short was named the Big Ten's co-defensive player of the week for his two-sack, 3.5 tackle-for-loss performance last week against Illinois. The 6-foot-3, 310-pounder has emerged alongside Devon Still, Jerel Worthy, John Simon and others as a standout interior lineman in this league. I recently caught up with Short on the eve of Purdue's game at Michigan for this week's Friday Q&A:
What has been the key to your success so far this season?
Kawann Short:
Just watching film, doing what the coaches tell me to do. I'm trying to be consistent, to not let up in practice and go hard all the time. And it's showing up in the games on Saturday.
Danny Hope said your improved conditioning has been a big key. How has that helped you this season?
[+] Enlarge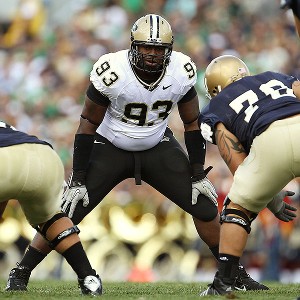 Jonathan Daniel/Getty ImagesKawann Short, Purdue's junior defensive tackle, says the Boilers "must" get to a bowl game this season.
KS:
It's been a dramatic change from my freshman year to now. My weight has fluctuated, but it's also about being muscular and just pushing myself, really. As a young guy, you're really not always pushing yourself as hard as you could. As an older guy, I want to set an example for the younger guys.
How many more snaps can you play now with your better conditioning?
KS:
I can play a whole game. At Penn State, I played the whole game, and at the end of the day, it wasn't bad. Last year, I could probably play no more than like 50 or 60 snaps. On Saturday [against Illinois], I played like 70 or 80, and I felt pretty good about it.
Are you seeing a lot more double teams now?
KS:
Yeah. People told me it was going to happen. Teams see you getting better, and they start focusing on you more. I don't even acknowledge it, just because I've been in that position before. Now it's time for the younger guys to step up and beat the one-on-ones.
What did you learn in playing next to Ryan Kerrigan?
KS:
Just as far as his intensity and energy and his drive. I've never seen that man take a play off or even mess up in a game. I'm trying to be like him now, where in meetings you never hear my name except when they say, "Good job here" or "Good job there." Playing next to Ryan gave me that energy, knowing that you've got to go every time you put your hand down in the grass and don't even think about tiredness. That's the biggest thing I learned from him.
Did you feel responsibility to become more of a leader after he left?
KS:
Well, Gerald Gooden is the leader and a captain. But we're the two older guys on the line, so we have to set an example. He's doing it for the defensive ends, and I'm doing it for the tackles.
What was it like Saturday when you guys beat a ranked team for the first time since 2009?
KS:
It felt great after the win. Holding them scoreless until the fourth quarter was a blessing, and it was great to see the whole team coming together like that. Now we know we're capable of doing it. Every Saturday, any team can be beat and you just have to be ready to play and bring it. We're going to try to do that the rest of these Saturdays in the conference.
You need two more wins, but do you feel like you guys can get to a bowl game for the first time since 2007?
KS:
Most definitely. It's a must. We've got to. We've been out too long, and everybody is just hungry. We've been going home for Christmas and watching other teams and players and knowing we could be playing. We're trying not to go home this year.
Would not making a bowl be a disappointment now?
KS:
Yeah, just because now we're a whole lot better team. Everybody's mindset is definitely different and we're working hard. That would hurt us. It would be a sharp pain in our stomachs just to know we could have been bowl eligible but we didn't do it.
What are the challenges for a defensive lineman when facing Denard Robinson this weekend?
KS:
Just his quickness. You have to stay true to your assignments, because if you have any little mess-up, he can take off. He's a very good quarterback and runner. As far as the D-line, we've got to stay in our gaps. We've got to keep control and keep contain. If we do that, we should be in good shape.
You have four blocked kicks in your career. What's the secret to that?
KS:
To be honest, I'm not doing it by myself. The guy next me helps me to get the push. All I'm doing is throwing my arms up and jumping a little bit. Ryan Kerrigan helped me do it a couple times. Bruce Gaston, Ryan Isaac and
Brandon Taylor
, all those guys helped me get one. I can't take all the credit, knowing those guys were with me all the time. All you need is that good push and to throw your hands up.
Is it true you didn't play football until eighth grade?
KS:
Yeah. A lot of people were in my head telling me to go play. When I went to high school I wasn't even going to play, but one of the coaches told me to try out. I just stuck with it because it was something I was good at. I was more of a basketball player, but when I learned I could do both, I stuck with it.
And you won an Indiana state title in basketball with former Purdue star E'Twaun Moore as your high school teammate?
KS:
It was in 2007, his senior year and my junior year. That was a great year, because it was also the year I committed to Purdue.
What position did you play?
KS:
I played center. We had a 6-11 guy, but he played the 4 and the 3. I was going up against guys who were like 6-6, 6-7, but I was handling it pretty well. My big body kept me going.
You must have been a pretty good rebounder.
KS:
Yeah, that was where all my points came off of. I was a double-double guy.
When did you know football was your future?
KS:
Probably my sophomore year. I was just playing basketball because I really enjoyed myself and I couldn't see myself not playing. It helped me stay in condition and helped me get my footwork and coordination right. So it was definitely a plus.
October, 14, 2011
10/14/11
11:00
AM ET
Montee Ball
got his first career start against Indiana last year. From that moment on, the Wisconsin tailback has rushed for more than 1,100 yards and scored 26 touchdowns in a span of just nine games. Ball has reached the end zone 14 times this year and is on pace to shatter the Big Ten single-season touchdown record of 26. As the Badgers prepared to face Indiana again this week, I caught up with the junior from Wentzville, Mo., for our Friday Q&A:
I have to ask, based on where you're from: Are you a St. Louis Cardinals fan?
Montee Ball:
Yes, I am. I went to a lot of games growing up with my parents.
OK, what's it like being a Cardinals fan in Wisconsin right now?
[+] Enlarge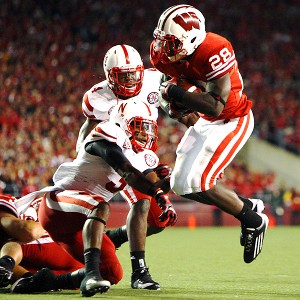 Brace Hemmelgarn/US PresswireMontee Ball has already scored 14 touchdowns for Wisconsin this season.
MB:
I love, it actually. Because there are a bunch of Brewers fans here and I like talking trash to them about the Cardinals, especially when we killed them [Monday] night.
What did you guys focus on during your bye week?

MB:
Coach [Bret] Bielema stressed to us to make sure we really get in the film room and take time to self-scout ourselves and see where we're making mistakes, and to make sure we're correcting them with all this time before we play our next opponent. And coach really stressed as a team to stay off our feet, get a chance to get away from football and to watch other college football around the nation as we get our bodies healthy.
What games did you watch last Saturday?

MB:
I
watched Indiana play Illinois. Obviously, I wanted to see how they [Indiana] played, to see how their players moved and all that stuff.
You guys beat Indiana 83-20 last year. How do you guard against overconfidence this week?
MB:
It's a different team and a different coaching staff and a different season. Anything can happen on any given Saturday. We have to make sure we practice just as hard as we always do and come out with the right mentality to get the 'W.'
What do you remember about making your first start last year against the Hoosiers?

MB:
I remember working extremely hard up to that point. I think it was my first 100-yard game. [Actually, it was his second]. That just cemented to me that hard work pays off, and I've got to keep the hard work going.
This team is getting a lot of national attention, almost all of it overwhelmingly positive. How do you keep that from going to your heads?

MB:
I feel we're a real mature group. We understand that with success comes a lot of hype, a lot of noise and stuff. But we're able to block it out because we know that with a loss or a poor performance, it can all slip away. So we have to make sure we keep grinding and keep leaving no doubt.
You dropped some pounds in the offseason. How have you noticed that has affected your play?

MB:
I'm able to take more carries. I'm able to have a lot more longer runs. I'm able to shed more tackles. I feel like I'm getting to the defense faster. Overall, I'm more conditioned, and my cuts are a lot quicker. I'm grateful I embraced that challenge.
You've had 28 touchdowns in your last 10 games. Does it ever get old to get in the end zone?

MB:
Not at all. It's a great cap to the drive we had up to that point. Being able to finish that drive with a touchdown is obviously a lot better than just a field goal. So it's a relief.
You have 14 touchdowns in five games this season, which is a ridiculous pace. Is it hard to believe you've scored that many times?

MB:
Yeah, it is. But I want people to know it's a collective achievement by the whole offense. Being an offensive lineman and saying you're blocking for two players who are running extremely hard is just as good, because those guys do a great job up front.
A lot of running backs would kill to run behind your offensive line. What's it like to have those guys blocking for you?

MB:
James [White] and I feel extremely comfortable. We have no doubts. We know what each players' strengths are, and we know they're going to move defenders off of us and create big holes and get us to the secondary.
What do you do to show those linemen some love whenever you score?

MB:
After every drive and every touchdown, I make sure to go and celebrate with those guys first. Once I get to the sideline, I make sure to talk to them and tell them good job. I tell them to keep going because it starts with them up front.
What has the addition of Russell Wilson meant to the running game?

MB:
It most definitely takes pressure off us. Defenses have to respect his passing game and our receivers, and when we spread it out to run, that creates even bigger holes. I think having Russell Wilson in this program creates a lot of stress on defensive coordinators.
Take us back to your recruiting process. How did you choose Wisconsin?

MB:
A few schools around my area were talking to me and getting to know me. What brought me here was, on my visit, the coaching staff was really friendly. I know they all are supposed to be, but I really had a connection with them. I loved the atmosphere, and I loved how this state is really football oriented. They eat breathe and sleep football. And with it also being a running back program, I really felt like this was the best choice for me.
You guys are off to a great start and a high ranking. You came close to an undefeated season last year. How driven are you to get that done this year?

MB:
We want to finish this thing off right. We worked extremely hard in the summer and fall leading up to this point, and want to make sure we don't let each other down. We want to make a big statement this year.
Finally, are the Cardinals going to get to the World Series?

MB:
Oh, yeah. No doubt. I'm talking so much trash right now.
October, 7, 2011
10/07/11
11:00
AM ET
By
ESPN.com staff
| ESPN.com
Northwestern built a preseason Heisman Trophy campaign around Dan Persa but then didn't have its star quarterback's services for the first three games of the season. Persa returned last week against Illinois and threw a career-high four touchdown passes, but he left the game early with some pain in his surgically repaired Achilles tendon. Persa has been cleared to play again this week at home against Michigan and hopes to get his 2-2 team its first Big Ten win.

I recently caught up with the Wildcats' incredibly accurate passer for our weekly Big Ten Friday Q&A:

First of all, and I think we're all looking forward to when we can stop asking this question, how's the foot?


Dan Persa: I'm feeling real good, a lot better than I did last week. So hopefully it will just keep getting better every week.

You revealed this week that you had a setback in June with your recovery. What exactly happened?


DP: I just kind of tweaked it a little bit, and I had to sit out a couple of weeks. It slowed down my progress a little bit. But it was fine.

Was it similar to what happened during the Illinois game last week?


DP: Yeah, but this summer I tried to push through it and it kind of got worse. So I was just like, "All right, this is the same thing that happened before. Let's just take it easy and not make it any worse." [The doctors] said it's fine and ready to go.

How was it getting back into your first game action in almost a year?


DP: It was good. The first couple of series, I was a little antsy in the pocket. But after that, once I settled down and got in a little groove, I thought I was really comfortable as far as what was going on. It felt like last year.

How tough was it to come out of the game and then see your 28-10 lead evaporate in a loss?


DP: I wanted to go back in there. At the same time, I didn't want to do any more damage to my leg. It was tough. We just have to close the game out so we don't have that feeling.

You guys have had that happen a few times in the last couple of years. Is there any thing you can point to as to why this team has blown some big leads in games?


DP: I think we've just had a couple of mental lapses, and then one thing leads to another. People have got to learn to respond a little bit better and not worry about what happened in the past. Just keep doing their job.

How difficult was it not being able to play for the first three games?


DP: It was tough. Obviously, I wanted to be out there, but I wanted to come back at the right time and be effective. I didn't want to come back early and not be effective and not be able to do a lot of things that I did in the Illinois game or last year. So it was tough, but I think I made the right decision.

What was your relationship like with Kain Colter when he took over the quarterback job?


DP: I tried to stay in his ear and talk about different stuff, different reads and different things to think about. Just trying to calm him down for the most part and let him have fun, because he's such an athletic player.

You guys played three of your first four on the road and now have Michigan at home. How excited are you for that opportunity?


DP: It feels like we haven't been home in forever. We're really excited and looking forward to being in front of our fans again.

Michigan is undefeated and ranked No. 12 but there are some questions how improved the Wolverines really are. What do you think about their defense when you see it on film?


DP: Their defensive coordinator came from the Baltimore Ravens, so they have a very advanced defense. They show you a lot of looks, a lot of different blitz looks, and they're a smart defense. It's going to be a good challenge for us, and I'm looking forward to it.

What are some keys for you guys to pull off the upset this week?


DP: Just do what we've been doing. We put up 35 points against a pretty good Illinois team and thought we could have done more. So keep doing what we're doing and keep executing the plays. We've got to be better on third down. We were really good in the red zone against Illinois, but on third down we were still below 50 percent. So we've got to pick that up.

With one loss already in conference play and this being a division game, how big is this week for you guys?


DP: I think it's huge. We've got to get back on track, and this being a division game makes it more important.

You came in last week and immediately established a good connection again with wideout Jeremy Ebert. What's the chemistry like between you two?


DP: I definitely think it's more of a tribute to Jeremy. He knows the game so well, and he paints a pretty good picture for me. Whenever I get in trouble, I try to look for him, and he's usually open.

With the whole "Persa Strong" Heisman campaign this summer, were you disappointed you didn't get a chance to capitalize on that or did you find the whole thing just a fun promotion?


DP: It was a little disappointing when the first couple of games went by [and I didn't play]. But I think it did its job in just getting the Northwestern name out there and getting people talking about Northwestern and hopefully coming to our game. So it was disappointing, but I wasn't really too worried about it. I was more disappointed that I couldn't play than that I couldn't go for the Heisman or whatever. Any thing that gets people talking about Northwestern is good.

Are you looking forward to getting through a whole game this week so you no longer have to answer questions about your health?


DP: Yeah, definitely. I'm keeping my fingers crossed.
BIG TEN SCOREBOARD
Saturday, 12/20
Monday, 12/22
Tuesday, 12/23
Wednesday, 12/24
Friday, 12/26
Saturday, 12/27
Monday, 12/29
Tuesday, 12/30
Wednesday, 12/31
Thursday, 1/1
Friday, 1/2
Saturday, 1/3
Sunday, 1/4
Monday, 1/12
Tweets from https://twitter.com/ESPNCFB/lists/b1g