July, 9, 2012
7/09/12
9:00
AM ET
Joe Paterno has become a polarizing figure in recent months, but all parties would agree that he defines Penn State football.
Paterno was affiliated with the Nittany Lions program for 62 years of its 125-year existence. He served as Nittany Lions coach for nearly 46 seasons before being fired in November. And his impact is particularly significant in the program's victories total.
[+] Enlarge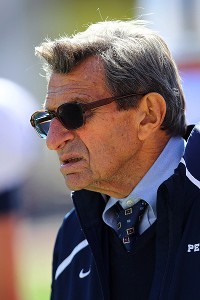 Michael Hickey/US PresswireAccounting for nearly 50 percent of the program's wins, Joe Paterno was the face of Penn State.
Of Penn State's 827 all-time victories in football, Paterno coached the team for 409, the most of any coach in Division I history. Other than former Florida State coach Bobby Bowden, who accounts for an astounding 64 percent of the Seminoles' all-time wins (304 of 475), Paterno's percentage of Penn State's wins (49.4) places him in select company. Only Air Force's Fisher DeBerry (49.1 percent) and BYU's LaVell Edwards (49.2 percent) have accounted for a similar chunk of program wins -- among FBS programs that have been around for more than 30 years -- as Paterno has at Penn State.
ESPN.com is taking a closer look at coaches this week, and today's topic examines which programs are defined by one coach. Penn State fits the description because of Paterno's long and successful career. Penn State also is unique because its program has been around so long, and while there was success before JoePa -- eight undefeated seasons between 1894-1947, a Rose Bowl appearance in 1923 -- almost all of the program's significant achievements (two national titles, 24 bowl wins) occurred on Paterno's watch.
What about the other Big Ten teams?
In terms of winningest coaches, here's how they look:
Illinois:
Robert Zuppke, 131 of program's 580 wins (22.6 percent)
Indiana:
Bill Mallory, 69 of 449 (15.3 percent)
Iowa:
Hayden Fry, 143 of 593 (24.1 percent)
Michigan:
Bo Schembechler, 194 of 895 (21.7 percent)
Michigan State:
Duffy Daugherty, 109 of 638 (17.1 percent)
Minnesota:
Henry Williams, 136 of 646 (21.1 percent)
Nebraska:
Tom Osborne, 255 of 846 (30.1 percent)
Northwestern:
Lynn Waldorf, 49 of 488 (10.04 percent)
Ohio State:
Woody Hayes, 205 of 837 (24.5 percent)
Purdue:
Joe Tiller, 87 of 586 (14.8 percent)
Wisconsin:
Barry Alvarez, 118 of 635 (18.6 percent)
As you can see, no coach comes close to Paterno in terms of percentage of his program's wins. But this ratio is just one gauge of a program-defining coach.
Another important factor is a team's history both before and after a coach took the job. Look at Wisconsin before Alvarez arrived in 1990. The program had endured five consecutive losing seasons and had just six winning seasons since 1963. Wisconsin's previous two coaches, Don Morton and Jim Hilles, had gone a combined 9-36 at the helm.
Alvarez transformed Wisconsin into an upper-tier Big Ten program, leading the Badgers to three Big Ten titles and three Rose Bowl championships. His hand-picked successor, Bret Bielema, has carried on Wisconsin's momentum, but Alvarez fostered the change. He is Wisconsin football, period.
Two iconic coaches regarded by many the faces of their respective programs are Ohio State's Hayes and Michigan's Schembechler. They tied for the most Big Ten championships with 13. Hayes won the most Big Ten games (152 to Schembechler's 143), while Schembechler owns the record for best winning percentage in conference games (.850).
But both men led programs that had success under other coaches. Michigan was a national superpower under the likes of Fielding Yost (.888 career win percentage), Harry Kipke, Fritz Crisler and Bennie Oosterbaan, while Schembechler never won a consensus national title. The Wolverines boast six coaches who have served 10 or more years, most recently Lloyd Carr (1995-2007).
Ohio State carved a place among the nation's elite under shorter-tenured coaches like Francis Schmidt and Paul Brown, while Jim Tressel won a national title and more than 81 percent of his games during his 10 years in Columbus.
Are Michigan and Ohio State defined by Schembechler and Hayes, respectively? Depends on your perspective. My take: both are iconic, but Hayes is more defining.
Iowa's Fry fills a similar role to Alvarez. He took over a program on the downturn for several decades and put it in the Big Ten's top half. Fry is the coach people think of when Iowa comes to mind, although his successor, Kirk Ferentz, has put his own stamp with a solid run since 1999.
Other Big Ten programs seem to fit into different categories.
Programs with two great coaches:
Nebraska -- Osborne (255-49-3) and Bob Devaney (101-20-2)

Purdue -- Tiller (87-62) and Jack Mollenkopf (84-39-9)
Programs that had its most successful coaches many years ago
Illinois -- Zuppke (131-81-13 from 1913-41); Arthur Hall (27-10-3 from 1907-12)

Minnesota -- Williams (136-33-11 from 1900-21; Bernie Bierman (93-35-6 from 1932-41 and 1945-50)

Michigan State -- Daugherty (109-69-5 from 1954-72); Biggie Munn (54-9-2 from 1947-53); Charles Bachman (70-34-10 from 1933-46); Chester Brewer (58-23-7 from 1903-10, 1917, 1919)
Historically weak programs with a lot of coaching turnover
Indiana -- No coach with career winning record since Bo McMillin (1934-47), no coach with 70 or more wins at school

Northwestern -- No coach with 50 or more wins at school, only one coach with tenure longer than 10 years
You could argue Zuppke remains Illinois' defining coach, even though he hasn't coached in more than 70 years. Osborne is undoubtedly the face of Nebraska's program, but is he the Huskers' defining coach? Tough to say that after looking at what Devaney did (two national titles, eight Big Eight titles).
Could any current Big Ten coach end up being a program-defining figure? None will occupy his job as long as Paterno did at Penn State. Northwestern's Pat Fitzgerald is just nine wins shy of Waldorf's victories mark, and he turned 37 in December. Fitzgerald's strong ties to the program, plus Northwestern's poor history and absence of coaching greats, create an opportunity should Fitzgerald have success for a long period.
What are your thoughts? Which Big Ten programs are defined by a coach, and which are not? Share them
here
.
March, 1, 2010
3/01/10
5:30
PM ET
A trip to Ann Arbor is a must for any die-hard college football fan, even in these tough times for the Maize and Blue. Michigan Stadium is one of the sport's most famous venues, and the atmosphere around the Big House is top notch.
Michigan would like to restore its most famous game-day ritual -- winning -- in the 2010 season, but for now, let's look at some of the school's top traditions, as suggested by you folks. Wisconsin is up next in the traditions series.
[+] Enlarge

AP Photo/Tony DingThe tradition of touching the banner has been around for almost half a century.

Touching the banner: Every college football fan worth his or her salt has seen Wolverines players and coaches race onto the field and jump to touch the "Go Blue: M Club Supports You" banner, as the marching band plays "The Victors." The tradition started in 1962.

Seat for Fritz Crisler: For every home game, Michigan reserves one seat in the stadium for former head coach and athletics director Fritz Crisler. The tradition was started by legendary former coach Fielding Yost. All Michigan Stadium capacity figures have ended with 1, to honor Crisler. The seat's location is not revealed.

The Wave: If Michigan has a game well in hand, the student section will start The Wave and go through a series of creative versions. They'll slow it down, speed it up and send two waves in opposite directions. In such a large stadium, it looks pretty cool.

Tunnel Walk: There's only one way to enter the playing field at the Big House, and that's through the tunnel at the 50-yard line. Michigan's team entrance is certainly a sight to see.

Temptation/The Hawaiian War Chant: The Michigan marching band has played these two percussion beats after games for four decades. The band also plays "Temptation" after the Wolverines' defense makes a third-down stop.

Hail to the Victors: It's quite possibly the most famous fight song in all of college sports, and you'll hear it in and around Michigan Stadium throughout game days in the fall.

Guarding the "M" on The Diag: During the week leading up to Michigan's rivalry game against Michigan State, fraternity members guard the block M at the center of The Diag on campus to prevent any vandalism.

Victors' Walk: The tradition of players and coaches making a longer walk to the stadium began under Bump Elliott in the 1960s and continued during the early Bo Schembechler years. Current head coach Rich Rodriguez brought back the tradition in 2008, as the team makes a 200-yard walk to the stadium two hours before games.
TESTIMONIALS
Andrew from Ann Arbor, Mich.:
There are so many great traditions here at Michigan. 1. One of the best things about Michigan is the Fight Song," The Victors." There is no better song on this green Earth; there were times even when President Ford played it rather than "Hail to the Chief." 2. Also, at every home game, the drumline sets up in the North end zone at the end of the first quarter and plays a cadence for the student section. 3. The Big House is itself one of the greatest venues for football ever. With the longest streak of over 100,000 fans at a game, the Big House is an amazing scene every football Saturday, with 100,000 fans flooding the streets headed to the game. 4. There are several symbols in Michigan Football that are never forgotten. The Winged Helmet and the Block M are probably the most recognized symbols in all of college football. 5. Every year we have MSU at home, one of the fraternities protects the bronze M at the center of the Diag on Central Campus. This is because, one great year, we went to Lansing and painted their hideous statue Blue. 6. After a victory, all Wolverines start the chant, "It's Great to be, a Michigan Wolverine!"That's just to name a few. Love the blog, but most importantly, LET'S GO BLUE!
Dan from Gilbert, Ariz.:
As an alum and former trumpet player in the marching band (rank 7 rules!) and having grown up in pac-10 land where football tradition is laughable in comparison (people have to care about a tradition for it to be an actual tradition) I came to U of M in large part because of the tradition. Yes...I know everyone loves script Ohio, but the block M, with the band bursting out of the tunnel and the twirlers (including my future wife at the time) and drum major coming through to the sounds of M-fanfare and then leading into Victors down the field punctuated by the drum major throwing his baton over the cross bar and going into his backbend is far better. And then postgame there's temptation/war chant followed by the singing of the alma mater (the yellow and blue) in backwards hats on the field after a win...and on and on...the band alone could give you ten traditions...
Curt from Chicago:
Football traditions:Michigan: I imagine you've already got "touching the banner" as the team runs from the tunnel, our helmets got wings and the great fight song. Other cool traditions:1) Michigan Stadium has always had an 'extra' seat reserved for Fielding Yost (I'm not sure if this will continue with the improvements) but prior to the renovations it was 107,501, during renovations capacity is 106,201. Supposedly only Fritz Crisler knew its exact location.2) Not sure if this qualifies, but walking through (or participating in) the student tailgating on state street from south university ave to hoover ave is quite an experience.3) Little brown jug battle with minny - oldest trophy in college football4) The #1 jersey on our best wide receiver (if there is a worthy one on the team)5) Winningest team in college football history.
March, 3, 2009
3/03/09
2:51
PM ET
Posted by ESPN.com's Adam Rittenberg
Krag from Phoenix writes: Adam, LOVE the blog - I don't know what I'd do to fill the seven month gap without it! I'm curious why I haven't see more written about Etienne Sabino, the true Sophomore linebacker for Ohio State. I first saw him play in the Spring Game last year and thought he was quicker than 90% of the guys on the field even then. This year, with some holes to fill at that position for the Bucks, do you see him making some noise?
Adam Rittenberg: Krag, good call on Sabino. Though he only had six tackles last year, he proved to be a nice special teams player and scored on a blocked punt against Purdue. Ross Homan is the only linebacker you can pencil into the starting lineup right now, so Sabino certainly should get a shot. I'd be surprised if Austin Spitler doesn't succeed All-American James Laurinaitis at middle linebacker, but Sabino has excellent athleticism and will be in the mix at the other spot along with Tyler Moeller.
---
Rob from York, Pa., writes: Adam, You need to immediately stop talking about how the BCS can't have the NCG in a cold-weather place. It will generate money. Have you forgotten that the SUPER BOWL moves all over the country. I believe the last time it was held in cold-weather city, Detroit, it did great and made a lot of money for everyone involved.
Zach from West Des Moines, Iowa, writes: Adam, I feel compelled to respond to your below comment from your recent mailbag -- "But I still have a hard time seeing how a major bowl in Indianapolis or Detroit would generate the same economic impact as games in warm-weather sites". Come on, Adam. Are you serious? One of the 5 things you love about the Big Ten is our stadium size. And you ought to know that the Big Ten has an extremely loyal fanbase that fills up stadiums on a weekly basis. If a bowl game (think Big Ten affiliated bowls) was held in Indy and either PSU, OSU or UM was playing, do you really think that stadium (and town) wouldn't be overflowing? We're used to piling in 105,000 plus every week and what does Indy's new stadium hold, 75,000ish? Please. We'd fill up the stadium and have people flocking to town even if not one southern fan made the trip! Also, bear in mind that the Big Ten knows how to tailgate and cold weather doesn't stop us! I think your affiliation with ESPN as well as your southern fanboy bloggers are clogging your thought process.
Adam Rittenberg: I've received quite a few e-mails like these in the last few days. You guys bring up some decent points about the BCS title game, but I'm still skeptical about the game's success in a cold-weather city if a Big Ten team isn't involved. And would a game in the dome in Indianapolis really provide a Big Ten team a huge advantage? It's not like the USC and the Rose Bowl, a place where the Trojans play once every two years during the regular season.
Maybe you have a point about the national title game. The NFL and NCAA hoops haven't shied away from cold-weather cities for their premier events like college football has. But let's be honest, the root of the issue for the Big Ten is its struggles in the Rose Bowl, particularly against USC. Big Ten teams have won Rose Bowls before, and you can't start using the weather as an excuse when teams have gotten the job done in the past.
---
Stuart from Gilbert, Ariz., writes: Adam, I know this is late, but it kind of breaks my heart that half of your Big Ten Mt Rushmore is made up of coaches. How about a seperate Mt. Rushmore for coaches and one for players. It would even be interesting to have a Mt. Rushmore for each position or era/decade. What do you think?
Adam Rittenberg: I don't want to get too carried away with the Rushmores, Stuart, but having two separate league-wide Rushmores for players and coaches is a good idea. It was tough to narrow down the league's rich history to only four faces. As far as players, I'd keep Red Grange and Bronko Nagurski and add Archie Griffin and either Charles Woodson or Ron Dayne. As far as coaches, I'd keep Woody and Bo, of course. The interesting question would be Joe Paterno. He certainly deserves a place on college football's Rushmore, but judging him solely by Penn State's performance in the Big Ten, you might have to look elsewhere. Fritz Crisler deserves a spot, and possibly someone like Barry Alvarez, Hayden Fry, Bernie Bierman or Amos Alonzo Stagg.
---
Seth from Ohio writes: All this talk about PSU v MSU or PSU v OSU taking over as the new 'game to watch' in the big ten is a little premature don't you think? It wasn't too long ago that [John] Cooper could not beat UM. Yeah OSU has had a leg up this decade, but who's to say that Rich Rod wont turn things around and solidify 'The Game' as the best rivalry in all of sports? Not to mention MSU is notorious for poor production after good years. In my opinion, if UM keeps going downhill and MSU can string a few good seasons together these new OSU v PSU and PSU v MSU predictions could have some validity, but that is a big if.
Adam Rittenberg: I agree for the most part, Seth. Ohio State-Michigan remains one of the greatest rivalries in all of sports. Michigan understands the urgency to beat the Buckeyes, and the next few seasons will be interesting to watch. I wouldn't be too sure about Michigan State falling flat, though. Mark Dantonio has brought a different mind-set to the program, and the Spartans should be a first-division team this fall. Penn State-Michigan State should continue to be a nice end-of-season game.
You could argue the Big Ten's premier game has become Penn State-Ohio State. It certainly proved true in 2008 and could once again be the case this fall. And Penn State is the last Big Ten home team to beat Ohio State (2005).
---
Nathan from East Lansing, Mich., writes: Hey Adam, great job with your column. I have been following Brian Hoyer's stock rise in the NFL draft, and I have to say, maybe us Michigan State fans were hard on him. The fact is our receivers dropped too many passes, our offensive line was not good enough at pass protection, and he likely had to force things. No doubt, he can be very erratic at times but when I watched the Wisconsin game, and I felt Brian Hoyer could have set a Michigan State records for passing yards, and could have had his best game. Todd McShay even rates Brian Hoyer as the 5th best quarterback in this year's draft, over Graham Harell and Chase Daniel.
Adam Rittenberg: Totally agree, Nathan. You look at Hoyer's completion percentage from 2008 (51) and wonder how he managed to get invited to the NFL combine. But Hoyer performed well at the combine, showing good athleticism and finishing among the top quarterbacks in several drills. Brian has a good head on his shoulders, and he proved he can win games in the clutch last season. Michigan State's receivers might have had more to do with his numbers than I originally thought.
February, 25, 2009
2/25/09
9:46
AM ET
Posted by ESPN.com's Adam Rittenberg
Love and hate are the themes of the day around these parts, so I figured I'd chime in about the Big Ten. There are many reasons why I love covering football in this conference, and a few things I'm not so crazy about.
Let's begin with five good things.

Big stadiums --
Size matters in the Big Ten, which boasts three of the nation's four largest stadiums at Michigan, Penn State and Ohio State. Ohio Stadium, Beaver Stadium and Camp Randall Stadium are on the short list of toughest places to play, and other Big Ten venues (Kinnick Stadium, Spartan Stadium) add their own charm. The game-day experience is truly captured where Big Ten teams call home.
The Game (and other rivalries) -- The Big Ten lays claim to quite possibly the greatest rivalry in all of sports, between Ohio State and Michigan. No series has produced more colorful figures and memorable moments. The league also features exciting annual matchups like Michigan-Michigan State, Penn State-Ohio State and Minnesota-Wisconsin. At stake are coveted items like a bronzed pig, a giant ax, a brown jug and an ancient bucket.
Regent Street and the Beaver Stadium grounds -- They are two of the nation's prime tailgating spots, and they both belong to the Big Ten. Tailgating at Wisconsin or Penn State is an experience every college football fan should enjoy. You get beer and brats in Madison, and elaborate set-ups and daylong debauchery in State College. As a college football fan, you can't go wrong at either place.
Legendary coaches -- The Big Ten has produced legendary coaches through the decades. From Fielding Yost and Bob Zuppke to Bernie Bierman and Fritz Crisler to Woody and Bo to Hayden Fry and Duffy Daugherty to Barry Alvarez and Jim Tressel, the Big Ten has been at the top of the coaching ranks. The arrival of Penn State's Joe Paterno in 1993 has only added to the league's rich coaching tradition.
Night games in Columbus, Madison and State College -- Noon kickoffs are generally the norm in the Big Ten, which sort of blows but makes the rare night game all the more special. Ohio State will host only the ninth night game in team history this fall against USC, and the atmosphere will undoubtedly be electric. Same goes for any game under the lights at Camp Randall Stadium -- there were two last year -- and at Penn State, which thankfully welcomes night football more than any other Big Ten team.
February, 24, 2009
2/24/09
2:30
PM ET
Posted by ESPN.com's Adam Rittenberg
Some Rushmore leftovers and the like.
Aaron from Iowa City, Iowa, writes: Hey Adam, what are your thoughts of the new tiebreaker rules? I personally don't like anything that puts more power into the voter's hands, so I am completely against them adding the BCS standings. I also liked teams being eliminated for playing an FCS team. It credits teams like Michigan State who didn't just take the easy way out and only play 11 real games in a season
Adam Rittenberg: It certainly could be a dangerous move by the Big Ten, Aaron, especially considering what happened to the Big 12 last season. But with only one division, a history of getting multiple teams to BCS games and the built-in annual rivalries like Michigan-Ohio State and Penn State-Ohio State, I don't see the BCS standings tiebreaker coming into play too much (I hope). In most seasons, two Big Ten teams with a shot for the national title game will face one another.
I definitely agree with getting rid of the old "last team to the Rose Bowl doesn't get to go" rule, and I think the BCS standings would only be used in rare cases. Now, if the Big Ten adds a team and goes to two divisions -- again, very unlikely -- any time soon, then the tiebreaker rules need to be reexamined. As far as the FCS rule, there are too many Big Ten teams that want home games at all costs, so they're going to continue to schedule FCS opponents with no return game. It's just a fact of the business when you have huge stadiums like the ones in the Big Ten. No one wants to go on the road, and the league isn't going to stand in the way.
---
Paul from Johnstown, Pa., writes: Adam, Let me be the first to say, I loathe the Wolverines...but even I have to give it up for one man you totally dissed on the Michigan Rushmore...no Gerald Ford? All he did was help win 2 national titles, earn team MVP honors, and HAVE HIS JERSEY RETIRED!! Also, I may have forgot to mention that he was the leader of the free world. You don't even have him on the short-list. For goodness sakes, isn't the real Rushmore made up of former presidents?
Adam Rittenberg: Paul, you've got to read the fine print. President Ford was considered for Michigan's Rushmore, but the team had four stronger candidates. I don't know how you can have Michigan's Rushmore without Bo Schembechler, Fielding Yost and Tom Harmon. And Charles Woodson was arguably the best defensive player in college football in the last 25 years. Look at some of the other guys who didn't make Michigan's list -- Bennie Oosterbaan, AC (Anthony Carter), Fritz Crisler. You can make a case for Ford no doubt, but I can make a stronger one for the guys I included.
---
Zach from Chicago writes: Hey Adam, I know there are some questions at Illinois for this upcoming season but it seems like noone is even giving them a chance this year. With Juice, Benn, Jenkins, Dufrene, Ford, Hoomanawanui all returning on offense and the addition of Terry Hawthorne, I see this as being not only the most potent offense in the Big Ten, but one of the better offenses in the country, even with Locksley gone. Mike Schultz did an excellent job down at TCU. I think even if the Illini defense is not that great, they will have the ability to win a lot of games simply by putting up a lot of points on the board. They kind of remind me of a big 12 south team this year. I just wanted to get your opinion on their chances.
Adam Rittenberg: If Illinois fills some holes and gets better on the offensive line, there's no reason why it can't be among the nation's top offenses in 2009. A new coordinator could bring some growing pains, but Juice Williams was terrific the first half of last season and returns almost all of his weapons. I would still like for a featured back to emerge -- either Jason Ford or Daniel Dufrene -- and stabilize the run game outside of Juice. But there's no reason to think Illinois can't average 32-plus points and 430-plus yards of offense per game in 2009.
My biggest concerns with the Illini are defense and team chemistry. This clearly was a bit of a fractured team in 2008 to underachieve as badly as it did. And I would be extremely hesitant to buy into the philosophy that Illinois should simply outscore its opponents. The talent is there on defense, but the coaches need to get more out of that group this fall.
November, 19, 2008
11/19/08
11:30
AM ET
Posted by ESPN.com's Adam Rittenberg
Most of the evidence heading into The Game on Saturday at Ohio Stadium doesn't favor Michigan coach Rich Rodriguez, but history will be on his side.
| | |
| --- | --- |
| | |
| | AP Photo/Tony Ding |
| | Will Rich Rodriguez keep the first-year coaches' streak going against the Buckeyes? |
The last six Michigan coaches have won their first matchups against Ohio State, most recently Lloyd Carr in 1995. Other first-time winners include Gary Moeller, Bo Schembechler and Fritz Crisler.
"Like we need any more [pressure], right?" Rodriguez joked when asked about the trend on the Big Ten coaches' teleconference. "Every season and every game that you play with them is a different scenario. Sometimes you can throw out statistics and try to make a correlation, but it's just the way it happened. There's been a lot of success in the first game there, but every situation has been different.
"I know our current players have not gotten a win against Ohio State. That's something they all certainly would love to have."
Four of the last six Ohio State coaches have lost their first matchups with Michigan, though current coach Jim Tressel prevailed in 2001 with a 26-20 win. Tressel is 6-1 against the Wolverines.
Is he concerned about the trend for Michigan first-year coaches?
"The fact that it's Ohio State-Michigan, you're concerned and understand that this is just a whale of a football game," Tressel said. "I didn't know any statistics when it was my first game here, and I'm sure those statistics didn't have much to do with it. It'll be taken care of on the field."
August, 6, 2008
8/06/08
4:25
PM ET
Posted by ESPN.com's Adam Rittenberg
I had hoped to post this earlier in the week during my trek through the state of Michigan but got bogged down with practices, interviews, tours and the like.
E-mailer Steven from Phoenix brings up an interesting note about the Michigan-Michigan State rivalry.
Steven writes:
Hi Adam: I read your predictions on the Big Ten Rival football games this fall. As a Wolverine fan, I hope you're right on the Michigan/Michigan State game because there's an interesting historical note to this series. First year coaches don't typically win in this series. The last coach to win in his first try was Nick Saban for MSU in 1995. But something had to give because he was going up against first year coach Lloyd Carr in the game. Saban is the first coach to win in his first try in at least the last ten MSU coaches. At Michigan, the last coach to win in his first try against MSU was Bennie Oosterbaan in 1948. Bump Elliott, Bo Schembechler, Gary Moeller and Lloyd Carr all failed in their first attempt at beating Michigan State. On another note, first year Michigan coaches are nearly perfect against Ohio State in their first try. Just a couple of notes I thought I'd pass along for future use in case you're interested. You can check out the records to see what I mean. Keep up the good work. Steve
Let's check out the history of first-year coaches in the series since the first rookie coach faced the opposing team in 1911:
First-year coaches in the UM-MSU series
Year
New coach
Team
Game result
2007
Mark Dantonio
Michigan State
Michigan 28, Michigan State 24
2003
John L. Smith
Michigan State
Michigan 27, Michigan State 20
2000
Bobby Williams
Michigan State
Michigan 14, Michigan State 0
1995
Nick Saban
Michigan State
Michigan State 28, Michigan 25
Lloyd Carr
Michigan
1990
Gary Moeller
Michigan
Michigan State 28, Michigan 27
1983
George Perles
Michigan State
Michigan 42, Michigan State 0
1980
Frank Waters
Michigan State
Michigan 27, Michigan State 23
1976
Darryl Rogers
Michigan State
Michigan 42, Michigan State 10
1973
Denny Stolz
Michigan State
Michigan 31, Michigan State 0
1969
Bo Schembechler
Michigan
Michigan State 23, Michigan 12
1959
Bump Elliott
Michigan
Michigan State 34, Michigan 8
1954
Duffy Daugherty
Michigan State
Michigan 33, Michigan State 7
1948
Bennie Oosterbaan
Michigan
Michigan 13, Michigan State 7
1947
Clarence Munn
Michigan State
Michigan 55, Michigan State 0
1938
Fritz Crisler
Michigan
Michigan 14, Michigan State 0
1933
Charlie Bachman
Michigan State
Michigan 20, Michigan State 6
1929
Harry Kipke
Michigan
Michigan 17, Michigan State 0
Jim Crowley
Michigan State
1928
Harry Kipke
Michigan State
Michigan 3, Michigan State 0
1927
Tad Wieman
Michigan
Michigan 21, Michigan State 0
1923
Ralph Young
Michigan State
Michigan 37, Michigan State 0
1921
Albert Barron
Michigan State
Michigan 30, Michigan State 0
1920
George Clark
Michigan State
Michigan 35, Michigan State 0
1918
George Gauthier
Michigan State
Michigan 21, Michigan State 6
1916
Frank Sommers
Michigan State
Michigan 9, Michigan State 0
1911
John Macklin
Michigan State
Michigan 15, Michigan State 3
The history obviously doesn't bode well for Michigan coach Rich Rodriguez, who gets his first taste of the rivalry Oct. 25 at Michigan Stadium. Then again, more first-year Michigan coaches have won their first games in the series than their Michigan State counterparts. And it was interesting to see that even though Schembechler and Moeller lost their first games against State, both coaches guided Michigan to Big Ten championships those seasons.
The best debut? Oosterbaan, whose team beat Michigan State in the season opener before running the table and winning the 1948 national title. A quick note: Michigan coach Fielding Yost didn't face Michigan State in his first season of 1901 even though the series began in 1898.
As for first-year coaches in the Michigan-Ohio State series, the last six Wolverines first-year coaches have won their initial matchup with the Buckeyes. In contrast, four of the last six Ohio State first-year coaches dropped their first game against Michigan.