Big Ten:

Gary Andersen to Wisconsin
December, 21, 2012
12/21/12
2:30
PM ET
MADISON, Wis. -- Like his predecessors at Wisconsin, Gary Andersen's coaching background is rooted in defense, but he knows a good offense when he sees one.
Despite Wisconsin's early season struggles on offense, Andersen recalled Friday how he spent "all summer long" trying to prepare Utah State's defense for the Badger behemoths in a Sept. 15 game at Camp Randall Stadium. The first question he received at his introductory news conference concerned his vision for Wisconsin's offense, and he made it clear there will be no overhaul.
"This is the University of Wisconsin," Andersen said. "I've seen the young men walking around the hallways. I had an opportunity to sit down with a couple of the offensive linemen. I've seen the tight ends, I know the tradition of the running backs. ... We will be a power run team, we will use tight ends, we will use multiple sets and multiple formations.
"We'll be a football team that will be run-first. Our goal and our mind-set will be to wear you down."
That's all Wisconsin players and fans need to hear. There's little desire to change the pro-style, power-oriented system that set records the past two seasons -- Wisconsin ranked fifth and sixth nationally in scoring -- before enduring some transition this fall.
Andersen had used some spread elements at Utah State but pointed out that he has coached some standout running backs, among them Robert Turbin, the 2011 WAC Offensive Player of the Year who now plays for the Seattle Seahawks.
"I have been around three NFL backs the last two years at Utah State," Andersen said, "and that's because we run the football. I expect to be able to do the exact same thing here."
Andersen's vision for the offense resonates with players like Wisconsin sophomore right tackle
Rob Havenstein
, who, at 6-foot-8 and 342 pounds, certainly fits the current system.
"It definitely means a lot to me," Havenstein told ESPN.com. "I'm not the prototypical spread offensive lineman. I'm very glad to hear that, to keep what Wisconsin's doing well for the past couple years and just try to help him build off of that."
Havenstein notes that every coach has a different philosophy, and Andersen and his staff will put their own imprint on the offense. Andersen noted in his news conference how "a touch of option" will be part of the scheme as the option adds to a defense's challenge.
A source tells ESPN.com that Andersen will retain Wisconsin running backs coach Thomas Hammock, who has molded stars such as
Montee Ball
and John Clay. It's unlikely Andersen brings back offensive coordinator Matt Canada, who already accepted the same job at NC State and reportedly has a $500,000 buyout with the Wolf Pack. Could Hammock be in the mix for the coordinator job? We'll see.
"I will say this about the offensive coordinator," Andersen said. "When you're at the University of Wisconsin, it's a great job, it's not a good job, it's a great job. ... They'll line up a thousand deep, if you want them to. The key is to find the right guy to run this offense."
This much is known: It'll be a guy tasked to not mess with success.
December, 21, 2012
12/21/12
12:30
PM ET
Gary Andersen got his first taste of Wisconsin earlier this year. He spent the summer preparing his Utah State team to play the Badgers in Madison on Sept. 15. During game week, he had "Jump Around" play in the Aggies auditorium and told his players to pretend it wasn't on.
"I had one receiver who just couldn't do it," he said.
Now Andersen doesn't have to worry about his players dancing to House of Pain before the fourth quarter. He was formally introduced as the new Wisconsin head coach on Friday morning and spoke about how much respect he gained in a short time for the Badgers program. After a strong performance at the podium, he probably has gained some respect from Wisconsin fans in a similarly rapid fashion.
Here are some of the key takeaways from Andersen's news conference.
-- Andersen confirmed one assistant he plans to have on staff: current Badgers secondary coach Ben Strickland. "He is Wisconsin, if you will, when it comes to recruiting." He said he's interested in retaining other coaches on the current staff and that it's vitally important that he has assistants who know how to recruit Wisconsin and the Midwest, where Andersen has no previous ties. Andersen said he plans to bring along "three or four" assistants from Utah State and also will look for a couple of coaches currently at other schools.
UPDATE: Andersen told the Big Ten Network later on Friday that Utah State defensive coordinator Dave Aranda would take that same job with the Badgers. A source told ESPN.com that current Wisconsin running backs coach Thomas Hammock will also be retained.
[+] Enlarge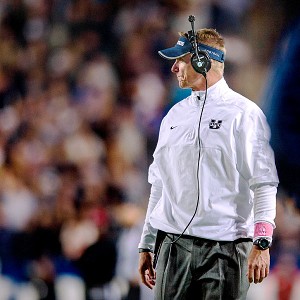 Douglas C. Pizac/USA TODAY SportsGary Andersen says he plans to continue to run the ball at Wisconsin.
-- The hire people will be most curious about is offensive coordinator. Not surprisingly, the first question Andersen got was about his offensive philosophy. He ran a spread system at Utah State, though it had power run elements.
Andersen said his first priority is to run the football, and he'll use Wisconsin's tradition of mammoth offensive linemen. He also wants to add "a touch of option" to the offensive attack. We'll have more on Andersen's comments about the offense coming up in a bit on the blog.
-- Andersen said he planned on attending the Rose Bowl but didn't want to be a distraction to the team as it prepares for Stanford. He has met with the linebackers and a couple of other players but mostly just to introduce himself. He said he'll focus on securing Wisconsin's current commitments and recruiting new players once the NCAA clears him to start talking to prospects as the Badgers coach.
"These kids need to go win a Rose Bowl," he said. "The last thing they need from me is to hang around them. I'm going to be a fly on the wall"
-- Recruiting will start in state. Andersen noted that Utah State only had 18 kids from Utah on the team when he took the job but had 55 in-state players this year on the roster. He planned to call all the Wisconsin high school coaches right away and vowed to lock down the recruits in the state. But Andersen also said that the Badgers were a big enough brand to recruit nationally.
"We should be able to get in any recruiting fight we want to get ourselves into," he said.
-- Andersen drew some criticism for issuing a statement a couple of weeks ago saying that he was staying at Utah State after interviewing for a few jobs. He said he was ready to stay there and told his players he wasn't leaving but at that time, "Wisconsin was nowhere to be seen for me." Once the Badgers job came open and athletic director Barry Alvarez contacted him, Andersen didn't have to give it much thought.
"When coach offered me the job, I just said yes," he said. "I think I shocked him. I didn't ask any questions."
Andersen did call every one of his players Tuesday night to tell them of the decision. It wasn't easy, since the players had already left campus, and he worked the phones until 2 or 3 in the morning.
"It was probably the most difficult thing I've ever had to do in my college career," he said. "It was emotional, 106 times."
-- Andersen coached for one year under current Ohio State coach Urban Meyer at Utah. He said he reached out to Meyer when considering the job, and the first thing Meyer told him was that Wisconsin was a great job. "But then in the next text, he shot back, 'But you've got to come and play us.'" He said Meyer never got mad at him when they worked together because the Utes didn't lose a game in his one season as a Meyer assistant.
-- He has spent most of his life in the Utah area, so Andersen was asked about the cultural differences in coming to Wisconsin. He joked that he shoveled snow in Logan, Utah, before flying to Madison, where he was greeted by a snowstorm. "Snow is snow," he said. "Cold is cold."
-- Alvarez said he first noticed Andersen when Utah State nearly upset Auburn on the road in 2011. He liked the way Andersen handled himself on the sidelines and how his team played with no fear. After that, he said, he began following Andersen's career closely and got to see him in person in September.
Alvarez said Andersen was the only coach to whom he offered the job, though he said he met face to face with three candidates. During the interview process, the two found their philosophies to be in line. Alvarez said that after talking with Andersen, an associate who was in the room told him, "If I would have had a blindfold on, I would have thought that was you answering the questions."
December, 20, 2012
12/20/12
7:10
PM ET
In the six years before Gary Andersen took over as head coach at Utah State, the Aggies went 15-54. Their last winning season was in 1996.
Andersen went 4-8 each of his first two years in Logan, Utah, but then guided the team to a 7-6 mark that included the program's first bowl appearance in 14 years and a near upset at Auburn. This past season, Utah State went 11-2 and will finish in the Top 25 for the first time since 1972.
So we know this: Andersen can build a winner from scratch. We also know this: He won't have to do that at Wisconsin.
When the Badgers tapped Andersen to succeed Bret Bielema, it was a mutually beneficial decision. Wisconsin gets a coach who was skilled enough to turn a historically dormant program that's the No. 3 school in a sparsely populated state into a winner. Andersen gets the reins to a program that's already set up to win at a high level.
It's rare for a coach not currently on the staff to inherit a Big Ten power that needs no rebuilding or re-branding. Brady Hoke had to undo the failed Rich Rodriguez experiment. Ohio State had plenty of talent when Urban Meyer came on board but had just gone 6-7 and was on probation. You know the deal that awaited Bill O'Brien at Penn State.
Bielema was already on the Badgers' staff when Barry Alvarez handed him the keys after the 2005 season, and Bielema promptly went 12-1 his first year as head coach. Andersen is walking into a similarly advantageous situation, grabbing the wheel of a team that has won three straight Big Ten championships and is on its way to Pasadena, Calif., for a third straight happy new year.
[+] Enlarge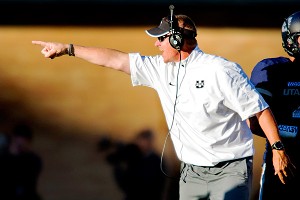 Douglas C. Pizac/USA TODAY SportsGary Andersen turned the third highest-profile school in Utah into a Top 25 team.
Remember, Bielema said in the spring that he thought 2013 would be the best team he ever had. Though Wisconsin will lose stars like running back
Montee Ball
, linebacker
Mike Taylor
and left tackle
Ricky Wagner
, this year's team had only a handful of seniors. The quarterback position will be, for once, loaded with depth if
Curt Phillips
receives a sixth year from the NCAA.
James White
will be a senior, and
Melvin Gordon
showed off his superstar ability in a dazzling Big Ten title-game performance.
So Andersen shouldn't have too much trouble maintaining the Badgers' recent success, even though he'll have to battle the emerging monster that is Meyer's Ohio State. The question Wisconsin fans want to know is if Andersen can take things to an even higher level.
For all his success, Bielema had trouble winning the big game, most notably falling a play short in each of the past two Rose Bowls. Last year's Badgers team set all kinds of offensive records and had no real business losing three times. I wrote after the Rose Bowl loss to Oregon that
a lack of an elite defense
was holding Wisconsin back. This year's defense has performed exceptionally well, though it hasn't faced too many elite offensive clubs.
No wonder, then, that Alvarez said he wanted to find a defensive-minded coach, and that's exactly what he got in Andersen. Utah State ranks No. 15 nationally in total defense this season and held the Badgers to just one offensive touchdown in the Aggies' 16-14 loss in Madison, Wis., in September. Andersen was also the defensive coordinator on the 2008 Utah team that went undefeated and smoked Alabama in the Sugar Bowl. He knows what it takes to field a championship-caliber defense.
And no matter what you think about the Big Ten, this is still a defense-first league. You don't win league titles without controlling the trenches and stopping the running game. Ask Nebraska.
Some concerns remain about this hire, including if Andersen will continue the Wisconsin tradition of basing its offense around the power running game. Utah State was more of a spread team this year, though running back
Kerwynn Williams
rushed for more than 1,500 yards. Andersen would be foolish not to take advantage of the Badgers' built-in recruiting advantage: dairy-fed Midwestern road graders on the offensive line. Paul Chryst and
Russell Wilson
proved that the Wisconsin offense can add some other razzle-dazzle once that running game is established.
Andersen also has no Midwest ties. But if he could find and convince players to come to Logan, he can certainly bring them to Madison. He has a reputation as a topflight recruiter and could potentially get Wisconsin involved with more blue-chip prospects.
The Big Ten is a step up from the WAC and even the Mountain West Conference, so Andersen still will have to prove himself at this level. But the Badgers are getting a guy who has already shown he can do great things with limited resources. They can't wait to find out what happens when he starts from a position of strength.
December, 20, 2012
12/20/12
6:51
PM ET

Andersen
It's official: Gary Andersen has been hired as Wisconsin's next football coach.
The school finalized Andersen's hiring late Thursday afternoon. As is the case for all state job postings, Wisconsin had to wait a full two weeks before making the hire official.
Andersen, 48, will be introduced at a news conference scheduled for 11 a.m. ET (10 CT) in Madison. He went 26-24 at Utah State, leading the Aggies to a team-record 11 victories this past season. Andersen succeeds Bret Bielema who left Dec. 4 for the top job at Arkansas.
More to come on Andersen's hiring ...
December, 20, 2012
12/20/12
9:45
AM ET
The Gary Andersen hire still hasn't been made officially official, and Wisconsin is expected to formally introduce him Friday after digging out of a snowstorm today.

But already there is much speculation about who will be on Andersen's Badgers staff.
The Wisconsin State Journal reports
that athletic director Barry Alvarez has targeted some current assistants for Andersen to retain, including two who have already accepted jobs with Bret Bielema at Arkansas.
Those are co-defensive coordinator and defensive line coach Charlie Partridge and strength coach Ben Herbert, both of whom took the same roles with the Razorbacks. But the paper reports Partridge has only a $50,000 buyout in his contract if he decides to stay and work for Andersen instead of going to Fayetteville.
Alvarez reportedly would also like to hold onto offensive line coach Bart Miller. He was a graduate assistant until after the second game of this season, when Bielema fired Mike Markuson and elevated Miller to a full-time role. The Badgers' offensive line play greatly improved, and Miller is seen as a rising star.
Andersen's offensive coordinator at Utah State, Matt Wells, has interviewed for the head coaching job for the Aggies and has a great chance to get the gig. If so, that would leave Andersen needing a playcaller. The Badgers' current offensive coordinator, Matt Canada, has accepted that same job at NC State under former Wisconsin assistant Dave Doeren. Could Canada be convinced to stay if Andersen wanted some continuity on the offensive side?
The assistant carousel is still spinning. Stay tuned.
December, 18, 2012
12/18/12
11:10
PM ET
Wisconsin has its next football coach in Utah State's Gary Andersen.

Andersen
Sources told ESPN's Brett McMurphy that Wisconsin will hire Andersen
to lead its football program. The hire won't be official until Thursday, as Wisconsin requires a two-week waiting period to fill all state jobs that are posted. Andersen replaces Bret Bielema, who left Dec. 4 to take the top job at Arkansas.
The Wisconsin State Journal first reported Andersen's hiring Tuesday night.
Andersen, 48, emerged late in the search, but quickly became the frontrunner for the job Tuesday. He led Utah State to an 11-2 record this season. One of the Aggies' losses came at Wisconsin in September, when the Badgers squeaked out a 16-14 decision.
More to come on Andersen's hiring in the coming days ...